The Summit


MountainViews newsletter for guestuser

Jan 2020
HILLWALKING
NEWS - INFORMATION - RECENT CONTRIBUTIONS - FEATURES - FORUMS
UPCOMING EVENTS for HILLWALKERS
MOUNTAINVIEWS: Hillwalkers' Events
Saturday, 11th January 2020.
Walk in the Knockmealdowns

View from Knockmealdown

We will be organising a hillwalk in the Knockmealdowns in January. The walk will start at the Vee and include Sugarloaf, Knockmealdown, Knocknaguv, Knocknafallia and Knockmeal Crohan returning by Liam Lynch monument. For further details contact Liz at elizabethashton2014@outlook.com A social meetup and meal will be arranged for after the walk in Clonmel. If you are interested in joining us for this one or have ideas about further walks, perhaps leading one, contact Liz at elizabethashton2014@outlook.com



Friday 21st Feb 2020. 7.30 for start at 8pm.
MountainViews Gathering.

Open to all walkers and hillwalkers whether members or not of MountainViews.



The serene Milltown Feeder near the Hill of Allen: tarred path better?

Guest speaker Olivia O'Leary is a journalist, writer and current affairs presenter who has become an advocate for the non-development of river paths and their retention as 'peaceful wild ways' "





Dun Bríste

Another guest speaker is Iain Miller who is a rock climber, author and guidebook writer who leads parties up islands and seastacks off Donegal.



Awards Ceremony There will be an awards ceremony for the people who have completed various lists or have contributed to MountainViews or walking in general. Ruth Whelan of MI and 'Women with Altitude' will be handing over the awards to the women who have become the first to complete certain longer lists.

Photo awards this year we will have a popular competition for best pictures. There will be a short presentation on new features of MountainViews. There will be opportunities to meet other members and summiteers. This meeting is being organised by the MountainViews committee and will be held in the Lansdowne Hotel, 27 - 29 Pembroke Road, Dublin 4. Directions here www.lansdownehotel.ie. There is ample parking in nearby Wellington Road, free in the evenings. The excellent bar facilities allow you to have a drink with other hillwalkers before or after the event. You can get a meal before the meeting also. Should you wish to stay overnight then please consider staying with the Lansdowne.


---
MOUNTAIN MEITHEAL: Mountain Meitheal are keen to find more people to help.
Mountain Meitheal make practical repairs to some of the more popular areas we walk on, using a voluntary community based approach. (More information at their website.)
Selecting Photos for Awards
Help choose the Pictures of the Year.

Take a look at two collections of photos, which were Pictures of the Month during 2019. We request your help in choosing 2019 Pictures of the Year for international and Irish pictures.
Take a look at the collections.

Pictures of Ireland link

International Pictures link

Instructions to send your choice

The pictures in each collection are numbered.

Send an email to photoaward@mountainviews.ie

with

Title: Photoaward

Include something like this in the email body for your choices:


---


Choice from guestuser

Irish Picture of the Year 2019:
My choice. Picture Number XX

International Picture of the Year 2019:
My choice: Picture Number XX


---


Email your choices by 8th Jan 2020.
Regions: MOUNTAIN COMMENTS - TRIP REPORTS - TRACKS - SUMMARIES
In short: Discovery
Featured Track of the Month
Tenerife caldera delights
This month's selection is a nod to the fearsome achievement of GSheehy in the past few years, with an ascent to a volcano crater in the Canaries, a route accessible to those with reasonable (as opposed to biblical) fitness, and with a description littered with the author's usual casually-imparted-but-very-useful nuggets of info.


GSheehy on Pico Viejo


Main walk Start: 10:34, End: 15:16,

Duration: 4h42m, Length: 16.9km, Ascent: 1294m

, Descent: 1295m

Places: Start at Lon -16.6275, Lat 28.2238, end at Start

(statistics such as Ascent or Length etc should be regarded as approximate. Duration depends on the speed of the person making the track)



If peeking into volcanic craters at 3,000m is your thing, then this is pretty accessible.

Pico Viejo Crater

The 'Teide Bus' leaves Los Cristianos, in the South of the island, at 09:30. It's €9.90 return to Parador.

Was walking at 10:34 and reached Pico Viejo summit at 12:47. It's 7.5km up with about 1,000m ascent.

Teide

Do bear in mind that, even if you are pretty fit, you'll have to slow the pace.

The bus back down South leaves at 16:00. If you miss the bus you could stick out your thumb or go to the Parador Hotel and ask them to order a taxi. It would have to come up from Villaflor to collect you and costs about €50 to get you back down South.

You could leave out the walk around the West side of Roques de Garcia on the way back down if you were stuck for time.

Roques de Garcia (right of centre)

There's an iconic poster of Raquel Welsh posing near these rocks. It was taken during the filming of One Million Years B.C. back in the 60's.

---




NORTH: The Roof of the border
Multiple routes up Cuilcagh in the Breifne area are suggested in two posts by Peter Walker and donieg, the mountain offering extensive views of the Cavan and Fermanagh landscape.

group on Cuilcagh, (Binn Chuilceach): The Roof of the Border
Cuilcagh is a huge sprawling mountain of genuine geographical significance: it is the highest point on the border as well as the highest point in both Cavan and Fermanagh, and the source of the mighty Shannon lies on its slopes. It presents a conspicuous roof-like appearance from the north-east and south-west, and while much of its area is blanket bog and tough moorland, the mountain's edges are o ... ... Click here ...


NORTH: Days of Tor
In preparation for his own 'fun day out' your track reviewer took the chance to revisit one of the very best proper day's hillwalking in the North, the Annalong Round, a route of glorious variety over the tor-studded Binnian, then the appalling slog over Lamagan, then a stretch that actively avoids summits along the Brandy Pad. It's a route easily adapted to be more or less challenging (e.g. omit Binnian, or add Commedagh and Donard).

Peter Walker on Annalong Round / Mourne Inner Horseshoe
This is one of the very finest day's hillwalking in the Mournes, with a great deal of variety.A steady pull up Binnian| walk, Len: 19.1km, Climb: 1232m, Area: Slieve Binnian, Mourne Mountains (Irela ... Click here ...


NORTH: November skies
The winter light elevates the otherwise ordinary views from the summit of Lackagh in the Dartrys, and access is now easy thanks to a windfarm, writes magnumpig.

magnumpig on Lackagh Mountain, (Binn Scardáin): November 9th, 2019
Taken on a crisp November afternoon, looking in the direction of Lough Allen, to the south. Access to this mountain has been made easier by the recent construction of a large windfarm. ... Click here ...


WEST: Joycean pleasures
A very pleasant hike up Mount Gable in Joyce Country is rewarded with spectacular views for little effort, writes magnumpig.

magnumpig on Mount Gable, (Binn Shleibhe): Sunset on the peak area - November 30th, 2019
Picture taken in direction of Maam Cross and Lackavrea. As others have noted, spectacular views for little effort. The old bog road to the summit from the car park is very cute too. ... Click here ...


SOUTH-WEST: The Saint's Road, Again
Summiteering tactics come to the fore in simon3's track from Dingle, as a need to take in a peskily untrodden Brandon Peak bumps up against the realities of having visited everything else in the vicinity already. The solution was to climb all the way up Brandon itself on the Saints Road pilgrim path before ambling there and back to the Peak, with some modification on the ground involving contouring the main summit to save some ascent on the way back. The whole outing can be made (dare I say it) more logical by continuing onto Gearhane.[Ed: the chief thing I will never forget this day for was high wind and rainy wet air that condensed onto everything for 6.25 hours]
simon3 on Sumitteering Brandon Peak via Brandon on a hard day.
The day had one objective, visit Brandon Peak. In glorious hindsight there may be easier routes, but the way we chose us| walk, Len: 13.6km, Climb: 1240m, Area: Brandon, Brandon Group (Ireland) Brand ... Click here ...


Featured summit comment

When The Wind Blows



by magnumpig


It's an unfortunate truth that while the hills of Ireland have existed in their current physical form for at least 10000 years, man's attempts to reshape their surface are a lot more recent and ongoing. Lesser heights tend to be deemed fair game for wind farms, and so it is with Leitrim's Lackagh Mountain. But as is often the case it has been rendered much more accessible as a result of the development...the sort of thing that makes keeping maps up to date quite an onerous task.



November 19th, 2019

Taken on a crisp November afternoon, looking in the direction of Lough Allen, to the south. Access to this mountain has been made easier by the recent construction of a large windfarm.


---

SOUTH: The Black Ben.
The easiest top on the Dingle Peninsula has no comments for years, and then two come along all at once! A simple hop from the Conor Pass, writes, simon3 and Geo.

group on An Bhinn Dubh: Easy summit with good views.
An Bhinn Dubh is almost certainly the easiest top on the entire Dingle peninsula. The first bump on the huge sickle-shaped ridge linking the Connor Pass to Brandon, its ascent can be accomplished in a matter of minutes. Start from the car park at the top of the pass Q4904805584 and plod up the wide and gently-inclined track heading west for about 700m to the summit (a little way past a conspicuous ... ... Click here ...


EAST: Southern Comfort
More arounds and abouts in the Dublin mountains, this time from conororourke with a track including a somewhat sodden climb onto Glendoo Mountain and a return over Tibradden Mountain. It's a convenient quick hit from the southern edge of the city, and it's one that could be easily extended over Two Rock Mountain.
conororourke on Glendoo & Tibradden Hiking
Summit of Glendoo via Cruagh Wood. Very wet. As previous comments, is somewhat difficult to determine the exact summit b| walk, Len: 14.3km, Climb: 432m, Area: Tibradden Mountain, Dublin/Wicklow (Irel ... Click here ...


EAST: Bird's eye view
The strange shapes where the Glenealo river enters the Upper Glendalough Lake.

simon3 on Camaderry South East Top: Lower slopes of Camaderry SE from the south.
The southern flanks of this mountain are bounded by the Glendalough Upper Lake. Like many a lake inflow this is place of interesting shapes and classic river geography. Oddly enough the reds and oranges of this picture are more intense on a day such as the one the picture was taken on which was overcast and showery. ... Click here ...


EAST: Condiments of the season...
Admirably suited for the most leisurely of danders, the Historic summit of Vinegar Hill rises above the town of Enniscorthy. It can be visited in minutes from the car park, or can be made part of a longer (but not long) walk along the River Barrow, courtesy of jgfitz.

jgfitz on Vinegar Hill and a bit extra along the Barrow
Hiking to the top of historic Vinegar Hill from the car park can scarcely be described as exercise; it's just 90m di| walk, Len: 8.3km, Climb: 78m, Area: Vinegar Hill, North Wexford (Ireland) Vin ... Click here ...


EAST: Unexpected vista.
Not first on anyone's list of favourite summits, Tonduff in Wicklow nonetheless provided simon3 with a fine view of a multiplicity of tops stretching to the sea.

simon3 on Tonduff, (Tóin Dubh): Unexpected vista.
Tonduff isn't known for excitement. Looking east however there's a view encompassing a variety of interesting places including the well known and peaky Sugar Loaf. From near to far, Tonduff East, Djouce, Sugar Loaf, Little Sugar Loaf and just at the left, Bray Head. ... Click here ...


EAST: All is fair...
The Arderin Beg of Fair Mountain lies alluringly close to the access road running up to Turlough Hill, but as muddyboots has discovered the on-the-ground reality is slightly more testing. Their track is just an out-and-back from said road, but conditions underfoot are somewhat trying, especially in failing light. Obviously this summit can be visited as an adjunct to a longer traverse over Turlough Hill itself and Camaderry.

muddyboots on Only did it to log it - and it nearly did me!
Did this hike as night was falling after climbing Scarr. Like others we used the access road until it is apparent that o| walk, Len: 5.1km, Climb: 151m, Area: Fair Mountain, Dublin/Wicklow (Ireland) ... Click here ...


MIDLANDS: Take the righteous path
Muddyboots takes the Pilgrim Path up Mauherslieve in the Shannon area, and which offers a prehistoric site surrounded by blanket bog.

group on Mauherslieve, (Motharshliabh): Views, prehistoric site surrounded by extreme blanket bog.
There are interesting views from this not well known Arderin in the middle of the "Shannon" area. It has a prehistoric cairn on it. Caution: the summit area is covered in high irregular grass and heather which is energy sapping to cross. We recommend you use the south route. Take the blanket bog seriously or suffer the consequences. Use the Kilcommon Pilgrim Loop to access the well signposte ... ... Click here ...


FRANCE: Are we nearly there yet?
Speaking as someone who deliberately sought to do an extended itinerary during the limited daylight hours of midwinter, I have to doff my woolly hat to David-Guenot and his profoundly insane trip out in his backyard of the Pyrenees, a healthy amount of ascent being complemented/swamped by a gloriously ridiculous amount of distance. I'm mentioning it not as something to specifically repeat, but to emphasise that we all have personal limits, and if you're inclined to test them (and it's not a crime to NOT be into this sort of thing) then there's a lot of satisfaction to be had.
David-Guenot on Martres-Bezins Mega-Loop
| walk, Len: 66.7km, Climb: 2667m, Area: France, Occitanie () ... Click here ...


Sorry if we didn't mention what you posted .. there's a list of all contributors for recent month(s) later.
MOTLEY GATHERING
Call for Material for Annual
View last ANNUAL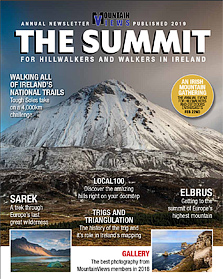 Call for the Annual 2019 - to be published in Feb 2020 -
The Background. For the last four years we have brought out a PDF style magazine. We plan to do the same this, "The MountainViews ANNUAL 2019". We are looking for feature length illustrated articles. And photos. And shorter items for "Your Walking Highlights of 2019".

For the highlights we are mainly looking for experiences in Ireland though as last time we will include some adventures abroad - your short notes not necessarily your crafted paragraphs. (Note, we are not looking for your long notes. Either give us short notes or a longer, crafted article.)

We will consider any areas of interest to hillwalkers in Ireland, for example articles on Challenge Walking (both organised and individual), Way Walking (ie walking Way Marked Ways), Summiteering, Family Walking, Gear, Flora & Fauna, Holiday Walking, Scrambling, Coastal or Island walking, things you may see on the hills etc are all welcome as are new ideas. We welcome articles from people who are starting out hillwalking, or experienced or professionals etc.


Copydate: Ideally by Sat 11th Jan 2020.

If you are thinking of contributing or would like to discuss topics etc feel free to contact or have an article

at admin -at- mountainviews.ie
If there more material comes in than there is space for, then we will try to include it in later newsletters.
---


Volunteering for 2019: Strengthening the MountainViews Committee

Currently we have a number of officers on the committee such as chairperson, secretary etc. We really could use some further committee members to achieve our strategic goals and spread the load.

| | |
| --- | --- |
| Position | In Brief |
| Ordinary members | For those taking an interest in the MV committee or indeed committees in general we can also use some further "regular" committee members without a specific role. There are many smaller quite finite projects that might suit regular members. |
| Publicity | MountainViews is a great resource based on over 1300 people's contributions over 16 years. Great that is if you have heard of it. And that's where we could use some practical publicity help. |
| The Geeks Shall Inherit the Earth | Quite apart from programmers, MV's progress can also use help from people who can really follow through on tasks like creating lists, checking stats, researching place names or geology. Whether on the committee or not we value such people's contributions. |

Contact us at admin -at- mountainviews.ie

---
Review : The Mourne Mountains by Andrew McLuggage.
The 30 best hikes, hand-picked by a County Down local.
Published : 2019


Book cover.
With their obvious aesthetic attractions and handy location for large population centres, the Mountains of Mourne have long been a very popular venue for outdoors folk. As such they are better served by the guidebook industry than most Irish destinations; for instance there is Paddy Dillon's 'The Mournes Walks' (last updated in 2009) and Adrian Hendroff's more recent 'The Mourne and Cooley Mountains: A Walking Guide' which adds the latter peninsula to the ground covered.
Into the arena now steps Knife Edge Outdoor Guidebooks, the brainchild of former lawyer (we'll forgive him, probably) turned author Andrew McCluggage, the 'County Down local' referenced on the front of the book. He has selected 30 outings, ranging from danders along the beach in Murlough Reserve, through walks in the various forests shagging the foothills of the range, to high mountain epics such as the Mourne Wall Walk. In a group as well-explored as this there's not many revelatory moments in terms of the routes described (and they are well-described, in a style that's precise while still actually displaying passion for the places visited), although there were a few occasions where I found myself thinking 'hmmm, never thought of stringing those bits together quite like that'.
There are also sensible sections on accommodation, getting there and around, weather, kit advice, flora & fauna, geology, even 'Game of Thrones' locations, so the standard supplementary info requirements are all decently covered. So far, so 'normal'…but where this book does genuinely stand out is in the presentation.
A Mournes View on a frosty day.

The 30 walks are in chapters as you might expect, but beyond that expectations need to be adjusted. The route descriptions are accompanied by number bullets to pinpoint locations on the accompanying maps as you pass them (and while on the subject of maps, the ones herein are from the 1:25k OSNI sheets, an excellent inclusion). These maps are just one of numerous inclusions that make the book almost riotously colourful, with photos, tables, diagrams and text also jumping off the page to demand your attention. Margins are often disregarded as content strains to escape the confines of a conventional page layout. This might sound like a recipe for confusion and overload, but the innovations are understood and allowed for by the reader with relatively little effort.

Gripes are minor: some readers might want grid references for landmarks in the text perhaps, and individual maps cover multiple walks; those walks are clearly identified by use of colour, but sometimes you have to flick back and forth a bit to go from the description to the map.

But those really are very minor niggles. Overall this comes very highly recommended; it's the most visually arresting guidebook I have seen in years.


-- Peter Walker


CHALLENGE
Extreme Achievement
Recently Gerard Sheehy completed climbing 100,000m each year for 3 years, a remarkable achievement. Here is his account of this success, followed by some answers to questions we posed to him.


100k X 3 years
by Gerard Sheehy



They say that the hardest thing about a success is; to shut up about it.

So I'll do that now.

Well, after this post.

At the end of 2016 I had done circa 59,000m in height gain/descent, hill-walking. The distance covered was about 1,100km. In October and November I was off the hills because of injury.

That was the first year that ViewRanger introduced their 'Walk 1,600 km' challenge and the stats at the end of the year showed that I'd also walked about 1,000km 'on the flat', so that target was done.

When all this information is laid out before you, you tend to look at what you could do next and how you could improve on the challenge. It was then that I decided to try and do the full 1,600km on open mountain and bring the gain up to 100,000m.
12 Bens and Turks from Lissoughter.
To break that down, you're talking about doing circa 30km per week and 2,000m gain/descent, on open mountain. So a challenge walk a week like the Turks, or break it into two walks and do the Glencush Horseshoes, twice. Or, to put it in international terms - a bimble up and down the height of Everest once a month. If you have weeks where you're injured, you have to make up the deficit but you'll also have weeks where you do two weeks walking in one outing.
I've been fortunate with injuries, insofar as I found someone to 'fix' the issues I've had with IT bands and Achilles pretty quickly. I packed in the cycling - in 2016 I had done 3,000km, 1,000km in 2017 and zero in 2018 and 2019 - so the repetitive hill-walking motion led to a few regular niggles.
Other than that it's been a wonderful three years on the mountains of Ireland and three of the Canary Islands. There have been many 3,000m and 4,000+m gain/descent walks but there have also been plenty walks with 1,000m gain/descent, or less.
The most difficult day walks in 2017 would have been the combination of the Maamturks and Joyce Country Challenges and the walk from San Sebastian to Valle Gran Rey via Alajeró on La Gomera. Both of these were over 60km in length. The longest duration for a walk was 19h 28m.
Canary Walking
2018 saw a return to La Gomera and the completion of the GR132 from Valle Gran Rey back to San Sebastian via Vallehermosa, the combination of the Comeragh's and Knockmealdown's at the one 'sitting', a Galty's / Knockmealdown's combo, and a yo-yo of the Galty's. The longest walk this year was 76km and the longest duration was 16h 28m.
12 Bens, Benbreen to the left.
I had a taste of the 12 Listed Bens in 2018, doing 'The Twelve' a few different ways, and in 2019 I was back up there twice altering/tweaking the tracks to see if I could make it easier. No such luck, Benbrack makes this a very difficult walk. The longest walk this year was the Comeragh Challenge at 44km and longest time on the hill was 10h 40m - not the same walk I might add.
The final year has limited my long(er) walks as I just didn't have the energy/appetite for them and I think the cumulative effect of the three years may have had an impact. I spent so much time on the Galty's this last year that I'm on first name terms with the sheep that hang around the Glencush Horseshoe. They now just lift their heads tentatively, look, nod, and resume their grazing.
There's no real cost to all of this, except time. It worked out at about 50 days in total over the three years, on the mountains, so I had 1,045 days to be doing something else.
Now, some questions from our reporter, Peter Walker.
You draw a comparison as this being akin to doing a Challenge Walk every week. If you'd actually done it that way, which one would you have chosen?
I don't think I could have done it that way. There would have to have been a bit of range variety to it. Repeating the same 30km 2,000m walk every week, for three years, wouldn't appeal to me. Yes, I'm aware that I've the bones of 35 Glencush Horseshoes done this last year but that was down to proximity and getting 1,040m over 13km each time. That's still only a third of a years target though. If I was to choose a general location to do the whole thing, it would have to be Connemara.
Have you thought about what you'll do next year? Or are you awarding yourself it off?
I'll have a think about it over the next few weeks. I'd say I'll try and do less frequent walks so that I can conserve a bit of energy for long(er) walks. I've a few ideas on novel, long, challenging walks but I've found the best thing to do with those is not mention them until you've he job done. No pressure that way.
How do you motivate yourself on those days when you're not in the mood? It's not a matter of not being in the mood.
Hill-walking just makes me happy and like the way I feel during and after it. Every walk is a reward to me. I just love going out and I'm fortunate that I can plan my days on the hills that aren't miserable; weather-wise. I've had days when I don't feel right physically but, after a few steps, I forget about that.
Any wisdom for folks who may be looking to more elongated challenges such as these?
The three biggest impediments to really tough challenging walks are weight, nutrition/liquid and heat. You have to put a lot of thought into what to carry, what to wear, figure out when to do them and what fuel works for you. Plan your walk well, go through it in your head a few times, and never think that you won't finish it.
emVee-Tube
Videos this month:


Videography by Peter Walker.


SITE NEWS
Newsletter Content Index: 321 Items and counting

Last month we mentioned that an article index was coming and now here it is.




Some more searches that give you an idea of what it can do:

Finding articles on the Devilsmother mountainviews.ie/newsletter/index/?niSearch=Devilsmother

Finding articles by Tom Barragry mountainviews.ie/newsletter/index/?niSearch=niSearch=Barragry

Finding articles published in 2014 mountainviews.ie/newsletter/index/?niSearch=niSearch=2014

Volunteering

This is fine example of volunteering by member Frank Browning. He looked through the existing newsletters and organised an entry for each worthwhile article adding a synopsis, keywords etc.
I think it really helps people find relevant material on the website. Volunteering tasks vary, but this one did not require specialised technical skills. The main thing it needed was someone to take it on and persevere.

If you are interested in volunteering do get in touch at admin -at- mountainviews.ie. We are quite happy to discuss a wide range of possible improvements you might like to contribute to. For example a review and selection of the most interesting pictures published on MV.

Anti-hype.

We hope this is a useful tool for exploring the considerable amount of useful and often inspiring material we have. However we were selective so it is not an index of everything that was ever included in a newsletter. Also, this is not an index or search for forum or mountain comment or track content. Only for newsletter articles.

Comments welcome.
CHALLENGE
A place for those interested in Challenge Walking

Click here for the Challenge Walk Calendar to start planning your challenge walking for 2020.





Challenge Walks Newsletter January 2020

Seeing an incredible 800 prospective applicants for this year's Art Ó Neill Challenge, as always, a biting wind is sure to await the lucky 200 who were fortunate enough to be pulled "out of the hat"!!

And if they are really, really lucky, perhaps a dusting of snow will enchant the last 23km of the Challenge which is over open mountainside. The first 30km departs from Dublin Castle making its way through the night time suburbs of the City and on to Ballynultagh Wood where the fresh air and fresh winds truly begin.

Being over-subscribed four to one is no doubt testament to many a Hardy Challenge Walker who never is going to be subdued by the possibility of inclement weather. Darkness and the month of January make this historical Challenge unique to the Calendar - so the very best of wishes to all the participants on the night that rolls into the early morning and onwards.

The Art O'Neill Challenge takes place on the 17th of January.



Rolling his own

Approaching Slievenaglogh
Every bit as historical too is the legend that is Peter Walker! Peter, who has been a valued an active member of MountainViews for an age now, was absolutely not to be daunted by the absence of Walks during the month of December, that he decided simply, to carve out his own! Raising much needed funds to help towards the purchase of a minibus for the wonderful people at Harberton Special School on what was the shortest day of the year - daylight wise of course - just in case there are any seasonal smart-arises out there - although that said, the Challenge Calendar readership has always expressed nothing but kindness and patience to my bad grammar and long-winded rants . . . anyway, back to the shortest day of light when the bauld Peter decided today is the day to saunter off up the Mighty Mourne Mountains on the Winter Solstice.
"In my fevered imagination this was the most contrived-but-still-logical itinerary I could think of in Norn Iron: doing the classic Mourne Wall Walk challenge with the added frisson of minimal daylight. Having arranged sufficient fitness to cover the ground but not enough to do so between dawn and dusk, some decisions needed to be made. I decided to climb Binnian by headtorch and try to time my arrival on the top with the advent of decent light so that the descent towards Wee Binnian (which I strongly advise recceing in advance if you don't know it, with a maze of tors, slabs and boulders lying in wait) can be seen properly. This also meant that a certain amount of the end of the walk would be in darkness too . . . that amount being determined by how fast I could do the rest of it!
Over the Day, progress was steady rather than sensational, but as others have found once you've completed the frustrating flog up Muck you can settle down for a while into a routine of "down a bit, up a bit" with good conditions underfoot.
The Day progresses and then you have to dig-in for the vicious climb up Bearnagh, the long stepped ascent of Commedagh, and the "final" lengthy plod alongside the wall to gain Donard. I say "final", but with darkness having gradually overcome daylight on the way over Commedagh there is little doubt that it's the final shlepp back to Carrick Little that's the crux of the day.
The descent from Bearnagh
The descent from Donard's summit seems exponentially rougher with just torchlight to illuminate, and then the crossing of the Bog of Donard would be horrific without knowledge of where the bogs adjacent to the Wall actually are. Turning the corner under Rocky Mountain might feel like it puts the end in sight, but there's still a long descent to Annalong Wood where every step needs planning, a plod out to the road along a track that seems straight out of The Blair Witch Project, and then a final road stretch to the car park featuring the sort of hill seemingly placed there by the gods for the craic.
Still, it's done now. And I'm glad I can say I've done it, more than I'm glad I've done it if that makes any sense . . . "
Peter Walker.
So if that abridged summary of Peter's endeavours doesn't inspire then you can read the full Comment (with facts, figures, gpx tracks, warts and all) here . . .
So Onwards and Upwards Boys and Girls!
It's a New Year and a New Decade!
Find your own adventure here on the Challenge Walks Calendar (always inspirational) . . .
Keep Safe and Enjoy your Day!
Jim Holmes and Peter Walker.
Photos : Peter Walker.
---

Also take a look at this resource managed by MountainViews:

www.facebook.com/ChallengeWalksIreland
SUMMITEERS and PLACE-VISITORS CORNER
A place for those interested in Summiteering, Bagging, Highpointing, visiting islands and coastal places.
Coastal Hills: 35 Added for Kerry.

MountainViews has been describing "Coastal Hills" for the island of Ireland. They are places which typically overlook the sea and may form part of coastal walks. They are defined as being within 1000m of the sea, of at least 50m height and prominence at least 20m. We have added 35 of these Coastal Hills in Kerry.

Places you may never have heard of such as Kilfenora Hill, 56m overlooking Tralee Bay, Or An Tuairín / Tooreen west of Waterville and overlooking the Skelligs.

For another example to the south of Rossbeigh Beach we had an existing summit defined in Curra Hill, 275m included because it has a prominence of 170m meeting the requirement to be a Binnion. There are however a series of four smaller hills to the west of this such as Knockatinna /summit/5124/

We invite people to investigate these places respecting as always that many lower hills are on private land requiring permission for access. Judging by previously added coastal summits there will be a mix, varying in interest and accessibility. Do the community a service by describing for example access, parking and what can be found at the place. Correct the position using the "Improve Grid Ref." feature.

MV acknowledges the voluntary work of Brendan O'Reilly who did the time consuming work of locating this list.

Inevitably with this much detail there will be errors. If you find one please report it using the "Propose Places Database Change" feature.


---

A Guide to Ireland's Mountain Summits - The Vandeleur-Lynams & The Arderins
MountainViews first book available online and in some bookshops. The first reprint with numerous minor amendments is available.

Purchase from here.


simon3 on A Guide to Irelands Mountain Summits
MountainViews first book available online and in many bookshops.

As members will know, for over a decade, Mountainviews.ie has been providing unique information to hillwalkers on all aspects of exploring and enjoying Ireland's upland areas. It's been a collaborative effort by over 1000 of you, and currently contains over 6000 comments on 1057 mountains and hills on the island of Ireland ... ... Click here ...
Bulk sales to groups such as Scouts/ Guides: contact admin@mountainviews.ie for a discounted price.
This month.
Kudos to our contributors.
We welcome the following new members who enrolled this month. 813swerve, aughadown, Ben54, BigSwinger, Bill_Limond, camlinero, CharlieS, Colorado, DaraLarkin, darrenheaphy, Edmo, egrryan, ela, Gable5, gimmetaco, IrishHikes, Localhero, Mancuso, marydwyer19, nire-eco, Palletman, poleary87, qbak, skowza, Smc, vuvo (26)

Our contributors to all threads this month: Colin Murphy (1), Colorado (1), David-Guenot (4), GSheehy (1), Geo (1), Peter Walker (2), aidand (2), albatross (1), ceadeile (1), donieg (1), Communal summary entries (7), liz50 (1), mcrtchly (1), mickhanney (1), muddyboots (4), simon3 (3)
For a fuller list view Community | Recent Contributors

There were comments on the following places , An Bhinn Dubh, Barranisky, Cuilcagh, Knocknaskagh, Loughsalt Mountain, Mauherslieve
and these shared tracks Brandon, Brandon Group Ireland, Fair Mountain, Dublin/Wicklow Ireland, France, Occitanie , France, Occitanie , France, Occitanie , France, Occitanie , Kanturk, Dublin/Wicklow Ireland, Mauherslieve, Shannon Ireland, Slieve Binnian, Mourne Mountains Ireland, Slieve Binnian, Mourne Mountains Ireland, Spain, Canary Islands tracks were created.

Thanks to all 1377 who have ever contributed place or routes info and forums.

For a full list view Community | Contributors Hall of Fame

Summary. MountainViews now has 9477 comments about 1797 different hills, mountains, island and coastal features out of the total in our current full list (2196). We want to get a good gps track showing each of the major ways to visit each of these places and summits in Ireland. If you see an option to add a "Short Summary" then do please consider creating one since another objective is to have a short summary for every summit and island and coastal feature in Ireland. There's quite a few (399) opportunities for you to be the first to comment on a place, not so many on summits, however lots of opportunities for islands and coastal features as we bring them out. We also have around 2000 shared GPS tracks, mostly in Ireland. Apart from a few popular areas, there is a need for more routes in many different areas. Plain shared tracks without descriptions are welcome however if you have time then do please add route descriptions with photos.
NOTICES
Notices
If you are contributing, please be careful to respect the interests of landowners. Suggest access routes well away from houses, gardens or that could conceivably impact farming activities. When walking, keep away from gardens or farm buildings. Use stiles or gates wherever possible. Never do anything that could allow animals to roam where the farmer did not intend. Ask permission where appropriate.
Take care if parking and do not obstruct roads, lanes and field entrances to access by farm machinery, which can be large. Exercise your dog in parks or forests but avoid countryside or open hillside where they may worry sheep.
Report suspicious activity to the police forces, as below.
If your car is broken into in an upland area report it to the PSNI or Gardai as this will help them be aware of the issue and tackle it in future. Store the numbers. In Northern Ireland use the PSNI non-emergency number 0845 600 8000. In the Republic you can find the local Garda District HQs phone numbers at www.garda.ie/Stations/Default.aspx. Specifically for the hotspot of Wicklow: the Garda Divisional Headquarters in Bray is 01 6665300.
If you hear of a problem area or route, write it up in MountainViews which does everyone a service.
Report rubbish tipping in the Republic - ring EPA hotline 1850 365 121
Report recreational quads in national park area (in which they are banned). They are also banned in the Mournes. For Wicklow please phone the Duty Ranger: 087-9803899 or the office during office hours Telephone: +353-404-45800. For the Mournes ring the PSNI (as above) or contact Mournes Heritage Trust. Put these numbers in your phone, take regs etc. Let MV know of contact numbers for other areas.
If you have visited some of the less well known places, we would appreciate a place rating and also "Improve Grid Ref" for summits and other places.
If you find errors in the basic information about places such as in their names, their heights, county name etc please use the "Propose Places Database Change" option.
If we can, let's make MV have more than one route up a summit or to a place so as to reduce the tendency for paths to appear. Your grid refs in comments for different starting points show up on MountainViews maps as well as shared GPS tracks.
Visit the MountainViews Facebook page.
Visit the Challenge Walks Ireland page (jointly managed by MountainViews)
This newsletter
This newsletter
Editor: Simon Stewart, Homepage: www.simonstewart.ie
Assistant editors: Colin Murphy, David Owens
Summit comment reviews: David Murphy
Challenge Info: Jim Holmes
Track reviews: Peter Walker
Book reviews: Aidan Dillon, Peter Walker, Mel O'Hara
Videography: Peter Walker
Graphics design advice: madfrankie
Development & support volunteers: Vanush "Misha" Paturyan, Mike Griffin

NEWSLETTER ARCHIVE.
View previous newsletters mountainviews.ie/newsletter/
View newsletter, quarterly and annuals index mountainviews.ie/newsletter/index/
RETURNING TO MOUNTAINVIEWS

(If you have cookies on in your browser then you may be prompted as to username/ password. If you forget the password, the login page can email you a replacement.)

DONATING TO MOUNTAINVIEWS
Please help with running costs.
UNSUBSCRIBING


Alternatively let us know by email at admin -at- mountainviews.ie Include the email address you got this at or your screen-name guestuser.