The Summit


Monthly newsletter of MountainViews.ie for guestuser

Jan 2019
HILLWALKING
NEWS - INFORMATION - RECENT CONTRIBUTIONS - FEATURES - FORUMS


NORTH, SOUTH, WEST, EAST, MIDLANDS, Iceland, France Route ideas and places to go.

Heritage Consultation Some photos wanted.

ANNUAL for next February Essays, articles, informal notes, photos etc that you would like to contribute welcome.

Book Review Lighthouses of Ireland

Challenge Walks

Two videos featured this month. gerrym, mcrtchly/kernowclimber


UPCOMING EVENTS for HILLWALKERS
MOUNTAINVIEWS: Hillwalkers' Winter Talks
Friday 22nd Feb 2019. 7.30 for start at 8pm.
MountainViews Gathering.


Éanna ní Lamhna
Naturalist and hillwalker

Guest speaker Éanna ní Lamhna well known broadcaster on RTE, will speak on "Wildlife on our hills - by day and by night" In the past Éanna completed the Irish county highpoints so she will know what can make walking interesting. She will describe "common wildlife - particularly birds - that can be seen on hill walks especially if you are a normal walker out enjoying the whole outdoor experience - as opposed to a speed merchant whose whole aim is to cover the ground in record breaking time and takes in none of the surroundings."

Toughsoles a young and dynamic duo who have already walked most of the Waymarked Ways of Ireland will talk about their experiences with what they have found on their pioneering effort to complete this huge undertaking.

There will be the usual awards ceremony for people who have completed specific challenges or done something for hillwalking or MountainViews

There will be a presentation on new features of MountainViews. There will be opportunities to meet other members and summiteers. The meeting is a public meeting open to all. Entry 10 Euro.


9th April 2019. There will be a talk by members Martin Critchley and Sharron Schwartz of "Purple Peak Adventures".


Black sand desert - Laugavegur, Iceland

The title will be "Trekking the Realms of Vulcan: Adventures in the volcanic highlands of Iceland and Ethiopia". Join us as we trek two incredible routes through two very different countries, in different continents, with very different cultures, climates and landscapes, yet underpinned by a similar geology.



These meetings are being organised by the MountainViews committee. Talks are held in the Lansdowne Hotel, 27 - 29 Pembroke Road, Dublin 4 unless otherwise stated. Entry is free unless otherwise stated. There is a collection. Directions here www.lansdownehotel.ie . The excellent bar facilities allow you to have a drink with other hillwalkers before or after the event. You can get a meal before the meeting also. Should you wish to stay overnight then please consider staying with the Lansdowne.

Organisers
We continue to have a deficit of talks organisers for 2019. This is impacting the community's ability to create an interesting and varied programme, despite the reasonable attendances we get. It's a relatively light bit of volunteering as such things go and if you were thinking you might help, get in touch by email at secretary@mountainviews.ie .

The meetings as advertised above will go ahead and we have plans for further members meetups on the hills for 2019 to announce in the coming months.

---
MOUNTAIN MEITHEAL: Mountain Meitheal are keen to find more people to help.
Mountain Meitheal make practical repairs to some of the more popular areas we walk on, using a voluntary community based approach. (More information at their website.)
Picture of the month
Coming down off Djouce in the early morning and gazing at the beautiful mist shrouded silhouettes of the south Wicklow hills

For original track, click here.
Photo: tomlug48
International Pic of the Month
Iceland: Rhyolite hills above Landmannalaugar -- bubbling fumaroles just visible as wisps of water vapour.

For original track, click here.
Photo: mcrtchly
Regions: MOUNTAIN COMMENTS - TRIP REPORTS - TRACKS - SUMMARIES
In short: Discovery
Featured Track of the Month
Walking the Dogs

This month's selection is a brutal excursion on the island of La Gomera in the Canaries, courtesy of challenge walking GSheehy. Whilst the route involves a level of effort and endurance that may not appeal to many, Gerard's text includes much sage advice on 'course management' that would be useful to anyone attempting an itinerary at whatever happens to be their personal limit.


---


NORTH: A new Beg to bag?
Descending Drumnalifferny in the Derryveaghs, David-Guenot believes he may have stumbled across a new Arderin Beg, which will require further investigation. See track below.
simon3 on New mapping layer added.
For some time we have had difficulties with licensing on map layers with a warning about API licensing appearing in one case. We have introduced a new mapping layer "OpenTopoMap" for use on maps on the website as a trial. This is a layer that appears for the entire world which has contours and hill-shading built in (though not layer tinting). This layer should be particularly useful in North ... ... Click here ...


NORTH: AB or not AB...that is the question
During a tidying-up exercise in the Slieve Snaght area of the Derryveagh Mountains in Donegal, David-Guenot has highlighted a possible new Arderin Beg (at which point a certain An Óige dignitary drops everything he's doing and deafens his neighbours with wheelspin in his eagerness to get there) in the vicinity of Loch a Mhama Beag near his main objective of Drumnalifferny Mountain. His track visits these eminences and Drumnalifferny's NE Top; a longer route can be made starting either from this southern side or from the north, as there are many summits gathered in this complex terrain.
[ED: NOTE - on every summit page there is a button for "Propose Places Database Change" which includes the ability to propose a new summit or propose changes to an existing one.]
David-Guenot on Drumnalifferny loop
Exploring Drumnalifferny as to bag the NE top. Fantastic views once the clouds lifted. I also spent some time to climb a| walk, Len: 8.6km, Climb: 542m, Area: Drumnalifferny Mountain, Donegal NW (Irel ... Click here ...


WEST: A true cliffhanger
Knockardakin Hill in Clare tethers on the edge of the Cliffs of Moher, and while it is not exactly a towering pinnacle, the cliff walk there is spectacle itself, says TommyV.

TommyV on Knockardakin: Bag it as part of the cliff walk
I technically haven't bagged the summit of this hill as it wasn't listed on MV when I did the Ciiffs of Moher walk, but it would be a very small detour to bag it. I was no more than 50 meters from the trig point without realizing it was there, my gaze was too busy looking West to notice it. I'm writing the post to mention the cliff walk. It's not a summit but has to be done by any outdoor enthusia ... ... Click here ...


WEST: Doesn't cut a dash.
One purely for the baggers, Ben Dash in West Clare is a small, boggy hill with a mast at the top, reports TommyV.

TommyV on Ben Dash: One of my earlier attempts
Ben Dash was one of my earlier attempts at hill bagging, back in the days when I had no gps and didn't believe I needed a map. I went through some bog that people had bagged turf on before I found a road that led to the mast mentioned by peter1. As I had no map or gps, I never found the elusive trig point but I figured I was close enough to tick this one off the list. It's not a hill that you woul ... ... Click here ...




Featured summit comment


Coastal Hill TommyV 14 Dec 2018
The ongoing expansion of MV's lists into coastal areas can encourage the Summiteer to visit areas they've never visited before. But it can also incentivise looking at familiar locations with new eyes. With that in mind this month's selection is from TommyV on the 14th December, featuring a top adjacent to the famous walk along the Cliffs of Moher. Knockardakin: often passed, rarely visited.The ongoing expansion of MV's lists into coastal areas can encourage the Summiteer to visit areas they've never visited before. But it can also incentivise looking at familiar locations with new eyes. With that in mind this month's selection is from TommyV on the 14th December, featuring a top adjacent to the famous walk along the Cliffs of Moher. Knockardakin: often passed, rarely visited.

I technically haven't bagged the summit of this hill as it wasn't listed on MV when I did the Ciiffs of Moher walk, but it would be a very small detour to bag it. I was no more than 50 meters from the trig point without realizing it was there, my gaze was too busy looking West to notice it. I'm writing the post to mention the cliff walk. It's not a summit but has to be done by any outdoor enthusiast. Either direction from Liscanor to Doolin or vice vera is a magical experience and apart from the section at the visitor centre you will likely be enjoying the views by youself or with friends and not thousands of tourists fresh off the buses


---

SOUTH: Easy to knock off.
Knocknacusha in the Dunkerrons is a relatively simple Arderin to knock off your list, with an ascent of just 250m, writes Peter Walker in a new short summary.

group on Knocknacusha, (Cnoc Osaidh): There and back again
You can start at Ballaghisheen, a mountain pass V671 792. Space here for 3-4 cars. Ballaghisheen is at just over 300m so the climb to the top at around 551m is not a great strain. There is a sign advising that access is prohibited however the broken fence and tracks uphill indicate access must be frequent. Head uphill skirting around the mountains east side initially which will being you to th ... ... Click here ...


SOUTH: Squat, steep-sided and splendid.

Meenteog in the Glenbeigh Horseshoe offers contrasting climbs – the steeper lower slopes ease to a broad summit area that offers wonderful coastal and landscape panoramas, says Peter Walker in a new short summary.
group on Meenteog, (Muing): Squat and steep-sided summit on Glenbeigh Horseshoe
Lumpen in its higher reaches but very much steep-sided lower down (especially to the north), Meenteog is the first of the higher, more dramatic summits on the Glenbeigh Horseshoe if walked clockwise, it usually being climbed as part of that itinerary. The going hereabouts is easy if occasionally peaty, a marked contrast to the plunging shattered coums on the north side of the ridge. If not enga ... ... Click here ...


EAST: A good walk spoiled?
Onzy has continued to wring itineraries from the coast near Dublin, this time starting from the splendiferously monikered Pennycomequick Bridge and wending his way north to Brittas Bay. The route has its share of fun and games, with obstacles coming in the form of a golf course, a well-defended farm and (by the looks of the map) an airfield. And for anyone who fancies a bit more carefree walking, Barranisky is nearby, as below ...
Onzy on Wicklow Coastal Walk
Route from Pennycomequick Bridge to Brittas Bay.Not to be taken lightly - the stretch around Mizen Head is blocked by fi| walk, Len: 9.2km, Climb: 104m, Area: Dublin/Wicklow (Ireland) ... Click here ...


EAST: The most neglected trig pillar in Ireland?
Armour is almost a requirement to reach the trig pillar marking the summit of Barranisky in Wicklow, surrounded as it is by spiky vegetation, reports TommyMc.

TommyMc on Barranisky, (Barr an Uisce): The most neglected trig pillar in Ireland?
I ventured up Barranisky yesterday, 20 December, more in hope than expectation of finding the summit trig pillar amongst the out-of-controI vegetation. I used the helpful Coillte trail map at https://www.coillte.ie/media/2017/01/Wicklow-Ballymoyle-Hill.pdf. This brought me up a decent quality forest road with intermittent cracking views, notably overlooking the M11 motorway and the nearby coas ... ... Click here ...


MIDLANDS: It's all bad!
Bullocks, felled trees, stumps, holes, muddy pools, long heather, boggy terrain, Mauherslieve in the Shannon area is purely for baggers, reports TommyV.

TommyV on Mauherslieve, (Motharshliabh): Mother of God!!
What can I say about Mauherslieve? It really is one of those mountains that will have you asking yourself "What am I doing? Started out at the livestock pen mentioned by csd. It is important to note that the first 200 metres between the pen and the forestry entrance at R87768 63721 goes through private farmland and while there is a road it's not fenced off and the day I went there were bullock ... ... Click here ...


ICELAND: It's oh so quiet...
A multi-day outing through the stark and hallucinogenic landscape of Iceland, courtesy of mcrtchly and kernowclimber. Also featured in this month's videos, the track spends fours days wending through wildly contrasting scenery with impressiveness being the only unifying factor. There's quite a lot of logistics involved in a trip to the area , and a plethora of information is provided in the text.

mcrtchly on The Laugavegur (Hot Springs) Trail, Iceland
Listed as one of the top twenty best treks in the world by National Geographic, the Laugavegur Trail (The Hot Spring Rou| walk, Len: 56.6km, Climb: 1414m, Area: Iceland, South () ... Click here ...


FRANCE: Une très longue marche...
It seems that several members are disregarding the lack of daylight in December with gay abandon, although David-Guenot will have had an hour or two of extra sun for his mammoth outing in the Pyrenees. Scant consolation when you're covering over 60km and ascending almost 2500m, but your track reviewer always says that only those utterly enslaved by sanity can resist an occasional REALLY long walk. This one does have the benefit of being overwhelmingly on trails for anyone interested, and I'm sure the local cuisine will be excellent as you spend the rest of your holiday recovering.
David-Guenot on St-Bertrand-Lortet Loop
| walk, Len: 62.9km, Climb: 2408m, Area: France, Occitanie () ... Click here ...


Sorry if we didn't mention what you posted .. there's a list of all contributors for recent months later.
MOTLEY GATHERING


Hillwalking Day - Ireland

Readers will know that we mentioned that this event for 1st Jan was on. It's early days but Gerard Sheehy has some success to report.

Firstly, thanks to everyone who made the effort and used the #HillwalkingDay hashtag. It proves that folk were paying attention here. We also had some notifications from some MV members on the hills in Wales and there were a few Tweets from Scotland as they jumped at the opportunity to use the hashtag. Who know where this might lead?.

So what did people do that was different? Peaks Mountaineering Club had 20 out on the mountain taking part in a team navigation event. Galtee Walking Club did a daybreak walk from the Black Road to Galtymore and Galtybeag. Clonakilty Hillwalking Club put on a walk to attract new members and had over double the numbers that they'd normally have out. North Cork Scouts had a group of members and friends on Galtymore and they were accompanied by the youngest hiker that I've seen on the hills. The 'Meet-Up' group - Wicklow Hiking and Adventure Group had a good crowd out and hopefully some of the new folk will stick with them and increase their numbers.

I had the pleasure of a father/son hillwalking duo from Kilcullen on the Knockmealdowns. Conor is 12 and had no bother doing the 20Km with 1,088m gain at a very (very) respectable pace. There were many other individual and group efforts, too many to mention, but they did what they did because they wanted to participate and took pride in their chose sporting activity.

Where to from here? We keep throwing mud at the wall and some of it will stick. So, we do the same again next year, and the year after...... "If we build it they will come" - well, kinda. [ ED: Commendable persistence. The first Dec MV was running we were getting just 9 people a day looking at it - now our average per day over the whole year is around 1000]

---

Heritage Ireland 2030 .. Consultation and call for members photos etc

Heritage Ireland is a project of the government in the Republic. (Northern Ireland readers, see later why this may still be relevant to you). Essentially it is plan to protect heritage of the physical sort as in natural and built environment (as opposed to say oral or musical tradition). As hillwalkers we are interested in the protection of the wild heritage we have. Often other important economic priorities impinge on the wild and natural environment. Without a plan to protect wild and semi-wild mountains then there is no counter balance to other requirements. Without defined planning considerations based on preserving such wild places then there is little or no constraint on projects to build say windfarms on summits and high ridges. No balance will be struck between easy walking path creation for supposed economic advantage against wild and natural experiences and challenges. These natural and wild features form part of our heritage and need to be explicitly valued.

We invite members to have their say on these questions as laid out here. There is a deadline for this: 28th February 2019.

Take a look at this website:



which has a background document and several ways for you to participate, including a simple survey. This newsletter will be putting in a response to the document expanding on the themes above. We welcome any comment or offers to submit ideas.

In particular we are looking for pictures that illustrate the issues of encroachment. For example, recently a substantial windfarm has appeared some of which is on the skyline of Croaghan Kinsella on the Wicklow/ Wexford border. Because of its height and positioning it is visible from almost all parts of the Wicklow uplands. This newsletter has commented extensively on the walkway on Cuilcagh (from the NI side) which raises further questions. There is a huge windfarm being constructed near the Carran group of summits in Cork. These are examples of encroachment on the wild for which clear guidelines and planning rules respecting the wild natural environment would create a more balanced discussion. This consultation allows us to say so. And we need photos of examples to make the case. We also want examples of coastal issues such as access difficulties.

For Northern Ireland readers. What happens in NI has a considerable influence on what happens in the Republic and vice-versa. There are joint initiatives in public amenity and tourism which are likely to survive the current turmoils. Why not engage with the process described above. It could benefit your experiences in the Republic. If for no other reason then so that as and when it becomes possible to do so in NI, then you have an extra perspective.
---
Call for Material for Annual
View last ANNUAL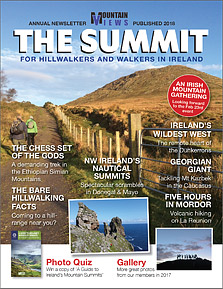 Call for the Annual 2018 - to be published in Feb 2019 -
The Background. For the last three years we have brought out a PDF style magazine. We plan to do the same this, "The MountainViews ANNUAL 2018". We are looking for feature length illustrated articles. And photos. And shorter items for "Your Walking Highlights of 2018".

For the highlights we are mainly looking for experiences in Ireland though as last time we will include some adventures abroad - your notes not necessarily your crafted paragraphs.

We will consider any areas of interest to hillwalkers in Ireland, for example articles on Challenge Walking (both organised and individual), Way Walking (ie walking Way Marked Ways), Summiteering, Family Walking, Gear, Flora & Fauna, Holiday Walking, Scrambling, Coastal or Island walking etc are all welcome.


Copydate: Sun 13th Jan 2019.

If you are thinking of contributing or would like to discuss topics etc feel free to contact or have an article

at admin -at- mountainviews.ie

MOUNTAINVIEWS MEMBERS MEETUP WALKS, 2019
Following our successful events in 2018, the MountainViews' committee will be organising further events in 2019.
Our MountainViews walks are a great opportunity to meet up with other members. If you have any suggestions on where you would like the next walk to be, please contact Liz at elizabethashton2014@outlook.com
---

Volunteering for 2019: Strengthening the MountainViews Committee

Currently we have a number of officers on the committee such as chairperson, secretary etc. We really could use some further committee members to achieve our strategic goals and spread the load.

| | |
| --- | --- |
| Position | In Brief |
| Ordinary members | For those taking an interest in the MV committee or indeed committees in general we can also use some further "regular" committee members without a specific role. There are many smaller quite finite projects that might suit regular members. |
| Publicity | MountainViews is a great resource based on over 1300 people's contributions over 16 years. Great that is if you have heard of it. And that's where we could use some practical publicity help. |
| The Geeks Shall Inherit the Earth | Quite apart from programmers, would you believe MV's progress can also use help from people who can really follow through on tasks like creating lists, checking stats, researching place names or geology. Whether on the committee or not we value such people's contributions. |
| Talks Group | Not strictly speaking part of the main committee but a position involved in finding and selecting interesting speakers and organising the three events we are running each year. |

Contact us at admin -at- mountainviews.ie

Cover of book.

The Lighthouses of Ireland - Author Roger O'Reilly. Published by Collins Press

On 27th November The Lighthouses of Ireland written by Roger O'Reilly was proclaimed the winner of the An Post award as the Best Irish Published Book of the Year for 2018.




The reason it won this award? Quite simply – it is a beautiful book.




Starting at Drogheda, the book takes the reader on a clockwise tour of 86 lighthouses around the Irish coast to Dundalk before finishing inland at The Tower of Lloyd near Kells




It is an understatement to describe this remarkable book as being lavishly illustrated. It is a collection of artwork accompanied by interesting histories and descriptions of the subjects of the artwork.




The author, Roger O'Reilly, is an award-winning artist and illustrator and this explains why this book will delight not only those interested in maritime affairs but also art lovers and lovers of the great outdoors. The style of the artwork calls to mind the famous railway posters from the last century. One could even be forgiven for thinking that someone had discovered and published a previously unknown hoard of Paul Henry posters. What is also amazing is that the artist, using the marvel of digital technology, was able to incorporate his fingerprint pattern into the lighthouse images,




The book has an informative introduction which traces the development of lighthouses from Ancient Egypt to the present day. The introduction also provides a beginners guide to lighthouse technology which enhances the enjoyment and understanding of the descriptions and histories of the various lighthouses that follow.




Each lighthouse is given a full page colour illustration together with a text page describing the history and other areas of interest regarding the lighthouse. The text pages have additional line drawings by the author – some of you may recognise yourselves on the page assigned to the description of The Baily Lighthouse at Howth Head. From the depth of information provided in the text it is obvious that the author has engaged in extensive research regarding each lighthouse. Every page provides a new learning opportunity to satisfy the most curious and enquiring of readers - from how Tory Island got its name to the story of how the ship's parrot was the only survivor when the frigate Saldana was lost off Fanad in 1811. Among the host of other things, the reader can learn are that Hook Head was once known as Hy Kinsellagh and that it is the location of the second oldest intact operational lighthouse in the world.




One minor quibble from a hillwalkers perspective - the locations of the lighthouses are given in degrees, minutes and seconds of latitude and longitude. Mariners use this format for chart navigation. Hillwalkers are usually more familiar with Irish Grid Eastings and Northings. This is only a minor quibble though as degrees, minutes and seconds can easily be converted into Irish Grid references by visiting the website

https://www.rapidtables.com/convert/number/degrees-minutes-seconds-to-degrees.html

to convert the minutes and seconds into digital format. (This website also shows the maths involved – dividing the minutes by 60, the seconds by 3,600 etc.)

The digital format can then be converted to Irish Grid at http://irish.gridreferencefinder.com/. Don't forget you need to add a minus sign in front of the longitude reading when using http://irish.gridreferencefinder.com/

For example

Ballycotton , 51° 49' 33.7''N 7° 59' 07.1'W becomes 51.82603°N -7.985306°W in digital format.

Inputting 51.82603 -7.985306 into http://irish.gridreferencefinder.com/ gives the Irish Grid reference of X 01062 63714




The book has 192 pages and is currently in print as a 277 x 219 mm hardback. It is available in all good bookshops or directly from the publisher, The Collins Press at https://www.collinspress.ie/lighthouses-of-ireland.html for €27.99 including free shipping within Ireland.




RTE Radio 1 interviews with the author are available by following the links below

Ray Darcy Show 16th October

https://www.rte.ie/radio1/ray/programmes/2018/1016/1003535-ray-darcy-tuesday-16-october-2018/

or

https://player.fm/series/series-2281728/roger-oreilly-lighthouses-of-ireland

Seascapes 23rd November

https://www.rte.ie/radio1/seascapes/#102984356

Book Format: Hardback

Published: 2018

Dimensions: 277 x 219 mm

Number of pages: 192

ISBN: 9781848893535



-- Review by Mel O'Hara, who says "As far as I am aware there is no connection at all between the book and the recent RTE TV series. I think Roger mentions in one of the radio interviews that the TV programme took 4 years to make. The book only took two so must have been started long after the RTE TV outfit began their work. It seems Roger began the project by doing some drawings / posters of some of the lighthouses and the idea of a book came later.
As regards the Grid References, I suppose we can forgive him as he's an artist after all.
emVee-Tube
Videos this month:


Videography by Peter Walker.


CHALLENGE
A place for those interested in Challenge Walking

Click here for the Challenge Walk Calendar



Challenge Walk Notes for January 2019

Some notes, courtesy Gerard Sheehy.

Na Sléibhte Hillwalking Club

The club is just over a year old and the once-a-month challenging walks continue at different locations around the country.

Membership is pretty static. Don't get me wrong, there's a lot of interest in what we do and the concept behind it but aspirant members don't appear to have the navigational skills (map/compass and/or GPS) to take part. In addition, many walkers worry about the 'pace' of the walks but we're blue-in-the-face from reminding them that they walk at their own pace - it's about getting the walk done, identical to any challenge walk.

We'll have the Galtee, Wicklow, Sliabh Mish and Comeragh Mountain walks done for the 2018/2019 year when this publication goes out and there will be a fair bit of interest in the next one in February - the Maamturks. If the weather is kind the intention is to do the traverse in reverse - Leenane to Corcóg. That's one to salivate over - great 'training' for the challenge in April and; getting a whole new view of the route without the need for a wing-mirror.

Fei Sheehy Challenge - 2019

Registration is already open and (as at time of writing - 4th January) we're ahead of 2018 on numbers registered and 35% of those will be new to the event.

2018 was the year that the highest percentage of walkers completed the three days. That was a great achievement and it just goes to prove the quality of walkers we have here and that, once you get your head around the three days, it's perfectly doable.

Our 'Mend The Mountain Fund' now stands at Euro 5,349 and we'll be adding half the receipts from 2019 to this, again.

A few more photos from the Na Sléibhte Hillwalking Club Lug-lite in Wicklow
Lug-Lite 1
Lug-Lite 2



Also take a look at this resource managed by MountainViews:

www.facebook.com/ChallengeWalksIreland
SUMMITEERS and PLACE-VISITORS CORNER
A place for those interested in Summiteering, Bagging, Highpointing, visiting islands and coastal places.

A Guide to Ireland's Mountain Summits - The Vandeleur-Lynams & The Arderins
MountainViews first book available online and in some bookshops. The first reprint with numerous minor amendments is available.


simon3 on A Guide to Irelands Mountain Summits
MountainViews first book available online and in many bookshops.

As members will know, for over a decade, Mountainviews.ie has been providing unique information to hillwalkers on all aspects of exploring and enjoying Ireland's upland areas. It's been a collaborative effort by over 1000 of you, and currently contains over 6000 comments on 1057 mountains and hills on the island of Ireland ... ... Click here ...
Bulk sales to groups such as Scouts/ Guides: contact admin@mountainviews.ie for a discounted price.
This month.
Kudos to our contributors.
We welcome the following new members who enrolled this month. BogRunner1, CLong, David_Phelan, dbevan, dlynch, Donovanu, Dustin2018, EamonnO, honeymalik, IrishGirl2014, ixploremore, JeanM, johnclarke, JohnsWalks, Jomyky, keytbyrne, KrisS, Lizquinn, MacMathuna, MaxD15, MollDoll, moqirl, Nolibrarycard, Osku, saluplouz, Simsim85, umcshane (27)

Our contributors to all threads this month: BogRunner1 (1), Colin Murphy (1), David-Guenot (18), GSheehy (1), Onzy (1), TommyMc (1), TommyV (13), markwallace (3), mcrtchly (1), shanks (1), simon3 (2), tomlug48 (1)
For a fuller list view Community | Recent Contributors

There were comments on the following places Barranisky, Ben Dash, Ben Gorm, Clifden Hill, Cloontohil, Garraun, Gleninagh Mountain, Hill of Slane, Knockardakin, Knocknalarabana, Luggala, Mount Oriel, Mullagh More, Slieve Foye, Tara
and these shared tracks Ballycurragh Hill, Dublin/Wicklow Ireland, Carrigvore, Dublin/Wicklow Ireland, Crockawama, Donegal NW Ireland, Doire Uí Fhríl, Derryveagh Mountains Ireland, Donegal NW Ireland, Doughruagh South Top, Twelve Bens Ireland, Drumnalifferny Mountain, Donegal NW Ireland, Dublin/Wicklow Ireland, Dublin/Wicklow Ireland, Errigal, Donegal NW Ireland, France, Occitanie , France, Occitanie , France, Occitanie , France, Occitanie , France, Occitanie , Iceland, South , Knockaunbaun, Twelve Bens Ireland, Knocklayd, Antrim Hills Ireland, Rocky Mountain, Mourne Mountains Ireland, Scrabo Hill, Belfast Hills Ireland, Shehy More, Shehy/Knockboy Ireland, Slieve Loughshannagh, Mourne Mountains Ireland, Spain, Canary Islands tracks were created.

Thanks to all 1351 who have ever contributed place or routes info and forums.

For a full list view Community | Contributors Hall of Fame

Summary. MountainViews now has 9085 comments about 1724 different hills, mountains, island and coastal features out of the total in our current full list (2159). We want to get a good gps track showing each of the major ways to visit each of these places and summits in Ireland. If you see an option to add a "Short Summary" then do please consider creating one since another objective is to have a short summary for every summit and island and coastal feature in Ireland. There's quite a few (435) opportunities for you to be the first to comment on a place, not so many on summits, however lots of opportunities for islands and coastal features as we bring them out. We also have around 2000 shared GPS tracks, mostly in Ireland. Apart from a few popular areas, there is a need for more routes in many different areas. Plain shared tracks without descriptions are welcome however if you have time then do please add route descriptions with photos.
NOTICES
Notices
If you are contributing, please be careful to respect the interests of landowners. Suggest access routes well away from houses, gardens or that could conceivably impact farming activities. When walking, keep away from gardens or farm buildings. Use stiles or gates wherever possible. Never do anything that could allow animals to roam where the farmer did not intend. Ask permission where appropriate.
Take care if parking and do not obstruct roads, lanes and field entrances to access by farm machinery, which can be large. Exercise your dog in parks or forests but avoid countryside or open hillside where they may worry sheep.
Report suspicious activity to the police forces, as below.
If your car is broken into in an upland area report it to the PSNI or Gardai as this will help them be aware of the issue and tackle it in future. Store the numbers. In Northern Ireland use the PSNI non-emergency number 0845 600 8000. In the Republic you can find the local Garda District HQs phone numbers at www.garda.ie/Stations/Default.aspx. Specifically for the hotspot of Wicklow: the Garda Divisional Headquarters in Bray is 01 6665300.
If you hear of a problem area or route, write it up in MountainViews which does everyone a service.
Report rubbish tipping in the Republic - ring EPA hotline 1850 365 121
Report recreational quads in national park area (in which they are banned). They are also banned in the Mournes. For Wicklow please phone the Duty Ranger: 087-9803899 or the office during office hours Telephone: +353-404-45800. For the Mournes ring the PSNI (as above) or contact Mournes Heritage Trust. Put these numbers in your phone, take regs etc. Let MV know of contact numbers for other areas.
If you have visited some of the less well known places, we would appreciate a place rating and also "Improve Grid Ref" for summits and other places.
If you find errors in the basic information about places such as in their names, their heights, county name etc please use the "Propose Places Database Change" option.
If we can, let's make MV have more than one route up a summit or to a place so as to reduce the tendency for paths to appear. Your grid refs in comments for different starting points show up on MountainViews maps as well as shared GPS tracks.
Visit the MountainViews Facebook page.
Visit the Challenge Walks Ireland page (jointly managed by MountainViews)
This newsletter
This newsletter
Editor: Simon Stewart, Homepage: www.simonstewart.ie
Assistant editors: Colin Murphy, David Owens
Summit comment reviews: David Murphy
Challenge Info: Jim Holmes
Track reviews: Peter Walker
Book reviews: Aidan Dillon, Peter Walker, Mel O'Hara
Videography: Peter Walker
Graphics design advice: madfrankie
Development & support volunteers: Vanush "Misha" Paturyan, Jack Higgins, Piotr Stepien

NEWSLETTER ARCHIVE.
View previous newsletters mountainviews.ie/newsletter
RETURNING TO MOUNTAINVIEWS

(If you have cookies on in your browser then you may be prompted as to username/ password. If you forget the password, the login page can email you a replacement.)

UNSUBSCRIBING


Alternatively let us know by email at admin -at- mountainviews.ie Include the email address you got this at or your screen-name guestuser.