The Summit


Monthly newsletter of MountainViews.ie for guestuser

Dec 2018
HILLWALKING
NEWS - INFORMATION - RECENT CONTRIBUTIONS - FEATURES - FORUMS


NORTH, SOUTH, WEST, EAST, MIDLANDS, NORTHERN EUROPE Route ideas and places to go.

Challenge Walks More exploits from Sléibhte Hillwalking Club - a new way of enjoying Challenge walking all year round.

Hillwalking Day 1st Jan 2019 -- report using #HillwalkingDay

Luggala Updated Background, petition and updates.

ANNUAL for next February Essays, articles, informal notes, photos etc that you would like to contribute welcome.

Furthering Access Some suggestions : "Aligning Sport with Access", Raising Status of the Wild and "Virtual Signposting"

Two videos featured this month. gerrym, mcrtchly


UPCOMING EVENTS for HILLWALKERS
MOUNTAINVIEWS: Hillwalkers' Winter Talks
Friday 22nd Feb 2019. 7.30 for start at 8pm.
MountainViews Gathering.
Guest speaker Éanna ní Lamhna well known broadcaster on RTE, who will be talking about flora and fauna in the Irish hills. In the past Éanna completed the Irish county highpoints - while most of these are airy, exciting peaks some are pretty low lying and a spot of nature watching would make trips to them more interesting.
Toughsoles a young and dynamic duo who have already walked most of the Waymarked Ways of Ireland will talk about their experiences with what they have found on their pioneering effort to complete this huge undertaking.
There will be the usual awards ceremony for people who have completed specific challenges or done something for hillwalking or MountainViews

There will be a presentation on new features of MountainViews. There will be opportunities to meet other members and summiteers. The meeting is a public meeting open to all. Venue: Lansdowne Hotel, Dublin 4. Further details to follow.


Date to be arranged (probably April). There will be a talk by members Martin Critchley and Sharron Schwartz of "Purple Peak Adventures".
The title will be "Trekking the Realms of Vulcan: Adventures in the volcanic highlands of Iceland and Ethiopia" and we will give further details in due course.


We continue to have a deficit of talks organisers for 2019. This is impacting the community's ability to create an interesting and varied programme, despite the reasonable attendances we get. It's a relatively light bit of volunteering as such things go and if you were thinking you might help, get in touch by email at secretary@mountainviews.ie .

The meetings as advertised above will go ahead and we have plans for further members meetups on the hills for 2019 to announce in the coming months.

---
#HillwalkingDay

Hillwalking Day - 1st Jan 2019

If you love hill-walking, what better way to make to share that with the rest of the World than participating in a day designated to celebrate that activity.

Request from Ger Sheehy

If you have pride in what you do as a hill-walker then I have a simple ask of you.

On the 1st of January, if you are out on the hills, could you please take a photograph and post it to your social media account with the #HillwalkingDay hashtag? Just that. Nothing else.

Some of you that are in meet-up groups or clubs may want to take the initiative a bit further and organise a bimble/dander/saunter on that day. You may see it as an opportunity to recruit new members as folk will be looking for something to do on that day. Of course, adding a new dimension to what you do as a club or group would also swell your numbers eg a sunrise/sunset walk etc.

If you're a walker who goes out on their own, in the main, you'll often have had that exchange with a friend where they've mentioned that they "might go out with you sometime". Well, now's their chance to do it on a day named in honour of your prescribed drug of choice.

So, if you're out, just remember the public post and the #HillwalkingDay hashtag. You can also tag @HillwalkingDay on FB or Twitter.

Contact me via the website www.HillwalkingDay.ie if you'd like your event to be mentioned n the site.



---
MOUNTAIN MEITHEAL: Mountain Meitheal are keen to find more people to help.
Mountain Meitheal make practical repairs to some of the more popular areas we walk on, using a voluntary community based approach. (More information at their website.)
Picture of the month
View west over a well framed Knappagh Lough in the Twelve Bens. Author's apt comment "Looked at from the lake, Doughruagh and Altnagaighera [Garraun SW Top] form an interesting contrast, especially on a sunny day. The former is black, craggy, permanently in shadow and faintly menacing; the latter is bright green, sunlit and speckled with sheep."

For original track, click here.
Photo: markwallace
International Pic of the Month
Kallur Lighthouse, Faroes. Author's comment "To gain the coveted and epic Instagram view, you will need to progress past it onto a promontory to the north which is accessed via a badly eroded knife edge arête with death defying drops to the seething ocean on either side."

For original track, click here.
Photo: mcrtchly
Regions: MOUNTAIN COMMENTS - TRIP REPORTS - TRACKS - SUMMARIES
In short: Discovery
Featured Track of the Month
Swedish Delta blues
This month's selection is a return trip by mcrtchly and kernowclimber to the Arctic North of Sweden. Having trekked along the famed Kungsleden trail in the past, they have now turned their attention to the eminently desirable mountain of Skierffe. Eschewing the expensive option of a helicopter ride to the interior, their route is a multi-day backpack culminating in a summit bivouac and a quite astonishing view.


mcrtchly on Bagging the Best View in Sweden


Main walk Start: 14:38, End: 13:40,

Duration: 71h 2m, Length: 49.6km, Ascent: 1063m

, Descent: 1010m

Places: Start at Lon 18.5813, Lat 67.0787, end at Start

(statistics such as Ascent or Length etc should be regarded as approximate. Duration depends on the speed of the person making the track)


Two years ago our hearts sank when atrocious weather meant that we were unable to climb one of the most famous mountains in Sweden whilst trekking part of the Kungsleden (Kings Way). This year our hearts leapt with sheer joy as we arrived on top of it to behold what is undoubtedly the best view in the whole country.

Skierffe is a 1,179 metre fin of rock shorn in two by a glacier which ground its way down through the most famous valley in the most well-known national park in Sweden: Rapadalen in Sarek. Lying inside the Arctic Circle with no roads, signed trails, wardened huts, or motorised access, Sarek National Park was established in 1909 and covers 1,970 square kilometres. This famous park lies at the very heart of the Laponia Area, part of the homeland of the indigenous Sámi people (also known as Laplanders), which was recognised as a World Heritage Site by UNESCO in 1996. Sarek is an expanse of genuine wilderness, one of Europe's last, with numerous 2,000 metre high mountains, many still holding glaciers. The landscape feels decidedly primordial, perhaps because the last remnants of the vast Fennoscandian Ice Sheet only receded from the mountains of eastern Sarek some 9,000 years ago, just after the end of the Pleistocene epoch.

Laitaure delta from Skierffe: the best mountain view in Sweden

The only way to get to Skierffe is on foot. By far the easiest (and costliest) way is to take a helicopter to the small Sámi settlement of Aktse, but you still have to climb for several hours to reach the summit. Otherwise it is more than a two and a half day walk from the trailheads of the Kungsleden at Kvikkjokk in the south, or Saltoluokta in the north, or a day and a half walk the way that we came.

We decided to take our tent and to wild camp on the mountain in the hope of capturing some good photographs. We left our Land Rover at a small parking area at Sitoälvsbron which is situated at the end of the road from Tjåmotis that passes a large dam on Lake Tjaktjajaure. From here we crossed the roaring Sitoälven River by bridge and followed the 10km long dirt track to the shore of Lake Tjaktjajaure. From the jetty there we picked up a trail through the taiga leading towards Aktse. We decided not to camp at the Svenska Turistföreningen (STF) hut at Aktse, knowing that the pitches aren't all that great there, and to save ourselves the 20 euro per person camping fee (30 euro each for non-STF members), opting instead to make camp in a mossy forest clearing before the hut.

The next day we stopped by the Aktse hut which is on the Kungsleden. There is a small shop here which sells food stuffs, camping gas, other essentials and cool beer! As STF members we have the right to access the cooking facilities and the hut during the day for free, which we made good use of to enjoy a very leisurely lunch. After filling our water bladders and a nalgene bottle (there is no water at the summit so you need to carry enough with you) we began the steep climb up the wooded valley on the well-trodden Kungsleden away from Aktse to a point where the tree line ends. Here we left the Kungsleden and struck out in a north westerly direction across the alpine tundra following inconstant reindeer tracks. We encountered occasional boggy ground with dense patches of dwarf willow which were tedious to cross, but the views down over Lake Laitaure were magnificent.

Martin walking through the alpine meadows at Akste with Skierffe looming in the distance

About half way to the summit, the boundary into Sarek National Park is crossed. The trail then traverses windswept alpine tundra, traversing the low ground between two other mountains - Bassoajvve and Slie?getjåhkka – before swinging round the back of Skierffe. The final 140 metre climb up to the summit is over steep and boulder-strewn terrain.

Good pitches at the rocky summit of Skierffe are at a premium, but we managed to find a level site which was not too stony for our 2-man Terra Nova Voyager tent just metres from the vertiginous 600m cliffs overlooking the incredible Laitaure Delta. Below us lay the Rapa River, which stretches 75 km from its glacial headwaters deep inside Sarek to the mouth of Lake Tjaktjajaure, braided into countless small streams flowing between sandbanks and russet bog which was pockmarked by scores of lakes and pools which shone like shards of glass in the afternoon light.

Camp at the summit of Skierffe with the glaciers of the Pårte Massif behind

Luckily, we had the summit to ourselves and the clear sky meant we enjoyed a decent sunset over the high ground towards the glaciated Pårte Massif, and a fabulous moonrise over Lake Laitaure. However, during the night it was forecast to cloud over bringing rain by dawn. Just before sunrise the nylon of our tent began to blaze with an intense vermillion light sending us rushing out to grab some shots. It began to rain lightly from thick grey cloud that had not quite enveloped the eastern horizon which had erupted in colour, sending a rose-pink glow over Lake Laitaure and its delta, and turning the broad summit of Tjahkelij just opposite, cerise-pink. A small rainbow hung in the sky over the delta for a few moments before the rising sun was swallowed in the encroaching gloom.

Fire in the sky at dawn

We returned to our tent to grab a few more hours sleep while it bucketed down with rain. By the time we broke camp the rain had turned into billowing mist as the high ground was shrouded in low cloud. We returned the way we had come, picking our way carefully over the now wet rocks, stopping at the Aktse hut once more for some hot lunch and to stock up on supplies, before returning to the taiga where we found a good sheltered camp for the night. The following day it was still grey and overcast with occasional showers making the long traipse from the lake shore along the dirt track back to our Land Rover at Sitoälvsbron somewhat tedious, particularly since Martin had badly twisted his ankle the day before!

To follow the route we did you will need your own vehicle as there is no bus to the parking area at Sitoälvsbron. To keep the walking distance down, you could catch a boat which operates in the high season from the jetty at the end of Lake Tjaktjajaure to Aktse which saves over 6km of walking. It's also possible to cycle between Sitoälvsbron and the lake.
Views like this make the effort of wild camping really worthwhile
---




NORTH: Trails into the past
Also known locally as Fionn Mac Cumhaill's mountain, Slieve Gullion in the Cooleys has plenty of well-marked trails and a wealth of folklore to indulge in, reports TommyV.

TommyV on Slieve Gullion, (Sliabh gCuillinn): Fionn Mac Cumhaill's mountain.
The car park on the East side of this hill mentioned by traitreker is a good starting point for this hike. Slieve Gullion Forest Park is a very popular recreational area for families so there is ample parking and facilities. Follow the forest road uphill from the car park for a few kilometers. As the forest disappears and the mountain begins to dominate the terrain, a stile on the right side of th ... ... Click here ...


NORTH: County highpoint in every sense
The smallest county in Ireland certainly has a special county high point in the Cooley's Slieve Foye, with waymarked trails and great views of Carlingford Lough, reports TommyV.

TommyV on Slieve Foye, (Sliabh Feá): Louth's CHP
The picturesque town of Carlingford provides a great starting point for this hike. There is a waymarked trail leading out onto the mountain and markers directing you to the summit. The smallest county in Ireland certainly has a special county high point. ... Click here ...


WEST: The road less travelled...
markwallace continues to take a more exploratory approach to Summiteering in the West, this month uploading a route that visits the remote north side of Doughruagh before forging a way up the steep face above Lough Knappagh; decent route selection is a must in areas such as this. More of the same (only downhill) follows to visit the Sacred Heart statue above the abbey on the descent. This route over Doughruagh could be used as part of a tough ole cross country outing taking in Benchoona and Garraun as well.

markwallace on Doughruagh, Lough Knappagh, Sacred Heart Statue
This walk uses Onzy's suggested access point for Doughruagh, a makeshift pallet gate along the N59 beside the parking sp| walk, Len: 10.0km, Climb: 690m, Area: Doughruagh, Twelve Bens (Ireland) Dough ... Click here ...


WEST: The West's steep-sided fortress
Maumtrasna is one of the most singular mountains in Ireland with its great plateau summit surrounded by plunging sides, says Peter Walker.

group on Maumtrasna, (Mám Trasna): A steep-sided fortress in the West
Maumtrasna is one of the most singular mountains in Ireland, a monumental sprawl of plateau plunging away in viciously steep slopes around almost all of its perimeter; these slopes are themselves deeply incised by a large number of substantial corries. The summit area itself is mostly very straightforward going but largely featureless; when this is combined with the lack of a genuinely easy ascent ... ... Click here ...


WEST: Galway...guy
Just to demonstrate that he's not entirely consumed by the need to visit every single lump in Ireland that MIGHT at some point be determined to be an Arderin Beg, Onzy has uploaded what looks like an excellent legstretcher (with optional pub lunch, always an incentive) on the Galway coast, covering the somewhat squat peninsular to the north of Cleggan. The route passes close to the Binnion tops of Maumfin and Knockaunbaun, and a number of coastal summits could also be included.
Onzy on Coastal Walk north of Cleggan
A spectacular walk circling the peninsula immediately north of Cleggan ... a detour to Olivers for lunch and a fast coun| walk, Len: 22.5km, Climb: 386m, Area: Galway Coastal Hill (Ireland) ... Click here ...


WEST: A gem on the fringes of Connemara
Isolated from most of the west's peaks, the diminutive Tully Mountain offers wonderful land and seascapes, says TommyV.

TommyV on Tully Mountain: A gem on the fringes of Connemara.
As Tully Mountain is isolated from the rest of the peaks in Connemara it offers probably the best views of Mweelrea and the Twelve Bens that you are likely to see. A few hundred metres past Derryherbert Quay, there is room to park a few cars near a farm track at L68457 59975. Follow this farm track for about 50 meters and you will see a gate on a height to the left. This will give you access to th ... ... Click here ...




Featured summit comment


My Goodness My Guinness

-- TommyV

With Luggala being such a hot topic in the news these days, this post on November 2 by TommyV has to be the month's winner! Aptly titled , the comment describes a great day's hillwalking in that controversial area of County Wicklow:

This walk takes in Luggala and Knocknacloghoge which makes for a great day of hiking. There are a few places to park near a gated entrance to the road that leads down to the Guinness Estate at O17232 06369 A. This road can be followed to a wooden bridge where a stile at O16052 06146 B will indicate it's time to start the ascent North West to Luggala. From the summit, it's worth heading a few hundred metres North East along the cliff face to have a nosey down over the impressive Lough Tay and the private Guinness estate. Retrace your steps to the summit then drop down to the Cloghoge Brook before climbing again to the summit of Knocknacloghoge. There is a steep descent here down to Lough Dan, where focus is needed so try not to get distracted by the magnificent views of the lake below. From here follow a trail that leads to where the Cloghoge river flows into Lough Dan. Once here, the road leads back to the wooden bridge from earlier in the hike. However, there are a set of stepping stones that neatly cross the river and another road on the far side that also leads back to the start of the hike. The test to not get the feet wet proved too great so this is the route we took.
---

SOUTH: Prairies and precipices
Coomura Mountain in the Dunkerrons offers a wonderful range of diverse landscapes from loughs to knolls to plains to the occasional abyss, reports Peter Walker.

group on Coomura Mountain: Prairies and precipices
Teetering on the northern edge of the extensive plateau extending north from Knocknagantee in the Dunkerrons, Coomura Mountain presents very differing forms of complexity depending on viewpoint. Its southern frontage is very much knolly and mostly grassy (before collapsing into the twisted wonderland around Lough Reagh), while to the north and east lies a plunging abyss of folds, contortions and b ... ... Click here ...


SOUTH: Two-faced mountain
On one side marked by plunging coums but peaty and more gentle on the other, Meenteog in the Glenbeigh Horseshoe is a dramatic, rewarding climb, says Peter Walker.

group on Meenteog, (Muing): Squat and steep-sided summit on Glenbeigh Horseshoe
Lumpen in its higher reaches but very much steep-sided lower down (especially to the north), Meenteog is the first of the higher, more dramatic summits on the Glenbeigh Horseshoe if walked clockwise, it usually being climbed as part of that itinerary. The going hereabouts is easy if occasionally peaty, a marked contrast to the plunging shattered coums on the north side of the ridge. If not enga ... ... Click here ...


EAST: Three ridges, many routes and good views.
There are multiple options for approaching Scarr in Wicklow, as reported by both Simon3 and TommyV, and the summit usually rewards with panoramic views.

group on Scarr, (Scor): Three ridges, many routes and good views.
Scarr has three useable ridges off it, to the north, south and east. The easiest perhaps is the Glenmacnass Waterfall carpark O11380 03009 (notorious for break-ins). From here head for the north ridge that extends from Scarr to Kanturk (aka Brown Mountain). Round trip around 90-100 minutes. Another starts from Oldbridge O1581 0197. From the east of the public road there is a well surfaced ... ... Click here ...


EAST: Newgrange's less-famous cousin.
As a hillwalker's hill, Slieve Na Calliagh is a simple bag, but as a historian's hill, it's an absolute gem, topped with fascinating pre-historic monuments, says TommyV.

TommyV on Slieve Na Calliagh, (Sliabh na Caillí): Newgranges lesser famous cousin.
Also known as Carnbane East, this short walk offers pleasant views of county Meath and neighbouring Westmeath but the real attraction is the large tomb cairn and smaller graves dotted around the summit of this hill. The sun shines directly in to this tomb during the spring and autumn equinox.The walk itself is a very short one from the obvious roadside car park mentioned by jackil. A word of warni ... ... Click here ...


EAST: Bray Away
simon3 has had another little wander along the east coast, making use of public transport to facilitate a walk between Bray and Killiney. Whilst obviously an easily accessible route pay heed to his warnings about tides, with sections being difficult/impossible to escape. Those wishing for more of an upland prospect could end with an ascent of Killiney Hill.

simon3 on Bray to Killiney
This is another walk in the continuing series of trips along the east coast of Ireland.It uses public transport. The sta| walk, Len: 8.7km, Climb: 24m, Area: Dublin/Wicklow (Ireland) ... Click here ...


MIDLANDS: Rough neck of the woods
Cooneen Hills in the Shannon area involves a trek through a Coillte wood followed by a struggle over rough ground, reports TommyV on this very average hill.

TommyV on Cooneen Hill, (Cnoc an Chuainín): Very average
Nothing to add to simon3's directions. Like quite a few of the hills in North Tipperary, this one is through a Coilte forest track to begin with and then the tough push through some horrible ground, I guess that's the price we pay for the lesser visited, out of the way hills with no masts or transmitters. ... Click here ...


MIDLANDS: The devil's advocate
The jewel in North Tipp's crown, so says TommV of Devilsbit in the Shannon area, with great views, history and Ireland's mini version of Rio's Christ the Redeemer!

TommyV on Devilsbit Mountain, (Bearnán Éile): Get a bit of the Devil in ya!
After a day of bagging some of the more unremarkable summits in North Tipperary, Devilsbit was a delight. There is designated parking at S06115 73178. Follow the waymarked path all the way to the tower known as Carden's Folly. There is plenty to see here with a noticeboard with information on the history of the place, and the ludicrous story ofhow the mountain got it's name. A few meters from h ... ... Click here ...


NORTH EUROPE: The light at the edge of the world
An absolutely sensational route has been uploaded by mcrtchly, out on the otherworldly outpost of the Faroes, rising ridiculously out of the north Atlantic as though the gods had a second go at building Iceland but ended up somewhere else. The walk to Kallur Lighthouse on Kalsoy Island is adventurous before you even start (single-track road tunnels, anyone?) and packs an awful lot of deeply downward views into its relatively brief length...this isn't a walk for the fundamentally nervous, but the braver would be commensurately rewarded, it seems.

mcrtchly on A Postcard from the Edge
This summer we spent 2 weeks in the Faroe Islands, a remote arrowhead-shaped archipelago of 18 basalt islands rising up | walk, Len: 4.3km, Climb: 216m, Area: Faroe Islands, Norðoyar () ... Click here ...


Sorry if we didn't mention what you posted .. there's a list of all contributors for recent months later.
MOTLEY GATHERING
Call for Material for Annual
View last ANNUAL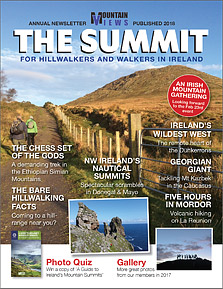 Call for the Annual 2018 - to be published in Feb 2019 -
The Background. For the last three years we have brought out a PDF style magazine. We plan to do the same this, "The MountainViews ANNUAL 2018". We are looking for feature length illustrated articles. And photos. And shorter items for "Your Walking Highlights of 2018".

For the highlights we are mainly looking for experiences in Ireland though as last time we will include some adventures abroad - your notes not necessarily your crafted paragraphs.

We will consider any areas of interest to hillwalkers in Ireland, for example articles on Challenge Walking (both organised and individual), Way Walking (ie walking Way Marked Ways), Summiteering, Family Walking, Gear, Flora & Fauna, Holiday Walking, Scrambling, Coastal or Island walking etc are all welcome.


Copydate: Ideally by Thurs 10th Jan 2019.

If you are thinking of contributing or would like to discuss topics etc feel free to contact or have an article

at admin -at- mountainviews.ie
We are asking for contributions a month earlier this year, because experience has taught us it is difficult to marshal and to prepare a good mix for the annual when we leave it to after Xmas.
---
Some suggestions regarding Access and Conservation policy.

-- by Simon Stewart

It has become clear that Mountaineering Ireland has been doing its consultative homework for a possible change in their Access policy and general stance publicly on this. A consultation with interested parties was held on Sat 1st December 2018. Personally I can say this is welcome news. As far back as 2004 the Irish Ramblers Club proposed a resolution to the MI agm requesting that MI review the application of their access policy (I drafted the motion. Note: MI = MCI for this purpose). Although it was unanimously accepted, it didn't end well with the powers that were in MI circling the wagons. One important effect was sidetracking an appropriate discussion about advocacy. Fortunately this previous experience is history. MI appear to be taking a balanced approach taking into account the risks and advantages of a more assertive public stance.
MV were not able to go to the recent consultation for various reasons however we await with interest to see what sort of response actually emerges. Here are some ideas that I have regarding Access and how it may be improved (which were put forward at the consultation in writing at least.) Feel free to comment on them through MV's forum.


A. Aligning Sport with Access and Conservation policy
What is emphasised and promoted in hillwalking on the sport side can have a big effect on both access issues and on upland management and should be built into MI policy and practice.
B. Raising the status of the wild and specific wild places
Mountaineering Ireland can and should consider ways to raise the official status of mountains, islands and coastal features by promoting their intrinsic value in heritage to raise their status nationally and locally and to assist in planning.
C. Providing Virtual Signposting
Currently signs and lines of poles are appearing all around the landscape. I would propose a different approach based on an App and a database to provide people including casual users with information without much damage to the landscape.
---------------------------------------------------------------------------------------------------------------------
A. Aligning Sport with Access and Conservation policy
Mountaineering Ireland and other bodies like UFRC have significant influence with many hillwalkers, particularly those in member clubs. By looking hard at how different aspects of the sport are promoted I think peoples activities in the hills can be shifted in such a way as to spread footfall and minimise hotspot damage. MI currently does promote self-reliance and general training to achieve this, however it is necessary in my view to reimagine the sport to further motivate people to get out of grooves they may be in.
Encouraging summiteering or at least the exploration of less well known places helps this. If a proportion of the public are inspired to visit less well known places of which there are literally thousands, then many positive outcomes will flow.
MountainViews initiated a formal discussion with the Board of MI about this in 2015. It has been progressed and we understand will be considered by the Hillwalking Committee when this is formed.
To be fully successful it will require changes to various policies, to training, to club briefing, to MI's media output. In return the hillwalking public will see a sense of constructive leadership in the sport linked to the other aims of MI.
As an example of response on Fri 30th Nov 2018 MountainViews received the following, a harbinger of what could be much more widespread:
I am pleased to be able to report that I completed the Local 100 Challenge on the 11th November. It took me the best part of 2 years to get around to them all, but it was a marvellous journey. It brought me and some of my friends to areas, especially amongst the Shehy Mountains in County Cork, that I never would have imagined. At times I felt that we were heading into hidden valleys to the base of mountains that time had forgotten. I live in Carrigaline in County Cork and some of the areas to my great surprise were less than an hour from my home. Having trekked in many of the mountain ranges across Europe and in the Himalayas over the years, I am ashamed to admit that I didn't trek nearer to home over the years. It's certainly not all about climbing the Mweelreas and the Carrauntoohils ad infinitum.
Many thanks to all the volunteers who help to maintain the Mountain Views site. It is a great asset for those like myself who are forever wandering about in the highways and byways.
Now to complete the Highest 100 list.
There are other types of sport alignment that I believe can be considered which include specifically encouraging greater diversity of routes by clubs, by a different approach to challenge walks, by considering other approaches such as geo-caching.
B. Raising the status of the wild in general and specific wild places
Currently planners take into account designations such as SAC or ASSI Certain areas are recognised as having particular worth. In my view many Irish mountains and some coastal areas should have an analogous status. "Sites of Special Worth" or somesuch. Often there will be a particular reason such as a particular place is the highest point in a county or in a province. Sometimes because the place is particularly high or has a local status. Sometimes because a place is simply wild and recognised as such. This has various advantages
In planning and forming an argument to mitigate the dewilding that can occur in developments such as wind farms.
When a hill or mountain is considered by the local population as being part of their heritage or national heritage then naturally they will take steps to defend it. Giving it an official status encourages this way of thinking.
It's quite clear that the "Wild Atlantic Way" is a massively successful concept in road tourism. In a polluted urbanised world wild has a cachet. And Ireland is full of wild places. Unfortunately many of these are under threat and an official recognition of the heritage value of the wild and specific places will help mitigate this.
C. Providing Virtual Signposting
It is valuable to promote mountain access areas, but this form of high level, highly negotiated initiative is going to be a massive commitment and will in my view be overkill in much of the island of Ireland with its hundreds of 500m and smaller summits. For many less prominent places a much simpler approach should be considered in my view, using modern tech.

Large numbers of the general public want to taste the wild. Trying to prevent this outright to protect areas is mostly pointless and elitist. However there are achievable goals in providing some assistance while not getting the dewilding effect of formal or semi-formal routes set out in carparks, poles and signposts. Organising this properly would lead to a chance to communicate with the walkers.




Most of the general public have smartphones. Most places that walks start from have a mobile signal (something that will likely increase with the thousands of low orbit base stations currently being launched.) This suggestion makes for something conceptually simple for the public. Lets cut to the chase.


You visit a specific starting point and find a pole with a url on it. (QR code or whatever) Visit the URL and get simple information about the way up. What to expect, how to do it safely, similar options nearby and, sparingly, some information on responsibility and further training etc. (Perhaps go further into an actual navigation app with maps and directional arrows OR perhaps not .. might have more downsides than advantages.)



Getting this to happen is of course a project with various parts though, in my view, far easier than mountain access areas. Technically it requires a database, an app and non-technically a promotion to local authorities or other interested in providing routes and a source of poles with urls. According to newspaper reports some 22 Greenway projects are seeking money. Probably many will get it. There is now a hunger for initiatives like this to work and an interest spread throughout Ireland to do the legwork. An initial outlay is needed for the database and app, though these are quite quantifiable. Data would be created by users or licensed from other websites. Contacting local stakeholders particularly landowners is the major task, though this proposition is going to be a lot easier than mountain access areas. And poles – a great sideline for the Coilltes or NI Forest Services of this world. Once started the marginal costs of extending the facility are small.

The benefits? Signposts without poles. A more informed public seeing the wild not the tamed. A chance to talk to that public.

I was interested to hear from Éamon Ó Cuiv at the Clonbur meeting that he had promoted the notion of an app in the context of Mount Gable and while this wasn't fully fleshed out, it is interesting that he valued this as a concept.

These opinions are not necessarily those of anyone else associated with MountainViews, its community or committee.


---
Green finished so far

Waymarked Ways. Doing them all!

[We are repeating this item on Toughsoles because they have kindly agreed to speak at our Gathering next February 22nd.] A couple are doing all of the Waymarked Ways of Ireland (Well, those in the Republic.) Here are some statistics from their website "There are 42 trails, with a combined distance of around 4,000km. So far we've walked 35 trails, and over 3,000km."

They have also very kindly agreed to write us an illustrated article about this achievement and we very definitely look forward to this in a future newsletter.

Their names are Ellie Berry and Carl Lange and go by the name of Toughsoles.



Link to website toughsoles.ie
---

MOUNTAINVIEWS MEMBERS MEETUP WALKS, 2019
Following our successful events in 2018, the MountainViews' committee will be organising further events in 2019.
Our MountainViews walks are a great opportunity to meet up with other members. If you have any suggestions on where you would like the next walk to be, please contact Liz at elizabethashton2014@outlook.com
---

Volunteering for 2019: Strengthening the MountainViews Committee

Currently we have a number of officers on the committee such as chairperson, secretary etc. We really could use some further committee members to achieve our strategic goals and spread the load.

| | |
| --- | --- |
| Position | In Brief |
| Ordinary members | For those taking an interest in the MV committee or indeed committees in general we can also use some further "regular" committee members without a specific role. There are many smaller quite finite projects that might suit regular members. |
| Publicity | MountainViews is a great resource based on over 1300 people's contributions over 16 years. Great that is if you have heard of it. And that's where we could use some practical publicity help. |
| The Geeks Shall Inherit the Earth | Quite apart from programmers, would you believe MV's progress can also use help from people who can really follow through on tasks like creating lists, checking stats, researching place names or geology. Whether on the committee or not we value such people's contributions. |
| Talks Group | Not strictly speaking part of the main committee but a position involved in finding and selecting interesting speakers and organising the three events we are running each year. |

Contact us at admin -at- mountainviews.ie

Luggala: Continuing petition, ministerial meeting.
Sign near Luggala
Luggala
Updated Situation, December 2018

Recently Mountaineering Ireland met Josepha Madigan, Minister for Culture, Heritage and the Gaeltacht in the Republic to discuss the situation.
As a small sideline to this, MV were asked to provide statistics about the popularity of Luggala and Knocknacloghoge. It is interesting to ask "What can be inferred from logging by MV members of visits to these summits?"


Luggala is the 12th most popular place logged in Wicklow out of the 129 we list
Luggala: 586 members of MountainViews have logged visiting this summit.
Knocknacloghoge: 412 logged visits.
For comparison, nearby Djouce which has the fourth highest score out of the 1501 we list in the whole of the island of Ireland has 1164 visits logged.
Luggala and Knocknacloghoge and the space between and around them are very popular places in my experience and this is borne out by the figures and the tracks shared.


Mountaineering Ireland published a report about the meeting that occurred. Report here. It doesn't say that instant agreement and dispersal of cash occurred, but then, governments take time to make their mind up.

If by any chance you haven't signed the petition, do so as below. The number who have signed has reached over 10,400 as we write this but we need more.

Background
Luggala, an area and a mountain in the Wicklow Mountains is a magnificent place to walk for a variety of reasons. It is a great day out for younger people and those looking for an interesting but not too hard experience. It is also a conduit to various higher summits in the area such as Luggala and Knocknacloghoge. If you look at the diagram you can see members' shared tracks illustrating the usage made. These are some of the best hillwalks in Wicklow.
Some of the extensive usage by walkers of the area.

Following the death of Garech Browne, the former guardian of Luggala in March 2018 access to this area is threatened by the sale of the land.





Mountaineering Ireland has been working to secure continuing access to this land. Take a look at their news page which contains a proposal that the "State should purchase Luggala", more precisely those parts of greatest interest to hillwalkers (partly shown on our map of shared tracks).





"The National Parks & Wildlife Service has recommended the purchase of 4,000 acres of the estate (excluding Luggala Lodge and its surroundings). This is an approach which Mountaineering Ireland is supportive of as the cliffs, the Cloghoge river valley and the mountain lands of Luggala and Knocknacloghoge are our main interests, and these should have a much lower market value than the entire estate."





Their statement also links to an article in the Irish Times and an editorial in the same newspaper. The latter, while decrying the offensive approach being taken at Luggala, adds a somewhat general perspective saying:





"Nevertheless, Mountaineering Ireland's call should spark a serious national conversation about public access to areas of great beauty and high nature value. Certainly, rights to reasonable privacy, and respect for working farms, need to be balanced with the right of access."





(Any right thinking person can agree with this and MI certainly welcomed the editorial).



What can you do about this?



We live in a democracy. Get onto your local TDs, write to the Minister.

There is also a



Petition about Luggala.





We recommend that you sign this.





We have a few caveats. If signing such a petition only makes you feel good and believe that nothing further needs doing then you are missing the nature of representative democracy and how to influence it (e.g. TDs and Minister as above). We also have strong reservations about the vehicle in use "Change.org" which operates in a country without strong privacy rights and is seeking to monetise political campaigning. Don't pay this group anything when they ask. Just sign the petition.





More positively we can tell you that the Irish promoter of the petition is a concerned individual living in Wicklow and not a front for some political party or pressure group. We applaud this person's effort. Well done. We aren't clear about the source of his/her figure for the Euro 1.2m proposed price however this is a detail that can be resolved later.





-- Author: Simon Stewart.
emVee-Tube
Videos this month:


Videography by Peter Walker.


CHALLENGE
A place for those interested in Challenge Walking

Click here for the Challenge Walk Calendar


Challenge Walk Notes for December 2018 - The Lug-Lite


Lug-Lite

What's earned in the winter slog-fests pays off in the spring challenges.

November brought the members of Na Sléibhte Hillwalking Club to Wicklow. Participants had the choice of a linear 39km or a 'shorter' 33km hike from the The Sally Gap to Fenton's - christened The Lug-Lite.

A lot of rain had fallen in the days before the walk and the forecast looked pretty decent for the walk day. Alas, it wasn't to be and after a dry start we got a bit Marty Pellow'd (*) and visibility wasn't great.

One of the benefits of long walks is that the longer you are out you run the risk of things clearing up. You miss 100% of the vistas you don't put yourself in a position to see.

A tough but rewarding day for all concerned.and an opportunity to use/test the ol' head torches.

Eleven went out. Eleven came back.



-- Gerard Sheehy.

[ED: * Marty Pellow'd for those with less street wisdom: You've heard the song 'Love is All Around' - it was in the charts for yonks. The band that had a big hit with it was Wet Wet Wet and the lead singer was Marty Pellow ;-) ]
[ED, and also don't you love the deep philosophy of "One of the benefits of long walks is that the longer you are out you run the risk of things clearing up."]

Also take a look at this resource managed by MountainViews:
www.facebook.com/ChallengeWalksIreland
SUMMITEERS and PLACE-VISITORS CORNER
A place for those interested in Summiteering, Bagging, Highpointing, visiting islands and coastal places.

A Guide to Ireland's Mountain Summits - The Vandeleur-Lynams & The Arderins
MountainViews first book available online and in some bookshops. The first reprint with numerous minor amendments is available.


simon3 on A Guide to Irelands Mountain Summits
MountainViews first book available online and in many bookshops.

As members will know, for over a decade, Mountainviews.ie has been providing unique information to hillwalkers on all aspects of exploring and enjoying Ireland's upland areas. It's been a collaborative effort by over 1000 of you, and currently contains over 6000 comments on 1057 mountains and hills on the island of Ireland ... ... Click here ...
Bulk sales to groups such as Scouts/ Guides: contact admin@mountainviews.ie for a discounted price.
This month.
Kudos to our contributors.
We welcome the following new members who enrolled this month. abelld, ailbe.mcdonnell, allanj, amdunne, andrewbr288, annek, Athompson, Berensheide, Bexwren, Boggerman, BridgetF, Brynhafod, cizewskie, conorredmond40, Corish, Crg, davidroberts, DeeM, doranjen, Feakle, fish, gaelmag, Gibneyp, gorchin, goska, Greg-Sheehan, hanavak, hrakitu, Indermuehle, jangusmac, Jim.kitson, jimkella, johnytwenty10, KathleenW, Keokie, LawryNunn, Lillipixie, LordKelvin88, lorival, MagdaK, MaggieB, MapMaster, marcom124, Mariaoneill, maryandkevin, MaryL1948, MaryTierney, Massattack, maszop, mbeekey, mccabep, mcdonna3, michaelh, mjoll_zir, motchekippchen, Mountain-Man, neida, ogrek, oriordanv, oweydoo, Patbrdrck, paul_fitzgerald, Pbeirne, pete007, petermullowney, poetjamscone, richardmannion, roke2468, Roomlol, seanfir, Sharon, sharonburns, Smurf, StephenMullin, Susanarmy, Susanna, Teatot, thrifleganger, Toga58, tomb999, TraceyWard, tseepra, WalkinIreland, WicklowHiker, Wildfox, zug (86)

Our contributors to all threads this month: Berensheide (1), BillWatson (1), BleckCra (2), CaminoPat (2), Colin Murphy (2), Damian120 (1), David-Guenot (1), GSheehy (1), Gus (1), IainT (7), Jim Holmes (1), MagdaK (1), Onzy (17), Pepe (2), Peter Walker (3), StephenMullin (1), TommyMc (1), TommyV (114), Ulsterpooka (1), WalkinIreland (1), cormacs (1), daithi07 (3), davsheen (3), ewen (1), Communal summary entries (11), jackill (1), jgfitz (1), jsramsey1491 (1), march-fixer (2), markwallace (1), mcrtchly (3), muddyboots (14), pazapas (1), rcristovao (2), sev (3), simon3 (6), tomlug48 (2), weedavie (2)
For a fuller list view Community | Recent Contributors

There were comments on the following places Abbey Hill, Aillwee, An Bhinn Bhuí, An Droim Rua, Arderin, Barr Log Riabhach, Ben Gorm, Ben of Howth, Benbrack, Big Collin, Binn Bhán, Binn Bhriocáin, Binn Ghuaire, Binn idir an dá Log, Binn Mhór, Brandon, Brandon Hill, Brandon Peak, Bricklieve Mountains, Brow Head, Camaderry South East Top, Cappaghabaun Mountain East, Carrauntoohil, Carrigshouk, Cashel Hill, Cashlaundrumlahan, Cnoc Bólais, Cnoc Mordáin, Cnoc na Boirne, Cnoc na hUilleann, Cnoc na Saileog, Cnoicín an tSeabhaic, Coomagearlahy, Cooneen Hill, Corn Hill, Cornasaus, Corrigasleggaun, Croagh Patrick, Croaghanmoira, Croaghaun SW Top, Crockauns, Croghan Hill, Cruach Eoghanach, Cuilcagh, Cullaun, Cupidstown Hill, Dereenaculling, Devilsbit Mountain, Dunmurry Hill, Errigal, Galtymore, Garraun, Gleninagh Mountain, Gooreen, Great Sugar Loaf, Greenane, Inisheer, Inishmaan, Iorras Beag, Keeper Hill, Keeraunnageeragh, Kells Mountain East Top, Keshcorran, Killiney Hill, Kippure, Knockalongy, Knockanallig, Knockanore, Knockastia, Knockboy, Knockfeerina, Knockmaa, Knockmealdown, Knocknamaddree, Knocknarea, Knockomagh, Knockoura, Knockowen, Knockroe, Leahanmore, Leenaun Hill, Leitir Móir, Lugnaquilla, Maghera, Mauherslieve, Maulin Mountain, Meall Cheo, Minaun, Mount Gabriel, Mount Leinster, Moylussa, Mullacor, Mullagh More, Mullaghanish, Mullaghmeen, Mweelrea, Nowen Hill, Rocky Mountain, Sawel, Scarr, Seanadh Bhéara, Seefin, Seltannasaggart SE Slope, Shehy More, Silvermine Mountains W Top, Slieve Aghkerane, Slieve Bawn, Slieve Beagh South East Top, Slieve Binnian, Slieve Donard, Slieve Elva, Slieve Foye, Slieve Glah, Slieve Gullion, Slieve Na Calliagh, Slievecallan, Slievecarran, Slievecoiltia, Slievemore, Tievnabinnia, Torc Mountain, Tountinna, Trostan, Truskmore, Tully Mountain, Vinegar Hill, Wee Slievemoughan, Whiddy Island, Woodcock Hill
and these shared tracks Baurearagh Mountain, Caha Mountains Ireland, Been Hill, Glenbeigh Horseshoe Ireland, Benglenisky, Twelve Bens Ireland, Corcóg, Maamturks Ireland, Croghan Kinsella, Dublin/Wicklow Ireland, Cullentragh Mountain, Dublin/Wicklow Ireland, Curracahill, Paps/Derrynasaggart Ireland, Dart Mountain North-West Top, Sperrin Mountains Ireland, Doughruagh, Twelve Bens Ireland, Dublin/Wicklow Ireland, Dublin/Wicklow Ireland, Dublin/Wicklow Ireland, Faroe Islands, Norðoyar , France, Occitanie , Galtymore, Galty Mountains Ireland, Galway Coast Ireland, Galway Coastal Hill Ireland, Galway Islands Ireland, Greece, South Aegean , Greece, South Aegean , Greece, South Aegean , Greece, South Aegean , Greece, South Aegean , Greece, South Aegean , Greece, Thessaly , Greece, Thessaly , Greece, Thessaly , Hag's Tooth, MacGillycuddy's Reeks Ireland, Hungry Hill, Caha Mountains Ireland, Keamconneragh, Glenbeigh Horseshoe Ireland, Kippure, Dublin/Wicklow Ireland, Knockboy South Top, Shehy/Knockboy Ireland, Knocknalougha South Top, Knockmealdown Mountains Ireland, Knockshanahullion, Knockmealdown Mountains Ireland, Luggala, Dublin/Wicklow Ireland, Lugnademon, Croagh Patrick Ireland, Maulin, Dublin/Wicklow Ireland, Mullaghcarn, Sperrin Mountains Ireland, Nowen Hill, Shehy/Knockboy Ireland, Partry/Joyce Country Ireland, Peakeen Mountain, Mangerton Ireland, Slieve Foye North-West Top, Cooley/Gullion Ireland, Sorrel Hill, Dublin/Wicklow Ireland, Sweden, Norrbotten , Torc Mountain, Mangerton Ireland tracks were created.

Thanks to all 1348 who have ever contributed place or routes info and forums.

For a full list view Community | Contributors Hall of Fame

Summary. MountainViews now has 8978 comments about 1665 different hills, mountains, island and coastal features out of the total in our current full list (2159). We want to get a good gps track showing each of the major ways to visit each of these places and summits in Ireland. If you see an option to add a "Short Summary" then do please consider creating one since another objective is to have a short summary for every summit and island and coastal feature in Ireland. There's quite a few (494) opportunities for you to be the first to comment on a place, not so many on summits, however lots of opportunities for islands and coastal features as we bring them out. We also have around 2000 shared GPS tracks, mostly in Ireland. Apart from a few popular areas, there is a need for more routes in many different areas. Plain shared tracks without descriptions are welcome however if you have time then do please add route descriptions with photos.
NOTICES
Notices
If you are contributing, please be careful to respect the interests of landowners. Suggest access routes well away from houses, gardens or that could conceivably impact farming activities. When walking, keep away from gardens or farm buildings. Use stiles or gates wherever possible. Never do anything that could allow animals to roam where the farmer did not intend. Ask permission where appropriate.
Take care if parking and do not obstruct roads, lanes and field entrances to access by farm machinery, which can be large. Exercise your dog in parks or forests but avoid countryside or open hillside where they may worry sheep.
Report suspicious activity to the police forces, as below.
If your car is broken into in an upland area report it to the PSNI or Gardai as this will help them be aware of the issue and tackle it in future. Store the numbers. In Northern Ireland use the PSNI non-emergency number 0845 600 8000. In the Republic you can find the local Garda District HQs phone numbers at www.garda.ie/Stations/Default.aspx. Specifically for the hotspot of Wicklow: the Garda Divisional Headquarters in Bray is 01 6665300.
If you hear of a problem area or route, write it up in MountainViews which does everyone a service.
Report rubbish tipping in the Republic - ring EPA hotline 1850 365 121
Report recreational quads in national park area (in which they are banned). They are also banned in the Mournes. For Wicklow please phone the Duty Ranger: 087-9803899 or the office during office hours Telephone: +353-404-45800. For the Mournes ring the PSNI (as above) or contact Mournes Heritage Trust. Put these numbers in your phone, take regs etc. Let MV know of contact numbers for other areas.
If you have visited some of the less well known places, we would appreciate a place rating and also "Improve Grid Ref" for summits and other places.
If you find errors in the basic information about places such as in their names, their heights, county name etc please use the "Propose Places Database Change" option.
If we can, let's make MV have more than one route up a summit or to a place so as to reduce the tendency for paths to appear. Your grid refs in comments for different starting points show up on MountainViews maps as well as shared GPS tracks.
Visit the MountainViews Facebook page.
Visit the Challenge Walks Ireland page (jointly managed by MountainViews)
This newsletter
This newsletter
Editor: Simon Stewart, Homepage: www.simonstewart.ie
Assistant editors: Colin Murphy, David Owens
Summit comment reviews: David Murphy
Challenge Info: Jim Holmes
Track reviews: Peter Walker
Book reviews: Aidan Dillon, Peter Walker, Mel O'Hara
Videography: Peter Walker
Graphics design advice: madfrankie
Development & support volunteers: Vanush "Misha" Paturyan, Jack Higgins, Piotr Stepien

NEWSLETTER ARCHIVE.
View previous newsletters mountainviews.ie/newsletter
RETURNING TO MOUNTAINVIEWS

(If you have cookies on in your browser then you may be prompted as to username/ password. If you forget the password, the login page can email you a replacement.)

UNSUBSCRIBING


Alternatively let us know by email at admin -at- mountainviews.ie Include the email address you got this at or your screen-name guestuser.