The Summit


Monthly newsletter of MountainViews.ie for guestuser

Sept 2018
HILLWALKING
NEWS - INFORMATION - RECENT CONTRIBUTIONS - FEATURES - FORUMS
UPCOMING EVENTS for HILLWALKERS
MOUNTAINVIEWS: Meetup

Click on above for larger version.


(Previous notification repeated here.)
---
MOUNTAINVIEWS: Hillwalkers' Winter Talks

The Hillwalkers' Winter Talks are over for 2017/ 2018. We are interested in suggestions for talks for the 2018/ 2019 winter. They should be of interest to hillwalkers. Previous topics have included trekking abroad, historical walking, photography, geology, archaeology, weather forecasting, islands, conservation, camino, mountain rescue, mapping and disabled walking.



The Winter Talks are being organised by the MountainViews committee.



---
MOUNTAIN MEITHEAL: Mountain Meitheal are keen to find more people to help.
Mountain Meitheal make practical repairs to some of the more popular areas we walk on, using a voluntary community based approach. (More information at their website.)
Picture of the month
Threatening skies over Slieve Bearnagh from the side of Slievelamagan heading towards Cove Mountain in the Mournes

For original track, click here.
Photo: Aidy
International Pic of the Month
"Church Mountain" - Iceland Style and familiar perhaps from "Game of Thrones". A picture of Kirkjufell at dawn.

For original comment, click here.
Photo: mcrtchly
Regions: MOUNTAIN COMMENTS - TRIP REPORTS - TRACKS - SUMMARIES
In short: Discovery
Featured Track of the Month
Promenade...
This month's selection is scarcely original in terms of the ground covered (statistically or geographically), but Aidy's there-and-back ascent of Brandon from the Conor Pass is garlanded with his usual excellent standard of photographs, and is also a valuable reminder to understand your own capabilities in the hills and not to feel obliged to meet any expectations beyond your own...go at a pace you can manage and there's absolutely no shame in having a doze if conditions allow it!


Aidy on Brandon From The Connor Pass


Main walk Start: 06:43, End: 19:10,

Duration: 12h27m, Length: 21.3km, Ascent: 1463m

, Descent: 1500m

Places: Start at Q490

41

055

87

, An Bhinn Dubh, Beennabrack, An Scraig, Gearhane, Brandon Peak, Brandon South Top, Brandon, end at Q486

87

054

31

387m SW from Start

(statistics such as Ascent or Length etc should be regarded as approximate. Duration depends on the speed of the person making the track)


Hugely enjoyable walk, taking in seven summits, with some of the best views in Ireland. Most would probably do this in a shorter time, as I'm not a fast walker, and I stop for lots of photographs. I also did this on a very hot day, and didn't take nearly enough water for the conditions so I found it tough, especially towards the end where I had to take a lot of breaks. I even had a half hour nap at one point!

Starting out early from the Connor Pass


On An Bhinn Dubh, the first and smallest summit of the day



A look back towards Brandon Peak and Gearhane



Looking down through the passing clouds from the summit of Brandon




On the way back, looking out along the northern side of the Dingle Peninsula
---


NORTH: Damp squib
While the Doonan Waterfall proved a beautiful sight on his ascent of Croaghbane in the Bluestacks, the same river proved uncrossable for Val Jones, who couldn't reach the summit.

Val Jones on Croaghbane, (An Chruach Bhán): Doonan Waterfall
Parked as described by bryanmccabe, and followed the path up. Doonan waterfall was in full spate, we mightn't have noticed it if we hadn't heard it. I wondered what the sluice gate type structure above the waterfall actually is for, and also some other items on the way up to Belshade, including the TV aerial, solar panel, and another item covered in plastic on the dam at the lake outflow. Unfortu ... ... Click here ...


NORTH: In high regard
Member jsramsey1491 takes the high route around Glentornan Lough on his ascent of Crocknafarragh and is rewarded with views that are among the best that Donegal has to offer.

jsramsey1491 on Crocknafarragh, (Cnoc na bhFaircheach): The High Route around Glentornan Lough
Last Thursday (16/08/2018) a few friends and I decided to do a recce of a walk around Glentornan Lough. We started close to the Gaelic pitch on the southwestern shore of Lough Nacung Upper, passed by Grogan Beg on our right and continued on to the summit of Crocknafarragh and continued on circling Glentrnan Lough keeping to the high ground to Crockglass and eventually down the western side of a st ... ... Click here ...


WEST: Doing the Doo
One of Ireland's most imposing mountain groups looms above the north shore of Killary Harbour, and ulsterpooka has uploaded a fun excursion along the three tops of Ben Lugmore, the narrowest section of the Mweelrea round. The route effectively scrambles up the eastern buttress of the huge northern corrie, before descending the oft-used shelf route down the headwall. By no means easy but engrossingly exploratory, obviously the main summit could be added with a sensible diversion.
Ulsterpooka on Ben Lugmore East Top to Ben Lugmore then to Ben Lugmore West Top
This route is clockwise and involves scrambling on the way up to Ben Lugmore East Top and is quite steep| walk, Len: 9.2km, Climb: 839m, Area: Ben Lugmore East Top, Mweelrea Mountains (Ireland) Ben L ... Click here ...


WEST: Dramatic coastal scenery
The twelve km Benwee Head Loop walk offers some of the finest coastal views in Ireland, reports Sandman.

sandman on Benwee Head, (An Bhinn Bhuí): Benwee Head Loop.
As already stated Benwee Head has some of the most dramatic costal scenery in Ireland and with this in mind i decided to enjoy on a clear sunny day the joys of walking the 12.4km of the Benwee Head Loop Walk actually it is a little longer allowing for a visit to the army observation hut and the stone constructed EIRE marking.The trail head begins and ends in the village of Ceathru Thaidhg (F820744 ... ... Click here ...




WEST: The North Face of the Wild Atlantic Way
markwallace has submitted a number of intriguingly adventurous tracks from the West this month. To this reviewer the most exciting of these routes tackles the tops of Benchoona from the north, setting off across the bog before eking out a line up its northern declivities...all good fun for the experienced but most likely somewhat intimidating for a novice. It's not especially time-consuming, and as such could be extended across the Garraun tops to the south.

markwallace on Benchoona across the bog from the north
Starts at the west end of Lough Muck. There are a couple of laybys around here to park. Route starts with a bog track th| walk, Len: 5.8km, Climb: 532m, Area: Benchoona East Top, Twelve Bens (Ireland) ... Click here ...


WEST: River deep, mountain low.
On his ascent of Knockakishaun in the Croagh Patrick area, markwallace encounters some problems crossing the deep waters of the Bunowen River.

markwallace on Knockakishaun, (Cnoc an Chiseáin): Bunowen River can present problems
Parked at a layby further up the valley from the crossing point mentioned in James Sheerin's comment to do a circuit of Laghta Eighter and Knockakishaun. Access to Laghta Eighter was easy from higher up the valley, no enclosures, fences, etc. Coming back to the road between Laghta Eighter and Knockakishaun, I spoke to a passing farmer from the valley who said I was welcome to head up Knockakishaun ... ... Click here ...


WEST: Mayo Eyes Have Seen...
The coast of North Mayo is undoubtedly some of the most dramatic shoreline in all of Ireland, and simon3 has partaken of the spectacular walk along the huge cliffs at Benwee. There is an established route starting and finishing at Carrowteige, but Simon chose to walk from the small car park at the Children of Lir sculpture park to a finish at Portacloy, a half-day which is relatively physically leisurely while being remarkably visually exciting, with headlands, stacks and declivities aplenty.

simon3 on Benwee Coastal Walk
The walk starts at a small carpark and Wild Atlantic Way sign just west of Benwee. In fact some of the local rock has re| walk, Len: 8.1km, Climb: 245m, Area: An Bhinn Bhuí, North Mayo (Ireland) An B ... Click here ...


Featured summit comment

ALL KINDS OF EVERYTHING
Bunsen7

If ever a short summit comment encompassed a multitude, it's this one. History (recent and ancient), geography, transport: it's all here in Bunsen7's August 13th entry for Tievecrom in the Ring of Gullion, under the apt title "Ring of Hills", complete with photograph.

Coming down off Slieve Gullion (Culann's Mtn) you get this lovely framed view of Forkhill sandwiched between Croslieve and Tievecrom. It's easy to understand how a village might pop up in such a natural gateway, and the Gaelic origin ("foirceall") refers to a trough or hollow. The main ancient north-south routeway was of course slightly further east of Gullion, the Gap of the North near Jonesborough (a route more closely aligned with the train line it would seem than the motorway), but you would imagine that others watched over these passes from these hills in times long since passed, and that's certainly a more romantic notion than modern history might conjure up. Trackback: /summit/989/comment/20015/
---

SOUTH: An enjoyable walk for all ages
Member CaminoPat ascends Cashloura in the Shehys, and finds the walk pleasantly easy and offers great views of the Shehys.
CaminoPat on Cashloura: An enjoyable walk for all ages
Park at W20849 49704 at Coillte forest entrance just off the R586 Regional Road between Dunmanway and Drimoleague. Parking available for 6-8 cars. Follow forest road which is along line of disused West Cork railway line for approx. 1.5km until the path then sweeps uphill to eventually reach an enclosed Vodafone telecom mast. Keeping mast enclosure to you right proceed ENE for approx 100 metres ... ... Click here ...


SOUTH: A long day's journey into night...
From the south comes news of another one of GSheehy's demented intégrales, as our intrepid hero decides that what the Galtee ridgewalk really needs as a denouement is a dander over the motorway followed by a traverse of the length of the Knockmealdowns...a sort of mutant Cahir Horseshoe, if you will. All joking aside (I mean, he's missed a few of the KMD summits out, for heaven's sake!) it's another salutary demonstration of the possibilities one can glean from the ostensibly familiar. Dream it, do it, or something like that.

GSheehy on Double Crossed
I could be accused of always being on the lookout for ways to do established walks that little bit different; or adding | walk, Len: 74.5km, Climb: 2814m, Area: Galty Mountains (Ireland) Slieveanard, ... Click here ...


SOUTH: Stormy waters
Bunsen7 explores a geologically interesting storm beach at the lower reaches of Knocknanacree in Central Dingle, and enlightens us about it's historic past.

Bunsen7 on Knocknanacree, (Cnoc na nAcraí): Storm Beach and Cliffs at lower western reaches
A view of "Acres" from Minard Beach. This is apparently a geologically interesting spot in itself as it is a storm beach comprised of large sandstone boulders. The castle is on private land and not closely accessible but Cromwell's forces gave it some strong blows many years ago, so getting too close might be inadvisable anyway. Local signboards suggest an out and back from Minard Beach. The ri ... ... Click here ...


EAST: Pour Some Sugarloaf On Me
Continuing his relentless mission to eliminate anything that could conceivably get reclassified as an Arderin Beg at some point in the future, Onzy has been rampant both near and far (as 'far' as the Italian Alps, which one must presume are good training for Wicklow). One of his latest victims has been the unassuming top of Sugarloaf to the south of Lobawn, probably targeted on account of its vaguely suspicious 14m prominence...one decent trench dug into the col to the east will see it in. It could be noted that this could form the beginning or end of a sort of extended Glen of Imaal circuit, but I would mostly like to highlight that apparently he ran it (according to his upload) which is a sight I would very much like to see.
Onzy on Wicklow: Sugarloaf (Lobawn)
Up and down to the Sugarloaf from south, near Ballinclea Hostel.| run, Len: 5.4km, Climb: 375m, Area: Sugarloaf, Dublin/Wicklow (Ireland) Sugarloaf ... Click here ...


EAST: Great viewpoint above a patchwork quilt of fields
Blackstairs Mountain is a prominent hill in a walker-friendly ridge between Carlow and Wexford, which offers multiple access points, report Peter Walker and Onzy.

group on Blackstairs Mountain, (Na Staighrí Dubha): Great viewpoint above a patchwork quilt of fields
Blackstairs Mountain is a prominent hill on the main ridgeline separating Carlow from Wexford. The hill's prominence means views are good in all directions, mostly over flatlands, but dominated by the mast-arrayed peak of Mount Leinster to the north. Blackstairs is a hill-walker friendly region and there are a number of approaches marked locally. Perhaps the most straight-forward ascent is fro ... ... Click here ...


EAST: Off the hook
Sandman explores a plethora of south-eastern coastal hills, including Knockavelish Hill, which affords great views of Hook Head.

sandman on Knockavelish Hill, (Cnoc Mhilis): Coastal Hill
Access via the narrow walking trail used by locals located at S6829604060( parking on the gravel track opposite) which will take you up to a vehicle farm track now turn left and by finding your way around two locked gates follow the track to the summit S6881503983 where you will be rewarded with a great view over to Hook Head.There are no" keep out " signs etc but be aware of the electric wire on ... ... Click here ...


Sorry if we didn't mention what you posted .. there's a list of all contributors for recent months later.
MOTLEY GATHERING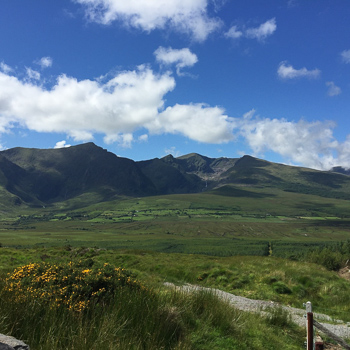 General View of Brandon Area.


MOUNTAINVIEWS MEMBERS MEET September 2018

Mountainviews Members Meetup Walk, Saturday 8th September.
The next walk for Mountainviews members and friends is scheduled for Saturday 8th September. This is an opportunity to meet up with fellow Mountainviewers and visit a part of the country you may not have been to before. Why not make a weekend of it?
A post walk drink and meal will also be arranged.
The walk will start at the Conor Pass which at a height of over 400 metres is a good place to begin.
Cycling up to the Conor Pass is optional!
A short ascent from the Pass will bring us to An Bhinn Dubh, the first of many summits closely followed by Beennabrack and Ballysitteragh before a descent of over 200m to a col and ascent up to Gearhane.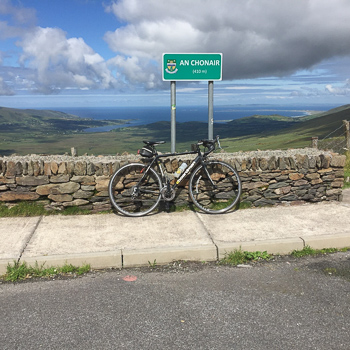 Conor Pass.


From here there is a spectacular ridge over Brandon Peak and Brandon South top to Mount Brandon itself at 952m the high point of the walk
There is an option at this point to descend by the 'Saints road' to An Baile Breac following a line of white posts and wooden crosses
Alternatively continue over Brandon North top and Far North top to Piras Mor and the col before Masatiompamn where an Ogham stone is located
A short diversion up Masatiompan is possible before descending west by the Dingle way to a car park near Brandon Creek.
The walk is 7-8 hours for the longer version, a distance of approx. 18km with ascent of around 1,000 metres
There will be more details nearer the walk but in the meantime if you are interested in joining us, SAVE THE DATE!, and, better still, register your interest with Liz, as below.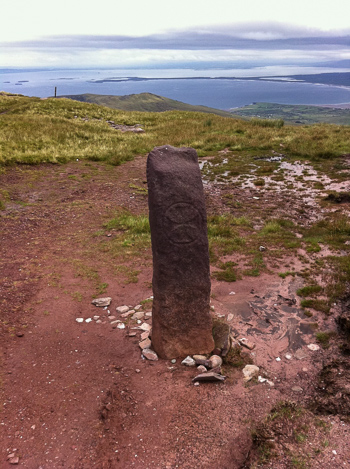 Decorated stone near Masatiompan.


The walk and the day are organised independently by members of mountainviews.ie and there is no charge for the walk. If you choose to donate to MountainViews you are always free to do so.
You arrange your own accommodation and any matters of personal insurance.
This is a wonderful opportunity to meet members of the Mountainviews community
The walk and further details are available from Liz at elizabethashton2014@outlook.com


---

Volunteering for 2018: Strengthening the MountainViews Committee

Currently we have a number of officers on the committee such as chairperson, secretary etc. We really could use some further committee members to achieve our strategic goals and spread the load.

| | |
| --- | --- |
| Position | In Brief |
| Ordinary members | For those taking an interest in the MV committee or indeed committees in general we can also use some further "regular" committee members without a specific role. There are many smaller quite finite projects that might suit regular members. |
| Publicity | MountainViews is a great resource based on over 1300 people's contributions over 15 years. Great that is if you have heard of it. And that's where we could use some practical publicity help. |
| The Geeks Shall Inherit the Earth | Quite apart from programmers, would you believe MV's progress can also use help from people who can really follow through on tasks like creating lists, checking stats, researching place names or geology. Whether on the committee or not we value such people's contributions. |
| Talks Group | Not strictly speaking part of the main committee but a position involved in finding and selecting interesting speakers and organising the three events we are running each year. |

Contact us at admin -at- mountainviews.ie

Petition on Luggala
Sign near Luggala
Luggala
Luggala, an area and a mountain in the Wicklow Mountains is a magnificent place to walk for a variety of reasons. It is a great day out for younger people and those looking for an interesting but not too hard experience. It is also a conduit to various higher summits in the area such as Luggala and Knocknacloghoge. If you look at the diagram you can see members' shared tracks illustrating the usage made. These are some of the best hillwalks in Wicklow.
Some of the extensive usage by walkers of the area.

Following the death of Garech Browne, the former guardian of Luggala in March 2018 access to this area is threatened by the sale of the land.





Mountaineering Ireland has been working to secure continuing access to this land. Take a look at their news page which contains a proposal that the "State should purchase Luggala", more precisely those parts of greatest interest to hillwalkers (partly shown on our map of shared tracks).





"The National Parks & Wildlife Service has recommended the purchase of 4,000 acres of the estate (excluding Luggala Lodge and its surroundings). This is an approach which Mountaineering Ireland is supportive of as the cliffs, the Cloghoge river valley and the mountain lands of Luggala and Knocknacloghoge are our main interests, and these should have a much lower market value than the entire estate."





Their statement also links to an article in the Irish Times and an editorial in the same newspaper. The latter, while decrying the offensive approach being taken at Luggala, adds a somewhat general perspective saying:





"Nevertheless, Mountaineering Ireland's call should spark a serious national conversation about public access to areas of great beauty and high nature value. Certainly, rights to reasonable privacy, and respect for working farms, need to be balanced with the right of access."





(Any right thinking person can agree with this and MI certainly welcomed the editorial).



What can you do about this?



We live in a democracy. Get onto your local TDs, write to the Minister.

There is also a



Petition about Luggala.





We recommend that you sign this.





We have a few caveats. If signing such a petition only makes you feel good and believe that nothing further needs doing then you are missing the nature of representative democracy and how to influence it (e.g. TDs and Minister as above). We also have strong reservations about the vehicle in use "Change.org" which operates in a country without strong privacy rights and is seeking to monetise political campaigning. Don't pay this group anything when they ask. Just sign the petition.





More positively we can tell you that the Irish promoter of the petition is a concerned individual living in Wicklow and not a front for some political party or pressure group. We applaud this person's effort. Well done. We aren't clear about the source of his/her figure for the Euro 1.2m proposed price however this is a detail that can be resolved later.



Further reading



Mountaineering Ireland statement 16/08/2018

Irish Times editorial Sat 11th August 2018





MountainViews as a website is also concerned about how modern media interact with outdoor activity and believe that this is becoming a crucial issue.

One critique of Change.org the for-profit petition website used here.





An extremely interesting article on how social media are influencing outdoor activity.

While we would dispute some of his premises and debate some conclusions he reaches, the author of the above is analytical, challenging and helps explain social media's growing effect on adventure activities. It's very good on looking at the impact of social media on attitudes. And will help us all reflect on choices of platforms even as seemingly mundane as a petition website.



-- Author: Simon Stewart.
Climbing Mount Olympus

View from Refugio



Mount Olympus, Greece: A personal story

by member Fergal Hingerty

The sweat from the scorching sun dripped into my eyes as the crumbling rock came away in my hand, threatening to send me hurtling nonstop into the abyss. Fortunately I had implemented the 'three points of contact' scramble rule. I turned to the left and manoeuvred my body slightly to the left whilst being careful not to overextend myself as the 25kmh wind gently reminding me a firm grip was essential. I fixed my gaze on another point and this time my grasp held as a rock from another climber higher up tumbled down a little bit too close for comfort. Than I moved my left foot to another tiny ledge and then my right foot and continued my move upwards....This was the easy part the downwards climb of the Kakí Skála (Evil stairway) has an exposure of over 619 metres (2000 feet) in places. This ascent of Mytikas is an interesting scramble in places and a total focus on grip is needed as it won't be the throne of Zeus (Mytikas) you will be visiting but landing in the river Styx and the waiting ferryman Charon will help you to Hades instead.

I had flown into Thessalonica and from there proceeded by car to my base at Platamonas, where my Polish climbing partner had arranged an apartment by the sea. The Friday morning after a swim in the Mediterranean we proceeded to Litokhoro where we bought last minutes supplies and proceeded to drive 17 km up the winding narrow road to the car park at Prióna. Pirióna is at a height of 1075 metres and this is where the long and winding trail to the Refugio where mixed with the black pine and pine trees, plentiful amounts of Belladonna can be seen. There are numerous types of butterflies on this trail especially when we went through the Enipeás canyon. The E4 (European Long distance Walking Route no. 4) trail is clear and is around 6 kilometres long to the Refugio Spilios Agapitos with an ascent of around 994 metres and well marked and even should you be unsure the horse manure from the bell wearing packhorses that supply the Refugio Spilios Agapitos is another indication of the way to go...


The author on the trail.

After three hours we arrived at the Refugio and settled down for the night. This is one of seven Refugios scattered around the Mount Olympus national Park which are open from March to October, the rest of the year they are closed due to the many avalanches in the area as the mountains are particularly steep and prone to these dangerous conditions. The people staying there were from Greece, Russia, China, Moldova, Bulgaria, Germany, Austria, Switzerland, USA and many other places as well. Naturally before lights out at 10 Pm (like most Refuges) the talk was of Mytikas and the scramble from Skála. Most people were going to ascend Skála but only a few were contemplating the final scramble to Greece's highest point and the vast majority of them have helmets due to rocks dislodged from other climbers, which is a constant hazard on Mythikas.

We arose early at 05.45 and as others brewed tea etc., I was already in situ on the terrace to see the sun rise over the Mediterranean at 06.07 which was indeed like all sunrises in the mountains a magical sight. We assembled our gear and proceeded up the trail we were at 2068 metres but needed to reach Skála's summit of 2865m firstly. This was a long hard slog of around 2.7 km yet, and as we climbed the terrain got more exposed and the wind of 25 Kmh was more noticeable. We proceeded above the tree line and at the first junction headed up the small screed lined path to the summit of Skála whilst admiring the other peaks and noticing the snow scattered around in pockets at this height even though it was 34 degrees Centigrade at the coast line which was visible to the east.

Finally after an ascent of 806 metres we reached the summit of Skála (2865 Metres) where some others had already gathered, most choose not to continue from this point and for a brief second the scale of the task became over whelming really and my Polish Climbing partner decided not to continue from Skala to Mytikos. Than with bandana on and helmet adjusted it was a 50 metre drop into the Kazánia chasm through a narrow nick in the ridge (or abyss depending on your point of view) and a slow and torturous scramble arrowing right following the many Red and yellow markings which zigzagged across the chasm. Then suddenly at the first gap, barely ten metres from us two Chamois bounded out from the gap and amazingly bound down the chasm as if glued to it.....completely sure footed but nothing I was definitely going to try and copy.


The Gods awake on Mytikas.

Eventually the down climb finished and there is another narrow gap with a narrow traverse and the final 103 metre ascent awaits. Here I met three young Germans trying to reassure their friend who was crying in shock at the considerable exposure. The exposure is considerable and there were recently two fatalities at this spot so his fears were fully justified. The up climb from here is complicated by loose rock fall from other climbers and some very slippery rocks so even more care is needed. At this height the thin air is also very noticeable and the breathing inevitably gets somewhat more laboured. Once you reach the top of this section a narrow neck and awkward corner with a Via Feratta type chain for grip, (without which the largest part of height exposure cannot be traversed safely) and just 100 metres away is Mytiakas itself. A down climb of 10 metres followed by 30 metres ascent brings you to Mytikas (2918 Metres) which is a narrow airy type summit with a visitor's book, trigonometric pillar and a Greek flag. Although I must admit I don't know how all the twelve Greek Gods managed to fit here at all the one time?

After the ubiquitous photos from a Serbian at the top and signing the substantial visitor's book, the down climb awaited. Helmet now carefully on and I started back down and now the height exposure was more noticeable on the Kakí Skála (Evil stairway), should you choose to acknowledge it of course. However I was too busy focusing on my descent to notice the considerable drop! A two hour hike followed back to the Refugio where my Polish climbing partner was awaiting and from there a three hour hike back to the car. A much need swim followed to cool down in the heat and then the well earned celebration involved a long cool pint (well, maybe more than one..) of inevitably Mytikas beer.
emVee-Tube
Videos this month:


Videography by Peter Walker.


CHALLENGE
A place for those interested in Challenge Walking
Fei Sheehy, Photo: Steven Forde.


Click here for the Challenge Walk Calendar


Challenge Walk Notes for September 2018



With the Challenge Walks Calendar pretty much winding down for the Season, there is certainly some lovely Walking still to be done. Mercifully the weather isn't as hot as it had been last month, so maybe the Factor 50 can be wound down to Factor 30 for the foreseeable few weeks! Of course, as Hillwalking comes with its own set of unique risks that should always be assessed and acted upon . . . don't blame me if you "burn and peel" having spent the Summer toning 'Adonis-coloured Pins'!

Last month saw Galway Walking Club report a successful Marathon Western Way once again and then down South Leinster direction we saw the Fei Sheehy Challenge continue to build on previous year's successes.
Galtymore, Fei Sheehy. Photo: Steven Forde
"We had a great three days with no accidents or incidents. We had typical hillwalking weather. It was Summer in the sun and Autumn when the mist was down" Gerard Sheehy.
An incredible 31 Walkers managed to complete the "Treble" - which as we know is to Walk the Galtees on day one, the Comeraghs on day two . . . and then on the third and final day, whatever energies are left, have to be mustered up once again so as to complete the Knockmealdowns - before you're allowed to collapse in a heap!
A Big, Big, very well down to all participants . . . and once again a Top Job from Gerard Sheehy and his brilliant Team.
As you've heard before, the prospective Challenge Hillwalker has to begin somewhere . . . so why not join up with like-minded souls this Saturday the 8th, on the MountainViews Members Meet Up, which will take place over the infamous Brandon Ridge down the Kingdom neck of the woods. To complete this you need to be quick, as mentioned earlier in this month's Newsletter however there are options to cut the walk short.
Then later in the month, but a tad earlier than last year, we see the second annual Highwayman Challenge!
Highwayman Challenge

The Highwayman Challenge is a one day guided Hillwalking event and Half Marathon, following in the footsteps of the infamous Highwayman Willy "Brennan on the Moor" over the Knockmealdown Bandit Trails. This Walk is the perfect introduction to Challenge Walks in Ireland - The Challenge is a guided Walk of 30km with an ascent of 715m. On the day there are "B" and "C" Walk options as well . . . so Happy Days really! The Highwayman takes place on Saturday 22nd September.

So if you're new to our wonderful world of Challenge Hillwalking . . . here are two great opportunities to see what all the fuss is truly about! If you happen to be a seasoned veteran to our Traversing World . . . sure why not bring a friend . . . ! And if the friend is particularly good-looking and has a friend themselves . . . sure aren't the possibilities endless!

Support a local Challenge Walk near you!

Onwards and Upwards Boys and Girls,

Keep Safe and Enjoy your Day!





-- Jim Holmes.


Also take a look at this resource managed by MountainViews:
www.facebook.com/ChallengeWalksIreland
SUMMITEERS and PLACE-VISITORS CORNER
A place for those interested in Summiteering, Bagging, Highpointing, visiting islands and coastal places.

A Guide to Ireland's Mountain Summits - The Vandeleur-Lynams & The Arderins
MountainViews first book available online and in some bookshops. The first reprint with numerous minor amendments is available.


simon3 on A Guide to Irelands Mountain Summits
MountainViews first book available online and in many bookshops.

As members will know, for over a decade, Mountainviews.ie has been providing unique information to hillwalkers on all aspects of exploring and enjoying Ireland's upland areas. It's been a collaborative effort by over 1000 of you, and currently contains over 6000 comments on 1057 mountains and hills on the island of Ireland ... ... Click here ...
Bulk sales to groups such as Scouts/ Guides: contact admin@mountainviews.ie for a discounted price.
This month.
Kudos to our contributors.
We welcome the following new members who enrolled this month. adam0918, aertwoer, Aindriu, ajm, alanashe, AliceW, amandineg, annkmolloy, ardvarney, Astronomer, AwareClimber18, beanie0707, belgravy, benwalsh, bertgotink, bgeraghty, bgood, Bjam, Blahound, BonnieandClyde25, Bridie, brotherken, Bruno1984, BWalsh, calimero242, Captor, cathaldebarra, cathalmcg, Catherine-Casey, chrisedi86, ciaranghalpin, ciaranireland, citizen, ClareKeeley, Clo, coffeerex, ColinA, ColmBrady, Cris2018, croux, DaK94, damo_cawley, Daveskavanagh, DavidLanders, davihess, dbobd, Declan57, dirk98, djconn76, DNicholson, Domrose94, donnacha666, dooncamus, dtbergen, DTuc, e.bourke1, Emermcmanus, eoeguides, eoghanol, Eoinbarron, EwaZajac, fcooke, fionaab, Fran1, Garmur, GerC, Gert, gwasson, Harry-Badger, Headbanger92, Heiner, Hettie, Hexs_Cams, Hillstarter57, hupfer, icarus, Ifor, igorak, Irelandwalker, Irinak, irma, Jaypee666, Jeankelleher, John.geary, JohnFlood, johnjoe1234, johnyang888, Jonathan_Wickens, Jon_Sub, justynagru, karenon, Katy666, Kedagh, kevinbick, Kieren, kierond, kinglarsen, kjcatallo, kk, Koolhill, Laundry_Hamper, Laurajfoley, Law, Les135, Lizb, loretta13, louisg, lskital, lukijarek, Lynnemc200, Maevechristina, Malachy1962, malonen, Mariarie, Mariposa, marydenissen, MaryFouhy, mayereva, meadhbh.bolger, Mike1987, millionmts, mmccarth, montelci, Moss, mountaineer, MountainHuman, msmiller, mtrmc, myra, Nakoz, Nanmc, Nathaly, Niall28, Niamh18, NickDown, nilimanseo, ninorc, noxid, Patrick_Kenny, PaulMac252, Pdinham, PhilK, phplynch, PinkyFloyd, pmulkerns, Q35on, rachaelblair, rayomalley, rcristovao, Reduv19, Reils, RenataS, renaud, RichardBannon, robcarney, Robe_Walk18, rodonova, Roro88, Saptarshi.Sarkar, sarahbrealey, Sarahmoo, schwann10, sculljam, shane_m_farrell, Shano77, shnacked, Sigrun, Slier159, SquireJohn, StephenGray, stepsal, Suzyclegg, Swan_J, Theres, thmsoc, Thomas.donia, tmk, Tom-Boyce, TomMadden, TommyW, Tramontane, Trigpoint100, turrescum, Uli, uroli, VidaSerena, vincentohagan, WanderLass, Winward101, xmountainviews, yuli, zaynzma (192)

Our contributors to all threads this month: Aidy (3), BleckCra (4), Bunsen7 (6), CaminoPat (2), Colin Murphy (2), Conor-na-Cnic (1), Damian120 (3), David-Guenot (24), GSheehy (1), Geo (1), Jonathan_Wickens (1), MickC (1), Nakoz (1), Onzy (12), Pepe (3), Peter Walker (8), PinkyFloyd (2), Slier159 (1), TommyMc (1), Trailtrekker (3), Tramontane (1), Trigpoint100 (1), Ulsterpooka (5), Val Jones (1), Wilderness (2), YoungJohn (4), armitageshanks (1), benwalsh (1), bogtrotter (1), brenno (1), caiomhin (1), conormcbandon (14), csd (1), davsheen (28), des carroll (1), eamonoc (1), eejaymm (1), Communal summary entries (9), jackill (1), jsramsey1491 (1), liz50 (1), markwallace (5), mcrtchly (1), peter1 (3), sandman (12), simon3 (14), thomas_g (2), tomlug48 (1), ucampbell (1), wicklore (1)
For a fuller list view Community | Recent Contributors

There were comments on the following places An Bhinn Bhuí, Annacoona Top, Ardoginna Hill, Barr na Coilleadh, Benbulbin, Benwee NE Head, Benwiskin, Binnion, Blackstairs Mountain, Buckaun East, Caoinkeen, Caoinkeen South-East Top, Carnmoney Hill, Carrignagower, Carrigroe, Cashloura, Church Mountain, Cnoc an Stualaire, Coolum Hill, Corriebracks, Coumfea North Top, Coumfea West Top, Cove Mountain, Croaghaun, Croaghbane, Crocknafarragh, Croslieve, Cuilcagh, Derrybawn Mountain, Dooish, Doonvinalla N Top, Douce Mountain, Faha Ridge, Gleninagh Mountain, Gull Island South, Kings Mountain, Knockafeehane, Knockakishaun, Knockanaffrin South Top, Knockannavea, Knockaughna, Knockavelish Hill, Knockboha, Knockboy, Knocknabro West Top, Knocknanacree, Knocknasliggaun, Knockparson Hill, Lacken Hill, Lobawn, Masatiompan, Maumtrasna North-East Top, Monatray Hill, Mouldy Hill, Mount Corrin, Mweelrea, Mweelrea SE Spur, Nephin, Raheen, Sallagh South-West Top, Shehy More, Slieve Elva, Slievecoiltia, Slievelamagan, Slievemore, St. John's Island, Table Mountain West Top, The Paps West, Tievecrom, Tinnabinna, Truskmore, Westtown Hill
and these shared tracks An Bhinn Bhuí, North Mayo Ireland, An Bhinn Dubh, Brandon Group Ireland, An Cnoc Riabhach, Dunkerron Mountains Ireland, Barcam, Slieve Bloom Ireland, Barr na Coilleadh, North Mayo Ireland, Barraderry, Galway Coastal Hill Ireland, Barrclashcame North-West Top, Sheeffry Hills Ireland, Baunreaghcong, Slieve Bloom Ireland, Beinn Fhada NE Top [Beinn Fhada], Loch Linnhe to Loch Etive Britain, Beinn Ghobhlach, Loch Maree to Loch Broom Britain, Ben Gorm, Ben Gorm Mountains Ireland, Ben Lugmore East Top, Mweelrea Mountains Ireland, Benchoona East Top, Twelve Bens Ireland, Binn idir an dá Log, Maamturks Ireland, Birreencorragh South Top, North Mayo Ireland, Blackstairs Mountain, Blackstairs Mountains Ireland, Brandon, Brandon Group Ireland, Burrane Upper, Clare Coastal Hill Ireland, Carrauntoohil, MacGillycuddy's Reeks Ireland, Carrickgollogan, Dublin/Wicklow Ireland, Carrig Mountain, Dublin/Wicklow Ireland, Carrignagunneen, Dublin/Wicklow Ireland, Cnoc Mordáin, South Connemara Ireland, Comeragh Mountains Ireland, Common Mountain, Donegal SW Ireland, Cooley/Gullion Ireland, Craig Fach, Snowdonia Britain, Dooish South-East Top, Donegal NW Ireland, Dublin Islands Ireland, Dublin Islands Ireland, Eagles Hill, Dunkerron Mountains Ireland, Erris Head Hill, Mayo Coastal Hill Ireland, Erris Head Hill, Mayo Coastal Hill Ireland, Foel-goch, Snowdonia Britain, Fort William to Loch Treig and Loch Leven Britain, France, Occitanie , Galty Mountains Ireland, Galtybeg, Galty Mountains Ireland, Galway Coastal Hill Ireland, Gibbet Hill, North Wexford Ireland, Glennagleragh Mtn, Partry/Joyce Country Ireland, Gortmore, Galway Coastal Hill Ireland, Italy, Aosta Valley , Italy, Aosta Valley , Italy, Aosta Valley , Iveragh NW Ireland, Kilmichael Hill, Dublin/Wicklow Ireland, Kilmore, Clare Coastal Hill Ireland, Kippure, Dublin/Wicklow Ireland, Knockafeehane, Slieve Mish Ireland, Knockafeehane, Slieve Mish Ireland, Knockakishaun, Croagh Patrick Ireland, Knockboha, North Mayo Ireland, Knockmeal, Knockmealdown Mountains Ireland, Lettershinna Hill, South Connemara Ireland, Little Sugar Loaf, Dublin/Wicklow Ireland, Lochinver to Ullapool Britain, Loop Head NE Top, Clare Coastal Hill Ireland, Maumtrasna North-East Top, Partry/Joyce Country Ireland, Maumtrasna North-East Top, Partry/Joyce Country Ireland, Mayo Coastal Hill Ireland, Oileán an Bhromaigh, Galway Islands Ireland, Oileán Mhuighinse, Galway Islands Ireland, Sail Mhor, Loch Maree to Loch Broom Britain, Sgorr Bhan, Loch Linnhe to Loch Etive Britain, Sgorr na Ciche [Pap of Glencoe], Loch Leven to Rannoch Stati Britain, Shanganagh, Clare Coastal Hill Ireland, Shanlieve, Mourne Mountains Ireland, Slievanea, Central Dingle Ireland, Slieve Gullion, Cooley/Gullion Ireland, Slieveanard NE Top, Galty Mountains Ireland, Slievelamagan, Mourne Mountains Ireland, Snowdonia Britain, Snowdonia Britain, Spain, Cantabria , Stac Pollaidh, Lochinver to Ullapool Britain, Stob Ban, Fort William to Loch Treig and Loch Leven Britain, Sugarloaf Hill, Knockmealdown Mountains Ireland, Sugarloaf, Dublin/Wicklow Ireland, Tal y Fan, Snowdonia Britain, Tryfan Far South Peak, Snowdonia Britain, Tully Mountain, Twelve Bens Ireland, Whetstone Ridge, Lancashire, Cheshire & the Southern Pennine Britain, Wolftrap Mountain, Slieve Bloom Ireland tracks were created.

Thanks to all 1338 who have ever contributed place or routes info and forums.

For a full list view Community | Contributors Hall of Fame

Summary. MountainViews now has 8814 comments about 1662 different hills, mountains, island and coastal features out of the total in our current full list (2159). We want to get a good gps track showing each of the major ways to visit each of these places and summits in Ireland. If you see an option to add a "Short Summary" then do please consider creating one since another objective is to have a short summary for every summit and island and coastal feature in Ireland. There's quite a few (497) opportunities for you to be the first to comment on a place, not so many on summits, however lots of opportunities for islands and coastal features as we bring them out. We also have around 2000 shared GPS tracks, mostly in Ireland. Apart from a few popular areas, there is a need for more routes in many different areas. Plain shared tracks without descriptions are welcome however if you have time then do please add route descriptions with photos.
NOTICES
Notices
If you are contributing, please be careful to respect the interests of landowners. Suggest access routes well away from houses, gardens or that could conceivably impact farming activities. When walking, keep away from gardens or farm buildings. Use stiles or gates wherever possible. Never do anything that could allow animals to roam where the farmer did not intend. Ask permission where appropriate.
Take care if parking and do not obstruct roads, lanes and field entrances to access by farm machinery, which can be large. Exercise your dog in parks or forests but avoid countryside or open hillside where they may worry sheep.
Report suspicious activity to the police forces, as below.
If your car is broken into in an upland area report it to the PSNI or Gardai as this will help them be aware of the issue and tackle it in future. Store the numbers. In Northern Ireland use the PSNI non-emergency number 0845 600 8000. In the Republic you can find the local Garda District HQs phone numbers at www.garda.ie/Stations/Default.aspx. Specifically for the hotspot of Wicklow: the Garda Divisional Headquarters in Bray is 01 6665300.
If you hear of a problem area or route, write it up in MountainViews which does everyone a service.
Report rubbish tipping in the Republic - ring EPA hotline 1850 365 121
Report recreational quads in national park area (in which they are banned). They are also banned in the Mournes. For Wicklow please phone the Duty Ranger: 087-9803899 or the office during office hours Telephone: +353-404-45800. For the Mournes ring the PSNI (as above) or contact Mournes Heritage Trust. Put these numbers in your phone, take regs etc. Let MV know of contact numbers for other areas.
If you have visited some of the less well known places, we would appreciate a place rating and also "Improve Grid Ref" for summits and other places.
If you find errors in the basic information about places such as in their names, their heights, county name etc please use the "Propose Places Database Change" option.
If we can, let's make MV have more than one route up a summit or to a place so as to reduce the tendency for paths to appear. Your grid refs in comments for different starting points show up on MountainViews maps as well as shared GPS tracks.
Visit the MountainViews Facebook page.
Visit the Challenge Walks Ireland page (jointly managed by MountainViews)
This newsletter
This newsletter
Editor: Simon Stewart, Homepage: www.simonstewart.ie
Assistant editors: Colin Murphy, David Owens
Summit comment reviews: David Murphy
Challenge Info: Jim Holmes
Track reviews: Peter Walker
Book reviews: Aidan Dillon, Peter Walker, Mel O'Hara
Videography: Peter Walker
Graphics design advice: madfrankie
Development & support volunteers: Vanush "Misha" Paturyan, Jack Higgins, Piotr Stepien

NEWSLETTER ARCHIVE.
View previous newsletters mountainviews.ie/newsletter
RETURNING TO MOUNTAINVIEWS

(If you have cookies on in your browser then you may be prompted as to username/ password. If you forget the password, the login page can email you a replacement.)

UNSUBSCRIBING


Alternatively let us know by email at admin -at- mountainviews.ie Include the email address you got this at or your screen-name guestuser.