The Summit


Monthly newsletter of MountainViews.ie for guestuser

July 2018
HILLWALKING
NEWS - INFORMATION - RECENT CONTRIBUTIONS - FEATURES - FORUMS
UPCOMING EVENTS for HILLWALKERS
MOUNTAINVIEWS: Meetup

Click on above for larger version.


(Previous notification repeated here.)
---
MOUNTAINVIEWS: Hillwalkers' Winter Talks

The Hillwalkers' Winter Talks are over for 2017/ 2018. We are interested in suggestions for talks for the 2018/ 2019 winter. They should be of interest to hillwalkers. Previous topics have included trekking abroad, historical walking, photography, geology, archaeology, weather forecasting, islands, conservation, camino, mountain rescue, mapping and disabled walking.



The Winter Talks are being organised by the MountainViews committee.



---
MOUNTAIN MEITHEAL: Mountain Meitheal are keen to find more people to help.
Mountain Meitheal make practical repairs to some of the more popular areas we walk on, using a voluntary community based approach. (More information at their website.)
Picture of the month
View of Croughan, Achill Island- is it the highest sea cliff in Ireland?

For original track, click here.
Photo: This is a photo of Croughan on Achill taken from the SW.
An International Pic
Aiguille de la Tête Plate

For original comment, click here.
Photo: Member jackill took this picture at the Aiguille de la Tête Plate (France) looking at the Dent du Geant
Regions: MOUNTAIN COMMENTS - TRIP REPORTS - TRACKS - SUMMARIES
In short: Discovery
Featured Track of the Month
Still Got The Bluestacks
This month's selection is a route of great use to aspiring Vandeleur-Lynam completists. peter1 has uploaded a route taking in all the 600m summits in Donegal's irrascible Bluestacks in a single walk, a rough old day with much in the way of clambering and contouring and complex routefinding. There are several optional diversions to add Arderin Begs during the meat of the walk and (for tougher pedestrians) a logical link over four lower summits (starting with Cruach Thiobraide) at its conclusion.
peter1 on Enough for one day


Main walk Start: 08:54, End: 16:09,

Duration: 7h14m, Length: 19.6km, Ascent: 1436m

, Descent: 1359m

Places: Start at G959

71

941

17

, Glascarns Hill, Croaghbane, Ardnageer, Ardnageer SW Top, Croaghgorm, Lavagh More, Lavagh Beg, Silver Hill, end at G920

80

932

32

4km W from Start

(statistics such as Ascent or Length etc should be regarded as approximate. Duration depends on the speed of the person making the track)


As I get older and my ability to climb on consecutive days on the hills becomes more difficult, I tend to 'go large' on the days I do go out. Hence, my plan was to climb all 7 of the 600m peaks in the Bluestacks in one go!
You will notice that this track seems to end abruptly! This is because I left my mountain bike at this spot, which is, in effect, the end of the motorable section of the road through the valley. If walking back to the start point from here, plan to add an additional 3kms or so.


The Granite landscape of the Bluestacks, looking towards Ardnageer


The cliffs of Binn na Cailli, at the western end of Lavagh Beg

---


NORTH: That sinking feeling.
On his ascent of Mullaleam in the Cuilcaghs, TommyMc encountered a hidden hole that swallowed him to his waist, so proceed with caution, he counsels, as the area is replete with them.
TommyMc on Mullaleam, (Mullach Léim): Hidden swallow holes hazard
Hidden swallow holes present a hazard on this mountain, an extremity of the moorlands below Cuilcagh mountain. While walking near the summit a few summers ago, I made the mistake of stepping on a bright green coloured mossy area and ended up falling to my hips into a pool of muck. Advance with care if you're venturing there. Nice views over Florencecourt Estate and of Benaughlin. ... Click here ...


NORTH: Crossone to bear
In his ongoing quest to answer the question 'what does a man do when he's done all the Arderins and the Arderin Begs?' it would seem that Onzy has stumbled upon a solution: 'do everything that might get upgraded to an Arderin Beg in the future'. And so it was that a visit to the Mournes has been used as an opportunity to visit two outliers of Slieve Donard. Millstone Mountain has been considered a sensible diversion from its ascent for years, but the nasty steep rough ground between Crossone and the parent top has deterred most. It didn't deter him (or me, if I'm being honest), even though an inspection on the ground suggests that a survey is unlikely to rule in Crossone's favour. For extra value it's not too hard to climb Chimney Rock Mountain as well.
Onzy on Mournes: Donard and Satellites
Route to Donard from Bloody Bridge via Crossone taking in Millstone Mountain on the return.| walk, Len: 10.6km, Climb: 871m, Area: Crossone, Mourne Mountains (Ireland) Crossone, Slieve Donard, Millst ... Click here ...


NORTH: Short and simple.
Fancy bagging a Carn in less than an hour? Then Agnew's Hill in the Antrim Hills is your only man, reports paddyhillsbagger.

group on Agnew's Hill: Short climb.
Turning left off the A36 from Larne at Kilwaughter leads you up to the Old Freehold area at the foot of Agnew's Hill at over 300m. There are a few single car parking spots before and after the starting point at D329 028 where the Ulster Way crosses the road. Climb over the style and follow the Ulster Way posts to the summit plateau. There is a short steep haul followed by a gentle climb on soft to ... ... Click here ...


WEST: Into the Gap
Struicin is the last huzzah of the Reeks, poised at the north end of the Gap of Dunloe with huge prospects to the north and with Cruach Mhor and The Big Gun giving the siren's call to the south. bunsen7 has uploaded the route from Kate Kearney's, a brief wander down the road followed by a very easy ascent up the bog road familiar to all who approach these mountains from this direction. As he notes it's an ideal family walk, being easily graded and with the pub as the incentive towards completion (if indeed you bother leaving the pub in the first place).

Bunsen7 on Strickeen via Bog Road
A ramble up from Kate Kearney's with a junior walker in tow. Great views towards Loch Lein and into the Hag's Glen. An i| walk, Len: 7.2km, Climb: 388m, Area: Struicín, MacGillycuddy's Reeks (Ireland) ... Click here ...


WEST: Handy track
Despite the presence of 'No Trespassing' signs, the landowner was happy to allow access to a handy track almost to the top of Bunnacunneen SE Top, writes Colin Murphy.

group on Bunnacunneen SE Top: Handy track
Although there was a sign on the track at L973 570 forbidding trespassers, the farmer in the nearby farmhouse had no problem with us using the track, which curved up the hillside almost to the summit. Having left the track heading west at around L953 562, the final few hundred metres was across a broad grassy summit. ... Click here ...


WEST: If Looks Could Achill
There's such an excess of wondrous mountain and coastal scenery in NW Mayo that things that would be thronged elsewhere remain relatively unknown, and an excellent case in point is Corraun, a mountain mass looming over Achill Sound, much driven-past, little ascended. Most references to it on MV are in the context of an up-and-down from the two tops returning to the start, but simon3 and his party have traversed it from one side to the other, peering through the mist at some wild corries and fleetingly-glimpsed glorious coastline.

simon3 on Crossing the Corraun Plateau
There were various other tracks before this one going onto the Corraun plateau but none crossing from one side to the ot| walk, Len: 13.7km, Climb: 648m, Area: Corraun Hill, Achill/Corraun (Ireland) ... Click here ...


WEST: Phantom lough
On his descent of Corraun Hill, Harry Goodman encountered a large lough not recorded on the map, which turned out to be three days of accumulated Connemara rainfall!

Harry Goodman on Corraun Hill, (Cnoc an Chorráin): Views! what views?
Climbed this hill on Wed. 12 Oct 2011. Our intention was to start from Belfarsad Bridge but the blanket of thick mist covering the Plateau made me opt for the simpler climb from Burnanioo Bridge some 4.5k further south along the same road. To get to the start we turned S off the R319 at F763 011 and followed the minor road for about 7.5k to L7364793890 where we parked in the church car park on t ... ... Click here ...


WEST: Wild Wild Life
Down in the south-west simon3 has discovered the (slightly lumpen) wildness of Conigar, with a short pull leading up to rocky knolls, hidden lakes and wildlife for those who care to notice it. The summits visited seem to be incidents during the exploration of an upland (it seems to be the sort of area where no two parties are likely to follow the same route), and an extension north into the Carran group is possible for the determined.

simon3 on Conigar from the west.
Conigar is certainly wild and has reasonable views but would not be described as particularly dramatic to look at.Coniga| walk, Len: 8.5km, Climb: 414m, Area: Conigar, Shehy/Knockboy (Ireland) Coniga ... Click here ...


Featured summit comment

FALSE LAKES, MIRAGE-LIKE LOUGHS
Harry Goodman

The perils and thrills of walking in misty conditions are well illustrated in Harry Goodman's post, updated recently on June 18. How easy it is to think you're in the wrong place, largely due to a trick of nature. To find out what trick Mother Nature pulled out of her hat, read Harry's aptly titled comment "Views! What Views?"


Looking S to Corraun Hill from Knockle Tragh

Our intention was to start from Belfarsad Bridge but the blanket of thick mist covering the Plateau made me opt for the simpler climb from Burnanioo Bridge some 4.5k further south along the same road. To get to the start we turned S off the R319 at F763 011 I and followed the minor road for about 7.5k to L7364793890 where we parked in the church car park on the left. Locals advised that it was quite in order to park there. We walked back north along the road for 500m, crossing the Burnanioo Bridge on the way to L737 943 A where we turned right up a well made track for about 1.4k to a T-junction L751 948. From here we turned left and followed the track along a short way to its end L749 950. It was then a straight forward climb SE up the hillside for about 1.2k to the summit trig pillar and a nearby cairn. Unfortunately the thick mist still persisted and we did not enjoy any of the fine views commented on by other MV members.

As we also wanted to include Corraun Hill South (now Slieve Aghkerane) we headed down SE to a wide but mist covered saddle (Pt 421). Coming down in the mist we were a little confused by what appeared to be a large expanse of water directly below us, especially as it was not shown on the map. On closer inspection the "lough" proved to be simply a very large area of shallow water caused by 2/3 days of continuous rainfall ! Anyone wishing to only climb Corraun Hill could either retrace their steps from the summit or come down to Pt 421 and then go SW down to the original access track F751 948 which could then be followed down to the start. Trackback: mountainviews.ie/summit/405/comment/6591/mtn_ct6591
---

SOUTH: Only massive.
Member ciarrioch encounters the spectacular eastern face of Slievenashaska South Top, and its twisted and buckled massive strata of rock.

ciarraioch on Slievenashaska South Top, (Sliabh na Seasca ó dheas barr): Twisted and Buckled and Lake Strewn Summit
See comments under Coomnahorna for details of horseshoe route (Coomahorna, Slieveshaska South & Slieveshaska). Lovely rock-bound lakes to the west of the summit. Massive strata twisted and buckled. Slow going over rough ground. Amazing country. ... Click here ...


SOUTH: West Cork's finest.
Derrynafulla SW in the Cahas is a diminutive hill at the end of a pleasant valley with wonderful views over the Glengarriff area, reports ciarraioch.

ciarraioch on Derrynafulla SW: West Cork's Finest!
A certain pot-stirring Cork-domiciled Killorglin man has been held responsible for the saying 'West Cork, that part of Kerry that Kerry rejected!' Well even if it were true, the Kingdom definitely came out the worst in this case! Lovely, lovely little hill at the end of a charming valley. Glengarriff's fractal landscape throws up new surprises. Park the car at layby after the bridge V88770 557 ... ... Click here ...


EAST: Stay away!
That's the advice from Pepe regarding St Patrick's Island in the Dublin Islands area, as even the slightest human interference can damage this very fragile bird sanctuary.
Pepe on St Patrick's Island, (Inis Pádraig): Please Respect the Birds
Do note that this island is an important bird sanctuary. The scale of birds here surprised me, much more than on neighbouring Colt and Shenick islands, I should have heeded the cacophony of their alarms, instead I tramped on their island. A short while later, on Colt Island, another kayaker filled me in on what happens when someone disturbs them. They fly off leaving the nest unguarded. Then gulls ... ... Click here ...


EAST: What lies beneath... ...is far better then what's on top of Kilfarrsy Hill in Waterford, says Pepe, as the views are to be had at sea level. And even the local village doesn't have a pub!

Pepe on Kilfarrasy Hill: What Lies Beneath is better than What Lies Up Top
You can drive over this. A very minor public road connects Kilfarassy with the R675 northeast of Annestown. This road crests the exact top of Kilfarassy Hill. A much better way of doing it is to park at Kilfarassy beach, walk to the western side of the carpark and take the obvious path uphill along by the cliffs. Boulder clay constitutes much of the cliffs around here. There's plenty of erosion so ... ... Click here ...


ENGLAND: A bit on the side of the Side
One of the most famous mountain scenes in Britain is the dramatic outline of the Lake District's Langdale Pikes, a view seen to tremendous advantage from the track uploaded by simon3. His route covers the lower eminence of Lingmoor Fell and its rocky subsidiary of Side Pike, and also visits two of the area's most famous pubs. Anyone wanting a bit extra could extend this walk across the other side of the valley to the complex wonderland of Loughrigg Fell...this is all utterly wonderful hill country.

simon3 on Side Pike and Lingmoor Fell
This is a fairly easy walk starting from Old Dungeon Ghyll and coming back to New Dungeon Ghyll. It was led by an HF vol| walk, Len: 13.3km, Climb: 518m, Area: Lingmoor Fell [Lingmoor Fell - Brown How ... Click here ...


Sorry if we didn't mention what you posted .. there's a list of all contributors for recent months later.
MOTLEY GATHERING
Did you ever wonder where the mountains came from?

This month we have an article on how corrie lakes form. But where did the mountains come from? Why is there the sort of folding that appears in the SW or the NW? Without getting too academic, there is a really gorgeous animation of geology and 3d map of plate tectonics.


Click here for dinosaurpictures.org/ancient-earth#300

You can track say Dublin's position back around 430 million years. Enter "Dublin" at the top left corner. At 300 mya you can see the beginnings of the Armorican folding for the Dunkerrons etc.

Also of interest, you can select 430 million years ago (MYA). Ireland was then in two parts separated by an ocean. By 400 MYA these parts had combined.

And plate tectonics was only established in 1969.

---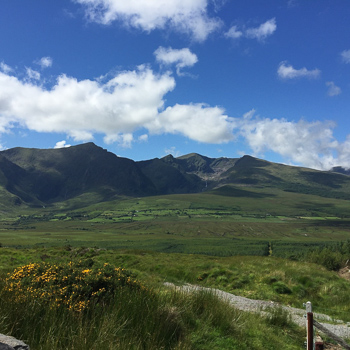 General View of Brandon Area.


MOUNTAINVIEWS MEMBERS MEET September 2018

Mountainviews Members Meetup Walk, Saturday 8th September.
The next walk for Mountainviews members and friends is scheduled for Saturday 8th September. This is an opportunity to meet up with fellow Mountainviewers and visit a part of the country you may not have been to before. Why not make a weekend of it?
A post walk drink and meal will also be arranged.
The walk will start at the Conor Pass which at a height of over 400 metres is a good place to begin.
Cycling up to the Conor Pass is optional!
A short ascent from the Pass will bring us to An Bhinn Dubh, the first of many summits closely followed by Beennabrack and Ballysitteragh before a descent of over 200m to a col and ascent up to Gearhane.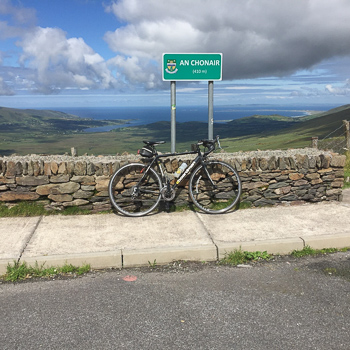 Conor Pass.


From here there is a spectacular ridge over Brandon Peak and Brandon South top to Mount Brandon itself at 952m the high point of the walk
There is an option at this point to descend by the 'Saints road' to An Baile Breac following a line of white posts and wooden crosses
Alternatively continue over Brandon North top and Far North top to Piras Mor and the col before Masatiompamn where an Ogham stone is located
A short diversion up Masatiompan is possible before descending west by the Dingle way to a car park near Brandon Creek.
The walk is 7-8 hours for the longer version, a distance of approx. 18km with ascent of around 1,000 metres
There will be more details nearer the walk but in the meantime if you are interested in joining us, SAVE THE DATE!, and, better still, register your interest with Liz, as below.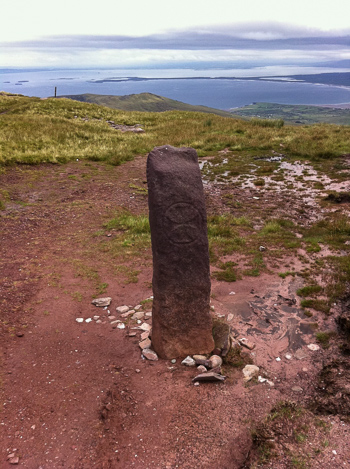 Decorated stone near Masatiompan.


The walk and the day are organised independently by members of mountainviews.ie and there is no charge for the walk. If you choose to donate to MountainViews you are always free to do so.
You arrange your own accommodation and any matters of personal insurance.
This is a wonderful opportunity to meet members of the Mountainviews community
The walk and further details are available from Liz at elizabethashton2014@outlook.com


---

Volunteering for 2018: Strengthening the MountainViews Committee

Currently we have a number of officers on the committee such as chairperson, secretary etc. We really could use some further committee members to achieve our strategic goals and spread the load.

| | |
| --- | --- |
| Position | In Brief |
| Ordinary members | For those taking an interest in the MV committee or indeed committees in general we can also use some further "regular" committee members without a specific role. There are many smaller quite finite projects that might suit regular members. |
| Publicity | MountainViews is a great resource based on over 1300 people's contributions over 15 years. Great that is if you have heard of it. And that's where we could use some practical publicity help. |
| The Geeks Shall Inherit the Earth | Quite apart from programmers, would you believe MV's progress can also use help from people who can really follow through on tasks like creating lists, checking stats, researching place names or geology. Whether on the committee or not we value such people's contributions. |
| Talks Group | Not strictly speaking part of the main committee but a position involved in finding and selecting interesting speakers and organising the three events we are running each year. |

Contact us at admin -at- mountainviews.ie

A Feature Article on Corrie Lakes.

Lough Coomeeneragh just north of Coomacarrea in the Glenbeigh Horseshoe.
CORRIE LAKES: Where do they come from?
Tom Barragry
Between 4 million and 10,000 years ago, Ireland was covered by ice and glaciers. About 50,000 years ago, as the climate began to warm up, the ice melted and by 10,000 years ago it was all gone. The resulting glaciers of that era had a huge chiselling effect on the visible landscape. The glaciers were moving, were of high mass and density, and exerted colossal downward pressure, and shearing forces on the adjacent rock faces. They followed straightforward and predictable principles of gravity, physics, mathematics and chemistry. Freezing and thawing, masses of ice moving downhill under gravity, abrasion of vertical surfaces as they tumbled, with the resulting erosion and deep excavation of the hollow by shear forces.
These colossal forces are responsible for the dramatic landscape changes we can see, corrie lakes, ribbon lakes, valleys, all caused by erosion.
Corrie lakes are one such spectacular and beautiful result of such erosion and the resulting deposition of debris (moraine) at the bottom and around the edges of the iced -over hollow, gives corrie lakes a very typical appearance.
Many corrie lakes are to be seen in Wicklow and indeed all over Ireland and elsewhere. They are always high altitude mountainous lakes with a steep northerly facing back wall.
Classic corries are about one kilometer long and one kilometre wide.The are always situated high on a mountainside under a steep north east slope where they are protected from the suns energy and the prevailing winds.
Historically, during the ice age, these high mountain hollows, northfacing and sheltered from heat, encouraged the mass accummulation of snow and ice. Snow accumulated in these north facing hollows, and eventually turned into large, dense ice packs, exerting enormous lateral and downward presure on the hollow that they filled.
As the ice moved down hill, it scraped the back wall making it steeper and pulling debris with it to the base of the hollow. Further freezing and thawing cycles, and the powerful downward gravitational shifting, removed more material from the back of the hollow creating a steep back wall (think of Tonelagee cliff face and Lough Ouler). Rotation and movement of the ice pack dragged rocky debris (moraine) along the base of the glacier deepening the floor of the basin by abrasion, and forming a deep rock basin. Some of the moraine was shifted out to the periphery of the hollow, where it formed a dam-like structure of rocks, or a rock lip enclosing the iced up hollow. The terminal lip was often heightened by the deposition of moraine.
Lough Ouler under Tonelagee, Wicklow
Lough Diheen in the Galtees.
Moraines are formed from the debris pulled down the steep rock face by the glacier, and normally consist of rounded particles varying in size from large glacial boulders, to small stones and rocks. This deposition of scraped -off wall debris, is deposited in heaps at the edges of the hollow. Glaciers are a moving phenomena and over thousands of years during the ice age, these massive slabs exerted huge abrasive pressure on rocks, as they froze, melted, collapsed, moved downwards under huge forces of gravity, and scraped down and abraded adjacent surfaces. They acted much like conveyor belts carrying debris from the top of the high walled hollow glacier to the bottom, where it deposited the debris in terminal moraines, acting as a boundary, lip face or dam like structure.
When the ice melted, corrie lakes appeared with a very steep north facing back wall, a characteristic curved shape, and a border of boulders, giving the typical "string of pearls" appearance to the border of the corrie lake.
Corries and such geological hollows are variously decribed as cwms (Welsh for valley), tarns (Norse/British) or cirques. (French). A cirque (French, from the Latin word circus) is an amphitheatre-like valley formed by glacialerosion. Indeed most corrie lakes have an amphitheatre-like appearance about them, open at one end (the terminal moraine lip) and the three walls of the original mountain hollow surrounding them...one being especially steep.
L Cleevaun under Mullaghcleevaun, Wicklow Mtns.
Because the massive glaciers exerted potent excavating and abrasive effects on the hollow of the basin, by moving and melting, collapsing and refreezing, corrie lakes are usually quite deep.
Frequently seen corrie lakes around Wicklow include Lough Nahangan, (under Camaderry/Turlough Hill), Lough Ouler, (under Tonelagee), Lough Bray (under the Eagles Crag), Art's Lough under Clohernagh, and Cleevaun Lough (under the northerly face of Mullaghcleevaun massif.). There are of course many more around Ireland.
Mournes Picture.

Book Review: The Mourne and Cooley Mountains by Adrian Hendroff.
Published : Summer, 2018 by Collins Press
Price: Stg£14.99



26 wonderful high and low levels walks through Northern Ireland's most iconic mountains. Inspiration for C.S. Lewis' Narnia, backdrop to Game of Thrones and theatrical set for some of Ireland's most dramatic legends.

Hendroff's Mournes and Cooleys is a wonderful word and picture record of his recommended pilgrimages through these pretty mountains, describing high spots and highlights from right across the region .... and truth is, it's a damned good read too.

So, trademark contour strapped paperback ... you can stick it in your kit when you're bus or train bound for northern parts - and after a brief encounter with the contents, you WILL be heading North.

Well established as a prolific mountain photographer - huge vistas, airy, panoramic - Hendroff's pics should be rated best of all for their off-piste viewpoints. Mourne and Cooley enthusiasts will compare their photo libraries and scenes will be duplicated a hundred times over but Hendroff always finds the ones we don't quite.

His photography is the driver to many of us buying his books but you'd be wrong to think of his prose as picture captions.

On the contrary, Hendroff's loping, striding style is ever engaging. Never shuffling nor ever breathless and in his new Mourne and Cooley Mountains there are some darlings too. "Sheer crags and precipitous cliffs guard the eastern ramparts of Ben Crom, plummeting agonisingly down to the reservoir below for nearly 900 feet." "Guarded by the green, forested slopes of Slievemartin on one end and the brown, menacing face of Slieve Foye at the other." Although his depiction of Carlingford Bay as Mediterranean blue is, well, enthusiastic.


Twenty six of his top walks in the Mournes and Cooleys. Headed up by tantalising pics, excellent route maps, technical data and each record a pinboard for fascinating fact and detail. Broadcast from two different rigs. One, painting the picture, another picking out diverse, interesting and quirky facts. On one hand ..... "Impressive views across Carlingford Lough toward the majestic sweep of green Rostrevor hills." On the other .... "George Bernard Shaw, once referred to the area around here as 'more beautiful than the Bay of Naples'." - or advice to avoid Slieve Bearnagh on public holidays - or to beware compass bending bedrock.

There is a temptation to plea for text to be broken into more bite-sized chunks but that's the very thing about Adrian Hendroff's Mourne and Cooley Mountains. It's not some vast intimidating encyclopaedia. It's there to be referred to certainly - but best of all, its there to be read - and thoroughly enjoyed.

-- Review by Bleck Cra


emVee-Tube
Videos this month:


Videography by Peter Walker.


CHALLENGE
A place for those interested in Challenge Walking
Click here for the Challenge Walk Calendar


Challenge Walk Notes for July 2018


On the Tom Crean Endurance walk, 2018
Through no sin of our own, we could have never have guessed that the good weather of May would continue on, and into June!! Like lads, this is still Ireland . . . memories of a day's tough hillwalking through heavy snow, having to call upon trusted navigational skills, to the local Centra, so as to fight to the death, our one time neighbour, for the last remaining slice pan, still scar our psyches . . .
But incredibly, continue on, the good weather most certainly did indeed (although there was a slight exception on one of the day's adventures).
Tom Crean Endurance Walk
Towards the end of the month just passed, Annascaul Walking Club extended once again an invitation to "The Kingdom" for a Challenge Walk inspired by a true Irish hero. The Tom Crean Endurance Walk is now firmly established within the Challenge Walks Calendar and seems to go from strength to strength each year. . . Ronan O'Connor captures the day in all its sunny glory!
"As the busloads of participants arrived in Ballybrack and Brandon was fully visible, we knew we were in for a scorcher. As the walk was officially started the 250 walkers started ascended Mount Brandon at varying paces in the very still air. Continuing on to Brandon Peak and Gearhane and the col at Mullach Beal, walkers were grateful for the energy bars and water awaiting us at the checkpoint.
A steep climb up Ballysitteragh was followed by a descent towards the Conor Pass where more badly-needed water and sandwiches awaited us. Almost at the half-way point, we then proceeded on some featureless moorland to An Cnapán Mór and an equally steep descent via Cnoc Mhaoilionain. A final push along road and the banks of the Annascaul River brought us into the back garden of the South Pole Inn, where all finishers were presented with medals by Enda O'Brien, grandson of Tom Crean.
The sun was still beaming down on us, as regular and first time challenge hikers relived the day at the BBQ outside Hanifans pub.
A great walk on a great day, superbly organised by the good folk in Annascaul Walking Club."
Ronan O'Connor
. . . . . . . . . . . . . . . .
Glenmalure Circuit Challenge
Earlier in the month of June saw an absolutely fabulous Challenge Walk take place . . . fabulous in the sense that it traces a most beautiful route in the "Garden of Ireland" and reaches to the highest mountain in Leinster. The Walk encompasses 10 different Summits from the might Lug itself, around to Table Mountain and onwards to Lugduff, then on to Mullacor before the final route down past Carriglineen.
Circuit of Glenmalure
The Glenmalure Circuit Challenge is a special Walk in that it isn't totally advertised - and this is absolutely and totally understandable . . .
A very well respected and established club - The Roving Soles Hillwalking Club, have successfully hosted this Walk for many a year now.
The first part of this Walk saw the only wet weather all month (the exception spoken about earlier)! So it was a tough enough blaze up to Lugnaquillia, until the now glorious weather that we've since become accustomed to, would then dominate the day. Roving Soles are caught between a rock and a hard place - if the Walk were to become too popular - it would be a strain to host it! But personally, I have to express my gratitude for a wonderful invitation to what is a great route and a great day.
Coming Events
Firstly in July, normally the first Saturday of the month is the world famous Comeragh Crossing. On this great day the boys and girls from Dungarvan Hillwalking Club invite down to Waterford simply hundreds of walkers with all different abilities so as to all take part together, yes together . . . at different stages those on the "A" Walk may break off so as to summit an extra ridge for example - but all walkers continue to meet over the course of the day – which is a great help in sharing one's pains.
A tough Walk that has proven difficult in parts to navigate in adverse weather, it commands an ascent of approx. 2100 metres and at least a lateral length of 40 kilometres. The 7th of July is to be this year's date.
Circuit of Glenmalure - another.
Then later in the month (on the 21st of July) is the (also world famous) Joyce Country Challenge. This is a beautiful Walk too, although it has been subject to many a seriously tough day's going! There have been years where heavy rain has dictated a long hard slog where the extra fuel reserve had to be called upon. The Joyce Country is over 30 km with an ascent of over 2000 metres.
Both Walks have been known to have required that extra bit of ummph! This special trait is to be found only in the mind-set of the most hardened of Challenge Hillwalker – but when indeed found . . . . it is etched permanently!
Even in the month of July things can be unpredictable - so never let the incredible weather that we've been chatting about, lure you into a false sense of security up the hills! We appreciate all too well how up at 700 odd metres, conditions can "turn on a dime" in a single hour.
But who knows . . . chances are, this good weather will continue 'till Christmas Eve (yes, it really does get earlier each year!).
So whether it's the beauty of the Comeraghs or the enchantment of Maumtrasna . . . it's on these Challenge Walks where you'll find the most fantastic plateaus, ancient corries, spectacular ridges, glorious valleys and lakes that have lured for generations in all their glory . . . in good weather or fresh.
Support a local Challenge Walk near you!
Onwards and Upwards, Keep Safe and Enjoy your Day!
Jim Holmes.
---

Also take a look at this resource managed by MountainViews:
www.facebook.com/ChallengeWalksIreland
SUMMITEERS and PLACE-VISITORS CORNER
A place for those interested in Summiteering, Bagging, Highpointing, visiting islands and coastal places.

A Guide to Ireland's Mountain Summits - The Vandeleur-Lynams & The Arderins
MountainViews first book available online and in some bookshops. The first reprint with numerous minor amendments is available.


simon3 on A Guide to Irelands Mountain Summits
MountainViews first book available online and in many bookshops.

As members will know, for over a decade, Mountainviews.ie has been providing unique information to hillwalkers on all aspects of exploring and enjoying Ireland's upland areas. It's been a collaborative effort by over 1000 of you, and currently contains over 6000 comments on 1057 mountains and hills on the island of Ireland ... ... Click here ...
Bulk sales to groups such as Scouts/ Guides: contact admin@mountainviews.ie for a discounted price.
This month.
Kudos to our contributors.
We welcome the following new members who enrolled this month. afitz, Afus76024, Avcb2017, BenLen, BillWatson, Birkthewalker, Blondi77, Cormac.Coyne, danmyers22, DeclanF, Donlap, druizcas, dunphymgt, Eitu2020, eosu, Estherosullivan, FedericoV, Fpab2004, gilroycarol, Grealg1, heidi123, helloyeshi, Hopper, I_walker, jim59, Kathleen7, KathleenPortugal, kayp1185, Killy18, Laxcoach, Ldsm2014, lisakyle82, Luciesantamans, Mags-Collins, MaireadEsmonde, margieharkin, Mchalec, mforsythe, Mgdc1985, michaelkoch, Mnay2010, moojosp, Murt2018, neildorgan, Ngm1267, Nqla1985, oboyle_n, paddyfrog, Reivilo, Rimana, RuthCol, Seamus-hills, slevinkate, sowa189, supernaturval, Sxfi2003, Tee, Theresea, Titanburner, tonymannix, Tybr, Vrxh2020, wintersmick, Xymv2016, Xzwr2003 (65)

Our contributors to all threads this month: Abruzzese (1), BleckCra (4), Bunsen7 (5), CaminoPat (1), Colin Murphy (2), Damian120 (1), Fergalh (1), Geo (1), Harry Goodman (1), Onzy (9), Pepe (3), TommyMc (1), caiomhin (1), ciarraioch (3), csd (1), eamonoc (2), Communal summary entries (15), jackill (3), jgfitz (3), kernowclimber (1), muzag (1), peter1 (1), simon3 (12), spiider28 (2), strangeweaver (1), tomlug48 (1), wallr (1)
For a fuller list view Community | Recent Contributors

There were comments on the following places Baurtregaum Far NE Top, Brassel Mountain, Broaghnabinnia, Bunnacunneen South Top, Caoinkeen South-East Top, Coomacloghane, Coomnahorna, Corraun Hill, Derrynafulla SW, Inishkea North, Kilfarrasy Hill, Knockbwee, Knockmore, Mullaleam, Sallagh South-West Top, Slievenashaska South Top, St Patrick's Island, Stumpa Dúloigh, Tonduff East Top, Westtown Hill
and these shared tracks Breifne Ireland, Corraun Hill, Achill/Corraun Ireland, Croaghaun SW Top, Achill/Corraun Ireland, Crossone, Mourne Mountains Ireland, Cupidstown Hill, Dublin/Wicklow Ireland, Dublin/Wicklow Ireland, Dublin/Wicklow Ireland, Dunkerron Mountains Ireland, Galtymore, Galty Mountains Ireland, Glascarns Hill, Bluestack Mountains Ireland, Italy, Apulia , Italy, Apulia , Italy, Apulia , Italy, Apulia , Italy, Apulia , Italy, Apulia , Knockoura, Slieve Miskish Ireland, Minaun, Achill/Corraun Ireland, Mullaghcleevaun East Top, Dublin/Wicklow Ireland, Musheramore, Boggeragh Mountains Ireland, Mweelin, Shehy/Knockboy Ireland, Rossnafinna Island, Mayo Islands Ireland, Slieve Donard, Mourne Mountains Ireland, Slieve Mish Ireland, Slieveanard NE Top, Galty Mountains Ireland, Slieveboy, North Wexford Ireland, Struicín, MacGillycuddy's Reeks Ireland tracks were created.

Thanks to all 1329 who have ever contributed place or routes info and forums.

For a full list view Community | Contributors Hall of Fame

Summary. MountainViews now has 8731 comments about 1643 different hills, mountains, island and coastal features out of the total in our current full list (2154). We want to get a good gps track showing each of the major ways to visit each of these places and summits in Ireland. If you see an option to add a "Short Summary" then do please consider creating one since another objective is to have a short summary for every summit and island and coastal feature in Ireland. There's quite a few (511) opportunities for you to be the first to comment on a place, not so many on summits, however lots of opportunities for islands and coastal features as we bring them out. We also have around 2000 shared GPS tracks, mostly in Ireland. Apart from a few popular areas, there is a need for more routes in many different areas. Plain shared tracks without descriptions are welcome however if you have time then do please add route descriptions with photos.
NOTICES
Notices
If you are contributing, please be careful to respect the interests of landowners. Suggest access routes well away from houses, gardens or that could conceivably impact farming activities. When walking, keep away from gardens or farm buildings. Use stiles or gates wherever possible. Never do anything that could allow animals to roam where the farmer did not intend. Ask permission where appropriate.
Take care if parking and do not obstruct roads, lanes and field entrances to access by farm machinery, which can be large. Exercise your dog in parks or forests but avoid countryside or open hillside where they may worry sheep.
Report suspicious activity to the police forces, as below.
If your car is broken into in an upland area report it to the PSNI or Gardai as this will help them be aware of the issue and tackle it in future. Store the numbers. In Northern Ireland use the PSNI non-emergency number 0845 600 8000. In the Republic you can find the local Garda District HQs phone numbers at www.garda.ie/Stations/Default.aspx. Specifically for the hotspot of Wicklow: the Garda Divisional Headquarters in Bray is 01 6665300.
If you hear of a problem area or route, write it up in MountainViews which does everyone a service.
Report rubbish tipping in the Republic - ring EPA hotline 1850 365 121
Report recreational quads in national park area (in which they are banned). They are also banned in the Mournes. For Wicklow please phone the Duty Ranger: 087-9803899 or the office during office hours Telephone: +353-404-45800. For the Mournes ring the PSNI (as above) or contact Mournes Heritage Trust. Put these numbers in your phone, take regs etc. Let MV know of contact numbers for other areas.
If you have visited some of the less well known places, we would appreciate a place rating and also "Improve Grid Ref" for summits and other places.
If you find errors in the basic information about places such as in their names, their heights, county name etc please use the "Propose Places Database Change" option.
If we can, let's make MV have more than one route up a summit or to a place so as to reduce the tendency for paths to appear. Your grid refs in comments for different starting points show up on MountainViews maps as well as shared GPS tracks.
Visit the MountainViews Facebook page.
Visit the Challenge Walks Ireland page (jointly managed by MountainViews)
This newsletter
This newsletter
Editor: Simon Stewart, Homepage: www.simonstewart.ie
Assistant editors: Colin Murphy, David Owens
Summit comment reviews: David Murphy
Challenge Info: Jim Holmes
Track reviews: Peter Walker
Book reviews: Aidan Dillon, Peter Walker, Mel O'Hara
Videography: Peter Walker
Graphics design advice: madfrankie
Development & support volunteers: Vanush "Misha" Paturyan, Jack Higgins, Piotr Stepien

Newsletter archive.
View previous newsletters mountainviews.ie/newsletter
RETURNING TO MOUNTAINVIEWS
Click on (If you have cookies on in your browser then you will be prompted as to username/ password. If you forget the password, the login page can email you a replacement.)

UNSUBSCRIBING
If you don't want to receive this newsletter :


Alternatively let us know by email at admin -at- mountainviews.ie Put UNSUBSCRIBE in the title. Include the email address you got this at or your screen-name guestuser.