The Summit


Monthly newsletter of MountainViews.ie for guestuser

July 2017
NEWS - INFORMATION - RECENT CONTRIBUTIONS - FEATURES - FORUMS
UPCOMING EVENTS
MOUNTAINVIEWS: Hillwalkers' Winter Talks
MountainViews Walkers Winter Talks for 2017 is now over and will resume in 2018.


MOUNTAIN MEITHEAL: Mountain Meitheal are keen to find more people to help.
Mountain Meitheal make practical repairs to some of the more popular areas we walk on, using a voluntary community based approach. (More information at their website.)
Regions: MOUNTAIN COMMENTS - TRIP REPORTS - TRACKS - SUMMARIES
In short: Discovery
Featured Track of the Month
Doing the Dooish
July's Track of the Month has been submitted by pazapas, and takes the low road (a lengthy lakeside stroll alongside Lough Veagh) then the high road (over the rough ground surrounding and over Dooish summit) through the Glenveagh National Park in Donegal. He includes some notes on conditions underfoot and some important (for some of us!) tearoom information; a straightforward yet still quite wild outing.


pazapas on Just Dooish !


Main walk Start: 10:04, End: 17:05,

Duration: 7h 1m, Length: 24.5km, Ascent: 898m

, Descent: 889m

Places: Start at C040

12

229

96

, Crockmulroney, Dooish, Saggartnadooish E Top, end at C040

24

233

41

345m N from Start

(statistics such as Ascent or Length etc should be regarded as approximate. Duration depends on the speed of the person making the track)




?The walk is a simple 24.5km loop all inside Glenveagh National Park. The entrance is free of charge.
The route is made of an easy part and a second one more strenuous. It starts from the car park at the main entrance. Just follow the path along Lough Veagh and continue straight to the gap. Near the gap, you can see a well marked path on the opposite slope, veer to this path and follow it nearly 700m. If it is opened, you can reach it lower in the valley (hundreds meters before point A, blue flag). Do not forget to look at behind you sometimes for the beautiful view on the valley.
After these easy 11km, the "hard" things begin. Follow the path until it disappears near a stream, continue your route to the north through a marshy ground. You can climb Crockmulroney (430m) and Cro an Lochain (486m) for a last view on the valley. When you reach Loch na bhFaoileog, the small lake with an island, you have the choice to reach Cruach na Sagart (480m) and to follow the smooth ridge or you can walk directly toward Dooish summit (652m). Whatever your choice, you will have to negociate with eroded turf. A grassy straight "corridor" may help you to find your way on the steep slope to the north (point B, red flag). From here, I saw nearly sixty deers until I reached Dooish. Once you are on the summit, follow a straight north-east route until the car park.Warning :pay attention to the ground with hidden cracks, unstable tufts of grass and a marshy soil. To make your own opinion about the difficulty, I walked the first part (11km) in 2h11 and the second one (13.5km) took me 4h56, stops included. GPS signal may be weak or null.


Some well known summits...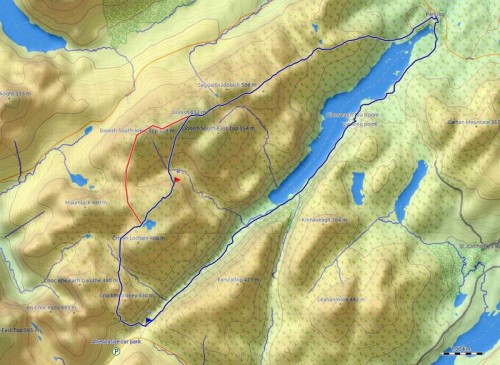 The map

Nota : this walk can be done in a nicer way if you do it in counter clockwise. You will then enjoy the valley an Lough Veagh along your return path. Furthermore, you have the opportunity to have a tea at the Castle and for few euros, you can avoid the last 4km by bus if needed.

---


NORTH: Great place for a wide view of Donegal Coast.
Annagry Hill in Donegal provides a wealth of coastal and mountain views, reports Simon3, who also supplies plenty of pictorial evidence.

group on Annagry Hill, (Annagaire): Good views, nasty briers.
This hill has excellent views of the nearby coast of NW Donegal. One place to start is around B7965 1909 on a public road servicing a number of holiday homes. There is a bank of a few metres to be climbed before open rough ground is reached. Unfortunately this bank has briers and is difficult for a while. Near the top of the bank is an illuminated 6 pointed star. It has seen better days and w ... ... Click here ...


NORTH: Owey the lads...
The goldrush following the publication of the island lists on MV continues apace, and while Owey Island has long been included on the site owing to its crowning Binnion summit, simon3 has used his visit to highlight some of the less substantial islets around it. A boatman can be engaged to take trips to Owey, and as such this is one of the more frequented islands off the west coast. Such popularity seems well deserved with there being much of interest on and around (and within, he said enigmatically).

simon3 on Owey: From holiday homes to plunging granite and wildness.
Short boat trip with Dan Gallagher.This was a trip around Owey in June, with generally poor weather including an hour lo| walk, Len: 9.5km, Climb: 222m, Area: Torglass, Donegal Islands (Ireland) Tor ... Click here ...


NORTH: Good summit for Carn-baggers
Crockmulroney in the Derryveagh Mountains is a fine, well-defined hill close to a series of other Carns, reports Colin Murphy.

Colin Murphy on Crockmulroney, (Cnoc Uí Mhaolruanaidh): Good summit for Carn-baggers
A fine hill with a well defined summit and great views. Plenty of parking spots along the R254 directly to the south of the summit. From there it's a relatively simple 1km climb to the top. ... Click here ...


NORTH: Island haven
A pictorial multiplicity and lots of useful info is supplied by magicstep on the pleasures to had visiting Moylemore on Owey Island.

group on Moylemore: Go and enjoy this excellent Binnion.
Unless you have independent means you can arrange the short sea crossing to Owey Island with Dan Betty Gallagher who operates a summer sea taxi service Tel. 0866013893. From the landing stage follow the clear track to the village and then go NNW to B7128123353 before turning up left through a couple of small stone walled fields to gain the top marked by a trig pillar. While there, go some 100m fur ... ... Click here ...


WEST: Flakes, raspberry sauce and hundreds 'n' thousands...
The Proclaimers famously vowed to walk a total of 1000 miles just to collapse on somebody's doorstep: Msbinireland isn't quite that motivated, but will apparently do a solid 29.3km over the spine of the Dunkerrons if there's an ice cream waiting at the end of it. His route starts with the relative fleshpots of Ballaghbeama Gap and Mullaghanattin (tough enough for many), but the section from Knocknagantee to Coomcallee is wilder still and presents ample opportunity for your ankles to either snap or drown. There's plenty of content to this route already, but a diversion to Coomnahorna and/or an extension over Eagles Hill could be added by the very fit.
Msbinireland on Dunkerron Spine
Caution: ONLY consider doing this route in clear weather and after a dry spell. Many sections may be impassable after si| run, Len: 29.3km, Climb: 1597m, Area: Mullaghanattin, Dunkerron Mountains (Ire ... Click here ...


WEST: When hill bagging and golf collide!
The high point of Annaghvaan island off Galway is located on the 11th hole of a gold course, reports sandman.

sandman on Annaghvaan, (Eanach Mheáin): Galway Island
Connemara Island Golf Course is a nine hole course located on this island and just inside its entrance at L9080830893 is the 11th/17th hole where the natural high point is adjacent to the ladies tee box. Although the men's tee box is higher we try to go for the natural high point which on golf courses can be difficult to find unless a trig is located on them as is the case with Muldersleigh Hill ... ... Click here ...




Featured summit comment




It could be you. Aidy & friends have a close call on an otherwise spectacular climb of Connaught's highest, Mweelrea.

WEST: Brilliant mountain, but demands respect

by Aidy

I found Mweelrea to be a magnificent mountain, dramatic, rugged, and with amazing views. I would definitely recommend ascending from the Doo Lough side to take in the Ben Lugmore tops and Ben Bury to make the most of the scenery. Our walk did however serve as a reminder that the Irish mountains, particularly one such as Mweelrea, can be dangerous.

I normally walk alone due to all the stop/starting and diversions for photographs, but this time I had two companions with me - both fit and healthy ( and much younger than me!). By the time we got to Ben Lugmore however, one of them was seriously struggling. I don't know if it was a fitness problem or if he was coming down with something, but he started to slow to a snail's pace, and began having severe pain in his legs. He wanted to push on, and it seemed to be a similar distance no matter which way we went at this stage, but progress was painfully slow, and by the time we got to Mweelrea he was in a bad way. All we could do was walk slowly with him, with plenty of stops, and I had already given him my hiking poles to see if that helped.

We abandoned the idea of going over the SE Spur and Teevnabinnia, to get to flatter ground, but it became clear that we wouldn't be getting out before dark. As we reached the valley floor, aiming for a forest track which led out to the road, he was actually starting to hallucinate and shiver, even though the weather was extremely mild. Luckily, as I knew Mweelrea was a serious mountain I had spare warm clothes and a foil emergency blanket, and we sat and let him rest for a couple of hours, giving him plenty of water and high energy food.

Eventually he recovered enough to undertake the last stretch, albeit extremely slowly, and we made our way out in darkness - again thankfully I had a GPS and torches.

A reminder, that on a mountain like this, no matter how good the conditions, it is better to well prepared, and maybe to carry that little bit of extra gear. I have to admit, I always felt half embarrassed at carrying foil blankets etc in the little Irish mountains, but I'll always have one on me from now on!

Brilliant mountain though despite everything.


---

SOUTH: On cloud nine
Some spectacular cloud formations over the Slieve Mish Mountains were among the joys encountered by Thomas_g while climbing Moanlaur.

thomas_g on Moanlaur, (Móin Láir): Pleasant on a summers day
Did a lovely walk along the ridge today taking in 4 tops, the ascent and descent from the Camino D' Kerry is tough but so worth it. ... Click here ...


SOUTH: Uncommon beauty
Doonties Commons is a diminutive Binnion in Central Dingle, but has lots to interest, not least the magical coastal and landscape scenery, says eamonoc.

eamonoc on Doonties Commons: Not so Common
Climbed on 6/6/2017. Some of these smaller hills provide some fantastic views, and Doonties Commons dosen`t dissapoint, walked up from overgrown Grotto as suggested by Ciarraioch, the going was pretty rough and took 25mins to top, there are some interesting rock formations passed on way up. There is a substantial Trig on the Summit, views in all directions are fantastic, it was pretty showery whe ... ... Click here ...


EAST: Time and tide etc…
It is possible to walk to Shenick's Island off Dublin, reports Pepe, and there is much to enjoy, but you have to get your timing exactly right.
Pepe on Shenick's Island, (Oileán Sionnach): Beware the Flowing Tide
It's possible to walk out from the beach at Holmpatrick Cove (directly opposite Skerries Rugby Club) if you get the timing of the ebbtide right. A causeway reveals itself as the water diminishes. Best choose a really low tide as ordinary tides might be a little dodgy for walking there and getting back! A really low tide will give you ten to fifteen minutes which is all that's needed to explore thi ... ... Click here ...


EAST: Nice Wexford headland
Although built up, Cahore Point may be accessed easily a gives some fine views of the coastline, says Simon3.

simon3 on Cahore Point, (Rinn Chathóir): Built up headland with available path and good views.
Cahore Point is a considerable headland in North Wexford. Although built up, it is possible to walk along the coast around the top of the headland from north to south. The pier has an unusual feature called the Cahore Canal, which is a drain taking water from "Bog and Warren", an extensive area of drained marsh south of the headland and putting it out to sea from the small pier. One place to vi ... ... Click here ...


GREECE: Greeced Lightning
Onzy has spent some time perambulating around the Pelion peninsula on old mule tracks in the last month: there's a joke in there somewhere. Apparently this is fine walking country, and his various uploads from his Greek holiday this month amply illustrate the wisdom of finding some space in your luggage allowance for boots.
Onzy on Greece, Pelion Peninsula: Tsagarada to Milies
A minor domestic emergency meant that our weeks walking in Pelion was reduced to two days and a couple of small rambles.| walk, Len: 13.5km, Climb: 519m, Area: Greece, Thessaly () ... Click here ...


FRANCE: Continuez votre camping
From the camping capital of Europe (apparently) bunsen7 brings us news of a route in the eastern Pyrenees. His track climbs through naturally wooded foothills to the summit of Massane with its crowning ruins, and rewards the walker with good paths to follow and an extensive seaward panorama. As noted in the text this is but one of numerous routes marked in these hills, and it seems to constitute (yet) another worthwhile holiday destination for the walker.

Bunsen7 on Argeles Sur Mer - Tour de la Massane
Many Irish holidaymakers annually descend upon the resort towns along the French catalan coast east of Perpignan. Argele| walk, Len: 12.7km, Climb: 798m, Area: France, Occitanie () ... Click here ...


Sorry if we didn't mention what you posted .. there's a list of all contributors for recent months later.
MOTLEY GATHERING
Coast and Islands.
For the Republic, the latest figures from the Census 2016 published by Central Statistics Office today has revealed that 1.9 million people or 40% of the Irish population is residing within 5km of the coast. If anything it's probably a higher proportion in NI.
More information from the ever lively Coast Monkey

---

What does it have to do with hillwalking anyway?
Please find background on islands and coastal features here.

simon3 on Islands, islands, Irish islands.
Some background. MountainViews has had some islands for many years, for example we have had say Inishnabro, a mountain of the coast of Dingle in SW Ireland. It wasn't so much we had this place as an island as that it had a peak which met the criteria for one our lists, in this case the Binnions, summits with a prominence over 100m Inisnabro is the sort of wild interesting place that can only ... ... Click here ...




---

Strengthening the MountainViews Committee

Currently we have a number of officers on the committee such as chairperson, secretary etc. We really could use some further committee members to achieve our strategic goals and spread the load.

| | |
| --- | --- |
| Position | In Brief |
| Ordinary members | For those taking an interest in the MV committee or indeed committees in general we can also use some further "regular" committee members without a specific role. There are many smaller quite finite projects that might suit regular members. |
| Talks Group | Not strictly speaking part of the main committee but an interesting position. |
The MountainViews ANNUAL, 2016.

In February 2016 MountainViews was delighted to announce something new, our first ANNUAL, an online magazine for Hillwalkers in Ireland. Here is our latest annual, published in Feb 2017



Click here for the current ANNUAL

(or Hi-res version.)



If you are interested in a printed version you can buy one here. Click Here.
FAMILY WALKS AROUND DUBLIN

A Collins Press Walking Guide authored by Adrian Hendroff.

Reviewed by Hiking Viking (Gudmund Krogsrud)

The 30 routes in this guidebook will take you from 18th century Ardgillan Castle near Skerries to Saggart Hill rising above the foothills of Rathcoole. Starting in North County Dublin, the first 11 routes are located along the coastline covering Skerries, Donabate, Malahide, Portmarnock, Howth, St Anne's Park, North Bull Island, Irishtown Nature Park and Poolbeg Lighthouse.

At one point, you will even leave the mainland behind. Route 6, a boat trip and walk around Ireland's Eye, is described by the author as "a delightful off-coast adventure to a small, remote island with ancient ruins, impressive rock formations and thriving birdlife." The journey starts at the East Pier of Howth Harbour.

Route 12-15 cover urban and suburban parklands and waterways including Phoenix Park, part of the Grand Canal, St Stephen's Green, a short stretch of River Liffey, Bushy Park, River Dodder and Marlay Park. Highlights include historic landmarks and monuments, beautiful woodlands, walled gardens, duck ponds, idyllic streams, stone bridges, cafes and well-equipped playgrounds. In Marlay Park, you can even explore a Fairy Tree and a miniature railway!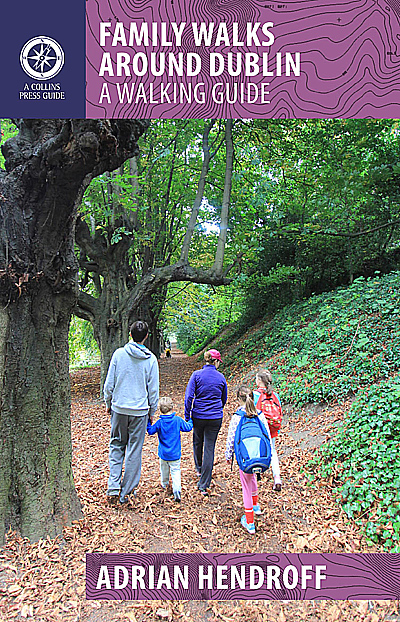 Front cover.

Moving swiftly back to the Irish Sea, the next two routes cover Sandycove Heritage Trail, Dalkey Quarry and Killiney Hill with far-reaching views of the Dublin and Wicklow coastlines.

The Dublin Mountains Way is a 43km waymarked trail which runs from Shankill in the east and finishes at the Sean Walsh Memorial Park in Tallaght. Route 18-30, will explore many of the highlights of this long-distance trail.

Closing in on the Dublin and Wicklow Mountains, route 18-20, are categorised as hill and woodland trails. You will be rewarded with excellent views of Bray Head, Little Sugar Loaf and Great Sugar Loaf from several viewpoints including Carrickgollogan and The Scalp. Another highlight is the towering Lead Mines Chimney.

Arguably, the most challenging adventure in this book is route 21 from Glencullen to Prince William's Seat (555m) and Raven's Rock. The author, Adrian Hendroff, describes this as "a proper family hillwalk with stunning views and giving you the chance to claim an Arderin!" To date there are 407 Arderins - Irish summits over 500m - listed on mountainviews.ie. A section of the route crosses into County Wicklow to include the rugged outcrop of Raven's Rock, providing even better coastal views than from Prince William's Seat. There also great views towards the Wicklow Mountains including Djouce, the Tonduffs, Maulin and Great Sugar Loaf.

Route 22-30, provide excellent combinations of hill and mountain trails including Three Rock Mountain, Two Rock Mountain (Fairy Castle), Tibradden Mountain, Cruagh Mountain, Hell Fire Club, Ballymorefinn Hill and Seahan. Two Rock Mountain (536m) is listed as an Irish Arderin. Seahan (647m) is classified as an Arderin and Vandeleur-Lynam (one of 273 Irish summits over 600m) by mountainviews.ie. Route 28 revisits the River Dodder with a scenic walk through the reservoir-filled valley of Glenasmole.

All the routes in 'Family Walks Around Dublin' have been graded based on level of difficulty, using a scale from 1 to 3, with 1 being the easiest and 3 the hardest. Grade 1 is suitable for adult beginners and children aged 3 years and above. Grade 2 is suitable for adult beginners and children aged 6 years and above. Grade 3 is suitable for adults with basic hillwalking experience and children aged 10 years and above. The walks range from around 1 to 5 hours in length. They are all described as fairly easy walks with no significantly steep ascent or descent.

The book contains an excellent 'Quick-Reference Route Table', describing Category, Grade, Distance, Ascent, Time and even what type of Footwear to use. As a rule of thumb, Grade 3 require hiking boots with good ankle support while you can get away with a good pair of runners for all Grade 1 routes.

The Walking Guide is tastefully decorated with colourful photos and maps throughout. The maps provide an excellent overview of the routes including a few optional variations. For all Grade 2 and 3 routes, the use of detailed maps is recommended. Plenty of Grid References are provided throughout the book for map and GPS users.

As an experienced Mountain Leader, Adrian Hendroff, highlights the importance of 'Responsible Walking' as promoted through the 'Leave No Trace' outdoor ethics programme and through the mantra 'take nothing but pictures, leave nothing but footprints, kill nothing but time'. The book also contains very useful tips for suitable equipment, clothes, fluids, food, snacks and outdoor safety.

The author recommends making it fun by involving children in activities during the walk such as putting together a checklist of things to discover, exploring flora and fauna, taking pictures and checking your destination on the map. And don't forget to reward them for reaching the summit!

Another great feature of the book are the many intriguing tales of folklore and detailed historical references. Ancient Dublin pulsates with legendary stories - from High Kings and Vikings to famous writers and poets.

To conclude with a combination of Joyce and Hendroff's words: "O cool and pleasant is the valley - so get outdoors, get walking, get exploring and get happy. Happy hiking!"




CHALLENGE
A place for those interested in Challenge Walks
Challenge Walk Calendar


Challenge Walk Notes for July 2017

As the start of July rolls in, many have remarked whilst looking out their house windows, peppered in raindrops, how actually . . . It isn't a bad oul looking day for February!!

Yet despite the inclement weather many a memorable challenge walk was hosted in June.

Galtee Walking Club had a very successful Challenge and Crossing of the event with over 120 walkers in attendance. In lovely sunshine the Coums below looked majestic. In Kerry too a great day was reported on the Tom Crean challenge. Now a well-established challenge walk, as hosted by Annascaul Hillwalking . . . to be Hillwalking in any shape or form, will always be both a fantastic and challenging in the County of Kerry.

Despite a cold biting wind and heavy mist at times, The Comeragh Crossing yet again would be a memorable day for all who in turn completed a tough Challenge but will not easily forget the famed Dungarvan Hillwalking Club hospitality.

Onwards into July and Lake District Hillwalking Club proudly host the Joyce Country Challenge. The enchantment of Maumtrasna draws the Hillwalker to this lovely part of the world. Very much weather dependent, this Walk has proved very challenging on occasion . . . but incredibly rewarding too.

So on this special report on the Challenge Walks Calendar . . . What better way than to leave the reader a report on this Year's Lug Walk. Hosted by the Irish Ramblers Hillwalking Club, this year saw the walks 40th anniversary. Certainly one of the toughest walks within the year's Calendar, its report commands interesting reading.


---
Lough Firrib



Voted the toughest Challenge Walk on the Challenge Walks Calendar (by me! Judge's decision final!) - this year's Lug Walk celebrated its fortieth anniversary, as proudly hosted by the Irish Ramblers Hillwalking Club.

The Walk itself is held every second year, except one year when owing to our "Foot and Mouth" fiasco a couple of years back, it had to be cancelled. So this year's outing would be its nineteenth inception and would be my eighth.

The Loneliness Of The Long Distance Hillwalker has been touched on more than once within the pages of the Challenge Walks Calendar website . . . and for good reason. As one of the toughest Challenge Walks in Ireland (see earlier declaration) this is a Walk that will always command the greatest of respect!

Its total ascent is certainly close enough to 2500 metres (especially if peat hags have their way) but what can't be ignored on this Walk is the total length of 37 miles in old money!

What this inevitably translates to, is the very real scenario whereby hours can pass without the Challenge Walker seeing a single soul. Hence, with heavy mist enveloping the Start, The Loneliness of the Long Distance Hillwalker would dictate the next 7 hours of walking as the eighty odd individuals disappeared into the Whiteout and became separated further and further along the route.

Not until Wicklow Gap did the weather lift. Meaning that these first 7 hours of the Walk required constant navigation, this would test the hearts and minds of all. Even though I use my very own GPX track, that's been well-honed over years when conditions were perfect, I still managed to veer off track on a regular basis! On this very same walk I know that I have previously reported my now universally accepted theorem of what a Challenge Walk commands . . . so to recap, it is 40% fitness, 40% Stubbornness and 20% Luck. Q.E.D.

"Fitness is obvious. The work has to be done to even think about attempting a great walk like the Lug. And yet on many a year I've seen incredibly fit eighteen year olds and even fell runners become demoralised and drop out when the weather takes a turn for the worst!

This is where stubbornness earns all of its 40%. Knowing that no one else can do the walk for you and that each and every footstep or even summit, is one more in a list of the days labours that is now "chalked off" - is of gargantuan importance, and goes a long way to keeping spirits high.

The 20% luck becomes even more evident if you find on a given day that navigation in whiteout is at a minimum or you are presented with a free "bounce" with every trot across Conavalla's famous boggy approach instead of "Acme Quick Drying Cement". Especially true is that with a walk that traverses over 50km - conditions could quite realistically feature everything within the weather spectrum! 20% well-earned I say!"

Approaching Wicklow gap the clearing of the day did indeed lift the Spirits. Mist and rain left the Lug on its anniversary, to leave a wondrous sunny crisp afternoon. The next 6 hours takes the Walker up to Lough Firrib, over to Table Track, on to the mighty Lugnaquillia itself and then down to the Finish in the Glen of Imaal. As the air is now pristine in its clarity, views are simply spectacular. The patchwork quilt of thousands of farmed fields lay themselves out below. In the far distance ahead I can see other walkers in their travels, I see others far far behind too. Yet up here at the highest realms of these Leinster Mountains there is a distance of two hours between both parties!

Arriving at the highest of the checkpoints, Lug itself, will always be rewarding. An honest hour should see all home safe and sound from here. On this day it would take me two!

So now is the time to look away if you are, or ever have been, labelled as one of the Faint Hearted or indeed if there are small children present!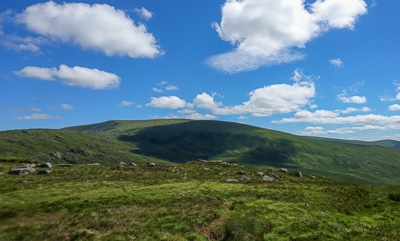 Camenabologue View towards Lug.

I was in two minds whether or not to share the rest of the story . . . but this is a Challenge Walk and as one of the toughest days on the Calendar, it warrants that the truth be told (warts and all).

Things had been "ropey" to say the least up until now. But within minutes of leaving Lugnaquillia I became crippled with awful diarrhoea. The cramps were horrendous, my handful of Huggies wipes (gentle for you and your baby) were expending fast!

At every 50 metre marker I became doubled up with pain, could go no further and had to find a large rock with great haste!

Indeed my dose of the Trots had me realising how I was now in more pain than being in labour! - this is especially true as we all know that it's harder for the Daddys nowadays and that they come out on their own! This is no doubt Q.E.D. no.2 in this report!

The Loneliness Of The Long Distance Hillwalker would pack a knockout punch today.

A handful of steps further and the same scenario would present itself. But alas here in all of my misery, the last of Mr. Huggies gentle kindness was but a memory. Later on and further down the track I would come to make a mental note of how the grass here was softer than the grass higher up the mountain . . . Don't Ask!!

At the final Checkpoint where well rewarded certificates are drawn up, just before Fentons, the kind hearted steward couldn't fathom as to why her kind offering of fun-sized mars bars weren't for me!

Crawling around the corner l spotted one of the now-departing buses and literally jumped on the getaway stagecoach outta Dodge. . . Leaving the plains of warfare behind, I saw many a friend who would have been oblivious to my labours and wouldn't have even known I was even on the Walk . . . ! 80 walkers spread out very thin over 54 kilometres! Samuel Barbers' Adagio for Strings in G Minor resonated and I entered a peaceful slumber . . . .

Surprising myself no end . . . I didn't actually die on this day. I live to tell the tale.

Is the Lug Walk really the toughest challenge walk? Well the honest answer is twofold. As a walk in its own right it is totally different from the Maumturks. The Turks is an intense, hard-hitting strenuous day, the Lug is all about endurance. Both walks require their own unique discipline within Challenge Hillwalking, but to be absolute. . . It all depends on the day!

Many, many thanks to the Irish Ramblers Hillwalking Club on continuing to host such a powerful Walk . . . I'll be back for the fun-sized mars bars . . . I counted how many were left!

Jim Holmes.

Onwards and Upwards, Keep Safe and Enjoy your Day!!

Also take a look at this resource managed by MountainViews:
www.facebook.com/ChallengeWalksIreland
emVee-Tube
Videos this month:


Videography by Peter Walker.


SITE NEWS
Progress on technical assistance

For the last few months MountainViews has been advertising an SOS looking for technical support. We've had a surprisingly good response!

We now has great server support and the beginnings of a group of software developers. In server support, we now have somewhat stabilised and protected the website against the continuous attacks and other misguided activity found on the internet. To support group software development various tools are required such as Version Control, Issue Handling, Documentation Repository. We have moved our version control from an earlier tool, SVN to Git and Gitlab. Latter mentioned tool also supports issue handling and documentation.

Various volunteers are having a go at software development with the website and indeed some small projects have been completed and implmented on the website.
If you wish to discuss taking a hand and have skills useful to a website such as MountainViews, get in touch (with no committment) at admin -at- mountainviews.ie

Are we all fixed up now?
We've got some very promising signs! However we won't be "fixed up" until we have a self-sustaining group able to maintain and develop the software. I hope we are getting there.
SUMMITEERS and PLACE-VISITORS CORNER
A place for those interested in Summiteering, Bagging, Highpointing, visiting islands and coastal places.
A Guide to Ireland's Mountain Summits - The Vandeleur-Lynams & The Arderins
MountainViews first book available online and in some bookshops. The first reprint with numerous minor amendments is available.


simon3 on A Guide to Irelands Mountain Summits
MountainViews first book available online and in many bookshops.

As members will know, for over a decade, Mountainviews.ie has been providing unique information to hillwalkers on all aspects of exploring and enjoying Ireland's upland areas. It's been a collaborative effort by over 1000 of you, and currently contains over 6000 comments on 1057 mountains and hills on the island of Ireland ... ... Click here ...
Bulk sales to groups such as Scouts/ Guides: contact admin@mountainviews.ie for a discounted price.
This month.
Kudos to our contributors.
We welcome the following new members who enrolled this month. adamking, AndDev, ArdmoreKate, ascutza, Bartez, bcremin, BobbyBuck, Bodek311, brian.booth65, BrianMadden1993, BrotherR1984, bushlover, butty25, carlareitter, CarmelNi, cehilton, Chippy, CraigCarlough, cwarnock, Dayneknight, deckoj, Della1, derekm, dergalfoyle, des-farrell2244, dob_91, dodie, dsick, edoyler, etraderin, Fergal-Scolard, fkulik, goretti, greenpole, gvsr, hught, Islamay, jasonhptan, JeanieKatie, JimmytheOcean, jociro, joreidy, judithdelaney, kastyz, kellep7, Kenna, Kildare-Pair, kmms62, lorraine.ryan, maddog5685, magbuis, markl12000, MaryK, mashed13, meastway, micksernorm, Mike2017, molly.ro, montagne67, mountain_lion, mvanerp, mylesm1957, naorroi, norcalbarunner, oran107, Pamelak, Patjunfa, paulredmondo, petewooly, pjward89, Polarstern, Ramblersclare, rgibbs, Ruaidhri99, RustyRusk, rwallace1234, seamussiobhan, seimispook, Simonejoe, Siobhan1238, sroche85, StephenMcqp, thederek, tina1, totomcgrath, trisha_oconnor, vinnyod, whySignUp (88)

Our contributors to all threads this month: Aciddrinker (2), Aidy (2), Bunsen7 (1), Colin Murphy (2), ColinCallanan (1), Corkerry (1), David-Guenot (11), Dbosonnet (3), GSheehy (1), Msbinireland (1), Onzy (8), Pepe (2), Peter Walker (1), Summer (1), conormcbandon (2), conrad1179 (4), eamonoc (1), Communal summary entries (6), liz50 (1), magicstep (8), march-fixer (1), markl12000 (1), melohara (1), mlmoroneybb (2), peter1 (2), sandman (17), seimispook (1), simon3 (9), sj-byrne (1), skhg (1), thomas_g (3), tomodub (3)
For a fuller list view Community | Recent Contributors

There were comments on the following places An Chnapach, Annagaire, Barraderry, Cahore Point, Camas Íochtair, Camus Hill, Caora Bhán, Carrig Island, Colly, Corranabinnia SW Top, Croaghaun, Crockmulroney, Cuilleen, Doonties Commons, Dún Briste, Eanach Mheáin, Errigal, Fornais, Gola Island, Gortmore, Inis Tuaisceart, Inishkeeragh, Kilkieran, Kinvarra, Knockafeehane, Knockbrin, Knockmulanane, Lettercallow, Moanlaur, Moylemore, Mweelrea, Oileán Gharmna, Oileán Mhuighinse, Rosan Mhíl, Shenick's Island, Slievenaglogh East Top, Slievenashaska, Topped Mountain, Tor Glas
and these shared tracks An Cnoc Riabhach, Dunkerron Mountains Ireland, An Cnoc Riabhach, Dunkerron Mountains Ireland, Ben Creggan, Ben Gorm Mountains Ireland, Ben More, Loch Lomond to Strathyre Britain, Ben Starav, Glen Etive to Glen Lochy Britain, Binevenagh, Keenaght Ireland, Black Hill, Dublin/Wicklow Ireland, Buachaille Etive Beag - Stob Coire Raineach, Loch Linnhe to Britain, Buachaille Etive Mor - Stob Dearg, Loch Linnhe to Loch Etive Britain, Caher, MacGillycuddy's Reeks Ireland, Carrauntoohil, MacGillycuddy's Reeks Ireland, Cooley/Gullion Ireland, Coumfea West Top, Comeragh Mountains Ireland, Croaghloughdivna, Donegal SW Ireland, Crow Hill, Knockmealdown Mountains Ireland, Donegal NW Ireland, Dublin/Wicklow Ireland, France, Occitanie , Greece, Thessaly , Greece, Thessaly , Greece, Thessaly , Greece, Thessaly , Knocknalougha South Top, Knockmealdown Mountains Ireland, Knocknashee, Ox Mountains Ireland, Lang How, Lake District - Central & Western Fells Britain, Lough Curra Mtn, Galty Mountains Ireland, Minginish and the Cuillin Hills Britain, Mullaghanattin, Dunkerron Mountains Ireland, Musheramore, Boggeragh Mountains Ireland, Nephin, North Mayo Ireland, North Mayo Ireland, North Skye and Raasay Britain, Ptarmigan, Loch Lomond to Strathyre Britain, Ring Hill, Shannon Ireland, Shannon Ireland, Sugarloaf Hill, Knockmealdown Mountains Ireland, Taobh an Leithid, Donegal NW Ireland, The Needle, North Skye and Raasay Britain, Torglass, Donegal Islands Ireland, Yoke, Lake District - Eastern Fells Britain tracks were created.

Thanks to all 1290 who have ever contributed place or routes info and forums.

For a full list view Community | Contributors Hall of Fame

Summary. MountainViews now has 8401 comments about 1542 different hills, mountains, island and coastal features out of the total in our current full list (2088). We want to get a good gps track showing each of the major ways to visit each of these places and summits in Ireland. If you see an option to add a "Short Summary" then do please consider creating one since another objective is to have a short summary for every summit and island and coastal feature in Ireland. There's a few (546) opportunities for you to be the first to comment on a place. We also have around 1900 shared GPS tracks, mostly in Ireland. Apart from a few popular areas, there is a need for more routes in many different areas. Plain shared tracks without descriptions are welcome however if you have time then do please add route descriptions with photos.
NOTICES
Notices
If you are contributing, please be careful to respect the interests of landowners. Suggest access routes well away from houses, gardens or that could conceivably impact farming activities. When walking, keep away from gardens or farm buildings. Use stiles or gates wherever possible. Never do anything that could allow animals to roam where the farmer did not intend. Ask permission where appropriate.
Report suspicious activity to the police forces, as below.
If your car is broken into in an upland area report it to the PSNI or Gardai as this will help them be aware of the issue and tackle it in future. Store the numbers. In Northern Ireland use the PSNI non-emergency number 0845 600 8000. In the Republic you can find the local Garda District HQs phone numbers at www.garda.ie/Stations/Default.aspx. Specifically for the hotspot of Wicklow: the Garda Divisional Headquarters in Bray is 01 6665300.
If you hear of a problem area or route, write it up in MountainViews which does everyone a service.
Report rubbish tipping in the Republic - ring EPA hotline 1850 365 121
Report recreational quads in national park area (in which they are banned). They are also banned in the Mournes. For Wicklow please phone the Duty Ranger: 087-9803899 or the office during office hours Telephone: +353-404-45800. For the Mournes ring the PSNI (as above) or contact Mournes Heritage Trust. Put these numbers in your phone, take regs etc. Let MV know of contact numbers for other areas.
If you have visited some of the less well known places, we would appreciate a place rating and also "Improve Grid Ref" for summits and other places.
If you find errors in the basic information about places such as in their names, their heights, county name etc please use the "Propose Places Database Change" option.
If we can, let's make MV have more than one route up a summit or to a place so as to reduce the tendency for paths to appear. Your grid refs in comments for different starting points show up on MountainViews maps as well as shared GPS tracks.
Visit the MountainViews Facebook page.
Visit the Challenge Walks Ireland page (jointly managed by MountainViews)
This newsletter
This newsletter
Editor: Simon Stewart, Homepage: www.simonstewart.ie
Assistant editors: Colin Murphy, David Owens
Challenge Info: Jim Holmes
Track reviews: Peter Walker
Book reviews: Conor Murphy, Aidan Dillon, Peter Walker, Mel O'Hara
Videography: Peter Walker
Graphics design advice: madfrankie

Newsletter archive.
View previous newsletters mountainviews.ie/newsletter
RETURNING TO MOUNTAINVIEWS
Click on (If you have cookies on in your browser then you will be prompted as to username/ password. If you forget the password, the login page can email you a replacement.)

UNSUBSCRIBING
If you don't want to receive any further monthly newsletters from Mountain Views click on Settings. Then change the option beside "Include on occasional mailing list" to "Do not include". Then click the "Save" button.
Alternatively let us know by email at admin -at- mountainviews.ie Include the email address you got this at or your screen-name guestuser.