Formatting bad or having trouble reading this? View it in your browser.
The Summit


Monthly newsletter of MountainViews.ie for guestuser

June 2017
NEWS - INFORMATION - RECENT CONTRIBUTIONS - FEATURES - FORUMS
MountainViews 15th Anniversary: Incorporating 549 Islands.
From 'I' to 'We'

In early 2002 I started working on what became MountainViews. It had a basic page for each mountain and a page listing all the mountains. You could add comments and tick of what you had done. No pictures, tracks, slippy map, newsletter, hall of fame, videos, challenge section etc. I made the experiment live and went walking in Scotland. On returning there were a few comments and 11 after 6 weeks. The first is shown below. Some of the first comments were terse and a proportion of little value. There was no response at all from many areas of Ireland, for example Northern Ireland. People look at what is on a website and tailor their contributions to what fits in. And gradually more interesting information started to come in with a better spread geographically as a community standard evolved. Northern Ireland contributors became one of the mainstays of the website but then so have those from every region - Donegal to Kerry by way of the Dublin and east coast region. By 2003 we could talk about we and now we have over 1100 contributors and 21,000 who have enrolled at some point. Hundreds of friends and collaborators and a committee.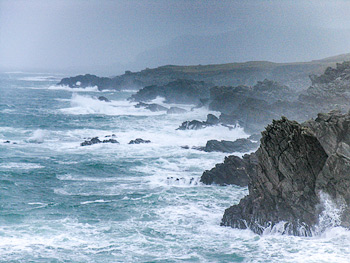 A wee bit windy on the coast on the island of Achill.



To celebrate the 15th Anniversary we are adding islands.

Our community works by sharing information about places through comments on places and sharing routes to visit them. This creates resources for others to find places to visit. You gain recognition by moving from lurker to contributor and kudos from interesting, funny, original, well-illustrated contributions. Almost all of the 1500 hills and mountains we offer have comments with information and inspiration about the places. And the world gains through having the information in one place.

To progress we are adding further wild or semi-wild places for sharing information. Ireland has a vast coastline and a vast number of islands, a huge resource for walkers and other adventure sports enthusiasts.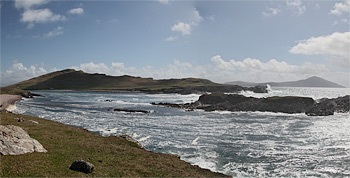 Achillbeg Island with its two Binnions from Mayo mainland



Just as with the mountains there are many great books about coast and islands with patchy coverage by websites. Similarly there is also a need for an online community approach such as that of MountainViews - a website dedicated to community and place not part of an international advertising business. At the same time we continue to improve our information on hills and mountains.

So, on this 15th Anniversary we've started with islands. And we will move on to the coast in time. Visit these places, share what you find and we will all continue to win.

-- Simon Stewart.


UPCOMING EVENTS
MOUNTAINVIEWS: Hillwalkers' Winter Talks

MountainViews Walkers Winter Talks for 2017 is now over and will resume in 2018.



REPORT: 11th April, 2017. 8pm. "Ireland's Rockery: Beauty, Diversity and Controversy" Speaker: Patrick Roycroft, President of the Irish Geological Association 2015/2016.

A crowd of about 40 attended this extremely interesting talk from author Patrick Roycroft. Whether you have read his book 648 Billion Sunrises or not, Patrick chose a variety of interesting Irish geological topics to regale us with.

---
MOUNTAIN MEITHEAL: Mountain Meitheal are keen to find more people to help.
Mountain Meitheal make practical repairs to some of the more popular areas we walk on, using a voluntary community based approach. (More information at their website.)
Picture of the month
Night sky in the Simien Mountains of Ethiopia by Martin Critchley.

For original track, one of the most spectacular ever included on MountainViews.


Techie Note: The exposure for this picture lasted 3 mins, quite enough to turn star images into trails. Martin tells us that the Pentax he used has anti-shake built into the sensor and that this can and was used to compensate for the Earth's movement during the exposure.
Regions: MOUNTAIN COMMENTS - TRIP REPORTS - TRACKS - SUMMARIES
In short: Discovery
Featured Track of the Month
Gecko Blaster
June's TOTM comes courtesy of Trailtrekker and his recent holiday on Italy's Amalfi coast. His route combines residential areas, steps, drinking fountains, forests and high pasture with a visit to the mountain refuge of Santa Maria dei Monti, all played out against a background of the Mediterranean. Much useful information regarding related literature is included, and it bears out very well how a walk can fit in with a vacation based around 'the good things in life'.


Trailtrekker on Amalfi a Santa Maria dei Monti e retornio


Main walk Start: 12:12, End: 17:22,

Duration: 5h10m, Length: 13.6km, Ascent: 1123m

, Descent: 1114m

Places: Start at Lon 14.6052, Lat 40.6343, end at Start

(statistics such as Ascent or Length etc should be regarded as approximate. Duration depends on the speed of the person making the track)


When trying to pick out a walking route for myself on the Amalfi coast I was drawn to one location in particular, Santa Maria dei Monti. A former convent, that is now a mountain refuge on an important hiking crossroads. I think that it had a lot to do with that beautiful Frames Song, "Santa Maria, why did you have to go" ringing through my head! A beautiful song, that was matched by the beauty of the walk itself.
Before I go any further I want to apologies. I have always looked at the foreign routes posted by others over the last few years and jealously cursed those contributors. However, when the first chance came to take my hiking gear on a foreign trip in seven years I can't help myself but write about it here!
I found research for possible walking routes quite difficult, a lot of maps were very poor and if there is an Italian version of Mountainviews I didn't come across it. The one resource that I bought which was worth getting was the Amalfi Coast Paths 2 Map, which I got from the tourist office for €5, but I believe that you can buy at www.carteguide.com. I had originally thought of doing the well-known "Path of the Gods" near Positano, but changed tac for one that I could do from my hotel and back. When it comes to GPS I use the viewranger app on my phone and was delighted to be able to download a very good Openview Street Map that gave all the paths and could be used offline. However, it should be said, the first and last part of this route is in residential areas and is relatively easy to navigate. As is the mountain section for that matter, as you are pretty much following one path most of the way
This track starts from a back street behind the Hotel Luna, from where it is straight down to the main square. My first brief stop was here, as I filled my water bottle at the "diddy fountain"! One last stop to get a couple fresh caprese salad ciabattas and I was eventually off for real.


The walk only really starts when you leave the town with the first of many, many, many steps.
Due to enjoying a few too many aperol spritz and glasses of vino rosso the night before I was late setting out and my early morning start moved to 1pm! To paraphrase an old saying, something about mad dogs and Irish men! I suppose if it was easy somebody smart would be doing it!
I found the first part of this walk particularly difficult, given both the height gain, steps and the time of day. For the first 350M of ascent I really, really struggled. Along the way you will come to such sites as the Bascilica di Sant' Eustachio and Chiesa Dell' Annunziata o Santa Maria di Minuta. There are drinking fountains near both of these, make sure that you are fully stocked leaving the latter of them, as these are the last you will pass for a good while. There is also one café bar in Pontone along this route, the Blue Bar.


I found spring to be a fantastic time to walk in Amalfi, but I was blessed with great weather. I was still relieved to have some cloud cover and even a light shower on the higher reaches of this walk, while listening to the thunder claps in the distance, which I thankfully avoided.
The best part of the walk starts at an elevation of approximately 500 metres and I would be pretty certain could be reached by bus if you wanted to cut out the earlier part and all those steps! It is mountain track all the way up from here. On a Wednesday afternoon in spring I met only one person for the entire time that I was on the mountain and that was a farmer and only towards the end of the walk. A great walk of solitude, with the only company being the flora and fauna.
This part of the walk follows the CAI path number 351 to Santa Maria de Monti and you will notice the red painted way markings along the way. This is the best stretch of the walk and is absolutely beautiful, still a few steps, but less steps, a bit more broken up, a bit more rustic. It passes from Mediterranean vegetation to mountain forests and high altitude pastures. Your surroundings at this time of year are daisies, primroses, bluebells and beech forest. The entire stretch to Santa Maria dei Monti it is like this and none of my pictures do justice to it's beauty! Although the ultimate destination of the walk was a bit disappointing and anti-climactic. The place is not in a good state of repair; even the outside water tap has been broken. Although, it does have picnic benches and would be a good spot to camp out.


Having went in a clockwise loop the views down to the coast and far off hills are amazing on the descent, while the immediate environment is not to the high standard that it is on the other side. In other words, you are looking to the distance more so than around you for the beauty. On leaving the mountain track I eventually negotiated my way back on to the route that I ascended by, took a break for a bite to eat, before making my descent at a rate of knots . In relation to my general walking pace if you are looking at the timings on this route, I would say that it was slow until I left the town because of a few stops, slow but steady until I reached the open mountain and then a reasonable pace from there until I sped up on the descent.
Just a final note on the wildlife that accompanies so many parts of this walk. There are geckos everywhere on the early part, scurrying up walls and into undergrowth. Then you will come across the donkeys, which are used to carry loads on the lower mountainside. There was a proliferation of butterflies, before coming across a herd of goats near the summit of the walk and finally even frogs on the final stretches home! So I suppose, the people are scarce, but you still have plenty of company on this walk.


A very enjoyable and challenging walk that earned at least one spritz at the end of it all! Salute!

---


NORTH: Uninhabited island with lots of photo ops.
Member magicstep supplies four pics of this deserted, beautiful Donegal island, which is reachable only by boat.


I kayaked to the island in 2014. There is a slipway facing the mainland. Lot's of ruined houses. Walking is decent as the island is flat but in places ground is uneven and overgrown, there are only some sheep paths. On the far end there is a wee lighthouse (or a signal station) and some interesting rock formations.
---

SOUTH: Reek Scene
An eternal stranger to the concept of a nice gentle stroll, GSheehy and cohorts have taken their pathological need for distance and ascent and applied it to the unforgiving mistress that is the Iveragh interior. The route is a mighty integrale of the Reeks ridge (from Cnoc na Peiste round to Caher) then over to take in the bulk of the Glenbeigh Horseshoe as a finale...the linking ground is summitless but does at least have the decency to include a stop at the Climbers' Inn in Glencar. Character building...
Pepe on Knockroe, (Cnoc Rua): OMG - I forget to check the MV page!
Decided to make a day out of a Dublin-Waterford drive, despite low-hanging cloud. Knockroe wore a misty white cap as I glanced up from the Sculloge Gap carpark. Planning my attack (so I thought), I ascended as per MV instructions and the clouds duly lifted, happy days. Beware though, the heather on Knockroe - mentioned by other posters - is in many places Heather with a capital H. The Boulders on ... Strengthening the MountainViews Committee

Currently we have a number of officers on the committee such as chairperson, secretary etc. We really could use some further committee members to achieve our strategic goals and spread the load.

| | |
| --- | --- |
| Position | In Brief |
| Ordinary members | For those taking an interest in the MV committee or indeed committees in general we can also use some further "regular" committee members without a specific role. There are many smaller quite finite projects that might suit regular members. |
| Talks Group | Not strictly speaking part of the main committee but an interesting position. |
The MountainViews ANNUAL, 2016 has arrived.

In February 2016 MountainViews was delighted to announce something new, our first ANNUAL, an online magazine for Hillwalkers in Ireland. Here is our latest annual, published in Feb 2017



Click here for the current ANNUAL

(or Hi-res version.)



If you are interested in a printed version you can buy one here. Click Here.

View from the summit of Inishark. Inishbofin to the left.



Only the most haplessly blinkered pedestrian would consider Ireland's hills and mountains to be their only worthwhile natural wild walking resource. And it is in that spirit that MountainViews has now added a list of 549 offshore islands to those that we previously described.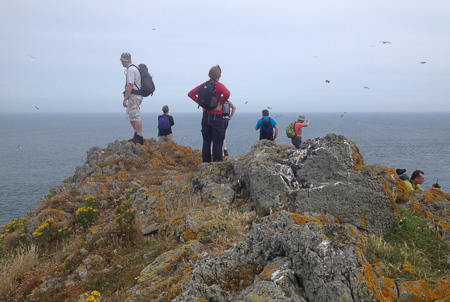 Lambay, east side of island.

We have listed islands on the site before and have comments and shared GPS tracks for these. On a purely personal note some of my very favourite days out in Ireland have been the 'Islands of Adventure' trips to the likes of Puffin and Scariff, to Inis na Brò and Inis Tuaisceart, to Lambay, and to Inishark, Inishturk and Achillbeg. But they had to conform to the existing hill definitions, be they Binnions or Carns (or Arderins / Vandeleur-Lynams, if we count Achill), and that barely scratches the surface of a coastline constantly under siege from a predatory and unforgiving Atlantic. (Plus those slightly lumpy ones off the east coast that seem to be sneakily trying to emigrate to Wales or Scotland). With that in mind it's time for all the broken-off bits to have their moment in the sun.

We have been given permission by David Walsh, sea kayaker and author of the remarkable 'Oileáin "The Irish Islands Guide"' to use his data from the book to construct the new list now online on MV. To get a concept of the scale of this project, go to 'Lists & Logs' from within MountainViews and select 'Irish Island Features'. mountainviews.ie/lists/islandfeature/ Better still, scroll a map on the site around the coast (especially the west!) and marvel at the densely assembled fragments of land huddling or bristling in alliance with Manannán and in defiance of time.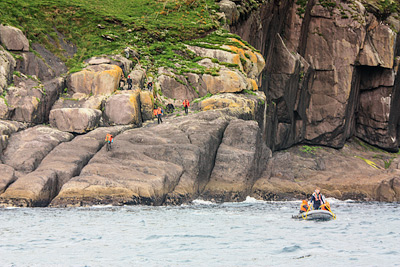 The mechanics of reaching Inishtooskert.

The new features have been grouped under new areas such as 'Kerry Islands' on the site, rather than slotting into the existing regions. We have attempted to identify high points on the islands, but this is often guesswork in the absence of actual spot heights to work from. This and various other possible errors and omissions render this very much a work in progress (if you notice such glitches please use the 'Propose Places Database Change' button which can be found on any place's page).

We have attempted to note which islands can be reached on foot; please use common sense when using such information on the ground, just in case said information is incorrect. Specifically, there is an indicator for each island that says 'Reachable "On Foot"'. If "Y" then it means that you can walk to the island perhaps at low tide or by bridge or by scheduled ferry service. Everything else listed can be reached by boat, such as sea kayak (or helicopter).

We hope you'll find this new list interesting, worthwhile, and a source of adventure and discussion (do you have to visit the island's high point to tick it, or just land on it? Under discussion.): there have already been a considerable number of submissions. And one member has logged visiting 254 islands.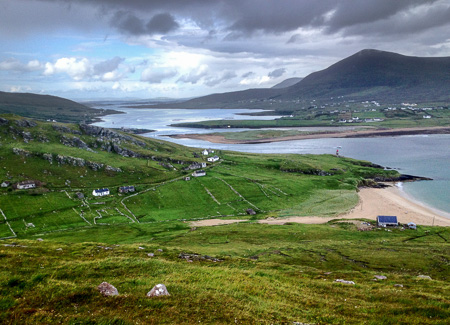 Achillbeg viewing up Achill Sound, shadowed Corraun Hill, 524m to the right.

If you are sea-kayaker or have some other boat capable or reaching islands, you are also very welcome to use the website. While will not have the sort of resources that Oileáin has, we do allow for comments, photos and shared GPS tracks for you to illustrate how you got to a particular place. Also you can indicate which you have visited and see the same for other users.

And next? Coastal summits and Coastal Features But that's another story. Back into the spreadsheet we go…

Credits:
Original collection and permission to use data: David Walsh
Data transcription – Mark 'Where's the Wallaby?' Brennan
Data normalisation – Simon Stewart


CHALLENGE
A place for those interested in Challenge Walks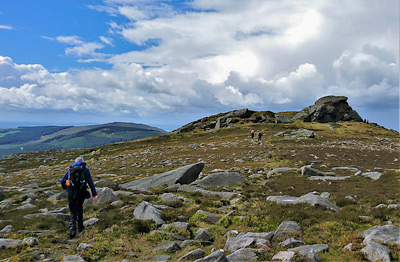 Blackstairs Walk, 2017.

Challenge Walk Calendar

The month of May certainly saw some very beautiful weather indeed. Hopefully the very sunny days that were, won't actually have been our summer (which on many a year, has been known to happen). This in turn lent itself to some fabulous walking, as was testament to the quality of tracks that were uploaded onto the MountainViews website. With lovely dry underfoot conditions, the Irish Challenge Walk was sure to benefit too.

Bannside Rambling Club played the wonderful host to the Causeway Coast Challenge. This is a lovely walk that follows a beautiful coastal route along the North Antrim coast and always sees a successful day's walking. One never really minds (for the most part) a little rain on Coastal Walks - especially considering that the almighty cloud formations make up most of the day's visa! As always on this walk - The Giant's Causeway never fails to impress!

Towards the end of May saw the annual Blackstairs Challenge. The flagship event of Dublin based club The Wayfarers, it is a marvellous walk that starts in Killanure and traces the Carlow, Wexford border until its finish in Glynn.

You can read Jim Holmes' account of the incredible adventure on the great day at . . . . mountainviews.ie/cms/mv1/node/105

Of course when the sun decides to abate - and not forgetting that we are all still present and correct in the month of May. . . when the rains figure out that it is now their turn. . . downpours can be Biblical! The weather would have to be described as perfect on this year's Blackstairs Challenge but there was most certainly some showers tipping the "awesome" balance of the scales! Descending from Blackstair Mountain there are amazing views looking over the patchwork blanket of fields making up the County of Carlow. And here on this decent was the perfect viewing point, for a truly serious weather front, that looked to be housing a deluge of precipitation!! Expecting to be washed away, all present had donned full Gortex regalia . . . but twas like the parting of the waves (or the clouds in this case).

Being especially kind to the Challenge Walker, the massive weather front "split the vote" and proceed each side of the great ridge that is the Blackstairs Mountains, allowing the more than two hundred walkers to miss the heaviest of rainfalls. And yes, as mentioned, there once again was a mighty figure of over two hundred walkers who all thoroughly enjoyed the "Grand Day Out".

So now with the weather more on a typical Irish keel . . . all eyes look to June on the Challenge Walk Calendar.

Dingle club Annascaul Walks have now well established the Tom Crean Endurance Walk. Now in its fourth year it is always a pleasure to get to walk in Kerry in any shape or form, but here Annascaul Walks ensure that this Challenge Walk is always memorable.

The following week in June will see the fortieth outing of the very famous Lug Walk as hosted by one of the largest Hillwalking Clubs in Ireland - The Irish Ramblers.

With continuous argy-bargy with the powers that be (various councils) . . . the Lug Walk has now (over the last few years) been limited to only a hundred walkers. This year sees the walk's fortieth anniversary which is quite incredible.

Early years saw over three hundred participants, with famous Irish personalities lending their support (at least for the first third) and joining in the Walk. The late, great actor Frank Kelly springs to mind.

Not altogether convinced that the powers that be (various county councils) are doing any favours to the well-being of the Irish nation in curtailing such Walks . . . especially considering the resounding fact that we as a nation are now sadly embedded in childhood obesity and the rise of type two diabetes . . . but this is a heated debate for a later Cricket Test!!

And speaking of "heated debates" - is the Lug Walk really tougher than the Turks . . .?

The listings at the end of the Challenge Walks FAQ . . . . mountainviews.ie/FAQ/challenge/ always warrants jovial look :)

Then to see out the month of June's Challenge Walking - Galtee Walking Club in Tipperary host the Galtee Challenge. Traversing the entire Galtee Mountain range a total height gain of 1700m and a walk length of over 31km ensure that this is a full day's entertainment as well. On the same outing and running alongside, is the Galtee Crossing (what a great idea). The "Crossing" aspect allows the Walker to be part of a guided walk with leaders (separate to the self-navigating Challenge). This should be considered the perfect introduction to the world of Challenge Walking in Ireland especially as it is a full walk, just without the self-navigation aspect.

So Onwards and Upwards, keep safe boys and girls and . . . be sure to support a local Challenge Walk near you!

-- Jim Holmes.

Also take a look at this resource:
www.facebook.com/ChallengeWalksIreland
NAVAN TREKKERS GO CAVING
ED: This is a report of an interesting and different trip in the Mournes done by a walking club. If you are in a club you are welcome to report interesting routes. Other groups may find your information interesting and hopefully you will find they respond by describing their own club routes.
A note of warning. It would be better when investigating a cave like this to have a helmet.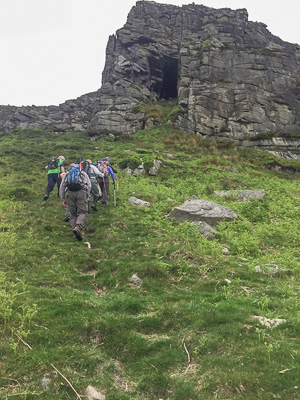 Entrance to cave on Lower Cove mountain.



There had been a plan to explore a cave in the Mourne Mountains for a while. The day we decided to execute the plan was a bright, dry and calm one in late spring. Parking at Carrick Little car park we followed the track into the Annalong valley for 2.5km before branching off towards Lower Cove mountain for 1.5km. The entrance to the cave was clearly visible above the valley floor.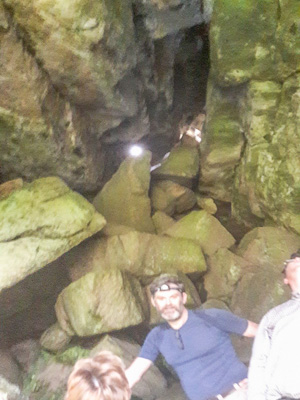 Inside Cove cave. Light can be seen coming in through a

possible exit at the back.

It was quite a scramble to get up to the entrance-long limbs and flexibility being a distinct advantage. We came prepared with head torches to explore the inside of the cave. Two possible exits were visible at the the rear of the cave but their feasibility and our ability to get through the small space was questionable. Sense prevailed and the decision was made to try and find where they came out on the mountainside.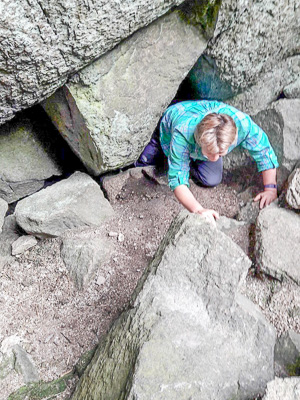 Exit from Cove cave

After leaving the cave by the same route as we entered, an easy scramble to the top of Lower Cove brought us past the exit holes we had spotted earlier from inside the cave There was also a smaller cave higher up the mountain which looked as if it may be home to some wildlife in the area.

We continued our hike past Cove lough to the col between Upper Cove mountain and Slievelamagan then over Slievelamagan before a long steep descent to the col below Slieve Binnian. At this point, it was suggested a bit of scrambling to the top of the North Tor might be fun! Not much persuasion was needed and like a bunch of giddy school kids we ditched the bags and went climbing.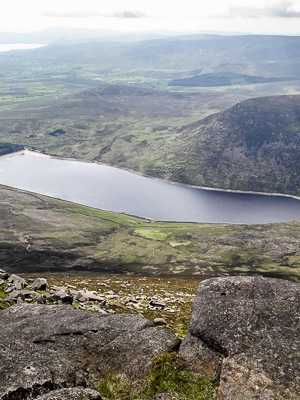 View from summit tor on Slieve Binnian overlooking the Silent Valley

We made it. We eventually made it to the summit of Slieve Binnian, after several diversions up granite tors where there were panoramic views of the Silent Valley, Ben Crom and the surrounding mountains.

We had walked over mountains which we were all very familiar with but we had experienced them from a very different perspective. It was a perfect day to enjoy the amazing natural features of the Mourne mountains; from the hidden caves to the granite tors and the panoramic views and all in the company of like-minded friends.

What a day!!!

-- Liz Ashton


emVee-Tube
Videos this month:


Videography by Peter Walker.


SITE NEWS
Progress on technical assistance

For the last few months MountainViews has been advertising an SOS looking for technical support. We've had a surprisingly good response!

We now has great server support and the beginnings of a group of software developers. In server support, we now have somewhat stabilised and protected the website against the continuous attacks and other misguided activity found on the internet. To support group software development various tools are required such as Version Control, Issue Handling, Documentation Repository. We have moved our version control from an earlier tool, SVN to Git and Gitlab. Latter mentioned tool also supports issue handling and documentation.

Various volunteers are having a go at software development with the website and indeed some small projects have been completed and implmented on the website.
If you wish to discuss taking a hand and have skills useful to a website such as MountainViews, get in touch (with no committment) at admin -at- mountainviews.ie

Are we all fixed up now?
We've got some very promising signs! However we won't be "fixed up" until we have a self-sustaining group able to maintain and develop the software. I hope we are getting there.
---
Current technical work.

The big news this month is that we finally got a further 549 islands onto the system, sourced courtesy David Walsh. This required a huge rethink of how summits (now known as places) and their areas should be characterised and organised. One objective is that the experience of the website for existing users should remain largely unaltered nevertheless including adequate support for islands. While we were at it we put in support for Coastal Hills and Coastal Features (headlands, points etc), though we only have some sample data for that (Galway). Some parts of the software have yet to be fully adapted.
SUMMITEERS and PLACE-VISITORS CORNER
A place for those interested in Summiteering, Bagging, Highpointing, visiting islands and coastal places.
Local 100 - what about sea-stacks, tors and islands near where you live??

One emerging issue is that some of our members do not live on the relatively smooth East coast of the island of Ireland but are near jagged coastlines with sea-stacks and wild islands.
Should their "Local 100" include such places if they are totally impracticable for the ordinary hillwalker? Conversely should the Local 100 include islands that can be reached at low-tide, by bridge or scheduled service?

The current position is that the Local 100 contains more less what it always had which is:
a. all summits that make it or nearly make it into any of our lists such as the Binnions (100m prominence) are included in the Local 100.
b. all islands, coastal summits, coastal features are not included in the local 100 unless they are islands with a summit on a list even if they are reachable by bridge or scheduled service.

Consultation
Sound complicated? Unfortunately, yes! A good example of where a straightforward plan (for a local hillwalkers list) meets the complexities of Ireland's coast (with endless exceptions and special cases). We need some clear thoughts on how to make this simpler. If you have some ideas, please put them into our Motley Views | Suggestions Forum. In the meanwhile consider this calming and philosophical approach from one member:
marymac on Local 97
An abstract Artist, Charles Shaw, said "Real happiness consists in not what we actually accomplish, but what we think we accomplish." I moved house. So my Local 100 changed. The new list includes 3 sea stacks off the coast of Donegal. WTF. If I was OCDish this could cause me a lot of grief. I guess I'll side with Charlie.
MountainViews first book available online and in some bookshops. The first reprint with numerous minor amendments is available.


NOTICES
Notices
If you are contributing, please be careful to respect the interests of landowners. Suggest access routes well away from houses, gardens or that could conceivably impact farming activities. When walking, keep away from gardens or farm buildings. Use stiles or gates wherever possible. Never do anything that could allow animals to roam where the farmer did not intend. Ask permission where appropriate.
Report suspicious activity to the police forces, as below.
If your car is broken into in an upland area report it to the PSNI or Gardai as this will help them be aware of the issue and tackle it in future. Store the numbers. In Northern Ireland use the PSNI non-emergency number 0845 600 8000. In the Republic you can find the local Garda District HQs phone numbers at www.garda.ie/Stations/Default.aspx. Specifically for the hotspot of Wicklow: the Garda Divisional Headquarters in Bray is 01 6665300.
If you hear of a problem area or route, write it up in MountainViews which does everyone a service.
Report rubbish tipping in the Republic - ring EPA hotline 1850 365 121
Report recreational quads in national park area (in which they are banned). They are also banned in the Mournes. For Wicklow please phone the Duty Ranger: 087-9803899 or the office during office hours Telephone: +353-404-45800. For the Mournes ring the PSNI (as above) or contact Mournes Heritage Trust. Put these numbers in your phone, take regs etc. Let MV know of contact numbers for other areas.
If you have climbed some of the less well known places, we would appreciate a summit rating and also GPS readings for summits.
If we can, let's make MV have more than one route up a summit so as to reduce the tendency for paths to appear. Your grid refs in comments for different starting points show up on MountainViews maps as well as GPS tracks.
MountainViews are on Twitter as MountainViewsIE. Follow us and we will follow you back. Any queries to secretary@mountainviews.ie
Visit the MountainViews Facebook page.
Visit the Challenge Walks Ireland page (jointly managed by MountainViews)
This newsletter
This newsletter
Editor: Simon Stewart, Homepage: www.simonstewart.ie
Assistant editors: Colin Murphy, David Owens
Challenge Info: Jim Holmes
Track reviews: Peter Walker
Book reviews: Conor Murphy, Aidan Dillon, Peter Walker, Mel O'Hara
Videography: Peter Walker
Graphics design advice: madfrankie

Newsletter archive.
View previous newsletters mountainviews.ie/newsletter
RETURNING TO MOUNTAINVIEWS
Click on http://mountainviews.ie (If you have cookies on in your browser then you will be prompted as to username/ password. If you forget the password, the login page can email you a replacement.)

UNSUBSCRIBING
If you don't want to receive any further monthly newsletters from Mountain Views click on Settings. Then change the option beside "Include on occasional mailing list" to "Do not include". Then click the "Save" button.
Alternatively let us know by email at admin -at- mountainviews.ie Include the email address you got this at or your screen-name guestuser.