The Summit


Monthly newsletter of MountainViews.ie for guestuser

Mar 2017
NEWS - INFORMATION - RECENT CONTRIBUTIONS - FEATURES - FORUMS
UPCOMING EVENTS
MOUNTAINVIEWS: Hillwalkers' Winter Talks
MountainViews has been organising Walkers Winter Talks for 2017.

The programme will follow a similar format to the WAI talks.


Friday 17th Feb 2017 MountainViews Gathering and Awards.

Paul Clements and Gareth McCormack spoke to a crowd of around 90. Pictures below.

---

Tuesday, 11th April, 2017. 8pm. "Ireland's Rockery: Beauty, Diversity and Controversy" Speaker: Patrick Roycroft, President of the Irish Geological Association 2015/2016.

There will be a Questions and Answers after the talk. Bring your sample rocks identified by where you found them. They can be passed around and to Patrick for comment.

Folded rocks - Loughshinny, Co Dublin.

Ireland, for a relatively small land area, has a great variety of rocks, minerals, fossils and types of rocky contortions. Although Ireland's broad geological character links to both the UK (to the east) and North America (to the west), each Irish county, in fact, has something geological of which it can be proud. Irish geology has played a very significant role in the history of geology and continues to do so. My talk will take a wide range of topics that will illustrate some of the genuinely wonderful rocks that we have - including a few that are commonly encountered by hillwalkers - to show their beauty, diversity and that some are still very controversial.



Patrick Roycroft.

Patrick Roycroft is a geologist with a BA (Mod.) from Trinity College Dublin and a PhD from University College Dublin (UCD). He has multiple jobs: copyeditor and proofreader with the geological journal Elements; a genealogist working at the Irish Family History Centre in the CHQ Building, Dublin; and occasional walking tour guide with what was formerly Ingenious Ireland.

Gorgeous popular book.

Patrick has been President of the Irish Geological Association (2015/2016) and has worked closely with the National Museum of Ireland - Natural History (NMINH) on saving and curating UCD's massive mineral collection, done with the help of two grants from the Heritage Council. As part of this project, Patrick has a mineral exhibition that is currently on at the NMINH on Merrion Street, Dublin (aka the 'Dead Zoo'). Two notable recent publications include the 2015 popular book on the geology of Ireland entitled 648 Billion Sunrises: A Geological Miscellany of Ireland and, in late 2016 in the Irish Journal of Earth Sciences, he wrote a complete review of the very rare Cork mineral known as 'cotterite'.
These meetings are being organised by the MountainViews committee with assistance from the WAI. Talks are held in the Landsdowne Hotel, 27 - 29 Pembroke Road, Dublin 4 unless otherwise stated. Entry is free unless otherwise stated. There is a voluntary collection. Directions here www.lansdownehotel.ie . The excellent bar facilities allow you to have a drink with other hillwalkers after the event. You can get a meal before the meeting also. Should you wish to stay overnight then please consider staying with the Lansdowne.
---
MOUNTAIN MEITHEAL: Mountain Meitheal are keen to find more people to help.
Mountain Meitheal make practical repairs to some of the more popular areas we walk on, using a voluntary community based approach. (More information at their website.)
The MountainViews ANNUAL, 2016 has arrived.

In February 2016 MountainViews was delighted to announce something new, our first ANNUAL, an online magazine for Hillwalkers in Ireland. Here is our latest annual, published in Feb 2017



Click here for the 2016 ANNUAL

(or Hi-res version.)



If you are interested in a printed version you can buy one here. Click Here.
Picture of the month
The Big Gun, MacGillycuddy's Reeks Picture: Martin Critchley
Regions: MOUNTAIN COMMENTS - TRIP REPORTS - TRACKS - SUMMARIES
In short: Discovery

Birthday Rejoycings (sic)
March's track of the month comes from the irrepressible GSheehy, who celebrated his birthday with a reverse look at the route for the summer's Joyce Country challenge walk. It's a stiff route of almost 40km with over 2000m of ascent, but it's highlighted to demonstrate the rewards available to the determined, as Gerard had a Saturday in some of this island's most gorgeous and varied mountain landscapes and never saw a soul on the hill itself.


GSheehy on A Birthday Walk in Joyce Country


Main walk Start: 07:28, End: 17:02,

Duration: 9h34m, Length: 39.3km, Ascent: 2087m

, Descent: 2087m

Places: Start at L878

94

620

86

, Devilsmother South Top, Devilsmother, Knocklaur, Maumtrasna, Ben Beg, Bunnacunneen, end at Start

(statistics such as Ascent or Length etc should be regarded as approximate. Duration depends on the speed of the person making the track)



"Enjoy your day on the mountain tomorrow, a fabulous way to start ones 52nd year on the Earth." That was the text message from my daughter on Friday night. The message from the MV founder, in the Annual, was to 'Try Different'. Both of these messages were in the plan for Saturday.
I'd never been 'across the (Maum/Leenane) road', from the Maamturks. The plan was to do the JC Challenge route in reverse, from Leenane. It was cold but there wasn't much wind on the ascent to the Devilsmother. Took the gloves and beanie hat off at around 500m. The buff was moved from neck to head. Essential kit, them buffs.


5.96km to the summit of Devilsmother and 652m gain. There was no fear the lungs would overheat on Saturday. Two deep inhalations of that cold air would quench any oxygen dearth. Tough climbs are rewarded with great views.
The ground was firm. Although, if you owned a horse you wouldn't be running it on this kind of 'firm'. Pleasant to walk on, as soft patches were crunchy under the foot and wet ground was frozen solid. The wind was blasting up through Glenacally so the rim of the buff was maneuvered down over the tops of the ears.


Onwards to Maumtrasna on the relative flat with epic views all round. You're just looking at spurs for another day and what's off in the yonder distance. You make a 200m navigational error and call yourself a clown. A good lesson for the day you're back up here and you can't see a thing. If you didn't make navigational errors, you'd never learn anything though.


Follow the 5.5km spur and have a look to see if you can come out at the right spot on the road. Mask to the left of me Nafooey to the right. I've 40 photos taken at this stage. Will I ever again get a day like it up here? No hill walkers out but I'll surely see a human as I walk through Finny. I do, and they're beeping at each other about hogging the road.


Back to the mountain but best get some nutrition in first, as you're down at 30m and it 7.5km to 550m summit of Ben Beag, never mind what you'll be looking at when you see what lies ahead to Bunnacunneen.


All goes well. It's short and sharp to the summit of Bunnacunneen. The descent down the North side takes a bit of time. It's frozen solid. The sun hasn't hit it at all.
By the time you've got to the road you've 32.4km done. Here, there's a sign attached to a stake that says 'It Never Gets Easier, You Just Go Faster'. Well, I don't think that it's aimed at hill walkers but if it's still there for the Challenge in July it'll be one of the most photographed things you'll see from the day. Particularly, as it's right before the last big climb of that day.
Almost done. A few streams to hop and wettish ground with bog oak before you get to 300m and then it's freewheeling all the way to Leenane. One of the best days ever out on the mountain and I had the whole place to myself. Joyce Country - So Be It.
NB: There's a sign at the 'gate' across for the car park that says 'Authorised Access Only' but I find it hard to believe that it's aimed at hillwalkers. I've asked someone up that way to find out about it and when they revert I'll post it here. I knew nothing about it before I went up.
This isn't the easiest start/finish you'll ever have. There are streams, rough/steep/wet ground and stone walls to meander through. It was just convenient for this walk.
Update: The sign is to do with the sewage treatment plant that's up that road. The plant is beyond the gate, to the right, so nothing to concern a hillwalker.


---



NORTH: Clear across Ulster
So crisp was the air that the view from Gaugin's summit in the Bluestacks extended all the way to the Mournes on the east coast of Ulster, reports Wilderness.
Wilderness on Gaugin Mountain, (An Gáigín): Clear morning
We started our climb up this mountain from the minor forest road (south of Gaugins summit). At the top we got one of the most clearest days I've ever seen. We could see all across Ulster: Cuilcagh mtn in the south, Sperrins and Binevenagh in the east. We could even see the tops of the Mournes in the south east direction (95 miles away). Lovely crisp day for climbing. ... Click here ...


NORTH: The crash of U.S. 42-31420 in 1943
Parts of the wreckage of this tragedy remain to this day on Tievebaun's slopes in the Dartry Mountains, but don't disturb them, appeals dp_burke.
dp_burke on Tievebaun, (Taobh Bán): Crash of 42-31420 in 1943
Just a quick link to the story of 42-31420's crash on Tievebaun as I found it. http://www.ww2irishaviation.com/42-31420.htm If you do go up top the small bit of wreckage that is left, please don't remove anymore parts so as to leave some memory of the ten young men who flew with her up there. Cheers, Dennis Burke ... Click here ...


NORTH: Deceptively difficult
Boggy grouynd, tussocky grass and deep heather made the going up Meenseefin in South Donegal quite a challenge, but it was Aidy's final county highpoint!
Aidy on Meenseefin: Deceptively Difficult
The last of my local 100, and a great little hill to complete the list on. I parked at the same spot as eamonoc and crossed over several little hills, not much lower than the summit itself on the way. Its a harder walk than the height and distance would suggest. The other small hills added extra height gain, and the ground was difficult for much of the way, with the usual suspects causing probl ... ... Click here ...


WEST: Skregbeg, borrow and steal...
Making the most of the reduced circumstances that prevented his completing the full Coomloughra circuit by taking in Skregbeg, a lower Arderin that everyone always forgets about, whilst returning from the Skregmore tops. It goes without saying that the full circuit is one to be aspired to, but this track might convince others to tick off the stray summit on the return from an anti-clockwise traverse.
Onzy on Short Sharp Circuit in the Reeks
Route over Cnoc Iochtair, Skregmore, Stumpa Barr na hAbhann and Skregbeg via the Hydro Road.This route covers the start | walk, Len: 8.4km, Climb: 854m, Area: Cnoc Íochtair, MacGillycuddy's Reeks (Ire ... Click here ...


WEST: The peat-hag capital of Connemara
Knockpasheemore ridge in the Twelve Bens looks nice and flat from below, but is boggy, undulating and crossed by innumerable peat hags, reports markwallace.
markwallace on Knockpasheemore, (Binn Charrach): The peat-hag capital of Connemara
The descent from Benbaun to the R344 via Knockpasheemore/Binn Charrach is hard going after a day in the Bens. The Knockpasheemore ridge looks nice and flat from below, but is boggy, undulating and crossed by innumerable peat hags, making straight progress impossible. There are also a number of small summits along the ridge, all of which the anxious peak-bagger will feel compelled to visit lest the ... ... Click here ...


Featured summit comment

First Day Out of the Year
Aidy

This one was added after I'd done the nearby summits, and as it is now one my local 100, I came back to tick it off too. Knowing the ground around here, and it being a short walk, I decided to wear the wellies instead of the hiking boots. I parked around H 58955 96913 and the natural route seemed to be over the summit of Learmount Mountain S Top. The ground was frozen in most places, but I broke through the surface in parts that had been exposed to the sun for most of the day. I went deep enough into boggy muck at these times that if I had been wearing the boots, it would have come in over the top, so the wellies were a good choice.

Its a fairly easy walk, with the starting point being high up, and the round trip being only about 4 kilometers or so, but harder than these advantages might lead you to believe. The ground is very boggy, and there are some torturous areas of peat hags to get through. There are magnificent views however, over Tyrone on one side, and Derry on the other, and on a crisp day it was really enjoyable. Could be easily combined with nearby peaks if I hadn't been over them before and a late start in the short days meaning I lost daylight.

---


SOUTH: Planet Clare
One of the more intruguing CHPs in terms of execution is Moylussa, the crowning souffle of Clare. It's a triple-topped tableland with one of the three straining millimetres higher than the others...the wise will visit all three lest jackill's Trimble changes its mind at some point. mlmroneybb and friends have climbed it from the shores of Lough Derg to the east; this location doesn't lend itself to a round trip but those with transport could plough on to Glennagalliagh before descending.
mlmoroneybb on Moylussa CE CHP Sat4th Feb 2017
Starting in Ballycuggaran Forest car park to take on Clare's CHP Moylussa our group of 6 headed northwest following th| walk, Len: 10.4km, Climb: 530m, Area: Moylussa, Shannon (Ireland) Moylussa ... Click here ...


SOUTH: The best views ever!
Such is the view of MV member Wilderness, on his experience ascending Knocknadobar in the Iveragh NW area.
Wilderness on Knocknadobar, (Cnoc na dTobar): Great views
You can park your car on the west side of Knocknadobar either at Coonanna Harbour or the Pilgrims car park. I started my climb up Knocknadobar North Top from the harbour. The beginning of the climb is a little tricky as you have a few fences to climb over but overall a good challenging climb with amazing views. I came down the Pilgrims route expecting it to be a quick descent, but it turned out ... ... Click here ...


SOUTH: Keeping the Dream Alive
caseyc481 has taken a slightly indirect route to the top of one of Ireland's more distinctive VLs, Keeper Hill, starting from a point more obviously appropriate for the Silvermine Mountains tops. It's still a route mostly conducted on roads (both public and forest) but will provide some variety for those familiar with the Ballyhourigan approach. It goes without saying that the various Silvermines tops are easily included.
caseyc481 on Keeper Hill from Silvermines (Knockanroe Carpark)
Wanted to climb Keeper Hill from the Silvermines side. Parked at Knockanroe carpark, walking downhill on fire road until| walk, Len: 14.9km, Climb: 763m, Area: Keeper Hill, Shannon (Ireland) Keeper H ... Click here ...


SOUTH: Steep but simple
An hour saw member muddyboots reach the summit of Knocknacusha in the Dunkerrons, but a very well spent hour indeed.
muddyboots on Knocknacusha, (Cnoc Osaidh): Nice end to a day out.
Similar to the other contributors, this is not a single summit day out. I did it after Colly. It's an hour or so with a coffee break. Start at the Ballaghasheen pass (spectacular drive in & out) and head slightly westwards starting at a metal pylon. No broken fences or signs here. Skirt slightly on the west side until the first few rock shelves are climbed. I advise going up on the lefthand side ( ... ... Click here ...


EAST: Pure(ish) Shores
simon3 continues to test the waters (metaphorically rather than literally) of coastal rambling with further explorations along the eastern seaboard. On this occasion he has stumbled upon shingly beaches, some glorious signage and deafeningly coloured houses, and all from a not-overtly-promising stretch of coastline.
simon3 on Skerries to Loughshinny on a rough day.
Skerries swimming - signs a tad redundantWe did this coastal walk on a day with a strong but not gale force easterly win| walk, Len: 7.4km, Climb: 164m, Area: East Coast (Ireland) ... Click here ...


EAST: A short, if tricky ascent
Slievenaglogh in the Cooley area requires just 310m of ascent, but the vegetation and terrain make sure you have to work all the way to the top, reports Simon3
simon3 on Slievenaglogh: Interesting views from a minor summit.
While it's never going to be hard to climb a 310m hill, this one does put up something of a fight when approaching it from the North, with defenses of mush rush, barbed gorse and little tracks. The view from the top is interesting. The summit sits like the focus of the gigantic mirror of the Carnavaddy to Slieve Foye Cooley Ridge and thus affords a great overview of this ridge. The attached pho ... ... Click here ...


EAST: Bunsen burner
Taking advantage of recent wintry conditions was bunsen7, who has submitted a number of tracks in the last month or so. This one takes one of Lug's western spurs over two intervening summits to to top before turning tail and coming back the same way (it didn't look like a day to be hanging around, to be fair). Obviously such a route can be varied on the return to take in either arm of the conventional Ring of Imaal walk.
Bunsen7 on Lug via Ballineddan & Slieve Mann
This is the quickest/shortest route that I think I've taken up Lug (4th visit), and it provided me with the opportunity | walk, Len: 11.0km, Climb: 783m, Area: Ballineddan Mountain, Dublin/Wicklow (Ir ... Click here ...


EAST: Try not to get shot!
Some sound advice from Bunsen7 and Simon3 regarding shooting season, as they ascend the easy but unremarkable Knockannavea in the Dublin/Wicklow area.
Bunsen7 on Knockannavea: What's the opposite of a stark warning?
I parked at point B which offers a long distance view towards Dublin Bay. As I was putting on my boots an SUV arrived with two men in camouflage. The guys picked up an unassuming overturned "no entry" sign from the ground and commented on how it must have fallen away, before putting it back up. Seemingly oblivious to my presence or objective, I of course made enquiries about access to the forest t ... ... Click here ...


MIDLANDS: Deceptively difficult
Boggy ground, tussocky grass and deep heather made the going up Meenseefin in South Donegal quite a challenge, but it was Aidy's final county highpoint!
Aidy on Meenseefin: Deceptively Difficult
The last of my local 100, and a great little hill to complete the list on. I parked at the same spot as eamonoc and crossed over several little hills, not much lower than the summit itself on the way. Its a harder walk than the height and distance would suggest. The other small hills added extra height gain, and the ground was difficult for much of the way, with the usual suspects causing probl ... ... Click here ...


MIDLANDS: MountainViews youngest ever contributor?
Little ShaunDunne climbed Mullaghmeen in the North Midlands with his granddad, his ninth ascent, obviously with countless more to come!
ShaunDunne on Mullaghmeen, (Mullach Mín): My Climb 02-01-2017
I climbed Mullaghmeen on the 02/01/2017 with my Grandad, It was a lovely Clear Day, and my third County High Point that day. ... Click here ...


Sorry if we didn't mention what you posted .. there's a list of all contributors for recent months later.
MountainViews Gathering 2017: Photos
Top: General View of the audience, Row 2: Peter Walker of MountainViews, Gareth McCormack - photographer, Paul Clements - writer
---
Awardees pictures:


Here are the awardees for 2017 (or at least those for which we have pics!) in no particular order.

MOTLEY GATHERING
How different access is when based on a reformed legal framework.

In 2003 the Scottish Assembly passed progressive legislation enabling easier access to wild land. (Easier of course in Scotland that has some serious wilderness.) As a result local government officials attempt to make access easier and follow up issues as they arise.

A flavour of what this official line looks like:
If you encounter anyone who tries to stop you from exercising your rights of access, and you believe that their request is unreasonable you should report the incident to the relevant Access Authority.

Read the rest of it here:
simon3 on Official Scottish Approach to Access.
The following email was reproduced on the trigpointing uk group and gives an idea to how access discussions work in Scotland ... My name is Jolyon Gritten, I am the Access Manager for Argyll & Bute Council charged with trying to ensure that the Council meets its duties under the Land Reform Scotland Act 2003 to protect and assert the public's rights of responsible access to land and water. I ... ... Click here ...


---

Strengthening the MountainViews Committee

Currently we have a number of officers on the committee such as chairperson, secretary etc. We really could use some further committee members to achieve our strategic goals and spread the load.

| | |
| --- | --- |
| Position | In Brief |
| Publicity Officer | Although MountainViews has by far the biggest single collection of walking/hillwalking data in Ireland this is not well known by all those that could benefit from it. Our website, events and activities need publicity and PR. Experience is not essential though would be advantageous. |
| Ordinary members | For those taking an interest in the MV committee or indeed committees in general we can also use some further "regular" committee members without a specific role. There are many smaller quite finite projects that might suit regular members. |
| Talks Group | Not strictly speaking part of the main committee but an interesting position. |
The Blackstairs- A WALKERS PARADISE
by Jim Kenny
Mount Leinster and ridge viewed from Blackstairs

mountain

The Blackstairs Mountain range straddle the border between Counties Carlow and Wexford and offer everything the walker needs for a great day on the hills from rebel dens to ring forts, Megalithic tombs to air crash sites not to mention the vast uninterrupted views of the Wicklow and Comeragh Mountains, Slievenamon, The Knockmealdowns , the Wexford coast and the Barrow valley.

Geology of the area include Blackstairs granite ( granite and gneiss ) and the Maulin formation (slate,siltstone,sandstone and schists). Dry heath covers most of the area characterised by dominance of Ling Heather. Wet heath can be found on some steep slopes or at lower levels where deeper peat has accumulated. Blanket bog also occurs on upper and lower slopes with many rivers and streams flowing through the area. Comprising of two main areas, Mount Leinster and its ridge extending to Black Rock mountain and Blackstairs Mountain with the ridge stretching South West comprising of the lower slopes of Carriglachan, Carrigroe and Bran Scultair separated by a valley known as the Scullogue Gap.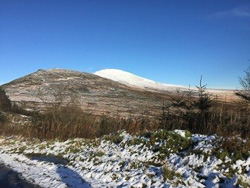 Cather Roes Den and Blackstairs mountain

Highest point in the range is Mount Leinster at 794.4m. Short steep ascents can be made from the Nine stones S817545 up the access road to the mast or from further back the road at S831555 and hand railing the forest up towards the mast. Longer ascents can be made from the Scullogue Gap parking at S824479 and heading up Shannons lane with Knockroe on the left, over Stoolyn and onto the mast or from Ballycrystal parking at S860506 and heading towards Black Rock mountain and along the ridge towards Mount Leinster east top and on to the mast. Both these longer hikes will take three to four hours return. It is also possible to complete a 16km loop from Ballycrystal parking at S835508 heading SW before turning north over Stoolyen. Next highest and my favourite mountain to climb is Blackstairs Mountain, 732.1m offering a stiff test of anyone's fitness with its many false tops. You sometimes wonder if you will ever get to the summit cairn. Views up here of a clear day are superb where Brandon Hill, Slievenamon, the Comeraghs, Knockmealdowns and the Saltee Islands off the south coast can be seen. Access can be made by parking at S814478 and climbing a good track to the summit or by parking at the end of Ballybawn lane S805409 and heading up through the forest and up over Caher Roes den to the summit.


1983 Air crash site

Despite its beauty Blackstairs mountain hides a tragic past having claimed the lives of ten air crash victims, the earliest on October 11th 1941 when a German Heinkel 111 H6 bomber chased out over the Irish sea by the RAF while on a bombing mission on shipping crashed into the mountainside claiming the lives of the four crewmen whose bodies are now interred in the German graveyard at Glencree. The crash site is situated at S813447 but is not easily located as it is not marked but a number of craters left behind after the bombs were detonated will give an indication of the site. The second fatal crash occurred on the 7th of September 1983 when a Cessna F182Q en route from Birmingham to Kilkenny crashed near the summit at S811447/GPS coordinates N52 32.8530 W006 485930 taking the lives of the four people on board. The site is marked by a low iron cross and is easily accessed from the summit.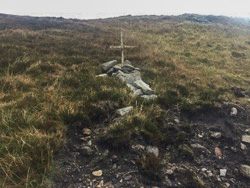 2015 Air crash site

The most recent crash occurred on 24th of May 2015 when a Cessna T182 enroute from Ballyboy airfield in Athboy Co. Meath to Taghmon in Wexford crashed around 170 metres from the summit GPS corodinates N52 32 8539 W006 48.5977 killing the two crew on board, the site is marked with iron cross looking towards Brandon Hill, the access is over rough ground and care should be taken getting there.

From the parking at S814478 access can also be gained to the southwest ridge which provides great walking over Carriglachan, Carrigroe and Bran Scultair which leads all the way to the small village of Glynn the end point for the Wayfarer's challenge walk held annually in May.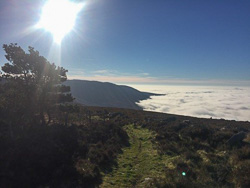 Southwest ridge viewed from carriglachan

Some lower hills that provide nice walking in the area include Croaghaun at 455m Kilbrannish hill 404m and Johns hill 385m all accessible from the Kilbrannish recreational area at S843568 and Slievebawn and Tonduff hill accessible from the nine stones. Essential map for the area is the EASTWEST mapping 1:25000 Blackstairs, Mount Leinster and Barrow valley map or the OS SHEET 68. Special mention should be made to the land owners in the area who continue to allow the traditional access onto the hills enjoyed by many over the years and the country code of leave no trace and parking with working farms in mind should always be exercised. So at a little over an hours drive from Dublin these hills are well worth a trip for a great day out.

-- Jim Kenny
Appeal for your help.
SOS
An appeal for your help from MountainViews.ie
As you know, MountainViews.ie exists solely through the efforts of its volunteers and contributors.
And hopefully we can continue to offer this free resource for a very long time. While the MountainViews committee is well-represented across a broad number of skills such as strategic planning, design, surveying, research etc, we do urgently need some support on the technical side, as the entire workload for this area currently falls on a single individual.

To this end we are asking for volunteers to help ensure the continuance of MountainViews.ie into the future, by offering to assist in matters such as software maintenance, making minor feature changes, fixing bugs, dealing with hosting issues etc.
The MountainViews.ie website is developed using Open Source Tools such as Linux, Apache, MySQL, PHP, Javascript,jQuery and OpenLayers. It is hosted on a virtual server. Volunteering would involve from a couple of hours committment a week to more depending on interest.

Please help ensure that MountainViews remains the finest hillwalking resource in these islands.
If you think you have at least some of the necessary technical skills and would like a chat without commitment please contact admin -at- mountainviews.ie


Many Thanks


emVee-Tube
Videos this month:


Videography by Peter Walker.


SUMMITEERS CORNER
A place for those interested in Summiteering, Bagging or Highpointing.
A Guide to Ireland's Mountain Summits - The Vandeleur-Lynams & The Arderins
MountainViews first book available online and in some bookshops. The first reprint with numerous minor amendments is available.


simon3 on A Guide to Irelands Mountain Summits
MountainViews first book available online and in many bookshops.

As members will know, for over a decade, Mountainviews.ie has been providing unique information to hillwalkers on all aspects of exploring and enjoying Ireland's upland areas. It's been a collaborative effort by over 1000 of you, and currently contains over 6000 comments on 1057 mountains and hills on the island of Ireland ... ... Click here ...
Bulk sales to groups such as Scouts/ Guides: contact admin@mountainviews.ie for a discounted price.
This month.
Kudos to our contributors.
We welcome the following new members who enrolled this month. 2sheds2sheds, adamblaze, AdventureJunky, AidanP, alan.nolan, ammaco1971, annemariebbrenna, Annemariewec, Aoifeaine, Arroo, asgoodasitgets, ashleybrowne91, BathQueen, Bcommons, beeritsnice, bergerx, bern, bigreddog2, Blackrock, Bowsie01, Bran, brianmerren, Bsr, carmell, Case688, chati, chrisfitz, Chucky, ciaraod, claref123, claremorris, Cluhir, cmcgspam, cmkane, colmabutler, Colmmcm, colmscully, conorpboland, Contessa, Coughlan18, Crilly, culbertm, cyearsley, Daingean, DaithiMac, Dan47, DarraghB, DavidCahill, Dean, declanmcgrath, Delphine, dermot179, Derskibb, dirkster, dmacc, Donal32, donpaddyart, dori, dpogo1, dskendall, dtleahy, ducker, Duncearmna1, Dw, earad01, EarthStone, eddiemcgettigan, Eileenoriordan, eilisadamson, EJones, ellemm, Emmanuel, emmdaly, EStapleton, excellsis, Febr24, fionamarie, floatinghoop, footloose, Foxy23, gearoidd, georgefitz, geraghs, gerardmccoy, germah1, Ghislain, Glencorri, gradwellski, GrahamT, grantalot, grdwellski, Gshannon121, Haulie, hdonnell, Heggs, helengleeson, HighPeaks2017, Hilltop12345, Hinfeyg2, Hj_baker, Hound-of-Ulster, iamgl, icallanan, iverjam, jackie5, jackmo, JadeChruha, Jane_Fogarty, jasonmac, jayarb, Jdoyle, jennap, jennysin, jessica0001, Joeo, jogger, Johnm59, johnsanders, jon.hurd, Josor, jpkotimaa, Juanita, JuliaC, Julieclarke, Kan, KanturkHillwalk, KanturkHillwalke, Karen-Wood, karina_helmut, keithm82, Kerdarklight, Kev-Hayes, KevH, kevinburke, keystone, kikuman, kilderry, Killarney, kjttm, Lackafinna, Lake-Lovers, Larouchi, lcronnolly, leahmurray, Lesley001, lforrest, Liam1234, liamfaulkner, liamkeogh, liampatton10, light1234, Lorna_Noone, LorraineG, LorraineG60, m0jla, Madge, malachyrafferty, malaniuir, mark.clery, mark76, markjkenny1, Markwaters, maryannhealy, MaryJo, MaryTeresa, mattsyloconnor, mcmahob, MCrerar, Merrick, mewashek, mfhoran, michaelleonard, MichelleRead, Mike32chp, Mikeadavitt, Mlavelle, mlpyne, Mmphodson, Moateman, mobies, molson, Morriel, Mrswoodlands, muirchadain, murtaghmary, nancymclarty, napowell19, Neillybeg, Nern, NoelCulbert, nomadsarewe, norbert, npbol, oak-and-ivy, oconnora, odonovansf, oisincarey21, Ompltd, orvedali, paddy4416, Parsnip, patshine, PaulieB78, Pcdaly852, pearlstanley, pepefloyd, Peter-Susan, peter_kelly, phanover, philatuniper, philwicklow, pickapeak, Pinger, Pk90, pkwaterwheel, pollgorm, prairiecomm, Puddineater, pyper, Quark, rbernard, Ricta, Rooneen, rosullivan2, Sallyanne, Sandeel, sarahryanowen, sasfitz, scottwalker, sdemas, sealgaire, seamus.daly, seamus911, Seamusmcgroarty, seanodoon, Serswell, seventyseven, SharonGorman, sharpmind18, ShaunDunne, sheaj, Sherpater, simonoregan, sinhel001, Siobhan.M, SiobhanBennett, skinnysally, smileymac, Sophiel, Starrycrowley, Steveg, stevemersey, summitstrife, swaters, tedmurphy, thedocr, Thevetof78, thomasmcmanus, Timred, Tintin, TomasL, tonybyrne57, Toxsic, Updown, ups_downs, Wagearymas, warminko, Watson42, wendy.conlon, zoulvisia (270)

Our contributors to all threads this month: Aidy (5), BarnaneGoat (1), BigFly (1), Bunsen7 (7), CaptainVertigo (1), David-Guenot (3), Eirepur (3), GSheehy (4), Geo (1), HoschIchenheim (1), IainMiller (1), IainT (2), Jim Holmes (1), Lucky1 (5), Mrswoodlands (1), Onzy (7), Peter Walker (1), ShaunDunne (10), Waylander (1), Wilderness (6), brenno (1), bryanmccabe (1), caseyc481 (1), conormcbandon (1), davsheen (22), dp_burke (1), dr_banuska (1), eflanaga (1), ewen (1), Communal summary entries (6), markwallace (1), mcrtchly (2), melohara (3), muddyboots (10), norbert (1), paddyobpc (33), peter1 (1), prairiecomm (2), simon3 (9), tommyclarke (1)
For a fuller list view Community | Recent Contributors

There were comments on the following summits , An Bheann Mhór, Arderin, Beann na Stiocairí, Benwiskin, Benwiskin South Top, Binn Bhán, Binn Charrach, Brandon Hill, Bruse Hill, Carnaween, Carrauntoohil, Carrigeenamronety, Claragh Mountain, Colly, Coomcallee, Corn Hill, Corrin, Croagh Patrick, Cuilcagh, Cupidstown Hill, Divis, Douce Mountain, Doughill Mountain, Errigal, Eskatarriff, Fair Mountain, Fauscoum, Foilastookeen, Galtybeg, Galtymore, Gaugin Mountain, Hungry Hill, Kippure, Knockalongy, Knockannavea, Knockatee, Knockboy, Knockmealdown, Knocknacusha, Knocknadobar, Knocknaskagh, Lackabane, Lannimore Hill, Luggala, Lugnaquilla, Meenavally, Meenseefin, Meenteog South-East Top, Mount Corrin, Mount Leinster, Moylussa, Mullaghdoo, Mullaghmeen, Musheramore, Mweelrea, Nareera, Nareera North Top, Nareera South-West Top, Ridge of Capard, Sawel, Seefin, Seefin Mountain E Top, Seefin Mountain W Top, Seltannasaggart SE Slope, Shehy More, Slieve Beagh South East Top, Slieve Binnian, Slieve Donard, Slieve Foye, Slieve Gullion, Slieve Na Calliagh, Slievenaglogh, Slievenashaska, Slievereagh, Sugarloaf Mountain, The Big Gun, The Paps West, Tievebaun, Tormore Island North, Trostan, Truskmore, Truskmore SE Cairn, Two Rock Mountain
and these shared tracks An Bhinn Dubh, Brandon Group Ireland, Ballineddan Mountain, Dublin/Wicklow Ireland, Church Mountain, Dublin/Wicklow Ireland, Cnoc Íochtair, MacGillycuddy's Reeks Ireland, Cooley/Gullion Ireland, Craig Lwyd, Dolgellau to Machynlleth Britain, Crohan West, Knockmealdown Mountains Ireland, Devilsmother South Top, Partry/Joyce Country Ireland, Donegal NW Ireland, Donegal SW Ireland, East Coast Ireland, Keadeen Mountain, Dublin/Wicklow Ireland, Keeper Hill, Shannon Ireland, Knockbrinnea (E), MacGillycuddy's Reeks Ireland, Lugnademon, Croagh Patrick Ireland, Mount Corrin, Mizen/Sheeps Head Ireland, Mount Gabriel, Mizen/Sheeps Head Ireland, Moylussa, Shannon Ireland, Mullaghclogher, Sperrin Mountains Ireland, Prince William's Seat, Dublin/Wicklow Ireland, Seefin South-East Top, Ballyhoura Mountains Ireland, Silsean, Dublin/Wicklow Ireland, Slieve Donard, Mourne Mountains Ireland, Slievenaglogh, Cooley/Gullion Ireland, Stradbally Mountain, Central Dingle Ireland, The Paps East, Paps/Derrynasaggart Ireland, Tonelagee, Dublin/Wicklow Ireland, Y Garn, Snowdonia Britain tracks were created.

Thanks to all 1273 who have ever contributed summits or routes info and forums.

For a full list view Community | Contributors Hall of Fame

Summary. MountainViews now has 8245 comments about 1487 different hills & mountains out of the total in our current full list (1501). We want to get a good gps track showing each of the major ways up every summit in Ireland. If you see an option to add a "Short Summary" then do please consider creating one since another objective is to have a short summary for every summit in Ireland. There's a few (14) opportunities for you to be the first to comment on a summit. We also have around 1500 shared GPS tracks, mostly in Ireland. Apart from a few popular areas, there is a need for more routes in many different areas. Plain shared tracks without descriptions are welcome however if you have time then do please add route descriptions with photos.
NOTICES
Notices
If you are contributing, please be careful to respect the interests of landowners. Suggest access routes well away from houses, gardens or that could conceivably impact farming activities. When walking, keep away from gardens or farm buildings. Use stiles or gates wherever possible. Never do anything that could allow animals to roam where the farmer did not intend. Ask permission where appropriate.
Report suspicious activity to the police forces, as below.
If your car is broken into in an upland area report it to the PSNI or Gardai as this will help them be aware of the issue and tackle it in future. Store the numbers. In Northern Ireland use the PSNI non-emergency number 0845 600 8000. In the Republic you can find the local Garda District HQs phone numbers at www.garda.ie/Stations/Default.aspx. Specifically for the hotspot of Wicklow: the Garda Divisional Headquarters in Bray is 01 6665300.
If you hear of a problem area or route, write it up in MountainViews which does everyone a service.
Report rubbish tipping in the Republic - ring EPA hotline 1850 365 121
Report recreational quads in national park area (in which they are banned). They are also banned in the Mournes. For Wicklow please phone the Duty Ranger: 087-9803899 or the office during office hours Telephone: +353-404-45800. For the Mournes ring the PSNI (as above) or contact Mournes Heritage Trust. Put these numbers in your phone, take regs etc. Let MV know of contact numbers for other areas.
If you have climbed some of the less well known places, we would appreciate a summit rating and also GPS readings for summits.
If we can, let's make MV have more than one route up a summit so as to reduce the tendency for paths to appear. Your grid refs in comments for different starting points show up on MountainViews maps as well as GPS tracks.
MountainViews are on Twitter as MountainViewsIE. Follow us and we will follow you back. Any queries to secretary@mountainviews.ie
Visit the MountainViews Facebook page.
Visit the Challenge Walks Ireland page (jointly managed by MountainViews)
This newsletter
This newsletter
Editor: Simon Stewart, Homepage: www.simonstewart.ie
Assistant editors: Colin Murphy, David Owens
Challenge Info: Jim Holmes
Track reviews: Peter Walker
Book reviews: Conor Murphy, Aidan Dillon, Peter Walker, Mel O'Hara
Videography: Peter Walker
Graphics design advice: madfrankie

Newsletter archive.
View previous newsletters mountainviews.ie/newsletter
RETURNING TO MOUNTAINVIEWS
Click on (If you have cookies on in your browser then you will be prompted as to username/ password. If you forget the password, the login page can email you a replacement.)

UNSUBSCRIBING
If you don't want to receive any further monthly newsletters from Mountain Views click on Settings. Then change the option beside "Include on occasional mailing list" to "Do not include". Then click the "Save" button.
Alternatively let us know by email at admin -at- mountainviews.ie Include the email address you got this at or your screen-name guestuser.