The Summit


Monthly newsletter of MountainViews.ie for guestuser

Oct 2016
NEWS - INFORMATION - RECENT CONTRIBUTIONS - FEATURES - FORUMS
UPCOMING EVENTS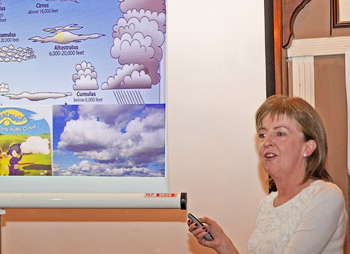 Evelyn Cusack, RTÉ Weather Presenter, on Weather for Hillwalkers (2013).
MOUNTAINVIEWS Walkers Winter Talks
MountainViews will be organising Walkers Winter Talks starting in 2017. At this point in the year we are organising the programme. Early indications are good with a number of great potential speakers putting themselves forward or accepting our proposals.

The programme will follow a similar format to the WAI talks. There will be three talks in the period Jan to April 2017 held in Dublin. There will be the usual MountainViews Gathering and two other talks. As previously there will be plenty of time to meet other hillwalkers and members of MountainViews.


---
Mountaineering Ireland Autumn Gathering.

Date: 14-16/10/2016
Venue: Killorglin, Co. Kerry

Laune Mountaineering Club will be hosting the 2016 Autumn Gathering which will be based out of Killorglin, Co. Kerry. With the Reeks on the doorstep, the weekend promises plenty of great walking and climbing.



Further information and booking
---
MOUNTAIN MEITHEAL: Mountain Meitheal are keen to find more people to help.
They need help on the following dates: Dublin/Wicklow:
11/09/2016, 24/09/2016, 09/10/2016, 22/10/2016, 06/11/2016, 20/11/2016
South East, 18/09/2016, 15/10/2016



Mountain Meitheal make practical repairs to some of the more popular areas we walk on, using a voluntary community based approach. (More information at their website.)



Picture of the month
While doing a megawalk, GSheehy took this picture of the Mweelrea Horseshoe from Ben Gorm. Great view though somewhat typical overcast western weather! Picture: GSheehy
Regions: MOUNTAIN COMMENTS - TRIP REPORTS - TRACKS - SUMMARIES
In short: Discovery

Mamma Mia!
Take a chance on me ..
October's track of the month has mcrtchly and kernowclimber introducing a relatively unknown walking destination within continental Europe, namely Sweden on or about the Arctic Circle. It follows a section of the Kungsleden (King's) Trail, a well-marked and maintained path crossing a huge wilderness area with a whelter of fascinating fauna and history to sustain interest without even considering the scale of the scenery.

Sweden - I've Been Waiting For You So Long
Yes finally we have some walking from Sweden! Swedes reading this (there must be a few), do send in some further tracks!

mcrtchly on Kungsleden trail from Saltoluokta to Kvikkjokk


Main walk Start: 08:33, End: 14:37,

Duration: 102h 4m, Length: 67.5km, Ascent: 1513m

, Descent: 1580m

Places: Start at Lon 18.5201, Lat 67.394, end at Lon 17.7205, Lat 66.9547

60km SW from Start

(statistics such as Ascent or Length etc should be regarded as approximate. Duration depends on the speed of the person making the track)


The Kungsleden (King's) Trail in northern Sweden traverses 425km of parts of the last remaining wilderness area in Europe. Much of the trail is north of the Arctic Circle and crosses the Laponia (Lapland) World Heritage Site which is part of the Sámi homeland. Also known as Laplanders, the Sámi are the only recognised indigenous European group and they call their land Sápmi. The 105km northern section of the Kungsleden, between Abisko and Nikkaluokta, is the most popular and takes 5-7 days to walk. We opted to walk the middle section between Saltoluokta and Kvikkjokk which covers 73km over 4-6 days. Both of these sections are well serviced by huts owned by the Svenska Turistföreningen (STF). This was founded in 1885 as a voluntary group and developed the Kungsleden Trail in 1887. Nowadays STF operates more than 320 hostels throughout Sweden and some of these huts offer services to hotel standards, whilst others simply provide bunk beds and cooking facilities. If you are using the huts (or camping nearby) it is worthwhile joining STF for discounts on the prices. Most mountain huts are open from mid-June to mid-September and again from mid-February to the beginning of May (for winter based activities).

We flew to Kiruna, a town ringed by iron ore mines, whose inhabitants have been told for health and safety reasons they must move from their homes when the town centre is relocated several km away to accommodate the expansion of the underground workings. Kiruna is a good place to stock up with any last minute provisions such as camping gas, liquid fuel and food (and if you want to take along a wee dram to help you on your way, the Government liquor store sells alcohol at reasonable prices!). Excellent bus services from Kiruna connect via Gällivare to the start of the middle section of the trail at Kebnats. Here we took the STF boat across a lake to the Saltoluokta Mountain Station which can accommodate up to 100 persons in a mix of bedrooms, and has an excellent licenced restaurant, a well-stocked shop and sauna. Not long after arriving at Saltoluokta we were gobsmacked to bump into intrepid Irish adventurer and explorer, Paul Sheils from Navan. He has walked parts of the Kungsleden and crossed the adjacent Sarek National Park several times, and his inspirational videos on YouTube were the reason we chose to visit this area. It was great to be able to thank him in person for bringing Arctic Sweden to our attention.


View from Saltoluokta Mountain Station


Day 1 (21km): From Saltoluokta to Sitojaure, the Kungsleden Trail heads south, initially through birch forest, something of a fairyland with golden leaves drifting down on us like confetti and the undergrowth in its dazzling autumnal attire flecked with deep red and purple berries and scarlet fly agaric mushrooms. Although the trail is not hard it was also not quick as I was carrying a 25kg+ backpack of which about 5kg was camera gear and associated electrical equipment for capturing the walk – it is not easy to hike and take high definition photos, timelapse and video. The trail soon climbs above the forest and for much of the rest of the way was a good path across the alpine tundra before descending slightly into the birch forest again before reaching the Sitojaure hut. As the weather was threatening rain we stayed in the hut that night and I visited a nearby Sámi family to arrange for a boat transfer across the lake the next day (the family also sell some provisions including beer). The Sámis were the first settlers in Scandinavia and now number about 70,000 persons spread across northern Norway, Sweden, Finland and Russia. Their main livelihoods are fishing and reindeer herding. The Sámi family that I spoke to live in the nearby town of Jokkmokk in the winter and spend 7 months living by the lake in the summer. They own a herd of 4,000 reindeer and September was a busy month for them as they round up the deer (on foot), mark new calves and select animals for sale. Because of this they had stopped the regular boat transfers across the lake and it is necessary to pre-arrange transfers when they are herding the reindeer, or you will be rowing yourself, not something to be relished in aging boats.


Boardwalk across the Arctic Alpine Tundra


Day 2 (9km): Sitojaure to Aktse. Anna, the Sámi lady, took us the 4km across the lake in her boat at some considerable speed, weaving between partially submerged rocks. Back in the birch forest the trail ascends gently for 3km before leaving the forest and entering the alpine tundra again. Here saw our first real glimpses of the huge reindeer herds. The path reaches a plateau at about 950m elevation and we had originally planned to detour from here westwards to the summit of Skierfe (1179m) and to camp out overnight. Skierfe has spectacular views of Rapadalen (Rapa Valley) into Sarek and its braided rivers. Unfortunately low cloud and a bad weather forecast made us change our plans and head directly to the Aktse hut. At Aktse we choose to camp, and had an unfortunate visit from a local rodent (probably a vole) in the night who tore some small holes in the groundsheet of the tent (easily repaired when we got home).


Cloud inversion in Rapadalen from Akste


Day 3 (21km) Akste to Pårte. This was a long day, much of which was in dense forest with few views. The day started with another 3km boat transfer across the lake, this time provided by the STF hut warden. It was also a day of almost continuous, at times buckshot rain, which was sapping for both of us. There is an emergency shelter half way along the section and we made good use of this to cook a hot lunch and take a few slugs of the whiskey we were carrying! After the shelter the trail initially crosses a large boulder field (which was very slippery due to the rain) before descending rapidly over rocks which was hard on tired minds and limbs. As the trail flattens, the ground becomes very wet and much of this section has wooden planks to walk on which were installed some time ago and many are broken and poorly supported, rotted through or totally missing. By the time we got to Pårte, twilight was descending and we opted to stay in the hut where we could light the wood burning stoves and dry out our soaked boots and clothing.

Day 4 (5km) Pårte to Stuor Dahta Lake. It is possible to do the section from Pårte to Kvikkjokk in one day, but as we had a day to spare and the first really good weather of the trek we decided to camp overnight by the Stuor Dahta lake which is only a short hike from the Pårte hut. However the day didn't start off well for me as I slipped on a board into a brackish pool of water just after leaving Pårte and was rewarded with a dunking down one side and a sodden boot. Luckily the warmth of the sun soon dried my clothes. We found a scenic camping spot beside the lake and managed to forage enough wind-dried wood for a roaring camp fire that night as we watched the sun set over the lake. During the night we were treated to a spectacular display of the Northern Lights which I captured on timelapse.


Campfire at Stuor Dahta Lake

Northern Lights over our tent


Day 5 (11km) Stuor Dahta Lake to Kvikkjokk. Another shortish day as the route leaves the lakeside and weaves its way through beautiful mixed conifer and birch forest with occasional mossy clearings boasting a magnificent array of colourful wild berries and fungi. The trail is quite rocky and rough in places and rolls up and down small hills and across several rivers by rustic bridges. We met a lone hiker on this section who was walking the complete 425km of the Kungsleden trail with his dog. The dog was carrying 7kg of dried food in 'Ruffwear' packs on her back! We reached the Kvikkjokk Mountain Station in the early afternoon and had to wait for the reception to open at 4pm. The nearby rapids on the Gamajåhkå River provide a spectacular backdrop to the hut which serves hot snacks to order, craft beers and al a carte dining in the restaurant. We chose the traditional Sámi dish of Souvas as a starter (lightly smoked and salted reindeer meat which is thinly sliced and served in a creamy horseradish sauce on toast) followed by Elk (moose) patties. A hot shower and comfortable beds made for a pleasant night's sleep.

The following day we were up at stupid o'clock to catch the 5:30am bus to Jokkmokk where we had some free time to visit the excellent Ájtte museum about Sámi life before taking onward buses to Gällivare and Kiruna. A final night was spent at the STF accommodation in Kiruna before the flight back to Dublin.

We will certainly visit Arctic Sweden again, to walk other parts of the Kungsleden (and hopefully see the views) and perhaps venture into the wilds of Sarek. Perhaps we might go slightly earlier (late-August or very early-September, but no earlier as the insects are pestilential in the high summer). A winter visit would also be magnificent but would pose different challenges of crossing snow covered terrain on snowshoes, skis or dog sleighs. This magnificent wilderness area is just a few hours away by plane from Ireland, yet it is an area virtually unknown to Irish trekkers. It deserves far better exposure. If you're looking for a real wilderness experience, but on a well-signed, well-serviced route, then Kungsleden could be just the ticket for you. For a taste of the Kungsleden see our trailer at https://youtu.be/-mtpWBgFj6E


---



Historical Comments

MountainViews started in mid 2002. Many of the best comments about summits were created in the earlier years of the website. Conversely many of the people who have looked at MountainViews (in around 37 million visits) or registered (over 20,000) did so well after the comments of the earlier years were put up.
So the committee are keen to highlight some of the earlier contributions, many of which are highly informative or entertaining. If you have any favourites, including those you wrote yourself, please do let us know at admin -at- mountainviews.ie We hope to include historical comments in future issues, though you can look at one for Inishnabro later in this newsletter in the tribute to our departing secretary..

NORTH: Muckish via the miner's track.
Scannerman reflects on the arduous work of the men who toiled in Muckish's mines (Derryveagh Mts. ) back in the fifties.
scannerman on Muckish, (An Mhucais): Climbing the whale
I've always thought Muckish more resembles a whale than a pig and have also wanted to climb it for a long time.The opportunity came last week via the miners track after waiting several hours for the weather to improve. Luckily it did and up we went. A fairly steep ascent which included some scrambling/rock climbing as we went 'off piste' a couple of times. The quarry is quite interesting espe ... ... Click here ...


NORTH: County highpoint, hillwalking lowpoint.
Slieve Beagh SE top is a real slog, reports Colin Murphy, a dull, monotonous trudge through boggy heather and reeds.
Colin Murphy on Slieve Beagh South East Top, (Eshbrack): A real slog
Took the route from the east,parking at the lay-by at Point D and walked along road to track just to the south, as described in Short Summary. You could actually save yourself half an hour and drive up most of this track as several cars were parked up there for turf-cutting purposes. At the end of the track the misery starts! First there's a large quagmire created by vehicles, followed by a 2km sl ... ... Click here ...


NORTH: Begrudger's Top
Many have described Trostan in the Antrim Hills as the wettest, most miserable place on earth, not so, says Blackcra, who enjoys a wonderful day's walk.
BleckCra on Trostan, (Trostán): Begrduger's Top
Trostan. Something to shout about - and especially if you are sharing the shouting with a new Top of the County thingy person. Would I have bothered? Not in my wildest nightmare, which plateau-ed out the night before, with the wind measuring thing coming off its stem, the rain relentless and a hill flagged up on this website as the wettest place on the planet - on the memo pad for the morning. A ... ... Click here ...


WEST: Playbanking away from home
There's an extensive tract of abundantly-girthed upland smothering the border between Leitrim and Cavan, and ulsterpooka has paid it a visit. The Playbank is an intriguing hill, but it's a long walk from there over the moors to the various summits of Benbrack. The prospects are fine both near and far, and the fit who wish to avoid the transport logistics of this walk there's always a finish over Cuilcagh to return you to the starting point.
Ulsterpooka on Near The Playbank, Breifne (Ireland)
| walk, Len: 18.9km, Climb: 696m, Area: The Playbank, Breifne (Ireland) The Playbank, Benbrack W Top, Benbrack, Benbrack NE Top ... Click here ...


WEST:Smelly goat hill?
Bouleevin provides expansive views of the Burren, but Jamessheerin had to negotiate a herd of decidedly stinky goats to get there.
Jamessheerin on Bouleevin: "Smelly Goat Hill"?
Parked at point A M3369803036 and followed Sandmans excellent directions to the summit. On the way met a very smelly bunch of wild goats who insisted on staying upwind of us for a very long time! Decided on an alternative route down.. went south over end of ridge, some lovely downclimbing on cliffs there! Ended up at M33093 01896 looking for the road. No sign of it! Its actually hidden in a tree c ... ... Click here ...




WEST: The long way down (and back up again)
Out in the west lies a logical but previously undescribed combo of the ridge of the Sheefry Hills and Ben Gorm, as submitted by GSheehy (accompanied by some excellent photos). It's a hefty itinerary gaining much of its challenge from the savage climb up Ben Creggan in the second half, but the scenic rewards are substantial to say the least on a clear day. Some distance could be saved by following the Tawnyard ridge from the start rather than aiming for Tawny Rower.
GSheehy on Sheeffry's and Ben Creggan / Ben Gorm
This is one from my pre-MV days. I was reminded of it on FB this morning, as it's two years to the day since I was up | walk, Len: 28.2km, Climb: 1483m, Area: Tawny Rower, Sheeffry Hills (Ireland) ... Click here ...


WEST: Trespecers will be Prosacrased!
The views are wonderful from the small summit of Knockaglana Hill in North Mayo, reports sandman, but the spelling is unusual.
sandman on Knockaglana: Trespecers Beware.
Not wishing to access the summit via the route mentioned in the previous comments the lane at G1966702152 was my choice of accent, which allows easy walking up thru old homesteads to the summit . The sign on the gate post duly identified the property as Pravit and that Trespecers will be Prosacrased ......oh i would not like to be a Trespecer in Mayo. If you do wish to use this easy route you wil ... ... Click here ...


WEST:The remotest spot in Ireland.
Want to get away from it all? You can't get further away Ireland's remotest point, which has been tracked down by madfrankie.
madfrankie on Searching for the Remotest Place in Ireland
A couple of weeks ago I came across an interesting article detailing the search for the most remote point in England: http://www.livefortheoutdoors.com/outdoorfeatures/2016/6/30/this-is-the-most-remote-point-in-england-but-where-the-hell-is-it The criteria used was the remotest point from a public road, so with this in mind, I set about attempting to emulate this by finding the remotest place on ... ... Click here ...


SOUTH: A brief pilgrimage.
Those of a religious, specically Catholic tradition, might like to do the Stations of the Cross on the way up Corrin Hill in the Nagles Mountains. The summit is marked by a cross and an iron age fort, reports sandman.
sandman on Corrin: Historical Site.
The large cairn at the summit dates back to the Bronze Age and it is said the Druid Mogh Ruith is buried here, encircling the summit is an Iron Age Fort. The large stone cross which is visible from the motorway was erected in 1933 which is illuminated at Christmas and Easter. Park at the Coillte car park W8034395396 and follow the 14 Stations of the Cross up to the summit. ... Click here ...


SOUTH: Toothless Glenbeigh
An unusual western approach to the central section of the Glenbeigh Horseshoe from peter1: as he notes most folk will come in from the eastern side but his route finds easy tracks on both the way in and the way out. It would be tricky to add anything to this itinerary without two cars, but the airy Teermoyle Tooth could be included by the determined.
peter1 on Mid-Section of the Glenbeigh Horseshoe from the West
I had previously climbed the two northern tops of the horseshoe, Drung Hill and Beenmore and earlier this year, I climbe| walk, Len: 14.8km, Climb: 706m, Area: Teeromoyle Mountain, Glenbeigh Horseshoe ... Click here ...


SOUTH: A quick up and down.
Knockscagh in Shehy/Knockboy offers an easy climb - and little else, reports sandman. One purely for the baggers it seems.
sandman on Knockscagh: For a quick up and down.
Parking is restricted from the direction i ascended the hill but having sorted parking and for an easy ascent enter thru field gate located at W2002640495 .You need to cross two fences to reach the summit area but they are in bad state of repair. Again a summit for hillbaggers only. ... Click here ...


EAST: Picture perfect.
Tonelagee in Wicklow as seen during a heavy rainstorm by mcrtchly.
mcrtchly on Tonelagee, (Tóin le Gaoith): Unusual view
On unusual view of Tonelagee from the Sally Gap road during a rainstorm which highlights the corrie on the eastern side ... Click here ...


EAST:
Lugnaquilla gets no less than three separate comments from different walkers, as a variety of routes are explored up Wicklow's hightest.
wild_brian on Lugnaquilla, (Log na Coille): wild brians first trek up lug
set off from fentons pub in glen of imaal. as said above followed the military road trail behind the put and onto camarahill, which is quite steep and in a warm day like today had me sweating buckets. be advised to keep the military poles on your left.upon the summit of this lug is visible. ground levels off for a bit and a trot across a bit of flat bog with an impressive view of the north prison ... ... Click here ...


EAST: Songs from the Mad Chair
A little sample of some future site developments from simon3, with a coastal dander from an as-yet unrepresented area of the East. The walk out to Dunany Point is very quiet (rod fishermen are the most likely company and they aren't renowned for being ear-splittingly loud) and the views over to the Cooley Peninsula and the Mournes are huge as the photos demonstrate. An ideal break on a trip to or from Dublin on the motorway.
simon3 on Reaching Dunany Point.
Looking back along the beach towards start.There is parking for a few cars at the start. Walk down the small road to the| walk, Len: 3.0km, Climb: 34m, Area: Cooley/Gullion (Ireland) ... Click here ...


Sorry if we didn't mention what you posted .. there's a list of all contributors for recent months later.
MOTLEY GATHERING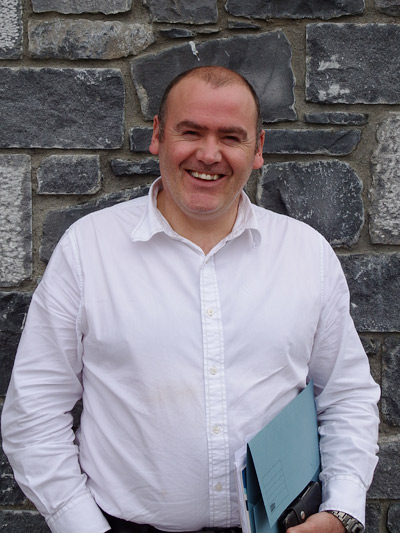 Coastal summit in the Nephin Begs,

Mayo, SW of Claggan.

MountainViews Secretary Resigns: Long Live the Secretary

After being with the committee since it started, Mark Brennan aka Wicklore has stepped down. To say that the rest of the committee is sorry to see him go is an understatement. His record says it all. Mark is third in the MountainViews Contributors Hall of Fame having created 210 summits comments and shared 100 GPS tracks. He also did many of the essential but less glamorous things like editing 82 of the summit short summaries.

As secretary he was frequently the MC at the MountainViews Gathering where his wit and fillers-in for the inevitable pauses would have everyone in stitches.

Mark has left the committee (though not MountainViews) because of his young family and his huge committments in an extraordinarily challenging work environment.

MountainViews believes strongly that the sport of hillwalking benefits hugely from having all of the hills and major routes up them described. Mark has been a leading activist in doing this and also finding the time to do the committee work needed to support the effort.

As a tribute to Mark we thought we would include one of his summit comments from the over 200 he put in to date below.

Long Live the Secretary

Jim Holmes who has been organising the Challenge Walk end of MountainViews has put himself forward as the new secretary and the committee accepted this on Sat 1st Oct, 2016. Elsewhere you will see that the committee are keen to fill other positions with other new functions.



Mark Brennan, outgoing Secretary of MountainViews committee.

The hidden entrance to Inis na Bró

by wicklore 9 Sep 2012

As Conor74 has pointed out, the access point for Inis na Bro is rather startling. Behind the rugged and sharp rocks that ring the island lies a tiny hidden cove, accessed through a narrow breach in the rocks. Because the dingy was inflatable it was able to squeeze through, scraping the sheer rock face on either side, with cheery calls of 'watch your heads and backs' issuing from the able navigator. Once inside the cove, there is a quick step onto the rocks before a rather steep and exhilarating climb up a grassy gully to the gentler slopes above.

Inis na Bró does not have sheep, so deep heather is in abundance, especially on the last haul up to the summit. Views are amazing of the surrounding islands of Inisvickillane, Tearaght, and the Great Blasket. Inis na Bró is another island with gentle eastern slopes and fierce, sheer west-facing cliffs. There are no obvious remains of human settlements, and a flock of seagulls huddled on the SE end of the island, perhaps deciding what to do about these most unexpected visitors.

We saw some giant slugs and the burrows of either rabbits or petrels. They must live in absolute peace from humans for most of the year, and even our visit was short and hopefully not too intrusvive for them.

My photo shows the hidden cove with the entrance sea-arch behind as the dingy squeezes through. A most remarkable way to access an island!


---
Strengthening the Committee

Currently we have a publisher, a chairperson, a secretary, a treasurer, an awards officer, a projects officer and a talks sub-committee. We really could use some further committee members to achieve our strategic goals and spread the load.

| | |
| --- | --- |
| Position | In Brief |
| Publicity Officer | Although MountainViews has by far the biggest single collection of walking/hillwalking data in Ireland this is not well known by all those that could benefit from it. Our website, events and activities need publicity and PR. Experience is not essential though would be advantageous. |
| Ordinary members | For those taking an interest in the MV committee or indeed committees in general we can also use some further "regular" committee members without a specific role. There are many smaller quite finite projects that might suit regular members. |
| Talks Group | Not strictly speaking part of the main committee but an interesting position. |
---

Upcoming Annual for this year

Earlier this year we brought out an Annual, a 46pp PDF style magazine, in Feb. We hope to do the same next year, "The MountainViews ANNUAL 2016". We are looking for feature length illustrated articles. And photos. And items for "Your Walking Highlights of 2016". For the highlights we are mainly looking for great experiences in Ireland.

---

Bishopstown Hill Walking Club - Cork Producing a Calendar for 2017

"I am a member of Bishopstown Hill Walking Club Cork and a few of us have got together and created a calendar for 2017. The calendar is made of photos taken by the members and all proceeds from the sale of the calendar will be divided between Kerry Mountain Rescue and SEMRA. I must say it is a beautiful Calendar and by purchasing a copy you will be making a donation to these two worthy organisations who need all the support they can get and who provide a great service to all the hillwalkers in the Munster area.

The cost of the calendar is Euro 10.

The contact details for the 2017 Calendar are;

gray.tricia@yahoo.com
conanneocallaghan@eircom.net
richardnunan@eircom.net
bertmean@gmail.com

Berty Meaney

Bishopstown Hill Walking Club Cork"



---

Review of Achill & Corraun, Clare Island Map from EastWest Mapping.

Last month we reviewed this map. In the main we supported it for the detail and care that has gone into the research and production. You can see the review here mountainviews.ie/newsletters/month/2016-09/

Nevertheless as with other East-West maps we took issue with naming policy, in particular renaming or suppression of well established placenames already forming part of the guidebooks, maps and other culture of walkers. We maintain that walkers also have at least some cultural and safety rights that should be respected.
Nevertheless sometimes we find value in East-West naming. We were in correspondence with Barry Dalby of East-West about one place. We used to call this Corraun Hill East Top. This is higher at 541m than Corraun Hill, 524m which is somewhat confusing to walkers. Barry assures me that there is a historical map of 1797 which names this as Slieve Aghkerane. It seems reasonable therefore to use this as the principal name which we have now done. We haven't violated the principle of not suppressing established names by introducing this new one. And we continue to include our previous names on the website.

So, thanks East-West for this one.

Exploration
Go West Thran Dog


When I was in my late 20s things were pretty good for me. I had a well-paid job, no mortgage, no responsibilities, vast amounts of spare time and a metabolism that seemed to make me an eternal stranger to the concept of body fat regardless of how much I ate and how comically unhealthy it was. I also had a fully expensed company car and an MD who seemed to positively encourage my use of it for 'non-business' purposes. And so it was that most weekends would see me out of bed at Stupid o'Clock, driving for upwards of four hours to get to mountains, spending all day climbing said mountains and then rocking back up at home at around Stupid o'Clock the following day.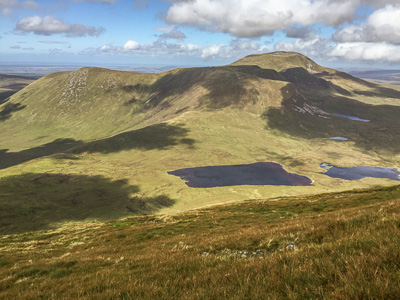 Slieve Carr from Nephin Beg

But now I'm in my mid 40s. I have a decently paid job, but I have a huge mortgage. I have very limited spare time. I have to take care lest everything I eat clings tenaciously to my waist. And most of all, I have responsibilities. No kids, but I do have a fiancee. I have seven cats. I have seven chickens. I have a hamster. And I have two dogs; Uisce, a sleekly beautiful and eccentric Rottweiler bi tch. And Indy...

Indy is a rescue dog who was found tied up in a bog in Roscommon before we took him on from that county's SPCA. He was badly lame, and it transpired that he had a hip joint that had been ruined by someone kicking him or stamping on him. He had to have his leg amputated. So, if ever a dog had a right to be angry and anti-social it's him...and yet he loves everyone and everything. Despite his limb deficiency he is remarkably agile and he often comes out hillwalking with me. And veritable legions of Summiteers have fallen helpless victim to his trick of being totally limber right up until the point where they notice 'BUT HE'S ONLY GOT THREE LEGS!', whereupon he will start limping and shoot them a look that says his leg would grow back if only they'd give him a biscuit.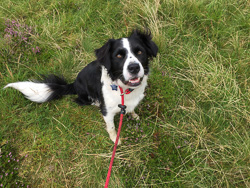 The pic of Indy that I sent to my fiancee

Generally it's only the possibility of upsetting farmers or the likelihood of scrambling that makes me go out solo, so it was inevitable that my plan (a kind of throwback to the itineraries I would pursue back in my youth) for a 'day trip' from Lisburn out to Mayo to climb the legendarily remote Slieve Carr would involve bringing him along. And so it was that I took a day off work and drove for four hours before parking up at the Brogan Carroll bothy on the Bangor Trail just after 10am one changeable August morning. A lead was attached, a rucksack (containing more food and drink for him than me) was shouldered and off we sallied into the wilderness.

The Bangor Trail is fascinating on both a micro and macro scale. It passes through a tremendous variety of scenery both near and far, but if you limit your gaze to your feet and the area just in front of them you'll find yourself wondering exactly how a route can contain so much moisture while still obviously being a path. It meanders northwards, mostly up but occasionally down, alongside rivers and forests, and after just over an hour's walking it deposits you on the wide col between the summits of Glennamong and Nephin Beg next to a Mountain Meitheal shelter. We were now in the wilds if not necessarily on the mountains, but that was swiftly remedied by leaving the track to zig-zag up Nephin Beg in the watery sunshine of the late morning. The breeze picked up as we crossed the low hump named Nephin Beg South Top by MV, and another steady pull brought us to the elegant cairn on Nephin Beg itself. From here we looked north across a deep gap to where the sculpted bulk of Slieve Carr reared up, suddenly visible and tangible, but still substantially distant. Everything feels distant on top of Nephin Beg if I'm being honest.

The steepness of the drop from Nephin Beg is matched by the severity of the pull up Corslieve on the far side of the Scardaun Lough, and I judged that easier going might be had following the edge of the slope falling away to Owenduff to the west. The sun was still out, a serious dent had been made in the last tough climb of the day, all was right with the world. It was time for Indy to throw a spanner in the works. A sudden tightening of the lead spun me around and there he lay, staring at me.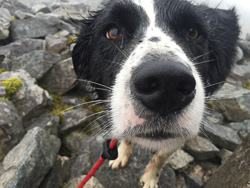 Indy is thrilled to be on top of Slieve Carr

'Come on Indy' I exhorted, and tugged him a bit. The hound was not for moving.

This just wasn't like him. His stamina tends towards 'infinite', and I recalled the end of a 23 mile sponsored walk where he'd seemed way more capable of a second lap than I was. And yet here he was. I sat down next to him and he slid his head down the length of his front legs to maximise the impact of the gaze he was continuing to fix upon me. He's hungry, I thought. I gave him some water. I gave him a banana. I gave him five minutes. And then I got up and continued the ascent, an action he was content to follow for about ten steps before lying down with the same steely resolve as before.

I knelt down this time, stroked and fussed him, and decided on a longer break. I got out my phone and texted my fiancee to say he seemed off-form and I was seriously considering going back. After a couple of minutes came a reply:

'Give him a banana and keep going!'

I told her that I'd already given him a couple and that he was just lying down every ten paces. I could feel my motivation draining away with every look I exchanged with him. After a few minutes I felt some sort of commitment had to be made; he was my pup and relying on me to look after him. I decided to head down.

He seemed a bit happier once we were descending, and once we'd made it down to the more level ground on the col next to the Lough I rang the missus to let her know what we were doing, how we were going back and it'd probably be about three hours before we got back to the car.

'Send me a picture of him'.

I sent her a picture, and after a couple of minutes she rang me back.

'He's being thran...put me on speakerphone'. Even I, a man who has put a seatbelt on a chicken, could tell this was getting slightly weird.

'Indy! Hello Indy! Where's my handsome boy?'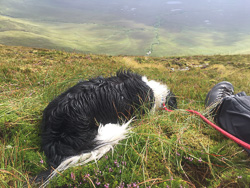 The return journed ... are we nearly there yet

Indy flicked his head around and pricked up his ears as much as their natural floppiness and gravity would allow. He obviously recognised the voice, and was now deeply puzzled as to where the hell it was coming from. A quick sniff of the iPhone seemed to satisfy him, and he listened intently.

'You're SUCH a good boy Indy! Now, your dad has driven for four hours and is spending a lot of money on diesel, so get your three-legged bum back up that hill for your mum! Love you!'

Speaker phone disengaged, it was time for the other walker to get his pep talk. 'You're being played like a cheap fiddle. Is his nose dry? Are his gums pale or bright red? Is he pacing in circles? Is he vomiting? Is he not making eye contact? No? None of those things? Quite. There's nothing wrong with the little sod. You've driven a long way, and you're climbing that bloody hill.'

You don't argue with a teacher when she's deployed 'Teacher Voice'.

And so back up the hill we turned, having just lost about 200m of altitude for no good reason...I knew I would have to rekindle my motivation somehow. And unusually for me, I used the catalytic properties of anger as Indy laid himself down again once the slope steepened.

"INDY! COME ON!!!' I bellowed, and yanked him to his feet.

(Anyone who'd ventured on this day to this fiercely lonely spot expecting peace and solitude would by now have enjoyed the sights and sounds of a three-legged dog receiving both a mobile phone call and the hairdryer treatment. You can't really make this stuff up, can you?)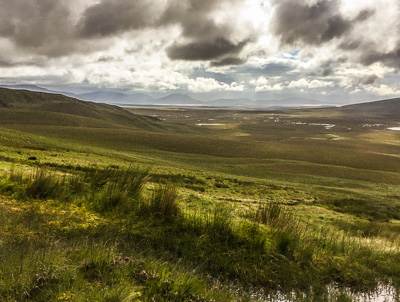 The Bangor Trail ... gills are helpful.

Indy, bless him, used to his dad being the soft touch in his life, looked genuinely thunderstruck. Up he trotted to my side, sticking to it like Velcro as we zig-zagged upwards. I decided to take in the recently-appointed top of Tawnyanruddia before rather than after Slieve Carr, so we contoured westwards across the broken mountainside. Not a murmur of canine complaint was heard; Indy, it seemed, was fully back on board.

The peat-hags of the Corslieve-Tawnyanruddia col were soon left behind, and a gentle slope led up to the canon-esque rocks crowning the summit. There's no escaping how monumental the westward view from here is; the Owenduff bog seems to stretch into infinity but then the sea appears at the perfect moment, and then you have the fairytale shapes of Achill on the horizon...this is a very special place.

Back to the col and up the slope onto the upper reaches of Slieve Carr as the weather impended. It wasn't long before 'breezy' became 'windy' and 'a bit overcast' became 'that fine rain that soaks you through' with a bit of added 'especially with the wind I just mentioned' thrown in. Indy looked miserable but at least he kept going. I threw on my waterproofs with as much haste as I could muster but my trousers had started clinging before I could get my legs fully covered...the rest of the day was going to be a bit on the trying side. In the mist, wind and rain I was too lazy to get out the map and compass, so the odd glance at the GPS served to see us up the extensively girthed but steep sided ridge leading north. Grass and stone eventually gave way to luxuriant moss for the last few hundred metres to the top. The rain lashed and wind whistled (it didn't howl...you have to be proportionate about these things), and having helped Indy up the huge cairn to the trig point (and hugged him...I suspect Slieve Carr hasn't seen many three-legged canine ascents) there seemed little point in hanging about.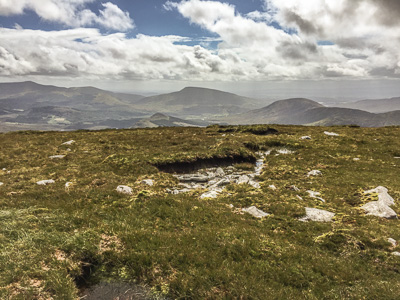 The view south from Nephin Beg

The weather had fallen back from 'manky' to 'showery' by the time we picked our way down Corslieve again. I decided to regain the Bangor Trail by dropping down by the stream issuing from the Lough, and with the sodden euphoria of the summit now ebbed away I failed to consider that crossing it high up might be a plan. Arrival at the Trail itself was accompanied by the realisation that the old game face was going to be needed to gain its continuation on the far side, and a relatively (for a middle-aged man) athletic leap (and a canine swim) ensued. Hereabouts the Trail is a thing that barely even exists, with only the vaguest of underfoot hints leading you squelchily onward towards where you hope the next marker post will appear. It's a truly shocking quagmire but you wouldn't want it any other way. Boots and paws stumbled and squirted for a good hour before the Trail grew more conspicuous and climbed back up to the point where we'd left it a long time (and one doggy meltdown) ago.

Another hour saw us back at Brogan Carroll just before 7:30pm, and as I sat at the picnic benches trying to peel off my overtrousers Indy sat next to me and devoured a late dinner of chicken. And then into the boot of the car he sprang, fresh as a daisy...oaths should have been muttered, but he's just the most loveable dog in the world and he makes it impossible to stay cross with him. It was gone 12:30am when Indy rolled into his crate and I rolled into my bed just as exhaustion finally won out over adrenaline. I'm not 28 any more but just occasionally I can be 28 again for the day.

-- Peter Walker.


The Coastal Features Project
Some progress

We now have a provisional list of Coastal Summits for Mayo, Sligo and Leitrim. (No, there were none for Leitrim!). And some other members have offered assistance for various areas. Peter Walker has agreed to coordinate the various data sources as they emerge. We are still looking for further volunteers. The current plan calls for getting a list of Coastal Summits out first in advance of tackling the broader and less well defined other features (headlands, points, spits etc). So what is a coastal summit? Currently our specification is:



Coastal Summit: 50m high, 20m prominent and within 1000m of the sea coast.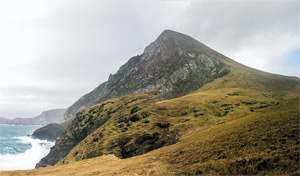 Croughan, Achill.Some

existing summits will also now be 'Coastal Summits'.



So if you are familiar with areas of the coastline, particularly in the western counties, or would like to become familiar do Register your Interest at this address: admin -at- mountainviews.ie We really would value your support.


For more information on our Vision and the Practicalities, take a look at the last newsletter: mountainviews.ie/newsletters/month/2016-09/
Appeal for your help.
SOS
An appeal for your help from MountainViews.ie
As you know, MountainViews.ie exists solely through the efforts of its volunteers and contributors.
And hopefully we can continue to offer this free resource for a very long time. While the MountainViews committee is well-represented across a broad number of skills such as strategic planning, design, surveying, research etc, we do urgently need some support on the technical side, as the entire workload for this area currently falls on a single individual.

To this end we are asking for volunteers to help ensure the continuance of MountainViews.ie into the future, by offering to assist in matters such as software maintenance, making minor feature changes, fixing bugs, dealing with hosting issues etc.
The MountainViews.ie website is developed using Open Source Tools such as Linux, Apache, MySQL, PHP, Javascript,jQuery and OpenLayers. It is hosted on a virtual server. Volunteering would involve from a couple of hours committment a week to more depending on interest.

Please help ensure that MountainViews remains the finest hillwalking resource in these islands.
If you think you have at least some of the necessary technical skills and would like a chat without commitment please contact admin -at- mountainviews.ie


Many Thanks


emVee-Tube
Videos this month:


Videography by Peter Walker.


WEBSITE NEWS
---
MountainViews announces "Challenge Walks FAQ"

Find this option here: Challenge Walks FAQ. The intention of this is to provide background on the discipline of challenge walking.


---
MountainViews now has 1500 Summits.
Over the years MountainViews has added hills and mountains. Sometimes in big chunks like say the 100 to 150m prominence hills under 400m we added in 2014. Sometimes one at a time, where members have proposed and we have accepted suggestions, often as a result of "discoveries" on the ground or the map. Corrin in the Nagles Mountains in Cork, near Fermoy, is one that was recently added in the category of "Local, Historical or Cultural" hill.

The addition of this hill has brought the total number of Irish summits we list to a total of 1500 -- not exactly a totally round number, but hey it's still a milestone of sorts. Someone has even put a comment in for Corrin which has a large prehistoric cairn. It is 220m high with an estimated prominence of 40m.

We have various extensions to our lists planned. We hope to add over 500 islands. We hope to add a group of Coastal Summits and then later other coastal features.



---
Coming shortly: Cycling Tracks
MountainViews has had a system for sharing GPS tracks since 2012. Well over 1500 tracks have been shared, probably making MV the largest single source of shared walking tracks for Ireland. The track sharing has taken an automated approach whereby the user can upload a track and have it analysed by day with an automatic assessment of where the dominant activity (walking or running) starts.

However some members use bicycles to provide flexibility for starting and ending. And of course many hillwalkers also are cyclists. (Including your editor). It would be desirable to extend the capability of MountainViews track sharing to include cycle tracks. Our present system relies on an automatic way for telling whether a part of a track is or is not part of the activity or part of travelling to or from it. Easy enough when walkers move at quite different speeds from say cars. Not easy with cyclists! So we need a method of indicating the start and finish of a route.

The feature should come out in the next month or two.


---

Interested in volunteering?

If you have been using the website for a while you will realise that most of the data on it has been voluntarily donated. If you would like to help, then there's many ways. Better comments and photos are always in demand. If you have a GPS then improved summit positions and shared GPS tracks are very welcome.

Elsewhere in this newsletter there is an appeal for further committee members at varying levels of committment.

If you have particular skills in writing perhaps there's plenty of places to contribute.
And then there is the technical end. A website requires a considerable number of skills to make it work from web development, hosting operation and various other forms of stewardship. Some are technical areas some aren't.

Give us a shout at admin@mountainviews.ie if you are interested in discussing some voluntary work.

SUMMITEERS CORNER
A place for those interested in Summiteering, Bagging or Highpointing.
A Guide to Ireland's Mountain Summits - The Vandeleur-Lynams & The Arderins
MountainViews first book available online and in some bookshops. The first reprint with numerous minor amendments is available.


simon3 on A Guide to Irelands Mountain Summits
MountainViews first book available online and in many bookshops.

As members will know, for over a decade, Mountainviews.ie has been providing unique information to hillwalkers on all aspects of exploring and enjoying Ireland's upland areas. It's been a collaborative effort by over 1000 of you, and currently contains over 6000 comments on 1057 mountains and hills on the island of Ireland ... ... Click here ...
Bulk sales to groups such as Scouts/ Guides: contact admin@mountainviews.ie for a discounted price.
The MountainViews ANNUAL, 2015

In February 2016 MountainViews was delighted to announce something new, our first ANNUAL, an online magazine for Hillwalkers in Ireland

This 46 page production is in .pdf format. and will continue to be available here:



Click here for the ANNUAL

(or Hi-res version.)



If you are interested in a printed version you can buy one here. Click Here.
This month.
Kudos to our contributors.
We welcome the following new members who enrolled this month. Adoherty, Annemansfieldrya, aonghusflynn, BarneyH, BNewell, bobbar, breathp, Btburke, Bunsen7, Caoilfionn, Capitals, Carefree, cave-dweller, childminder05, chripell, Cloughbeg, ColnKurtz, Condor, conorshiels, damoireland, darijus1976, dermod98, devereuxpiers1, DianeAut, djgordon, DoctorK, Domhnall, droper, ecorcoran, EimearF, Electricsail, Ellen, eoinmccarthy, ericnagle, Essandrine, FourAcorns, Gduddy, Gedi, ghosica, goldeneagle, granspeden, habanerocat, HeartTrek, holly1, hossaia3, hu-be, ilenia, ImPossible, Jasonw89, Joecoie, joecor8337, John-Maher, jonglien, jpkilkenny, Kateoc, kellep, khamilto, Kierantheyid, kristof.akos, ktulu123, Lee, leem137, liamlang, macrules2010, Macushla, maddog2002, makeye, Malek, Malvinka5555, mariet, markc, Mark_Underwood, Miochain, murrough, Nmg435, ns130291, Outlawjosiewells, PatrickG, PaulDowling, peakrat, pippin, rathdownrover, Rossburke, salford7, sandraprend, sdc, susumcgoo, tombenjr, TriHarder, TrishX, veruch, westguy1, williecronin2005, woodlands (94)

Our contributors to all threads this month: Bunsen7 (1), CaptainVertigo (2), Colin Murphy (1), GSheehy (1), Hilltop-Harrier (1), Jamessheerin (3), Kennyj (1), Onzy (9), Pepe (1), Peter Walker (2), Simon-Glover (1), Ulsterpooka (1), aidand (1), brenno (1), dmallen (1), gerrym (1), Communal summary entries (1), mcrtchly (2), melohara (1), peter1 (1), sandman (6), scannerman (1), simon3 (1), wild_brian (1)
For a fuller list view Community | Recent Contributors

There were comments on the following summits , Aillwee, Bouleevin, Clearagh Hill, Corrin, Cuilkillew, Knockaglana, Knockscagh, Lambay Island, Lugnaquilla, Muckish, Slieve Beagh South East Top, Tawnaghmore, Tonelagee
and these shared tracks Birkhouse Moor, Lake District - Eastern Fells Britain, Cooley/Gullion Ireland, Dublin/Wicklow Ireland, France, Nouvelle-Aquitaine , Hoarstone Edge, Lancashire, Cheshire & the Southern Pennines Britain, Italy, Tuscany , Italy, Tuscany , Italy, Tuscany , Italy, Tuscany , Italy, Tuscany , Italy, Tuscany , Italy, Tuscany , Lingmell, Lake District - Central & Western Fells Britain, Slievenamon, South Midlands Ireland, Sweden, Norrbotten , Tawny Rower, Sheeffry Hills Ireland, Teeromoyle Mountain, Glenbeigh Horseshoe Ireland, The Playbank, Breifne Ireland tracks were created.

Thanks to all 1255 who have ever contributed summits or routes info and forums.

For a full list view Community | Contributors Hall of Fame

Summary. MountainViews now has 8038 comments about 1462 different hills & mountains out of the total in our current full list (1500). We want to get a good gps track showing each of the major ways up every summit in Ireland. If you see an option to add a "Short Summary" then do please consider creating one since another objective is to have a short summary for every summit in Ireland. There's a few (38) opportunities for you to be the first to comment on a summit. We also have around 1500 shared GPS tracks, mostly in Ireland. Apart from a few popular areas, there is a need for more routes in many different areas. Plain shared tracks without descriptions are welcome however if you have time then do please add route descriptions with photos.
NOTICES
Notices
If you are contributing, please be careful to respect the interests of landowners. Suggest access routes well away from houses, gardens or that could conceivably impact farming activities. When walking, keep away from gardens or farm buildings. Use stiles or gates wherever possible. Never do anything that could allow animals to roam where the farmer did not intend. Ask permission where appropriate.
Report suspicious activity to the police forces, as below.
If your car is broken into in an upland area report it to the PSNI or Gardai as this will help them be aware of the issue and tackle it in future. Store the numbers. In Northern Ireland use the PSNI non-emergency number 0845 600 8000. In the Republic you can find the local Garda District HQs phone numbers at www.garda.ie/Stations/Default.aspx. Specifically for the hotspot of Wicklow: the Garda Divisional Headquarters in Bray is 01 6665300.
If you hear of a problem area or route, write it up in MountainViews which does everyone a service.
Report rubbish tipping in the Republic - ring EPA hotline 1850 365 121
Report recreational quads in national park area (in which they are banned). They are also banned in the Mournes. For Wicklow please phone the Duty Ranger: 087-9803899 or the office during office hours Telephone: +353-404-45800. For the Mournes ring the PSNI (as above) or contact Mournes Heritage Trust. Put these numbers in your phone, take regs etc. Let MV know of contact numbers for other areas.
If you have climbed some of the less well known places, we would appreciate a summit rating and also GPS readings for summits.
If we can, let's make MV have more than one route up a summit so as to reduce the tendency for paths to appear. Your grid refs in comments for different starting points show up on MountainViews maps as well as GPS tracks.
MountainViews are on Twitter as MountainViewsIE. Follow us and we will follow you back. Any queries to secretary@mountainviews.ie
Visit the MountainViews Facebook page.
Visit the Challenge Walks Ireland page (jointly managed by MountainViews)
This newsletter
This newsletter
Editor: Simon Stewart, Homepage: www.simonstewart.ie
Assistant editors: Colin Murphy, David Owens
Challenge Info: Jim Holmes
Track reviews: Peter Walker
Book reviews: Conor Murphy, Aidan Dillon, Peter Walker
Videography: Peter Walker
Graphics design advice: madfrankie

Newsletter archive.
View previous newsletters mountainviews.ie/newsletter
RETURNING TO MOUNTAINVIEWS
Click on (If you have cookies on in your browser then you will be prompted as to username/ password. If you forget the password, the login page can email you a replacement.)

UNSUBSCRIBING
If you don't want to receive any further monthly newsletters from Mountain Views click on Settings. Then change the option beside "Include on occasional mailing list" to "Do not include". Then click the "Save" button.
Alternatively let us know by email at admin -at- mountainviews.ie Include the email address you got this at or your screen-name guestuser.