The Summit


Monthly newsletter of MountainViews.ie for guestuser

Mar 2016
NEWS - INFORMATION - RECENT CONTRIBUTIONS - FEATURES - FORUMS
UPCOMING EVENTS
MOUNTAINVIEWS &

WALKERS ASSOCIATION OF IRELAND:
Weds, 9th March 2016 8pm Lenny Antonelli, on Canal Walking

Lenny Antonelli is a journalist and writer whose focus is the outdoors and the environment. He contributes to a variety of national and international publications, and has written for the Irish Times, Sunday Times, The Great Outdoors, Outsider, Sierra and BBC Wildlife, among other publications.
In this talk Lenny will introduce many of the walks that feature in his book East of Ireland Walk - On River & Canal, A Walking Guide, which was published by the Collins Press last year. The author will recount some of the strange and interesting places he encountered during his research for the book as he rambled across less-walked parts of Leinster. He will also show photos and video from his trips, which included camping along the canals, as well as canoe-touring trips on the Barrow and Royal Canal.


Thursday, 14th April 2016 8pm Tom Egan of Bord na Mona on walking at Lough Boora (Co Offaly).


The MOUNTAINVIEWS Gathering took place on Friday, 19th February 2016

John G O'Dwyer, spoke on Pilgrim Paths in Ireland and covered a variety of places such as "Howling Ridge", the Knockmealdowns, Cave Hill, The Comeraghs and William Crotty and the deserted village above Clonmel..

Mike Maunsell of Mountain Research Ireland spoke on our mountain ecosystems which are fragile and highly sensitive to environmental change. Hill-walkers can play a role in gathering important data on mountain environments through mountain based Citizen Science projects.
Other supporting speakers were Peter Walker & Simon Stewart.

The usual annual awards for complieters and contributors took place. There was an attendance of 70 to 80.

More photos.
Meetings are organised by the WAI with the help of the MountainViews committee. Talks are held in the Landsdowne Hotel, 27 - 29 Pembroke Road, Dublin 4 unless otherwise stated. The other events are free to enter with a voluntary collection. Directions here www.lansdownehotel.ie . The excellent bar facilities allow you to have a drink with other hillwalkers after the event. You can get a meal before the meeting also. Should you wish to stay overnight then please consider staying with the Lansdowne.
---
MOUNTAIN MEITHEAL: Mountain Meitheal are keen to find more people to help.
They need help on the following dates: Dublin/Wicklow:
28/02/2016, 12/03/2016, 27/03/2016, 09/04/2016, 24/04/2016, 07/05/2016, 22/05/2016, 04/06/2016, 19/06/2016, 02/07/2016, 17/07/2016, 30/07/2016, 14/08/2016, 27/08/2016, 11/09/2016, 24/09/2016, 09/10/2016, 22/10/2016, 06/11/2016, 20/11/2016
South East, 13/03/2016, 23/04/2016, 22/05/2016, 18/06/2016, 17/07/2016, 13/08/2016, 18/09/2016, 15/10/2016



We publicise Mountain Meitheal because they make practical repairs to some of the more popular areas we walk on, using a voluntary community based approach. (More information at their website.)



Picture of the month
View at the start of track 2945. Lough Annascaul, Central Dingle is bottom right. The high ground to the right leads to Dromavally Mountain, to the left to Knockmulanane by David-Guenot
For original track.

Regions: MOUNTAIN COMMENTS - TRIP REPORTS - TRACKS - SUMMARIES
In short: Discovery
It Arderin Beggars belief...
One of many mountain ranges getting revisits from frustrated Summiteers in the wake of the introduction of the Arderin Begs to the lists are the Bluestacks in Donegal, where Onzy has submitted a track that formerly would have netted you one top, and now gets you four. All the usual disclaimers and advice for this area apply...the walk will be found to be pretty tough going, and you can use it as a template for substantially longer excursions.
Note: As you may know, we recently started improving our shared track display. This is not finished by a long shot, however below shows how you can incorporate photos into a shared track.


Onzy on Bluestacks: 4 Croaghgorms


Main walk Start: 08:49, End: 12:24,

Duration: 3h35m, Length: 10.9km, Ascent: 632m

, Descent: 631m

Places: Start at G953

34

866

37

, Croaghgorm East Top, Croaghgorm, Croaghgorm South-West Top, Croaghgorm Far South-West Top, end at Start

(statistics such as Ascent or Length etc should be regarded as approximate. Duration depends on the speed of the person making the track)


Route taking in Croaghgorm and its three satellite tops, all 3 Arderin Begs!

Parking is a small clearing some 2k along a minor partly surfaced road; the road is pretty rough, but passable (just) in a normal car.

---


NORTH: A nice little extra one to bag
Cullaghacro in the Bluestacks is an easy carn to bag as it's a short easy hop from Silver Hill, and well worth the small extra effort, reports Aidy.

Aidy on Cullaghacro, (Coileach an Chró): Worth Adding To Multi-Summit Walk
My third summit of the day after Binnasruell and Silver Hill, and after months of virtual inactivity over a very wet few months, it had been a harder walk than I'd expected over already difficult ground left sodden over the previous prolonged rains. It had been freezing cold too regardless of the sunny day. Despite it all, it was exhilarating to be out again, and the weather, with sun breaking t ... Click here


NORTH: Over the boardwalk...
With apologies to the linguists among you, Cuilcagh, always a unique summit in the Irish scheme of things has just become more so, acquiring as it has a huge line of duckboarding on the traditional northern approach. Whether this is a) a good thing, or b) a portent of the Apocalypse, depends on your point of view, but an open-minded trailtrekker has braved the snow and possibility of getting a splinter in his boots to sample it for himself. He has come away reasonably impressed so repeat ascentionists should prepare themselves to be not as outraged as they might have thought. (But they'd be advised to throw in the boat trip into the Marble Arch Caves, just to be on the safe side).

Trailtrekker on The Cuilcagh Boardwalk Route! - Out and Back
Like it or loathe it (I dare say there are few who would go as far as love) the Cuilcagh boardwalk is there. So on a sno| walk, Len: 13.5km, Climb: 495m, Area: Breifne (Ireland) Cuilcagh Click here


NORTH: Silver is pure gold.
It may have been freezing and wet, but the magnificent Silver Hill in the Bluestacks, seen on a bright winter's day made it all worthwhile, says Aidy.

Aidy on Silver Hill, (Cruach an Airgid): Cold And Wet But Wouldn't Have Missed It
It was my first reasonably long walk in months due to an unbelievably wet winter - some weekends it wasn't even possible to get to the mountains because of flooded roads and closed bridges! I approached via Silver Hill (see that summit comment for first part of route), and despite the sunny conditions, the damage had been done as regards wet ground. I'd nearly decided to call it a day on that fi ... Click here


NORTH: The longest name for a mountain on the island?
Ardloughnabrackbaddy in the Derryveagh Mountains, at 20 letters can surely claim the longest name status, and it's a worthwhile diversion when doing the Aghlas, says Harry Goodman.

Harry Goodman on Ardloughnabrackbaddy, (Ard Loch na mBreac Beadaí): A worthwhile diversion
Having noted by vikinghar's comments that this top in walking terms is hardly worth the "bagging" and having also noted at the same time the high rating given to it by members of mv's I thought I should go and have a look for myself and make up my own mind. As I was in the Derryveagh Mts for a walking week-end with my Club and as one of my planned walks was to go from Muckish Gap to Altan Lough ... Click here


WEST: Windfarms and fences
Knocknalee in Galway is a boggy, bleak hill and offers no great challenge, reports eamonoc, and the addition of a new fence and a windfarm don't help.

eamonoc on Knocknalee, (Cnocán na Lao): Fencing a way to the Top
11/2/2016, Started at M091 379 at forest entrance, weather was very foggy with limited visibility. Walked on forest track for about 200mts, then crossed fence and keeping the forest on my right made my way over very rough wet ground to a tiny Lochan at M09879 36874, at the southern tip of the Lough, a newly constructed wire fence can be followed over wet and boggy ground all the way to the summit ... Click here


WEST: All or Nephin
Despite its mammoth bulk Nephin has conspired to be something bordering on an enigma, with the vast majority of pedestrians making the ascent from the south-west. Lately several other routes have been more extensively publicized, and andy13460 has submitted one of them in GPX form together with some helpful notes on access. This is very much a half-day excursion, and summiteers might wish to spend the rest of the day picking off some of the lower summits hereabouts, or perhaps if daylight allows venture into the spectacular Nephin Begs to the west.

Andy13460 on Easterly route up Nephin.
This route comes up from the Pump House Road.East view of Nephin. The route starts up a private road which is access for| walk, Len: 6.1km, Climb: 730m, Area: Nephin, North Mayo (Ireland) Nephin Click here


WEST: A welcome new boardwalk - perhaps?
Anyone who's climbed the treacherously boggy Moylussa, in Clare's Slieve Bernaghs, will envy present day ascenders' shiny new boardwalk to the top, reports tony_limerick.

tony_limerick on Moylussa: New boardwalk to summit
I hiked Moylussa on a snowy Saturday(16/01/2016) with my son Darragh(plus Buddy the dog) and was delighted to find that a boardwalk has been constructed from the end of the rocky path, across the bog to the summit stone. I don't know which organisation is responsible for this magnificent work but anyone who has previously crossed this quagmire will appreciate this facility immensely ! We took ... Click here




Featured summit comment


A great way to introduce your family to hill walking
DavidjWalsh

Djouce Mountain offers a great way to introduce your family to hill walking. There are two car park areas on the R759 to set off from. For families with really young kids even a short 10 minute walk up to the JB Malone memorial (Large boulder rock) offers beautiful views of Lough Tay and the surrounding areas. After the memorial the walk continues on railway sleepers and does not gain or lose major height until you get to a forested area with a wooden step over. This is a perfect spot to stop for a picnic. Kids as young as 3 have comfortably made it to this point and had enough in the tank for the return journey. At this point you are ¼ way to the summit, for families with older kids you can continue on the Wicklow way until you get to a point where the path splits right (east) and the summit is straight on.
While this is a comfortable introductory hike with clear paths the weather can still turn very quickly with heavy mist making visibility and navigation difficult, please make sure you have and can use a compass and OS map no 56. Enjoy a wonderful hike.

The photo is taken from the JB Malone memorial view point with Lough Tay in the background.
---

SOUTH: The Famished Road
Hungry Hill is one of Ireland's most rugged and deeply uncompromising summits, defended as it is by countless benches of rock all perfectly perpendicular to the line that the hapless walker would ideally like to be following. Starting from the top of the Healy Pass road as Onzy has done provides you with a smidge of additional altitude but it does also provide a fair amount of up and down along a blunt knobbly ridge that's challenging (shall we say) in mist. Tricky to link to other summits without transport too, but still highly recommended.
Onzy on Hungry Hill from Healy Pass
Route from Healy Pass to Hungry Hill, taking in Coombane (almost an Arderin Beg!) and Derryclancy.| walk, Len: 11.6km, Climb: 710m, Area: Derryclancy, Caha Mountains (Ireland) Derryclancy, Hungry Hil Click here


SOUTH: The Auld Triangle
Cnoc Íochtair presents a beautiful triangular aspect when seen from the south west, reports David-Guenot.

David-Guenot on Cnoc Íochtair: The Old Triangle.
While starting ascending Caher W Top (in May 2015) on my way to complete the Coomloughra Horseshoe, I noticed that Cnoc Iochtair shows a delightful triangular face, but this impression disappears as you get higher. This summit has great views as it stands at the end of the ridge. The ascent is quite short if you are coming from Skregmore. As I wanted to avoid difficult terrain in the descent, I ch ... Click here


SOUTH: Not the worst view in the Reeks…
Even in mid winter, Skregmore in Kerry offers spectacular views across to Caher, reports David-Guenot.

David-Guenot on Skregmore, (Screig Mhór): Not the worst views of the Reeks !!
Despite being overshadowed by its big sisters, Skregmore has some great views to offer. Thought I should share this pic I took in May 2015, as I was walking the Coomloughra Horseshoe anticlockwise, under absolutely perfect weather conditions. One can even see Mullaghanattin and Beann to the right of the picture. Click here


EAST: The Sound of the Suburbs
One of Ireland's most frequently accidentally summitted tops must be Killiney Hill, lying as it does in a prime location for afternoon strolling in the south Dublin suburbs. dmallen has taken it upon himself to submit a somewhat indirect approach, visiting the Joyce Museum and Dalkey Quarry on the way. It's more of a municipal park than proper hillwalking, but the views are very nice and it's one of MV's most comically easy ticks...extending it on foot to any other top on the lists would be a comical contrivance that this author would heartily encourage.
dmallen on dunlaoghaire/killiney
nice walk from dunlaohaire to killiney and back. takes in Joyce Museum , killiney and quarry and returns by the metals. | walk, Len: 12.7km, Climb: 372m, Area: Killiney Hill, Dublin/Wicklow (Ireland) Click here


EAST: A great way to introduce your family to hill walking
So says DavidJWalsh of Djouce in Wicklow, whose well-trodden paths offer a multitude of walks of varying degrees of easiness!

DavidjWalsh on Djouce, (Dioghais): A great way to introduce your family to hill walking
Djouce Mountain offers a great way to introduce your family to hill walking. There are two car park areas on the R759 to set off from. For families with really young kids even a short 10 minute walk up to the JB Malone memorial (Large boulder rock) offers beautiful views of Lough Tay and the surrounding areas. After the memorial the walk continues on railway sleepers and does not gain or lose ma ... Click here


EAST: The Holy Snowshoes of St Kevin
Undeterred by the wintry conditions underfoot (but I would imagine inspired by the relative quiet found on this normally rather busy route) on an early January weekday osullivanm has uploaded a variation on the classic circuit of Glendalough. This is a decent day's hillwalking at any time of year, but it becomes a full day with attendant extra navigational chores when you can't see the paths properly. The itinerary here could easily be augmented by three extra summits before the final descent.
osullivanm on Glendalough Circuit
Access via Fern Path to Camaderry and descent via Wicklow Way. Completed in very difficult snowy conditions. Normally wo| walk, Len: 20.4km, Climb: 773m, Area: Camaderry South East Top, Dublin/Wicklow Click here


EAST: The walk that never was…
Madfrankie theorises an imaginary ascent up Croghan Kinsella in Wicklow, not that he would ever dream of crossing an off-limits wind farm to reach the summit!

madfrankie on Croghan Kinsella East Top, (Cruachán soir barr): A Walk That Never Happened...
On arriving at the entrance to Raheenleagh Forest at T1529471417 you will be confronted by security fences and signs giving notice of wind turbine construction, off-limits to the public. However, I could imagine a scenario whereby you might choose to hop over a ditch adjacent to the barriers, and furtively walk up the forest track, hoping to avoid security personnel. Using your GPS, you might th ... Click here


MIDLANDS: Little flavour to this corn.
Just nine minutes to the top and limited views mean Corn Hill in Longford won't be to everyone's taste, reports mazamegaza.

mazamegaza on Corn Hill, (Carn Clainne Aodha): Longford County Top
We walked up to Corn Hill as part of our County Top Odyssey and afterwards drove over to Westmeath to walk up Mullaghmeen. Once we had found the grey metal gate on the service road to the mast at the top of corn hill, it took 9 minutes to dander up to the top. There is a trig and the trees obscure some of the view. Click here


MIDLANDS:A walk in the woods
A county highpoint, Mullaghmeen in Westmeath boasts a magnificent walk along well-kept paths through a beech forest, says mazamegaza.

mazamegaza on Mullaghmeen, (Mullach Mín): Westmeath County Top
After a dander up Corn Hill we tried to find Mullaghmeen as part of our County top odyssey and even armed with maps we had a struggle but its worth the effort! The beech forest is beautiful, even in February. Beech are not native and their large canopy restricts the growth of local fauna but putting that aside, its a lovely walk. There are path maps in the car park and i would recommend printing ... Click here


Sorry if we didn't mention what you posted .. there's a list of all contributors for the month later.
MOTLEY GATHERING
Mountaineering Ireland AGM
The Clare Outdoor Club will host the Mountaineering 2016 Spring Gathering. The event will take place over the weekend of the 4th to 6th March at the Hydro Hotel, Lisdoonvarna, Co Clare.
Click here for information

Boardwalk litigation.
Take a look at the featured summit earlier and you can see a bit of the boardwalk at issue here.

Trailtrekker on She Wants to Ruin it for us All!
Teresa Wall of Rathingle Cottages, Swords is suing the Irish National Parks and Wildlife Service (NPWS) for €60,000 in damages following a fall on the Wicklow Way!! Full report here, I'm too angry to say anything more!!! http://www.irishtimes.com/news/crime-and-law/courts/circuit-court/dublin-woman-sues-parks-service-over-fall-on-wicklow-way-1.2519391 Click here


Let's support Mountaineering Ireland in making our voices heard to canvassers.
This piece describes some proposed points to raise with canvassers in the Republic's election. While the timing of our newsletter is a bit late for this item for this particular election, it's worth considering for the future.
(Assume little or no knowledge on the part of party representatives. I spoke to one Fianna Fail person who wasn't aware of the arguably pretty good record of his own party member Ó Cuiv in relation to agreeing access. At this and future elections, north or south, it's a very good idea to raise issues about supporting walking - the largest participatory exercise activity in Ireland, hillwalking, access and upland maintenance.)
Click here for suggestions



MountainViews Gathering 2016: Photos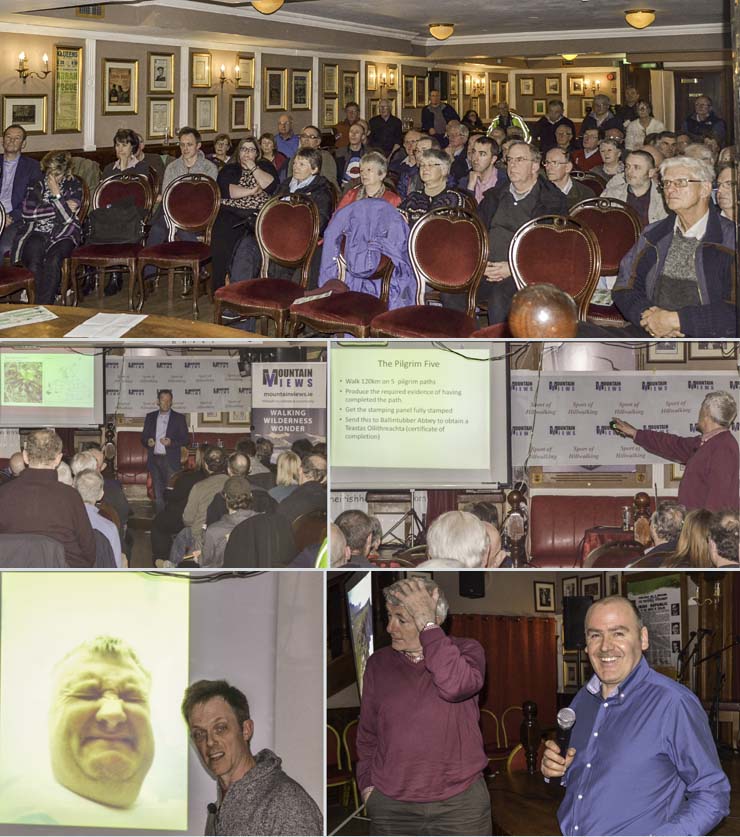 Top: General View of the audience, Row 2: Mike Maunsell of Mountain Research Ireland, John G O'Dwyer on certificate for completing pilgrim paths, Row 3: Peter Walker, Mark Brennan, MountainViews Secretary introducing the meeting (John G O'Dwyer to left),
---
Awardees pictures:


Click on the montage above for a more detailed view.

CHALLENGE
A place for those interested in Challenge Walks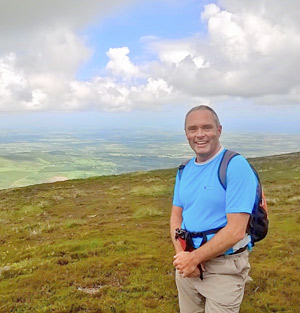 Jim Holmes

Challenge Walk Calendar March 2016

March seems to arrive earlier each year (yes March, can you believe it??) and with its arrival comes the herald of the first of the seasons' walks within the Challenge Walk Calendar!

Galtee Walking Club commence the year's walking with the Slivenamuck marathon, then the following week the beautiful Nire Valley calls out to all to participate in the well established Comeragh Bog Trot.

The onset of March also means in real terms that there is now barely five weeks until Peaks mountaineering club invite the ever-eager Irish Challenge Walker down to the beautiful Knockmealdowns.

As these three walks tend to be the first outings of the season . . . these walks are always accompanied by some extra "mid-rift buoyancy" let alone cob-webs!! It's early too. This means everything within the weather spectrum is very possible! But Challenge Hillwalking demands a thorough respect and awareness of anything that may be thrown at the walker on any given day. But as always Peaks Mountaineering, Nire Valley and Galtee Walking Clubs will have gone to great strides to cover all bases and ensure all enjoy their return to the Challenge Walk Calendar. . . .

So no doubt it is with great anticipation that we wax-up the booties and air-out the raingear. . . now that the season is upon us (in all its bogtrotting glory).

Looking forward to seeing how the respective Hillwalking Clubs continue to build on their own successes of great Challenge Walks that take us to the furthest reaches of our fair isle . . . be sure to support a local Challenge Walk near you!

-- Jim Holmes.

The Challenge Walk Calendar


The MountainViews ANNUAL, 2015

In February 2016 MountainViews was delighted to announce something new, our first ANNUAL, an online magazine for Hillwalkers in Ireland

This 46 page production is in .pdf format. and will continue to be available here:



Click here for the ANNUAL

(or Hi-res version.)



If you are interested in a printed version you can buy one here. Click Here.
emVee-Tube
Videos this month:


Videography by Peter Walker.


WEBSITE NEWS

Interested in programming or other development?

MountainViews could use help from software developers who are also interested in walking/ hillwalking. Give us a shout (no committment) if you would like to discuss admin@mountainviews.ie
There's quite a few areas of varying degrees of skill level that would be valuable ranging from Content Management (not programming!), through html, web, photo, back-end technologies. Mostly we are using open source tech. An interest in innovation in hillwalking would be of great value.

SUMMITEERS CORNER
A place for those interested in Summiteering, Bagging or Highpointing.
A Guide to Ireland's Mountain Summits - The Vandeleur-Lynams & The Arderins
MountainViews first book available online and in some bookshops. The first reprint with numerous minor amendments is available.


simon3 on A Guide to Irelands Mountain Summits
MountainViews first book available online and in many bookshops.

As members will know, for over a decade, Mountainviews.ie has been providing unique information to hillwalkers on all aspects of exploring and enjoying Ireland's upland areas. It's been a collaborative effort by over 1000 of you, and currently contains over 6000 comments on 1057 mountains and hills on the island of Ireland ... Click here
Bulk sales to groups such as Scouts/ Guides: contact admin@mountainviews.ie for a discounted price.
This month.
Kudos to our contributors.
We welcome the following new members who enrolled this month. 21j, ballysarah, Beckenham, BrassDev, caseyc481, Chooyo, ckmj, climberboy, cohf88, Danger, Davidcardiff, DavidjWalsh, decod1000, fh-4-hills, Fritzpa, Granto97, hunter321, jackosix, jimholland, Justus, m1han1c, Macca1966, Mac_Uchta, Manthey, michellemcdee, Mo51, Rainbow, Robbiebc, romurchadha, sean4de, sheilamccarthy, slowwalker, snoozeeq, sp.osullivan, sperrins, stang, stranaclea63, tom.k.regan, traditional82, uichiardhas (40)

Our contributors to all threads this month: Aidy (4), Buny Clare (1), CaptainVertigo (3), David-Guenot (1), DavidjWalsh (2), Harry Goodman (1), Jim Holmes (2), Onzy (6), Peter Walker (2), Trailtrekker (2), conormcbandon (1), doniem (1), eamonoc (1), Communal summary entries (2), jackill (1), liz50 (2), madfrankie (1), mazamegaza (2), wicklore (1)
For a fuller list view Community | Recent Contributors

There were comments on the following summits Ardloughnabrackbaddy, Binnasruell, Cnocán na Lao, Corn Hill, Cullaghacro, Djouce, Kells Mountain, Knocknadobar, Lugnaquilla, Mullaghmeen, Silver Hill, Slieve Elva
and these shared tracks Benagh, Brandon Group Ireland, Benagh, Brandon Group Ireland, Bunnanimma, North Midlands Ireland, Crohan West, Knockmealdown Mountains Ireland, Derryclancy, Caha Mountains Ireland, Dooish South-West Top, Donegal NW Ireland, Foilastookeen, Shehy/Knockboy Ireland, Seefin, Comeragh Mountains Ireland, Slieve Bloom Ireland tracks were created.

Thanks to all 1228 who have ever contributed summits or routes info and forums.

For a full list view Community | Contributors Hall of Fame

Summary. MountainViews now has 7826 comments about 1425 different hills & mountains out of the total in our current full list (1496). We want to get a good gps track showing each of the major ways up every summit in Ireland. If you see an option to add a "Short Summary" then do please consider creating one since another objective is to have a short summary for every summit in Ireland. There's a few (71) opportunities for you to be the first to comment on a summit. We also have around 1500 shared GPS tracks, mostly in Ireland. Apart from a few popular areas, there is a need for more routes in many different areas. Plain shared tracks without descriptions are welcome however if you have time then do please add route descriptions with photos.
NOTICES
Notices
If you are contributing, please be careful to respect the interests of landowners. Suggest access routes well away from houses, gardens or that could conceivably impact farming activities. When walking, keep away from gardens or farm buildings. Use stiles or gates wherever possible. Never do anything that could allow animals to roam where the farmer did not intend. Ask permission where appropriate.
Report suspicious activity to the police forces, as below.
If your car is broken into in an upland area report it to the PSNI or Gardai as this will help them be aware of the issue and tackle it in future. Store the numbers. In Northern Ireland use the PSNI non-emergency number 0845 600 8000. In the Republic you can find the local Garda District HQs phone numbers at www.garda.ie/Stations/Default.aspx. Specifically for the hotspot of Wicklow: the Garda Divisional Headquarters in Bray is 01 6665300.
If you hear of a problem area or route, write it up in MountainViews which does everyone a service.
Report rubbish tipping in the Republic - ring EPA hotline 1850 365 121
Report quads in national park area (in which they are banned). For Wicklow please phone the Duty Ranger: 087-9803899 or the office during office hours Telephone: +353-404-45800. Put these numbers in your phone, take regs etc. Let MV know of contact numbers for other areas.
If you have climbed some of the less well known places, we would appreciate a summit rating and also GPS readings for summits.
If we can, let's make MV have more than one route up a summit so as to reduce the tendency for paths to appear. Your grid refs in comments for different starting points show up on MountainViews maps as well as GPS tracks.
MountainViews are on Twitter as MountainViewsIE. Follow us and we will follow you back. Any queries to secretary@mountainviews.ie
Visit the MountainViews Facebook page.
This newsletter
This newsletter
Editor: Simon Stewart, Homepage: www.simonstewart.ie
Assistant editors: Colin Murphy, David Owens
Challenge Info: Jim Holmes
Track reviews: Peter Walker
Book reviews: Conor Murphy, Aidan Dillon, Peter Walker
Videography: Peter Walker
Graphics design advice: madfrankie

Newsletter archive.
View previous newsletters mountainviews.ie/newsletter
RETURNING TO MOUNTAINVIEWS
Click on (If you have cookies on in your browser then you will be prompted as to username/ password. If you forget the password, the login page can email you a replacement.)

UNSUBSCRIBING
If you don't want to receive any further monthly newsletters from Mountain Views click on Settings. Then change the option beside "Include on occasional mailing list" to "Do not include". Then click the "Save" button.
Alternatively let us know by email at admin -at- mountainviews.ie Include the email address you got this at or your screen-name guestuser.