The Summit


Monthly newsletter of MountainViews.ie for guestuser

Jan 2016
NEWS - INFORMATION - RECENT CONTRIBUTIONS - FEATURES - FORUMS
UPCOMING EVENTS
WALKERS ASSOCIATION OF IRELAND:
The MOUNTAINVIEWS Gathering will take place on Friday, 19th February 2016 in the Lansdowne Hotel, Dublin 4. 7:30pm.
John G O'Dwyer, who has written on Pilgrim Paths in Ireland and has an occasional column in the Irish Times will speak on Stories from the Irish Landscape.
Mike Maunsell of Mountain Research Ireland will also speak.
Other supporting speakers will be Peter Walker & Simon Stewart.
The usual annual awards for complieters and contributors will take place.



March, 2016. (Provisional) Lenny Antonelli on Canal Walks.

April, 2016. (Provisional) Tom Egan on Tracks & Trails at Lough Boora.
Meetings are organised by the WAI with the help of the MountainViews committee. Talks are held in the Landsdowne Hotel, 27 - 29 Pembroke Road, Dublin 4 unless otherwise stated. For the Gathering there is a charge. The other events are free to enter with a voluntary collection. Directions here www.lansdownehotel.ie . The excellent bar facilities allow you to have a drink with other hillwalkers after the event. You can get a meal before the meeting also. Should you wish to stay overnight then please consider staying with the Lansdowne.
---
MOUNTAIN MEITHEAL: Mountain Meitheal are keen to find more people to help.
We publicise Mountain Meitheal because they make practical repairs to some of the more popular areas we walk on, using a voluntary community based approach. (More information at their website.)
Regions: MOUNTAIN COMMENTS - TRIP REPORTS - TRACKS - SUMMARIES
In short: Discovery
Featured track report
Caoinkeen Afro

North and east (and indeed west, if you're being honest) of Knockboy lies a large tract of wilderness ill-served by a spindly network of rickety roads. This month's featured track from thomas_g serves as a relatively brief sample of this fascinating area, including a girdle of remote Lough Nambrackderg, some scrambling and an ascent of the recently listed Arderin Beg of Caoinkeen South-East Top. The accompanying notes give some good tactical advice and the photos communicate the ground to be covered well. Those interested in the higher summit of Caoinkeen are referred to mvtrack3037.
Note: As you may know, we recently started improving our shared track display. This is not finished by a long shot, however below shows how you can incorporate photos into a shared track.

thomas_g on A quick circuit of Lough Nambrackderg


Main walk Start: 11:43, End: 14:49,

Duration: 3h 5m, Length: 5.1km, Ascent: 319m

, Descent: 326m

Places: Start at W039

17

648

73

, Caoinkeen South-East Top, end at Start

(statistics such as Ascent or Length etc should be regarded as approximate. Duration depends on the speed of the person making the track)



This route starts at the highest point of the road above the Borlin valley.
There is a well used track down to close to Lough Nambrackderg, following the shoreline it's possible to get around a new fence by walking out into the lake on some stones, this is preferable to trying to climb the fence which is high and would easily be damaged by climbing over it. There are stiles for the other fences on the walk so perhaps one will be placed here too.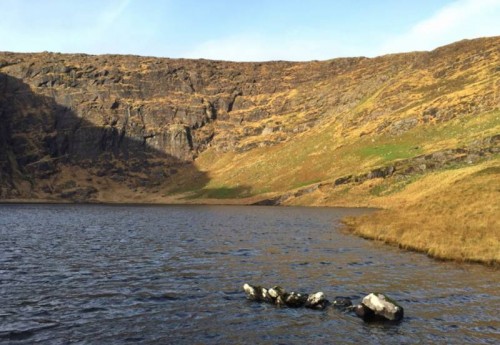 Lough Nambrackderg



You can see a short detour on the south side of Nambrackderg, this is a track which leads up to a very usable grassy gully.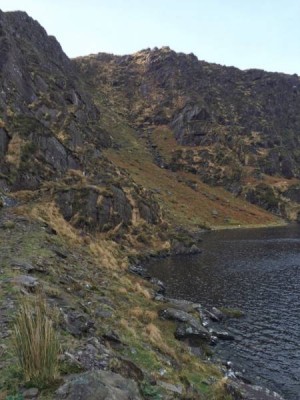 The grassy gully, it's steeper than it looks


On this occasion I decided to tackle the spur between Lough Nambrackderg and Lough Beg, which is a good scramble with some unprotected moves and quite slippery in spots (not surprising given the 150mm of rain in the past 2 weeks).
Neither the gully or the spur shown on this track are suitable for people without scrambling experience, if you'd like an easier ascent or are with a mixed group, I'd suggest the spur to the south of Lough beg.

Looking back down the spur towards the lakes.

There are a few rock steps which can be outflanked if required. Eventually the spur deposits you in a flattish area where there is a fence to follow in the direction of Caoinkeen SE. Once there, there are a few candidates for the summit proper.
It would be a straightforward walk over to Caoinkeen top, but on this occasion I decided to head back for the car instead.
The route from the summit passes a small tarn which is surrounded by a fence and leads to a small lake at 559m.
From here you can take the scenic route like I did to get views to the valley to the north and Lake Nambrackderg, or take the direct route down the spur.
Like the ascent, there are some rock steps to work around, but there is a helpful fence to lead the way (although not always the easiest way): I suggest you choose your own route down - it's more fun and will stop a permanent track being made.
I was a bit dissapointed to see vehicle tracks in places, it somewhat spoils the lovely sense of isolation one gets in this area.
The fence leads to the road just a few 100 metres from the car. It's worth noting that I was really taking my time, you could probably knock an hour off this time if you were in a rush.

---


NORTH: Hill of Faughart: "New" hill, much history.
Member Trailtrekker excelled himself on this one. First he suggested the summit by way of MV's "Propose Places Database Change". After this was accepted as a Local, Historical and Cultural hill he has gone on to describe the summit area. The notes on the summit show what a turbulent past it has had. This extends right up to modern times such as "The first body of one of the disappeared was returned at this hill, that of Eamonn Molloy on 25th May 1999." Its earlier history reads like something out of Game of Thrones or is it the other way. An interesting place to visit in north Louth very near the border.

Over 200 changes to basic summit information were proposed (nearly all accepted) during 2015 over 20 of which were new summits. You can propose any change yourself. Anything from alternative names to the proper county or Mountain Area / Subarea or the height.

Trailtrekker on Hill of Faughart, (Focherd): Birthplace of a Patron Saint & Resting Place of a High King
The summit of this hugely historical hill is the top of a large Norman Motte and Bailey, which was built over a much earlier earthworks . This is on private land off a narrow road, with the nearest parking back at the old graveyard. But it is back at the graveyard where you can view most of what this hill has to offer. Getting it's name as gaeilge "Focherd", meaning the good cast, from a feat tha ... Click here


NORTH: Bird's eye view in the Mournes
Wet and slippery it may be, but the ascent of Slieve Commedagh in the Mournes rewarded simongray12190 with sightings of a peregrin falcon and spectacular scenery.

simongray12190 on Slieve Commedagh, (Sliabh Coimhéideach): Steep and slippy but great views!
I started off from the car park on the Trassey road at J3107 3143 and headed through the forest along the Trassey track which then opens up and follows the Trassey river with amazing views of Bearnaghs torrs and the western slopes of Meelmore. When the trassey track heads off to the SW at the head of the valley (J3181 2913) I headed SE towards the saddle between Bearnagh and Slievenaglogh known as ... Click here


NORTH: Spectacular Goles
If you're a huge fan of Christmas puddings then there are few more appropriate hill ranges in Ireland than the Sperrins, where you can traipse over uplands that resemble soggy festive desserts all year round. ulsterpooka's circuit from the bridge on the Goles Road is as decent an example of a medium-length walk as you could find hereabouts, with tough going over six summits largely following the fences that are almost as emblematic of the range as the bogs and the knee-deep vegetation. The final gap between Crockbrack and Mullaghsallagh is especially entertaining, seeing as it involves dropping down to a valley floor and climbing back out again...all good character-building stuff.
Ulsterpooka on Goles 20km loop walk in the Sperrin Mountain Range
Goles Bridge loop walk in the Sperrin mountain range 20km approx over 6 MV summits| walk, Len: 15.9km, Climb: 714m, Area: Mullaghsallagh, Sperrin Mountains (Ireland) Mullaghsallagh, Crockbrack, Spelh Click here


NORTH: Where eagles dare
Eagles Rock in the Cooleys is an impressive formation reports Hivisibility, but can be very dangerous especially in wet conditions.

hivisibility on The Eagles Rock: Slippery when wet!
I took this snap looking back at Eagle's Rock while heading towards Slieve Foye's NW top. Om approaching from Raven's Rock summit you descend from the Eagle down the small cleft you can see towards the right of the rock formation. If you want to claim the summit a bit of a scramble is involved to attain the peak, but care should be taken if the surface is wet or there are strong winds to counter, ... Click here


WEST: Nun Shall Pass
Place-to-place frolics from Connemara now, as heldon submits a track crossing the less frequented part of the Twelve Bens area, climbing over the twin summits of Garraun and skirting the substantial mass of Doughruagh and passing the famous monastic community at Kylemore. The route largely follows an old track over the higher ground, and there are possibilities to add at least five further tops to the walk without too much diversion.
heldon on Garraun, the old path from Lettergesh to Kylemore, Currywongaun
Great views on this walk from Lough Fee to Garraun, then around Doughruagh on the old track from Lettergesh to Kylemore,| walk, Len: 11.0km, Climb: 666m, Area: Garraun, Twelve Bens (Ireland) Garraun, Click here


WEST: A dry run – for a change.
Walkers ascending Annatoran in the Ox Mountains usually tell soggy tales of sodden ground and sloshing through mud. Gerrym has a rare dry and pleasant ascent.

gerrym on Annatoran: Dry is Best!
Start at the incredibly scenic carpark at the northern end of Easky Lough (44905 23723). Climb past the quarried area next to the carpark to reach a fence which finds the Sruffaungarve river. This provides a line of ascent on mostly easy grassy ground beside the river, negotiating between boulders on the way. Great views over Easky Lough soon appear and views beyond to the bigger hills of Mayo ... Click here


WEST: Glory Ox
The Ox Mountains squat in a slightly sulky fashion to the south-west of Sligo town, deeply cogniscent of the fact that much more attractive hills are rearing up close by. Undeterred, mountainmike has uploaded a traverse of the eastern end of the range from Doomore to Cloonagh, and he has included copious notes both with his track and with his comment on the former summit. The intrigued should note the need for transport to the start or from the end, and the determined could keep going across the higher reaches of the range.
mountainmike on Eastern Ox Mountains Traverse - Glenwood to Ladies Brae
Eastern Ox Mountains Traverse - Point-to-point Hike. Started at Glenwood CP, headed west through the forestry and then s| walk, Len: 11.5km, Climb: 659m, Area: Doomore, Ox Mountains (Ireland) Doomore Click here




Featured track report (Number 2)
Natural Bluestacks


The Bluestacks rear up in a distinctly uncompromising manner from the deep gash in the landscape carrying the N15 to Donegal town, but this throughfare provides one of the more convenient starting points for a group usually necessitating awkward drives along very minor roads. simon3 has raided his archives for a fine traverse from this direction, taking in five (and possibly one or two more with diversions) summits and an awful lot of ground that's tough underfoot and very entertaining when the mist is down.

simon3 on SE Bluestacks from Barne's Bridge


Main walk Start: 10:48, End: 16:53,

Duration: 6h 5m, Length: 15.3km, Ascent: 642m

, Descent: 638m

Places: Start at H042

42

874

05

, Croaghbrack, Cloghervaddy, Brown's Hill, Croaghnageer North-East Top, Croaghnageer, end at Start

(statistics such as Ascent or Length etc should be regarded as approximate. Duration depends on the speed of the person making the track)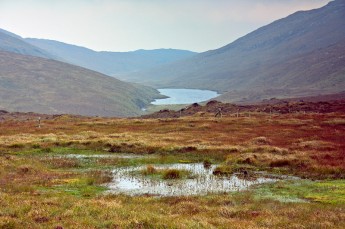 Barnes Lough from the east.

One wettish September day we visited the SE corner of the Bluestacks starting from Barne's Bridge on the N15 Ballybofey to Donegal Town road. There was reasonable parking and a forest road that lead invitingly into the mountains.
When you leave the forest road you are in a wild area and the day we did it the mist was off the first couple of summits but all the higher ground required continuous navigation.
An initial and a finishing sight was that of Barne's Lough, part of the Barne's River.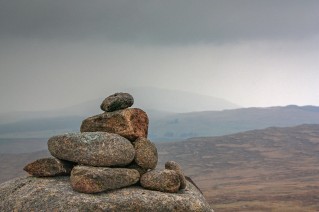 Cloghervaddy Cairn.

Approaching Cloghervaddy after Croaghbrack you are in a truly wild, trackless area without any sign of the built environment.
Looking at the route on the modern MV map I see we didn't visit Croaghnageer NE or Croaghnageer E both of which were only added in 2015.
I remember well the approach to Croaghnageer with a 20m mist. The area is relatively flat with various small ridges at odd confusing angles. Where is the highest point - is it there along that ridge or there beside that rising shape through the cloud? Although many summits by then had been positioned by MV members, I didn't know whether Croaghnageer was one of them. It was with some pleasure that I found the GPS position to be accurate to within a metre or two - it had indeed been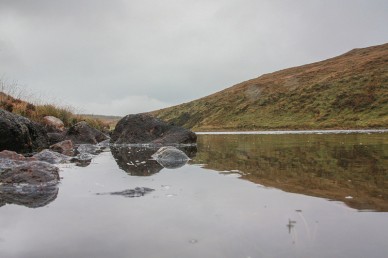 Barne's Lough: in reflection.

measured by a member (eflanaga) some time before. As developer of the website it's great to see the practical value of technology and community coming together. (Too techy for you? I really don't give a s**t)
The mist conditions were such that photography wasn't possible, not until we got right back to Barne's Lough was it possible to get the camera out with any hope of getting a shot. Even then I note the picture has clear signs of water droplets on it. All in all, a great short walk.

---

SOUTH: Stunning vista in Cork.
Some rare December blue sky affords Thomas_g the chance to snap some spectacular scenery on Coainkeen SE Top in Shehy/Knockboy.

thomas_g on Caoinkeen South-East Top, (An Caincín barr soir ó dheas): Scrambled legs
Onzy's comment had reminded me that I'd been meaning to do the circuit of Lough Nambrackderg for some time. One route up is the spur between Lough Nambrackderg and Lough Beg which is a good scramble, with a few unprotected moves on slippery rock. Other options from this side are the gully on the south side of Lough Nambrackderg which looked easy enough as gully climbs go and possibly the easies ... Click here


SOUTH: The four tops are a big hit.
Beenatoor in Central Dingle is the last stop on an excellent, four top trek, providing mountain, valley and sea views, recounts ahogan.

ahogan on Beenatoor, (Binn an Tuair): A Worthwhile Detour
Having visited Stradbally mountain and Beensokee (see my comments on these summits or track 3158 for the other parts of the route), we tacked on this detour to Beenatoor before heading back over Coombane. From the summit of Beenoskee, the initial descent (head southwest to avoid the steepest ground on the northern side) is steep with loose rocks underfoot at times, before changing to flatter and w ... Click here


EAST:A pleasant stroll
The Fern Path makes for a relatively easy trek up Camaderry SE Top in Wicklow, says Simon 3.

simon3 on Camaderry South East Top: The Fern Path.
It is pleasant to walk up Camaderry from the East along the Fern Path. Here is a picture of the path after it has emerged from the trees and meanders through the ferns along the eastern spur of the mountain. The bulk of Camaderry SE in this picture is hidden under the clouds. The picture was taken from the west side of Moneystown Hill and the buildings to the left are on the northern end of T ... Click here


SCOTLAND: The Best That You Can Do
Edinburgh is a marvellous city for the visitor, a place where a vast amount of history is stained into the dark volcanic rock. It's also a place where you always seem to be walking uphill, and so it was that a slightly hungover track reviewer spent the morning after a friend's 40th birthday party climbing the highest of the Burgh's legendary (but actually quite lazily identified) Seven Hills. Arthur's Seat is an excellent shortish walk starting from Holyrood Park and reaching the top along the dramatic crest of Salisbury Crags. This whole area has a very genuine municipal park vibe to it and can largely be explored at random if you avoid the obvious excessively steep ground.

Peter Walker on Arthur's Seat
A serial murder of crowsThis is a walk admirably suited to the morning after the night before, and indeed those are the | walk, Len: 4.5km, Climb: 285m, Area: Arthur's Seat, Firth of Forth to the Rive Click here


Sorry if we didn't mention what you posted .. there's a list of all contributors for the month later.
MOTLEY GATHERING

The MountainViews.ie ANNUAL

The MountainViews Committee has decided to bring out a magazine-style Annual shortly. It will be something to reflect and celebrate the contributions for 2015. It will be something for the Sport of Hillwalking in Ireland. Member madfrankie will be putting this together and he promises an interesting mix of articles. Plans include:

Articles on places such as Slieve Carr
Walking in Greenland
Island Walking
The Hillwalkers Quiz
Gallery - Over 500 photos were uploaded to MV in 2015, this will be a selection.
Looking forward to the Mountain Gathering
Challenge walks in review and in prospect

The Annual will be delivered in a much more designed and polished (.pdf) form than our usual monthly newsletter, which it will replace for one month. [ED: Whew, not me this time]

If you have anything you would particularly like to contribute to this magazine please get in touch at admin -at- mountainviews.ie


---
Norwegian campaign to give Finland a mountain
A group of Norwegians has launched a campaign to shift their country's border by 200 metres to bring the peak of the Halti mountain into Finnish territory as a gift to their mountain-deprived neighbour for the 100th anniversary of its independence. Moving the border between Norway and Finland just 150m to the north and 200m to the east would bring Finland a new highest peak while losing Norway just 0.015 square kilometres. At 1,365m, Halti does not even make the list of Norway's highest 200 peaks. But one of its lower spurs, Hálditšohkka, marks the highest point in Finland, at 1,324m. "My idea is that this should be a gift from the Norwegian people and I feel sure that the Finnish people would appreciate it," said Bjørn Geirr Harsson, the retired geodesist behind the Facebook campaign. Read more about it.

Can this principle be applied to Ireland
Perhaps Northern Ireland could benefit from a few more summits? Its already got a bit of Cuilcagh, perhaps the whole of it? (Although having seen what the local authorities on the northern side have done maybe the entire mountain should go to the Republic).
Or perhaps you have suggestions for gifts from NI to the Republic?

Suggestions welcome. But stick to the principle of the Norwegian campaign which is about a limited area around a mountain. Just because it is 2016 does not mean that big R republicans should start looking for the whole of NI or, for that matter, big U unionists looking for the Republic to come back to the UK. Not on MV anyway.
---
Review a book?

simon3 on Review anyone?
Would anyone be interested in doing a review for 'The Beara & Sheep's Head Peninsulas' by Adrian Hendroff for Mountain Views? Some info here, www.adrianhendroff.com/beara-sheeps-head-peninsula Contact admin@mountainviews.ie if you are interested. Click here



---
Walk of the Year

Esteemed member aidand made an interesting proposal. We hope to include an item on "Walk of the Year" from various people in our forthcoming "MountainViews Annual"
You are welcome to contribute to this. Just send in contributions to admin -at- mountainviews.ie
In the meanwhile do take a look at the item and the various replies to aidand's call.
aidand on Walk of the Year
After a truly rotten autumn I now ask you to tell us, in a few lines, about your best days walking on the Irish hills this year. ( You can brag about your trip to Machu Pichu somewhere else). Unlike the Oscars there are no prizes here - no statuettes, red carpets or boring speeches. You can remind other users of the site that it occasionally stops raining in Ireland and that when the sun shines yo ... Click here



---
MV Strategy Published - Repeat item

The Committee's Strategy 2015-2020 is available here. The draft of this strategy was first published in April 2015. After a period of consultation in which we received a number of useful suggestions the MV Committee adopted this in November 2015. We have now formed a list of tasks with a number prioritised for 2016.

This includes:
Providing Comprehensive Hill Information (Short summaries, photos of every hill etc.)
Extending information beyond hills: (islands, coasts, canals and possibly cycling information)
List Development (From Starter List to Superlist.)
Website (Continuity, Track sharing system, SEO etc)
Community (Awards, meetings, newsletter etc)
Advocacy (for Sport of Hillwalking etc)
Enabling (Partnerships with bodies such as OSI, MI; Publicity; Yearly work plan etc)

(Full task list available from chair below.)

MountainViews is moving to develop itself as a continuing independent resource for hillwalkers and other explorers in Ireland. If you agree with our general strategy and are interested in helping with an aspect or aspects of our program please do get in contact through our chair as below. Chair@MountainViews.ie





---
Love hillwalking enough to get wound up about it?

Thanks to member madfrankie for this one about the bad review for Ben Nevis
Unbelievable (but hilarious) review via The Daily Mail. Truly, some people haven't a clue.





CHALLENGE
A place for those interested in Challenge Walks

MountainViews Challenge Notes, Winter 2015/2016

The Challenge Calendar Notes will resume later this year. In the meanwhile you can look at the calendar to see our reports from this year and plan what you would like to do next year.

mountainviews.ie/challengecalendar/

emVee-Tube
Videos this month:


Videography by Peter Walker.


WEBSITE NEWS
Improvements to GPS tracks: Track Rating - Repeat item
Last month we announced that we were going to introduce a new feature to allow you to indicate when you have completed the route of a gps track (fully or approximately). It is now live on the website. Do try the feature!
For further information on what "Completing a track" means, do look at last month's newsletter.

Track rating and classify
Take a look at the screen which is what you get when you "Rate" a track. There's various categories. If you have looked at an uploaded track and also know the area feel free to put in your rating. If you looked at the uploaded track but don't know the area, then you are free to rate just the description.

What's the point?
MountainViews has over 1500 shared tracks uploaded. For many areas such as popular starting places in Wicklow or in the Mournes there are a multiplicity of tracks. So many that it can be a time consuming and tricky process of finding one that might be a useful example for someone seeking to start from a popular place. We have already introduced a feature which allows moderators to hide duplicates and this will help. However we also need to make it possible for the community and the creators of tracks to give more information about a given route. This helps anyone looking for a track because it will be possible to look for tracks of a particular sort. Say, low challenge routes, or classic routes, or only look at those in wild areas. Classification for child friendliness and cyclability are also being included.

And it's also about feedback for contributors. Almost any shared route is useful and welcome with or without a description. However when a contributor has taken the time to describe a route perhaps with photos then we should commend them in proportion to what we believe is the quality of the description. Some of the more recent route descriptions with great photos and a great story are inspirational gems. They hugely benefit the sport of hillwalking. Note that in our implementation it is possible to rate the description without rating the other aspects such as "Status", "Challenge" etc.

So two main points are: to make the shared tracks useable by everyone else; and reward contributors for their quality descriptions!

Comments welcome.
---
Interested in programming or other development?

MountainViews could use help from software developers who are also interested in walking/ hillwalking. Give us a shout (no committment) if you would like to discuss admin@mountainviews.ie
There's quite a few areas of varying degrees of skill level that would be valuable ranging from Content Management (not programming!), through html, web, photo, back-end technologies. Mostly we are using open source tech. An interest in innovation in hillwalking would be of great value.

SUMMITEERS CORNER
A place for those interested in Summiteering, Bagging or Highpointing.
Nephin - newly suggested east route.

In his maiden post Andy13460 suggests a different route up Nephin. This is an unusual place, sticking starkly out of north Mayo, which you will see immediately when you visit the area. We thought we would look up the stats for it. It's over 800m with an estimated prominence of 778m which makes puts it in seventh place by prominence in Ireland. But why so stark looking? Most of the other prominent places (Carrauntoohil, Brandon, Lugnaquillia, Galtymore, Slieve Donard etc) are on ridges and surrounded nearby by other summits. If you look at its isolation (the distance to another summit listed by MV) it is 3.4km. None of the other summits that are prominent are so isolated. In fact you would have to go to the 48th most prominent summit (Slieve Gullion in the Cooley/Gullions) to see anything a more isolated but prominent peak. (Supporting list: Click here )
Andy13460 on Nephin, (Néifinn): A steep quick way up
All the descriptions for Nephin appear to start up the long gentle ridge. I usually park at G119058 Walk up to the Pump house G115062 then go through the gate in front then the gate to the right. Walk to the stream and cross it at G114063. Follow the steep path up through the heather to G113067. After this is climbing all the way to G109078. Then follow the rock piles to the top Total ... Click here




Andy13460 on Easterly route up Nephin.
This route comes up from the Pump House Road.East view of Nephin. The route starts up a private road which is access for| walk, Len: 6.1km, Climb: 730m, Area: Nephin, North Mayo (Ireland) Nephin Click here



---
The Gribbons, The Gribbon Sublists and Gribboneering.
Kieron Gribbons published a book some years ago on the County Highpoints. You may recall MountainViews published a review of this in April 2014 written by member Aidan Dillon.
Kieron has published a new book of further lists he has devised and has an accompanying website. http://www.highpointireland.com/
The website says as of Jan 2016:
"Welcome to High Point Ireland - the official online home of the Gribbon list and the Gribbon sub-lists compiled by Kieron Gribbon. Together with the book The Gribbons: A Complete List of Ireland's Major Geographical High Points"(also by Kieron Gribbon), the High Point Ireland website is the hub for the activity of Gribboneering."

You can decide for yourself whether this approach is one that meets your favour.
In due course we will review his new book. In the interests of hearing his point of view, we (or the Walkers Association) attempted on a couple of occasions to arrange a speaking occasion for Kieron following his original book on County Highpoints. Hillwalking in Ireland needs innovation and also discussion as to what is useful to the sport.


---
A Guide to Ireland's Mountain Summits - The Vandeleur-Lynams & The Arderins
MountainViews first book available online and in some bookshops. The first reprint with numerous minor amendments is available.


simon3 on A Guide to Irelands Mountain Summits
MountainViews first book available online and in many bookshops.

As members will know, for over a decade, Mountainviews.ie has been providing unique information to hillwalkers on all aspects of exploring and enjoying Ireland's upland areas. It's been a collaborative effort by over 1000 of you, and currently contains over 6000 comments on 1057 mountains and hills on the island of Ireland ... Click here
Bulk sales to groups such as Scouts/ Guides: contact admin@mountainviews.ie for a discounted price.
This month.
Kudos to our contributors.
We welcome the following new members who enrolled this month. Aoifemcg05, as, bettymurph, BigDog, ccarberry, coolcycle, cragfast, dehills, Eoinb, Fergs, FinbarrC, flash84962, Franko1970, h1llbilly, harveywalks, John-the-Lug, kenma, martin, mdcuff, mrp, redstag1971, Sean19x, seanmcg, Thammer61, WanderingWilly, Zenmonk (26)

Our contributors to all threads this month: Andy13460 (1), ColinCallanan (1), Eoinb (1), Geo (1), Harry Goodman (1), Pazapas (1), Peter Walker (2), Trailtrekker (1), Ulsterpooka (1), Val Jones (1), ahogan (2), aidand (1), elarbee (1), gerrym (1), Communal summary entries (1), heldon (1), hivisibility (2), jackill (1), joemountain (2), madfrankie (1), maurice12 (1), mdoc1969 (1), mountainmike (3), sandman (1), simon3 (7), simongray12190 (1), susanc (1), thomas_g (2)
For a fuller list view Community | Recent Contributors

There were comments on the following summits Annatoran, Caoinkeen South-East Top, Coombane, Garraun, Hill of Faughart, Keadeen Mountain, Leam Hill, Nephin, Slieve Commedagh, Spaltindoagh, The Eagles Rock, Trostan
and these shared tracks Arthur's Seat, Firth of Forth to the River Tweed Britain, Caoinkeen South-East Top, Shehy/Knockboy Ireland, Croaghbrack, Bluestack Mountains Ireland, Doomore, Ox Mountains Ireland, Garraun, Twelve Bens Ireland, Knockalongy South-West Top, Ox Mountains Ireland, Knockmealdown Mountains Ireland, Mullaghsallagh, Sperrin Mountains Ireland, Nephin Beg S Top, North Mayo Ireland tracks were created.

Thanks to all 1221 who have ever contributed summits or routes info and forums.

For a full list view Community | Contributors Hall of Fame

Summary. MountainViews now has 7798 comments about 1423 different hills & mountains out of the total in our current full list (1496). We want to get a good gps track showing each of the major ways up every summit in Ireland. If you see an option to add a "Short Summary" then do please consider creating one since another objective is to have a short summary for every summit in Ireland. There's a few (73) opportunities for you to be the first to comment on a summit. We also have around 1500 shared GPS tracks, mostly in Ireland. Apart from a few popular areas, there is a need for more routes in many different areas. Plain shared tracks without descriptions are welcome however if you have time then do please add route descriptions with photos.
NOTICES
Notices
If you are contributing, please be careful to respect the interests of landowners. Suggest access routes well away from houses, gardens or that could conceivably impact farming activities. When walking, keep away from gardens or farm buildings. Use stiles or gates wherever possible. Never do anything that could allow animals to roam where the farmer did not intend. Ask permission where appropriate.
Report suspicious activity to the police forces, as below.
If your car is broken into in an upland area report it to the PSNI or Gardai as this will help them be aware of the issue and tackle it in future. Store the numbers. In Northern Ireland use the PSNI non-emergency number 0845 600 8000. In the Republic you can find the local Garda District HQs phone numbers at www.garda.ie/Stations/Default.aspx. Specifically for the hotspot of Wicklow: the Garda Divisional Headquarters in Bray is 01 6665300.
If you hear of a problem area or route, write it up in MountainViews which does everyone a service.
Report rubbish tipping in the Republic - ring EPA hotline 1850 365 121
Report quads in national park area (in which they are banned). For Wicklow please phone the Duty Ranger: 087-9803899 or the office during office hours Telephone: +353-404-45800. Put these numbers in your phone, take regs etc. Let MV know of contact numbers for other areas.
If you have climbed some of the less well known places, we would appreciate a summit rating and also GPS readings for summits.
If we can, let's make MV have more than one route up a summit so as to reduce the tendency for paths to appear. Your grid refs in comments for different starting points show up on MountainViews maps as well as GPS tracks.
MountainViews are on Twitter as MountainViewsIE. Follow us and we will follow you back. Any queries to secretary@mountainviews.ie
Visit the MountainViews Facebook page.
This newsletter
This newsletter
Editor: Simon Stewart, Homepage: www.simonstewart.ie
Assistant editors: Colin Murphy, David Owens
Challenge Info: Jim Holmes
Track reviews: Peter Walker
Book reviews: Conor Murphy, Aidan Dillon, Peter Walker
Videography: Peter Walker, Video Reviews: Paul Moore
Graphics design advice: madfrankie

Newsletter archive.
View previous newsletters mountainviews.ie/newsletter
RETURNING TO MOUNTAINVIEWS
Click on (If you have cookies on in your browser then you will be prompted as to username/ password. If you forget the password, the login page can email you a replacement.)

UNSUBSCRIBING
If you don't want to receive any further monthly newsletters from Mountain Views click on Settings. Then change the option beside "Include on occasional mailing list" to "Do not include". Then click the "Save" button.
Alternatively let us know by email at admin -at- mountainviews.ie Include the email address you got this at or your screen-name guestuser.