The Summit


Monthly newsletter of MountainViews.ie for guestuser

Dec 2015
NEWS - INFORMATION - RECENT CONTRIBUTIONS - FEATURES - FORUMS
UPCOMING EVENTS
WALKERS ASSOCIATION OF IRELAND:
The MV Gathering will take place on Friday, 19th February 2016 in the Lansdowne Hotel, Dublin 4. 7:30pm. Advance notice. We are assembling our speakers for our annual event. Mike Maunsell (of Mountain Research Ireland) is confirmed as a speaker and we will let you know as others are arranged.
This meeting is being organised by the WAI with the help of the MountainViews committee. Talks are held in the Landsdowne Hotel, 27 - 29 Pembroke Road, Dublin 4 unless otherwise stated. For this event there is a charge. Directions here www.lansdownehotel.ie . The excellent bar facilities allow you to have a drink with other hillwalkers after the event. You can get a meal before the meeting also. Should you wish to stay overnight then please consider staying with the Lansdowne.
---
MOUNTAIN MEITHEAL: Mountain Meitheal are keen to find more people to help.
We publicise Mountain Meitheal because they make practical repairs to some of the more popular areas we walk on, using a voluntary community based approach. (More information at their website.)
Picture of the month
Lavagh Beg in the Bluestacks as shot by Aidy from Greenan Mountain in Donegal. Aidy said of the occasion: The wind was ferocious at the top despite there being hardly a breeze lower down, but in the sunshine, the views were stunning all around.
For original comment.

Regions: MOUNTAIN COMMENTS - TRIP REPORTS - TRACKS - SUMMARIES
In short: Discovery
Coombane-ah, my lord...
This month's featured track takes in the higher reaches of the central block of mountains on the fairytale Dingle peninsula in the south west. Slightly shyer than the bold outlines of Bautregaum/Caherconree and Brandon (and certainly much quieter than the latter) they nevertheless give excellent hillwalking in a sumptuous environment. ahorgan's route allows for a very leisurely day in this coastal wonderland, and he has used our track functionality to provide extensive notes and accompanying photographs.
Note: The latest improvement to our track sharing is the ability for users to rate and characterise walks. When in the website view a track and then click on the "Rate" button beneath it.


ahogan on Stradbally, Beenoskee, Beenatoor, Coombane


Main walk Start: 09:15, End: 13:09,

Duration: 3h53m, Length: 13.6km, Ascent: 960m

, Descent: 945m

Places: Start at Q605

59

120

97

, Stradbally Mountain, Beenoskee, Beenatoor, Coombane, end at Q564

99

116

23

4.1km W from Start

(statistics such as Ascent or Length etc should be regarded as approximate. Duration depends on the speed of the person making the track)



Diamond in the Rough
This is a clockwise horseshoe route (best to have two cars to avoid adding an extra 4k of tarmac trudging) taking in Stradbally, Beenoskee, Beenatoor & Coombane. We did this route on a day where the mist was coming and going, but even so we were rewarded with fantastic views when it cleared. I can only imagine that it must be spectacular on a clear day. The diamond in the rough is Coombane - tempting not to bother to trek out to it but so rewarding if you do!
You can see from the route profile that much of the hard work is done in the first 6k in getting to the top of Stradbally and its fairly pleasant after that: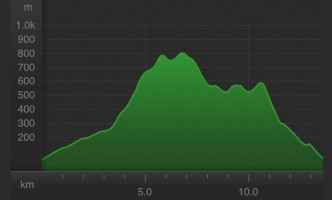 Profile of Route

From the Start to Stradbally
The start point is about a 25 minute drive from Tralee along the coast road towards Castlegregory and passing through Blennerville along the way. About 2km after the turn-off for Castlegregory, there is a forest entrance on the left directly opposite a t-junction at Q6055 1209. You can park here and follow the gentle rising gravel path as it winds through the forest (after approx. 1.2km, keep left at the junction) . After 3km, the road comes to an end at a pair of telecom masts. Cross the gate here and turn south, keeping the wire fence on your left as the gradient gets a bit steeper.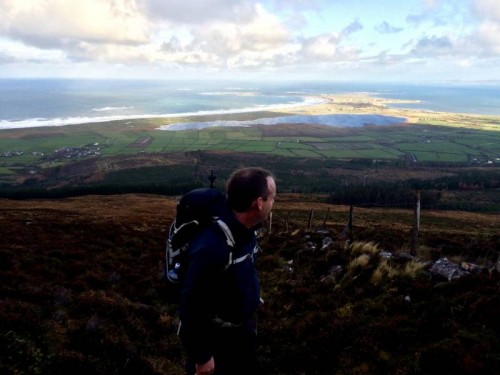 Following the fenceline towards the ridge. Lough Gill & Castlegregory below.

When the fence comes to an end, continue in a southerly direction in order to gain the ridge towards the summit. There may be a little bit of scrambling required in the last stretch to the ridge. Follow the gently rising ridge, keeping the fenceline on your left) to the summit of Stradbally mountain, where the views down to Lough Acummeen and across to Beenoskee open up nicely.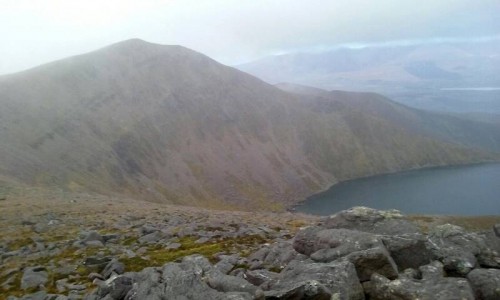 Looking west to Beenoskee from Stradbally summit cairn

From Stradbally summit to Beenoskee and Beenatoor
Dropping into the col, it's a short 1km hop across to the cairn at the summit of Beenoskee, the half-way point and the highest point of the walk. The initial descent from Beenoskee (head southwest to avoid the steepest ground on the northern side) is steep with loose rocks underfoot at times, before changing to flatter and wetter ground at the bottom with a nice mixture of peat hags and bog holes to hone your bog jumping technique. At the base of the col, swing back in a north-westerly direction to skirt around the base of Coombane on the way to Beenatoor.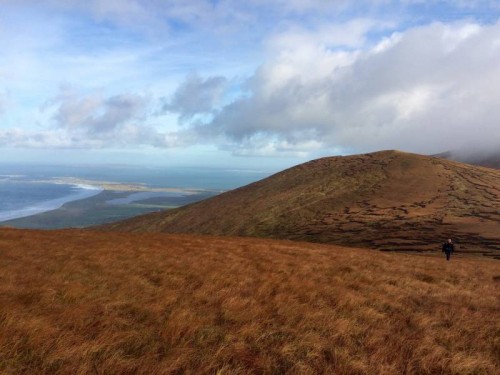 Trekking towards Beenatoor with Coombane in the background

While the summit of Beenatoor is relatively flat and unremarkable, the out and back detour (adds about 2km to route) is well worth it for the view down into the steep sided Glenahoo valley directly below and further afield to the Brandon ridge.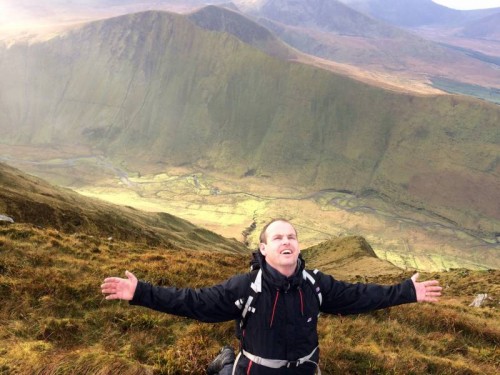 Glenahoo Valley from summit of Beenatoor
From Beenatoor back to Coombane & back home
From the summit of Beenatoor, retrace your steps to the bottom of the col before veering uphill to the northwest until meeting a fence which can be followed eastwards almost to the summit before again turning northeast to reach the highest point.
There is a steep drop to the north of the summit, so take care to locate the ridge (quite a well defined grassy track) running northeast and descend (keeping the steep drop on your left) until it is possible to drop off the ridge and into the valley below to the north. You will need to cross a small stream, before picking up the pathway (initially grassy, the becoming more stony) which leads back to the road at Q5649 1162 . Ideally, have a second car here to avoid a 4k trek back along the road to the start point.

---


NORTH: 1000th SUMMIT!
Congratulations to member sandman for climbing 1000 summits in Ireland
Currently his total stands at 1020 which is the highest for any Irish based walker. Commendable also is that he has shared information about many of them, often smaller less well known locations. In quite a few cases his is the only comment particularly for some of the more newly listed and smaller summits. The comments are bried and usually include useful essentials like access information and starting points. His club Tredagh Trekkers must be proud of having such a contributor to hillwalking as a member.
(For the record, member chalky who hales from the neighbouring island to the east of us currently has a score of 1110 Irish summits - he had better watch his crown!)

sandman on Cave Hill: 1000th Irish Summit.
Parking at the Cave Hill Country Park car park on the Upper Hightown Road J3106779258 allowed an easy ramble to the summit at J3233679719 adjacent to Mc Arts Fort. Fantastic park with great views and in the future as i drive thru Belfast i will always have the memory not only of Cave Hill but also some of the previous 999. Click here


NORTH: A Short Walk with Barney
Donegal's Bluestacks are the sort of mountains that seem to offer almost limitless possibilities for linking a multitude of summits together from a cursory glance at the map, but in practice many of these theoretical itineraries will only appeal to addicts of the endless boggy shlep. As such many summit lend themselves more to an individual ascent, and so it was that Onzy has tracked the ascent of the singular Arderin of Carnaween, a top that might link with others in better weather than he experienced.
Onzy on Carnaween from the South
A route to and from Carnaween from parking in front of an abandoned farmhouse at G882 873, north of Disert Graveyard. Br| walk, Len: 4.5km, Climb: 392m, Area: Carnaween, Bluestack Mountains (Ireland) Click here


NORTH: Out of the blue
A day in the Bluestacks that looks disastrous proves surprisingly worthwhile, recounts Aidy, as he discovers the joys of the lesser-known Scraigs.

Aidy on Scraigs, (An Screig Mhór): Salvaging Something From A Bad Day
I had a bit of a disastrous morning, setting out with my nephew to climb Croaghgorm so that I could tick off its newly added lower summits, and maybe look for the plane wreckage. It looked magnificent in the sunrise with a dusting of snow, but just as I was looking for a place to park, my dashboard lit up with warning lights, and I lost power steering and power in general. Fearing it was the alt ... Click here


NORTH: Blown away
Aidy is blown away both by the ferocious wind and the stunning views atop Lavagh Beg in the Bluestacks.

Aidy on Lavagh Beg, (An Leamhach Bheag): Helped By Dry Weather
For Sunday I had planned a circuit of Lavagh Beg, Silver Hill, Cullaghcro and Binnasruell, but I felt the stirrings of a cold on Saturday night, and it was full blown by Sunday morning. Even so, when the alarm went off, it was such a beautiful day I couldn't resist heading off, and decided I would at least do Lavagh Beg. I parked around G 93723 93580 and went south, then east, along the track be ... Click here


WEST: Small is good
Knockaunbaun Hill reaches just 146m, but the views - of the sea and the Twelve Bens scale far greater heights, says mdoc1969.

mdoc1969 on Knockaunbaun, (An Cnocán Bán): An Cnocán Bán (Knocknabaun Hill)
This must be by far the easiest route to take to the summit of An Cnocán Bán near Cleggan. Drive up towards Cleggan Farm Holiday Cottages. Park in the parking spaces just shy of the working farm and cottages (approx L 61005 58829). If you meet the owners do let them know that you plan to walk to the summit - they're very accommodating. Walk straight on until you meet a gate (at approx L 60835 589 ... Click here


WEST: Deer Prudence
The less exploratory among us are generally content to pick off Shehy Mountain as an easy detour from the popular Tomies / Purple Mountains walk to the east of the Gap of Dunloe, but peter1 has joined the smallers hordes made of sterner stuff who have made the ascent from Muckross Lake to the east. He was rewarded by glimpses of deer and intimate acquaintance with a lot of rhododendrons…see his posting under the Shehy Mountain section for more details.
peter1 on Shehy Mtn from the East
Bogs, Mountains and Rhododendrons| walk, Len: 17.2km, Climb: 888m, Area: Shehy Mountain, Purple Mountain (Ireland) Shehy Mountain Click here


WEST: A trio of remote peaks
Bryanmcabe's snap gives a sense of the wilderness one encounters when bagging Ireland's most remote summits.

Kennyj on Lacken Hill: Steeped in history
Turn off the N30 onto the L4013,signposted Lacken,turn right at first junction and forest entrance is a short distance on the left.I followed the Dunbrody forest trail up onto the hill crossing two gates up to a clearing,turn right here up a laneway marked with a rebellion monument sign before crossing a stile onto the summit marked with a holy year cross and rebellion monument.Nice autumn stroll ... Click here




Featured summit comment


Shehy Mountain in Purple Mountain Area: Red deer and rhododendrons
Peter1 has a very enjoyable walk in the woods on his way up Shehy Mt from the SE, encountering both flora and fauna. His explanation of the ways up Shehy is worth reading. [ED: Shehy is a place dear to me because it was my last Vandeleur-Lynam and visited shortly before my foot starting acting up.]

---
peter1:

I missed out on climbing Shehy Mountain from the Purple/Tomies direction on a few occasions and I really did not want to reclimb them in order to climb Shehy. This meant approaching Shehy from either the north through Tomies wood - see earlier comments - or from the south-east, the Kenmare road. I chose the latter as I thought that it would provide the chance of exploration of an unknown/unrecorded ascent. I'm pretty sure it has been climbed from this direction before now, it's just that I couldn't find any reference. The ground is certainly boggy until you start to climb out of O'Sullivan's Punch Bowl but no more boggy than a lot of other Irish hills! The climb up through the old (Oak?) wood to the south of the summit is very pleasant and I came across a number of Red deer on the ascent. On the day I was there (Nov 1st, 2015), the weather was fantastic and the views from the summit were superb. I descended the east ridge hoping to pick up the track that goes through Tomies wood to the Kenmare road and this meant descending through a thick rhododendron 'forest', which was extremely hard going. However, after hitting the track, the route out through Tomies wood is one I would recommend to anyone looking for a low level walk, or a short day out.

---

SOUTH: Take Me To (Upper) Church
Your track reviewer has seen numerous glowing references to the Upperchurch Walking Festival over the years, and 2015's instalment took place over the weekend of the 7th November. Jackill and several other MVers made the long or otherwise trip to Tipperary to take part, and he has uploaded a track representing the 'A' walk from the event. It looks like an intricate and involved ramble with plenty of moorland, forest and windfarms to admire (or otherwise), and the MV summits of Knockaviltoge and Knockalough are almost visited.
jackill on The Hills of Upperchurch
The A walk 2015 during the excellent Upperchurch walking festival.| walk, Len: 18.7km, Climb: 636m, Area: Shannon (Ireland) Click here


SOUTH: Fine, rocky summit with impressive cliffs.
Best viewed from its NE side, reports Colin Murphy on Benoskee in Central Dingle, where impressive cliffs plunge down to Loch an Cholmin.

Colin Murphy on Beenoskee, (Binn os Gaoith): Fine, rocky summit with impressive cliffs.
Having ascended via Beenatoor and Coombane, it was nice to leave those grassy bumps behind and climb a mountain with lots of boulders and a rock-strewn surface! The summit is marked by two cairns and the views are spectacular. But perhaps the most impressive part of the mountain are the craggy cliffs you'll see on its north east side, plunging down to Loch an Cholmin. A fine mountain by any standa ... Click here


EAST: The Dublin Mountain Way We Were
The logistical annoyances of returning to the starting point are often a deterrent for those who might otherwise do more place-to-place hillwalking (we can't all be as bizarrely keen on hitch-hiking as MV's Secretary…some of us have seen 'Friday the 13th'). Public transport is a definite boon for those seeking to do the Dublin Mountain Way in one lengthy day, and Tom Milligan has uploaded a track outlining an east-to-west crossing of the route. As >40km walks go this one has manageable amounts of ascent and descent and good waymarking.
Tom Milligan on Dublin Mountain Way (reverse)
The Dublin Mountain Way from Shankill Village, Co. Dublin, to Seán Moore Park, Tallaght, Dublin 24. Normally its done i| walk, Len: 41.7km, Climb: 985m, Area: Carrickgollogan, Dublin/Wicklow (Ireland Click here


EAST: Wilderness but little else
Brockagh NW Top is purely one for the baggers, reports eoindunlea, its only saving grace being the sense of wilderness it evokes.
eoindunlea on Brockagh Mountain North-West Top, (Sliabh na Brocaí barr thiar thuaidh): Uninspiring remote top
Unlikely to be climbed separately. Can be traversed on a circuit via Tonelagee or next top after Brockagh mountain. Summit marked by a lonely feeble attempt at cairn on a boulder. Track from Brockagh very uneven and waterlogged on 18 November 2015 coupled with gale force winds making progress slow. I decided to head to it solely because from memory of MV it is considered a separate top. Average vi ... Click here


EAST: Steeped in history
Lacken Hill in Wexford offers a pleasant stroll up a hill marked by 1798 rebellion monuments and fine views of the surrounding countryside, says Kennyj.

Kennyj on Lacken Hill: Steeped in history
Turn off the N30 onto the L4013,signposted Lacken,turn right at first junction and forest entrance is a short distance on the left.I followed the Dunbrody forest trail up onto the hill crossing two gates up to a clearing,turn right here up a laneway marked with a rebellion monument sign before crossing a stile onto the summit marked with a holy year cross and rebellion monument.Nice autumn stroll ... Click here


FRANCE: The Strange Case of mcrtchly and kernowclimber…
MV's First Couple of cameras and canvas have made the southern end of France's Massif Central the latest destination of their meanderings, and they have tracked a straightforward wander to the highest point of the Cévennes region in the footsteps of R L Stevenson through some extensive Neolithic remains and with the incentive of local beers at the end. Pay special attention to the caption on the first photo accompanying the track…that's a man initiating divorce proceedings before the wedding has even taken place.

mcrtchly on Following Stevenson without a donkey - the highest point in the Cévennes
Robert Louis Stevenson (of Treasure Island fame) travelled through the Cévennes uplands in SW France in 1878 in the com| walk, Len: 10.8km, Climb: 300m, Area: France, Languedoc-Roussillon () Click here


Sorry if we didn't mention what you posted .. there's a list of all contributors for the month later.
MOTLEY GATHERING

Commenter returns, insurance mused.

On returning to the website and walking after a break, our member finds issues to comment on. Loved the photo.


Trailtrekker on A Matter of Life or Death
Having being on something of a hiatus from the hills I have not been on this site as often as I used. However, I recently looked in and was intrigued and amused by the musing of a newbie poster, who seemed clueless on both the ethics of messageboard debate and many aspects of safety in hills! Many of his myths have been debunked already and he seems to have left the field of play (no doubt off to ... Click here




---
mvstrategy MV Strategy Published

The Committee's Strategy 2015-2020 is available here. The draft of this strategy was first published in April 2015. After a period of consultation in which we received a number of useful suggestions the MV Committee adopted this in November 2015. We have now formed a list of tasks with a number prioritised for 2016.

This includes:
Providing Comprehensive Hill Information (Short summaries, photos of every hill etc.)
Extending information beyond hills: (islands, coasts, canals and possibly cycling information)
List Development (From Starter List to Superlist.)
Website (Continuity, Track sharing system, SEO etc)
Community (Awards, meetings, newsletter etc)
Advocacy (for Sport of Hillwalking etc)
Enabling (Partnerships with bodies such as OSI, MI; Publicity; Yearly work plan etc)

(Full task list available from chair below.)

MountainViews is moving to develop itself as continuing independent resource for hillwalkers and other explorers in Ireland. If you agree with our general strategy and are interested in helping with an aspect or aspects of our program please do get in contact through our chair as below. Chair@MountainViews.ie




---
Mountaineering Ireland looking for support over Coillte proposal

Coillte is the agency in the Republic of Ireland which runs most forests. For many of the summits featured by MountainViews a selloff of forests would have caused enormous difficulty in reaching many places.
The immediate threat to the sale of Coillte was dealt with in 2013 with Mountaineering Ireland (MI) taking a major role to their credit. However all is not well. Coillte has dropped a former commitment to develop a recreation plan for each area in the current draft plans.
Essentially MI are looking for any further comment you may have:
"Coillte's Forestry Stewardship Certification is up for re-assessment at the start of 2016. If you have comments about forest management carried out by Coillte, please send information to helen@mountaineering.ie by Tuesday 5th January 2016."

For further information click here.
Remember: MountainViews members interested in the more distant sorts of summiteering would be amongst the hardest hit users were recreational access to forests be curtailed.

---
This Map Shows Just How Long Travel Took 100 Years Ago
Maps can be fascinating. This particular one of "Isochronic Distances" shows the world in terms of time to reach in 1914. Read more about it.
---

Bleak Cry

Esteemed member's stream of consciousness unexpectely issues forth:


BleckCra on ...
Have I become an anachronism? Do we all? Are all the things that made us, now out of production? Night before. Beer. Boots. Map - all of it. Check kit. Plan route. Re-check kit. Pack map, compass, wit, intuition and little else. We and the Mountain. But where have … we … gone? 2 to the view. 2 to the craic. 6 to the mountain. 10 if you could make it work. Instead we now have runners - ... Click here




CHALLENGE
A place for those interested in Challenge Walks

MountainViews Challenge Notes, Autumn 2015

The Challenge Calendar Notes will resume in the New Year. In the meanwhile you can look at the calendar to see our reports from this year and plan what you would like to do next year.

mountainviews.ie/challengecalendar/

emVee-Tube
Videos this month:


Videography by Peter Walker.


WEBSITE NEWS
Improvements to GPS tracks: Track Rating
Last month we announced that we were going to introduce a new feature to allow you to indicate when you have completed the route of a gps track (fully or approximately). It is now live on the website. Do try the feature!
For further information on what "Completing a track" means, do look at last month's newsletter.

Track rating and classify
Take a look at the screen which is what you get when you "Rate" a track. There's various categories. If you have looked at an uploaded track and also know the area feel free to put in your rating. If you looked at the uploaded track but don't know the area, then you are free to rate just the description.

What's the point?
MountainViews has over 1500 shared tracks uploaded. For many areas such as popular starting places in Wicklow or in the Mournes there are a multiplicity of tracks. So many that it can be a time consuming and tricky process of finding one that might be a useful example for someone seeking to start from a popular place. We have already introduced a feature which allows moderators to hide duplicates and this will help. However we also need to make it possible for the community and the creators of tracks to give more information about a given route. This helps anyone looking for a track because it will be possible to look for tracks of a particular sort. Say, low challenge routes, or classic routes, or only look at those in wild areas. Classification for child friendliness and cyclability are also being included.

And it's also about feedback for contributors. Almost any shared route is useful and welcome with or without a description. However when a contributor has taken the time to describe a route perhaps with photos then we should commend them in proportion to what we believe is the quality of the description. Some of the more recent route descriptions with great photos and a great story are inspirational gems. They hugely benefit the sport of hillwalking. Note that in our implementation it is possible to rate the description without rating the other aspects such as "Status", "Challenge" etc.

So a main point is to make the shared tracks useable by everyone else! And reward contributors for their quality descriptions!

Comments welcome.
---
Interested in programming or other development?

MountainViews could use help from software developers who are also interested in walking/ hillwalking. Give us a shout (no committment) if you would like to discuss admin@mountainviews.ie
There's quite a few areas of varying degrees of skill level that would be valuable ranging from Content Management (not programming!), through html, web, photo, back-end technologies. Mostly we are using open source tech. An interest in innovation in hillwalking would be of great value.

SUMMITEERS CORNER
A place for those interested in Summiteering, Bagging or Highpointing.
A Guide to Ireland's Mountain Summits - The Vandeleur-Lynams & The Arderins
MountainViews first book available online and in many bookshops. The first reprint with numerous minor amendments is available.


simon3 on A Guide to Irelands Mountain Summits
MountainViews first book available online and in many bookshops.

As members will know, for over a decade, Mountainviews.ie has been providing unique information to hillwalkers on all aspects of exploring and enjoying Ireland's upland areas. It's been a collaborative effort by over 1000 of you, and currently contains over 6000 comments on 1057 mountains and hills on the island of Ireland ... Click here
Bulk sales to groups such as Scouts/ Guides: contact admin@mountainviews.ie for a discounted price.
This month.
Kudos to our contributors.
We welcome the following new members who enrolled this month. agr3155, Aindrea, aoeui, bdubisz, Brinjal2015, Colinn, Deepsydiver, deirdrenig, DesBurke, Effin_Toffee, fergalmoloney, fitzy3, Frank.Clonan, gautelis191, Glynda, gortex, Katiemo, KevinRoche, KowaiBaz, Lumperstaintrekk, marydelahunty, Matterhorn, moleskinjoe, Muddy_Boots, myrtle-mcmullen, Nanuke9, noleen, OisinD, patdoleary, Patrickmurray, pdonohoe, Pender, philipdkelly, pp, RianButler, ritapbradley, RobMooney, simongray12190, Socket, susannamurdoch, t00036628, the-wren, tonimidd, wildmedic (44)

Our contributors to all threads this month: Aidy (3), BleckCra (1), Colin Murphy (4), David-Guenot (3), Geo (1), Kennyj (1), Onzy (1), Pepe (1), Tom Milligan (1), Trailtrekker (1), Ulsterpooka (1), ahogan (4), caiomhin (1), eoindunlea (1), Communal summary entries (3), jackill (3), mcrtchly (2), mdoc1969 (1), peter1 (2), sandman (5), simoburn (1), simon3 (4), simon7 (1), simongray12190 (3)
For a fuller list view Community | Recent Contributors

There were comments on the following summits Beenatoor, Beenoskee, Brockagh Mountain North-West Top, Camaderry South East Top, Carrickgollogan, Cloonagh, Coombane, Croaghloughdivna, Croaghmuckros, Cuilcagh, Knockaunbaun, Lacken Hill, Lavagh Beg, Lugnademon, Moneyoran Hill, Mullaghcarn South Top, Scraigs, Shehy Mountain, Slieve Meelmore, Spaltindoagh, Stradbally Mountain, Trostan
and these shared tracks Carnaween, Bluestack Mountains Ireland, Carrickgollogan, Dublin/Wicklow Ireland, Corran, Nagles Mountains Ireland, Dublin/Wicklow Ireland, Dublin/Wicklow Ireland, France, Languedoc-Roussillon , Galty Mountains Ireland, Mullaghcarbatagh, Sperrin Mountains Ireland, Prince William's Seat, Dublin/Wicklow Ireland, Shannon Ireland, Shehy More, Shehy/Knockboy Ireland, Shehy Mountain, Purple Mountain Ireland, Stradbally Mountain, Central Dingle Ireland tracks were created.

Thanks to all 1218 who have ever contributed summits or routes info and forums.

For a full list view Community | Contributors Hall of Fame

Summary. MountainViews now has 7787 comments about 1421 different hills & mountains out of the total in our current full list (1495). We want to get a good gps track showing each of the major ways up every summit in Ireland. If you see an option to add a "Short Summary" then do please consider creating one since another objective is to have a short summary for every summit in Ireland. There's a few (74) opportunities for you to be the first to comment on a summit. We also have around 1500 shared GPS tracks, mostly in Ireland. Apart from a few popular areas, there is a need for more routes in many different areas. Plain shared tracks without descriptions are welcome however if you have time then do please add route descriptions with photos.
NOTICES
Notices
If you are contributing, please be careful to respect the interests of landowners. Suggest access routes well away from houses, gardens or that could conceivably impact farming activities. When walking, keep away from gardens or farm buildings. Use stiles or gates wherever possible. Never do anything that could allow animals to roam where the farmer did not intend. Ask permission where appropriate.
Report suspicious activity to the police forces, as below.
If your car is broken into in an upland area report it to the PSNI or Gardai as this will help them be aware of the issue and tackle it in future. Store the numbers. In Northern Ireland use the PSNI non-emergency number 0845 600 8000. In the Republic you can find the local Garda District HQs phone numbers at www.garda.ie/Stations/Default.aspx. Specifically for the hotspot of Wicklow: the Garda Divisional Headquarters in Bray is 01 6665300.
If you hear of a problem area or route, write it up in MountainViews which does everyone a service.
Report rubbish tipping in the Republic - ring EPA hotline 1850 365 121
Report quads in national park area (in which they are banned). For Wicklow please phone the Duty Ranger: 087-9803899 or the office during office hours Telephone: +353-404-45800. Put these numbers in your phone, take regs etc. Let MV know of contact numbers for other areas.
If you have climbed some of the less well known places, we would appreciate a summit rating and also GPS readings for summits.
If we can, let's make MV have more than one route up a summit so as to reduce the tendency for paths to appear. Your grid refs in comments for different starting points show up on MountainViews maps as well as GPS tracks.
MountainViews are on Twitter as MountainViewsIE. Follow us and we will follow you back. Any queries to secretary@mountainviews.ie
Visit the MountainViews Facebook page.
This newsletter
This newsletter
Editor: Simon Stewart, Homepage: www.simonstewart.ie
Assistant editors: Colin Murphy, David Owens
Challenge Info: Jim Holmes
Track reviews: Peter Walker
Book reviews: Conor Murphy, Aidan Dillon, Peter Walker
Videography: Peter Walker, Video Reviews: Paul Moore
Graphics design advice: madfrankie

Newsletter archive.
View previous newsletters mountainviews.ie/newsletter
RETURNING TO MOUNTAINVIEWS
Click on (If you have cookies on in your browser then you will be prompted as to username/ password. If you forget the password, the login page can email you a replacement.)

UNSUBSCRIBING
If you don't want to receive any further monthly newsletters from Mountain Views click on Settings. Then change the option beside "Include on occasional mailing list" to "Do not include". Then click the "Save" button.
Alternatively let us know by email at admin -at- mountainviews.ie Include the email address you got this at or your screen-name guestuser.