Formatting bad or having trouble reading this? View it in your browser.
The Summit


Monthly newsletter of MountainViews.ie for guestuser

Nov 2015
NEWS - INFORMATION - RECENT CONTRIBUTIONS - FEATURES - FORUMS
UPCOMING EVENTS
Member organised trip to Lambay
There is a trip planned to Lambay Island, which contains a 126m Binnion being organised by member Mark Brennan. It was to have been in October but has been postponed due to bad weather.

---
MOUNTAIN MEITHEAL: Mountain Meitheal are keen to find more people to help. Future dates:
01.11.2015 14.11.2015



We publicise Mountain Meitheal because they make practical repairs to some of the more popular areas we walk on, using a voluntary community based approach. (More information at their website.)



Picture of the month
Northern Lights as captured by Aidy from Greenan Mountain in Donegal. The green behind the clouds is the Northern Light, Aurora Borealis. The greenness is from the solar wind exciting oxygen in the outer atmosphere. The colour of the underside of the clouds is probably more to do with street lights in Buncrana than anything celestial and as for the spooky blue of the fence - a torch!
For original comment.

Regions: MOUNTAIN COMMENTS - TRIP REPORTS - TRACKS - SUMMARIES
In short: Discovery
Featured track report
Electra Glyder In Blue...
This month's featured track is one of a couple Onzy has submitted following a flying trip to the dramatic mountains of Snowdonia, easily reached from the Holyhead ferry terminal. His itinerary is one of the very best outings possible in England and Wales, ascending the comically prickly petrified Stegosaurus that is Tryfan via the classic scramble up its north ridge, continuing over the other-worldly stonescape of Glyders Fach and Fawr, before descending though a lot more stones past the awesome mouth of the Devil's Kitchen. For anyone who thinks Ireland is lacking in (what might be termed) Grade 1 scrambling, a trip to Snowdonia might be the answer.
Note: As you may know, we recently started improving our shared track display. This is not finished by a long shot, however below shows how you can incorporate photos into a shared track.


Onzy on Glydereau: Tryfan and the Glyders


Main walk Start: 07:29, End: 13:30,

Duration: 6h , Length: 11.4km, Ascent: 1013m

, Descent: 1024m

Places: Start at SH663

80

602

72

, Tryfan, Tryfan Far South Peak, Glyder Fach, Castell y Gwynt, Glyder Fawr, end at Start

(statistics such as Ascent or Length etc should be regarded as approximate. Duration depends on the speed of the person making the track)


Route up Tryfan North Ridge and over the Glyders, descending through the Devils Kitchen.

Having decamped for a couple of days to Wales, 7am on day one found me parked in a layby on the A5 immediately north of Tryfan. It was 7.30 before it was light enough for me to feel comfortable heading upwards.

The walk started well with some steps (!), a sign from the Welsh Equivalent of Mountain Metheail, and a box soliciting donations towards the cost of the path works. Clearly not many contribute, because the steps/path don't continue far. There are scuffed paths of sorts all over the hill, but nothing official and no clear, or sole, way up.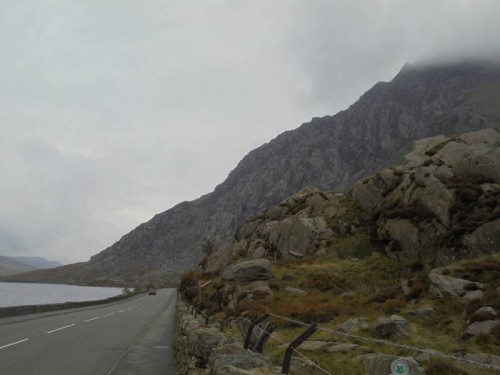 Tryfan from the A5 - taken from the west on the descent


The north ridge of Tryfan is rated as a grade one scramble, which sounds straighforward ... however, it is not like any scramble I have ever attempted This is a wall of tumbled and shattered rock, interspersed with gullies and scree channels. It is more than occasional 'hands on rock', at times being full on climbing - I cannot remember ever having so much to physically haul myself upwards using my upper body - an entire body workout and very hard going. Also, there were many dead ends where no way forward was possible and many consequent backtracks It's a matter of one hand after another, one foot after another until the top (mercifully) is reached. The road is at 300m, so the initial climb is only 600m, but it took a hard two hours; 2 hours after which I had covered less than 1km from the car!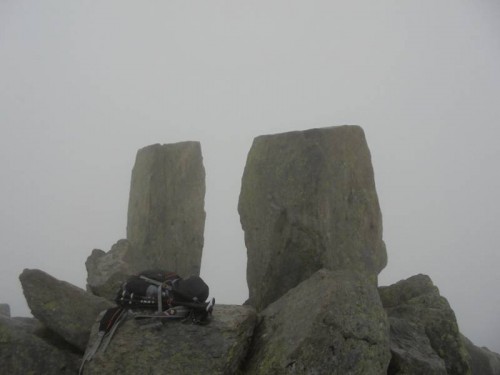 'Adam & Eve' unjumped


This is a rocky place; the summit of Tryfan, Glyder Fach, and much between involves clambering over shattered rock. It is very hard to get into any walking rhythm here; four hours after leaving the car, I had covered 4km. Only when past the eerie Castell Y Gwynt - like the tor on Slieve Bearnagh except sharper! - does the path begin to become unambiguous. Over Glyder Fawr and the path down through the Devil's Kitchen is clear - not unlike our own Devil's Ladder on the upper reaches - but less steep and with well made paths lower down.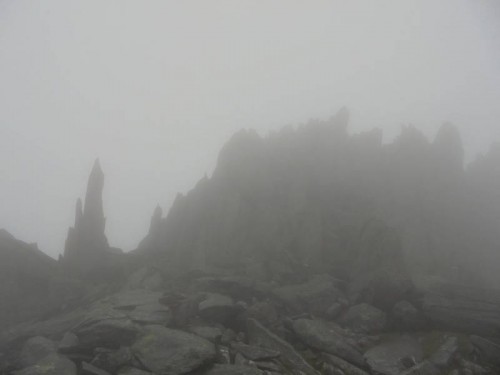 Castell Y Gwynt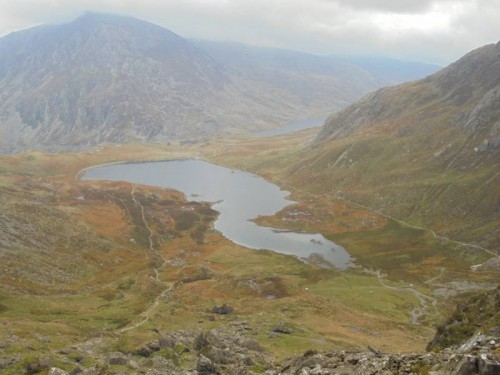 Looking down from the Devil's Kitchen


Overall a great walk but definitely not a day for photos!

---


NORTH: Limestone Cowboys
Confidence in the reception given to walkers in the Benbulbin area is further increased by Onzy's circuit based on Benbulbin itself and the extraordinary (formerly forbidden) outpost of Benwisken, seeing as his pairing survived an encounter with a turf-cutting party totally unscathed. It's a route where very steep ascents and descents bookend wanderings along the edge of a brutally defined plateau with many startling downward views. Summiteers could easily add Kings Mountain while they're up there.
Featured summit comment

Nature on the Hills
paddyhillsbagger

18 Oct 2015
The joy of this lesser top does not come from the rather nondescript summit area which is rather flat and boggy. It comes with spotting up to a dozen Sika Deer who happened to linger long enough to get a snap with the camera. There were also Red Grouse, Raven, Snipe and a small flock of Crossbills feeding on pine cones. It makes hill bagging all worthwhile! By the way - I make Annalecka Bridge at O05560 01852. All other directions fine.
---

SOUTH: A view of mountains, coums, waterfall and sea.

The oddly named Knockaunapeebra in the Comeraghs is a towering 724 metres and offers one of Ireland's best viewpoints, reports jackill. FRANCE: Pic Performance
David-Guenot has submitted several very interesting tracks from the Pyrenees during October, both of which are at a palatable level of strenuousness for the average able-bodied hillwalker. The more spectacular of the two is the ascent of the Pic de Garlitz, a walk whose ridges gradually increase in airyness until a final sensational arete leads to the top: enough to put hairs on your chest from the look of his excellent photographs.


MOTLEY GATHERING


Lobster Absurd, Kerry Glimpse

If you fancy a challenging, comic, absurd film you might like to try The Lobster, directed by Yorgos Lanthimos. According to one review "In a dystopian near future, single people are obliged to find a matching mate in 45 days or are transformed into animals and released into the woods."

Readers of this website who go might also enjoy the extra jarring caused by most of the setting: the natural Iveragh Peninsula. The hotel the film is based in is in Parknasilla near Sneem.

The first photo is from the hotel looking over Kenmare River. Keecragh Mountain, a spur from Cummeengeara Horseshoe, sits just over the midground Rossdohan Island to the left, with the sharpish point of Miskish to right skyline near Knockoura.

The second photo showing characters played by Colin Farrell and Rachel Weisz escaping along a road just east of Moll's Gap. Stumpa Duloigh is on the skyline left with part of the Knockbreeda-Crossderry-Mothaillín ridge extending to the right. Guest appearances from Broaghnabinnia and the MacGillycuddy Reeks.
Film trailer at metacritic.com/movie/the-lobster/. Destined to be a cult. Think about what animal you would like to be.




---
MV Strategy

Just a reminder about this item which was covered more fully in previous months and thanks for those that contacted us about it.

The Committee's Draft Strategy for MV is now available here. We invite input from all members of the Community as to how this should be further shaped. Any comments, criticisms, corrections, etc., are welcome on OnzyMV@gmail.com




CHALLENGE
A place for those interested in Challenge Walks

MountainViews Challenge Notes, Autumn 2015

The Challenge Calendar Notes will resume in the New Year. In the meanwhile you can look at the calendar to see our reports from this year and plan what you would like to do next year.

mountainviews.ie/challengecalendar/

emVee-Tube
Videos this month:


Videography by Peter Walker.


WEBSITE NEWS
Improvements to GPS tracks: Track completion
Look out for a feature coming soon by which you will be able to indicate which tracks you have completed. It's going to be a bit like logging your climb of a summit (variously known as summiteering or peak-bagging.)

But what does completing a track mean and when should you feel entitled to log your having done it?
Before answering that, note that MountainViews certainly doesn't want to encourage anyone to slavishly follow the exact path someone else took. For one thing many of the tracks uploaded to MV are of an experimental nature, done by people visiting an area for the first time. The track isn't necessarily the best possible way on a different occasion - it may even have unnecessary hazards such as bogs, rushes, rhododendrons, crags and land where the owner has not been consulted. It may have taken a route where there are sometimes frisky cattle, nursing lambs or standing crops. We have always stressed that leaders taking a group to a given area should ensure their own routefinding, safety and access permission.
Nevertheless we promote sharing of information as a way for people to see what may be possible. Now we also want to share information as to which of the shared tracks are popular, while allowing considerable leeway as to the exact route taken. So "completing a track" has to allow some variation. Our initial offering we will allow you to to mark what you have completed either exactly or approximately. The attached picture shows the approach. The wording may change in the released version.
Comments welcome.
---
Interested in programming or other development?

MountainViews could use help from software developers who are also interested in walking/ hillwalking. Give us a shout (no committment) if you would like to learn more admin@mountainviews.ie
There's quite a few areas of varying degrees of skill level that would be valuable ranging from Content Management (not programming!), through html, web, photo, back-end technologies. Mostly we are using open source tech. An interest in innovation in hillwalking would be of great value.

SUMMITEERS CORNER
A place for those interested in Summiteering, Bagging or Highpointing.
A Guide to Ireland's Mountain Summits - The Vandeleur-Lynams & The Arderins
MountainViews first book available online and in many bookshops. The first reprint with numerous minor amendments is available.



This month.
Kudos to our contributors.

We welcome the following new members who enrolled this month. 2pintspotoftea, ArturSzajner, bbarry2015, bmean, bryanjbarry, Cherygraal, ChrisStr3, Clareparky, DaveS401, declan-gor, Deise-Man, desmondo1, donakello, dorchadha, doree, ebuck, Edelk, epenseel, escpod, farrelly, ffibo, Galtee-boy, Havenmaker, henryyates, Hill-Walkker, hulamaedle, iancullen99, itsmeciaran, Jimmygeoffrey, jmatefi, Jo2510, karen1066, Keemen, ksharman, laura-bracken, lonanofarrell, Maven, Michael-n, MikeCork, myleskevinmurphy, Myrtle, Niamhq, Nick68, Nik, nkeogh39, Noc72, ocleyman, overthehilltl, patgersue, pebbleshoo, Plodda, potatocg, RCoughlan, shauneym, sheehyj2000, totsan1976, Tteddles, W1000m, Warrenjim, warrenjmaguire, WarrenVokes, wild_brian (62)

Our contributors to all threads this month: Aidy (13), Buny Clare (1), CaptainVertigo (1), David-Guenot (10), Harry Goodman (3), Kennyj (3), Niamhq (1), Onzy (7), Pepe (1), Peter Walker (12), SpiritOf84 (1), bryanjbarry (1), bryanmccabe (1), caiomhin (1), conormcbandon (9), curus_lulus (1), eamonoc (1), groe (1), Communal summary entries (5), hivisibility (4), jackill (2), jsramsey1491 (1), madfrankie (1), mcderto (2), paddyhillsbagger (5), sandman (10), simon3 (3), wild_brian (2)
For a fuller list view
NOTICES
Notices
If you are contributing, please be careful to respect the interests of landowners. Suggest access routes well away from houses, gardens or that could conceivably impact farming activities. When walking, keep away from gardens or farm buildings. Use stiles or gates wherever possible. Never do anything that could allow animals to roam where the farmer did not intend. Ask permission where appropriate.
Report suspicious activity to the police forces, as below.
If your car is broken into in an upland area report it to the PSNI or Gardai as this will help them be aware of the issue and tackle it in future. Store the numbers. In Northern Ireland use the PSNI non-emergency number 0845 600 8000. In the Republic you can find the local Garda District HQs phone numbers at www.garda.ie/Stations/Default.aspx. Specifically for the hotspot of Wicklow: the Garda Divisional Headquarters in Bray is 01 6665300.
If you hear of a problem area or route, write it up in MountainViews which does everyone a service.
Report rubbish tipping in the Republic - ring EPA hotline 1850 365 121
Report quads in national park area (in which they are banned). For Wicklow please phone the Duty Ranger: 087-9803899 or the office during office hours Telephone: +353-404-45800. Put these numbers in your phone, take regs etc. Let MV know of contact numbers for other areas.
If you have climbed some of the less well known places, we would appreciate a summit rating and also GPS readings for summits.
If we can, let's make MV have more than one route up a summit so as to reduce the tendency for paths to appear. Your grid refs in comments for different starting points show up on MountainViews maps as well as GPS tracks.
MountainViews are on Twitter as MountainViewsIE. Follow us and we will follow you back. Any queries to secretary@mountainviews.ie
Visit the MountainViews Facebook page.
This newsletter
This newsletter
Editor: Simon Stewart, Homepage: www.simonstewart.ie
Assistant editors: Colin Murphy, David Owens
Challenge Info: Jim Holmes
Track reviews: Peter Walker
Book reviews: Conor Murphy, Aidan Dillon, Peter Walker
Videography: Peter Walker, Video Reviews: Paul Moore
Graphics design advice: madfrankie

Newsletter archive.
View previous newsletters mountainviews.ie/newsletter
RETURNING TO MOUNTAINVIEWS
Click on http://mountainviews.ie (If you have cookies on in your browser then you will be prompted as to username/ password. If you forget the password, the login page can email you a replacement.)

UNSUBSCRIBING
If you don't want to receive any further monthly newsletters from Mountain Views click on Settings. Then change the option beside "Include on occasional mailing list" to "Do not include". Then click the "Save" button.
Alternatively let us know by email at admin -at- mountainviews.ie Include the email address you got this at or your screen-name guestuser.