Formatting bad or having trouble reading this? View it in your browser.
The Summit


Monthly newsletter of MountainViews.ie for guestuser

Oct 2015
NEWS - INFORMATION - RECENT CONTRIBUTIONS - FEATURES - FORUMS
UPCOMING EVENTS
Oct 2015, Member organised trip to Lambay
There is a trip planned to Lambay Island, which contains a 126m Binnion, being organised by member Mark Brennan. Over 30 are going and the trip is now fully booked.

---
16th to 18th Oct 2015, Mountaineering Ireland Autumn Gathering
Mountaineering Ireland (MI) and the Irish Rambler's Club invite you to join them for a weekend of walks, talks and workshops on October 16th - 18th in Glendalough, Co. Wicklow. MI look forward to exploring both the classic routes and the lesser known paths in Glendalough and the surrounding valleys. There will be three interesting short talks on Friday evening to set the scene for the weekend, dinner on Saturday night in the Glendalough Hotel and a choice of workshops on Sunday morning. Please register online at www.mountaineering.ie Note. This is available to everyone including those not members of Mountaineering Ireland. Given that MV now has a formal relationship with Mountaineering Ireland (see item below), do come and see what is happening and share our approach to the sport of hillwalking.

On the evening of Fri 16th Simon Stewart, a member of the Ramblers and publisher of MountainViews, will be talking as one of three speakers. The topic will be "Selected Mountain Areas You May Never Have Considered." (Various Irish Mountain or Island areas, with less well known summits including photos, stories, starting points, long views, photo opportunities ) This will be based on his experience of climbing 750 summits in Ireland and will make use of others shared information.

This event is being hosted by the Irish Ramblers Club who have a page of information here.

Information and booking at MI: Details & booking, click here.

---
MOUNTAIN MEITHEAL: Mountain Meitheal are keen to find more people to help. Future dates:
04.10.2015
17.10.2015 18.10.2015 01.11.2015 14.11.2015



We publicise Mountain Meitheal because they make practical repairs to some of the more popular areas we walk on, using a voluntary community based approach. (More information at their website.)



Regions: MOUNTAIN COMMENTS - TRIP REPORTS - TRACKS - SUMMARIES
In short: Discovery
Featured track report
Nephin ventured...
In the wake of the review of the newly published Wild Nephin map featured in last month's newsletter, GSheehy has submitted a couple of substantial tracks in this supremely tough and beautiful tract of Irish hill country. The highlighted itinerary links Mulranny to the valley at Srahmore via a chain of lonely summits, including the fabled Corrannabinna arete. Gerard's notes include some handy access hints, and in common with an increasing number of submitted tracks he has effectively leveraged the new photo upload feature.
Note: As you may know, we recently started improving our shared track display. This is not finished by a long shot, however below shows how you can incorporate photos into a shared track.


GSheehy on Mulranny to Srahmore


Main walk Start: 07:52, End: 14:25,

Duration: 6h33m, Length: 25.9km, Ascent: 1336m

, Descent: 1367m

Places: Start at L831

92

967

65

, Claggan Mountain NE Top, Maumthomas SW Top, Maumthomas NE Top, Corranabinnia SW Top, Corranabinnia, Glennamong, Glennamong E Top, Tirkslieve, end at F969

48

027

21

15km NE from Start

(statistics such as Ascent or Length etc should be regarded as approximate. Duration depends on the speed of the person making the track)


First time up this country and what a treat. The forecast was good and I thought I'd get some smashing photos but it wasn't to be as that low hanging cloud just lingered and there were a few light showers. 
I was in awe of the wild and tough walking terrain. Make no mistake, you'd know you'd had a decent walk when you get off the hill. No tracks up here, bar a few sheep ones, so you just walk it as you see it.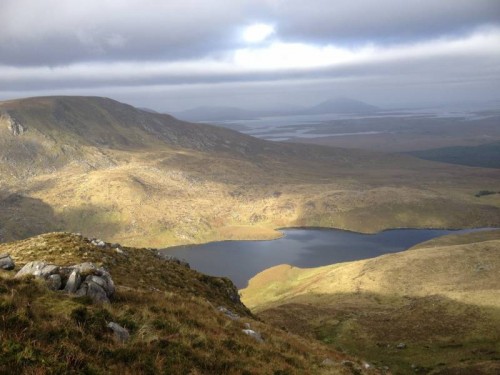 Lough Anaffrin, Claggan Mountain NE (towards Achill) 


I could tell that the beauty of the mountains themselves were hidden on the day, because of the weather, but they looked fantastic and worth another visit on a beter day.
Theres a bit of a scramble between Corrannabinna SW and Corranabinnia itself but it only added to the walk.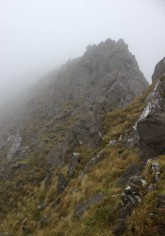 Scramble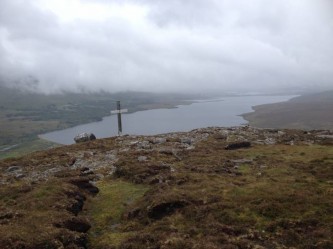 Tirkslieve - Lough Feeagh


NB: I descended from Tirkslieve by following the fence down to F963 028 but there was a 'No Entry' sign on the other side of the gate where the hill meets the road. So, Id suggest heading to the foot bridge at F948 024 as an alternative. 

---


NORTH: Peat hag hell.
Aidy stumbles into a hellish route up Benbeg in the Breifnes, but enjoys the wildness of this relatively untrodden top.
Featured summit comment

Aillwee: A rugged approach
wicklore

In 2014 I took a route starting on the N67 coast road several kms north of Aillwee. This took me over two smaller rugged hills named Kiloghil and Moneen before reaching Aillwee. This approach showed the best of the Burren landscape –areas of limestone crisscrossed with clints (blocks or broad areas of limestone) and grykes (fissures between the blocks), rugged, thorny bushes and colourful flowers. There are also lots of high limestone steps to negotiate which involved pulling myself up on various occasions. The tangled thorny growth that protrudes from between the rock also made navigation tricky in places. After a careful descent of the limestone steps to the south of Moneen I reached the track referred to by Sandman in his comment. The track leads up past the flat summit of Aillwee. It is a disappointing summit to reach after the excitement and challenge of the approach journey. The broad flattish summit of Aillwee is grassy, and is crisscrossed by tracks. I used these to find my down to reach a point on the R480 to the SW of Aillwee to complete a 12 km walk.

Aillwee is home to the famous Aillwee cave. It was discovered by a local man, Jack McGann when his dog chased a rabbit down a hole. Curiously, Jack did not tell anyone about the cave for 30 years. In 1973 he told some cavers about it. The rest (commercial development) is history. Because of streams carving out tunnels in the soft limestone, the Burren area is home to many cave systems that are still being discovered today. Doolin Cave has opened to the public in recent years and features the largest Stalactite in the northern hemisphere, at 23 feet. Their blurb poetically puts it that '. Visitors can hardly believe that it was formed from a single drop of water over thousands of years'. Having seen it in person, after a gruelling 8 storey climb down a circular stairway followed by a series of tunnels and caves, I can tell you that Doolin Cave is impressive. The Burren caves were back in the news recently when a father and son were rescued after spending 28 hours lost in the extensive Pollnagollum cave complex on Slieve Elva (Another MountainViews listed summit)

I read that in previous times local farmers had to become experts in managing broken legs in cattle due to the infinite amount of fissures/grykes in the limestone that cattle could stumble into. One account was about a local man on Aillwee who had a special recipe of swaddling, tar and herbs to wrap the broken legs in, which promoted recovery. This same man also spoke about, as a boy, how he explored all the old farmsteads of Aillwee that had been abandoned in the Famine as their owners died or emigrated. He talked of finding everything from whiskey to money in the old stone walls. Many decades later, as I strolled up the slopes of Aillwee, I had to watch my own step as I navigated across the same fissures in the rock, and wondered if any of the ruins I saw were where he had found his treasure as a boy.

---

SOUTH: Take Me To Church (and then go for a little walk)
For somewhere so favoured and frequented by the touring world and his sightseeing wife there's a lot of Kerry that's highly isolated and fundamentally quiet. omurchu has submitted a track exploring the final tangle of countryside between the Mangerton group and the huge cake selection at Avoca at Moll's Gap (or the Ring of Kerry road, depending on your priorities). His route is lavishly illustrated with some alluring photos, and uses the launching pad of the Kerry Way to cover a crescent of six summits from Peakeen round to Foardal...Knockanaguish might be tagged onto the start by the determined.

Binn Diarmada in Dingle West is a fine headland boasting spectacular views, potential access issues and a lot of Irish mythology, recounts ciarraioch.

Many the good man has been led astray, and so it was with the handsome warrior, Diarmaid O Duibhne. Enticed into elopement by that trollop Gráinne, they went on the run from hoary old Fionn. So he fled back to the land of his tribe, the Corca Dhuibhne of the great peninsulas of West Munster, or the people of the goddess Dovinias as it has been written in Ogham. There he sought sanctuary for a whil ...
Mulhacen from CapileiraApart from Mount Teide on the Canary Island of Tenerife (which properly belongs to the continent | walk, Len: 11.1km, Climb: 833m, Area: Unid, Unid ()

MOTLEY GATHERING


MountainViews and Mountaineering Ireland sign a Memorandum of Understanding

The two organisations have a strong interest in the sport of hillwalking in Ireland. By cooperating the efforts of both can be strengthened to the advantage of hillwalkers in Ireland.

MountainViews acknowledges that Mountaineering Ireland is the national representative body for walkers and climbers and also the governing body for the sport of mountaineering as recognised by both the Irish Sports Council and Sport Northern Ireland. MountainViews will provide Mountaineering Ireland with lists and other content that will support the promotion of lists.

In turn Mountaineering Ireland recognises MountainViews as a leading online Irish hillwalking resource. Mountaineering Ireland recognises MountainViews as the authoritative source for the compilation and management of Irish hillwalking lists, such as the "Arderins", the "Vandeleur-Lynams", the "Irish County Highpoints", "Irish Highest 100", "The Local 100" and other lists as managed by MountainViews. Mountaineering Ireland will promote Irish hillwalking lists as an opportunity for a lifelong personal challenge.

A first step and beyond

The initial agreement concentrates on the lists that MountainViews maintains. This is an important component of what MountainViews offers hillwalking in Ireland. MountainViews believes it is important to provide a complete family of lists for different levels of challenge, to be authoritative, and to try to avoid fragmentation of lists, while respecting Irish cultural norms. MountainViews now provides an initial selection of lists for use by hillwalkers available through the Mountaineering Ireland website. Click here to see this.

Apart from lists MountainViews offers various other hillwalking resources such as extensive information for every summit, track sharing and videography. As the relationship progresses and in accordance with the agreement, MountainViews may explore support by Mountaineering Ireland for further services.


---


Cuilcagh - ruined wilderness?.

There is a substantial discussion of the extreme boardwalk on Cuilcagh, with photos etc.
You can read much more about this by clicking here.
CHALLENGE
A place for those interested in Challenge Walks
MountainViews Challenge Notes, September 2015


mountainviews.ie/challengecalendar/

The loneliness of the Long Distance Challenge Walker . . . .

September saw the unofficial end to the season of Challenge Walking in Ireland as walks in Clare and Donegal welcomed strong numbers to their respective counties to finish out the year on a high!

Clare saw a great day on the Burren and Donegal saw the mighty Glover put 211 walkers through an incredibly tough day. As it would turn out - this day may probably have been the toughest day on a Challenge Walk this year!

You can read its incredible account here . . .

mountainviews.ie/challengecalendar/node/82/

What an end to a Season!! But the Irish Challenge Walker won't be content to simply dry out her gaiters, or stuff with newspaper his boots, no way . . . . if anything, now will be the start of preparations for next year!

The loneliness of the Long Distance Challenge Walker can be lamented for many a week now as stories of glorious weather on the Turks splice with legends of heroes on the Glover . . . you can read many an honest account on the Challenge Walk Calendar . . .

But as it's only around 24 weeks to the "C" word . . . Community Hall, Ballyporeen . . . . which tends to be the first whippet out of the blocks (as is the Knockmealdowns Challenge), the avid Challenge Walker will just have to continue their pottering perhaps a little more alone than the norm.

But now the "underfoot conditions" are frostier, not sloppy and performing ravens put on their courting displays with no sign of the infamous horsefly leviathans . . . so the loneliness can be savoured after all . . .

So out in your Winter pottering if you do happen to come across a lonesome looking Bog-Trotter. . . she's probably just trying out new socks or he's probably just tweaking a better GPX track and not as disheartened as they may seem. But do offer food! Fun-size Mars bars being a favourite of the "Lesser Spotted Challenge Walker" . . .

Chase you all up Topside boys and girls when come the time that we get to speak again - any residing families of "mouses" will have been duly evicted from cosy gortex boots and bog-infused fleeces shouldn't have as bad a "hum" as they do at this present point in time!!

Support a Challenge Walk near you, -- Jim Holmes.

---
emVee-Tube
Videos this month:


Videography by Peter Walker.


WEBSITE NEWS

Improvements to GPS tracks - more

We are enhancing the GPS track sharing as discussed in the last few month's newsletter and we have been getting some comments in. If you are new to the enhanced track editing, take a look at the sample at

mountainviews.ie/track/713/

Last month we told you about various difficulties that have been reported and our attempts to rectify them. Refer there for information.

Victims of our own success
This month we have been continuing to improve the system. One change has been to provide a facility to prevent duplicate tracks appearing in the Main Area Display. The issue is that for some popular starting points there can be a large number of shared gps tracks starting. An example would be Crone Wood carpark in Co Wicklow. However many are the same or at least very similar. Our new option allows moderators to stop duplicates appearing on the Main Area Display. However such tracks are still available using the Tracks, Walks | View all tracks menu. With approaching 1500 tracks shared (mostly for Ireland) I hope everyone understands the need for this measure. However if you find that your cherished track which is better than any other is not appearing in the area display, and you want this changed, then do contact us at at admin@mountainviews.ie

Let us know at admin@mountainviews.ie of any teething troubles or lack of clarity in how to do things. A nasty bug surfaced in Sept, whereby after some tracks were edited the website started to hang -- all the website not just the person editing the tracks. With the help of user reports we finally nailed this particularly subtle issue. Thanks mcritchly, vax man.

Do you have ideas as to what you would like to see regarding our track sharing? Please do contact us at at admin@mountainviews.ie We will do a series of enhancements, however may not return to this area for some time, so now is your chance to propose changes.


---
Upload to a Garmin GPS unit
This information is being repeated from last month. Since we introduced the track sharing system there has been a method for exporting shared tracks. This takes two forms: "Download a GPX file" and "Upload to a Garmin GPS unit". For Garmin users (the vast majority of people using standalone GPS units according to my experience) this is really handy. You can go directly from the website to the device using a supplied cable. Seriously neat. Used by many many other websites as well as MV.
Bad news I am afraid. This feature relied on a tool provided by Garmin ("Garmin Communicator") which relied on a method supported by browsers such as Google Chrome, Firefox and MSIE. The browser manufacturers have deemed the method insecure and are phasing it out. Garmin has apparently not decided to replace their tool with something similar. So you are likely to find that following a browser update the "Upload to a Garmin GPS unit" feature will die - usually saying that Garmin Communicator plugin is not available or some such. If a replacement becomes available, we will see what we can do.
Meanwhile you can still export data to a GPX file and use other software to get it onto your device.


SUMMITEERS CORNER
A place for those interested in Summiteering, Bagging or Highpointing.
Recent Additions or Changes to MV Lists
jackill states that the following are newly classified Vandeleur-Lynams:

Knockaunapeebra – Comeraghs
Camaderry SE Top – Dublin/Wicklow
Brandon Far North Top – Brandon Range

The others that make the additional tops on the 600 metre list are,


| | | | | | | | | |
| --- | --- | --- | --- | --- | --- | --- | --- | --- |
| 1 | | Dartry Mountains | 631 | 0 | 16 | 65 | G76314 47102 | |
| 2 | | Twelve Bens | 690 | 5 | 37 | 87 | L80961 52404 | |
| 3 | | Twelve Bens | 653 | 8 | 37 | 93 | L81181 52850 | |
| 4 | | Mourne Mountains | 680 | 10 | 29 | 87 | J31579 28287 | |
| 5 | | Brandon Group | 700.0 | 11.7 | 70 | 89 | Q46427 13808 | |
| 6 | | Partry/Joyce Country | 617 | 12 | 38 | 86 | L95200 62200 | |
| 7 | | Dublin/Wicklow, Wicklow Mountains | 630.9 | 12.0 | 56 | 48 | O17965 08963 | |
| 8 | | Mangerton | 700 | 12 | 78 | 85 | V99094 81974 | |
| 9 | | Mangerton | 625 | 12 | 78 | | V95600 79200 | |
| 10 | | Central Dingle | 608 | 13 | 70 | 78 | Q50972 03906 | |
| 11 | | Comeragh Mountains | 630 | 13 | 75 | 84 | S29100 14200 | |
| 12 | | Comeragh Mountains | 751 | 13 | 75 | 91 | S30500 11200 | |
| 13 | | Slieve Mish | 819 | 14 | 71 | 92 | Q75524 08189 | |
| 14 | | Shehy/Knockboy | 649 | 14 | 85 | 80 | W00300 62600 | |
| 15 | | Maamturks | 630 | 14 | 44 | 95 | L92800 49300 | |
The three additions to the VL list also now feature in the 600 metre list.
---
A Guide to Ireland's Mountain Summits - The Vandeleur-Lynams & The Arderins
MountainViews first book available online and in many bookshops. The first reprint with numerous minor amendments is available.



This month.
Kudos to our contributors.

We welcome the following new members who enrolled this month. 100WattWarlock, 2jobs, ajayaitch47, bamocom, Barneyg, Blanche-Heron, Blue1, Cathal-Kelly, Christian33, CiaraK, Cricket, DHiggins, dranganbelle, Eamonn_Waldron, Edwardryan, Ericka, ErickFarias, Fanatic, feeneyp, g0vwp, Gazelle, Grantbuaile, hak493r, hdgl, Hilltoptreks, JackD68, jawakow, jdobberstein, jgebhard, jillbrown, Jillu2, JohnMac, josephmcg, jwstar03, kasha, mcoward, MichaelMh, MurphChops, Nelson, niallmcl, oboh, pablo400, pan_radek, Paradox_Pete, PatrickKinsella, paulmoleary, paulnarch, petern, PPruz, prosein, Reno, rfjak, sb, Scarroll, Selene, Shane2ndcork, Sioban, stalker, stevehat, thebigyin, Tohora, TomasMadden, TomTynan, torms123, Trorylane, Twinkletoes, xthiago (67)

Our contributors to all threads this month: Aidy (9), BleckCra (1), CaptainVertigo (13), Colin Murphy (1), Conor74 (2), David-Guenot (2), Dessie1 (1), Fergalh (1), GSheehy (3), Garmin (1), Jim Holmes (2), Kennyj (3), Onzy (6), Peter Walker (3), aidand (2), brenno (2), ciarraioch (6), conormcbandon (2), Communal summary entries (9), happymourneview (1), hivisibility (2), jackill (5), kernowclimber (3), maclimber (1), madfrankie (1), markwallace (1), mcrtchly (9), omurchu (3), paddyhillsbagger (2), peter1 (1), sandman (10), simon3 (7), tamjk (8), thomas_g (3), wicklore (12)
For a fuller list view
NOTICES
Notices
If you are contributing, please be careful to respect the interests of landowners. Suggest access routes well away from houses, gardens or that could conceivably impact farming activities. When walking, keep away from gardens or farm buildings. Use stiles or gates wherever possible. Never do anything that could allow animals to roam where the farmer did not intend. Ask permission where appropriate.
Report suspicious activity to the police forces, as below.
If your car is broken into in an upland area report it to the PSNI or Gardai as this will help them be aware of the issue and tackle it in future. Store the numbers. In Northern Ireland use the PSNI non-emergency number 0845 600 8000. In the Republic you can find the local Garda District HQs phone numbers at www.garda.ie/Stations/Default.aspx. Specifically for the hotspot of Wicklow: the Garda Divisional Headquarters in Bray is 01 6665300.
If you hear of a problem area or route, write it up in MountainViews which does everyone a service.
Report rubbish tipping in the Republic - ring EPA hotline 1850 365 121
Report quads in national park area (in which they are banned). For Wicklow please phone the Duty Ranger: 087-9803899 or the office during office hours Telephone: +353-404-45800. Put these numbers in your phone, take regs etc. Let MV know of contact numbers for other areas.
If you have climbed some of the less well known places, we would appreciate a summit rating and also GPS readings for summits.
If we can, let's make MV have more than one route up a summit so as to reduce the tendency for paths to appear. Your grid refs in comments for different starting points show up on MountainViews maps as well as GPS tracks.
MountainViews are on Twitter as MountainViewsIE. Follow us and we will follow you back. Any queries to secretary@mountainviews.ie
Visit the MountainViews Facebook page.
This newsletter
This newsletter
Editor: Simon Stewart, Homepage: www.simonstewart.ie
Assistant editors: Colin Murphy, David Owens
Challenge Info: Jim Holmes
Track reviews: Peter Walker, Tom Condon
Book reviews: Conor Murphy, Aidan Dillon, Peter Walker, Michael Kinahan
Videography: Peter Walker, Video Reviews: Paul Moore
Graphics design advice: madfrankie
Facebook assistant editor: Simon Byrne
Newsletter archive.
View previous newsletters mountainviews.ie/newsletter
RETURNING TO MOUNTAINVIEWS
Click on http://mountainviews.ie (If you have cookies on in your browser then you will be prompted as to username/ password. If you forget the password, the login page can email you a replacement.)

UNSUBSCRIBING
If you don't want to receive any further monthly newsletters from Mountain Views click on Settings. Then change the option beside "Include on occasional mailing list" to "Do not include". Then click the "Save" button.
Alternatively let us know by email at admin -at- mountainviews.ie Include the email address you got this at or your screen-name guestuser.