The Summit


Monthly newsletter of MountainViews.ie for guestuser

Sept 2015
NEWS - INFORMATION - RECENT CONTRIBUTIONS - FEATURES - FORUMS
Upcoming: MOUNTAINVIEWS - WALKERS ASSOCIATION - and MORE
WALKERS ASSOCIATION OF IRELAND and MOUNTAINVIEWS:



Challenge Walks. The Walkers Association used to maintain a calendar of Challenge Walks for Ireland. This has now been transferred to MountainViews.ie : visit the new location here. Also you might like to look at the newsletter's Challenge Walks Notes a generally monthly commentary on the Challenge Walk scene.

---
Oct 2015, Member organised trip to Lambay
If you are interested in a trip to Lambay Island, which contains a 126m Binnion, you should contact Mark Brennan who is organising it. He tell me that his trip is on but that people interested need to contact him quickly if they want a place.

wicklore on Potential trip to Lambay Island
A group of MountainViewers visited Lambay Island in 2013 and enjoyed 3 hours visiting the summit, a headland and the walled gardens. We knew it was going to join the MountainViews summit lists in the near future at that time and we availed of the early opportunity to go and visit.

I'm sure there are many who look at Lambay on their Local 100 list and despair as it is not a particularly ... Click here



---
16th to 18th Oct 2015, Mountaineering Ireland Autumn Gathering
On Fri 16th Simon Stewart, publisher of MountainViews, will be talking as one of three speakers. The provisional topic will be "Selected Mountain Areas You May Never Have Considered." (Several Irish Mountain or Island areas, with less well known summits including photos, stories, starting points, long views, photo opportunities ) This will be based on his experience of climbing over 700 summits in Ireland and make use of others shared information.

This event is being hosted by the Irish Ramblers Club.
Details, click here.

---
MOUNTAIN MEITHEAL: Mountain Meitheal are keen to find more people to help. Future dates:
06.09.2015 19.09.2015 26.09.2015 04.10.2015
17.10.2015 18.10.2015 01.11.2015 14.11.2015



We publicise Mountain Meitheal because they make practical repairs to some of the more popular areas we walk on, using a voluntary community based approach. (More information at their website.)



Picture of the month
At the northern edge of Benbulbin in the Dartry Mountains looking towards Benwiskin. Picture by Aidy.
For Original Comment

Regions: MOUNTAIN COMMENTS - TRIP REPORTS - TRACKS - SUMMARIES
In short: Discovery

Summit contribution reviews by Jim Holmes this month, Track contribution reviews by Peter Walker as usual.

Featured track report
Faha fa fa fa, faha fa fa fa (with apologies to Talking Heads)
Brandon is many folks' favourite Irish mountain, a huge cliff-girt and mist-swaddled retreat cornered towards the end of the Dingle peninsular. Its eastern Faha Ridge is notorious and coveted among hillwalkers, a dramatic arm gnarling its way east from the summit ridge and a definite contender for the most spectacular route of ascent on this island. This month's featured track demonstrates how the wary summiteer can claim the two summits on its crest while avoiding the psychological cruxes which would need passing on its complete traverse. The text is involving and descriptive, the photos highly demonstrative and totally appropriate; anyone reading, viewing and inwardly digesting should have all the information they need to make an informed decision as to their personal ability to follow in CaptainVertigo's footsteps.
Note: As you may know, we recently started improving our shared track display. This is not finished by a long shot, however below shows how you can incorporate photos into a shared track.


This is a basic "up and down" route to the peak on the infamous Faha Ridge..
The summiteer completing the Highest Hundred, Vandeleur Lynam or Arderin Lists cannot avoid some portion of this ridge. You'll notice that while I traversed from nearby Benagh I made no attempt to continue west to Brandon itself. I had already walked all the peaks on the Brandon Ridge but more importantly I felt from viewing the terrain on the day, and recollecting the advice of others, that the portion of the Faha Ridge west of its peak was likely to be significantly more difficult than the traverse from Benagh. So the route I now describe ought to be understood in that context.
View west from Benagh Summit


I am assuming that you will manage to get from the Grotto Car Park (at the start of this route) to Benagh summit. If you can't do that, then you may forget about Faha Ridge for the time being!
Benagh is rather awesome. It's peak lies at the top of a long safe "staircase" and while the ascent is taxing, and must not be rushed, one cannot avoid throwing an eye behind to look at sumptuous Brandon Bay, and the extraordinary peaks of Brandon ridge ahead, and the lakes to the south and the Atlantic to the north.
Up, up, you go, over the stone defences of the approaching summit, until Benagh narrows like the prow of a great ship and you are on top. The mountain ends suddenly and the Faha ridge lies ahead. In fact the photo to the left shows you the view broadly west from Benagh Summit.
The horizontal distance between Benagh at 822m and the target peak on the ridge at 809m is approximately 500m. That half kilometre begins with a very sharp descent from Benagh through crowded rocks to a flattish area, followed by an easy enough ascent to a "middle peak" (seen clearly in the above pic) followed by a further drop and a final rise to the target Peak 809
The first time I stood looking at this vista, some years back, the sky was dark, the wind was howling and cloud spilled and slithered across the way ahead. I turned around and went back the way I came and didn't return for years. In the meantime, I read everything I could read here and elsewhere, and watched the YouTube videos, and felt that maybe the ridge might prove to be my Inaccessible Pinnacle. I went back up Benagh in August 2015 on the strength of an excellent weather forecast which was happily accurate. My sober assessment is that the traverse from Benagh to Point 809 can be executed safely and securely by experienced walkers who are happy to scramble provided the weather conditions are right.
The GoPro camera tends to make ridges look steeper than they really are...


My experience was that the descent west from Benagh at the beginning of the ridge required great care because of the steep angle, and the exposure, but the protruding rocks provided great holds. The rest of the crossing was relatively easy. There are a couple of places where the sheer drops are pretty unnerving but manageable. The section from the "middle peak" to point 509m is "hairy" enough, but entirely possible in safety with good bright stable conditions.
Heading back to Benagh from Faha Ridge


It's very tempting to see if you can drop down west after achieving peak 809m but I was not prepared to risk it, particularly since I had deliberately left my backpack on Benagh and needed to get back for it. Benagh looks pretty ferocious on the return journey but in good conditions the steep ascent to its peak did not cause a problem.See the view to Benagh on the left.
I have to say that the 360 degree views from point 809 were among the best I have seen. I hope you all get there, in the right conditions, and home safe.


Whatever the length or terrain covered, please do submit suggestions for this "Featured Track" spot in future at admin -at- mountainviews.ie
---


NORTH: Newly minted Arderin Beg in Derryveaghs attracts comment.
Our commentator millsd1 explored Drumnalifferny North-East Top from the south. Although this highly rated summit was introduced only recently as one of the Arderin Begs, some 16 members have logged climbing it and now we have a comment outlining some of the difficulties of reaching it.
millsd1 on Drumnalifferny North-East Top, (Dhroim na Luifearnaí soir ó thuaidh): More of a challenge than you might think!
Climbed Drumnalifferney N.E. top 24/8/2015 as part of a circuit comprising Crockfadda, Crockfadda N.E., Slieve Snaght, Drumnalifferney and Bingorms. (Car parked at B929124). Starting from Drumnaliffreney (B933156) and referring to OSI sheet 1, I had laid off courses to the north and east around the little lake shown at approx B933158. (This is actually the largest of 3 small lakes in the area). ... Click here


NORTH: A Tale of Two Tops!
When is a top not a top? When are ring contours hiding true summits?? Harry Goodman explores many an anomaly atop the hill of Legg in Tyrone. Tracing old treasure maps and previous MV comments he is sure the elusive top is up there somewhere . . . . !

Harry Goodman on Legg: A tale of two tops !
The currently listed co-ordinates for the top of this hill indicate the top lies on the SE shoulder and concur with the co-ordinates listed when the new tops were first added in January 2014. On 6 August 2015 I climbed the hill, or more correctly,thought I did. I started from the car park on the A46 below the Cliffs of Magho H0614058240 and climbed up the steep track and steps to the view point in ... Click here


WEST: Get away from it all!
Searching for a true sense of isolation? Then look no further than Wicklore's account of the little visited summit of Tirkslieve in the Nephin Begs. Easily accessed and not taking too long to complete – Wicklore describes how impressive views and an incredible sense of being alone are to be found in this unspoilt part of Mayo . . . . . .

wicklore on Tirkslieve, (Toircshliabh): A quiet place
The Nephin Begs are a fine group of mountains that are relatively unspoiled by human activity. Several of the smaller hills in the range have never received any comments at all on MountainViews, despite their being easily accessible by road. This reflects how little visited these mountains are. Tirkslieve is an example of this – it is next to a road but has only been climbed by 6 members of Mounta ... Click here


WEST: Abbey Crunch
Between the Twelve Bens and the fjord of Killary Harbour lies a twisted chain of rough hills running from Doughruagh in the south to Benchoona in the north. It's an obvious target for hillwalkers with two cars and David-Guenot has spent a lazy afternoon covering this route. His notes point out that the 'traditional' starting point from Kylemore Abbey these days just adds a couple of kilometres of road walking and it's better to commence the climb to the east; from here it's an tale of ups and downs and zigs and zags and fantastic prospects on a clear day.
David-Guenot on DOUGHRUAGH/GARRAUN/BENCHOONA
We parked in Kylemore Abbey, which did not serve us as we were told we were not allowed to climb from this side, so we w| walk, Len: 14.7km, Climb: 987m, Area: Doughruagh South Top, Twelve Bens (Irela Click here


WEST: Splendid Panorama, Good Day Needed!
Ben Gorm Traverse – track uploaded by David Guenot who shows us how it's central position allows for splendid views of all the main South Mayo ridges . . . . .
David-Guenot on BEN GORM TRAVERSE
A very steep, 650m ascent, followed by a stroll on the Ben Gorm ridge, which offers a splendid panorama on a good day, a| walk, Len: 8.5km, Climb: 779m, Area: Ben Creggan, Ben Gorm Mountains (Ireland) Click here


SOUTH: Oompa Stumpa
The unashamed dome of Broaghnabinnia and the complexities of Stumpa Duloigh are almost forgotten as fate has sandwiched them between the unabashed altitude of the Reeks and the unapologetic flirtatiousness of Mullaghanattin's bold pyramid. Together they make a genuinely excellent trip into country that seems amazingly remote given its proximity to various Kerry tourist fleshpots. Onzy has taken his GPS and camera into this interior, and a quick look at his uploaded track should provide a decent exploratory incentive to those unfamiliar with this neck of the woods. Those who don't mind a bit of road walking can easily tag Crossderry and Mothallin onto the end.

Onzy on Dunkerrons: Cummeenduff Circuit
Route taking in Broaghnabinnia, Stumpa Duloigh and its SE top, and Knocknabreeda. The walk begins from parking just over| walk, Len: 13.4km, Climb: 1178m, Area: Broaghnabinnia, Dunkerron Mountains (Ir Click here


Featured summit comment

Great Views from the Top of Cork
SpiritOf84

The biggest challenge of this outing was getting the car up to Priest's Leap! Took the well documented route via Lough Boy to the summit. Amazing 360 degree views from the top, which was a pleasant surprise as the forecast had been for cloud. Descended around to the northern side and then headed in a westerly direction back down to the road. That provided a beautiful vista on our right down to Kenmare and beyond to the Reeks. Be careful along here in fog though - there are a few dangerous sudden vertical drops. Walked the last 300m up the road to the car.

I would advise against this climb if there is no chance of experiencing the view - wait for a clear day to appreciate it. It's not a huge challenge and would be a bit of a slog without the rewarding views. Also, there are about two places to pull in on the narrow road up to Priest's Leap (Cork side). Well worth stopping at one of these to experience the view across the valley towards Bantry Bay.
---

SOUTH: Learn from your mistakes or even better . . . from someone else's!
How many times have we all, at some point or other glanced across a seemingly grassy col or meadow-like plateau and said to ourselves "hey, this looks like a shortcut . . . " Captain Vertigo did what so many of us have done – but then recounts with appreciated honesty his visit to Mothaillín and his ensuing rhododendron nightmare . . . . Read his exhausting account here . . .

CaptainVertigo on Mothaillín: Carnivorous Plants Abound
I had decided to go up Mothaillin from the north as part of a longer route. Map study indicated that any approach across Eskwacruttia was likely to be on steep rocky ground, and therefore my plan was to leave the road circa V8478781612 and head east for Derrygarriv somewhere around V8588581547. I would then head straight to the summit across gentle slopes before continuing to Stumpa along the grad ... Click here


SOUTH: Bed of Nagles
conormcbandon has evidently decided to spend as little time as is humanly possible in the Nagles, and as such has uploaded a track of a VERY brisk trot around four summits in the west of the range. Lots of forest roads and paths greatly facilitate access to the tops, but the forests they run through greatly impede one's ability to see anything other than bark and leaves. There's also 100m of flooded track to be negotiated or evaded, just to liven things up a bit. Whilst most won't manage to go at the submitter's breakneck pace this is unlikely to be a full day's walking and as such one might take the chance to visit some of the other tops in the group, none of which are very far from a road.
conormcbandon on The Nagles - the potential for views is limited by the foresty.
This area is heavily forested and consequently has a good supply of forest access roads. There are also reasonable pedes| run, Len: 21.4km, Climb: 634m, Area: Corran, Nagles Mountains (Ireland) Corra Click here


SOUTH: Blood, sweat and . . . . sheep (or the absence of)!
Braving terrifying furze bushes and lamenting the notable absence of our woolly friends – MV member Ciarraioch brings us on a picturesque afternoon to Sherkin Island. Here he traverses the twin summits Slievemore which are almost as South as South can go!

ciarraioch on Slievemore (Sherkin Island): Every Rose has a Thorn
The hill may be ungrazed but we certainly weren't! George Monbiot, the English environmentalist, believes passionately in the removal of sheep from the mountains and the rewilding of the landscape (see his book 'Feral: Rewilding the Land, the Sea, and Human Life'). Although I happen to believe in his proposition, there is also a downside as we will see later. Sherkin is an interesting littl ... Click here


SOUTH: Around and about and across
A fine exploration of both the periphery and interior of the Comeraghs has been posted up by habitue GSheehy. As with a lot of plateau the most dramatic features of this range are sprinkled around its edges, and his lengthy route views such fascinating and dramatic sights as The Gap, Crotty's Rock and the vast bowls of Coumshingaun and Coumfea. The track only visits a couple of the tops hereabouts, but taking in more (such as Fauscoum) should be a very straighforward exercise in clear conditions.
GSheehy on Nire Car Park Loop
I was only reminded of what a great walk this is last Saturday when I did it for the second time. Taking in The Gap, The| walk, Len: 25.5km, Climb: 1152m, Area: Comeragh Mountains (Ireland) Seefin, C Click here


SOUTH: "Top of the World Mama" – well at least in Ireland anyway!
Proving that patience rewards all – member Astrofizz01 values the joys of clear weather on his trip to Carrauntoohil . . . .

Astrofizz01 on Carrauntoohil on a fine august day
I climbed Carrantuohil on Sat. The 15th of Aug. with some friends from work . We went up via the zigzags and over the top of Cnoc an Toinne and returned by the same route. We were blessed with great weather for the whole day and this makes such a difference to our enjoyment of the day. There is nothing worse than climbing all day in cloud and knowing that you are surrounded by some of the most sp ... Click here


EAST: A view fit for a King!
Whilst never an arduous challenge or a difficult ascent – Aidy convinces us of the importance Tara Hill and how this summit has surprisingly extensive views and is very much worth a visit . . . .

Aidy on Tara, (Cnoc an Temair): Importance Beyond Its Height
Although there aren't huge impressive ruins here, Tara is worth visiting for its importance in history and legend, and I felt a strange sense of significance as an Irishman to be standing on this hill. Its one of the easiest hills to summit that I've been on, and isn't very high, although the views are surprisingly extensive, (I could see the Mourne Mountains) but its impact lies elsewhere. If y ... Click here


EAST: "Maybe I like the misery . . . ."
Giving a concise and to the point comment – paddyhillsbagger enlightens us as to the merits (if any) of besting Ballycurry Hill in Wicklow . . . .

paddyhillsbagger on Ballycurry: Hard work - for a twisty tree!
If it wasn't for eamonc's directions I doubt I'd make it to the top. A lot of forest bashing is required to reach the top which has no views! List tickers only - or masochists. Click here



MIDLANDS: Windmills, windmills everywhere!
If you can blind yourself to the over-industrialised farming atop Seltannasaggart in the county of Roscommon . . . then the view over the Arigna Valley will be well worth the weary tarmac as writes karlachameleon . . . .

karlachameleon on Seltannasaggart, (Sailtean na Sagart): Highest point in Roscommon
Climbed Corrie Mountain two weeks ago as part of a hike of the Miners Way. There are paved roads most of the way up. We came from the Drumkeerin side of the mountain and as there is a windfarm on the top of it, the climb is not too hard as there are rocky access roads to the summit. There is a great view over the Arigna valley from the top. The top is like other reviews said quite industrial due t ... Click here


FRANCE: Une courte promenade dans les Pyrénées
Intrepid French visitor (to both Ireland and MV) David_Guenot has uploaded an exciting route from his homeland (apart from the tiny bit of it that's in Spain). In itself the track is just of an up-and-down trip to a single summit of the type that one would often do over here, but the fact that it's in the Pyrénées makes the scale of the surroundings of a different order of magnitude. The objective (the Pic de Sauvegarde) is starkly spectacular but requires nothing worse than brief easy scrambling to attain; most of the route is on very well marked trails.

David-Guenot on PIC DE SAUVEGARDE
 This classic, popular route in the central Pyrénées will take you to the Portillon de Benasque (2444m), which marks | walk, Len: 16.3km, Climb: 1360m, Area: France, Midi-Pyrénées () Click here


Sorry if we didn't mention what you posted .. there's a list of all contributors for the month later.
MOTLEY GATHERING

Controversy over Mullaghanattin

One of our newer members took issue with users portrayal of Mullaghanattin. Nothing surprising about occasional controversy in MountainViews. You can read all about it here:
tamjk on Mullaghnattin: Only For The Highly Capable
I tried Mullaghanattin yesterday with a holidaying acquaintance. We got up to the last peak (Mullaghanattin East, I believe) before the summit in 3 hours. After looking at the final ascent - and more pointedly, at the steep falls on both the south and (worse again) north side of the summit - we called it a day. Too dangerous - a test of nerve together with a vigorous enough final climb. What's m ... Click here


There were various comments. I thought however that the contribution by CaptainVertigo was really excellent, encapsulating a number of the values that have emerged in the community created by this website since 2002.

Turn Back Until You Are Ready

I think that tamjk and his friend did something very sensible and commendable the other day on Mullaghnattin: they turned back because they did not feel safe. Each of us is responsible for his own safety on the mountains and that means working within the limits of his experience and capabilities. Knowing your own current limitations is a vital part of this exercise. Mountainviews is a community of the interested who share enthusiasms and information in a very open way but subject to the constant caveat that members must take responsibility for their own safety. Because I treasure the wild unfettered places and long to be there, I place a great value on the shared knowledge that can be found on this site. But the medium is the message: I take more notice of the measured reports of a long standing contributor than the perhaps less considered remarks of a new arrival. It is my neck, after all, that is at stake.


The Mullaghnattin Horseshoe

My admiration for tamjk's prudence in declining to expose himself to unacceptable risk does not extend to his somewhat peevish analysis of the surrounding facts. Instead of simply noting that the mountains he chose to walk the other day were beyond his current experience, he has contended that Mullaghnattin is somehow objectively unsuitable for hillwalkers. Yes it has steep sides. Indeed the maps show the rest of the ridge to be the same. It is true that it will take most of us longer than some of our most athletic members to reach the summit. And, as with many of this beautiful island's best mountains, you may not meet a soul all day. All of these facts simply underline the absolute necessity for walkers to gain experience and expertise (preferably as members of hillwalking clubs) before they undertake the country's finest routes. Experience and expertise means becoming "seasoned" and gradually increasing the level of challenge : it does not mean taking "the four peaks' " or similar outings and then pronouncing oneself fit for purpose. I am not suggesting that tamjk falls within this category. On the contrary, I look forward to reading his list of summits when he has time to upload it. And I will accept his bona fides as regards that list, and hope that he will accept the bona fides of longstanding members who report on route times etc. It is not acceptable to challenge the honesty of contributors here or elsewhere without solid evidence. Finally, my enjoyment of the mountains is never diminished because there are good folks on this site who have achieved much more than me, going higher, faster and further. These people are not my opponents tamjk: I am my only opponent, as you are yours.

And No, this site does not actively or passively encourage a cavalier attitude to safety. Anyone who engages with the site will see the constant warnings. The mere fact that experienced members may express delight in certain achievements is never an invitation to others to "have a go" without training or knowhow. I have found the achievements of my friends here to be inspiring, and I have waited years to reach some of those goals. There is no reason why you should not eventually head up Mullaghnattin and reach the summit. But you need to serve your apprenticeship first.


---
Visit of hill surveyors from Britain - meetings and field trips(repeat item)

On 4th- 6th Sept, 2015, we are going to welcome a British group DoBIH (the Database of British and Irish Hills) to discuss and participate in a spot of hill-surveying. Hill lists are an important part of what MountainViews does and measurement is a small but important part of lists. It's good to discuss what we are doing with others doing the same thing therefore.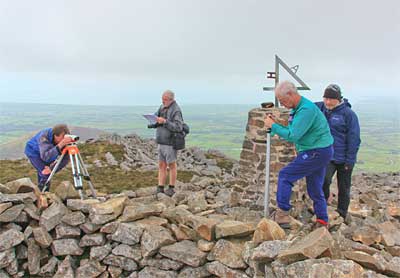 Surveying on the summit of Yr Eifl in Wales at our previous meet up. Behind is the misty coast of the Irish Sea beyond which Wicklow can sometimes be seen.
Although small, the black and yellow Trimble unit with our own John Fitzgerald (right) can just be seen taking measurements on top of the trig pillar. It turned out to have very similar accuracy to the Leica gear used by DoBIH.

The programme will be based in Wicklow and will include
Fri 4th Sept, 16:00ish, meeting at Knockree Hostel to discuss matters of mutual interest.
Sat 5th Sept, 10:00, joint surveying - may include Lugnaquillia
Sun, 6th Sept, 10:00, more surveying

General welcome
If you're a member of MV and want to come along and have a look you are most welcome, indeed if you offer to lend a hand carrying gear up the hills you are likely to be taken up on the offer. The surveying programme will be coordinated from MV's end by John Fitzgerald (jackill).

You can find out about the "DoBIH" (Database of British and Irish Hills - www.hills-database.co.uk/. We have had reciprocal arrangements for sharing data with this group for some time and in early Sept 2013 we met up with them to compare methods

You can see a report about our previous meeting in the September 2013 version of our newsletter at mountainviews.ie/newsletters/month/2013-09/ where amongst other things there is a an explanation of why MV and others ever got involved with hill surveying.


---
MV Strategy

Just a reminder about this item which was covered more fully in previous months and thanks for those that contacted us about it.

The Committee's Draft Strategy for MV is now available here. We invite input from all members of the Community as to how this should be further shaped. Any comments, criticisms, corrections, etc., are welcome on OnzyMV@gmail.com




CHALLENGE
A place for those interested in Challenge Walks
MountainViews Challenge Notes, September 2015


mountainviews.ie/challengecalendar/

Having exited from a positively balmy Summer. . . . September's Challenge Walking is always going to be at the mercy of the weather, even more so than the rest of the year. An Indian Summer is quite possible at this point in time - but September will always be September!

There tend not to be too many Challenge Walks in this Autumnal month - alas the daylight hours are becoming even more precious and temperatures on any given day could quite literally be almost anything on Mr. Fahrenheit's scale!! Yet two great walks of our time are eagerly awaited by many a Bogtrotter. . .

Championing the wondrous Burren is the Ballyvaughan Fanore Walking Club who hold their ever popular Burren Walking Festival. A beautiful,beautiful introduction to any unfamiliar with this incredible Clare landscape!!

Helping to celebrate 60 years of Walking and Friendship - the North West Walking Club host the famous Glover Highlander . . . !

It having been five long years since it's last iteration - it's return once more is greatly welcomed. The two incredible Donegal mountains of Muckish and Errigal are the dominant features of what is always a full-on day's Hillwalking.

Last Month saw very successful walks from the Seven Sevens to the Fei Sheehy Challenge.

---

gerrym on Trying Challenge Walking

Why hillwalkers might like to try the discipline of Challenge Walking.

MountainViews member gerrym gives an excellent overview of the Fei Sheehy Challenge which is a relatively new Challenge that is sure to have a great future. gerrym will be familiar to regular users for his route descriptions and videos. Here he is describing what he got out of Challenge Walking.

gerrym on Fei Sheehy Challenge
Challenge Walking?
Surely that is for those slightly deranged individuals who try to push one or two days walking into a few hours and enjoy pain and discomfort.There is no way a leisurely walker like me who can see a video or photo opportunity every few metres would attempt such outrageous events......
Well, that is what i thought until hearing about the Fei Sheehy Challenge. This ... Click here


Returning to Donegal and the Glover Highlander . . . . this walk used to be the last of the season's true Challenge Walks (as in a self-navigating walk with a lot of pain within) and as such used to attract and welcome many the walker for a grand finale of a given year's pottering. There is a limit of 200 walkers on this year's Glover but that should be plenty of blister-free feet should any "Damhsa" ensue!!

Looking forward to taking the Challenge. . . .

-- Jim Holmes.

---

Joyce Country Challenge 2015

The 9th annual Joyce Country Challenge was held on the 18th July, but unlike the last two years the weather was not on our side.

All looked good during the week, but just twelve hours before the start Evelyn Cusack delivered the bad news on RTE that Saturday was to be a washout. It seemed the Joyce Country Challenge would join the British Open where the weather was the talking point at a major sporting event.

Registration was brisk in Finney hall as hot breakfasts of porridge, tea and toast were served by the Seoighe sisters to grateful walkers. There are not many challenge walks where you will be served hot tea while completing registration. Despite the conditions everybody was in great humour and had come prepared for the conditions.

The challenge walkers were leaving as the 'B' walkers were gathering for the walk over Bunacuneen and around Lough Na Foohey. Again after copious amounts of tea toast they gathered for the customary photograph in front of Finney hall. With some breathing space to count registration forms and donations it was realised that entries were up significantly on last year.

Preparation's got underway for the third walk of the day, the 'Introduction to Hillwalking'. At around midday our first challenge walker arrived back to the hall, local legend and king of the 'Turks Micko Keane. Following a quick change of clothes Miko set about making sandwiches and preparing soup for the ravenous walkers who were now visible on the slopes close to Finney hall.

Reports were coming in through the radio operators that walkers arriving at the refreshment post at Ail Dubh were deciding to call it a day in the interests of safety. Many of the regulars though braved it all and finished the challenge to a rousing welcome in the hall.

The volunteer caterers at Finney hall were now on full alert as they fed the returning walkers with hot home-made soup, sandwiches and salad. Now that people were dry and warm inside the party was in full swing! Stories of Homeric proportions were told and camera phones flashed to capture the smiles at the colourful tee- shirts which were the badges of achievement for the 2015 Joyce Country Challenge. Everyone vowed to return next year for the tenth running of this great day out.

We had a record entry and our chosen charity, the Galway/Mayo Hospice foundation benefited to the sum of close to €5k.

Patsy Cahalan.
emVee-Tube
Videos this month:


Videography by Peter Walker.


WEBSITE NEWS

Improvements to GPS tracks - feedback: great but some issues

We are enhancing the GPS track sharing as discussed in the last few month's newsletter and we have been getting some comments in. If you are new to the enhanced track editing, take a look at the sample at

mountainviews.ie/track/713/

We have had some difficulties reported:

Sometimes photo doesn't go where wanted (ends up at start of text)
Suggestion: Generally it is better to use the tool that reduces the size of pictures (even if you want them full size). Stylistically it is usually more interesting to have most of your pictures reduced in size.

Losses blank lines between paragraphs
Suggestion: There are some difficulties regarding this which may be resolved in the future. It should be possible to enter two carriage returns to get a new para however.

Inability to edit the text
Sometimes, particularly if you have left the browser window open for a while, your session may have stopped and with it some of the actions that should be available on the page. Try reloading the page. Or logout and then in again.

Losing information on cut and paste of text.
Suggestion: This has been reported by one user, though I haven't seen it myself. Send in reports.

Source editor If the editing is not doing what you want you can use the source code editing feature if you know about such things. The source code is in html: powerful but can go wrong if you don't know what you are doing. As always with comments if you do get into problems, let us know at admin -at- mountainviews.ie and it will be sorted out, if possible. Other points Note: You can look at photos associated with a track using the gallery feature, by clicking on a photo or on the "Gallery" button in shared track

In August we arranged that formatted editing (with photos) of summits at first entry (ie. just after Uploading a Track).

Let us know at admin@mountainviews.ie of any teething troubles or lack of clarity in how to do things.

Do you have ideas as to what you would like to see regarding our track sharing? Please do contact us at at admin@mountainviews.ie We will do a series of enhancements, however may not return to this area for some time, so now is your chance to propose changes.


---
Upload to a Garmin GPS unit
This information is being repeated from last month. Since we introduced the track sharing system there has been a method for exporting shared tracks. This takes two forms: "Download a GPX file" and "Upload to a Garmin GPS unit". For Garmin users (the vast majority of people using standalone GPS units according to my experience) this is really handy. You can go directly from the website to the device using a supplied cable. Seriously neat. Used by many many other websites as well as MV.
Bad news I am afraid. This feature relied on a tool provided by Garmin ("Garmin Communicator") which relied on a method supported by browsers such as Google Chrome, Firefox and MSIE. The browser manufacturers have deemed the method insecure and are phasing it out. Garmin has apparently not decided to replace their tool with something similar. So you are likely to find that following a browser update the "Upload to a Garmin GPS unit" feature will die - usually saying that Garmin Communicator plugin is not available or some such. If a replacement becomes available, we will see what we can do.
Meanwhile you can still export data to a GPX file and use other software to get it onto your device.


BOOK REVIEWS
Map Review: Wild Nephin published by East-West Mapping, 2015.





We could have used this map on the occasion we went up Slieve Carr in the area from the new map shown in the picture. We chose to visit the place from the East not seeing any obvious reason to come south from Bangor despite it being frequently proferred as the obvious option. The main difficulty we had was that from the public road to the summit lies a substantial forest and a river system. We had the OS Sheet 23. We are sure that everyone in OSI who has asked knows hillwalker's views on the consistency needed in forest track mapping :-) In this particular case there are many tracks missing particularly the vital connection from the bridge at F955 149 to the west but also the substantial concrete bridge isn't explicitly shown which might have meant a ford, uncrossable on foot. (Incidentally, we had the 2nd Edition Sheet 23 – the newer 4th edition shows several welcome corrections though hasn't improved on the issues noted.) Our resulting route through the young Sitka (the scratchy stuff) while feasible was neither elegant nor optimal (though still much better than coming from Bangor Erris!)

Had the new East-West map been available we would have used it with delight because it does show the forest roads and rides and is clearer about the river crossings. In fact for the first time we could work out how we went. I would strongly recommend the map for its detail. All the other summits I have gone up in the area such as Buckoogh could also benefit and long walks connecting various points using intricate forest tracks could be enabled.

Also the contours seem a bit better than some of East West's earlier offerings though I haven't done any spot checks in the field. Let us all acknowledge that the map represents a huge effort in time and committment by East-West - it's quite an achievement.

Problems?

Well, there are certainly some (though none enough to stop me recommending the map).

First, the map is described as "Wild Nephin" but doesn't actually include Nephin or indeed all of the summits usually considered to be part of the Nephin Begs. This means that the land to the east of Birreencorragh isn't included. This is a major omission because this area includes the forest entrance that leads to one of the best ways up. It also omits Knockaffertagh, 517m a full Arderin connecting to the east of Birreencorragh.

Inevitably with East-West we get to names, particularly summit names. The map has "Slieve Walp" where MV has Slieve Alp (a 329m Binnion to the west of Slieve Carr). While I wasn't on a cartographic exercise when I went there I did talk to a few locals about the place and they described it as Slieve Alp not Walp. It is called Slieve Alp on the OSI 1:50000 map. Logainm.ie, the official government source, call it Slieve Alp in English and Sliabh Ailp in Irish. East-West has chosen to give it two names, Slieve Walp and in small type Slieve Ailp (a mixture of English and Irish). What we can definitely say is that this goes against the official names. What exactly is wrong with including the official name again? And why not include the name that has appeared on maps for over a century?

Birreencorragh is described as Birreen Corrough without any further names. Once again, it appears as Birreencorragh on OSI maps and also Logainm. The latter gives its Irish name as An Birín Corraigh.

MountainViews also has a Birreencorragh West Top (BWT) – this is included on MV listings because it has a drop estimated at 36m making it an Arderin. In our view hillwalkers need names for places like this because they are significant in planning and route finding (and for some people summiteering as well). In this case BWT is part of the area around Birreencorragh however it has no name or summit symbol on the East-West map (though there is a phrase "Top of Leana" that might refer to it). There's various other unnamed but fairly prominent places such as what MV calls Maumthomas SW Top (prominence 40m). We also believe that there should be consistent summit symbols for all summits.

Buckoogh is spelt Buckagh once again going against the OS and Logainm even in the Irish (E-W Buaice, Logainm: Bocach).

There's plenty of further examples. There seem to be a whole series of places differently named or simply spelt differently from official sources. This is pointlessly confusing to people using other sources such as search engines, OS maps, guidebooks or this website. In some cases there may have safety implications - lost walker via noisy phone: "I'm on Maol Rua", helicopter pilot: "No Mweelrea on my map - is he sure what county he's in?". Not convinced? Try the rescue services with Mamer Dougher - it's been called Glennamong for over a century by the OS (see http://maps.osi.ie/publicviewer/#V2,489641,811146,7,9 ) but this name is not used by East-West.

Nevertheless I think MountainViews will consider using some of the names used on East-West's map, perhaps as secondary names for some cases. We need to recognise that there was considerable research in some of the derivations even if there is no consensus as yet. However in general we will not completely replace official names with unagreed ones or for which there is no academic authority. Names we would consider would include Maumahieran or Greenaun Mountain because they would be useful as labels for places if there are sound reasons for using them.

Also let me say, anyone that knows the field knows that placenames, including official names, in Ireland are a confusing mess. The question is how to go from this situation to a better situation and not create worse confusion en route and renaming places without consensus or official support is often not helpful.

Overall.

If you are going walking in this area, definitely bring a copy of the map for the reasons stated. It will hugely help with planning and route-finding. It's a shame about the names.

-- Simon Stewart


SUMMITEERS CORNER
A place for those interested in Summiteering, Bagging or Highpointing.
Arderin Begs
Our chairperson Onzy has created a description of where the new "Arderin Begs" fit into the MountainViews family of lists and why it removes various anomalies.


Onzy on A few words on the Arderin Begs.
Those who keep a sharp eye on the site will have noticed the addition of a new list of hills entitled the Arderin Begs. Briefly, these are hills over 500m in height with a prominence of between 15 and 30m. However, if your interest in the website is for summiteering (aka bagging), I think it is worthwhile explaining further how they fit into our range of lists. Firstly, 'prominence' is, unsur ... Click here

---
A Guide to Ireland's Mountain Summits - The Vandeleur-Lynams & The Arderins
MountainViews first book available online and in many bookshops. The first reprint with numerous minor amendments is available.


simon3 on A Guide to Irelands Mountain Summits
MountainViews first book available online and in many bookshops.

As members will know, for over a decade, Mountainviews.ie has been providing unique information to hillwalkers on all aspects of exploring and enjoying Ireland's upland areas. It's been a collaborative effort by over 1000 of you, and currently contains over 6000 comments on 1057 mountains and hills on the island of Ireland ... Click here
Bulk sales to groups such as Scouts/ Guides: contact admin@mountainviews.ie for a discounted price.
This month.
Kudos to our contributors.
We welcome the following new members who enrolled this month. 12lads, 6079smith, aaa, abizzybecker, aileenlynch, ainsfletch, Alanna90, ammio, andycam82, Bagga, Bambaata, Barneyf, Bigal, bigz, BonyMartian, Brian_Anthony, Brown, Cathymac2011, cduff, Claire09, cmagha, colganp, Colinsnow, Conor-na-Cnic, Conory, corkrats, creeko89, danko, ddavenport, Deecole, Denisem, dmurphy, domathuna, edelmaxwell, eoghanm, eoindunlea, EricCrichton, Ferdiasdad, Fillup, fionnfathach, gahank7, Galis, Galtee, garethplatt, GaryAchill, Gat, Gazgar, giusydilor, Groefaz, gui, heffo, heldon, hikingviking, hittp, Hoeyj01, iancarney, ivan2148, janetormey, jd777925, jfg, Jogger12, JohnBurrows, johncardiff, Johnnyhan, JoMac, jurekmeles, jweir, Kevin3538, kitshea, KKelleher, ktb, k_der, Lauratobs, leitrim1, Lheu, macshaven, maeve123, Magshannon1, MaryStanley, mcgloing, mclarke, michael_walsh, morris12, mountaingoosey, mountainman1957, Mrblueskies, munchieroberts, nclarey, nlebrozec, PabloAlto, PatriciaNolan, PeakPaul, peterbuckley, Peterhaigh, Petra, pgce, pinay, pipgov, pobalopalous, Pollardd, pposullivan, pwynne, ragahan, rayandjoan, Ridgeline, robertbrown, robertjaiken, rogman, Rona, Roryryan, RoscommomRambler, rowanofravara, Scundered, SeamusF, seandivs, slonlt, Sophie84, spjcc, squid1712, sunny, Swords1960, Swords1984, tamjk, thomasmh, tjodwyer, tomfitzpat, tom_leRraf, tony2015, tripalee, unlikemike, warpgirl (131)

Our contributors to all threads this month: (1), Aidy (8), Astrofizz01 (1), Barry (1), CaptainVertigo (4), Colin Murphy (3), ColinCallanan (1), Conor74 (3), David-Guenot (4), GSheehy (1), Harry Goodman (5), Kennyj (1), Onzy (6), Pepe (2), Peter Walker (2), Sophie84 (1), SpiritOf84 (3), Tom Milligan (1), Trailtrekker (1), caiomhin (2), chalky (1), ciarraioch (2), conormcbandon (10), eamonoc (3), geohappy (1), gerrym (1), Communal summary entries (12), hivisibility (2), jackill (1), jimmyread (1), karlachameleon (2), markmjcampion (1), mazamegaza (2), millsd1 (2), mountainmike (1), osullivanm (1), paddyhillsbagger (3), peadarmc (2), roscorrocket (1), sandman (7), shaneanddearbh (1), simon3 (8), strangeweaver (5), susanc (1), tamjk (2), thomas_g (1), tmsr (2), wicklore (2)
For a fuller list view Community | Recent Contributors

There were comments on the following summits , Aghla More, Aroher Hill, Ballycurry, Benard, Benbulbin, Benbulbin South-East Top, Benlettery, Binn Bhriocáin, Binswilly, Caoinkeen South-East Top, Carrane Hill, Carrigleitrim, Carriglineen Mountain, Carrignagunneen, Clondermot Hill, Croaghanirwore, Croaghaun, Croaghaun SW Top, Croaghconnellagh, Crockbrack, Doomore, Drumnalifferny North-East Top, Fir Mountain, Gleninagh Mountain, Greenane West, Kirikee Mountain, Knockacummer, Knockboy, Knockmealdown, Knocknacloghoge, Knocknalougha South Top, Knocknarea, Laghtshanaquilla North-East Top, Legg, Lugnagun, Minaun, Mothaillín, Mount Kennedy, Moylemore (Owey Island), Mullaghcleevaun, Musheramore, Nephin Beg, Reenearagh, Sceilg Mhichíl, Seltannasaggart, Slieve Donard, Slieve Gullion, Slievemore, Slievemore (Sherkin Island), Slievenaglogh, Srahmore, Srahrevagh North, Sugarloaf, Tara, Tievnabinnia South-East Top, Tirkslieve
and these shared tracks Ballydorgan, Nagles Mountains Ireland, Barnahowna, Partry/Joyce Country Ireland, Ben Creggan, Ben Gorm Mountains Ireland, Ben Lugmore East Top, Mweelrea Mountains Ireland, Binn Chaonaigh, Maamturks Ireland, Broaghnabinnia, Dunkerron Mountains Ireland, Camaderry Mountain, Dublin/Wicklow Ireland, Comeragh Mountains Ireland, Corcóg, Maamturks Ireland, Corran, Nagles Mountains Ireland, Croagh Patrick East Top, Croagh Patrick Ireland, Croaghanmoira North Top, Dublin/Wicklow Ireland, Doughruagh South Top, Twelve Bens Ireland, Dublin/Wicklow Ireland, Dublin/Wicklow Ireland, Faha Ridge, Brandon Group Ireland, France, Midi-Pyrénées , Greenland, Vestgrønland , Knocknarea, Ox Mountains Ireland, Knockroe, Nagles Mountains Ireland, Lavagh More, Bluestack Mountains Ireland, Slieve Commedagh, Mourne Mountains Ireland, Slieve Donard, Mourne Mountains Ireland, Slieve Foye, Cooley/Gullion Ireland, Slieve Meelbeg, Mourne Mountains Ireland, Slieve Meelmore, Mourne Mountains Ireland, Tawnyard, Sheeffry Hills Ireland, Unid, Unid tracks were created (none in period)

Thanks to all 1210 who have ever contributed summits or routes info and forums.

For a full list view Community | Contributors Hall of Fame

Summary. MountainViews now has 7668 comments about 1394 different hills & mountains out of the total in our current full list (1492). We want to get a good gps track showing each of the major ways up every summit in Ireland. If you see an option to add a "Short Summary" then do please consider creating one since another objective is to have a short summary for every summit in Ireland. There's a few (98) opportunities for you to be the first to comment on a summit.
NOTICES
Notices
If you are contributing, please be careful to respect the interests of landowners. Suggest access routes well away from houses, gardens or that could conceivably impact farming activities. When walking, keep away from gardens or farm buildings. Use stiles or gates wherever possible. Never do anything that could allow animals to roam where the farmer did not intend. Ask permission where appropriate.
Report suspicious activity to the police forces, as below.
If your car is broken into in an upland area report it to the PSNI or Gardai as this will help them be aware of the issue and tackle it in future. Store the numbers. In Northern Ireland use the PSNI non-emergency number 0845 600 8000. In the Republic you can find the local Garda District HQs phone numbers at www.garda.ie/Stations/Default.aspx. Specifically for the hotspot of Wicklow: the Garda Divisional Headquarters in Bray is 01 6665300.
If you hear of a problem area or route, write it up in MountainViews which does everyone a service.
Report rubbish tipping in the Republic - ring EPA hotline 1850 365 121
Report quads in national park area (in which they are banned). For Wicklow please phone the Duty Ranger: 087-9803899 or the office during office hours Telephone: +353-404-45800. Put these numbers in your phone, take regs etc. Let MV know of contact numbers for other areas.
If you have climbed some of the less well known places, we would appreciate a summit rating and also GPS readings for summits.
If we can, let's make MV have more than one route up a summit so as to reduce the tendency for paths to appear. Your grid refs in comments for different starting points show up on MountainViews maps as well as GPS tracks.
MountainViews are on Twitter as MountainViewsIE. Follow us and we will follow you back. Any queries to secretary@mountainviews.ie
Visit the MountainViews Facebook page.
This newsletter
This newsletter
Editor: Simon Stewart, Homepage: www.simonstewart.ie
Assistant editors: Colin Murphy, David Owens
Challenge Info, Summit reviews: Jim Holmes
Track reviews: Peter Walker, Tom Condon
Book reviews: Conor Murphy, Aidan Dillon, Peter Walker, Michael Kinahan
Videography: Peter Walker, Video Reviews: Paul Moore
Graphics design advice: madfrankie
Facebook assistant editor: Simon Byrne
Newsletter archive.
View previous newsletters mountainviews.ie/newsletter
RETURNING TO MOUNTAINVIEWS
Click on (If you have cookies on in your browser then you will be prompted as to username/ password. If you forget the password, the login page can email you a replacement.)

UNSUBSCRIBING
If you don't want to receive any further monthly newsletters from Mountain Views click on Settings. Then change the option beside "Include on occasional mailing list" to "Do not include". Then click the "Save" button.
Alternatively let us know by email at admin -at- mountainviews.ie Include the email address you got this at or your screen-name guestuser.