The Summit


Monthly newsletter of MountainViews.ie for guestuser

July 2015
NEWS - INFORMATION - RECENT CONTRIBUTIONS - FEATURES - FORUMS
Upcoming: MOUNTAINVIEWS - WALKERS ASSOCIATION - and MORE
WALKERS ASSOCIATION OF IRELAND and MOUNTAINVIEWS:
Report: GPS course for Hillwalkers
The Walkers Association of Ireland ran its GPS course for Hillwalkers recently. Hopefully this will be held again in future. To put yourself on the waiting list e-mail ted.mcgrath@walkersassociation.ie. No guarantees.
Please give your name, phone contact and most importantly the name and number of your GPS unit.


Challenge Walks. The Walkers Association used to maintain a calendar of Challenge Walks for Ireland. This has now been transferred to MountainViews.ie : visit the new location here. Also you might like to look at the newsletter's Challenge Walks Notes a monthly commentary on the Challenge Walk scene.

---
MOUNTAIN MEITHEAL: Mountain Meitheal are keen to find more people to help. Future dates:
12.07.2015 18.07.2015
25.07.2015 09.08.2015 16.08.2015 22.08.2015
06.09.2015 19.09.2015 26.09.2015 04.10.2015
17.10.2015 18.10.2015 01.11.2015 14.11.2015



We publicise Mountain Meitheal because they make practical repairs to some of the more popular areas we walk on, using a voluntary community based approach. (More information at their website.)



Picture of the month
Lough Nambrackderg cut into the side of Caoinkeen SE Top (555m) in the Shehy/Knockboys. Taken from Conigar.. Colin Murphy.
For Original Comment

Regions: MOUNTAIN COMMENTS - TRIP REPORTS - TRACKS - SUMMARIES
In short: Discovery
Featured track report
Ox Tale
A sample of the Ox Mountains
The Ox Mountains are a substantial, yet substantially unfashionable range of hills sandwiched between what on the face of it are much more interesting summits in Sligo and Mayo. But they offer much in the way of wild walking, and it with that in mind that we highlight ColinCallanan's track 2993 to the summit of Cloonacool, a route where the tough ground underfoot is softened by the picturesque Tullyvellia Lakes and the distant views of pasture and mountain.
It's comparatively short too, so it allows time for further exploration of the area.

Text of track comment
A pleasant stroll, starting at the old abandoned school and continuing up into the mountains to reach Tullyvellia lakes (pronounced Tullavilla locally). After the lakes, I continued in a NNW direction, but if doing it again I would bear north after the lakes as there appears to be less troublesome heather patches.

The section of the track on the way up to the Cloonacool summit has some treacherous bogholes and peat hags, so care should be taken even in dry weather. The way back down was quite pleasant, walking along a small river for the most part. After descending to flat land, there is a pleasant walk through private farmland to easily reach the road, from G44563 19117 onwards. It should be noted that this is private land, so permission should be granted before using this small stretch (about 200m or so long). The alternative is boggy, heathery land and more bog hole jumping.

Note; Two cars were used to save time on this hike. But the road walk back to the car after the main hike is highly recommended and there is little traffic.

ColinCallanan on Tullyvellia Lakes and Cloonacool top
A pleasant stroll, starting at the old abandoned school and continuing up into the mountains to reach Tullyvellia lakes | walk, Len: 6.6km, Climb: 387m, Area: Cloonacool, Ox Mountains (Ireland) Cloon Click here


Whatever the length or terrain covered, please do submit suggestions for this "Featured Track" spot in future at admin -at- mountainviews.ie
---


NORTH: Heavenly views near the place of saints
Croaghacullion Hill in Donegal SW is usually combined with other tops, but its collection of loughs and sea views beyond Glencolmcille make it a worthy stop in its own right.

Aidy on Croaghacullion: Could Be Combined With Other Local Walks
We spent a couple of days in Glencolmcille, doing two walks, one with the family part of the way on the Tower Loop, up to the lookout Tower, then on to Sturrall Head. On the second day I went on my own up to Croaghacullion, starting out at the Church of Ireland church, and initially taking the waymarked loop walk route counterclockwise. The track can be followed to the prominent communications m ... Click here


NORTH: A mere pimple
Two comments on the diminutive Moyle Hill in Donegal NW, 'a modest eminence rising in stumpy isolation' as described by Peter Walker.

group on Moyle Hill: A pimple in northern Donegal
Moyle Hill is a modest eminence rising in stumpy isolation to the west of Loughsalt Mountain. Its upper reaches are well-shagged with trees, trees that unfortunately curtail what could be excellent panoramic views. A quick ascent can be made from the minor road clambering over the slopes to the west. On the north side of a house at C1911523961 (limited parking, be courteous) a gate leads to a t ... Click here


WEST: Queen Maeve's Elevated Stairway!
The newly opened Queen Maeve Trail features a unique elevated stairway through woodlands, making for a pleasant ascent of Knocknarea in the Ox Mountains, reports aoifesaunders. [Well yes, but to the editor's jaded eye it looks awfully like one of the ghastly railway sleeper tracks in Wicklow - an approach that has been discontinued for new path work there as far as I know. Take a look at www.helpingthehills.ie for a better approach if your local community wants to 'improve' a track.]

aoifesaunders on Knocknarea: Queen Maeve Trail
Although I've hiked Knocknarea many times in the past, I took the newly opened Queen Maeve trail for the first time last weekend. It starts from the Rugby Club in Strandhill, which is from sea level, as opposed to the old route from the Car Park which is already half way up the hill. This trail is unique in that it consists of a purpose built elevated stairway through the forest, which is a little ... Click here


WEST: The Reek's lesser-known neighbour
Next door to Croagh Patrick you'll find Ben Goram and among its many attractions are the views it offers of the Reek itself, reports Aidy

Aidy on Ben Goram: Worth The Extra Effort From Croagh Patrick
After ascending Croagh Patrick by the traditional route, continued down the west side on a steep, scree covered slope before making the short climb up to the first and highest of Ben Goram's double summits. Great views, similar to Croagh Patrick, but also giving a new viewpoint on The Reek itself. We kept going west down over diminishing bumps before a final steep drop to a minor road that took ... Click here


Featured summit comment

Knockeirky South Top by David-Guenot

- A new Arderin Beg with huge & varied views.
This summit is one of the new Arderin Begs (Over 500m with the lower prominence in range 15 to 30m). Not all of the newly listed summits have good views, but this one certainly does.
---
From one of the comments:

Climbed Knockeirky South Top/Canshanavoe as part of a loop walk in March 2014, starting from the Healy Pass and including Knockowen, Cushnaficulla, Knockeirky, Glenkeel Top and Stoockeenalackareha (see track 2767). I was glad to see this summit was included in the new Arderin Beg list, as it has been one of my favourite spots along this long walk. The weather was rather cold and cloudy, with a few sunny spells (it even snowed for a few minutes on the way back to Knockowen), clear enough to enjoy the views almost all along the way though. The summit is topped with a small cairn.

The area is wild and remote, and the views are extensive, especially to the E and NE towards the Caha Mountains, Glenlough Mountain, Glenkeel Top and the Sugarloaf Mountain ridge. Hungry Hill stands proudly to the SW. The views over Bantry Bay and Adrigole Bay to the S are best seen from a flattish area SSE of the summit (see other comment). Also some nice views towards Knockeirky, Cushnaficulla and Knockowen to the N. The ridge that leads to Knockeirky is quite long, but rather easy-going, despite a few ponds and peat hags to contour. I would really recommend this loop walk, as the scenery is absolutely beautiful all along the way. www.discoverireland.ie/Activities-Adventure/bolus-head-looped-walk

---

SOUTH: Enough to drive anyone nuts
The bizarre sight of a dumped car in the middle of a forest atop Corronoher Hill in West Limerick/N. Kerry, is the subject of a couple of justifiable rants as below.

Can we say to ranters (who we feel strong sympathy with) please do contact the authorities. In the Republic to report rubbish tipping - ring EPA hotline 1850 365 121 . We live in a world where not every aspirational government initiative works, however I can tell you that I contacted them about some miscellaneous furniture dumped in the Silvermines. Hey presto - I got a phone call from someone in the council and it was removed.

eamonoc on Corronoher: Trig hidden,as well as the Ford Fiesta similarly buried amongst dens
Here we go again, the Boggeraghs and a Fiat car and now a nice little hill in Limerick with a hidden trig and a Ford Fiesta for company. A question for acorn, geohappy and hivisibility did any of you see the car parked / dumped neatly in the middle of the forest just above and to the left of the Layby mentioned in your very helpful directions. I had my teenage daughter with me on this trip and ... Click here


SOUTH: True Colours
In a lot of other company the initial three eminences on the ridge rising to the west from Glencar in deepest Kerry would seem semi-substantial, seeing as they all summon just over 450m of height. Unfortunately for Beann Dubh, Beann Bhán and Beann Dhearg the next two summits on said ridge are Caher and Carrauntoohil, but this hasn't deterred thomas_g from turning them into a compact little circular walk with obvious potential to be extended a bit further (and a lot higher). Those whose interest has been piqued might wish to check out Mr Hendroff's comment on Beann Dubh before proceeding, lest they end up accidentally channelling their inner El Cordobes...
thomas_g on Black White and Red
| walk, Len: 7.4km, Climb: 406m, Area: Beann Dubh, MacGillycuddy's Reeks (Ireland) Beann Dubh, Beann Bhán, Beann Dhearg Click here


SOUTH: A new summit at the heart of the Shehys
A fine day and a fine Arderin Beg combined to make a simple but pleasant walk, reports Madfrankie.

madfrankie on Foilastookeen: A new summit in the heart of the Shehys
Parked at a a double gate at W054 647, just north of Gowlane Bridge on the road west of Conigar in the Borlin Valley (space for a single car). Hopping the gate, a farm track pointed the way uphill for a short distance. I aimed for the left of a low band of cliff on the horizon. A handy fence provided a guide over Conigar's NE shoulder. Descending on the other side, I passed tiny Lough Glas, and co ... Click here


SOUTH: Zig zagging around giant walls of stone
First comments for two of the latest list of tops – the Arderin Begs. Colin Murphy & co. on Knocknaveacal N & S tops, in the Cahas.

group on Knocknaveacal North Top: Zig zagging around giant walls of stone
The simplest approach to this Arderin Beg is from the north. There is room for several cars to park at V755 578, on the Beara Way. Continue along the track through the woods for about 500m to V750 576, where you can access the open hillside. The ascent to the SSW is gentle at first but becomes increasingly steep, although the terrain is firm - mostly short grass and rocks. You will have to negotia ... Click here


EAST: Only on a clear day
Mount Oriel is a 15 minute round trip – about as short a walk as you can get, yet does have some nice views, but don't bother unless the skies are blue, says Pepe.
Pepe on Mount Oriel: Only when it's a clear day
Parked near the service lane entrance, room for maybe two cars on the grass verge. Thankfully the cattle mentioned in another comment were in an enclosed field and not at the suummit! The sheep were back around the trig - a simple walk of maybe 15 minutes max from the car to trig and back. Worth it for the views, despite the trees and masts. For this reason would recommend it only on a day when th ... Click here


EAST: Little effort brings great rewards
One of the most climbed hills in Ireland, Great Sugar Loaf, also offers some of the finest views, not to mention ease of access, reports aoifesaunders

aoifesaunders on Great Sugar Loaf: With little effort comes great rewards!
Undoubtedly the Great Sugarloaf is one of the easiest climbs but with the greatest rewards! An hour would easily see you up and down (from the carpark that is!). There is a little bit of scrambling and climbing to do at the very top but still accessible for little ones. Stunning views across the Wicklow Mountains and Dublin Bay but be warned, best views are only achieved on a clear day, I've found ... Click here


MIDLANDS: Slap bang in the middle of a windfarm
The views are mostly of towering wind turbines, but at least their presence makes access to Toreen Hill in Tipp relatively easy, says sandman.

sandman on Tooreen: Garracummer/Mienvee Wind Farm
Not unusual for the Shannon Area a summit located in the middle of a wind farm but it sure makes access easy especially in this case as a marked trail runs thru it. Parking at the entrance R9026654933 head for wind turbine T15 and just before same enter field thru farm gate heading for point R9104955949 this will allow you an easy stroll to the summit without the problems associated with walking o ... Click here


ITALY, SARDINIA: Next-door to Napoleon
The ever-spreading tentacles of MV's track coverage have now got their suckers stuck into (or onto) the Mediterranean islands with a route from Sardinia courtesy of Onzy. This proved sufficiently onerous for him to feel it necessary to remove his flip-flops (presumably to something more sturdy, although he may have proceeded barefoot for all I know), so be warned. There are other summits of similar height near his conquest (Monte Pino) and a quick check of Wikipedia suggests there's a fair amount of hilly/mountainous terrain on the rest of the island...a decent venue for a full-on walking holiday, perhaps.
Onzy on Monte Pino, 742m, Sardinia
Flipflops off for one day only... Recorded on an app downloaded at the last minute - interesting to note how it totalle| walk, Len: 10.5km, Climb: 178m, Area: Italy, Sardinia () Click here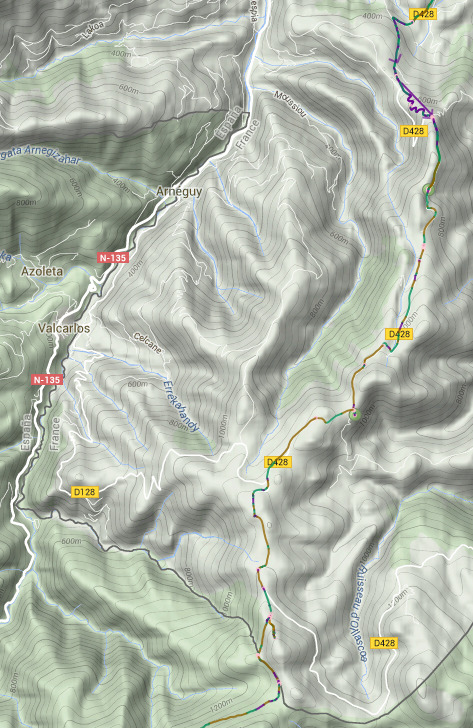 Camino Frances - St. Jean Pied de Port to Orrison

Shared track from march-fixer

SPAIN: Come on pilgrim, etc etc...
A man with every right to feel very pleased is march_fixer, who has recently walked the whole length of the legendary pilgrims' route the Camino Frances which starts on the French side of the Pyrenees before concluding 780km later on the coast, having crossed an awful lot of northern Spain to get there. The walk took 36 days, and the whole thing has been uploaded as tracks onto MountainViews to serve as information and inspiration (and for some of us a creator of much envy...what I'd give for a holiday that long - Tracks Editor).

Some text from the start of the track descriptions:
Day 00 - Arrival
We had flown Ryanair the day before from Stansted to Biarritz. There is a very useful pick-up facility called "Express Burricot" who only charge €18 each, for 5 to 8 persons and gear, all the way to St. Jean Pied de Port. Pre-book your place on the web before arrival. Stayed overnight in St. Jean Pied de Port so as to get our Credentials from the Pilgrims Office, have a good look around and enjoy a nice dinner before an early night.
We made a consious decision to walk the entire Camino in the 'traditional' way and not to book any accommodation in advance ... except just this first night in St. Jean.

Day 01 - St. Jean Pied de Port to Orrison
This was the first day of a very long 1,000km trek along the Camino Frances and on to Finisterre. This route was featured in the film "The Way" produced and written by Emilio Estevez, starring his father Martin Sheen, Deborah Kara Unger, James Nesbitt, Yorick van Wageningen and Estevez himself.
Rather than face a hard days push up The Route Napoleon and then down the steep route into Roncesvalles we decided to break at Orrison so as to test our backpacks and boots for fit and comfort level. This was a sensible choice as it is quite a climb up to Orrison and it is not a good idea to overtax your feet on the very first day. Many people chose otherwise and they were then nursing some nasty blisters for quite some time. Just as we reached the Refuge Orrison the cloud descended and we were enclosed in cold damp mist. The views disappeared and it was time for a nice hot coffee or soup.
We got directions to our lovely 'Gite' called "Kayola" about 800 metres back from Refuge Orrison. Got a nice log fire started which made the place very homely. Had to trudge up the 800 metres again for the evening Pilgrim Dinner, but it was well worth the trouble. At the end of the dinner everyone had to say who they were and why they were doing the Camino. This was great as an 'ice-breaker' since we continued to bump into many of these same pilgrims all along the way. After plenty of good food and wine, the tramp back down to our lodgings passed in an instant. The log fire was still smouldering when we got back. Some of the other pilgrims stayed up to enjoy another bottle of wine.

Sorry if we didn't mention what you posted .. there's a list of all contributors for the month later.
MOTLEY GATHERING

Dingle access issue change recommended for getting to places like Beenbo or Annascaul from the "Ballyduff Graveyard" The obvious way to go onto the hills from this popular parking spot is more or less due south straight up the spur to Beenbo, however this is no longer recommended and advisory notes have been issued by MI (and Collins Press). While this is a pity, the route up on the east side of the Glennahoo River is magnificent, if somewhat longer to reach some points.

Walk back towards the R560 from the graveyard and turn right. Walk around 500m along the road and cross the bridge over the Glennahoo River. Take care while walking along the R560 as it is a busy road with no verges. After crossing the bridge, continue along the R560 for another 300m. Leave the R560 and turn right into a track at Q5460010350. There is an old farmhouse with dormer windows and a sloped flat roof extension at the track entrance. Continue south-eastward for around 150m along this track to reach a T-junction.

Turn right there and follow a lane southwards to Maghanaboe at the head of the valley. The Glennahoo River twists and turns along the valley floor to the right. The narrow valley, some 3km long, is flanked by a sweep of steep slopes clothed with banks of scree.

This affects access to places such as Beenbo, Slievenagower, Slievenalecka and Banoge North Top.

---

MORF, the Mournes Outdoor Recreation Forum
The most recent meeting of the Mourne Outdoor Recreation Forum took place on Tuesday 16th June in Rostrevor. Matters related to hillwalking and other uses of the mountains were under discussion, including:

* Waymarking of organised events within the mountains. A 'vanishing spray' is being trialled by several event organisers, traces of which should vanish within a week or so. * Future footpath maintenance within the range and priorities therein. This has not yet been finalised, but anyone interested in the works under consideration should contact me via MV. Numerous agenda items could not be covered owing to time constraints; it is intended that the next meeting of the forum should be substantially in advance of the usual six-monthly scheduling.

---
MV Strategy

Just a reminder about this item which was covered more fully in previous months and thanks for those that contacted us about it.

The Committee's Draft Strategy for MV is now available here. We invite input from all members of the Community as to how this should be further shaped. Any comments, criticisms, corrections, etc., are welcome on OnzyMV@gmail.com




---
Volcano erupting.

Time Lapse Photography of a Chilean Volcano -- absolutely mesmerising. Incidentally this has a 2160p option for those that like really hi-res, but, if that means nothing to you it's still mesmerising.petapixel.com/2015/06/16/a-4k-timelapse-of-the-calbuco-volcano-that-exploded-over-chile/#more-170031
---
Photographers of MV - How good are your eyes?
A test of colour discrimination here. www.igame.com/eye-test/
It's harder than you think.
---
Jumping Sundogs - Really rare atmospheric optics
On previous occasions we have included pictures of the sundog, an atmospheric condition where you see sunlight glinting off clouds of high altitude ice crystal (like 40km high). Take a look at the extraordinary, fast moving, phenomenon recorded here:
apod.nasa.gov/apod/ap111108.html
CHALLENGE
A place for those interested in Challenge Walks

MountainViews Challenge Notes, July 2015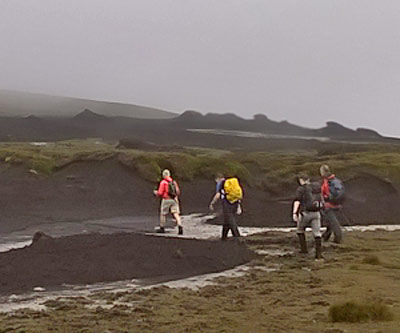 The Lug Walk, 2015

Photo: Jim Holmes

Challenge Walks Calendar

mountainviews.ie/challengecalendar/

Continuing to evolve, the Challenge Walk Calendar, has at this stage, fitted-in seamlessly within the greater MountainViews community and is certainly going from strength to strength!

In the few weeks gone past the mighty Lug Walk took place in Wicklow, as did the Tom Crean Challenge in Kerry. Both were two very successful days and testament to their organisers. With both walks seeing inclement weather at times, this did nothing to dampen spirits in any way, of any walker. But now we're into July so all going well we should still enjoy long evenings with balmy sunshine - what could go wrong! [ED: As one of the organisers on the Lug Walk(junior transport operative, third class) I had the great (though tiring) privilege to be at the start, the Wicklow Gap and the Fenton's end of the walk. It was great to meet old friends and make new acquaintances amongst the finishers, a good few of whom had heard of MV]

And so now - The Sunny South East beckons, for the very popular Comeragh Challenge as hosted by Dungarvan Hillwalking Club. This walk traces the wonderful Comeraghs, from just outside Clonmel back to Dungarvan.

Then later in the month, heading West, is the magnificent Joyce Country Challenge. Traversing the plateau of 'Maumtrasna' and the 'Devils Mother' this is a beautiful circuit of Lough Nafooey.
Lake District Hillwalking Club proudly present this great day.

Both Challenges also provide "B", "C" and "D" walks on their given days and these have proven a great success in nurturing many who are new to Hillwalking. Both clubs have been exemplary in this regard!!

So be sure to checkout a Challenge Walk near you . . . .
And if, having read last month's Newsletter and were wondering "why the preoccupation" of the avid Challenge Hillwalker to the weather . . . . . all should be evident from the report of The Lug Walk 2015 . . . . . !

mountainviews.ie/challengecalendar/node/80/ -- Jim Holmes.
emVee-Tube
Videos this month:


Videography by Peter Walker.


WEBSITE NEWS

MountainViews on-site video links.

We discussed this great new feature in last month's newsletter (you can find old newsletters here mountainviews.ie/newsletters/ ) This month our videographer, Peter Walker, has added around 20 new links to videos this month. These include a number of great ones from member patrickzerkowski, Patrick Zerkowski.

MountainViews further supports videos by including a selection in each newsletter. You can see links to some of Patrick Zerkowski's there.

Currently the MV committee has appointed Peter Walker as videographer to maintain the list of videos. If there are particular videos that you would like to see added please do contact us at at admin@mountainviews.ie

---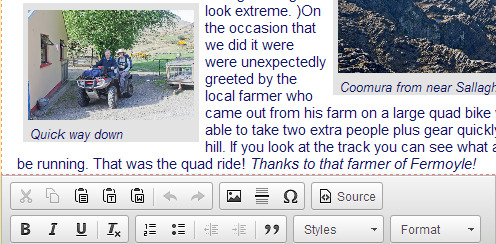 New editing feature for shared tracks with photo addition.

Improvements to GPS tracks - photos and formatting

Last month June 2015 saw 60 tracks uploaded, another record. We want to enhance the GPS track sharing as discussed in last month's newsletter and the first phase is now out in a proving mode. Take a look at the sample at

mountainviews.ie/track/713/

If you click on Edit and then click on the text of the description you should see a "bar" with editing options appear. With this you can do some format editing like bold, italic, headline, special box, horizontal line, special character like É . You can insert stuff from Word and you can add up to 5 pictures, reformat them and optionally add a caption. Not to put too fine a point on it, we are looking for quality pictures that illustrate aspects of the shared track.

Let us know at admin@mountainviews.ie of any teething troubles or lack of clarity in how to do things.

Do you have ideas as to what you would like to see regarding our track sharing? Please do contact us at at admin@mountainviews.ie We will do a series of enhancements, however may not return to this area for some time, so now is your chance to propose changes.

---
Old Listing System
We received the following question: "I have been trying to draw up the list of all Dublin Wicklow Mts/ Hills but note that the previous means of access to this has been changed. Are lists of each group still avaiable and if so how do I access them. I was able to do so yesterday but find the system has been changed to-day. Appreciate any help you can give." from Harry Goodman.

The answer
We have changed the way the listing program works and had an overlap where we had the new and old system ran in parallel for most of a year. There's a cost in keeping old code running – faults develop, changes have to take account of the old system etc.
It is true that there was a slight change. The old system allowed you to select a list of summit purely by Mountain Area. The new system *almost* allows the same thing.

Go to the Lists & Logs | Twenty-One Lists & Personal Log feature.

Clisck on Choose list type, export, and other options
Then All Irish Summits. Then Create List.

Then click on the map on the Dublin Wicklow area. Then Click to select summits near Dublin/ Wicklow
Then click Create List again.

The list will show all summits in a box around Dublin/ Wicklow as shown on the map.
This may seem longwinded but it does most things graphically and better than before.
SUMMITEERS CORNER
A place for those interested in Summiteering, Bagging or Highpointing.
---

New low prominence Arderin Begs Launched

These have height >= 500m and are nominally in the range 15 to 30m prominence. So they are Arderins but just not so prominent as the previous lot. There are 97 of them.
Effectively this removes a discrepancy we had whereby our Vandeleur-Lynams included 15m to 30m prominence tops while our Arderins didn't.

Many thanks to everyone that worked on this, in particular
Brendan O'Reilly
David Owens

Look out for errors. We are quite sure there are some - we just don't know where. You can use the Propose Place Database Change | Geography feature to propose changes for example to names or to grid reference. You can also propose new summits.
---
A Guide to Ireland's Mountain Summits - The Vandeleur-Lynams & The Arderins
MountainViews first book available online and in many bookshops. The first reprint with numerous minor amendments is available.


simon3 on A Guide to Irelands Mountain Summits
MountainViews first book available online and in many bookshops.

As members will know, for over a decade, Mountainviews.ie has been providing unique information to hillwalkers on all aspects of exploring and enjoying Ireland's upland areas. It's been a collaborative effort by over 1000 of you, and currently contains over 6000 comments on 1057 mountains and hills on the island of Ireland ... Click here
Bulk sales to groups such as Scouts/ Guides: contact admin@mountainviews.ie for a discounted price.
This month.
Kudos to our contributors.
We welcome the following new members who enrolled this month. amberfey, annemariewaldron, aoifesaunders, arsedaghat, arta, arta1, BarryCannon, BazFox, BelfastMo, bmattimoe, bobnugent, camperen, charlieh, christianaidirl, clunee, Coorleaghcat, cosgrovej, cozmo2009, crusty, danielbuechele, DeeEmm, delbhoy284, Derryt, dolface76, Dollaghanman, Dundalk98, edokelly, Effinjohn, efitzg, efitzg11, emila, eugenesmith1999, fergodowd, Fido, FloRow, fxdaley, GarethToolan, gerhardschmitz, gloggers, GoldCircle, greenpeter, grogin60kevin, iaind, inkerman, intrepidhiker, jacques-nys, jerischuermann, joe45, joeryan1, joewilson47, JohnHiggins, jpmcmahon, kagy, leptown180, liamd, LiamSlats, lorcanf, Macken, Maptm, marcus47, maryconn1, maryoconnell, McGlynn437, Meckhardt, Mickeysull, mikey, missmaureen, mully, munrobagger, musher, Neil_whag, ness, NorthfaceJohn, nosully, olearydc, omcm, osullivanbart, Parichello, patfarrelly, Patmc, patrickzerkowski, paulpaul, pcost, Pelethewalker, peter_whitty, pottybates, poysk, Robertbarker, ruso10, Ryall_noel, Shahsabet, Sharonmcintyre, Sharpy911, skyline, Slinger1, steephill, StephenMu, Summit2Summit, Terrylorry, thomasla, tops, vivisectus, wakaboo, Watersci, Waylander, website, wkip, Wolverine (108)

Our contributors to all threads this month: Aidy (10), BazFox (1), Cobhclimber (1), Colin Murphy (3), ColinCallanan (9), David-Guenot (4), Dessie1 (1), GarethToolan (1), Geo (1), Harry Goodman (2), Onzy (1), Pepe (1), Peter Walker (1), ahendroff (1), aoifesaunders (2), arrow (2), basilbailey (1), bikerbob (1), caiomhin (1), conormcbandon (12), delbhoy284 (1), eamonoc (6), garrettd (1), Communal summary entries (6), happymourneview (1), hivisibility (1), jackill (1), jlk (2), johnbrazil (1), kernowclimber (2), liz50 (3), madfrankie (1), march-fixer (37), omurchu (1), paddyhillsbagger (2), peter1 (5), sandman (6), simon3 (3), strangeweaver (1), thomas_g (5), wicklore (1)
For a fuller list view Community | Recent Contributors

There were comments on the following summits Beann Dhearg, Beann Dubh, Beentee, Ben Creggan, Ben Creggan South Top, Ben Goram, Ben Gorm, Binn Chaonaigh, Binn idir an dá Log, Binn idir an dá Log SE Top, Binn Mhairg, Brown Mountain, Carnanmore, Cloonacool, Conigar, Coomataggart, Corronoher, Craigcannon, Croagh Patrick, Croaghacullion, Croaghnageer East Top, Croaghnageer North-East Top, Croghan Kinsella, Croghan Kinsella East Top, Dart Mountain North-West Top, Drung Hill, Fair Mountain, Finlieve, Foilastookeen, Glascarns Hill, Great Sugar Loaf, Greenoge, Inch Top, Knockeirky South Top, Knocknagur, Knocknagussy, Knocknalougha South Top, Knocknarea, Lugnaquilla, Mount Oriel, Moyle Hill, Mullagh More, Nareera South-West Top, Peakeen Mountain West Top, Robber's Pass Hill, Slieve Carr, Slieve Foye, Slieve League, Stranisk, Sugarloaf, Sugarloaf Mountain, Sugarloaf Mtn West Top, Table Mountain West Top, Tonduff East Top, Tooreen, Tooth Mountain
and these tracks Ballyhoura Mountains Ireland, Bawn Mountain, North Midlands Ireland, Beann Dubh, MacGillycuddy's Reeks Ireland, Camaderry Mountain, Dublin/Wicklow Ireland, Carrigroe Hill, North Wexford Ireland, Cloonacool, Ox Mountains Ireland, Cruach Mhór, MacGillycuddy's Reeks Ireland, Cruckboeltane, North Midlands Ireland, Derk Hill, Shannon Ireland, Drung Hill, Glenbeigh Horseshoe Ireland, France, Aquitaine , France, Aquitaine , Italy, Sardinia , Killough, South Midlands Ireland, Knockeyon, North Midlands Ireland, Knocknalougha South Top, Knockmealdown Mountains Ireland, Knocknanacree, Central Dingle Ireland, Knockroe, Shannon Ireland, Lack Mountain, Slieve Mish Ireland, Monabrogue, South Midlands Ireland, Moydow, North Midlands Ireland, Nephin Beg, North Mayo Ireland, Slieve Bawn, North Midlands Ireland, South Midlands Ireland, Spain, Castille and León , Spain, Castille and León , Spain, Castille and León , Spain, Castille and León , Spain, Castille and León , Spain, Castille and León , Spain, Castille and León , Spain, Galicia , Spain, La Rioja , Spain, Navarre , Spain, Navarre , Spain, Navarre , The Hill of Moat, North Midlands Ireland, Unid, Unid , Unid, Unid , Unid, Unid , Unid, Unid , Unid, Unid , Unid, Unid , Unid, Unid , Unid, Unid , Unid, Unid , Unid, Unid , Unid, Unid , Unid, Unid , Unid, Unid , Unid, Unid , Unid, Unid , Unid, Unid , Unid, Unid , Unid, Unid , Unid, Unid , Unid, Unid , Unid, Unid , Unid, Unid , Unid, Unid tracks and these walks were created (none in period)

Thanks to all 1198 who have ever contributed summits or routes info and forums.

For a full list view Community | Contributors Hall of Fame

Summary. MountainViews now has 7551 comments about 1364 different hills & mountains out of the total in our current full list (1487). We want to get a good gps track showing each of the major ways up every summit in Ireland. If you see an option to add a "Short Summary" then do please consider creating one since another objective is to have a short summary for every summit in Ireland. There's a few (123) opportunities for you to be the first to comment on a summit.
NOTICES
Notices
If you are contributing, please be careful to respect the interests of landowners. Suggest access routes well away from houses, gardens or that could conceivably impact farming activities. When walking, keep away from gardens or farm buildings. Use stiles or gates wherever possible. Never do anything that could allow animals to roam where the farmer did not intend. Ask permission where appropriate.
Report suspicious activity to the police forces, as below.
If your car is broken into in an upland area report it to the PSNI or Gardai as this will help them be aware of the issue and tackle it in future. Store the numbers. In Northern Ireland use the PSNI non-emergency number 0845 600 8000. In the Republic you can find the local Garda District HQs phone numbers at www.garda.ie/Stations/Default.aspx. Specifically for the hotspot of Wicklow: the Garda Divisional Headquarters in Bray is 01 6665300.
If you hear of a problem area or route, write it up in MountainViews which does everyone a service.
Report rubbish tipping in the Republic - ring EPA hotline 1850 365 121
Report quads in national park area (in which they are banned). For Wicklow please phone the Duty Ranger: 087-9803899 or the office during office hours Telephone: +353-404-45800. Put these numbers in your phone, take regs etc. Let MV know of contact numbers for other areas.
If you have climbed some of the less well known places, we would appreciate a summit rating and also GPS readings for summits.
If we can, let's make MV have more than one route up a summit so as to reduce the tendency for paths to appear. Your grid refs in comments for different starting points show up on MountainViews maps as well as GPS tracks.
MountainViews are on Twitter as MountainViewsIE. Follow us and we will follow you back. Any queries to secretary@mountainviews.ie
Visit the MountainViews Facebook page.
This newsletter
This newsletter
Editor: Simon Stewart, Homepage: www.simonstewart.ie
Assistant editors: Colin Murphy, David Owens
Track reviews: Peter Walker, Tom Condon
Book reviews: Conor Murphy, Aidan Dillon, Peter Walker, Michael Kinahan
Videography: Peter Walker, Video Reviews: Paul Moore
Graphics design advice: madfrankie
Facebook assistant editor: Simon Byrne
Newsletter archive.
View previous newsletters mountainviews.ie/newsletter
RETURNING TO MOUNTAINVIEWS
Click on (If you have cookies on in your browser then you will be prompted as to username/ password. If you forget the password, the login page can email you a replacement.)

UNSUBSCRIBING
If you don't want to receive any further monthly newsletters from Mountain Views click on Settings. Then change the option beside "Include on occasional mailing list" to "Do not include". Then click the "Save" button.
Alternatively let us know by email at admin -at- mountainviews.ie Include the email address you got this at or your screen-name guestuser.