The Summit


Monthly newsletter of MountainViews.ie for guestuser

June 2015
NEWS - INFORMATION - RECENT CONTRIBUTIONS - FEATURES - FORUMS
NORTH, SOUTH, WEST, EAST, Spain, The Canaries and Mainland Route ideas and places to go.

Featured Article by Helen Fairbairn Top 10 Reasons why Ireland is Great for Walking : RECOMMENDED

MountainViews Now Incorporates Videos Artistry, emotion alongside routes and summit information. , also 5 videos featured this month. Zerkowski, mcritchly and gerrym

Monster Ascent by a member Around 4200m on Teide (Tenerife, Canary Islands)

Keshcorran Ancient caves, lyrical article by wicklore

Challenge Walks See this month's commentary on the Blackstairs


Upcoming: MOUNTAINVIEWS - WALKERS ASSOCIATION - and MORE
WALKERS ASSOCIATION OF IRELAND and MOUNTAINVIEWS:
Saturday 13th June 2015. GPS course for Hillwalkers
The Walkers Association of Ireland is again running its GPS course for Hillwalkers shortly. This is NOW BOOKED OUT. (The presentation is aimed at Garmin GPS users and places are limited to 25.) Hopefully this will be held again in future. To put yourself on the waiting list e-mail ted.mcgrath@walkersassociation.ie. No guarantees.
Please give your name, phone contact and most importantly the name and number of your GPS unit.



Challenge Walks. The Walkers Association used to maintain a calendar of Challenge Walks for Ireland. This has now been transferred to MountainViews.ie : visit the new location here. Also you might like to look at the newsletter's Challenge Walks Notes a monthly commentary on the Challenge Walk scene.

---
MOUNTAIN MEITHEAL: Mountain Meitheal are keen to find more people to help. Future dates:
14.06.2015
21.06.2015 27.06.2015 12.07.2015 18.07.2015
25.07.2015 09.08.2015 16.08.2015 22.08.2015
06.09.2015 19.09.2015 26.09.2015 04.10.2015
17.10.2015 18.10.2015 01.11.2015 14.11.2015



We publicise Mountain Meitheal because they make practical repairs to some of the more popular areas we walk on, using a voluntary community based approach. (More information at their website.)



Picture of the month
View of Mulhacén. 3482m, highest point in mainland Spain by mcritchly. A 13 hour day with 1500m of ascent!
For Original Comment

Regions: MOUNTAIN COMMENTS - TRIP REPORTS - TRACKS - SUMMARIES
In short: Discovery
Featured track report
Sea-To-Summit of Teide Monster ascent by one our our members.
GSheehy's track (mvtrack2947) presents a challenge unique in Europe: there's no other walking route whose high point is over 3700m above its low point, starting as it does from the sea and climaxing (if not actually ending...there's still the equivalent of the legendarily grueling descent from Ben Nevis to do once you leave the summit) atop Pico de Teide on the Canaries, the tallest mountain on Spanish territory (and an active volcano to boot).
There's a brief descent around midway, but otherwise it's constantly uphill, reasonably graded at first but with what looks like a horrifically protracted steep section (c. 1000m of ascent) on the upper reaches of the mountain. Well done to Gerard...I know a lot of preparation went into this.

Text of track comment
There's a couple of ways that you can do this sea-to-summit. A fit person can reach the summit in 10/12hrs and take the cable car down. Some choose to walk as far as the Altavista Refuge, stay the night, and be on the summit for sunrise. Or, you can walk back down to the Montana Blanca Car Park or the Parador Hotel.

From the beach, there's no real let up on the ascent until you reach about 2,200m. It levels out a bit then, drops about 200m and then it's climbing again until you reach the summit. The route isn't marked but there are tracks all the way.

Left a car at Montana Blanca Car Park on Wednesday, did a water drop near la Fortaleza and walked out to El Portillo to get the bus back down to the South of the island. Took the bus to our accommodation in Los Relaejos on Thursday and got a taxi to Playa Del Socorro on Friday morning.

Stats above are a bit off. There's about 4,200m of Asc. and 1,800m Desc. Didn't really need the water at the drop as carried 2.5l from start but there was comfort in knowing it was there.


Whatever the length or terrain covered, please do submit suggestions for this "Featured Track" spot in future at admin -at- mountainviews.ie
---


NORTH: History in the hills
A modern tarred road leads to the summit of Slieve Gullion, however its top boasts a 5000 year old passage tomb, reports hazyview.

hazyview on Slieve Gullion: Unforgettable place.
Two of us climbed this in late April. Had difficulty reaching car parks but found a spot to pull in near where the road was blocked by a yellow barrier. Walked up the road past top carpark, & then up the stone path to the summit. Great views all the way up. On the windy summit we walked around the cairn to find the passage tomb entrance and stepped back in time about 5,000 years. Magical place, al ... Click here


NORTH: A real slog!
'One of the wettest, boggiest tops I've ever been on,' Boviel Top in the Sperrins as described by Aidy. Looks like one purely for the baggers…

Aidy on Boviel Top: A Bit Of A Slog
I reached Boviel Top from Benbradagh, and had been a little spoiled by the easy walking on its higher neighbour, over dry, level ground with short grass. Boviel was a different proposition. After an initial, short easy stretch, it quickly turned into one of the wettest, boggiest hills I've been on. There were numerous pools, and several deep, water-filled ditches, requiring constant little deto ... Click here


NORTH: A brilliant little hill
A peregrine falcon, wild goats and beautiful views are among Mullen Hill's attractions, recounts Aidy from Donegal NW.

Aidy on Cnoc na Boirne: Feels Bigger Than It Really Is
I was in this area on Sunday, on a quest to find the Great Pollet Sea Arch, with no plans to bag any summits, but looking at the impressive profile of Murren and its near neighbour, Dun More, who could resist? I found a place to park on a grass verge on the road almost immediately east of the hill, near the area marked as Rosskirk on the map. I popped through a gap in the roadside hedge, went ov ... Click here


WEST: Access, access, access
Three comments this month report access issues on one of Ireland's most iconic mountains, Benbulbin. MountainViews has rewritten the Short Summary for this summit in the light of advice from Mountaineering Ireland, however the suggested route is by no means easy. Keep us informed particularly of the northern route beyond the wire sheep fence!

group on Benbulbin: Remarkable mountain, watch out for access.
There have been access difficulties regarding this summit. A simple approach to Benbulbin is to start at G684 451 however some have found difficulties here. A track leads to fields below a steep, but not dangerous, climb up to the top of the Benbulbin - Kings Mountain ridge. Keep to the right of a small river gully on the ascent as this is where the track is. Near the top turn left to head west ... Click here


WEST: Coming around...
Those looking to reduce the Maum Turks' horizontal and vertical smorgasbord of pain to more manageable mouthfuls without having the use of multiple cars might wish to look at Onzy's trip to the southern end of the range, taking in as it does four tops before returning the rambler to the starting point, with both the walk in and out being quite reasonable for such a rugged corner of Ireland. Apparently this route could be extended as far as Leenane, but I can't imagine that would ever catch on...
Onzy on Southern Section of the Maamturks
Route taking in Corcog, Cruiscin, Mullach Glas and Binn Mhor walk, Length:15.0km, Climb: 951m, Area: Corcóg, Maamturks (Ireland) Corcóg, Cruiscín, Click here


WEST: Sitting in the summit
Lettermore in South Connemara is a low little island highpoint, reports fieldoptic, but which boasts lovely views and perhaps Ireland's only trig pillar fitted with a seat!

fieldoptic on Lettermore Island: Trig-bench
As mentioned before Lettermore Hill has a pretty well fitted out trig pillar. A very pleasant quick walk to the top is worth it if you're in the area. Click here


WEST: Coillte, cairn and copper
Access to Keeraunnageeragh Hill in South Connemara is well facilitated by a Coillte track and the hill boasts and impressive cairn and the remains of copper mines, says fieldoptic.

fieldoptic on Keeraunnageeragh: Coillte, Cairn and Copper
The Coillte road from M057 488 makes this a very accessible hill. I departed from it at M056 479, and headed up to the mountain bike path, across that and made directly for the cairn. I found the going on the hill proper a little awkward with deep beds of grass making it a bit of a slog. The Cairn is impressively large, with a depression on the NE side and on top. The historic maps name it as Carn ... Click here


Featured summit comment - Keshcorran in Bricklieve/Curlew area.



The Harp of Corran
wicklore

The name Keshcorran most likely means the Harp of Corran. In ancient Ireland 'ceis' was a harp-fastener. Corran was a Harper for the Tuatha de Danann. Legend says a woman named Deirdre was transformed into a sow after eating enchanted acorns. She went on a rampage causing death and destruction. It was Corran the Harper who lulled the sow to sleep with his beautiful harping. The sow was then killed and its body turned into the hill we call Keshcorran today.

There are 17 caves in a stretch of limestone cliffs on the west side of the hill. These are the Caves of Kesh and can be reached from the road at G70332 12232 where there is room for three cars. The walk up to the caves will take 15 minutes. Reasonable care is needed on the steep grassy slope, although a path for most of the walk helps greatly. The caves have a great location half way up the hill at the base of a cliff. Dripping roofs and some mucky underfoot conditions prevail! The largest cave is known as Cormac's Cave. Cormac Mac Art was born on the mountain, and then snatched by a she-wolf who raised him in the caves. He later emerged to become Ireland's mightiest High King. Due to this association with Cormac the hill is also known as King's Mountain. Some believe that Cormac's soldiers are still asleep inside Keshcorran waiting to reemerge when Ireland needs them.

The caves are said to be connected to Oweynagat, or Hellmouth Cave, many miles away. In 1779 a draughtsman related the following tale about one of the caves: "The cave is said to communicate with that in the county of Roscommon, twenty-four miles in distance, called the Hellmouth door of Ireland.. it is told (and believed in both counties) that a woman in the county of Roscommon having an unruly calf could never get him home unless driving him by holding him by the tail; that one day he tried to escape and dragged the woman, against her will into the Hellmouth door; unable to stop him she ran after him without quitting her hold, and continued running until next morning. She came out at Kishcorren, to her own amazement and that of the neighbouring people." From the Diary of GABRIEL BERANGER, 1779

Excavations have revealed remains of arctic lemming, wolf, bear and elk. Few human remains have been found, leading some to believe that the caves were held in either great fear or as sacred places. Among the scarce human remains there were a number of human teeth radiocarbon dated to the early Iron Age (200 BCE – 30 CE).

I reached the summit by heading left (NW) from the caves until a fence. I handrailed this steeply uphill. The ground was short grass, followed by energy sapping heather. There is a large cairn where Fionn Mac Cumhal used to sit and follow the progress of his hunts. The views are fabulous, including Croagh Patrick & Ben Bulben. This is a dramatic hill with a lot to offer those with the time to explore and the imagination to visualise the past.

Track for Wicklores Route: /track/2968/?dir=nonce&user=guestuser&tp=5d5tzwce
---

SOUTH: Alternative rock
Member Cobhclimber snapped an interesting pic of some unusual curving rock formations on Coomnahorna in the Dunkerron Mountains.

group on Benbulbin: Remarkable mountain, watch out for access.
There have been access difficulties regarding this summit. A simple approach to Benbulbin is to start at G684 451 however some have found difficulties here. A track leads to fields below a steep, but not dangerous, climb up to the top of the Benbulbin - Kings Mountain ridge. Keep to the right of a small river gully on the ascent as this is where the track is. Near the top turn left to head west ... Click here


SOUTH: Giant steps...
The length of Dingle is replete with various knotty tangles of peaks, making it easy to collect a fair number on a given day, but also leaving the more organised/obsessive liable to make return visits to pick off annoying little stragglers. For reasonably strong walkers routes such as the track uploaded by David-Guenot of his circuit from Loch Anascaul are very useful, managing as they do to take in all the tops in a well-defined section in the context of a logical circular walk; super heroes could consider the possibility of adding Stradbally Mountain and Beenoskee to the start.
David-Guenot on Central Dingle Loop
Starting from beautiful Lough Anascaul, I followed the track walk, Length:26.8km, Climb: 1444m, Area: Knockmulanane, Central Dingle (Ireland) Knockmu Click here


SOUTH: The horseshoe's lesser neighbour.
Beann NE Top sits in the shadow of its more famous neighbour, Mullaghanattin, but is quite a distinctive top in its own right, reports Colin Murphy.

group on Beann NE Top: In the shadow of Mullaghanattin
Usually completed as part of the Mullaghanattin Horseshoe, there is a steepish approach of about 100m ascent from the col between this and its more famous neighbour. The terrain is grass and rock and generally firm underfoot. The summit has two distinct points, the one to the east being the higher. The highpoint is marked by a solitary upright stone. Click here


EAST: The best Binnion in Ireland?
Killiney Hill, overlooking the beautiful sweep of Dublin Bay is comparable to the Bay of Naples, says Colin Murphy.

Colin Murphy on Killiney Hill: The best Binnion in Ireland?
A very pleasant 10-minute stroll from the Killiney Hill car park along pathways that weave through mature woodlands, takes you to the high point of the hill, marked by a large obelisk and a couple of other odd follies - but on a fine day the views are quite spectacular, with Dublin Bay curving round to the south, presenting an aspect of the Dublin/Wicklow mountains with Killiney strand stretching ... Click here


EAST: You're gonna need a bigger boat, possibly
One for the vertigo sufferer in your life (or at least in Onzy's life) is a relatively low-level (although it does climb to a fine viewpoint and has nearly 300m of ascent overall) stroll in County Laois, taking in river banks, mature forests and the foothills of the Slieve Blooms. This looks like a good one for the family, and for those who fancy precipitating the breakup of their marriage there's always Castleconor in that range of hills within easy driving distance...
Onzy on Old Mill Loop, Glenbarrow, Laois
There has been a lot of talk about lower level walks recentl walk, Length:8.7km, Climb: 268m, Area: Slieve Bloom (Ireland) Click here


EAST: The seat of the high kings. Not.
There's another Tara Hill, this one in North Wexford, and while it doesn't claim any ancient royal connections it does offer nice coastal views, says simon3.

group on Tara Hill: Coastal Views though lots of wood.
There is space for 1 car to park at a gate without blocking it at T207 619. From here a nice track leads up through the trees and it is easy to use a couple of tracks to find the trig pillar and remains of a cairn at the summit. Ignore a reference to the 'Green Link' route on the waymarker post unless you have read an information board on a nearby road on the way to the starting point. Gorey, Co ... Click here


SPAIN: Tilting at windmills...
Whilst there's obviously plenty of pilgrimage malarkey possible in Ireland, its relative lack of land area means that to really go for the whole 'long walk to a shrine' thing you need to journey a little further afield. jackill and a merry band of deeply deeply spiritual compadres have journeyed to Spain (and a little bit of France) to sample a substantial stretch of the Camino de Santiago. The terrain ranges from Pyreneen mountainsides to sleepy Iberian villages, and jackill has very helpfully included reference to how easy it is to find a pub on this trip within his notes...so if you're looking for spiritual enlightenment (or want to know where you can find a fountain that spouts free wine) then step this way.
jackill on Camino de Santiago- Day 1
A punishing introduction due to the incline. First night in walk, Length:5.6km, Climb: 554m, Area: France, Aquitaine () Click here


SPAIN: 'I am un chien Andalucia!'
Welcome news arrives from the slightly unlikely direction of southern Spain, where MV's First Couple of Camerawork, Caving and Mine Exploration have managed to do a lengthy walk without feeling the need to camp...well done mcrtchly and kernowclimber. Their Iberian wanderings have taken them to the summit of the highest mountain on the Spanish mainland, Mulhacén in the Sierra Nevada, which sounds like it'd be reasonably straightforward hillwalking but for the altitude and dust and snow and heat and distance and all that other stuff you don't generally get in Wicklow. Very informative notes too.
mcrtchly on Mulhacén, the highest mountain in mainland Spain
Where's the highest mountain in Spain? Some would argue t walk, Length:29.6km, Climb: 1548m, Area: Unid, Unid () Click here


BONUS PIC


From member CobhClimber



View of Beentee, 376m from Foilclogh on the Iveragh Peninsula by Cobhclimber. Beentee overlooks Cahersiveen in Co Kerry.
For Original Comment




Sorry if we didn't mention what you posted .. there's a list of all contributors for the month later.
MOTLEY GATHERING

World's Largest Photo - of mountains, naturally

From time to time your editor has experimented with mural sized photos. Technically this is demanding requiring tricky approaches. These guys show how it can be done. Fascinating reading, astonishing pic, click here.
As a competition for members, count the number of people in the open that can be seen.


---
Mountains and their shapes.

Unusual and scholarly article on the shape profiles of mountains around the world. From a website with the curious name of "Atlas Obscura" Click here


---
MV Strategy

Just a reminder about this item which was covered more fully in previous months and thanks for those that contacted us about it.

The Committee's Draft Strategy for MV is now available here. We invite input from all members of the Community as to how this should be further shaped. Any comments, criticisms, corrections, etc., are welcome on OnzyMV@gmail.com




Featured Article: Top 10 Reasons Why Ireland is Great for Walking
Text by Helen Fairbairn www.helenfairbairn.com)
Photos by Gareth McCormack www.garethmccormack.com
If you're a reader of MountainViews, the odds are you're a keen walker, and you already agree that Ireland is a great place for hillwalking. But have you ever thought about why you enjoy exploring Irish mountains so much? What is it exactly that makes walking here unique?

In an effort to answer this question, I sat down and thought about my top ten reasons why I love walking in Ireland. Of course it's a personal list - I'm sure others might come up with different points. In fact if you have time, why don't you let us know if you agree or disagree, and what you would add to the list. [ED. Comments and suggestions welcome in Motley Views: General Forum] It would be great to pin down what is so inspiring about Irish mountains that keeps us keep coming back for more.

In reverse order, here's what stands out to me about Irish walking: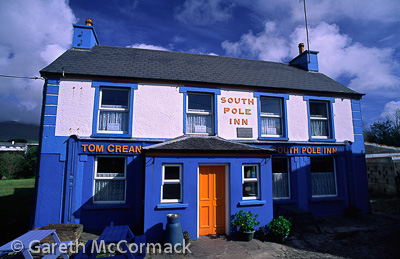 The South Pole Inn on the Dingle Peninsula belonged to one of Ireland's greatest outdoor explorers, Tom Crean.

10. Irish Pubs

Pubs might not have much to do with the practicality of walking, but they are an intrinsic part of the Irish walking experience. When I'm out in the hills, I find that the longer the route, the more I begin to fantasise about the comforts that await me at the end. And there are very few routes in Ireland that don't finish near some sort of pub. In the winter in particular, what better way to finish a day in the elements than cosying up beside a warm fire and enjoying a meal and a pint with your friends. Not many countries have this sort of easy hospitality waiting to welcome you down from the hills.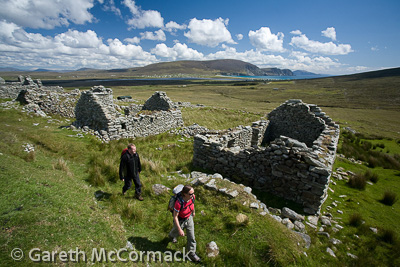 The village under Slievemore, on Achill Island, was deserted during famine times.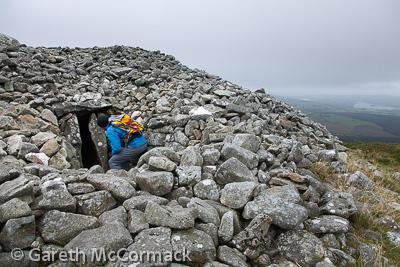 The summit of Seefin, in the Wicklow Mountains, is crowned by a large Neolithic tomb.


9. Our History

Walking in Ireland is not just about the terrain. More often than not, there's a story behind the route too. You might pass neolithic sites, ruined cottages, pagan or Christian monuments. Exploring these places and imaging life as it once was can be poignant and memorable experience, and adds a whole extra dimension to the day. As well as exploring the landscape, walkers get an informal lesson in Irish history, in the most relaxed and enjoyable way possible. Not every country has such a wealth of human history on display, and it add a unique dimension to walking here.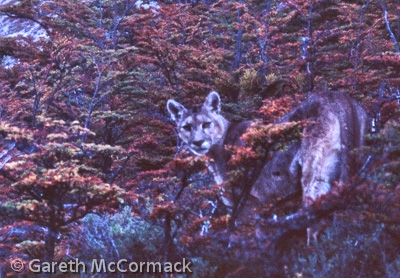 The puma, or mountain lion, I encountered on a trail in Patagonia.


8. There's no Wildlife that can Kill You

What's the most dangerous wild animal in Ireland? I've heard several colourful answers to this question, but the fact is that really, we don't have any dangerous wildlife. It's something we take for granted, but not all countries are as safe as ours.

I've had encounters with potentially deadly creatures in various countries. I've come face-to-face with a puma, or mountain lion, on a trail in Chile. I've had close-quarter meetings with grizzly bears in Montana, in the American Rockies. I've stepped over deadly snakes in South America, and begun my days trekking in Australia by tipping my boots upside down to evict any poisonous spiders who may have crawled in during the night.

These are all things we don't have to think about in Ireland. I love wildlife, and I love seeing animals in their natural habitat, but you have to admit it's relaxing not having to consider the possibility of becoming human prey each time we enter the outdoors.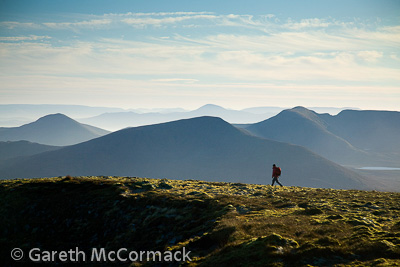 Slieve Carr, in Mayo's Nephin Beg Mountains, is the most remote mountain in Ireland.


7. Solitude

Ireland is still a place where you can find solitude in the hills. Of course some popular spots get busy on a summer weekend, but there are also plenty of places in the western ranges where you're virtually guaranteed not to meet anybody else, at any time of the year. Personally I do a lot of walking on my own, and I love it. The peace and quiet lets you get closer to nature, and there's an element of escapism, losing yourself in a world that's far removed from the stresses of everyday life. Not all countries offer this scope for solitude, and to me it's a precious commodity.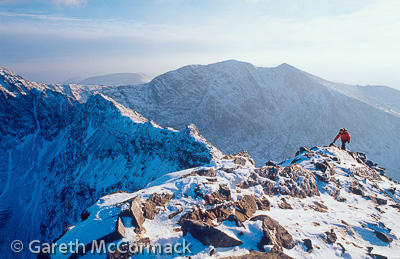 Tackling the renowned Beenkeeragh ridge, beside Carrauntoohil, in winter.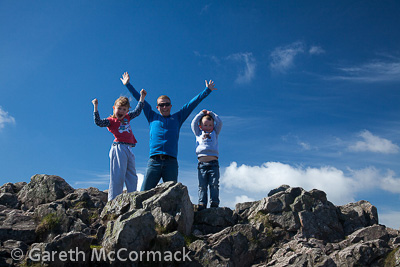 Exaltation at the top of Great Sugar Loaf, in Wicklow. An easy yet charismatic summit.


6. The Variety of Routes

Ireland may be a small country, but it certainly doesn't lack for variety. My favourite sort of route involves rocky ridges and dramatic corries, and I could list several routes around the country that are world class on that score.

But I have two small children now too, so sometimes I'm looking for a shorter, easier route, still with plenty of excitement to keep the kids entertained. Fortunately there are plenty options to fit that criteria as well.

Whether you're looking for a short or a long route, something easy or challenging, there are plenty of options in Ireland to keep everyone happy.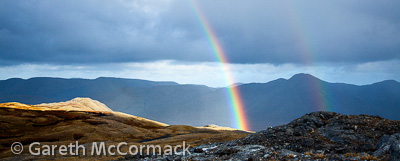 The changeable Irish climate brings all sort of beauty to the hills.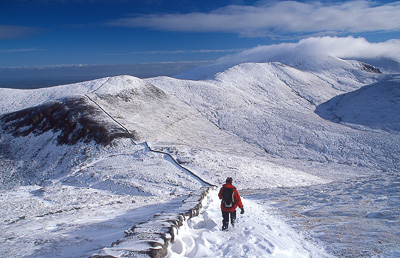 A walker enjoying the Mourne Mountains in winter.


5. The Climate and Latitude

We all like to complain about the weather, but to me, the Irish climate is actually a positive point. Admittedly you have to pick your outings according to the forecast, pack warm and waterproof clothing, and be prepared for all seasons in one day. But I think the changeability of Irish weather is a good thing. The rapid movement of weather systems keeps the air fresh and clear, ensuring long-range views and bringing all sorts of beauty with it.

By contrast, many warmer, continental countries are prone to slow-moving high pressure systems. During the summer in particular, dirty, hazy air masses can set in for weeks on end, restricting the long-distance views quite severely.

Ireland lies at a great latitude for walking too. We enjoy long summer days, yet there is still plenty of daylight for winter activities. The seasons are marked, and each season brings its own natural beauty, yet we can keep walking all year round. That doesn't apply to many countries of the globe.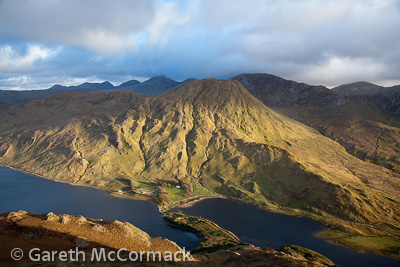 Ireland is one of the least forested countries in Europe. There isn't a tree in sight on this view across the Twelve Bens in Connemara.


4. The Lack of Trees

This is another point that might seem negative at first, but actually brings secret advantages for hillwalkers. It would be nice if we had a bit more native woodland in Ireland, but the fact is, as walkers, we don't want too much forest.

When you visit a densely forested country, you quickly appreciate the monotony of walking beneath trees all the time. The lack of views is the main issue. If the Irish landscape were transported to New England, none of our mountains would reach above the tree line, not even the summit of Carrauntoohil. Just imagine your favourite Irish hillwalk, and picture what it would be like shrouded top to bottom in trees. It would lack all the open, airy character currently associated with Irish hills. Perhaps those Neolithic farmers who began the deforestation of the country did walkers a favour after all.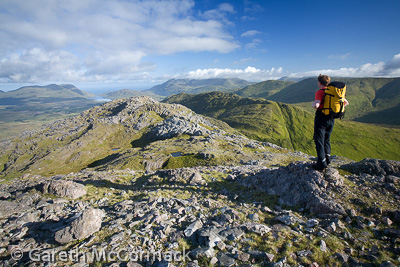 A typically rugged summit ridge in Connemara's Maumturk Mountains.

3. The Rugged Terrain

In comparison with other countries, Irish mountains have a wild, natural character. There are very few formal mountain paths, and often no informal paths either. So walkers have to learn how to navigate their own way around using a compass and map. In other countries, walkers don't have to develop these skills, and are more used to following well-defined trails with signposts to mark the route.

I think it's good that walkers have to use their wits to get around. It makes us self-reliant, forcing us to learn the skills that keep us safe if anything goes wrong. The lack of artificial accoutrement also lets us get closer to nature, allowing us to appreciate the mountains in their wild form, undisturbed by signposts and other marks of human intrusion.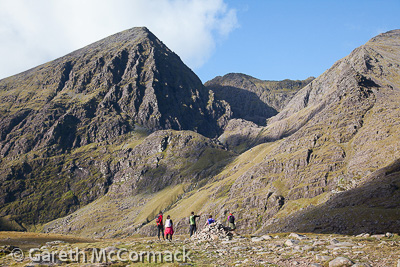 Walkers beneath Ireland's highest mountain, Carrauntoohil, at 1038.6m.


2. Irish Mountains are the Perfect Height for Day Walks

Irish mountains could never be considered high on a global scale, and we have just 14 peaks reaching over 900m.

But despite the lowly altitude, most walking routes start close to sea level. So an average hillwalk might involve 700 to 1,000m of vertical ascent, more if you add multiple peaks. No matter where you are in the world, 1000m of ascent is a decent effort in one day, and quite enough to make you feel like you've worked hard and achieved something worthwhile. With that amount of ascent in Ireland, walkers can experience all the satisfaction reaching a summit, yet still descend in time for dinner. A perfect one-day package!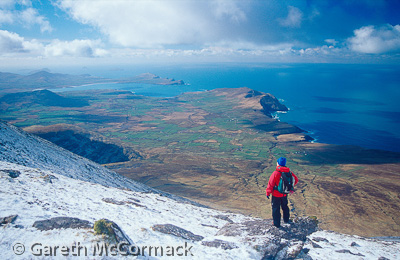 Brandon Mountain, on the tip of the Dingle Peninsula. It's one of Ireland's most popular mountains, and coastal views are an integral part of its character.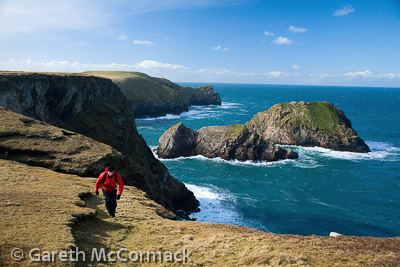 Exhilarating coastal walking near Benwee Head in north Mayo.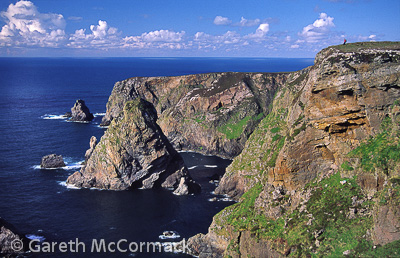 The tiny walker on top of the cliff gives a sense of scale to the magnificent Atlantic scenery.


1. Our Unique Coastline

Despite Ireland's relatively small size, it has a coastline that stretches for over 5,500km. All the main mountain ranges are arranged around the periphery of the country, so most of the big summits include fantastic coastal views.

Of course the country also has many other walks that get even closer to the sea. There are numerous spots where you can walk right along the cliff edge, an exhilarating experience if the waves are pounding against the rocks below.

Even offshore, there's a fabulous array of islands to visit. Walks on the islands don't have to be particularly high, but they're such a great blend of wild Atlantic atmosphere and rugged terrain that to me they really sum up everything that's unique about Irish walking. The comparison with a land-locked country couldn't be greater, and it's impossible to complete these walks without feeling grateful that we live in Ireland.


---

About the Author

Helen Fairbairn has written numerous walking guidebooks over the past 15 years, covering destinations as diverse as Scotland's Highlands and Islands, America's Rocky Mountains, and the European Alps. Her most recent books concentrate on Irish walks and can be seen below.



About the Photographer

Gareth McCormack is a landscape photographer based in Sligo. His photos have been used by international clients such as National Geographic, Microsoft and Warner Bros. All his images are available as fine art prints, and he also runs photography workshops for enthusiasts who want to improve their camera skills. His next workshop is based in Sligo on September 11th-13th - see his website for more details.




CHALLENGE
A place for those interested in Challenge Walks
Click here: mountainviews.ie/challengecalendar/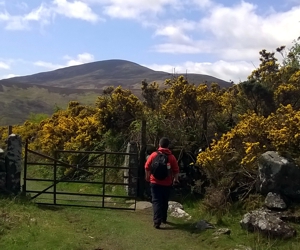 The Blackstairs, 2015

Photo: Jim Holmes

Challenge Walk Notes - June 2015

With the weather at the moment being a tad inclement (to say the least!) - this in no way hampered any of the month of May's Challenge Walks, which saw some lovely clear days. Indeed you can read the report on the Blackstairs here . . .
/challengecalendar/node/79/

Later in the month Galtee Walking Club host their popular Galtee Challenge (now in its eleventh year) and Annascaul Walks host the Tom Crean Challenge - which is a relatively recent addition (and much welcomed) to the Challenge Calendar.

Both of these walks command a respectable 1700+ meter ascent.

Going just "a little longer" is the infamous Lug Walk as hosted by the Irish Ramblers. This is one of the "Big Daddys". The Lug Walk has a similar ascent to the Mighty Maumturks but yet is near on twice the length!

Great hill walkers of our time are in constant debate over which is the hardest . . . and can never agree! But the truth is, it absolutely all depends on the day - Q.E.D.

Will it be a nice clear day with bouncy bog circa Barnacullion or will I have a full days whiteout and struggle not to overshoot the checkpoint at Lough Firrib.

Will I be wading through snow on the approach to Letterbreckaun or will the day be so clear that I can see the checkpoint at the Col of Despondency from the checkpoint at Maumturkmore!

Only the individual Challenge Walker will truly know on each individual day.

. . . So bash out and discover for yourself :)
'Till next month.

P.S. You will hear the weather mentioned alot on many a Challenge Walk Newsletter. . . this is not an error in being boring or repetitive. . . it's just that it is of paramount importance to the eager Challenge Walker. You will know if you're starting to fit into this mould, if when next time you take a peek out of your office window and see low-lying clouds and that you find yourself saying, something to the tune of . . . "mmm - it sure does look like tricky navigation atop Barnacullion today!!"

-- Jim Holmes.
emVee-Tube
Videos this month:
WEBSITE NEWS

MountainViews now shows videos on the website

Essentially when you look at the description of a track or a summit then if there are videos in our database taken in the area they will be listed. Click on the video and it will play on the page. You can also play the video full size.

Why are we doing this?

Videos are a great way to take time to look at an area and get a feel for it. But it's not at all just utilitarian. Videos represent the artistic impression of a place created by the video maker. They can represent more than routes and stats but include sensibility and emotion.
As such they are an important part of the culture of hillwalking, sharing so much about the areas they cover.

MountainViews further supports videos by including a selection in each newsletter.

Videos are created by members and others and must be considered significant artistic expressions. At present MV's source of videos is those already on YouTube (a subsidiary of Google) who generously allow access and even provide the playing software that we use on the website. The videos are already shared to the world. MountainViews lists them by area, facilitating users finding them in the context of the other information that MV provides about places, hopefully increasing the viewership. We have gone to some trouble to solicit and take into account the opinions of the video authors and intend to continue to do so.

Currently the MV committee has appointed Peter Walker as videographer to maintain the list of videos. If there are particular videos that you would like to see added please do contact us at at admin@mountainviews.ie

---
Improvements to GPS tracks

MountainViews introduced GPS track sharing in 2012 and it has been well supported with over 1300 shared mostly tracks in Ireland. Last month May 2015 had 50 tracks uploaded, a record. MountainViews shared GPS tracks now represent a huge resource for the hillwalkers of Ireland. We want to enhance the GPS track sharing. We would like to be able to grade the tracks so that users can see the better tracks more easily. We would like to allow users to put in information about the tracks in a way that allows better formatting such as headings, bold sections or highlighted paragraphs.

Do you have ideas as to what you would like to see regarding our track sharing? Please do contact us at at admin@mountainviews.ie We will do a series of enhancements, however may not return to this area for some time, so now is your chance to propose changes.

---
Fancy looking after an area on MountainViews
The Challenge Walk Calendar now on MV is being implemented in a Content Management System (CMS) called Drupal. CMSs are a popular way for individuals to put up blogs and clubs to implement websites without requiring a knowledge of computer programming. Leading tools include Wordpress and Joomla. Drupal is of the same ilk. In future MountainViews will use Drupal to implement sections where it can be used, so making it relatively easy for members who may be interested in some aspect of walking/ hillwalking to contribute.
MountainViews is slowly but progressively increasing its scope so if you would like to get involved in developing the website, without having to learn programming, do get in touch at admin@mountainviews.ie

SUMMITEERS CORNER
A place for those interested in Summiteering, Bagging or Highpointing.
---

New low prominence Arderins - Current state of play

We hope that this will be out in the next few weeks. Most probably they will be called the Arderin Begs or Arderin Beags. The Arderins list itself contains all peaks over 500m with a prominence of at least 30m - the new list will have a reduced prominence of 15m. We have a draft list of the mountains under consideration. The list can be downloaded here. (.xlsx format)

Please remember that this is very much a work in progress even after they are put on the website. All comments welcome on our suggestions forum or contact admin@mountainviews.ie

--David Owens (Chair)
---
A Guide to Ireland's Mountain Summits - The Vandeleur-Lynams & The Arderins
MountainViews first book available online and in many bookshops. The first reprint with numerous minor amendments is available.


simon3 on A Guide to Irelands Mountain Summits
MountainViews first book available online and in many bookshops.

As members will know, for over a decade, Mountainviews.ie has been providing unique information to hillwalkers on all aspects of exploring and enjoying Ireland's upland areas. It's been a collaborative effort by over 1000 of you, and currently contains over 6000 comments on 1057 mountains and hills on the island of Ireland ... Click here
Bulk sales to groups such as Scouts/ Guides: contact admin@mountainviews.ie for a discounted price.
This month.
Kudos to our contributors.
We welcome the following new members who enrolled this month. Amitchell, Anavinet, annanasje, arrow, baruskaob, billcarr, billiebob_II, breall, Brianw, Bryansford, Chris626w, cnolan, con2973, coumshingaun, Dataglo, DaveMc, david_walsh, deirdremaloney, demon, descriva, de_regglamierer, Dmullin, dolface, Eire0001, el_boyco, Espiguete, Estee, faolnadeise, Femkeg, Fenton, Figin, fm2, francisfagan, geertmeesen, HaydnH, helenchris, hiking3030, hwood, jac1, jagsnumpty, jirisa, Joe62, Kathleenbeggin, kcs, killianegan, KrisBlodko, Krumel, larboycoll1, larcoll1, liamore, LindaH, Lughlamhfada, lyndagt, macker, marbles, marcusfalla, marie77, mary50pink, Maryrose, maryt, Maureen-hicks, Michael1971, Michaelmcg, MRoycroft, Nardulus, oggy1606, open-ground, padraigodonoghue, PatBourne, paulcaffrey, Paul_C, pebo222, pfagan59, plally_Esb, RichardA, Rob-Jones, Robbie57, sallybielby, sboland, Sicily, sking66, Stotes, tgcusack, thehousehassold, Tille, Todonnell2015, TomHaugh, tomredyerac, unkel, warren5922, Wildrover, YoYo, Yvonneck (93)

Our contributors to all threads this month: Aidy (3), Cobhclimber (3), Colin Murphy (5), ColinCallanan (2), CrazyWelsh25 (1), David-Guenot (3), GSheehy (1), Jim Holmes (3), Kennyj (1), KrisBlodko (1), NeverAgain1985 (1), Onzy (6), Peter Walker (4), Trailtrekker (1), Wildcat (1), brenno (2), caiomhin (1), dnekro69 (1), eamonoc (4), fieldoptic (4), geohappy (1), Communal summary entries (19), hazyview (1), jackill (10), jimgraham (2), markmjcampion (6), mcrtchly (4), mlmoroneybb (16), peter1 (5), rhw (1), sandman (7), simoburn (2), simon3 (5), strangeweaver (4), thomas_g (1), wicklore (6)
For a fuller list view Community | Recent Contributors

There were comments on the following summits , Aghaglasheen, Ballyea Hill, Beenduff, Beenrour, Ben Creggan, Ben Gorm, Benbradagh, Benbulbin, Bennaunmore, Bolus, Boviel Top, Bweengduff, Carrauntoohil, Cashel Hill, Cloghernagh, Cnoc na Boirne, Cnoc na Toinne, Coomnahorna, Croagh Patrick, Faha Ridge, Glanbeg, Hag's Tooth, Keeraunnageeragh, Killiney Hill, Kilpatrick (Rathlin Island), Knockastanna, Knocknalee Hill, Knocknascollop NW Top, Knockseefin, Knockshanawee, Lackabaun, Leam Hill, Lettermore Island, Mullacor, Purple Mountain, Seefin E Top, Slieve Gullion, Srahrevagh North, Termon Hill, Tooreen
and these tracks Annacoona Top, Dartry Mountains Ireland, Ballystrang, Donegal NW Ireland, Barnanageehy, Slieve Mish Ireland, Ben Lugmore East Top, Mweelrea Mountains Ireland, Birreencorragh West Top, North Mayo Ireland, Caher West Top, MacGillycuddy's Reeks Ireland, Cairngaver, Belfast Hills Ireland, Carrignagower, Comeragh Mountains Ireland, Cnoc na Bánóige, Central Dingle Ireland, Coomhola Mountain, Shehy/Knockboy Ireland, Corcóg, Maamturks Ireland, Doughruagh, Twelve Bens Ireland, France, Aquitaine , France, Aquitaine , Keshcorran, Bricklieve/Curlew Ireland, Knockanaffrin, Comeragh Mountains Ireland, Knockfeerina, W Limerick/N Kerry Ireland, Knockmulanane, Central Dingle Ireland, Knocknalougha, Knockmealdown Mountains Ireland, Knocksheegowna, Comeragh Mountains Ireland, Laghtnafrankee, Comeragh Mountains Ireland, Milk Hill, Comeragh Mountains Ireland, Nepal, Eastern Region , Nepal, Eastern Region , Nepal, Eastern Region , Nepal, Eastern Region , Nepal, Eastern Region , Nepal, Eastern Region , Nepal, Eastern Region , Nepal, Eastern Region , Nepal, Eastern Region , Nepal, Eastern Region , Nepal, Eastern Region , Nepal, Eastern Region , Nepal, Eastern Region , Nepal, Eastern Region , Nepal, Eastern Region , Nepal, Eastern Region , Raghtin More, Inishowen Ireland, Seefin, Dublin/Wicklow Ireland, Seefingan, Dublin/Wicklow Ireland, Slieve Bloom Ireland, Slieveanard NE Top, Galty Mountains Ireland, Spain, Canary Islands , Spain, Navarre , Sugarloaf Hill, Knockmealdown Mountains Ireland, Tawny Rower, Sheeffry Hills Ireland, Tonduff, Dublin/Wicklow Ireland, Two Rock Mountain, Dublin/Wicklow Ireland, Unid, Unid , Unid, Unid , Unid, Unid , Unid, Unid , Unid, Unid , Unid, Unid tracks and these walks were created (none in period)

Thanks to all 1189 who have ever contributed summits or routes info and forums.

For a full list view Community | Contributors Hall of Fame

Summary. MountainViews now has 7486 comments about 1343 different hills & mountains out of the total in our current full list (1389). We want to get a good gps track showing each of the major ways up every summit in Ireland. If you see an option to add a "Short Summary" then do please consider creating one since another objective is to have a short summary for every summit in Ireland. There's a few (46) opportunities for you to be the first to comment on a summit.
NOTICES
Notices
If you are contributing, please be careful to respect the interests of landowners. Suggest access routes well away from houses, gardens or that could conceivably impact farming activities. When walking, keep away from gardens or farm buildings. Use stiles or gates wherever possible. Never do anything that could allow animals to roam where the farmer did not intend. Ask permission where appropriate.
Report suspicious activity to the police forces, as below.
If your car is broken into in an upland area report it to the PSNI or Gardai as this will help them be aware of the issue and tackle it in future. Store the numbers. In Northern Ireland use the PSNI non-emergency number 0845 600 8000. In the Republic you can find the local Garda District HQs phone numbers at www.garda.ie/Stations/Default.aspx. Specifically for the hotspot of Wicklow: the Garda Divisional Headquarters in Bray is 01 6665300.
If you hear of a problem area or route, write it up in MountainViews which does everyone a service.
Report rubbish tipping in the Republic - ring EPA hotline 1850 365 121
Report quads in national park area (in which they are banned). For Wicklow please phone the Duty Ranger: 087-9803899 or the office during office hours Telephone: +353-404-45800. Put these numbers in your phone, take regs etc. Let MV know of contact numbers for other areas.
If you have climbed some of the less well known places, we would appreciate a summit rating and also GPS readings for summits.
If we can, let's make MV have more than one route up a summit so as to reduce the tendency for paths to appear. Your grid refs in comments for different starting points show up on MountainViews maps as well as GPS tracks.
MountainViews are on Twitter as MountainViewsIE. Follow us and we will follow you back. Any queries to secretary@mountainviews.ie
Visit the MountainViews Facebook page.
This newsletter
This newsletter
Editor: Simon Stewart, Homepage: www.simonstewart.ie
Assistant editors: Colin Murphy, David Owens
Track reviews: Peter Walker, Tom Condon
Book reviews: Mel O'Hara, Conor Murphy, Aidan Dillon, Peter Walker, Michael Kinahan
Videography: Peter Walker, Video Reviews: Paul Moore
Graphics design advice: madfrankie
Facebook assistant editor: Simon Byrne
Newsletter archive.
View previous newsletters mountainviews.ie/newsletter
RETURNING TO MOUNTAINVIEWS
Click on (If you have cookies on in your browser then you will be prompted as to username/ password. If you forget the password, the login page can email you a replacement.)

UNSUBSCRIBING
If you don't want to receive any further monthly newsletters from Mountain Views click on Settings. Then change the option beside "Include on occasional mailing list" to "Do not include". Then click the "Save" button.
Alternatively let us know by email at admin -at- mountainviews.ie Include the email address you got this at or your screen-name guestuser.