Having trouble reading this? View it in your browser.
The Summit


Monthly newsletter of MountainViews.ie for guestuser

May 2015
NEWS - INFORMATION - RECENT CONTRIBUTIONS - FEATURES - FORUMS
Upcoming: MOUNTAINVIEWS - WALKERS ASSOCIATION - and MORE
WALKERS ASSOCIATION OF IRELAND and MOUNTAINVIEWS:
Saturday 16th May, 2015. Laragh. Landscape Photography Workshop
Places strictly limited. View details and booking here: walkersassociation.ie/node/37265


Saturday 13th June 2015. GPS course for Hillwalkers
The Walkers Association of Ireland is again running its GPS course for Hillwalkers on Saturday 13th June 2015 in Tallaght Library. The presentation is aimed at Garmin GPS users and places are limited to 25. Priority booking is being given to all those on the waiting list from last year. If you applied but couldn't get a place, then e-mail ted.mcgrath@walkersassociation.ie on or before Wednesday May 6th. If you are a new applicant then after May 6th vacant places may be available.
Please give your name, phone contact and most importantly the name and number of your GPS unit.


Report: 14th April, 2015. David Walsh, author of Oileán, A Guide to the Irish Islands, spoke on:
"Irish Islands, Cliffs, Sunsets and Getting There".
David proceeded clockwise round Ireland describing selected islands. Many of these places were formerly inhabited and reveal a past that has often vanished from mainland Ireland. The talk was extremely popular and seems to have attracted many from the kayaking community as well as walkers. There were about 70 in attendance.

Challenge Walks. The Walkers Association used to maintain a calendar of Challenge Walks for Ireland however this has now been transferred to MountainViews.ie : visit the new location here.

---
MOUNTAIN MEITHEAL: Mountain Meitheal are keen to find more people to help. Future dates:
17.05.2015 23.05.2015 30.05.2015 14.06.2015
21.06.2015 27.06.2015 12.07.2015 18.07.2015
25.07.2015 09.08.2015 16.08.2015 22.08.2015
06.09.2015 19.09.2015 26.09.2015 04.10.2015
17.10.2015 18.10.2015 01.11.2015 14.11.2015



We publicise Mountain Meitheal because they make practical repairs to some of the more popular areas we walk on, using a voluntary community based approach. (More information at their website.)



Picture of the month
Lough Salt view, NW Donegal by Aidy. From one of the great viewpoints in Donegal this moody picture takes in the Glover ridge route (Muckish to Errigal). To see the power of shadow and cloud take a look at the original comment where you can also see more or less the same view but taken on sunny days.
For Original Comment

Regions: MOUNTAIN COMMENTS - TRIP REPORTS - TRACKS - SUMMARIES
In short: Discovery
Featured track report
A strand-to-strand traverse of Achill
This walk (Track 2876) was submitted by David-Guenot and climbs both the big hills on Achill Island off the west coast, beginning with a sea-level to summit ascent of Slievemore's highly alluring east ridge, and reaching a fitting climax on the steep slopes and oceanic abyss of Croaghaun.
The intervening ground is fascinating too, with cross-country yomping through deserted villages and along deserted coastlines. Transport or a second car will be required.
David-Guenot on A strand-to-strand traverse of Achill
A tough walk, starting with the steep ascent of Slievemore f walk, Length:18.6km, Climb: 1494m, Area: Slievemore, Achill/Corraun (Ireland) Slievemore
---
NORTH: Magnificence in the Mournes
On a fine day, Slieve Bernagh offers simply breathtaking vistas, reports Aidy.
Featured summit comment

A view in a million!
markmjcampion

Park at the new car park [OS Sheet 83, V388650 A] at the start of the new Bolus Loop route. The loop itself is worth doing and is what I had in mind until…well more on that later. Anyway, head south for about 1.5 km until you come to a Y junction…you'll have magical views of Puffin Island and the Skellig rocks as you amble along.

The signage for the loop is set up for an anti-clockwise direction so the arrows are pointing to the right at this junction. However, if you want to get up Bolus quickly, take the left road and follow its zig zags until you reach teh obvious saddle. Head left, following the fence and jumping it when it intersects with another one. From here it's a very short skip and a hop to the summit from where there are magnificent views looking east into Ballinaskelligs Bay and the islands off derrynane and west to the Skelligs and puffin islands.

If you're doing the loop retrace your steps to the col and cross a style to continue to the old barracks at the top of the next minor hill. There is also a WW2 lookout nearby - at the time this was manned around the clock by a party of 6 according to the local farmer I spent a few pleasant minutes with. His quip "If a farmer from Carlow or Kilkenny came down here, he'd starve" is one that I'll not forget in a hurry.

I had ascended in the late evening and was planning on sleeping in the shelter. As my stew was cooking on my stove, I figured I'd save time and set up my bed only to discover that I'd left my sleeping mat in the car! It was a breezy, cool evening and a sleeping bag on the concrete floor would not have been conducive to sleep (even if I had a bottle of whiskey with me) so, after eating, I headed despondently back to the car. It took less than an hour to get there but by then it was dark and, despite being back in the presence of my sleeping mat, I drove back home to Killarney instead. Tthe moment had passed! For info on the loop walk see
www.discoverireland.ie/Activities-Adventure/bolus-head-looped-walk
---

SOUTH: Lights! Camera! Excellent Views!
Between the lofty summit of Beenoskee, the tenuous passage of the Connor Pass road and the fleshpots of Annascaul lies a tangle of lower-but-still-quite-lofty peaks, very very fine walking country indeed and blessed with some of the finest views of both land and sea in all these islands...it's Dingle, after all. mcrtchly has uploaded not so much a track as a shooting schedule for a day's filming for himself and kernowclimber, a route covering eight summits (to which Croaghskearda could easily be added and Knockmulalane with a bit more effort). It's an area well worth a visit particularly in good conditions, with its richness of scenery, history and myth.
mcrtchly on A circuit of the western central Dingle tops
The mountains to the east of the Brandon Group could be cons walk, Length:19.2km, Climb: 1152m, Area: Slievanea, Central Dingle (Ireland) Slievanea,
MOTLEY GATHERING
Going near Coomataggart or the Carran group in the Shehy/ Knockboys -- you might find a balloon payload

CrazyWelsh25 on UCD need help recovering 2 satellites
Hi Everyone, I am a member on here, and also part of the UCD Space Science group in Dublin. Yesterday we launched two satellites that were tethered to a high altitude balloon. These CanSats in tupperware containers were launched from Valentia Observatory yesterday afternoon. The last transmission we had from the satellite was sent at 1702 (5:02pm), heading in an easterly direction from th ... io9.com/harrowing-new-video-shows-a-powerful-landslide-in-actio-1698429502




BOOK REVIEWS
Book review: The Dingle Peninsula, A Walking Guide by Adrian Hendroff.
Publisher: The Collins Press
Published : 2015
Summary: 112 pages, with colour photographs and outline maps. The book describes 24 walks ranging from low level walks taking an hour or two up to 8 plus hour serious mountain treks.



In 2011 the same author wrote 'The Dingle, Iveragh & Beara Peninsula, a walking guide'. That book described 9 of the 24 walks that also feature in this new volume. It is inevitable that popular routes, both in Ireland and elsewhere, are featured in multiple guidebooks. In fairness the new book includes plenty of routes that are not described in previous walking guides. The Dingle Peninsula is hard to beat as a walking destination and it is certainly worthy of a separate guidebook.

This is a fine guidebook. Many walkers come to West Kerry simply to climb Mount Brandon. Brandon is a wonderful mountain. The locals will tell you it is Ireland's second highest mountain. But there is much more to Dingle than Brandon. Part of the area's charm is how undiscovered many of the walks seem to be. The book describes 24 walks ranging from easy rambles to challenging mountain climbs. Most of the walks take between 3 and 5 hours, ideal for the average hill walker. The book includes three very different routes up Brandon, ranging from 4 up to 8 hours duration.

But Dingle is not just about big mountains. He includes a wonderful route around the Great Blasket Island, low level walks around Dunquin and the magnificent Maharees beach walk. The bigger mountains featured in the book include Beenoskee, Masatiompan and Baurtregaum. They are all wonderful climbs especially in good weather when the fine views can be fully appreciated. The book is a slim but durable paperback that will easily fit into a backpack. It includes many fine photographs. It also features outline maps that will suffice for those doing the lower level walks. Ordnance Survey maps will be needed for bigger mountains. Dingles location on the west coast means the weather changes quickly so the usual advice about checking the weather forecast, competent navigation and wearing proper clothing must be taken seriously.

-- Aidan Dillon.


CHALLENGE
A place for those interested in Challenge Walks
Click here: mountainviews.ie/challengecalendar/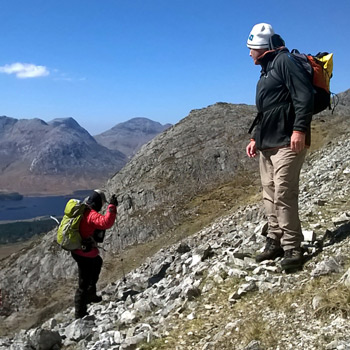 On the Maamturks Walk, 2015

Photo: Jim Holmes

Challenge Walk Notes - May 2015

Whilst initial weather forecasts for the next few days don't look the Mae West . . . . this will in no way hamper the spirits of many a walker and their plans for the May Bank Holiday. By now, wounds should all have been "well-licked" after this year's very successful Maamturks Challenge (you can see reports on this, and many more Challenge Walks in the "Challenge" section of MountainViews). It's a unique scenario whereby one of the toughest Challenge Walks appears so early in the year! Meaning the winter months must see some training of sorts (so as to keep, to a hopeful minimum, any and all pains of the day).

Later in May, eyes look to Leinster where The Wayfarers Hiking Club (now in their 45th year!) host the Blackstairs Walk. This great Challenge Walk traces the Wexford / Carlow border over some beautiful mountains.

This weekend is always a popular date, as many a Hillwalking Club are proud to host many a Walking Festival. Not all Walking Festivals have a true "self-navigating" Challenge Walks – but some do. As part of their Ballyhoura International Walking Festival - the mighty Ballyhoura Bears host the Galtys 7 Peaks Challenge which is a lovely Ridge Walk.

So if you've never participated in a Challenge Walk, or weren't quite sure where to begin – as part of many a Walking Festival (which occur countrywide from Leenane to Loop Head) - you're sure to find a nice "Led Walk" of respectable length and ascent which should go a long way in giving the budding Challenge Walker a taste of pains to come!

And in the words of Mae West (who we mentioned earlier). . . . "You only live once, but if you do it right, once is enough".

-- Jim Holmes.
NOTICES
Notices
If you are contributing, please be careful to respect the interests of landowners. Suggest access routes well away from houses, gardens or that could conceivably impact farming activities. When walking, keep away from gardens or farm buildings. Use stiles or gates wherever possible. Never do anything that could allow animals to roam where the farmer did not intend. Ask permission where appropriate.
Report suspicious activity to the police forces, as below.
If your car is broken into in an upland area report it to the PSNI or Gardai as this will help them be aware of the issue and tackle it in future. Store the numbers. In Northern Ireland use the PSNI non-emergency number 0845 600 8000. In the Republic you can find the local Garda District HQs phone numbers at www.garda.ie/Stations/Default.aspx. Specifically for the hotspot of Wicklow: the Garda Divisional Headquarters in Bray is 01 6665300.
If you hear of a problem area or route, write it up in MountainViews which does everyone a service.
Report rubbish tipping in the Republic - ring EPA hotline 1850 365 121
Report quads in national park area (in which they are banned). For Wicklow please phone the Duty Ranger: 087-9803899 or the office during office hours Telephone: +353-404-45800. Put these numbers in your phone, take regs etc. Let MV know of contact numbers for other areas.
If you have climbed some of the less well known places, we would appreciate a summit rating and also GPS readings for summits.
If we can, let's make MV have more than one route up a summit so as to reduce the tendency for paths to appear. Your grid refs in comments for different starting points show up on MountainViews maps as well as GPS tracks.
MountainViews are on Twitter as MountainViewsIE. Follow us and we will follow you back. Any queries to secretary@mountainviews.ie
Visit the MountainViews Facebook page.
This newsletter
This newsletter
Editor: Simon Stewart, Homepage: www.simonstewart.ie
Assistant editors: Colin Murphy, David Owens
Track reviews: Peter Walker, Tom Condon
Book reviews: Mel O'Hara, Conor Murphy, Aidan Dillon, Peter Walker, Michael Kinahan
Videography: Peter Walker, Video Reviews: Paul Moore
Graphics design advice: madfrankie
Facebook assistant editor: Simon Byrne
Newsletter archive.
View previous newsletters mountainviews.ie/newsletter
RETURNING TO MOUNTAINVIEWS
Click on http://mountainviews.ie (If you have cookies on in your browser then you will be prompted as to username/ password. If you forget the password, the login page can email you a replacement.)

UNSUBSCRIBING
If you don't want to receive any further monthly newsletters from Mountain Views click on Settings. Then change the option beside "Include on occasional mailing list" to "Do not include". Then click the "Save" button.
Alternatively let us know by email at admin -at- mountainviews.ie Include the email address you got this at or your screen-name guestuser.