The Summit


Monthly newsletter of MountainViews.ie for guestuser

May 2015
NEWS - INFORMATION - RECENT CONTRIBUTIONS - FEATURES - FORUMS
Upcoming: MOUNTAINVIEWS - WALKERS ASSOCIATION - and MORE
WALKERS ASSOCIATION OF IRELAND and MOUNTAINVIEWS:
Saturday 16th May, 2015. Laragh. Landscape Photography Workshop
Places strictly limited. View details and booking here: walkersassociation.ie/node/37265


Saturday 13th June 2015. GPS course for Hillwalkers
The Walkers Association of Ireland is again running its GPS course for Hillwalkers on Saturday 13th June 2015 in Tallaght Library. The presentation is aimed at Garmin GPS users and places are limited to 25. Priority booking is being given to all those on the waiting list from last year. If you applied but couldn't get a place, then e-mail ted.mcgrath@walkersassociation.ie on or before Wednesday May 6th. If you are a new applicant then after May 6th vacant places may be available.
Please give your name, phone contact and most importantly the name and number of your GPS unit.


Report: 14th April, 2015. David Walsh, author of Oileán, A Guide to the Irish Islands, spoke on:
"Irish Islands, Cliffs, Sunsets and Getting There".
David proceeded clockwise round Ireland describing selected islands. Many of these places were formerly inhabited and reveal a past that has often vanished from mainland Ireland. The talk was extremely popular and seems to have attracted many from the kayaking community as well as walkers. There were about 70 in attendance.

Challenge Walks. The Walkers Association used to maintain a calendar of Challenge Walks for Ireland however this has now been transferred to MountainViews.ie : visit the new location here.

---
MOUNTAIN MEITHEAL: Mountain Meitheal are keen to find more people to help. Future dates:
17.05.2015 23.05.2015 30.05.2015 14.06.2015
21.06.2015 27.06.2015 12.07.2015 18.07.2015
25.07.2015 09.08.2015 16.08.2015 22.08.2015
06.09.2015 19.09.2015 26.09.2015 04.10.2015
17.10.2015 18.10.2015 01.11.2015 14.11.2015



We publicise Mountain Meitheal because they make practical repairs to some of the more popular areas we walk on, using a voluntary community based approach. (More information at their website.)



Picture of the month
Lough Salt view, NW Donegal by Aidy. From one of the great viewpoints in Donegal this moody picture takes in the Glover ridge route (Muckish to Errigal). To see the power of shadow and cloud take a look at the original comment where you can also see more or less the same view but taken on sunny days.
For Original Comment

Regions: MOUNTAIN COMMENTS - TRIP REPORTS - TRACKS - SUMMARIES
In short: Discovery
Featured track report
A strand-to-strand traverse of Achill
This walk (Track 2876) was submitted by David-Guenot and climbs both the big hills on Achill Island off the west coast, beginning with a sea-level to summit ascent of Slievemore's highly alluring east ridge, and reaching a fitting climax on the steep slopes and oceanic abyss of Croaghaun.
The intervening ground is fascinating too, with cross-country yomping through deserted villages and along deserted coastlines. Transport or a second car will be required.
David-Guenot on A strand-to-strand traverse of Achill
A tough walk, starting with the steep ascent of Slievemore f walk, Length:18.6km, Climb: 1494m, Area: Slievemore, Achill/Corraun (Ireland) Slievemore Click here


Whatever the length or terrain covered, please do submit suggestions for this "Featured Track" spot in future at admin -at- mountainviews.ie
---
NORTH: Magnificence in the Mournes
On a fine day, Slieve Bernagh offers simply breathtaking vistas, reports Aidy.

Aidy on Slieve Bearnagh: Magnificent Mountain
For the first part of my route from Meelmore Lodge over Slieve Bearnagh North Tor, see my comment on that mountain. It had been a steep pull up from Hare's Gap to the North Tor, and I was glad that it was a short walk, with little descent and ascent to Bearnagh. Even so, on this hot day, I was very tired when I got there, and didn't trust myself to make an attempt to get on top of the tor. Tire ... Click here


NORTH: Troll Hunter 2
From the mire of the Antrim plateau comes another of CaptainVertigo's highly acclaimed series of 'classic errors in route selection' that he always records so honestly to save others from repeating his sufferings. This time he has made the eastern descent from Trostan a darn sight more interesting than it needs to be by heeding the siren call of the course of the Moyle Way as marked on the map; cue oppressive forest, gloopy swamp and a sincere wish for thigh-length gumboots. Those intrigued by this should note that his route up is fine, and that if coming from the west said Moyle Way is a lot more trustworthy! The day can be augmented by one or more of the numerous other summits hereabouts...the Cap'n has uploaded several other tracks to get you going.
CaptainVertigo on Trostan AA4
(I think that you will get the best version of the above map walk, Length:5.8km, Climb: 325m, Area: Trostan, Antrim Hills (Ireland) Trostan Click here


NORTH: What the Butler Saw...
There is much fine hillwalking on Donegal's lovely Inishowen peninsula with its wonderful coastline, and pre-eminent is the traverse of the fantastic miniature mountain range stretching away south-west from the village of Clonmany. windy has started from the car park at the foot of the Butler's Glen, walked up past its pretty waterfall before striking uphill to cross the three hills that lead to the Mamore Gap road. This is a glorious walk, but it would be awkward to extend it without transport. Those wishing to include all five summits (and possibly the new Binnion of Slievekeeragh Hill) can use a slightly more prosaic approach from the road on the south side of the Gap.
windy on Urris Hills - Butlers Glen to Mamore Hill
walk, Length:11.3km, Climb: 772m, Area: Mamore Hill, Inishowen (Ireland) Mamore Hill, Crockmain, Raghtin More Click here


WEST: A quick hop up from Oughterard
Knocknalee Hill in South Connemara is a boggy, bare hill that offers no great challenge, but fine views nonetheless, says member fieldoptic.

fieldoptic on Knocknalee Hill: Quick hill from Oughterard.
Boggy bare hill, no great challenge, 3.5km over Luggakeeraun from where I parked at last entrance to Coilte plantation. Has rewarding view over Lough Corrib and beyond to plains of East Galway to NE/E, Maamturks, Maam Valley and Ben Gorm beyond to NW, a glimpse of the mouth of Kilkieran Bay to SW and Clare and Aran to S. Trig point is atop remnants of possible cairn. Click here


WEST: Fine views from small top
Slieveward in the Ox mountains is just shy of 200m, and requires you to navigate through dense scrub in the early stages, but does reward with panoramic views, reports paddyhillsbagger.

paddyhillsbagger on Slieveward: Fine views from small top.
The OSi map has Slieveward at G652 275 and 189m whilst the summit on Mountainviews is as above. I started at G65492 26718 at the top of a farm rd. I spoke to a local farmer who was fine with leaving the car there (room for 2) and OK for climbing the hill. He mentioned there was an old track for a mass rock. I did find a small laneway but it petered out on the lower slopes and dense scrubby undergr ... Click here


WEST: On a Clare day…
Mullagh More is a great viewing point for the surrounding Burren, has several well-marked trails and is one of the most impressive landmarks in the area, says sandman.

sandman on Mullagh More: The Burren.
Mullagh More situated on the eastern side of the Burren National Park the hill is a swirl of contorted limestone and is one of the most impressive landmarks in the Burren. The National Park has three well marked trails,Green Red and Blue with information provided on the trail board at the start of the routes where there is also ample parking R3147594356 The Blue trail which is a loop walk will t ... Click here


Featured summit comment

A view in a million!
markmjcampion

Park at the new car park [OS Sheet 83, V388650 A] at the start of the new Bolus Loop route. The loop itself is worth doing and is what I had in mind until…well more on that later. Anyway, head south for about 1.5 km until you come to a Y junction…you'll have magical views of Puffin Island and the Skellig rocks as you amble along.

The signage for the loop is set up for an anti-clockwise direction so the arrows are pointing to the right at this junction. However, if you want to get up Bolus quickly, take the left road and follow its zig zags until you reach teh obvious saddle. Head left, following the fence and jumping it when it intersects with another one. From here it's a very short skip and a hop to the summit from where there are magnificent views looking east into Ballinaskelligs Bay and the islands off derrynane and west to the Skelligs and puffin islands.

If you're doing the loop retrace your steps to the col and cross a style to continue to the old barracks at the top of the next minor hill. There is also a WW2 lookout nearby - at the time this was manned around the clock by a party of 6 according to the local farmer I spent a few pleasant minutes with. His quip "If a farmer from Carlow or Kilkenny came down here, he'd starve" is one that I'll not forget in a hurry.

I had ascended in the late evening and was planning on sleeping in the shelter. As my stew was cooking on my stove, I figured I'd save time and set up my bed only to discover that I'd left my sleeping mat in the car! It was a breezy, cool evening and a sleeping bag on the concrete floor would not have been conducive to sleep (even if I had a bottle of whiskey with me) so, after eating, I headed despondently back to the car. It took less than an hour to get there but by then it was dark and, despite being back in the presence of my sleeping mat, I drove back home to Killarney instead. Tthe moment had passed! For info on the loop walk see www.discoverireland.ie/Activities-Adventure/bolus-head-looped-walk

---

SOUTH: Lights! Camera! Excellent Views!
Between the lofty summit of Beenoskee, the tenuous passage of the Connor Pass road and the fleshpots of Annascaul lies a tangle of lower-but-still-quite-lofty peaks, very very fine walking country indeed and blessed with some of the finest views of both land and sea in all these islands...it's Dingle, after all. mcrtchly has uploaded not so much a track as a shooting schedule for a day's filming for himself and kernowclimber, a route covering eight summits (to which Croaghskearda could easily be added and Knockmulalane with a bit more effort). It's an area well worth a visit particularly in good conditions, with its richness of scenery, history and myth.
mcrtchly on A circuit of the western central Dingle tops
The mountains to the east of the Brandon Group could be cons walk, Length:19.2km, Climb: 1152m, Area: Slievanea, Central Dingle (Ireland) Slievanea, Click here


SOUTH: High praise for a low hill
Killurly in Iveragh NW may just reach 331m, but the coastal views it offers of the Skelligs and Puffin island make it a must, reports markmjcampion.

markmjcampion on Killurly: Great views on a clear evening.
really easy hill to climb for some stunning views both east and west. Wait for a sunny evening and you'll have a great time looking at the sun declining behind the Skelligs, Lemon Rock and Puffin Island. Easy climb if you start from V400 667…there's space for 3 or 4 cars if you're prepared to have a third of your car on the road…the roads are very quiet though! There's a nearby gate from which you ... Click here


SOUTH: Called to the bench(es)
It may well be the least renowned of the three salients sallying forth from the Irish south-west, but there's a fair chance that Beara is the most wild and mountainous of them all. Onzy has been exploring away from the relative fleshpots of Glaninchiquin, Hungry Hill and Cummeengeera and still found plenty to clamber up and down in his round of the hills around Maulin. It's a half day as described, but linking to Hungry Hill via the subsidiary tops of Knocknagree could add distance and further interest to the outing.
Onzy on Caha Mountains: Above Castletownbere
A route deep in the Beara Peninsula, taking in Maulin, Lack walk, Length:11.9km, Climb: 716m, Area: Maulin, Caha Mountains (Ireland) Maulin, Lackawe Click here


SOUTH: From the horse's mouth
Glencappul or Horse's Glen is a magnificent valley with three loughs and the summit of Stoompa is the perfect place to sit and gaze at its majesty.

Colin Murphy on Stoompa: Horses Glen
Accompanying pic is a composite of 8 photos showing the spectacular views to be had to the south of Stoompa in the valley knows as Glencappul or Horses' Glen. On the right is Lough Garagarry, bottom centre Lough Managh and top centre Lough Erhogh. Click here


SOUTH: Castle in the Air
Travellers through Tralee cannot help but notice the might of the Baurtregaum group of hills on a clear day, rearing up as they do almost 900m above them. Despite this ostentatious facade this summits are among the quietest of Ireland's higher mountains, possibly being deemed guilty of the crime of relative proximity to Brandon and the Reeks. peter1 has extended an obvious circuit from this side of the range to include the inconvenient outlier Castle Hill, even farther from the madding crowd than Baurtregaum itself and a quite wonderful viewpoint. An obvious modification to this route would be to come up (or return) over Caherconree and Gearhane; more fantastic panoramas and a bit of narrow ridge thrown in.
peter1 on Near Baurtregaum NW Top, Slieve Mish (Ireland)
While taking in the Baurtregaums, it makes sense to include walk, Length:13.5km, Climb: 1081m, Area: Baurtregaum NW Top, Slieve Mish (Ireland) Baurt Click here


EAST: Wicklow's highest from the Glen of Imaal
A 14k trek through Michael Dwyer guerrilla country took Kennyj to Lugnaquilla's summit.

Kennyj on Lugnaquilla: Dwyer country
Have had this one on the hit list since going up there with a group out of Aghavannagh last year,today I tackled it from the Glen of Immall.Parked at Fentons pub and followed the good track all the way up.Stiff enough in places but on a day like today it made no difference.Distance 13.7 km,ascent 804m,Descent 744m,time taken 3hrs 42 mins Click here


EAST: Faintly Annoying Day at Black Rock
A great example of the dedication of some MVers to the cause can be seen in jackill's track in the Blackstairs...over 900m of ascent just to demonstrate that Mount Leinster's outlier Black Rock Mountain is a gnat's proverbial (assuming the gnat is reasonably well endowed) away from making the V-L list. His Trimble having undone him, he nipped up to Leinster's E top before retreating to claim Croaghaun hill to the north as a consolation prize. Others (if they are fit) might choose to extend over the main summit and return to the start via Knockroe.
jackill on A good route up Black Rock and Mount Leinster ET, with a quick bag of Croaghaun
Survey route to check Black Rock for VL status. Mostly on fo walk, Length:14.5km, Climb: 907m, Area: Mount Leinster East Top, Blackstairs Mountains (I Click here


EAST: Elvis country in Wicklow…really!
Some fascinating insights into the history of the area around Eagle Hill are relayed by kernowclimber, including the fact that Elvis might well have been born here were it not for a twist of history.

kernowclimber on Eagle Hill: A Hill Fit For a King…
As one of my local 100s, and in the final potpourri of summits put off along with the likes of Carrigleitrim and Barranisky (need I say more?!!) I had not expected much of Eagle Hill. How wrong I was! This little hill punches far above its weight and offers the climber ample reward. Just before the Hackestown GAA club, we took the road on the left signed 'Woodside Bark' which ends at a timber yard ... Click here


EAST: Bread of Heaven
The N11 corridor south of Dublin isn't necessarily the most obvious ingredient for a day's hillwalking, but osullivanm hasn't been deterred, and has uploaded a circuit that makes a couple of loaves go a long way. It's a pleasant round for those who don't wish to venture too far from the city limits; other easy tops such as Carrigoona Commons East and Bray Head Hill lie nearby for the summiteer looking to add more numerical value to their day.
osullivanm on Kilmacanogue Circuit
Interesting circuit including the Little and Great Sugar Loa walk, Length:15.2km, Climb: 676m, Area: Little Sugar Loaf, Dublin/Wicklow (Ireland) Litt Click here


Sorry if we didn't mention what you posted .. there's a list of all contributors for the month later.
MOTLEY GATHERING
Going near Coomataggart or the Carran group in the Shehy/ Knockboys -- you might find a balloon payload

CrazyWelsh25 on UCD need help recovering 2 satellites
Hi Everyone, I am a member on here, and also part of the UCD Space Science group in Dublin. Yesterday we launched two satellites that were tethered to a high altitude balloon. These CanSats in tupperware containers were launched from Valentia Observatory yesterday afternoon. The last transmission we had from the satellite was sent at 1702 (5:02pm), heading in an easterly direction from th ... Click here

---
MV Strategy

Just a reminder about this item which was covered more fully last month and thanks for those that contacted us about it.

The Committee's Draft Strategy for MV is now available here. We invite input from all members of the Community as to how this should be further shaped. Any comments, criticisms, corrections, etc., are welcome on OnzyMV@gmail.com


---
Bog slide in progress

These occasionally happen in Ireland but I don't remember having seen a video of one. Take a look at this as filmed in Russia.
io9.com/harrowing-new-video-shows-a-powerful-landslide-in-actio-1698429502




BOOK REVIEWS
Book review: The Dingle Peninsula, A Walking Guide by Adrian Hendroff.
Publisher: The Collins Press
Published : 2015
Summary: 112 pages, with colour photographs and outline maps. The book describes 24 walks ranging from low level walks taking an hour or two up to 8 plus hour serious mountain treks.



In 2011 the same author wrote 'The Dingle, Iveragh & Beara Peninsula, a walking guide'. That book described 9 of the 24 walks that also feature in this new volume. It is inevitable that popular routes, both in Ireland and elsewhere, are featured in multiple guidebooks. In fairness the new book includes plenty of routes that are not described in previous walking guides. The Dingle Peninsula is hard to beat as a walking destination and it is certainly worthy of a separate guidebook.

This is a fine guidebook. Many walkers come to West Kerry simply to climb Mount Brandon. Brandon is a wonderful mountain. The locals will tell you it is Ireland's second highest mountain. But there is much more to Dingle than Brandon. Part of the area's charm is how undiscovered many of the walks seem to be. The book describes 24 walks ranging from easy rambles to challenging mountain climbs. Most of the walks take between 3 and 5 hours, ideal for the average hill walker. The book includes three very different routes up Brandon, ranging from 4 up to 8 hours duration.

But Dingle is not just about big mountains. He includes a wonderful route around the Great Blasket Island, low level walks around Dunquin and the magnificent Maharees beach walk. The bigger mountains featured in the book include Beenoskee, Masatiompan and Baurtregaum. They are all wonderful climbs especially in good weather when the fine views can be fully appreciated. The book is a slim but durable paperback that will easily fit into a backpack. It includes many fine photographs. It also features outline maps that will suffice for those doing the lower level walks. Ordnance Survey maps will be needed for bigger mountains. Dingles location on the west coast means the weather changes quickly so the usual advice about checking the weather forecast, competent navigation and wearing proper clothing must be taken seriously.

-- Aidan Dillon.


CHALLENGE
A place for those interested in Challenge Walks
Click here: mountainviews.ie/challengecalendar/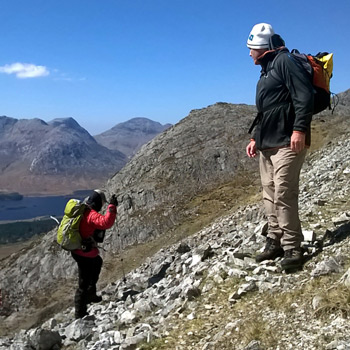 On the Maamturks Walk, 2015

Photo: Jim Holmes

Challenge Walk Notes - May 2015

Whilst initial weather forecasts for the next few days don't look the Mae West . . . . this will in no way hamper the spirits of many a walker and their plans for the May Bank Holiday. By now, wounds should all have been "well-licked" after this year's very successful Maamturks Challenge (you can see reports on this, and many more Challenge Walks in the "Challenge" section of MountainViews). It's a unique scenario whereby one of the toughest Challenge Walks appears so early in the year! Meaning the winter months must see some training of sorts (so as to keep, to a hopeful minimum, any and all pains of the day).

Later in May, eyes look to Leinster where The Wayfarers Hiking Club (now in their 45th year!) host the Blackstairs Walk. This great Challenge Walk traces the Wexford / Carlow border over some beautiful mountains.

This weekend is always a popular date, as many a Hillwalking Club are proud to host many a Walking Festival. Not all Walking Festivals have a true "self-navigating" Challenge Walks – but some do. As part of their Ballyhoura International Walking Festival - the mighty Ballyhoura Bears host the Galtys 7 Peaks Challenge which is a lovely Ridge Walk.

So if you've never participated in a Challenge Walk, or weren't quite sure where to begin – as part of many a Walking Festival (which occur countrywide from Leenane to Loop Head) - you're sure to find a nice "Led Walk" of respectable length and ascent which should go a long way in giving the budding Challenge Walker a taste of pains to come!

And in the words of Mae West (who we mentioned earlier). . . . "You only live once, but if you do it right, once is enough".

-- Jim Holmes.
emVee-Tube
Videos this month:
CaptainVertigo on Cnoc Bhealach Gaoithe: A PATRICK ZERKOWSKI FILM
Hillwalkers planning to tackle the Poisoned Glen and Slieve Snaght have a feast of really good films to watch on YouTube. Critchley/Schwartz, McVeigh and Patrick Zerkowski have all produced really high quality material. The route planner will very much approve of the way that Patrick names his mountains as he proceeds along his route. You know exactly where he has been. Patrick brings some special ... Click here



CaptainVertigo on Slievemartin: A PATRICK ZERKOWSKI FILM
Patrick Zerkowski whets the appetite of the prospective walker with a very clear film of Slieve Martin and surrounding areas. Needless to say, given Slieve Martin's location on Carlingford Lough there are plenty of sea views. I like the fact that the early part of the walk is captured, showing the forest tracks: all very helpful and informative. A very useful piece: it does exactly what it says o ... Click here





CaptainVertigo on Piaras Mór: A Critchley and Schwartz Film
The still taken from the Schwartz/Critchley YouTube film "Trekking and Wild Camping in the Brandon Massif, Dingle Peninsula, County Kerry, Ireland" shows the fearless pair coming from Masatiompan and heading towards Pierasmore with the Brandon ridge, partly hidden in cloud, in the background. This film will give any of you planning an outing in that area an idea of what's involved. Its just such ... Click here




Videography by Peter Walker.




---
WEBSITE NEWS


Fancy looking after an area on MountainViews
The Challenge Walk Calendar now on MV is being implemented in a Content Management System (CMS) called Drupal. CMSs are a popular way for individuals to put up blogs and clubs to implement websites without requiring a knowledge of computer programming. Leading tools include Wordpress and Joomla. Drupal is of the same ilk. In future MountainViews will use Drupal to implement sections where it can be used, so making it relatively easy for members who may be interested in some aspect of walking/ hillwalking to engage.
MountainViews is slowly but progressively increasing its scope so if you would like to get involved in developing the website, without having to learn programming, do get in touch at admin@mountainviews.ie

---
MountainViews is trialling a system to show videos on the website.

Our website describes individual mountains, areas, possible routes using GPS tracks illustrated with photos.


simon3 on Consulation re new Video display feature.
MountainViews.ie is introducing a new feature to include videos that illustrate a general area, summit or track. The idea is that a visual list of suggested videos is presented with summits and tracks. All users will be able to click on their choice and the youtube video will then appear on the page, with information. If you are interested in looking at the early versions of this feature let u ... Click here

---
Attack on website

Fortunately repulsed by our web hosting company. It seems that some nameless criminal started attacking the hosting company (not just MV). The effect of this was that for around 1.5 hours the whole website was extremely slow until the hosting company blocked the attack. Takeaway message: if the website is extremely slow, come back in a while.

simon3 on [RESOLVED] MountainViews very slow? Sat 2 May
The website appears extremely slow. According to the hosting company: We are currently experiencing a DDoS attack. All updates will be posted to www.letshoststatus.com A DDOS attack is a Distributed Denial of Service whereby a large number of infected computers send spurious data to the hosting company. The attack is not specifically targeted at MountainViews but affects a large range o ... Click here

SUMMITEERS CORNER
A place for those interested in Summiteering, Bagging or Highpointing.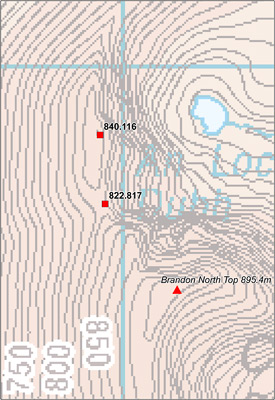 Representation of Brandon Far North Top as a

Vandeleur-Lynam (mcritchly).

New Vandeleur-Lynam Top Recognised!!

Two prolific members of MountainViews went up a candidate mountain over Easter with surveying instruments. One who has made hundreds of such measurements came away with a reading of 599.577m for Black Rock Mountain in the Blackstairs thereby proving that summit to be just below the required height to be a VL. The other, on his first mission to survey for MV, got a reading for prominence of 17.3 for the new Brandon Far North Top and so got the Easter Egg.

Beginners luck.

Congrats to mcritchly. Condolences to jackill.

The summit was then added to MountainViews. This causes various things to happen, so there are now 270 Vandeleur-Lynams in the Summiteers Hall of Fame and Records, there's fewer people who are listed as finishing the VLs, for a few people living in SW Dingle their Local 100 would change to include the new summit etc.

---

New Arderin Tops - Current state of play

We mentioned in last month's newsletter that we were working on this list. The Arderins list itself contains all peaks over 500m with a prominence of at least 30m - the Arderin Tops (name to be confirmed!!) will have a reduced prominence of 15m. Well, sooner than anticipated, thanks to the expense of much midnight oil by our own madfrankie, we can now publish a draft list of the hills under consideration. Click to download list here. (.xlsx format)

Notes from creator of list (madfrankie)

I've included the 48 VLs that were not previously Arderins (shaded in light blue).
In terms of potential new tops, there are 58 summits (shaded in pink) that are 'more than likely' to 'certain' to have the 15m prominence.
There are 24 summits noted as 'doubtful', by which I mean they're less than likely to achieve the 15m prominence.

So to summarise:

97 summits more than likely to certain (includes VLs)
25 Possibles
24 Unlikelys

Because of the reduced 15m prominence, the height of col and summit becomes more critical, and if we don't have this data, it's mor difficult to make a definitive call.

Something else to consider is the possible creation of a new Arderin: Coomcathcun Sth Top.
And The Eagle's Rock (Cooleys) and Croaghnageer E. Top (Bluestacks) are borderline Arderin possibilities - perhaps worthy of surveying at some point.



Please remember that this is very much a work in progress and will need much checking before being added to the site. It needs to, and will, be much improved, but we are publishing it at this stage to invite comments and feedback. All comments welcome on our suggestions forum or contact admin@mountainviews.ie

--David Owens (Chair)
---
A Guide to Ireland's Mountain Summits - The Vandeleur-Lynams & The Arderins
MountainViews first book available online and in many bookshops. The first reprint with numerous minor amendments is available.


simon3 on A Guide to Irelands Mountain Summits
MountainViews first book available online and in many bookshops.

As members will know, for over a decade, Mountainviews.ie has been providing unique information to hillwalkers on all aspects of exploring and enjoying Ireland's upland areas. It's been a collaborative effort by over 1000 of you, and currently contains over 6000 comments on 1057 mountains and hills on the island of Ireland ... Click here
Bulk sales to groups such as Scouts/ Guides: contact admin@mountainviews.ie for a discounted price.
This month.
Kudos to our contributors.
We welcome the following new members who enrolled this month. Alatar, benarms, blackhound, brandyrock, BrianBlake, briankenrick, buckham, Buzza, caiomhin, carofurey, climbireland, Clive_G, cocolito, coletteobrien, concurtin, Derekw, devereuxpiers, divs007, doniem, dorothy, doylercd, Eamonng, Eastwestcork, edfrench999, edwardluke, Ellebelles, fieldoptic, Funsterdelux, georgetastic, groupshelter, happyonhols, Hughjarce, Irishman777, jaay2k, jasonbuckley50, jillianwallace, jinexus, jlawton, jleech, Johanna-Ryan, John_K, justyna12, kajto78, karg, kevinmkenny, kimturton, lemke33, Lusgreine, lyndaod, LyndaT, mandrews71, mattiecool, Mick40, mirken, mudslinger, muinteoir, niamhkelly, noshea28, notJordanEllis, Oderak, Patbrowne, pattidoh, pbrennan, pcring, pdunne, Piney, r254donegal, Rama, ray5, rbutler, rechena, RookieLeona, SagiCork, savard, sdewaard, seamusbreathnach, sean7, spike, stepst, Tainrambler, teccase20, TerenceListon, Thecarterclan, Titus, tjml, tomkehoe, trishfurey, upoz, wayfarer1 (89)

Our contributors to all threads this month: Aidy (12), Astrofizz01 (1), CaptainVertigo (17), Colin Murphy (9), ColinCallanan (1), David-Guenot (9), Derry_Danderer (1), GSheehy (1), Havoc (1), Jim Holmes (1), Kennyj (4), NeverAgain1985 (1), Onzy (9), Pepe (2), Peter Walker (5), caiomhin (1), cnocadoir (1), fieldoptic (1), geohappy (2), gfmurphy101 (1), Communal summary entries (10), jackill (3), jillianwallace (1), kernowclimber (1), march-fixer (1), markmjcampion (6), mcrtchly (4), osullivanm (1), paddyhillsbagger (5), peter1 (2), r254donegal (1), sandman (3), simon3 (5), skhg (4), strangeweaver (1), stroel (1), tmsr (1), wicklore (1), windy (3)
For a fuller list view Community | Recent Contributors

There were comments on the following summits , Aillwee, Ben Goram, Black Rock Mountain, Bleantasour Mountain, Brandon Far North Top, Brandon Peak, Brandon South Top, Caherbla, Castle Hill, Clondermot Hill, Cnoc Bhealach Gaoithe, Cnoc na Searrach, Cnoc na Stuaice, Cragnamurragh, Croaghan, Croaghanmoira, Crockfadda E Top, Cronamuck, Cruach an Bhearnais, Cuilkillew, Cupidstown Hill, Eagle Hill, Garrylaurence Hill, Gortnessy Hill, Keshcorran, Killurly, Knockaglana, Knockbrack, Knocknalee Hill, Knocknarea, Knockrower, Lack Mountain, Larganmore, Loughsalt Mountain, Lugnaquilla, Masatiompan, Meenanea, Meenavally, Mount Leinster, Mullagh More, Piaras Mór, Scarr, Seefin, Sliabh an Iolair, Slieve Bearnagh, Slieve Bearnagh North Tor, Slieve Donard, Slieve Snaght, Slievekirk, Slievemartin, Slieveward, Stoompa, The Playbank, Toome, Torc Mountain
and these tracks Baurtregaum NW Top, Slieve Mish Ireland, Beinn Losgaintir, Harris and Nearby Islands Britain, Beinn Sgorabhaig [Ben Scoravick] [Beinn Scorabhaig], Harris Britain, Ben Lugmore West Top, Mweelrea Mountains Ireland, Benbulbin, Dartry Mountains Ireland, Bouleevin, West Clare Ireland, Brandon, Brandon Group Ireland, Carnavaddy, Cooley/Gullion Ireland, Corraun Hill, Achill/Corraun Ireland, Croaghanirwore, Bluestack Mountains Ireland, Crohan West, Knockmealdown Mountains Ireland, Cruach Mhór, MacGillycuddy's Reeks Ireland, Faill an tSáis, Brandon Group Ireland, Feede Mountain, Cooley/Gullion Ireland, Glenmore Hill, W Limerick/N Kerry Ireland, Kinnaveagh, Donegal NW Ireland, Knockalongy, Ox Mountains Ireland, Knocklayd, Antrim Hills Ireland, Knocknaskagh, Nagles Mountains Ireland, Krinnuck, Achill/Corraun Ireland, Laghtshanaquilla, Galty Mountains Ireland, Little Sugar Loaf, Dublin/Wicklow Ireland, Mackoght, Donegal NW Ireland, Mamore Hill, Inishowen Ireland, Maulin, Caha Mountains Ireland, Mount Eagle, North Mayo Ireland, Mount Leinster East Top, Blackstairs Mountains Ireland, Paps/Derrynasaggart Ireland, Purple Mountain, Purple Mountain Ireland, Saggart Hill, Dublin/Wicklow Ireland, Silsean, Dublin/Wicklow Ireland, Slievanea, Central Dingle Ireland, Slieve Beagh, Fermanagh/S Tyrone Ireland, Slieve Beg, Mourne Mountains Ireland, Slieveanard NE Top, Galty Mountains Ireland, Slieveanorra, Antrim Hills Ireland, Slievemore, Achill/Corraun Ireland, Slievenanee, Antrim Hills Ireland, Trostan, Antrim Hills Ireland tracks and these walks were created (none in period)

Thanks to all 1187 of us who have ever contributed summits or routes info and forums.

For a full list view Community | Contributors Hall of Fame

Summary. MountainViews now has 7437 comments about 1336 different hills & mountains out of the total in our current full list (1389). We want to get a good gps track showing each of the major ways up every summit in Ireland. If you see an option to add a "Short Summary" then do please consider creating one since another objective is to have a short summary for every summit in Ireland. There's a few (53) opportunities for you to be the first to comment on a summit.
NOTICES
Notices
If you are contributing, please be careful to respect the interests of landowners. Suggest access routes well away from houses, gardens or that could conceivably impact farming activities. When walking, keep away from gardens or farm buildings. Use stiles or gates wherever possible. Never do anything that could allow animals to roam where the farmer did not intend. Ask permission where appropriate.
Report suspicious activity to the police forces, as below.
If your car is broken into in an upland area report it to the PSNI or Gardai as this will help them be aware of the issue and tackle it in future. Store the numbers. In Northern Ireland use the PSNI non-emergency number 0845 600 8000. In the Republic you can find the local Garda District HQs phone numbers at www.garda.ie/Stations/Default.aspx. Specifically for the hotspot of Wicklow: the Garda Divisional Headquarters in Bray is 01 6665300.
If you hear of a problem area or route, write it up in MountainViews which does everyone a service.
Report rubbish tipping in the Republic - ring EPA hotline 1850 365 121
Report quads in national park area (in which they are banned). For Wicklow please phone the Duty Ranger: 087-9803899 or the office during office hours Telephone: +353-404-45800. Put these numbers in your phone, take regs etc. Let MV know of contact numbers for other areas.
If you have climbed some of the less well known places, we would appreciate a summit rating and also GPS readings for summits.
If we can, let's make MV have more than one route up a summit so as to reduce the tendency for paths to appear. Your grid refs in comments for different starting points show up on MountainViews maps as well as GPS tracks.
MountainViews are on Twitter as MountainViewsIE. Follow us and we will follow you back. Any queries to secretary@mountainviews.ie
Visit the MountainViews Facebook page.
This newsletter
This newsletter
Editor: Simon Stewart, Homepage: www.simonstewart.ie
Assistant editors: Colin Murphy, David Owens
Track reviews: Peter Walker, Tom Condon
Book reviews: Mel O'Hara, Conor Murphy, Aidan Dillon, Peter Walker, Michael Kinahan
Videography: Peter Walker, Video Reviews: Paul Moore
Graphics design advice: madfrankie
Facebook assistant editor: Simon Byrne
Newsletter archive.
View previous newsletters mountainviews.ie/newsletter
RETURNING TO MOUNTAINVIEWS
Click on (If you have cookies on in your browser then you will be prompted as to username/ password. If you forget the password, the login page can email you a replacement.)

UNSUBSCRIBING
If you don't want to receive any further monthly newsletters from Mountain Views click on Settings. Then change the option beside "Include on occasional mailing list" to "Do not include". Then click the "Save" button.
Alternatively let us know by email at admin -at- mountainviews.ie Include the email address you got this at or your screen-name guestuser.