The Summit


Monthly newsletter of MountainViews.ie for guestuser

February 2015
NEWS - INFORMATION - RECENT CONTRIBUTIONS - FEATURES - FORUMS
Highlights:


Annual Mountain Gathering Helen Fairbairn, 4 other speakers and awards to members.

NORTH, SOUTH, WEST, EAST, MIDLANDS, WALES, Route ideas and places to go.

Visiting all the summits of Northern Ireland Peter Walker's trip to 181 summits.

VIDEOS: Three videos featured this month. Two from Gerrym and one from Wales

Book review Geology of Ireland, a field guide

OSI Wicklow Maps, Uploading large pics. Maps to publish soon, website now accepting large photos.


Upcoming: MOUNTAINVIEWS - WALKERS ASSOCIATION - and MORE
WALKERS ASSOCIATION OF IRELAND and MOUNTAINVIEWS:
MV Irish Mountain Gathering will take place on Friday, 20th February in the Lansdowne Hotel. 7:30pm doors open, start 8:00pm sharp. All welcome.

The main speaker will be Helen Fairbairn. Helen is a full-time writer of outdoor activity guides. She has written 12 walking guidebooks, covering destinations as diverse as America's Rocky Mountains, Scotland's highlands and islands, and the European Alps. She will speak on why hillwalking in Ireland remains her true love.
Tom Kelly, Irish Times Gadget Man, will speak on outdoor gadgets.
Peter Walker, MV's only complieter of the 181 summits of Northern Ireland, will talk on:
What makes a hill Irish?
'There are hills wherever you go in the world, apart from at the bottom of the Marianas Trench and in County Kildare. But is there anything that makes Ireland's hills unique? What is it that makes a hill Irish?'
Simon Stewart: 2014 - what did we do?

The annual awards ceremony will take place at the end with around 15 awardees. We note that some of the County Highpoint complieters have done them in under a year. Special mention for Rob Lee (First person under 21 to visit the Vandeleur-Lynams) and Simon Byrne (First person to complete the combined Arderins and Vandeleur-Lynams in a year and share GPS tracks for all routes used - Simon will give a short presentation on the achievement.

There is an entry fee of 5 Euro for all (except speakers). As payment & registration can backlog please arrive a little early so we can start on time. Last year 115 came to this event so there's a risk of us having to turn people away.


Wednesday, 11th March, 2015. 8pm. Michael Gibbons, noted archaeologist, will speak on:
"Drowned Landscapes of Ireland's West Coast – New Insights into Storm Archaeology". Note: meeting room may be upstairs.


Tuesday, 14th April, 2015. 8pm. David Walsh, author of Oileán, A Guide to the Irish Islands, will speak on:
"Irish Islands, Cliffs, Sunsets and Getting There"
These meetings are being organised by the WAI with the help of the MountainViews committee. Talks are held in the Landsdowne Hotel, 27 - 29 Pembroke Road, Dublin 4 unless otherwise stated. Entry is free unless otherwise stated. There is a collection. Directions here www.lansdownehotel.ie . The excellent bar facilities allow you to have a drink with other hillwalkers after the event. You can get a meal before the meeting also. Should you wish to stay overnight then please consider staying with the Lansdowne.
For a full list of Challenge Walks, visit here.
---
MOUNTAIN MEITHEAL: Mountain Meitheal are keen to find more people to help. Why not take a look at their website.
We publicise Mountain Meitheal because they make practical repairs to some of the more popular areas we walk on, using a voluntary community based approach. (More information at their website.)
Picture of the month
Misty, snowy Muckish in the Derryveaghs, Donegal. Photographed by Caroline McGonagal
For Original Comment

Regions: MOUNTAIN COMMENTS - TRIP REPORTS - TRACKS - SUMMARIES
In short: Discovery
NORTH: Talk about a misnomer
Tullyhappy Hill in the Slieve Gullion area is a 5 minute stroll to an dull mound with pylons, railings etc on the top. Purely for the bagger, says Harry Goodman.

Harry Goodman on Tullyhappy: Not a "happy" visit !
Having read Peter Walkers Short Summary one may well ask why take the trouble to seek out this hill ? My only excuse is that it is one of the newly listed tops in my revised Local 100 !! I took the A28 NW from Newry and turned off left at J0496731709. Once through a crossroads I swung up right to go steeply up a narrow minor road for about 1km to J0381332002. From here an even narrower minor roa ... Click here


Featured track report

Coum Country North of Sneem by Onzy
The more adventurous will have a whale of a time in the wilderness between Sneem and Cloon in the midst of Iveragh, an area stuffed to the gills with scenic marvels and quite prepared to eat the navigationally naive in bad conditions. The latest impressed survivor of a visit is Onzy, and his track takes in the four V-Ls crowning the plateau ending the ridge running west from mighty Mullaghnattin. Said ridge could be used to extend the walk for those with transport, or you could head the other way to Cnoc Breasail and Coomcathun; tough majestic country either way.

Onzy's rundown:
A route from north of Sneem in Iveragh taking in four VLs; Coomacronia, Coomura Mountain, Knockmoyle and Knocknagantee. The route is based on that outlined in A Hendroff's, 'Dingle, Iveragh and Beara Peninsulas' book, extended to take in Coomura Mountain.

The route starts from a parking place at V93526 80439, opposite some farm buildings in a layby of sorts. heads east with a bit of north along the road, through a couple of gates around some holiday cottages, and onto open ground. As you rise north towards Coomacronia, Eagles Lough opens up to the west below the sheer (and very impressive) walls of Knocknagantee's east face. Over Coomacronia and the entire route is laid out before you. These four hills have been compared to the bedposts supporting a sagging mattress and this fits! The route to Coomura Mountain involves heading north west into the sagging basin before heading north east up the slope.

From Coomura to Knockmoyle it really gets interesting as you trace the lip of the coum. Simon3 on the Coomura Mountain page mentioned the headwall of Coomura itself as being unlike anything he had seen before and it is certainly very confused terrain - not at all like what you expect from a coum;almost slashed and torn ground and a challenge to negotiate.

After this the route is plain sailing, up the grassy treadmill onto Knockmoyle and then over 2k of mixed ground to Knocknagantee. Descending from Knocknagantee is a matter of heading west downslope for 700m where you will meet a very substantial track heading roughly south and to your starting point. This track is indicated on the OS map, but is much more substantial than I had expected - joined it at a height of 460m but it appears to extend above 500m.


Whatever the length or terrain covered, please do submit suggestions for this "Featured Track" spot in future at admin@mountainviews.ie
---
WEST: On the way to something better...
Kerry-bound travellers on the N21 out of Limerick might become restless in the vicinity of Newcastle West and fancy doing a spot of summiteering to break up the journey. jackill has ridden to the rescue of these poor unsatisfied souls with a track outlining the ascent of Corronoher, an easy ramble of an hour up a forest track with a brief bit of tree-battling at the end to an elusive trig point. It's not a summit over-endowed with summit views, so visitors may wish to visit several similar tops nearby.
jackill on A pleasent forest stroll to survey a Marilyn.
Parked at a forest entrance, with many other people out walk walk, Length:4.8km, Climb: 115m, Area: Corronoher, W Limerick/N Kerry (Ireland) Corronoh Click here


WEST: Achill on film
The second half of Patrick Zerkowski's beautiful film, Achill 2014, shows his walk up Croaghaun, complete with stunning vistas and great soundtrack, reports Captain Vertigo.

CaptainVertigo on Croaghaun SW Top: A PATRICK ZERKOWSKI FILM
The second half of Patrick Zerkowski's beautiful film, Achill 2014, shows his walk up Croaghaun. This is one of the many mountains that I have "saved" for some sun shining day in year's to come. Because it has to be one of our very best, as this film shows. A visual feast! And may I say, an audio feast,, as well. I thought the choice of Paradise by Coldplay was inspired Click here


WEST: Meeting himself coming back...
jackill has also taken his apparent current fixation with summits with many many more trees than views to the Shannon area where he has tracked the ascent of Knocknalough. A quick look at his hilariously jagged route suggests a man either trying to evade angry livestock or undergoing some sort of personal breakdown, but a quick check of the summit entry on MV reveals that that is indeed where the necessary forest tracks actually go. Once again, no distant views from the top so the multitude of other nearby summits could be leveraged by those wishing to make a fuller day of it...but the advice to 'bring wellies' should probably be taken seriously.
jackill on Near Knockalough, Shannon (Ireland)
walk, Length:11.0km, Climb: 271m, Area: Knockalough, Shannon (Ireland) Knockalough Click here


WEST: Spectacular Burren crater
A fascinating walk traversing limestone walls and fissures leads to Slievecarran summit in West Clare, home to a perfectly round crater almost 150m across, recounts kaygeebee.

kaygeebee on Slievecarran: Annual christmas walk
Looking at this prominent hill in the Burren since I came to Gort in 1999 I always intended to to climb it one day.. Myself & 3 brothers climbed it 2 weeks ago for our annual christmas walk. Starting at the information board in Keelhilla, we crossed the style & headed over the flat limestone in a N direction. Going over the gate at the limestone wall we took a SW route over more difficult limeston ... Click here


WEST: Where Eagles etc...
One of the last throws of Iveragh's dice is the wedge of land between Lough Currane and the sea at Caherdaniel, and Onzy has visited a couple of the summits lurking within its interior by means of an interesting cross-country trek utilising the Kerry Way and some bog roads during its marked sections. It's a great neck of the woods and those wanting more of it could walk out to the Ring of Kerry over Farraniaragh Mountain.
Onzy on South West Iveragh
Route over Eagles Hill and Mullaghbeg starting from partking walk, Length:12.9km, Climb: 575m, Area: Eagles Hill, Dunkerron Mountains (Ireland) Eagle Click here


Featured summit

SOUTH: Iveragh
by DenisMc from Knocknagapple, Glenbeigh Horseshoe, Kerry. 15 Jan 2015 Little to add except that the views from these summits are some of the finest in the country with the whole of the Iveragh peninsula visible. The view in the photo is looking east to the Magillicuddy Reeks with the Dunkerrons to the right of these.


---

SOUTH: The Tree Degrees
A number of lower summits separate the Comeraghs and Knockmealdowns from the sea to the south. simon3 has taken the time to climb and track several of them, and seeing as they all require an absence from the car of less than an hour they're well suited to a multi-top day or an easy stroll of an evening; there are good views of the higher groups from tops such as Dromona Hill.
simon3 on Simple way via forest track from SW.
This route starts from what looks like a county council serv walk, Length:3.0km, Climb: 82m, Area: Dromona Hill, Comeragh Mountains (Ireland) Dromona Click here


SOUTH: A maze of masts – a multitude of comments!
Despite small size and its summit covering of masts, Carronadavderg Hill in Waterford merits no less than four new comments this month.

group on Carronadavderg: Easy access to mast covered wood encircled summit
Start at X16762 87593 and follow the access road up to the summit area about 900m away. The flattish summit has six main masts, buildings and a little wooden hut. The summit Trig Pillar, adorned with a peace symbol, sits on top of the remains of a cairn. There are cows in the fields on each side of the access road, so keep dogs under control. There is forestry near the summit, but the summit ... Click here


SOUTH: Tree Little Birds
Further forestry frolics from MV's surveying department as jackill brings us a track of a couple of summits in the Nagles down in the south. The tops visited are Knocknaskagh and its N. Top, and prospective visitors are advised to swot up in advance to make the route from the former to the latter as straightforward as it should be. The walk described is a couple of hours; the adventurous, or botanists, or adventurous botanists could link to Seefin and Corran from here.
jackill on Near Knocknaskagh, Nagles Mountains (Ireland)
walk, Length:8.0km, Climb: 364m, Area: Knocknaskagh, Nagles Mountains (Ireland) Knocknaskagh, Knocknaskagh N Top Click here


EAST: Smell the eucalyptus - who needs an inhaler.
A pleasant hike up Ballinastraw Hill in Wicklow begins with the fresh and unexpected scent of a mature eucalyptus plantation, says Simon3.

group on Ballinastraw: Start with scent, finish via good tracks at a stoney summit with r
Start at T2108 9183 where there is parking for 3 or 4 cars. Unusually near this point there is an area planted with eucalyptus trees. Not only do they have the extremely distinctive straight boled shape with colourful peeling bark, you will also be able to smell their distinctive odour. Follow various tracks as shown on the maps here or the OS 1:50,000 to the top. There are a group of teleco ... Click here


EAST: A short stroll into history
A five minute stroll to the top of one of Ireland's most historic hills, the scene of a large battle in 1798 rebellion, and great views to boot, recounts eamonoc.

eamonoc on Vinegar Hill: Historic Hill
What to say ! an historic hill, plenty of literature written about this hill and its troubled past, the hill was the site of a battle involving over 15,000 British troops and a large contingent of United Irish rebels on June 21st 1798. The hill is well signposted from Enniscorthy town, I was able to drive to S98384 39999. Parking here for any amount of cars in a well made large carpark. There is a ... Click here


MIDLANDS: Not a lot brewing here
The remains of a stone circle and some nice views make the otherwise simple stroll up Brewel Hill in Kildare worth the small effort, reports Dessie 1.

Dessie1 on Brewel Hill: As quick as a brew!
From Kilcullen village head SW along R448 which crosses over the M9 motorway.Take the signposted left after crossing the motorway keeping on the R448 (towards Kilgowan) all the way until you reach the Priory restaurant on your left.Take the left immediately before the Priory and follow road and at first V junction take a right turn uphill towards the concrete yard as mentioned in other posts.Clim ... Click here


WALES: Let it Snowdonia, let it Snowdonia, let it Snowdonia...
Everybody's heard of Snowdon (or Mount Snowdonia as my fiancee calls it when she's trying to wind me up) but most right-thinking folk with substantial experience will consider the Glyderau to provide the finest hillwaking in the three blocks of high mountains that crown the northern edge of that Welsh national park. mcrtchly and kernowclimber have made a winter ascent of the highest summit (Glyder Fawr) via the fine Gribin ridge, returning via the spectacular cliff rent of the Devil's Kitchen (video at http://youtu.be/grEJtd9-aj8). The splintered moonscape of the top is quite something; if you happen to be intrigued you might want to investigate the longer start climbing Tryfan by its North Ridge and then climbing Glyder Fach via Bristly Ridge, the whole itinerary being one of the very best scrambling trips in these islands.
mcrtchly on Glyder Fawr via Gribin Ridge
Glyder Fawr, having been resurveyed in 2010, tops out at 100 walk, Length:8.2km, Climb: 690m, Area: Glyder Fawr, Snowdonia (Britain) Glyder Fawr Click here


Sorry if we didn't mention what you posted .. there's a list of all contributors for the month later.
Exploration
Northern Ireland, the Six Counties, currently have 181 summits listed in MountainViews. They make an interesting challenge. We are not sure if anyone has visited them all before Peter Walker (or if not the precise MV list, something similar).
A useful further outcome of this is that Peter shared many GPS tracks for routes up hills and summits as well as summit comments. Places like Cullen Hill or Ballywhite. It's this sharing that distinguishes summiteering from just peak-bagging. While MountainViews does not claim that such routes are definitive nevertheless it is useful to have some idea of how other people went.

Crosses There has been some discussion about religious symbols on summits. Northern Ireland of course is an area not largely of one religious group. So another interesting side-effect of a member visiting all the summits of Northern Ireland is to see whether there are crosses at the top to the same extent as in the Republic. The answer is that only two summits appear to have crosses: Slemish and Camlough. (Correct this observation if you have other names.)



All of Norn Iron's Hills and Mountains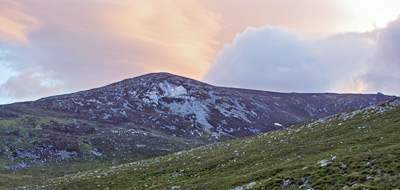 Chimney Rock Mountain

On the 12th August 2010 I left the Bloody Bridge car park near Newcastle at about 5:20pm, about 70 minutes before arriving on top of Chimney Rock Mountain. On the 1st January 2015 I strode a bit soggily into the car park of Whitehead Golf Club, about 7 minutes after leaving the top of Muldersleigh Hill. During the intervening years I went from being an English tourist to (via moving house and jobs and acquiring an Irish fiancée) an English blow in. And somehow I blundered my way to the top of all 181 summits in Norn Iron (as I am now obliged to call it) listed on Mountain Views.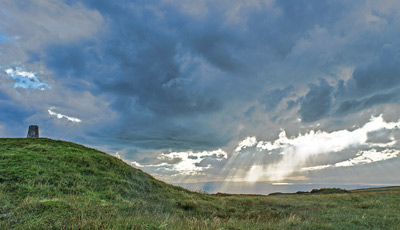 Knocklayd and a dramatic sky.

I certainly wasn't planning this when I left Bloody Bridge in 2010...my thinking was more along the lines of 'I hope my hire car is still here when I get back'. Even in July 2012 when I moved to Belfast the thought hadn't occurred to me. I dimly recall the concept first being aired among the myriad of musings that went down during a traverse of the Five Mullaghs with simon3 and Garmin in November of that year. But I was so far off doing it (especially once the list of Binnions was massively augmented) that pushing it to the back of my mind was easy, and it was left to my tendency to favour the unfamiliar over the familiar when choosing my weekend walks to allow me to creep up on the objective without even realising it could be an objective at all.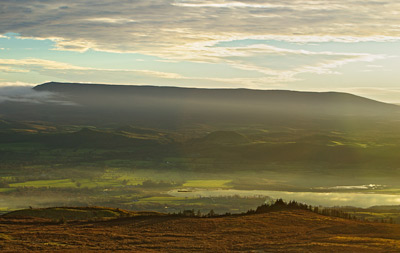 Cuilcagh from Belmore Mountain.

It wasn't until about September last year that I started properly putting my mind to it: making notes of what I had left to do, trying to spin itineraries out of them, that sort of thing. Other responsibilities (which is partly a euphemism for 'terrible organisational skills') meant things spilled over into this year, and it was exciting (sort of) until the end: New Year's Day started with an ascent of Mullaghash in the Sperrins, where (having discovered midway through what I thought was a thick patch of long grass that I was actually knee-deep in a stream) I arrived back at the car with a tiny bit of hypothermia. 90 minutes' drive with the heater on full blast and boots/socks arrayed about the jeep so as best to take advantage of the warming jets of hot air, but even after that I didn't so much swagger as squelch to the trig point crowning the third fairway of Whitehead. A bloke in his forties ending up on a golf course...inevitable, I suppose.

But an objective is nothing without the journey to get there. Ah, the memories, the people and the places. The folk I met by arrangement (MVers on Scavvys and other things...splendid without exception), the folk I met by accident. There were hills I knew would be good (the Mournes) and never disappointed, there were hills I'd never heard of (I particularly think of the abrupt little summits around the Ring of Gullion, an area that bears witness to both geological and historical violence and even today has a fantastic atmosphere I've never found anywhere else). And there was Ouley Hill...blimey.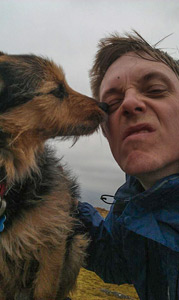 Cuilcagh from Belmore Mountain.

As I write I can't help but think of the late, great Neelix T. Dog, the best companion a bloke ever had in the hills, and possibly the only being capable of having even less fun in the Sperrins than I tended to. 'Why can't I go off lead Dad? Why? Why? What do you even mean when you keep saying 'absolute bloodbath for the local fauna if I do?'' He accompanied me to many of these summits and his stupendous ears and Alderman's whiskers and amazing ability to inveigle the filling out of my sausage rolls when we stopped for lunch will always be with me.

So, it's done. Let's be clear...I'm not asking for any great kudos for doing this: in terms of endeavour this wasn't so much Project Mountain Goat as Project Mountain Gnat, but it kept me entertained. The possibilities are still endless...or at least Endless Minus One. You can't be the first person to do the VLs, the Arderins, both, or both within a year...but you could be (say) the first to tick an entire province. That one won't be me, but it could be you.

(But if it were me, I'd pick Leinster. Just saying).

-- Peter Walker. [ No kudos please, we're Bashful ]


FURTHER NEWS & MOTLEY GATHERING
SOCIAL NEWS ANNOUNCEMENT

Our esteemed and extremely prolific MountainViews contributors Martin Critchley and Sharron Schwartz (both of ERA Maptec fame) have got engaged. Now being this pair they didn't settle on some tame occasion to do the deed. Like a walk on a beach. Oh no, it had to be the summit of Kilimanjaro!

I am sure I speak for everyone who has seen the mountain comments, short summaries, GPS tracks, videos and talks they have produced in wishing them the very best!

---
Facebook offerings assisted by Simon Byrne.
Apart from teaching rock-climbing and visiting all of the Ireland's mountains in a year, Simon also is a dab hand at Facebook. Take a look.
Visit the reviving MV facebook page. www.facebook.com/mountainviewsie
simoburn on Project Mountain Goat - Final Stats / MV on F
Hey all, I hope people have been having a safe time in the hills over the last few weeks. It does feel like there has been a few rescues and incidents over the past month. Any how, for those interested I have done a recent blog post on the final stats of PMG. Distance and ascent meters and the like. You can read it here if interested: http://www.adventureburn.com/project-mountain-goat-final-stats/ ... Click here



---

OSI 1:25,000 Wicklow Maps
We now understand that OSI will be sending this three map set to the printers at the end of Feb, 2015. We have had some input into these maps in that we made suggestions as their extent, supplied names and surveyed heights for summits and classified summit positions. A number of these suggestions look like being accepted as with others from bodies such as National Trails Office and Wicklow Mountains National Park. The maps greatly extend the area of detailed small-scale mapping (1:25k, 1:30k etc) in the Dublin/Wicklow uplands, well beyond that of the competitors. We had hoped that with volunteers MountainViews could suggest further detail corrections however publishing deadlines do not allow this. We have already contacted those that volunteered and informed them of the situation. As well as these volunteers, MountainViews would also like to thank member Geraldine Nee for assisting in this project.

Do take a look at the maps when they come out.
---
Bizarre Photograph

Photographer Captures Rare Pictures of an Upside-Down Iceberg
Full story petapixel.com/2015/01/15/photographer-captures-rare-beautiful-photos-upside-iceberg/
---

Maps, beautiful maps.
Your editor can't resist looking at interesting maps.


Much more: www.wired.com/2015/01/beautiful-maps-atlas-of-design/#slide-id-1679561
BOOK REVIEWS
Book review: Geology of Ireland, a field guide by Pat Meere, Ivor MacCarthy, John Reavy, Alistor Allen, Ken Higgs.
Publisher: The Collins Press
Price: €19.99

In reviewing this book I looked at it from a hillwalkers perspective, will the book add to the enjoyment of trekking the hills and valleys of our island? In short the answer is yes it will but only if you have ever wondered why the hills and valleys are there in the first place, or, if you ever questioned why that big boulder ended up on the side of the hill, or, what's that lake doing up here at 500m above sea level.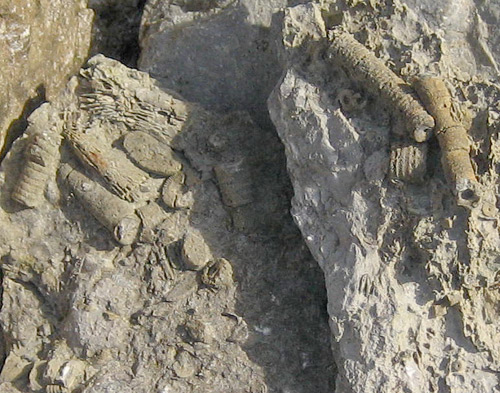 The fossils are sections of crinoid stems found in limestone, taken at Hook Head lighthouse. Crinoids were aquatic plant like creatures with tall stems and flower like heads which were likely feeding arms, cousins of todays sea urchins, starfish and various feather stars and sea lillies.

The book is not written for hillwalkers in particular, it's mainly for students of geology and amateur geologists, however, anyone with a curiosity on the natural features of the countryside can add greatly to their knowledge and understanding of why and how Ireland's natural landscape ended up as it is today.

The geology of Ireland has always been best studied at our coastal regions, this is because the underlying bedrock is exposed here due to sea and wind erosion. This same bedrock is also found in the mountains further inland; we see it in quarries at the base of a mountain or in samples taken from outcrops on or near summits.

The book is diveded into two parts, the first part covers the science of geology. Don't let this put you off, you won't need a science degree; it's not a book you read cover to cover; you can dip in and out of it, reserching at your own pace. The science content is explained as simply as it can be for the beneifit of anyone with a keen interist in the subject, while the full colour diagrams and photographs give an excellent visual aspect of what the authors are presenting.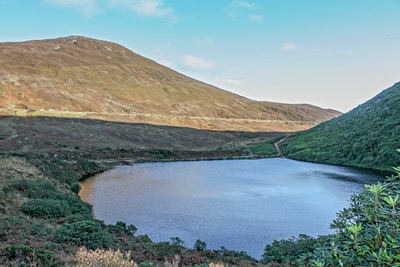 Bay Lough in the Knockmealdowns a small corrie lake is near the vee in Co Waterford, which was scooped out during the last ice age and filled with water.

Part two are the field trips; it's now time to get your boots on. There are seventeen field trips described, starting in Ardmore Co Waterford, then heading west through Cork and Kerry, up the west coast, stopping at places like the Burren in Clare, Glencolumbkille in Donegal, across the north Antrim coast and back down to the Mourn and Wicklow mountains, finishing up again in Waterford on the copper coast. The starting location of each field trip includes the name of the townland and grid reference using the 1:50,000 OSI maps, recommended time, and even available parking in the area. Once at the location the field guide gives you a description of the geological features to be seen and the authors then give their interpretation of what those features mean. Assuming you brought the book along, you should be able to stand and see exactly what is described using the photographs and diagrams as a reference.

No matter where you live in the country you are probably no more than two hours drive away from one or more of the field trip locations. Most hillwalkers planning a day hike or a weekend bagging a few peaks could add a geological diverson to their itinary, on a day when the mountains are shrouded in mist or fog a geological plan B is always an option. If you're just into walking the hills, taking in the views, having a pint at the end, then I would give the book a miss, on the other hand if you want to know what lies underfoot and how it got there, this book has the answers. You can use it for the field trips alone, without having a lot of science knowhow. I recommend reading a couple of chapters, then go and find the location, that's always an achievement, also it is a book you can put on the shelf for future excursions

Summary:

Geological time spans millions of years, this book gives an excellent and easily understood overview of the geological events which shaped Ireland's landscape, you won't find dinosores because all that was erroded away. You will discover other secrets the rocks hold, secrets like, there were warm shallow seas here just like the tropics today and fossilised corals on mountain outcrops. How did they get up there? Then there are the footprints of a pre-historic creature who ventured onto land from an ancient sea, all found in the rocks we have been trekking over for years; all you have to do is know where to look.

The Authors:

The five authors are leading geologists, who continue to expand, study and lecture in our Universities on Ireland's natural geological landscape. Combined they have 180 years of field geology behind them.
Geology of Ireland, a field guide is available from collins press price at 19.99 euro,

-- James Garry


emVee-Tube
Videos this month:




Videography by Peter Walker.


---
WEBSITE NEWS

Important news if you are uploading pictures.
In conversation with member simoburn we learnt the nuisance of not being able to directly upload photos from a camera to MV where the pixel size of the picture exceeed the old limit (about 2 Megapixels). This restriction has now been removed.
simon3 on Uploading large photographs - no downsize
If you upload a picture with a mountain comment, forum, short summary etc it used to be necessary to reduce the picture in size to have less than about 2 Megapixels. This is a nuisance for some people who wanted specifically to upload pictures direct from their cameras which often had output megapixels as much as 30. This restriction has now been removed. You can upload pictures to much larger s ... Click here



SUMMITEERS CORNER
A place for those interested in Summiteering, Bagging or Highpointing.
---
A Guide to Ireland's Mountain Summits - The Vandeleur-Lynams & The Arderins
MountainViews first book available online and in many bookshops. The first reprint with numerous minor amendments is now out.


simon3 on A Guide to Irelands Mountain Summits
MountainViews first book available online and in many bookshops.

As members will know, for over a decade, Mountainviews.ie has been providing unique information to hillwalkers on all aspects of exploring and enjoying Ireland's upland areas. It's been a collaborative effort by over 1000 of you, and currently contains over 6000 comments on 1057 mountains and hills on the island of Ireland ... Click here
Bulk sales to groups such as Scouts/ Guides: contact admin@mountainviews.ie for a discounted price.
This month.
Kudos to our contributors.
We welcome the following new members who enrolled this month. Annecon1, Annett, benk, bj69, Bode1961, BrianMur92, broz13, brutusburke, caitrionab, caseye, cbell, CianHeff, Colin_p, cpriscilla8, crankechick, daceatpace, Dalm, Darrin, delski, dlucas123, Dobsyd, duffypaul50, Eddie1, Edwardo, Emul, ev700500, F_D, GarVeach, garyh, gerrykealy, grainnegarrett, HansAlbrecht, hikersblog, hikingmania, hughcartee, IndyMan, ircmichaelo, ircwilliam, irishinca, irso, JBrowne, jlbrooke, johnnycool, john_gavin, jollylee, judedonaghy2, Kanturk-Hillwalk, kaygeebee, kees, lakehotel, legogirl, Lepasdeloup, lokuttara, lostdub, Maevemg, markamaguire, maryflynn, mcdonnell, mordain, noah, oconnellmd, ohaonghusa, Patches, paulway, polovirus, quinner, rmmunt, robertodon, robertskywindows, robsugden, russpalmer, Sabre, Steadyman456, strummer, Surginor-, Thady, Tjl, tomoleary, Vickym, Wandering-Dyl, Waterhelon, Westdubber (82)

Our contributors to all threads this month: (1), Aidy (2), Astrofizz01 (2), Barry (2), CaptainVertigo (7), Cobhclimber (1), DenisMc (1), Dessie1 (2), Harry Goodman (1), Hilltop-Harrier (1), Kennyj (3), Moac (1), Mulciber (2), Onzy (4), Peter Walker (3), andy2639 (1), bria5n1 (1), conormcbandon (5), dr_banuska (1), droginexile (1), eamonoc (2), Communal summary entries (9), jackill (12), john_gavin (1), kernowclimber (1), kerryabu (1), mcrtchly (3), nesa1206 (1), paddyhillsbagger (11), paddyman (1), simoburn (118), simon3 (10), thomas_g (1)
For a fuller list view Community | Recent Contributors

There were comments on the following summits , Aroher Hill, Ballinastraw, Birreencorragh South Top, Blackstairs Mountain, Brewel Hill, Caherconree, Carronadavderg, Coomura Mountain, Cornaclea Hill, Croaghaun SW Top, Croghan Kinsella, Curraghchosaly Mountain, Dereenaculling, Derrineanig, Djouce, Gortmonly Hill, Gowlbeg Mountain, Knockmealdown, Knocknagapple, Knockseefin, Lough Curra Mtn, Shehy More, Slieveboy, Slievemore, Slievenaglogh, Tievecrom, Tullyhappy, Vinegar Hill
and these tracks Aghla Beg (South), Donegal NW Ireland, Ballincollop Hill, South Cork Ireland, Carronadavderg, Comeragh Mountains Ireland, Coomnacronia, Dunkerron Mountains Ireland, Corronoher, W Limerick/N Kerry Ireland, Dromona Hill, Comeragh Mountains Ireland, Eagles Hill, Dunkerron Mountains Ireland, Galtybeg, Galty Mountains Ireland, Glyder Fawr, Snowdonia Britain, Iceland, East , Ireland, 46 m E from your Home Location , Knockalough, Shannon Ireland, Knockmannon Hill, South Midlands Ireland, Knocknaskagh, Nagles Mountains Ireland, Knockseefin, Shannon Ireland, Monabrack, Galty Mountains Ireland, Muldersleigh Hill, Belfast Hills Ireland, Mullaghash, Sperrin Mountains Ireland, Slieve Donard, Mourne Mountains Ireland tracks and these walks were created (none in period)

Thanks to all 1164 who have ever contributed summits or routes info and forums.

For a full list view Community | Contributors Hall of Fame

Summary. MountainViews now has 7283 comments about 1319 different hills & mountains out of the total in our current full list (1385). We want to get a good gps track showing each of the major ways up every summit in Ireland. If you see an option to add a "Short Summary" then do please consider creating one since another objective is to have a short summary for every summit in Ireland. There's a few (66) opportunities for you to be the first to comment on a summit.
NOTICES
Notices
If you are contributing, please be careful to respect the interests of landowners. Suggest access routes well away from houses, gardens or that could conceivably impact farming activities. When walking, keep away from gardens or farm buildings. Use stiles or gates wherever possible. Never do anything that could allow animals to roam where the farmer did not intend. Ask permission where appropriate.
Report suspicious activity to the police forces, as below.
If your car is broken into in an upland area report it to the PSNI or Gardai as this will help them be aware of the issue and tackle it in future. Store the numbers. In Northern Ireland use the PSNI non-emergency number 0845 600 8000. In the Republic you can find the local Garda District HQs phone numbers at www.garda.ie/Stations/Default.aspx. Specifically for the hotspot of Wicklow: the Garda Divisional Headquarters in Bray is 01 6665300.
If you hear of a problem area or route, write it up in MountainViews which does everyone a service.
Report rubbish tipping in the Republic - ring EPA hotline 1850 365 121
Report quads in national park area (in which they are banned). For Wicklow please phone the Duty Ranger: 087-9803899 or the office during office hours Telephone: +353-404-45800. Put these numbers in your phone, take regs etc. Let MV know of contact numbers for other areas.
If you have climbed some of the less well known places, we would appreciate a summit rating and also GPS readings for summits.
If we can, let's make MV have more than one route up a summit so as to reduce the tendency for paths to appear. Your grid refs in comments for different starting points show up on MountainViews maps as well as GPS tracks.
MountainViews are on Twitter as MountainViewsIE. Follow us and we will follow you back. Any queries to secretary@mountainviews.ie
This newsletter
This newsletter
Editor: Simon Stewart, Homepage: www.simonstewart.ie
Assistant editors: Colin Murphy, David Owens
Track reviews: Peter Walker, Tom Condon
Book reviews: Mel O'Hara, Conor Murphy, Aidan Dillon, Peter Walker, Michael Kinahan
Videography: Peter Walker, Video Reviews: Paul Moore
Graphics design advice: madfrankie
Newsletter archive.
View previous newsletters mountainviews.ie/newsletter
RETURNING TO MOUNTAINVIEWS
Click on (If you have cookies on in your browser then you will be prompted as to username/ password. If you forget the password, the login page can email you a replacement.)

UNSUBSCRIBING
If you don't want to receive any further monthly newsletters from Mountain Views click on Settings. Then change the option beside "Include on occasional mailing list" to "Do not include". Then click the "Save" button.
Alternatively let us know by email at admin@mountainviews.ie Include the email address you got this at or your screen-name.