Having trouble reading this? View it in your browser.
The Summit


Monthly newsletter of MountainViews.ie for guestuser

May 2014
NEWS - INFORMATION - RECENT CONTRIBUTIONS - FEATURES - FORUMS
Highlights:


EAST, WEST, NORTH SOUTH MIDLANDS Route ideas and places to go, many to "new" places.

Epic long Iveragh south walk., conormcbandon's seriously long walk (run?), one of the 33 tracks uploaded in April.

Celebrate the community , MV has had a great month, the best ever.

Find love on the hills, Brandon next weekend. List then Export, Get summits onto GPS, backup your logs.

VIDEO: White Mountain by gerrym


Upcoming: MOUNTAINVIEWS - WALKERS ASSOCIATION - and MORE
WALKERS ASSOCIATION OF IRELAND:
Courses, 2014
WAI GPS Skills for Hillwalkers Saturday June 14th 2014 The presentation is aimed at hillwalkers with basic GPS skills, who wish to learn how to get more from their units.
TOPICS COVERED
GPS Settings, Waypoints, Tracks and Routes, Creating Routes and Logging Tracks, Following Routes and Tracks, GPS and Computer connections, PC GPS Utilities and Packages, Sharing Routes and Tracks, Acquiring Waypoints, Routes and Tracks
Venue:County Library in Tallaght. More details here. Book immediately if you are interested as this may sell out.

For a full list of Challenge Walks, visit here.


IRISH UPLANDS FORUM: Uplands Community Partnership Conference 28-29th May 2014
Bring together established and emerging uplands community-based groups, debate, explore the Comeraghs, develop program and role.
This could be of interest to MountainViews users because Irish Uplands Forum takes an interest in the health and well being of our place of recreation, and like MountainViews does so for the whole island. (More information at their website.)


MOUNTAIN MEITHEAL: the following are upcoming work days for 2014:
05/04/2014 20/04/2014 03/05/2014 18/05/2014 31/05/2014 15/06/2014
28/06/2014 13/07/2014 26/07/2014 10/08/2014 23/08/2014 07/09/2014
20/09/2014 05/10/2014 18/10/2014 02/11/2014 15/11/2014
We publicise Mountain Meitheal because they make practical repairs to many of the more popular areas we walk on, using a voluntary community based approach. (More information at their website.)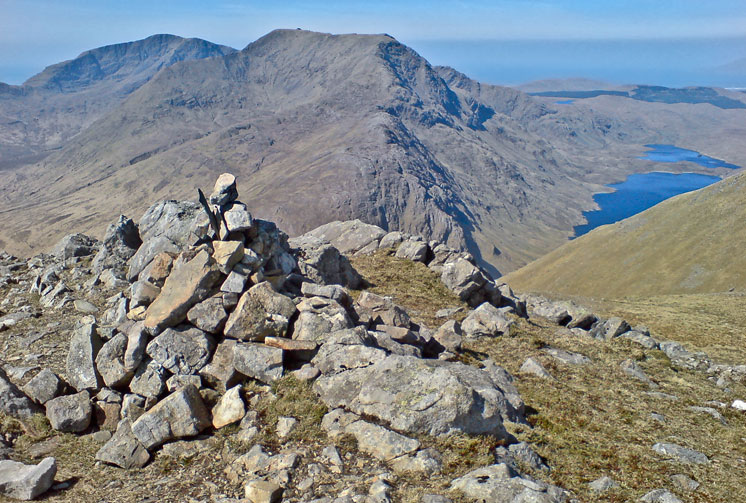 This was taken from Ben Cregan (South) and shows part of the huge view from around there to the higher summits of Connemara and, in this case, the Mweelrea group in Mayo. Skyline left to right is Mweelrea and the Ben Lugmores. To the right is Doolough. Click for source comment by new contributor Daithic.
And, by the way, this was taken with a smartphone.
Regions: MOUNTAIN COMMENTS - TRIP REPORTS - TRACKS - SUMMARIES
In short: Discovery
SOUTH: The Holiday Song
Hordes of MountainViewers seem to have descended on the glorious hills that prefix the end of Iveragh this month. CaptainVertigo has recorded another of his patented Bank Holiday escapades; what might flippantly be considered a circuit of Cloonaghlin Lough. This route takes in 8 summits, much tough ground and some of the finest prospects this island can offer; the fan of remote magnificent mountain country will be hard-pressed to find anything better, and they will most likely have it to themselves...
CaptainVertigo on A Cloonaghlin Circuit
Another Long Good Friday: 8 summits including 6 Arderins and walk, Length:25.4km, Climb: 1556m, Area: An Bhinn Láir, Dunkerron Mountains (Ireland) An Click here


SOUTH: 'I may be some time...'
...unless of course they sight the blur of conormcbandon, who has 'slightly' extended the southern arm of the Captain's route to create an epic-but-logical day on the hills above Waterville. A lot of the pleasure of looking at maps comes from designing itineraries such as this one; a bit of shading and a load of contours and all of a sudden this walk just jumps out at you. It does require transport however, and it'd be seriously impressive if anyone could add any further tops to it.
conormcbandon on A Circuit of Waterville - Heartbreak Ridge
A great day out in good weather. There are many,many fences walk, Length:49.2km, Climb: 2249m, Area: Dunkerron Mountains (Ireland) Reenearagh, Beena Click here


SOUTH: Remote landscape of water and stone
Coomcathcun in the Dunkerron Mountains gives a real sense of isolation, its beautiful, remote terrain a tapestry of rock and small loughs, reports Captain Vertigo

CaptainVertigo on Coomcathcun: Water and Stone
Coomcathcun's extensive plateau is an obstacle course of water and rock. Navigation will be difficult in poor conditions. There is a real sense of remoteness. Human traffic is almost non existent. This would be an interesting place to set up camp for a few days of contemplation. Getting there would not be easy, but it would be worth it. My particular favorites are the many tiny lakes, and their r ... Click here


SOUTH: Soft top, gruesome Sides
The steep rocky slopes of Coomcallee in the Dunkerron Mountains are in sharp contrast to its soft, grassy summit, recounts Captain Vertigo.

CaptainVertigo on Coomcallee: Soft Top Gruesome Sides
Descending westwards from Coomnahorna one is presented with the dark eastern face of Coomcallee. Perched on the edge of the coll is tiny Lough Coomeenatierna, ready to spill its insides over the cliff when the rains come. Once you go around that pond, it's straight up Coomcallee which turns out to be a big broth of a grassy boy. It's a real counterpoint to the gruesome flanks you have just witnes ... Click here


SOUTH: Bad Moon Rising
There are plenty of wild places in Ireland, but the supply of actual wilderness is relatively limited, and the vast majority of it is down in the south-west. simon3 has uploaded a visit to one of the finest examples, a land historically roamed by wolves and even these days it's an area where it behoves the walker more than usual to consider the consequences of an accident. It climbs up onto the backbone of the Dunkerrons visiting An Bhinn Láir and Coomcathcun; Coomnahorna and/or Cnoc Breasail could conceivably be added to the beginning and/or end of the day, and backpackers would be in their deranged element hereabouts.
simon3 on Crossing the Dunkerrons for An Bhinn Láir
Starting from the last house (ask permission) this route tak walk, Length:10.3km, Climb: 726m, Area: An Bhinn Láir, Dunkerron Mountains (Ireland) An Click here


SOUTH: Topped by a ring fort
A first comment for Kilmacomma Hill in the Comeraghs by eamanoc, which is an easy but interesting walk, the summit boasting a large ring fort.

eamonoc on Kilmacomma Hill: Ring fort Kilnamack Forest
Climbed today 24/4/2014. Started at forest entrance S 16052 19827, room to park for several cars here head into forest on good track ignore immediate left turn just past Coillte barrier continue on path which goes steadily uphill, come to a T junction take a right turn and after about a further 100mts take another right continue on this track and after approx 1.9km from start point take a faint tr ... Click here


SOUTH: 'Is it a bird? Is it a plane?'
donalomahony's crossing of the Eastern Reeks? Strewth...
donalomahony on Near Cnoc an Chuillinn, MacGillycuddy's Reeks (Ireland)
run, Length:10.5km, Climb: 727m, Area: Cnoc an Chuillinn, MacGillycuddy's Reeks (Ireland) Cnoc an Chuillinn, Cnoc an Chuillinn East Top, Maolán Buà Click here


NORTH: Could this be Ireland's most visited hill top?
More than 200 people visit Muldersleigh in the Belfast Hills every Saturday, reports Harry Goodman. Is this a record?

Harry Goodman on Muldersleigh Hill: Could this be Ireland's most visited hill top?
Although just over 130m in height this is a hill that could possibly lay claim to be the most visited top in Ireland. Well over 200 people climb it every Saturday between April and October and substantial numbers do likewise on most other days throughout the year. The top, marked by a trig. pillar is approached over well cared for grass and commands excellent views E out across the Irish sea and ... Click here


NORTH: Room with a view
Besides enjoying a pleasant walk up Knockbrin, in Donegal NE, Harry Goodman discovered a hut with a porch and rocking chair!

Harry Goodman on Knockbrin: An unexpected rest stop !
A detailed description of how to access this hill is given in the short summary. When I climbed it on Easter Sunday 22 April 2014 I parked at C1901215390, the point where the tarred surface ended and followed the now rough track up to its crest. I then made directly for the top up SE over trackless, rough and bumpy ground of heather, long grass and moss, crossing a couple of fences en route. Nea ... Click here


NORTH: VIDEO: Buzzards, oaks, dams but no bears.
Gerrym describes a different way of reaching White Mountain from Banagher.


gerrym on White Mountain: Banagher (the long way round)

http://youtu.be/Uy6RFXHKw8M
To make it more interesting and a longer walk I started at Banagher Glen some 9km away (670050) and some snow added in. The carpark at Banagher is only open June - Sept but there is limited parking beside some wooden sheds.
Walk along road past carpark which has an information board on flora and fauna and history of Altnaheglish Resevoir - highes ... Click here


NORTH: Small but tough
The Bluestacks can offer challenging walking, and one of the lesser summits, Croaghnameal was no exception, recounts Aidy.

Aidy on Croaghmeen: Racing To Beat The Darkness
Climbed via Croaghnameal this afternoon, taking the same route to Croaghnameal as covered in my older comment for that hill. From the summit of Croaghnameal, I headed northeast to one of its lesser summits, then dropped down the steep north slope into the Barnesyneilly valley, before ascending the southern slope of Croaghmeen, keeping to the east of the forest going up. From the main summit th ... Click here


WEST: Dramatic seascapes
North May's Benwee Head Loop offers some spectacular coastal scenery, Reports member sandman.

sandman on An Bhinn Bhuí: Benwee Head Loop.
As already stated Benwee Head has some of the most dramatic costal scenery in Ireland and with this in mind i decided to enjoy on a clear sunny day the joys of walking the 12.4km of the Benwee Head Loop Walk actually it is a little longer allowing for a visit to the army observation hut and the stone constructed EIRE marking.The trail head begins and ends in the village of Ceathru Thaidhg (F820744 ... Click here


WEST: Stunning panoramas from amid wild, rough ridge
On a clear day, Ben Creggan's wild, rocky and grassy slopes provide as beautiful and varied views as can be found anywhere in Ireland, recounts Daithic.

Daithic on Ben Creggan South Top: 3 for 1 if weather permits
Start Ashleagh Falls, Ben Gorm, Ben Creggan South Top, Ben Creggan (3 hrs). Amazing views of Mweelreas & Sheefrys. Desending to col from BCST requires care before ascending to BC. Rather than retracing back along peaks again, descended back to col between BCST & BC, then heading westwards, down long long wide grassy slope following river gully (dry conditions & hiking poles recommended) down to De ... Click here


WEST: Great views, little challenge
A first comment for Aillwee Hill in West Clare, by member curus_lulus which offers panoramic views of the Burren.

group on Aillwee: great views with little challenge
This hill is not much of a challenge but offers spectacular views of the Northern Burren, from Black Head to Abbey Hill and the Galway Bay in between. The top is near the farm road and marked by a small limestone cairn. There are two access routes, from SW at 10km roundtrip and only 150 elevation gain, from NE at ca 6km roundtrip and 270m elevation gain. I haven't tried the NE approach so far. F ... Click here


EAST: Oulart Hill, South Wexford

Our list of smaller hills will include less interesting places sometimes with unedifying dumps or dubious access. But keep exploring and you will find gems like this. Perhaps the most surprising we have seen this year, as reported by wicklore.

group on Oulart Hill: Across the wheat field
Oulart Hill was the scene of a battle in the Wexford Rebellion of 1798. The Battle took place on 27 May 1798 when a gathering of 1,000 rebels annihilated a detachment of militia sent from Wexford town to stamp out the spreading rebellion in county Wexford. A monument was built in 1998 to commemorate the Wexford Rebellion, and this is situated about 900 metres to the south of the main Oulart Hill ... Click here


EAST: The heart of Wicklow
Mullaghcleevaun's East Top may be the smaller brother, yet it rises to 790m itself and offers a wonderful 360 degree panorama of Wicklow, recounts sarkuns

group on Mullaghcleevaun East Top: Mullaghcleevaun's smaller brother
Mullaghcleevaun East Top is possible to reach from all sides. The easiest way is coming from Carrigshouk , and starting at O1027 0525, or any other small gap along the Military road. (If it is a Bank holiday and promising weather come early because the places are limited, but on an ordinary day you will find a parking place easily). Located in the middle of the mountain range this summit usual ... Click here


EAST: Multiple approaches to fine top
Cloghernagh in Wicklow may be approached from a number of directions, and while the summit is of the standard Wicklow variety, the views are magnificent, reports Trailtrekker.
group on Cloghernagh: Summary
The quickest and easiest way to add Cloghernagh to your summit list is to start at the (T0875592136)Bridge which crosses the Avonbeg river at the base of the Zigzags(Go around the farmyard at the start and not through it!).A boggy easily identifiable track leads all the way to the 800m summit (Cairn at T058 918).Breathtaking views of Benleagh and Fraughen Rock Glen can be seen from the steep face ... Click here


EAST: Boys from the Blackstairs
simoburn's manic Arderins campaign continues into the spring with a long tramp over the Blackstairs Mountains, taking in all summits along the spine of the range (and a detour/contour to bag Mount Leinster's East Top that seems to come at a pretty heartbreaking stage of the proceedings...those who don't feel the need to include the unlisted Black Rock Mountain might decide to claim said East Top by means of an out-and-back from its parent). The committed may be able to add Slievebaun to this itinerary, but should be aware that it's an outing of Challenge length even without that.
simoburn on Blackstairs Mountains Walk
Blackstairs Mountains Walk walk, Length:37.9km, Climb: 1970m, Area: Blackstairs Mountains (Ireland) Bran Scultair, Carrigroe, Carrigalachan, Blacksta Click here


EAST: Whatever floats your boat...
Being the MV secretary is obviously a life of glamour and indulgence, but occasionally wicklore likes to switch on his GPS and go crawling through undergrowth, and the fruits of his agonies can be witnessed by checking out his track from Dunranhill...further chuckles can be enjoyed by checking out the other comments on this top and discovering that he didn't actually have to go grovelling in the jungle at all. Maybe he knew that anyway...crumbs, maybe he actually likes that sort of thing.
wicklore on Difficult Dunrahill
While researching and reviewing the proposed 100m prominence walk, Length:3.7km, Climb: 190m, Area: Dunranhill, Dublin/Wicklow (Ireland) Dunranhill Click here


MIDLANDS: Simple but interesting
A fine little hill topped by a large cairn, Knockmaa in the N. Midlands is just a short step to the top, and is part of a well-developed local walking amenity, reports Sandman.

sandman on Knockmaa: Local Amenity.
Situated in a well developed and supported walking ammenity as mentioned by previous comment the summit trig sits atop a large cairn. (H3616048371) Click here


MIDLANDS: In Bloom(s)
The Slieve Blooms squat heathery and (largely) unloved in the middle of Ireland; some might say they have character in the same way that someone who gets a bit aggressive when they're drunk has character. Most walkers try to make the experience of visiting as abbreviated as possible, and it's in that spirit that wicklore's track up Cumber Hill makes optimum use of a Coillte track to ease passage to just short of the top. The best way to include other summits hereabouts is to make multiple short excursions linked by brief car drives...you can get a lot done that way. Castleconor is quite nearby, he says slightly evilly...
wicklore on High heather obscures the ringfort
Use a Coillte forest track to walk to within a few hundred m walk, Length:4.1km, Climb: 123m, Area: Cumber Hill, Slieve Bloom (Ireland) Cumber Hill Click here


MIDLANDS: Not a pretty sight!
A quarry, masts, fences etc have rendered the top of Knock Hill in the North Midlands a thing of ugliness. On the good side, it's only ten minutes up and down, reports paddyhillsbagger.

paddyhillsbagger on Knock Hill: Not Pretty!!
A rather disappointing hill scarred with quarry works, masts, perimeter fence and an airport! 10 minutes up and down. There is a conifer tree by the rocky outcrop of the top in the picture taken from the earthworks which appear higher. Click here


Sorry if we didn't mention what you posted .. there's a list of all contributors for the month later.
FURTHER NEWS
BURGEONING ACTIVITY
Did it really happen?! Yes, it did.
MountainViews had more activity last month overall than at any time previously. Stats can be boring but bear with us. There were 89 Mountain Comments, 26 "new" summits got at least one comment, 23 Short Summaries were created or edited, 32 GPS tracks uploaded and 39 Motley Views forum entries. While none of these contribution records individually is a record, overall it is. User session count was consistently the highest yet that is the number of people viewing the site per day did not dropped below 1200 all month and was over 1700 for 5 days.
Let's congratulate ourselves, as a community, for sharing so much information, experience and yes, fun.


---
Scrappy debate on access in the Republic.
CaptainVertigo on The Medium is the Message
I missed the first part of the Prime Time piece on "walker rights" but found the whole thing on RTE Player where it will remain for the next three weeks. I'm afraid that it behoves us all to see this program because there is a real possibility that the debate in itself will precipitate polarisation. By which I mean that farmers seeing Keep Ireland Open representatives demanding the right to pass o ... Click here



---
Book reviewers wanted for 2 books: Burren & Aran Islands, Connemara & Mayo
Last month we found reviewers for two books out of three we had on offer but not the one by Tony Kirby about the Burren & Aran Islands Would anyone like to review Tony's book and also "Connemara & Mayo - Mountain, Coastal & Island Walks" by Paul Phelan

Let us know at admin@mountainviews.ie and we will send a copy.
If you would like to review books, but not necessarily these, also let us know.



---
Hot on the hills? Brandon the epicentre.
paddyhillsbagger on Hot on the Hills?
Just heard about this dating and hill-walking site on the radio if anyone is interested. Novel idea and could be fun? http://www.irishexaminer.com/ireland/hot-in-the-hills-matchmaking-event-will-set-hearts-racing-266798.html Click here



---
Mountaineering Ireland on break-ins, precautions in the hills.
MI have an interesting and useful article about this.
See here.


---
Ordnance Survey Ireland Adventure Map Series
We have mentioned these maps before and also the contributions made by MountainViews members to them.
The Ordnance Survey now have a page describing them. which is well worth visiting if you are interested in the progress of maps in the Republic. Should this series be completed and done well, then the Republic's 1:25000 series will start to be as useful as that of the OSNI (now LPS) in Northern Ireland.

OSI are now very willing to use data supplied by the public. If you would like to help with the correction and development of these maps, do please contact us at admin@mountainviews.ie to coordinate.



SITE NEWS
Summit listing: export feature now launched
Suggestions welcome
The new "Nineteen Lists & Log" page has a significant new feature: Export, to make the dumping of data from this page more efficient, with a direct connection to Garmin devices. This will replace the ancient MV1 Home | GPS Summit Data (Irl) menu option which is cumbersome and poorly integrated. While this is largely finished, if you have some easier to implement suggestions do make them to admin@mountainviews.ie

What can you use this for?
One nuisance with GPS navigation is that it can take a woeful amount of time to get the data organised and onto the device for a simple walk. One simple way of using a GPS (or phone with a navigation app) is to upload all of the summits in a given area onto the device. More or less permanently. Any time you go out, you then have basic information as to where the summits are. No further faffing around in advance. And this info is often all you need from the GPS (though for most areas it is essential to bring a map). It will tell you distance to the summit, direction etc and record your track.

Backup
Some members have asked can they get the list of summits they have marked as visited off the website. Well now, yes you can. You can use the spreadsheet output (known as CSV or Comma Separated Variables) to get the data and then put it into a spreadsheet like Excel. While we don't think MountainViews is going away any time soon, it is always prudent to keep a backup.

Full info

simon3 on New feature: Lists export.
MountainViews is pleased to announce a quite big new addition to the "Nineteen Lists and Logs" feature. If you select "Lists & Logs" | "Nineteen Lists & Personal Log" you will now find a new "Export" button, which brings up the export controls. See purple section of the picture. You can now get data from the list you created in various ways. Download as GPX file. This enables you ... Click here



SUMMITEERS CORNER
A place for those interested in Summiteering, Bagging or Highpointing.
MountainViews hill surveying methods.
simon3 on MountainViews Hill Surveying Compared
This highly detailed article by our friends in the "Database of British and Irish Hills" compares the tools and methods we and they use for establishing the position of hills and mountains. See here at http://mountainviews.ie/_serverdata/monthlynews/attachments/PerformanceEvalTrimbleGeoXH6000vsLeicaVivaGS15_Final.pdf The MountainViews team who went learnt a lot, however it would be fair to say ... Click here



---


A Guide to Ireland's Mountain Summits - The Vandeleur-Lynams & The Arderins
MountainViews first book available online and in many bookshops. The first reprint with numerous minor amendments is now out.


simon3 on A Guide to Irelands Mountain Summits
MountainViews first book available online and in many bookshops.

As members will know, for over a decade, Mountainviews.ie has been providing unique information to hillwalkers on all aspects of exploring and enjoying Ireland's upland areas. It's been a collaborative effort by over 1000 of you, and currently contains over 6000 comments on 1057 mountains and hills on the island of Ireland ... Click here
Bulk sales to groups such as Scouts/ Guides: contact admin@mountainviews.ie for a discounted price.
This month.
Kudos to our contributors.
We welcome the following new members who enrolled this month. basilbailey, bckelly99, Benedicte, Benmag, boc, buhas, buzzard, carnmore, ceallacnoic, CharlieR, Coxer, daithi07, Darren1516, Denismhealy, dermotkelly, doopa, eddiemadden, el_guapo, Emmet_Byrne, ericawhitty, fanadman, fmk1952, frankcoyne, gaesfdta1312, gavinsegrave, gerrychristie1, gilldavem, Glanman2, glenn3ie, Gobbledygook, gobrien, GregC, gregsheehan, heinzmeier69, howardmulligan, howellf, IainMiller, isglasiad, James123, jprend, Justm, mageep2, MannyTulle, manu05, mattco, megantaggart, Mick_Kelleher, morrisonarts, murpro, obrienk7, paddyman, quillaf, rhblake, Robinbird, RoKell, Rory87, Samir, seaohanlon, Searcher, smceneaney, tonychestnut, vermesser (62)

Our contributors to all threads this month: (1), Aidy (16), BleckCra (4), CaptainVertigo (17), Conor74 (4), Daithic (3), David-Guenot (5), Eoin R (1), Fergalh (4), Gobbledygook (1), Harry Goodman (4), Jaak (1), JonathanHession (1), Mulciber (1), Murfireland (1), Onzy (7), Peter Walker (7), Sarkuns (1), Trailtrekker (7), ahogan (1), ciarraioch (5), conormcbandon (1), donalomahony (1), dp_burke (1), eamonoc (14), elarbee (4), eric (1), geohappy (1), gerrym (2), Communal summary entries (23), jimbloomer (1), jrpcalvert (1), keith_flynn (1), nikolai (1), omurchu (2), paddyhillsbagger (3), sandman (8), scapania (1), simoburn (8), simon3 (15), thomas_g (1), wicklore (32)
For a fuller list view Community | Recent Contributors

There were comments on the following summits An Bhinn Bhuí, An Bhinn Láir, Annatoran, Ballycumber Hill, Ballyguile Hill, Barroe North, Ben Creggan South Top, Ben Lugmore East Top, Binevenagh, Bockagh Hill, Bree Hill, Brockagh Mountain, Carrigshouk, Cnoc Breasail, Coolfree Mountain, Coomcallee, Coomcathcun, Coppanagh, Corronoher, Croaghbane, Croaghmeen, Crockkinnagoe, Crocknaneeve, Croghan, Croghan Kinsella, Cullen Hill, Donalds Carn, Dunranhill, Errigal, Gleninagh Mountain, Glenkeel Top, Gweestin Mountain, Hewson Hill, Hill of Slane, Hungry Hill, Kilcullen Hill, Kilmacomma Hill, Knock Hill, Knockadullaun, Knockaunanattin W Top, Knockboha, Knockbreteen, Knockbrin, Knockmaa, Knockmore, Knockninny Hill, Knockroe, Lacken Hill, Legg, Monaughrim, Muldersleigh Hill, Mullaghasturrakeen, Mullaghcarbatagh, Mullaghclogha, Mullaghclogher, Mullaghcroy, Newtown Hill, Oulart Hill, Ouley Hill, Pollnalaght, Reenearagh, Rush Hill, Seefin, Slieve Beagh South East Top, Slieve Gullion, Slieve League, Slievebaun, Slievecarnane, Slievegarran, Slievemore, Slievenaglogh, Stookeennalackareha, Torc Mountain W Top, White Mountain
and these tracks Agnew's Hill, Antrim Hills Ireland, An Bhinn Láir, Dunkerron Mountains Ireland, An Bhinn Láir, Dunkerron Mountains Ireland, Annatoran, Ox Mountains Ireland, Ballaghmore Hill, South Midlands Ireland, Ballinastraw, Dublin/Wicklow Ireland, Ballincurra Hill, Shannon Ireland, Belfast Hills Ireland, Binn Bhán, Twelve Bens Ireland, Binn Bhraoin Central Top, Twelve Bens Ireland, Binn Chaonaigh, Maamturks Ireland, Blackstairs Mountain, Blackstairs Mountains Ireland, Blackstairs Mountains Ireland, Brandon Hill, South Midlands Ireland, Bree Hill, South Wexford Ireland, Brockagh Mountain SE Top, Dublin/Wicklow Ireland, Brockagh Mountain, Dublin/Wicklow Ireland, Carrickgollogan, Dublin/Wicklow Ireland, Carrigshouk, Dublin/Wicklow Ireland, Cnoc an Chuillinn, MacGillycuddy's Reeks Ireland, Corballis Hill, Dublin/Wicklow Ireland, Corriebracks, Dublin/Wicklow Ireland, Cumber Hill, Slieve Bloom Ireland, Derrybawn Mountain, Dublin/Wicklow Ireland, Dunkerron Mountains Ireland, Dunranhill, Dublin/Wicklow Ireland, Gleninagh Mountain, West Clare Ireland, Hewson Hill, South Midlands Ireland, Hill of Slane, East Coast Ireland, Kilcullen Hill, Blackstairs Mountains Ireland, Knocknaman, Slieve Bloom Ireland, Maulin, Dublin/Wicklow Ireland, Mourne Mountains Ireland, Oulart Hill, North Wexford Ireland, Ridge of Capard, Slieve Bloom Ireland, Scarr, Dublin/Wicklow Ireland, Seefin, Dublin/Wicklow Ireland, Sleamaine, Dublin/Wicklow Ireland, Slieve Beagh South East Top, Fermanagh/S Tyrone Ireland, Slievegarran, Mourne Mountains Ireland, South Connemara Ireland, Spain, Canary Islands , Spain, Canary Islands , Spain, Canary Islands , Spain, Canary Islands , Sperrin Mountains Ireland, Table Mountain, Dublin/Wicklow Ireland, Tomaneena, Dublin/Wicklow Ireland tracks and these walks were created (none in period)

Thanks to all 1121 who have ever contributed summits or routes info and forums.

For a full list view Community | Contributors Hall of Fame

Summary. MountainViews now has 6808 comments about 1220 different hills & mountains out of the total in our current full list (1384). We want to get a good gps track showing each of the major ways up every summit in Ireland. If you see an option to add a "Short Summary" then do please consider creating one since another objective is to have one for every summit also. There's a few (164) opportunities for you to be the first to comment on a summit.
NOTICES
Notices
If you are contributing, please be careful to respect the interests of landowners. Suggest access routes well away from houses, gardens or that could conceivably impact farming activities. When walking, keep away from gardens or farm buildings. Use stiles or gates wherever possible. Never do anything that could allow animals to roam where the farmer did not intend. Ask permission where appropriate.
Report suspicious activity to the police forces, as below.
If your car is broken into in an upland area report it to the PSNI or Gardai as this will help them be aware of the issue and tackle it in future. Store the numbers. In Northern Ireland use the PSNI non-emergency number 0845 600 8000. In the Republic you can find the local Garda District HQs phone numbers at www.garda.ie/Stations/Default.aspx. Specifically for the hotspot of Wicklow: the Garda Divisional Headquarters in Bray is 01 6665300.
If you hear of a problem area or route, write it up in MountainViews which does everyone a service.
Report rubbish tipping in the Republic - ring EPA hotline 1850 365 121
Report quads in national park area (in which they are banned). For Wicklow please phone the Duty Ranger: 087-9803899 or the office during office hours Telephone: +353-404-45800. Put these numbers in your phone, take regs etc. Let MV know of contact numbers for other areas.
If you have climbed some of the less well known places, we would appreciate a summit rating and also GPS readings for summits.
If we can, let's make MV have more than one route up a summit so as to reduce the tendency for paths to appear. Your grid refs in comments for different starting points show up on MountainViews maps as well as GPS tracks.
MountainViews are on Twitter as MountainViewsIE. Follow us and we will follow you back. Any queries to secretary@mountainviews.ie
This newsletter
This newsletter
Editor: Simon Stewart, Homepage: www.simonstewart.ie
Assistant editor: Colin Murphy
Track reviews: Peter Walker, Tom Condon
Book reviews: Conor Murphy, Aidan Dillon, Peter Walker
Graphics design advice: madfrankie
Newsletter archive.
View previous newsletters mountainviews.ie/newsletter
RETURNING TO MOUNTAINVIEWS
Click on http://mountainviews.ie (If you have cookies on in your browser then you will be prompted as to username/ password. If you forget the password, the login page can email you a replacement.)

UNSUBSCRIBING
If you don't want to receive any further monthly newsletters from Mountain Views click on Settings. Then change the option beside "Include on occasional mailing list" to "Do not include". Then click the "Save" button.
Alternatively let us know by email at admin@mountainviews.ie Include the email address you got this at or your screen-name.