Having trouble reading this? View it in your browser.
The Summit


Monthly newsletter of MountainViews.ie for guestuser

March 2014
NEWS - INFORMATION - RECENT CONTRIBUTIONS - FEATURES - FORUMS
Upcoming: MOUNTAINVIEWS - WALKERS ASSOCIATION - and MORE
WALKERS ASSOCIATION OF IRELAND:
Winter Talks Series 2013/ 2014
TUESDAY March 18th 2014 8:00pm. Kenny Roberts, Chairperson of Mountain Rescue Ireland will talk about the operation and development of mountain rescue in Ireland. Some years ago the WAI held a well attended talk on Mountain Rescue, riveting an audience with accounts of the work done, and the mechanics of rescues as they are performed. On this occasion the WAI will be able to present the proceeds of the WAI Pub Quiz and raffle to Mountain Rescue. Note, this event is on a Tuesday, not the usual Wednesday.
Click here for more on talks and speakers

Sat 12 April 2014 Mountain Photo Workshop, 2014. The Brockagh Centre, Laragh, Co Wicklow. Details as they become available on www.walkersassociation.ie

Wednesday Apr 16th 2014 Robin Simons: an inspiration 8:00pm. Robin Simons will give a talk titled "150 Mountains, my journey back to health". Robin is 56 and was diagnosed with Ankylosing Spondylitis in his late 20's and then Parkinsons in Jan 2001. "Mountain and Hill walking are part of this amazing journey back to health. In five years I have climbed 150 mountains".
Ever felt that twinge should stop you walking? We know something of Robin's amazing story and felt it needs to be offered to a wider audience as an antidote to suffering or even hypochondriac walkers. Robin actually lives in the Maamturks and his pictures of the area, one that is always hard to see let alone photograph, are some of the best we have ever seen.



REPORT MV/ WAI Mountain Gathering Annually at MountainViews central we are on tenterhooks about this, our main public event each year. We've had situations where the 120 visitor room we had booked wasn't filled because of a general election. We are always anxious as to whether our content will be of interest - determined as we are to favour hillwalking rather than the undoubted excitements of mountaineering.
In the event this year we had a great turnout (114) and a great selection of speakers from Michael Fewer, our main guest on '40 Years Walking' to the three talks from MV members on "What is 'easy' in hillwalking", "Walking under mountains" and MountainViews progress during the year.
We gave out nearly 30 awards mostly for list complietion and a number to contributors, such as one to Jim Bloomer, list creator extraordinary, for his work we have used to extend the Binnion list of summits, and another for service to hillwalking to the Irish Ramblers Club to mark their 50th anniversary year.

Click here for a later article with photos of the occasion.
Photo, right, came from Peter Walker's presentation.


WAI talks are held in the Landsdowne Hotel, 27 - 29 Pembroke Road, Dublin 4 unless otherwise stated. Directions here http://www.lansdownehotel.ie .
The excellent bar facilities allow you to have a drink with other hillwalkers after the event. You can get a meal before the meeting also.

For a full list of Challenge Walks, visit here.
WAI Photo Gallery - WAI would like you to upload some of your pictures (Ireland or abroad) to this?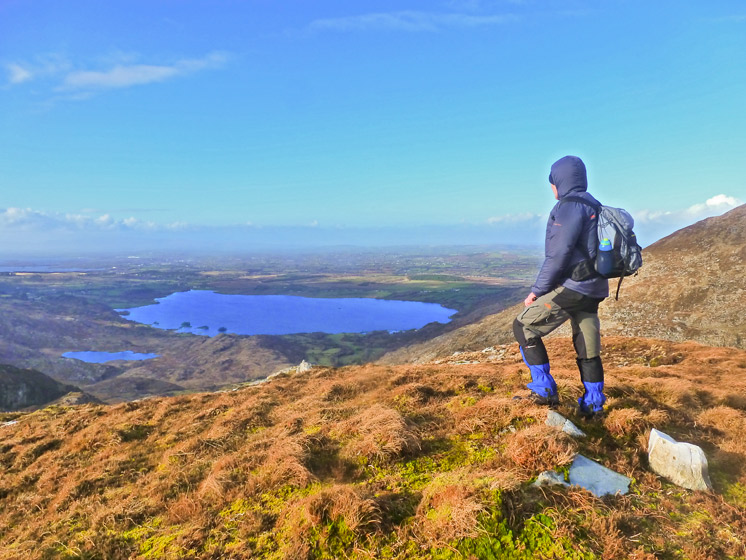 Colin Murphy took this picture from Crohane SW top looking NW over the blue-shadowed Lough Guitane during the month. Click for source comment.
Regions: MOUNTAIN COMMENTS - TRIP REPORTS - TRACKS - SUMMARIES
In short: Discovery
NORTH: A smoking gun?
Gorse fires reveal a hidden cache of rifles on Clermont Carn NE Top - the last thing dmcdevitt expected or wanted to find!

dmcdevitt on Clermont Carn NE Top: What you should not find
The summer of 2011, was a ideal period of bagging peaks due to the large number of gorse fires. These fires not only help make walking a little easier but it can reveal some unusual finds like this one. This was uncovered when walking in the fog to Clermont Carn NE top. Just to let you know that they have been safely removed by the authorities now. There are probably more items like this in this ... Click here


NORTH: VIDEO: Tundra-like landscape in the Sperrins
Dart Mountain is often done in conjunction with its taller neighbour, Sawel, but is itself a decent top, especially when cloaked in virgin snows.

gerrym on Dart Mountain: A

http://youtu.be/4GvIMiEx408
Dart is invariably tied at the hip with its bigger sibling (Sawel) and the join between the two is a defining feature in views of the Sperrins. Sawel has the kudos of highest and two county tops - somewhat greedy perhaps in taking the attention from those who may venture this way. All I can say is that they are at their best when experienced together. S ... Click here


NORTH: The Bell, the Bell
Generally one tends to feel a bit guilty using a commercial access track to climb a hill, but in the context of the Sperrins any break from the normal assault course of vegetation and damp tends to be applauded. dino has climbed the sentinel of Bessy Bell which sits on the outside of the range looking in (and out)...a splendid vantage point on a good day. Best utilised at the beginning or end of the day, although it's a good one for a leisurely family outing.
dino on Bonnie Betsy
A 12km looped route along the windfarm access track and retu walk, Length:11.9km, Climb: 375m, Area: Bessy Bell, Sperrin Mountains (Ireland) Bessy Be Click here


WEST: Edge of the world
Marvellous views of Galway Bay and an eerie landscape more than make up for what Gleninagh Mountain in West Clare lacks in height, recounts Geansai.

Geansai on Gleninagh Mountain: Edge of the World
What this area lacks in altitude it makes up for in atmosphere with the backdrop of Galway Bay, the Atlantic Ocean and the eerie landscape. Gleninagh is one of the hills you can see on the other side of the bay from various parts of Galway city. The second last one before the north Clare coastline gives way to the Atlantic. The photo was taken from a little way below the summit of the westernmost ... Click here


SOUTH: Tree fellers wanted
Keale Mountain in the Ballyhouras has dense tree coverage at its summit, reports member hivisibility, who scratched it from his list at the expense of multiple scratches.

hivisibility on Keale Mountain: Strictly summit baggers only!1
As I'm an unashamed summit collector at this stage the appearance of Keale Mountain onto my local 100 list meant it was going to receive a fairly quick visit, being so close to home. To access it you simply turn left at the square in Kilfinane town towards Ballyorgan, this crossroads is directly opposite the Ballyhoura Failte offices. Proceed to the next crossroads ( A "Y " fork) and turn left, ... Click here


SOUTH: Steep learning curve
A new short summary for Kells Mountain and Kells East Top with a steep, but rewarding ascent from the north.

group on Kells Mountain: Steep ascent from north.
Park at V528 872 (Point A). Proceed up through a steep field alongside a stream for 100m, crossing a fence where you'll see a narrow rocky track. Turn left along track for a few hundred metres before ascending directly south via a steep heather-covered spur. The slope becomes less steep at about 400m altitude and the heather is replaced by short grass, which makes the going considerably easier. Th ... Click here


SOUTH: Sundown over Stoompa
A beautiful setting sun over a snow capped Stoompa captured from the slopes of Crohane.

Colin Murphy on Crohane: Sundown over Stoompa
A pic of Stoompa taken while descending via the spur of Crohane to the NW Click here


SOUTH: A place of pilgrimage
St. Laurence O'Toole, the War of Independence and an ancient stone circle are among the attractions of Garrylaurence Hill in the Nagles Mountains, recounts jackill.

group on Garrylaurence Hill: No views but worth a visit for its stone circle
Park in the forest entrance at W91181 83472 room for 2 cars. Cross the barrier and walk uphill to a track junction. Head north into the trees and a generally good track will become apparent.At the next track junction go west finally heading uphill at W90835 83943 along a wide machine access track. The summit area is marked by a large clearing with a well preserved circle of standing stones. Click here


SOUTH: The only thing to fear is Fear Breagach
The MV stampede on the Ballyhouras shows no sign of abating, as onzy has tracked his enormously entertaining post-storm ascent of Fear Breagach. His submission looks like the deranged wanderings of someone who believed a drunken satnav, but I for one never trust someone who says they never go the wrong way. Keale Mountain lies on the other side of the start for those seeking more entertainment.
Onzy on Fear Breagach (Ballyhoura)
Up and down to Fear Breagach on the day after a huge storm h walk, Length:3.9km, Climb: 146m, Area: Fear Breagach, Ballyhoura Mountains (Ireland) Fea Click here


SOUTH: Where Nagles Daren't
jackill has continued his campaign in the foothills to the south of the Knockmealdowns, nabbing two summits and creating a wonderfully skewed (and statistically dubious) track in the process. It should be obvious that the track consists of two short walks with a car journey in between; he omitted Knockroe and Ballydorgan from his endeavours because he's done them before, but anyone else fancying grabbing more tops could include them as they're all within sensible driving distance.
jackill on Knockadullaun and Dromona
Ascents of these small hills using forest tracks, walk, Length:8.8km, Climb: 487m, Area: Knockadullaun, Knockmealdown Mountains (Ireland) Knockadulla Click here


EAST: Simple walk in the woods
Kilnamanagh Hill in Wicklow is thankfully free of masts, turbines etc, unlike many of Wicklow's smaller hills, and is a short hop up a forest track, recounts eamonoc.

dmcdevitt on Clermont Carn NE Top: What you should not find
The summer of 2011, was a ideal period of bagging peaks due to the large number of gorse fires. These fires not only help make walking a little easier but it can reveal some unusual finds like this one. This was uncovered when walking in the fog to Clermont Carn NE top. Just to let you know that they have been safely removed by the authorities now. There are probably more items like this in this ... Click here


EAST: A kick in the Cooleys
The extension of the MV lists has brought in some hugely worthwhile lower summits, and on the south side of the Cooley peninsula lies one from the top drawer. wicklore has tracked the ascent of Slievenaglogh, a top commanding superb views down the east coast, sufficient even to allow one to overlook just how much it overlooks Dundalk. It doesn't link to anything else, but it takes just an hour and there are plenty of other short jaunts nearby to fill out the day.
wicklore on Near Slievenaglogh, Cooley/Gullion (Ireland)
walk, Length:2.7km, Climb: 161m, Area: Slievenaglogh, Cooley/Gullion (Ireland) Slievenaglogh Click here


EAST: 360 degree splendour
A simple, enjoyable stroll to the top of Carrigvore rewards member jik with splendid Wicklow vistas in all directions.

jlk on Carrigvore: Outstanding viewing point, for little effort.
An enjoyable stroll, either from Sally Gap itself, or from the Military Road car park. Carrigvore has 360 degree splendour. Click here


EAST: Eye Level
A complete change of pace can be had with onzy's track along the bank of the Grand Canal near Port Laoise (according to the contributor there isn't a hill in sight, although I'd happily wager him a couple of Euros that he'd have seen Dunmurry Hill if he'd looked in the right direction). Those of us familiar with the Cambridgeshire Fens can vouch for the simple pleasures of strolling along a waterway, and the moments when you steer clear of the mountains make them seem even better when you return to them.
Onzy on Grand Canal Ramble - Not a Hill in sight
Gentle walk on the banks of the Grand Canal north of Monaste walk, Length:10.8km, Climb: 77m, Area: North Midlands (Ireland) Click here


EAST: Wicklow in winter
Continuing his quest to flatten as much of Wicklow with his boots as possible (see his blog at www.adventureburn.com/pmg-walk-10-wild-wild-wicklow/ ) simoburn has tracked a very extended but very logical excursion starting from Laragh before traipsing around the headwaters of the Glenmacnass river taking in nine MV summits. There's very little possibility of modifying the route to take in anything else while still returning to the start, but those with transport could veer NE at Mullaghcleevaun to the Sally Gap.
simoburn on Brockagh Mtn SE Top 470m to Scarr 641m via Mullaghcleevaun 849m
A nice big loop walk of 33.9kms in 8hrs 12mins. Started up B walk, Length:33.9km, Climb: 1413m, Area: Brockagh Mountain SE Top, Dublin/Wicklow (Irelan Click here


EAST: Archaeology good, views bad
The remains of an ancient hillfort near the summit of Tinoran Hill in Wicklow give added interest to this easy climb, but the views are obscured by the dreaded conifer.

group on Tinoran Hill: Short walks, archaeology with obscured views on this wooded top.
Although the summit has an interesting position overlooking the west of the Wicklow Mountains and towards the Blackstairs, the views are somewhat obscured by trees. For short walks there are some forest roads and some relatively open planting. There is interesting archaelogical remains at the top. Access is possible from S846 903. Follow the track up to the forest and when you enter take a lef ... Click here


EAST: A Bray in the Life
Even in the apparently chock-a-block Wicklow area the recent additions to the lists have provided more objectives. Pre-eminent amongst them is Bray Head Hill, a favourite and obvious target for the ambulations of Dubliners such as onzy. The walk doesn't link to any other MV summits (apart possibly from Little Sugar Loaf for the creative) but there is much more to Bray Head than its summit.
Onzy on Bray Head Hill!!
Easy up and down to Bray Head Hill (240m) walk, Length:3.2km, Climb: 127m, Area: Bray Head Hill, Dublin/Wicklow (Ireland) Bray Head Hill Click here


MIDLANDS: Comments by the dozen…
Many thanks to member Fergalh, for his multiple contributions to the new Binions list this month, including this one for the oddly named Hill of Moat.
Fergalh on The Hill of Moat: Unusually named hills with great views.
Take the Finea road out of Castlepollard, Take the third turn right (N45749 73437), proceed through crossroads just after last house park on the right (N45762 75540) where there is some space. Walk to gate on track and cross gate. Just before forest barrier turn right and proceed through forest that is being felled whilst keeping remains of overgrown boreen on your left. Eventually you will come t ... Click here


MIDLANDS: Car to summit in under two minutes!
And Carrickleck Hills is the second highest top in Meath! So says member eamonoc, who also deserves a pat on the back for his many recent contributions.

eamonoc on Carrickleck Hill: Tickers paradise
Following Trailtrekker`s advice and directions. I was on my way back from somewhere north passed through Kingscourt and took a left onto the L3527 after about 10 mins on this road as it gradually rose to it`s highest point I noticed the two bungalows and parked just opposite a metal farm gate Point (A) the trig point is visible from here . Then the walk started in earnest! all 234mts of it. To ... Click here


Sorry if we didn't mention what you posted .. there's a list of all contributors for the month later.
MountainViews Gathering 2014: Photos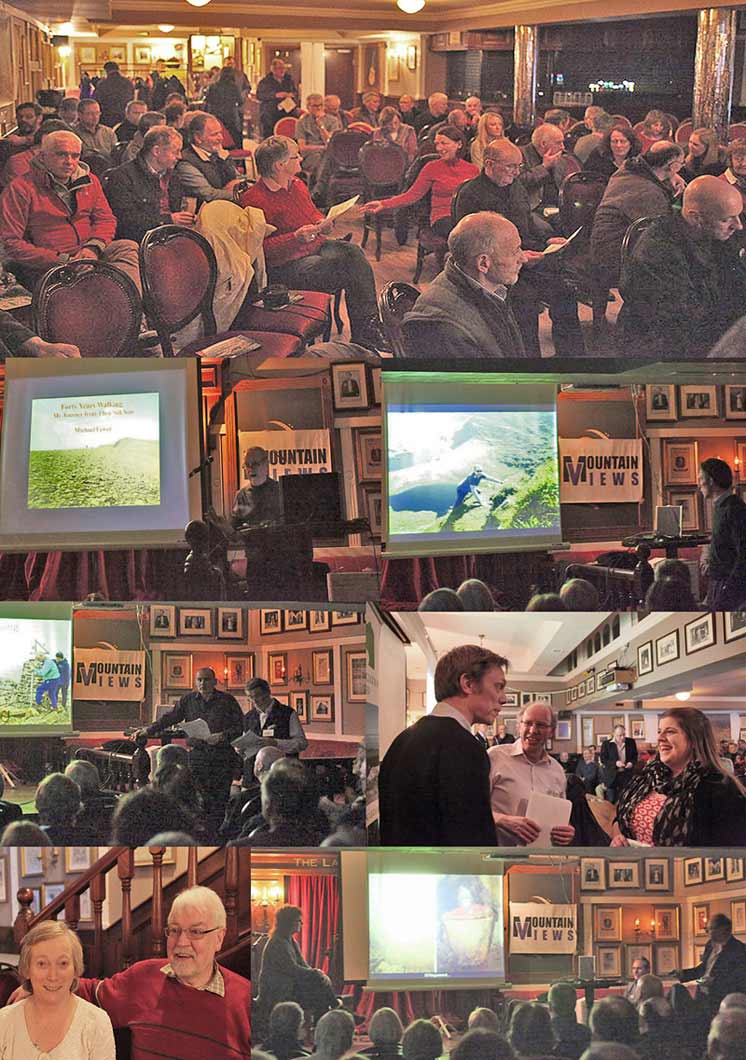 From top, clockwise: General View of the audience, Peter Walker, Peter Walker - Donal Finn (Walkers Association MC) - Fiona, Sharon Schwartz - Martin Critchley, Eanna Ně Lamhna (speaker in 2012) - John Harding), Mark Brennan - Simon Stewart, and finally and certainly not least our guest speaker: Michael Fewer.
(Apologies about quality of pics - will remember the flash the next time.)
---
Awardees pictures:


Click on any of the 3 pictures above for a more detailed view.


SITE NEWS
Distance in summit listing restored.
Requests for features The new "Nineteen Lists & Log" page has been mostly welcomed however some people want specific features that were in the old system to be incorporated also. We have put the distance column in and will consider some of the others also. In general, do feel free to make requests. It is hard to judge which features are really of value unless there is visible demand.
thomas_g on Distance column
New summits lists any chance of getting the distance column back? this is really useful for sorting. Click here



SUMMITEERS CORNER
A place for those interested in Summiteering, Bagging or Highpointing.
Earth's highest mountain by distance from the centre. Colin Murphy writes:
Here's an interesting one. The summit of the attached, Chimborazo Mountain in Ecuador at 6268m (and not Everest) is the furthest you can get on the planet from the centre of the earth.This is due to the shape of the earth being an oblate spheroid, rather than a perfect sphere. The top of Everest is actually over 2k metres closer to the centre of the earth.

So another one to add to the 'to-do' list!

Colin

A Guide to Ireland's Mountain Summits - The Vandeleur-Lynams & The Arderins
MountainViews first book available online and in many bookshops. A reprint with amendments is planned for 2014.


simon3 on A Guide to Irelands Mountain Summits
MountainViews first book available online and in many bookshops.

As members will know, for over a decade, Mountainviews.ie has been providing unique information to hillwalkers on all aspects of exploring and enjoying Ireland's upland areas. It's been a collaborative effort by over 1000 of you, and currently contains over 6000 comments on 1057 mountains and hills on the island of Ireland ... Click here
Bulk sales to groups such as Scouts/ Guides: contact admin@mountainviews.ie for a discounted price.
This month.
Kudos to our contributors.
We welcome the following new members who enrolled this month. 40Shades, Andrew1, andy2639, BerryBear, bonviure, bonviuretrek, c7000, caitrionamoloney, Camperbro, catherinemclaugh, celtarra77, columjoyce, davidk88, DerekG, dermobard, diannekelly16, dufour, Ecosse, gerry-boland, Gerrymac65, gillmf, grehango, ircderek, jimantz99, joekdp, John32c, kzn, l3linddog, ladylottie, LarryHealy, merler, MichaelO, olliefenton, patlynch, patrickcochrane, powerb, rebeltudor, seekyou, shaymc, StevieD, teamVG, trostanite, villarover, william, Willyc, wrongfont, xanthar (47)

Our contributors to all threads this month: Aidy (4), BleckCra (4), CaptainVertigo (1), Colin Murphy (2), Conor74 (1), Dessie1 (1), Fergalh (41), Geansai (1), Geo (2), Onzy (7), Peter Walker (1), Trailtrekker (1), Ulsterpooka (1), bria5n1 (1), declancorrigan (3), dino (2), dmcdevitt (1), eamonoc (11), gerrym (4), Communal summary entries (15), guestuser (13), hivisibility (3), jackill (5), jlk (2), nkenealy (1), omurchu (1), paddyhillsbagger (8), sandman (2), simoburn (11), simon3 (12), wicklore (4)
For a fuller list view Community | Recent Contributors

There were comments on the following summits Ballaghmore Hill, Ballinacorbeg, Ballinastraw, Ballyguile Hill, Ballynalacken Hill, Bawn Mountain, Bessy Bell, Bockagh Hill, Bray Head Hill, Brewel Hill, Caponellan Hill, Carrickgollogan, Carrickleck Hill, Carrigeen Hill, Carrigoona Commons, Carrigvore, Carroward, Clermont Carn NE Top, Cloghnagaune, Corballis Hill, Cregg, Crohane, Cruckboeltane, Cumber Hill, Dart Mountain, Derrin, Divis, Djouce, Eagle Hill, Fananierin, Fear Breagach, Fearns Hill, Feede Mountain, Fossy Mountain, Garrylaurence Hill, Gleninagh Mountain, Hewson Hill, Hill of Allen, Hill of Slane, Keale Mountain, Killeagh, Kilmichael Hill, Kilnamanagh Hill, Knock Hill, Knockastia, Knockeyon, Knockmannon Hill, Knocknadobar, Knocknaman, Knockninny Hill, Knockree, Largy, Larkfield, Legg, Long Mountain, Lugganammer, Moydow, Mucklety Hill, Mullaghbane Mountain, Rehagy Mountain, Sawel, Shantemon, Slieve Gallion, Slieve Gallion NE Top, Slievecarnane, Slievenaglogh, Slieveward, Stranisk, Taghart South, The Hill of Moat, Topped Mountain, Westaston Hill
and these tracks Ballinacorbeg, Dublin/Wicklow Ireland, Ballinacorbeg, Dublin/Wicklow Ireland, Bessy Bell, Sperrin Mountains Ireland, Bray Head Hill, Dublin/Wicklow Ireland, Brockagh Mountain SE Top, Dublin/Wicklow Ireland, Carrigeen Hill, Dublin/Wicklow Ireland, Church Mountain, Dublin/Wicklow Ireland, Cooley/Gullion Ireland, Corballis Hill, Dublin/Wicklow Ireland, Cotracloghy, Cooley/Gullion Ireland, Derrybawn Mountain, Dublin/Wicklow Ireland, Doolieve, South Cork Ireland, Dublin/Wicklow Ireland, Dublin/Wicklow Ireland, Fear Breagach, Ballyhoura Mountains Ireland, Italy, Trentino-Alto Adige , Italy, Trentino-Alto Adige , Italy, Trentino-Alto Adige , Italy, Trentino-Alto Adige , Italy, Trentino-Alto Adige , Italy, Trentino-Alto Adige , Italy, Trentino-Alto Adige , Italy, Veneto , Italy, Veneto , Italy, Veneto , Italy, Veneto , Italy, Veneto , Italy, Veneto , Keale Mountain, Ballyhoura Mountains Ireland, Knockadullaun, Knockmealdown Mountains Ireland, Knockaskeo, Nagles Mountains Ireland, Knockree, Dublin/Wicklow Ireland, Mount Kennedy, Dublin/Wicklow Ireland, North Midlands Ireland, Slievenaglogh, Cooley/Gullion Ireland tracks and these walks were created (none in period)

Thanks to all 1105 who have ever contributed summits or routes info and forums.

For a full list view Community | Contributors Hall of Fame

Summary. MountainViews now has 6618 comments about 1165 different hills & mountains out of the total in our current full list (1384). We want to get a good gps track showing each of the major ways up every summit in Ireland. If you see an option to add a "Short Summary" then do please consider creating one since another objective is to have one for every summit also. There's a few (219) opportunities for you to be the first to comment on a summit.
NOTICES
Notices
If you are contributing, please be careful to respect the interests of landowners. Suggest access routes well away from houses, gardens or that could conceivably impact farming activities. When walking, keep away from gardens or farm buildings. Use stiles or gates wherever possible. Never do anything that could allow animals to roam where the farmer did not intend. Ask permission where appropriate.
Report suspicious activity to the police forces, as below.
If your car is broken into in an upland area report it to the PSNI or Gardai as this will help them be aware of the issue and tackle it in future. Store the numbers. In Northern Ireland use the PSNI non-emergency number 0845 600 8000. In the Republic you can find the local Garda District HQs phone numbers at www.garda.ie/Stations/Default.aspx
If you hear of a problem area or route, write it up in MountainViews which does everyone a service.
Report rubbish tipping in the Republic - ring EPA hotline 1850 365 121
Report quads in national park area (in which they are banned). For Wicklow please phone the Duty Ranger: 087-9803899 or the office during office hours Telephone: +353-404-45800. Put these numbers in your phone, take regs etc. Let MV know of contact numbers for other areas.
If you have climbed some of the less well known places, we would appreciate a summit rating and also GPS readings for summits.
If we can, let's make MV have more than one route up a summit so as to reduce the tendency for paths to appear. Your grid refs in comments for different starting points show up on MountainViews maps as well as GPS tracks.
MountainViews are on Twitter as MountainViewsIE. Follow us and we will follow you back. Any queries to secretary@mountainviews.ie
This newsletter
This newsletter
Editor: Simon Stewart, Homepage: www.simonstewart.ie
Assistant editor: Colin Murphy
Track reviews: Peter Walker, Tom Condon
Book reviews: Conor Murphy, Aidan Dillon, Peter Walker
Graphics design advice: madfrankie
Newsletter archive.
View previous newsletters mountainviews.ie/newsletter
RETURNING TO MOUNTAINVIEWS
Click on (If you have cookies on in your browser then you will be prompted as to username/ password. If you forget the password, the login page can email you a replacement.)

UNSUBSCRIBING
If you don't want to receive any further monthly newsletters from Mountain Views click on Settings. Then change the option beside "Include on occasional mailing list" to "Do not include". Then click the "Save" button.
Alternatively let us know by email at admin@mountainviews.ie Include the email address you got this at or your screen-name.