Having trouble reading this? View it in your browser.
The Summit


Monthly newsletter of MountainViews.ie for guestuser

November 2013
NEWS - INFORMATION - RECENT CONTRIBUTIONS - FEATURES - FORUMS
Upcoming: MOUNTAINVIEWS - WALKERS ASSOCIATION - and MORE
WALKERS ASSOCIATION OF IRELAND:
Winter Talks Series 2013/ 2014



Weds Nov 20th 2013. 8pm. Talk about "The Original Survey and Modern Mapping Methods" by Dominic Cronin of the Ordnance Survey Ireland. Dominic promises an interesting and varied talk on both the original surveying of Ireland and modern methods. Following the talk there will be Q&A and an opportunity to meet others.

Jan 2014. Hillwalker's Quiz, in conjunction with the Wayfarers to be held in the Teachers Club, Parnell Square.

WAI talks are held in the Landsdowne Hotel, 27 - 29 Pembroke Road, Dublin 4 unless otherwise stated. Directions here http://www.lansdownehotel.ie .
Entrance is free. There is an optional collection to cover costs. The excellent bar facilities allow you to have a drink with other hillwalkers after the event. Why not have a meal also?

Oct 30th. Report for Picos de Europa meeting. - Nollaig O'Ceallaigh, member of the Irish Ramblers Club and of the Walkers Association Committee, gave an illustrated talk on walking in Los Picos de Europas, Northwest Spain. As usual the hotel wanted to know how many would come and the estimate given was 40 perhaps 50 tops. In the event 68 people came and the talk and Q&A was very lively.

For a full list of Challenge Walks, visit here.
WAI Photo Gallery - WAI would like you to upload some of your pictures (Ireland or abroad) to this?

MOUNTAIN MEITHEAL: the following are upcoming work days for 2013:
03/11/2013 16/11/2013

Book sales : report and request
Buying our book - some success.
Last month we asked you to help sell our book A Guide to Ireland's Mountain Summits in the run up to Xmas. The publishers mentioned to us that they got an immediate response so thanks for all that bought a book and therefore helped MountainViews. This book makes a great present for anyone interested in hillwalking in Ireland. Its subject covers the whole island and helps people organise their walking. We need to maintain the effort.

If you can't find them in a bookshop or gear shop, ASK the manager to stock it.

Publisher sales: www.collinspress.ie or Amazon here www.amazon.com
Bulk sales to groups such as Scouts/ Guides: contact admin@mountainviews.ie for a discounted price.


simon3 on A Guide to Irelands Mountain Summits
MountainViews first book available online and in many bookshops.

As members will know, for over a decade, Mountainviews.ie has been providing unique information to hillwalkers on all aspects of exploring and enjoying Ireland's upland areas. It's been a collaborative effort by over 1000 of you, and currently contains over 6000 comments on 1057 mountains and hills on the island of Ireland ... Click here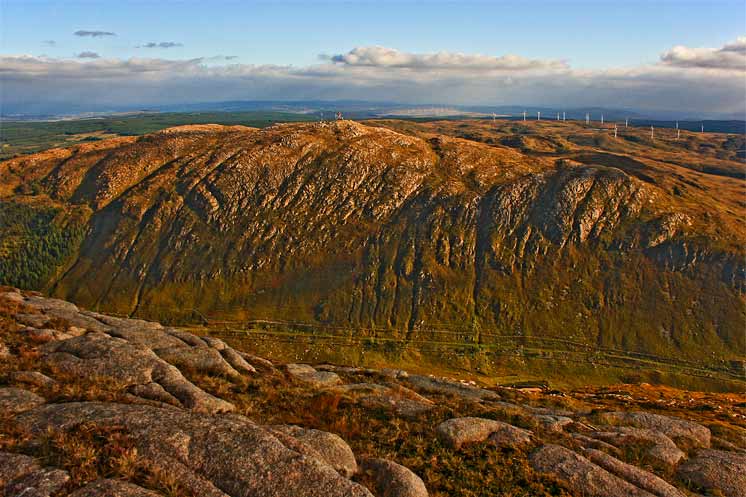 Low sun and red granite. Taken by new member Aidy this is a sunset view of Croaghonagh (Cruach Eoghanagh) from Croaghconnellagh across the Barnesmore Gap (N15 From Donegal town to Ballybofey.) Click for source comment.
Regions: MOUNTAIN COMMENTS - TRIP REPORTS - TRACKS - SUMMARIES
In short: Discovery
NORTH: Not quite child's play in the Bluestacks
It may have been a childhood ideal of a mountain for member Aidy, but ascending Croaghconnellagh was no picnic.

Aidy on Croaghconnellagh: My Childhood Ideal Of A Mountain
As soon as I began to develop an interest in hill walking, I knew this would be one of my priorities. It made a big impression on me as a child, staring up at it from the car on day trips to Donegal. I would have to press my face against the window to take in its full height. It seemed like the highest, steepest mountain in the world to me. So, I set off to climb Croaghconnellagh today in brig ... Click here


NORTH: Home of Legends
Two new comments on Slieve Gullion in the Cooley/Gullion area acquaint us with mythological tales associated with this top, and a lot more besides.

group on Slieve Gullion: Home of Legends
The lough on the summit plateau, named after Cailleach Beara is where Fionna Mac Cumhaill got his grey hair (and legend has it that anyone who bathes in it to this day will suffer the same fate!), Ti Chulainn, where Setanta became Cuchulainn is said to have been situated on the Mullaghbawn side of the mountain. The summit has two cairns, the collapsed one at the northern end and the Armagh county ... Click here


NORTH: A Muckish UFO?
Member mcrtchly has a close encounter with an unusual cloud formation in Donegal.

mcrtchly on Muckish: A UFO?
We spotted this unusual lenticular cloud formation over Muckish whilst descending from the Aghlas. On this day we had very high winds and the fast stream of very moist air was being forced over the top of Muckish to form standing waves on the leeward side. As the air rises over the crest of a standing wave the water vapour condenses to form the cloud. As the air descends on the other side of th ... Click here


NORTH: Highlander II: The Quickening
Of use to those reconnoitring the classic Glover Highlander trip (or anyone who just fancies a cracking mid-range hillwalk in glorious Donegal) is mcrtchly's track covering a traverse of the Aghlas, the filling this trips sandwiches in between the slices of Muckish and Errigal. These tops are usually tackled from the west, starting at the outflow of the Altan Lough; here they are approached from the north, giving the opportunity of including the forgotten top of Crocknalaragagh at the start. The lower slopes give tough yomping terrain, but the summits are airy and easy and blessed with some wonderful views over moonscapes and mountains.
mcrtchly on The Aghlas
The Aghla's are members of the Seven Sisters (Muckish, Croc walk, Length:13.2km, Climb: 766m, Area: Aghla Beg, Donegal NW (Ireland) Aghla Beg, Aghla Click here


NORTH: Tomb Raiders
Travellers on the A1 between Belfast and Dublin can be permitted a bit of excitement in the vicinity of Newry; hereabouts some dramatic hills rear up on either side. To the east looms Clermont Carn and the long convoluted ridge to the wonderful Slieve Foye, while to the west the former Army eyrie of Camlough Mountain is the precursor to the lofty pride of Armagh, Slieve Gullion, a hill with an enormous summit chamber. This can be climbed very easily from the forest drive across its flanks (via a horrendous eyesore of a constructed path), but nkenealy has submitted a much longer and more considered excursion, sampling as it does the ridge to the north of the summit and the lands nestling under its eastern flank. The walk itself doesn't conveniently link to any other tops, but as noted before Camlough Mountain is nearby (a glorious viewpoint), as is Croslieve. And Tievecrom, if you're into that sort of thing...
nkenealy on Slieve Gullion Loop
Starting from the Slieve Gullion Forest Park car park. WALK walk, Length:13.2km, Climb: 432m, Area: Slieve Gullion, Cooley/Gullion (Ireland) Slieve Click here


NORTH: Massive increase in erosion in the Sperrins, he kidded...
It's almost more excitement than the shy Sperrins can bear, but the western section of the highest part of the range has taken a right hammering this month. First Onzy has presented a solution to traversing the Mullaghs without a second car. Then CaptainVertigo has continued on his madcap Arderin quest by repeating that route and then continuing on to track Dart and Sawel from the high road to their west later in the day. Those with two cars could easily string these routes together (and take in Learmount Mountain and its S Top, although the Captain is correct in assuming that he hasn't missed much in not doing them). The going over this section of the ridge is straightforward by Sperrin standards, although I would personally advise climbing Dart twice rather than attempting to contour it on the return journey.
Onzy on Mullaghclogha Ridge
Route takes in Mullaghclogha, Mullaghasturakeen, Mullaghclog walk, Length:13.6km, Climb: 729m, Area: Mullaghclogha, Sperrin Mountains (Ireland) Mulla Click here


CaptainVertigo on The Six Sperrins West Arderins (Part 2- Dart Sawel)
All serious hillwalkers, with a lifetime in front of them, w walk, Length:6.7km, Climb: 174m, Area: Dart Mountain, Sperrin Mountains (Ireland) Dart M Click here


NORTH: VIDEO Exceptionally Fair
This month's track and video from gerrym is a fascinating exploration of the sliver of shoreline separating the sea from the beetling ramparts of Fair Head in Antrim. No summits are reached on this trip but the route through this titanic rockery is full of interest: hither and thither is wildlife both land-born and aquatic, while overhead 800ft of basalt broods and looms menacingly. One of the very best of the many fantastic walks possible along the Irish coast, and as ever it looks Utopian through Gerry's lens.
Video: youtu.be/zloA1puT1Dc (Fair Head)
gerrym on Fair Head Scrambles
http://youtu.be/zloA1puT1Dc This is not a big challenge in walk, Length:10.9km, Climb: 384m, Area: Antrim Hills (Ireland) Click here


NORTH: A useful coda to something else...
Trailtrekker has uploaded a track that doesn't actually reach any MV summits, but is still very interesting/useful. It links Windy Gap (the notch separating the massifs of Clermont Carn and Slieve Foye) with the achingly historic town of Carlingford, and as such provides a much more interesting return journey for those traversing the Slieve Foye - Foxes Rock ridge than the rough diagonal descent eastwards that this walker regretted a few weeks ago. His route follows the far side of the hills looking south over the Blackwater estuary to the long line of coast beckoning to Dublin. Worth investigating.
Trailtrekker on Windy Gap to Carlingford
This route does not cross any mountainview peaks. It's a ple walk, Length:11.2km, Climb: 194m, Area: Cooley/Gullion (Ireland) Click here


WEST: Low hill in high regard
Achill Island's diminutive Krinnuck may be just a 20 minute stroll, but it's worth it for the vies of S lievemore & Silver Strand, reports paulocon.

paulocon on Krinnuck: No sweat!
An easy climb from the southwest using the track mentioned by Harry Goodman (point C). You'll make the top in 20 minutes without breaking a sweat, a walk made worth it by the views across to Slievemore and over Sliver Strand. The picture shows the view from Slievemore down to Silverstrand and across to the long flat ridge of Krinnuck/Doogort Hill. Click here


WEST: Spongy, even in dry weather
A little visited top, Slieve Elva in West Clare is not a place to visit in wet weather, says garrettd, but on fine days you can almost see America.
garrettd on Slieve Elva: Spongy, even in dry weather.
Climbed this summit as part of a backpack. We camped at the holy well about 1km to the north of the summit beside a green road contouring around the northern fringe of the peak. The ground is very soft and although reasonably dry, it took great effort to trudge through spongy moss and heather. There is very little exposed limestone on Slieve Elva, unlike some of the other peaks nearby such as Glen ... Click here


SOUTH: It makes you wonder...
Ireland is quite mysterious by the standard of most islands of mystery and wonder...how on earth have The Edge, Larry and Adam managed to endure Bono for all these years (for instance)? In the hills, there are few things more elusive than the NE ridge of Mullaghnarakill above Glenbeigh, a spur whose spectacular nature had been a thing spread in whispers for years, successful ascentionists returning profoundly impressed but depressingly devoid of photographic records, cameras having been vanquished by either misty conditions or their owners forgetting to bring them along. onzy has now punctured the mystique slightly, not only tracking the ridge but also (hallelujah) providing an actual photograph taken of it on it (if you follow). His route follows a very logical circular itinerary at the northern extremity of the Glenbeigh Horseshoe covering four summits; baggers could easily make that more but would need to sacrifice the eminently desirable-looking ridge to do so. Walkers prepared to sacrifice a summit could opt instead to descend via the other (benign) knife-edge of Keamconneragh, enjoying what is probably the best shortish hillwalk hereabouts.
Onzy on North of Glenbeigh Horseshoe
A restricted horseshoe taking in Mullaghnarakill, Been Hill, walk, Length:10.7km, Climb: 795m, Area: Mullaghnarakill, Glenbeigh Horseshoe (Ireland) M Click here


SOUTH: It's a long way from Tipperary...
mlmoroneybb is a man of very few words. What he is though is a man of a hell of a lot of kilometres, and he has uploaded what may be the longest track ever to appear on MountainViews. Over 90km are covered in the foothills to the north of the Galtys; the sort of single push that a lot of fitter hillwalkers would probably be capable of if they had the psychological strength; 20 hours is a LONG time to be on your feet, mind you. Perhaps the submitter might care to give us some context regarding this very fine effort?
mlmoroneybb on Near Ballyhoura Mountains (Ireland)
walk, Length:91.5km, Climb: 1623m, Area: Ballyhoura Mountains (Ireland) Little Carron, Carron Mountain Click here


SOUTH: One of Munster's monsters
Member kernowclimber experienced that sinking feeling on his ascent of Cork's highest top/

kernowclimber on Knockboy: One of Munster's Monsters
After our sortie on Hungry Hill using Lynch's 'Munster's Mountains' back in May we might have expected another challenge in the wilds of West Cork! We resolved to tackle Cork's highest mountain via a gully from Lough Akinkeen described in Lynch's book. There is room for only one car at IW 02229 65760 by a gateway onto a forestry track where I was bitten alive by clouds of horseflies and midges bef ... Click here


SOUTH: VIDEO A feast of coums
A clear, blue-skied Autumnal day made for a visual feast among the many coums of the Comeraghs, writes gerrym.
With a video: youtu.be/mBSd69wCjoM

gerrym on Coumfea West Top: A Feast of Coums
http://youtu.be/mBSd69wCjoM Arrived in the Nire Valley on a stretched July evening in the company of a deep blue sky, allowing a dropping sun to create a beautiful panorama of light and shade along the huge coums eating into the western flanks of the Comeragh plateau. A big information board shows the looped walks which would be fill enough for some but.... A farm track drops downhill to a b ... Click here


SOUTH: A reunion of sorts...
Onzy has submitted a track affording an abbreviated leg-stretcher in the Shannon area. The T-shaped walk takes in the neighbouring summits of Maugherslieve and Foiduff utilising some forest tracks and a fair amount of spongy going. The route doesn't conveniently link to any other tops, although the devotee of the cross-country tramp could strike out for Keeper Hill from here.
Onzy on Mauherslieve: Mother and Child
Route to Mauherslieve from the North with diversion to Foild walk, Length:8.5km, Climb: 349m, Area: Mauherslieve, Shannon (Ireland) Mauherslieve, Foi Click here


SOUTH: The BIG Galty
A nice direct attack route straight up to Galtymore from the south. It is handy to know, as martinvan points out, that there are good facilities now available in the locality. It is so much more enjoyable knowing that your vehicle is safe and that you can enjoy the canteen on your return. Here is hoping more areas establish similar enterprises.
martinvan on Galty from King's Yard
Very similar to the more "common" route with the starting po walk, Length:8.9km, Climb: 692m, Area: Galtymore, Galty Mountains (Ireland) Galtymore Click here


EAST: 'Ted, I'd love a pop tart...'
Ideal for the family in multiple ways is the ascent of Slievecorragh in Wicklow as tracked by Trailtrekker. Largely straighforward underfoot and accomplishable (sic) in less than an hour, this summit has the bonus of the already legendary Dan Clancy memorial teddy bear to visit. As recorded the walk returns to the start by the route of ascent; continuing down to the road south of the summit is possible, and would leave a few miles along the road to regain one's transport; for walkers seeking more exercise Church Mountain and Corriebracks are not too far away.
Trailtrekker on Slievecorragh
A straight up and down route to the summit and Ted! Walk sta walk, Length:2.0km, Climb: 118m, Area: Slievecorragh, Dublin/Wicklow (Ireland) Slievecor Click here


EAST: One for the baggers
The good news is that Sleamaine in Wicklow will only take you 15 minutes to ascend. Otherwise an unremarkable top, strictly for the baggers, reports eamonoc.
eamonoc on Sleamaine: Local 100 gets closer
Sunday 20/10/2013. With only 4 tops left for my local 100, I needed to climb! this Mountain. Following the directions of Harry Goodman I parked at (Point A). I followed a well defined forest path with signs for the Wicklow way clearly evident, after 700mts exactly (according to my Garmin forerunner 410 watch) with a felled area of forest on my left and a newly planted area on my right, I turned ... Click here


EAST: The sound of the suburbs, almost
One of the definite upsides of the Wicklow mountains is that they almost spill directly into the southern margins of Dublin itself. elarbee has taken advantage of this with an interesting track from Glendoo Mountain to Prince William's Seat, returning using a slightly more convoluted course over Two Rock and Tibradden Mountain. This is a full day out for most (and it doesn't really link to any other tops anyway) but is of note as possibly the closest substantial hill walk to the city.
elarbee on Two Rock via Glendoo, Knocknagun and Prince William Seat
Great route. walk, Length:23.2km, Climb: 785m, Area: Glendoo Mountain, Dublin/Wicklow (Ireland) Glendoo Mountain, Knocknagun, Prince William's Seat, Click here


EAST: Lonely Vigil
How nice that poor 'Teddy' is not totally forgotten in its lonely vigil guarding the western reaches of County Wicklow in all kinds of weather. As Trailtrekker found out this climb is a great family outing with a lovely surprise for 'kids' of all ages at the summit. On a good day, the views west from this top are spectacular.
Trailtrekker on Slievecorragh
A straight up and down route to the summit and Ted! Walk sta walk, Length:2.0km, Climb: 118m, Area: Slievecorragh, Dublin/Wicklow (Ireland) Slievecor Click here


EAST: Twin Peaks
A nice little trot even though the going was soft in places. As elarbee found out, west Wicklow upland is excellent at retaining any rainfall, even when it falls on a slope. The little car-park at Sorrel is handy for this twin top visit. As advised, it is best to descend from Black Hill rather than try to head up the wet slushy slope from the wood boundary.
elarbee on Sorrel Hill via Black Hill
Day cut short due to weather, but pretty cool route. Not sup walk, Length:11.2km, Climb: 494m, Area: Black Hill, Dublin/Wicklow (Ireland) Black Hill, Click here


WALES: VIDEO At the edge of all things
Devotees of hillwalking over the water will doubtless be aware of the renowned Snowdon Horseshoe: an itinerary that climbs the highest summit in England and Wales by means of the incredible arete of Crib Goch, descending by the actually-pretty-impressive-too ridge of Y Lliwedd whose triple summit collapses on one side into one of Britain's highest mountain cliffs. mcrtchly and kernowclimber have tracked the route (and recorded it for posterity in fantastic conditions: www.youtube.com/watch?v=tKYhqXQfkr4 ). This truly is one of the finest mountain days possible in these islands (if you put aside the laughable £10 parking charge at the start and the probability that 'quiet' is not likely to be a word you'll use to describe a traverse...it's a mountain with a railway up it, after all) but it should be noted that scrambling ability is definitely required on the ascent to and traverse of Crib Goch (the exposure along the ridge is eye-popping for the level of technicality it requires) and the subsequent ascent of Crib-y-ddysgl. A comparison is often made between this horseshoe and the Coomloughra one; well, in quality terms they are pretty much on a par, but let's just say that anyone who thinks they're of equal difficulty is Irish and patriotic (and/or has only done one of them). Careful now.
mcrtchly on Snowdon Horseshoe (via Crib Goch, Snowdon and Lliwedd)
The Snowdon Horseshoe is probably one of the finest ridge wa walk, Length:12.5km, Climb: 987m, Area: Craig Fach, Snowdonia (Britain) Craig Fach, Crib Click here


Sorry if we didn't mention what you posted .. there's a list of all contributors for the month later.
FURTHER NEWS
Fancy a trip with other members up Slieve Gullion, Sun 10th next?

simon3 on Gathering at Slieve Gullion with US visitors
Some of us are gathering to climb Slieve Gullion, the highpoint of Co Armagh, next Sunday 10th Nov 2013. Slieve Gullion is famous for a number of things such as being the central plug of an enormous ancient volcano, for its folklore and its hugh chambered cairn. We will be joining John and Kathy Mitchler from the States, keen "highpointers". All welcome and also for a meal afterwards in histori ... Click here



Peaks, Passes & Glaciers: Reviewer Wanted.
Of interest to all and especially those of you who are mountaineers as well as hillwalkers is this important book by Frank Nugent, recently launched by Collins Press in Dublin.
This book aims to alleviate the dearth of knowledge about the huge contribution that Irish climbers ... Click for more from MV Bibliography

If you are interested in reviewing the book get in touch with admin@mountainviews.ie

Some info on the recent Mweelrea tragedy
I am sure all involved with MountainViews express our sadness at this untimely fatal accident and appreciation for Mountain and Cave Rescue.
brenno on Mweelrea tragedy
Link below is to Mountain Rescue Ireland report on the rescue effort on Mweelrea over the weekend. Tragically it turned into a recovery exercise as the person concerned died apparently after a fall in the Ramp section of the mountain. I'm sure sympathies of all of us who go out on the hills go to his family. This was one of the biggest MR efforts in years - about 70 MR people from all over the isl ... Click here


OSi Mapping Developments
Ordnance Survey Ireland, the national mapping agency in the Republic, are embarking on a new series of specialised activity 1:25,000 maps. The series would focus on National Parks and other areas where a wide variety of outdoor activity or adventure tourism takes place. The first area to be trialled will be Killarney National Park. Previous 1:25,000 maps were criticised for simply expanding the 1:50,000 without including greater detail. It is proposed the new series will include ground cover type, field boundaries, tourist facilities and track grades and a number of other features.

They have had the foresight to include interested parties in defining what areas should ideally be covered, what should be included and how it should look. To this effect at the end of October three MV members took up the invitation to a Focus Group meeting. This was well attended and was most interesting.

They are also looking at the possibility of providing this series on both paper stock and by way of digitally downloadable PDF files. It is proposed that the areas to feature would include:

Derryveagh Mountain & Glenveagh National Park
Lugnaquilla & Wicklow National Park
Croagh Patrick & Sheffry Hills
The Twelve Pins, Maamturks & Connemara National Park
Nephin Beg & Ballycroy National Park
and 15 others.

There were some constructive criticisms. One of the smaller ones concerned the representation of cliffs. The OS had superimposed a light blue cliff top symbol on the sample map. Certainly we found ourselves agreeing with others, notably from MI, that clear contours are a better indication of steep ground than cliff symbols. Even on the 1:50,000 cliffs can be inferred from the contour density. This is even easier on the 1:25,000 and the cliff symbols simply get in the way, something also obvious on many IGN (French) maps.

MountainViews has offered to help with names in English and Irish for summits. The sample map they showed for the MacGillycuddys Reeks area also included Mullaghanattin. This was named, however Beann right beside it was not - we hope something will be done about this and will help if required. Fortunately they also intend to include the MountainViews supplied summit indicators as have appeared on the newer 1:50,000 maps. Even if these do not appear with a name at least it quickly indicates on the map where there are tops as characterised by a minimum prominence.

There was also some discussion of maps such as the 1:25,000 Brandon map. The previous version of this eliminated all names such as Knockmulanane in favour of Irish only (Cnoc Mhaoilionáin in this case). MountainViews believes that the appropriate policy is to include names where available in both English and Irish. Irish first in Gaeltacht areas, English elsewhere. The local population of Dingle conclusively rejected attempts to eliminate the English name for their town by an overwhelming margin which may be a pointer about other local names.

Other discussions centred on having appropriate symbols for tracks, the correctness of forest roads and the quality of paper etc. A sample map will be produced soon as part of the consultation which is going to be further distributed for comment. At any time do feel free to email admin@mountainviews.ie with your ideas so that we can consolidate the responses and pass them on directly to the developers.
SITE NEWS
BEGINNINGS- A suggestion about more general introductory pieces.
BleckCra has put forward an interesting suggestion which I hope others will consider and comment on.

BleckCra on BEGINNINGS
Was speaking with another mviews member and we seemed to be saying that it might be useful to support existing MountainViews material with some other less technical, lower level info: the kind of stuff you might want to know if you were visiting a hill for the first time or in fact just starting into the sport. Something in the vocabulary of the non-technical visitor. Wonder what the site thinks. ... Click here


Lists and Personal Log
Recently we have improved the Summiteers Hall of Fame & Records and also the Rising Summiteers listings. In the next month or two there will be a revised Lists and Personal Log feature. It will have 18 types of list and modern mapping.
As mentioned we now also allow people to log what they have climbed in Britain. Over 30 people have logged tops in Britain so far, some large numbers of them.

Software and web developers
MountainViews has one or two helpers who have kindly volunteered artistic and technical help on the website. But we could use more! Small tasks or large. Get in touch via admin@mountainviews.ie


SUMMITEERS CORNER
A place for those interested in Summiteering, Bagging or Highpointing.
More videos showing the work done to measure heights at various summits in Wales.
As mentioned last month, a party of MountainViewers visited Wales to discuss methods with hill surveyors in Britain. We were all agog to find out whether the two sets of gear from Trimble Geo XH 6000 (MV) and Leica Viva GS15 (DoBIH) would give similar height results. As we have explained before for hillwalking purposes an approximate position within a metre or two is fine for the horizontal, but for deciding what list a summit is in we need greater accuracy. These videos show the work being done and show the extraordinary similarity of the readings between the two different devices. We are talking millimetres or at worst a few centimetres difference.
simon3 on Meeting in Wales - 2nd to 5th Video
Craig Cae Hir - MountainViews & DoBIH surveying As mentioned in the Sept 2013 MountainViews newsletter, we were comparing notes with hill surveyors in Britain. The link below takes you to the video of the another we surveyed - Craig Cae Hir. It had been hoped that this would have a 20m prominence, thus bringing it into Myrddyns new list, the Pedawars. It turned out, narrowly, not to have that pr ... Click here



---
Who was the youngest person to complete a 600m list?
simon3 on A question. Who finished the VLs youngest?
One of our newer members roblee asked me recently who currently was the youngest person to complete the Vandeleur-Lynams (or, at least a similar list of 600m summits) Since we don't record ages of members at MV we can't tell even you who is the youngest of our finishers, however I can reveal it wasn't me since at my recent completion I had been at it for at least 45 years! There is a l ... Click here



---
Review of the MV book from the Scottish Mountaineering Club (SMC), the keepers of the Munros
Before we created our recent book, we looked hard at the SMC published Munro's Tables, 1997 version and hoped indeed to at least equal it as a definitive and authoritative source, within our resources and in conjunction with our website. Dave Broadhead, of the SMC and Munro "Clerk of The List" has reviewed our book. We haven't made the acquaintance of Dave and we were very interested to hear what he might say. Interested because the whole list-bagging scene in Scotland is in a mature and much more advanced stage than that of Ireland. In the event we were extremely pleased with the book review which was generally very favourable and took note of some our innovations.


Here are some extracts:
Sir Hugh Munro can hardly have imagined what he started when his Tables of Heights over 3000 feet were published in the 1891 edition of this Journal. As I have described in Munro Matters, there are now over 5000 registered Munroists and Munro bagging has become a highly respected activity, attracting a wide range of people, good for the body and minds of participants and great for the economy of the Highlands of Scotland.

...

When I started climbing Munros in the early 1970's, every self respecting bagger had their personal copy of The Tables, a slender much thumbed hardback volume annotated with details of ascent dates according to unique individual systems of ticks, dates, underlining or whatever.

...

Showing impressive foresight and imagination over the Irish Sea, this colourful little gem of a paperback brings the 19th century list idea bang up to date to interface with a 21st century website.

...

My main concern is that someone will try to do something similar in Scotland, so I hope that our own busy Publications Sub-Committee take note and give this serious consideration, before someone else beats us to it.

Full text here in .pdf

(We tried to contact Dave and hope he doesn't mind us quoting from and linking to his review.)
(No) Sex, (hopefully no) lies and (these days not a lot of) videotape...
In keeping with the age in which we live, information about the mountains is much more easily acquired nowadays. No longer do we rely on vague maps, hard-to-acquire books or sporadic word of mouth. These days we have vast resources such as MountainViews which can impart an enormous amount of knowledge. And for those who want to see where they're going in advance, there's the very real chance that someone has already slapped it on YouTube.

Recently MV has been enlivened considerably by some splendid little films documenting mountains the length and breadth of the island and beyond. Many of these have come from the team of kernowclimber and mcrtchly, and the former has graciously taken time out from her busy international jet-setting schedule of exploring holes in the ground, putting up tents, taking down tents and heroically defending Cornwall, to answer a few questions. As well as some very specific filming/editing technicalities, we also covered inspiration, artistry, and 70s/80s comedy music.

Q: Any previous filmmaking experience?
A: Martin (mcrtchly) was a dab hand with a camcorder and before digital editing software, used analog tape to tape methods to edit his footage. He taught me some editing tricks.

Q: How many of you are involved in making the films?
A: We both do the filming. I edit the footage and select and add the soundtracks, Martin does the recorded voiceovers and animated maps.

Q: How much time does it add to your walk?
A: That depends on the distance, the terrain we are covering and weather conditions, but it probably adds, on average, a quarter to a third more time.

Q:What hardware/software do you use for filming/editing? How long does editing take?
A: I use a Panasonic FZ200 camera and Martin, a Pentax DSLR camera with interchangeable lenses. We also occasionally use 'Critchcam', a small Contour HD waterproof video camera, which can be mounted on a helmet and left to roll - great for a hands free climb. The Panasonic is good for all round use (up to 600mm zoom) but the DSLR gives better creative options especially over depth of field, shutter speed and has sharper lenses, but it's bigger and heavier. For a smooth capture, we generally shoot at the highest resolution (1080p with 25 or 30 frames per section).We use Pinnacle (Avid) studio for editing and generally render the final video to MP4 format as this gives the most detail and a reasonable compression to reduce file size. However, rendering at full resolution (1080p) can result in output files of over 1Gb for 10 minutes of video, and, as such large files take forever to upload online, we render at 720p for YouTube. How long you take editing depends on how much footage you shoot (the continual footage from Critchcam takes ages to edit) and how anal you are about the final result! Editing is essential as there's nothing worse than watching umpteen minutes of random boring footage on YouTube. I find getting the music to fit and fade the film perfectly to be the most fiddly bit and I sometimes even alter the pitch of a soundtrack up or down a semitone to avoid copyright issues on YouTube. Martin's über techy animated maps and recording of voiceovers also require a fair bit of time. Editing and rendering normally takes at least 24 hours, but our 25 minute Inca Trail vid took 2-3 days.

Q: How do you make your music choices, and do you think the music is important? Will you rise to my challenge and include 'Yakety Sax' from The Benny Hill Show on your next film?
A: Our videos do not meet the approbation of everyone and the choice of music is very subjective. The first soundtrack on our Reeks Traverse Part One absolutely horrified one MV member!! Music is a undoubtedly an important element of the film and I try to select mood creating tracks. The languid, ethereal strains of the uilleann pipes work well with some of our Irish videos. Often, the soundtrack for a particular vid will pop into my head as we are doing the walk, such as when I hit the pub after the Maamturks Traverse. As I lifted a pint of the cool black stuff to my lips, I swear I could hear angels singing Vivaldi's 'Gloria'! I have plans for a spoof vid when we tackle the infamous Barranisky in Wicklow, but you'll have to wait and see if Yakety Sax features…

Q: What do you enjoy most about doing it?
A: Making a vid is like painting a picture: it's an art form that allows your creative juices to flow. I like the fact that the end result is a dynamic aide memoir of an event that supersedes the static photographic record - something to jog the memory in years to come when we're too old and knackered to bash the hills and mountains! Good films on YouTube are the equivalent of Trip Advisor when planning a climb. By uploading our vids and sharing our experiences, we hope to benefit others.

Q: Why did you start?
A: For that you can blame Captain Vertigo! We watched the beautiful Mweelrea video he had shared on YouTube, which had immense meaning for us when we discovered that we had literally followed his footsteps in the snow on the same hill the very next day. By downloading his vid, at the mere click of a mouse we could relive that climb. That gave us the idea of having a go at shooting some stuff ourselves.

Q: Tips or tricks for wannabe Leni Riefenstahls?
Don't 'firehose' - move the camera round erratically (the footage will be unwatchable) or pan round too quickly when taking wide shots.

Use the digital zoom function sparingly to avoid making your audience dizzy and carry a mini tripod, handy for stopping hand held camera shake, especially in high wind.

Avoid 'snapshooting' by taking well over 5 seconds of footage each time for ease of editing and think about the overall continuity of your video narrative. If a person enters a tunnel, why not show that person emerging from the other side? Utilise different angles to heighten drama.

Don't place the subject in the centre of every frame; show the person walking into and out of the frame. For a dynamic effect, follow the subject moving towards and then away from the camera. That's where 2 people come in handy! Focus on interesting landscape detail: the profile of a hill to depict steepness, ground level shots to convey the nature of the terrain, reflections in a lake to give a splash of colour.

Keep the sun behind you, avoid backlighting and don't shoot into the light: the film will look burnt out. Filming in winter (when the atmosphere's clearer), early morning and early evening, gives a greater depth of field. We seldom bother shooting video on wet and misty days - the end result is simply not worth it.

Built-in mikes on hand held cameras are pretty useless. In Ireland it's rare to get wind-free days, so the sound on your footage will usually have muffled background booms and rumbles. If interviewing someone, try using an external microphone (if your camera has a microphone socket), and cover it with a 'dead cat'. Don't panic, Peter, we're not suggesting you strangle one of your moggies; it's a covering of artificial fur which deadens wind noise! (Author's note: I own seven cats, hence the reference).

Aim for a series of short clips (4-5 seconds) in your vid and avoid the cardinal sin of video-making: jumping from one scene to the next. Instead, use transitions to convey a change in tone or mood, to suggest the passage of time, or to separate parts of the narrative. Transitions include cross fades, fades (usually to black), dissolves, match cuts, L-cuts and wipes, features that are included in editing software. But go easy on the special effects if you don't want an amateurish result. Remember, more is not necessarily better!

Finally, always carry a spare memory card and fully charged spare battery as shooting video, especially in cold conditions, rips the juice out of a battery.

Interview of kernowclimber and mcritchly by Peter Walker.


---
A Guide to Ireland's Mountain Summits - The Vandeleur-Lynams & The Arderins
MountainViews first book available online and in many bookshops.


simon3 on A Guide to Irelands Mountain Summits
MountainViews first book available online and in many bookshops.

As members will know, for over a decade, Mountainviews.ie has been providing unique information to hillwalkers on all aspects of exploring and enjoying Ireland's upland areas. It's been a collaborative effort by over 1000 of you, and currently contains over 6000 comments on 1057 mountains and hills on the island of Ireland ... Click here

This month.
Kudos to our contributors.
We welcome the following new members who enrolled this month. Abacus, AndyButler, Barneybuddyb, Batinahat, Billy76, bishoptown, bobbyknut, Brettem, celaos, CniM, connie, conoleary, Derry_Danderer, Docrallying, dregishjake20, ekwiart, ervcabrita, Eugbug, Fearcnoic, franciscrowley, fwoods46, gallybander, ganmo, GoretexVidal, gue, hill9l01, Hughieb, Iamcan, Ian_Taylor, irishwalker1, jcmahon, jimcummins, johnnyf53, landel, lilkatty114, llopserver, markger, markod, mbk8792, MFreundt, Molly11, mountianbhoy, murphy-r, murtylew, neilwalker2013, oconnell, osheap, Paulmuldrew, Peregrine, portmuck1, Pwr, redacara, redmay13, rjmeske, Summit_1, tadhgsean, Telperion, Terri13, Treninile, trevor1, wanderlust64, wbmurph (62)

Our contributors to all threads this month: Aidy (5), BleckCra (8), CaptainVertigo (2), Conor74 (3), David-Guenot (3), Derry_Danderer (3), Dessie1 (1), Eugbug (1), Fergalh (1), MarkAD (1), Onzy (5), Peter Walker (5), Rob_Lee (1), Trailtrekker (5), Vikingr2013 (2), aidand (1), andodenis (2), brenno (1), curus_lulus (1), daveevangibbons (1), eamonoc (4), elarbee (3), garrettd (1), gerrym (3), Communal summary entries (10), hivisibility (1), jackill (2), jimhol53 (1), katekat (1), kernowclimber (8), lennyantonelli (1), markod (1), markwallace (1), martinvan (1), marymac (2), mcrtchly (4), mlmoroneybb (4), nkenealy (5), osullivanm (1), paulocon (2), scannerman (3), simon3 (13), simon4 (1), thomas_g (2), wicklore (3)
For a fuller list view Community | Recent Contributors

There were comments on the following summits , Ardloughnabrackbaddy, Ballinafunshoge, Barranisky, Bascadh, Bessy Bell, Binevenagh, Bolaght Mountain, Caher, Carrauntoohil, Carricktriss Gorse, Cnoc Fola, Cnoc na gCapall, Cnoc na hUilleann, Cornasaus, Coumfea West Top, Croaghaun, Croaghconnellagh, Cullaghacro, Dooish, Drumnalifferny Mountain, Glendoo Mountain, Knockanaffrin, Knockboy, Knocknamanagh NE Top, Krinnuck, Lugnaquilla, Muckish, Mweelrea, Scarr, Seltannasaggart SE Slope, Sleamaine, Slieve Elva, Slieve Gullion, Slieve Meelmore, Slieve Snaght
and these tracks Aghla Beg, Donegal NW Ireland, Antrim Hills Ireland, Ballyhoura Mountains Ireland, Black Hill, Dublin/Wicklow Ireland, Camaderry Mountain, Dublin/Wicklow Ireland, Cnoc na Toinne, MacGillycuddy's Reeks Ireland, Cooley/Gullion Ireland, Dart Mountain, Sperrin Mountains Ireland, Galty Mountains Ireland, Galtymore, Galty Mountains Ireland, Glendoo Mountain, Dublin/Wicklow Ireland, Ireland, 114 m NE from your Home Location , Knocknamanagh NE Top, Shehy/Knockboy Ireland, Mauherslieve, Shannon Ireland, Mullaghclogha, Sperrin Mountains Ireland, Mullaghclogher, Sperrin Mountains Ireland, Musheramore, Boggeragh Mountains Ireland, Slieve Beagh South East Top, Fermanagh/S Tyrone Ireland, Slieve Gullion, Cooley/Gullion Ireland, Slievecorragh, Dublin/Wicklow Ireland, Slievemeen, Mourne Mountains Ireland, Slievenamuck, Galty Mountains Ireland, Slievenamuck, Galty Mountains Ireland, Tomies Mountain, Purple Mtn Ireland, Trooperstown Hill, Dublin/Wicklow Ireland, United States, California , Wee Binnian, Mourne Mountains Ireland tracks and these walks were created (none in period)

Thanks to all 1096 who have ever contributed summits or routes info and forums.

For a full list view Community | Contributors Hall of Fame

Summary. MountainViews now has 6395 comments about 1055 different hills & mountains out of the total in our current full list (1057). We want to get a good gps track showing the major ways up every summit in Ireland. If you see an option to add a "Short Summary" then do please consider creating one since another objective is to have one for every summit also. There's a few (2) opportunities for you to be the first to comment on a summit.
NOTICES
Notices
If you are contributing, please be careful to respect the interests of landowners. Suggest access routes well away from houses, gardens or that could conceivably impact farming activities. When walking, keep away from gardens or farm buildings. Use stiles or gates wherever possible. Never do anything that could allow animals to roam where the farmer did not intend. Ask permission where appropriate.
Report suspicious activity to the police forces, as below.
If your car is broken into in an upland area report it to the PSNI or Gardai as this will help them be aware of the issue and tackle it in future. Store the numbers. In Northern Ireland use the PSNI non-emergency number 0845 600 8000. In the Republic you can find the local Garda District HQs phone numbers at www.garda.ie/Stations/Default.aspx
If you hear of a problem area or route, write it up in MountainViews which does everyone a service.
Report rubbish tipping in the Republic - ring EPA hotline 1850 365 121
Report quads in national park area (in which they are banned). For Wicklow please phone the Duty Ranger: 087-9803899 or the office during office hours Telephone: +353-404-45800. Put these numbers in your phone, take regs etc. Let MV know of contact numbers for other areas.
If you have climbed some of the less well known places, we would appreciate a summit rating and also GPS readings for summits.
If we can, let's make MV have more than one route up a summit so as to reduce the tendency for paths to appear. Your grid refs in comments for different starting points show up on MountainViews maps as well as GPS tracks.
MountainViews are on Twitter as MountainViewsIE. Follow us and we will follow you back. Any queries to secretary@mountainviews.ie
This newsletter
This newsletter
Editor: Simon Stewart, Homepage: www.simonstewart.ie
Assistant editor: Colin Murphy
Track reviews: Peter Walker
Book reviews: Conor Murphy, Aidan Dillon, Peter Walker
Graphics design advice: madfrankie
Newsletter archive.
View previous newsletters mountainviews.ie/newsletter
RETURNING TO MOUNTAINVIEWS
Click on (If you have cookies on in your browser then you will be prompted as to username/ password. If you forget the password, the login page can email you a replacement.)

UNSUBSCRIBING
If you don't want to receive any further monthly newsletters from Mountain Views click on Settings. Then change the option beside "Include on occasional mailing list" to "Do not include". Then click the "Save" button.
Alternatively let us know by email at admin@mountainviews.ie Include the email address you got this at or your screen-name.