Having trouble reading this? View it in your browser.
The Summit


Monthly newsletter of MountainViews.ie for guestuser

December 2012
NEWS - INFORMATION - RECENT CONTRIBUTIONS - FEATURES - FORUMS
Upcoming: MOUNTAINVIEWS - WALKERS ASSOCIATION - and MORE



WALKERS ASSOCIATION OF IRELAND



2012 - 2013 Winter Talks Series: More talks announced.
Full details here: www.walkersassociation.ie
Weds Jan 23rd, 2013, Hillwalkers Pub Quiz organised in conjunction with the Wayfarers Association This popular annual event is on again - last year it raised around 1000 Euro for Mountain Rescue. More information here


Fri Feb 22nd, 2013, MountainViews Presentations and Awards Evening with Evelyn Cusack, weatherwoman. This is a popular annual event with presentations on various topics and awards for members achieving list completions. In 2013 it will feature Evelyn Cusack, Deputy Head of Forecasting for Met Eireann, topic not yet finalised. 2013 will also see the MountainViews book of summit lists launched, the most comprehensive and accurate book of its kind.


Weds Mar 20th 2013, John G O'Dwyer hillwalker and writer will speak on a topic yet to be finalised. Many of us will have seen his contributions to the Irish Times.


These WAI events will be held in the Landsdowne Hotel, 27 Lansdowne Road, Dublin 4. Directions here http://www.lansdownehotel.ie Note: There is a fee for entry to the quiz and the MV/WAI evening, whilst other events are free with a voluntary collection.

Report 21st Nov 2012, Dermot Somers, spoke on Footloose and Walking Worldwide to an appreciative audience of around 80 people. Report here


The Walkers Association are interested in taking on new people for their committee to help run their successful events series.

More on Walkers Association here: www.walkersassociation.ie

For a full list of Challenge Walks, visit here.


Save our Forests
Currently the main or only practicable way to reach many of the summits in the Republic of Ireland is through nearby forestry. Frequently this facilitates parking, has tracks and above all access for walkers. This is under threat from government plans for privatisation of forestry.

The trade union, Impact, has sponsored a website and a grouping of interested organisations to combat this. The interested organisations include mountaineers, runners, bikers, orienteers etc

This is an issue that is likely to affect all walkers and hillwalkers in Ireland. MountainViews having documented 1057 summits in Ireland has the same concerns as other recreational users with an additional interest in many minor hills in far flung parts of the island where forest access is very important. So do take a look at the website www.saveourforests.ie/.
MountainViews will bring further news of this initiative. We would welcome any members who would have a special interest in assisting us with this issue. Contact admin@mountainviews.ie
More later in this newsletter.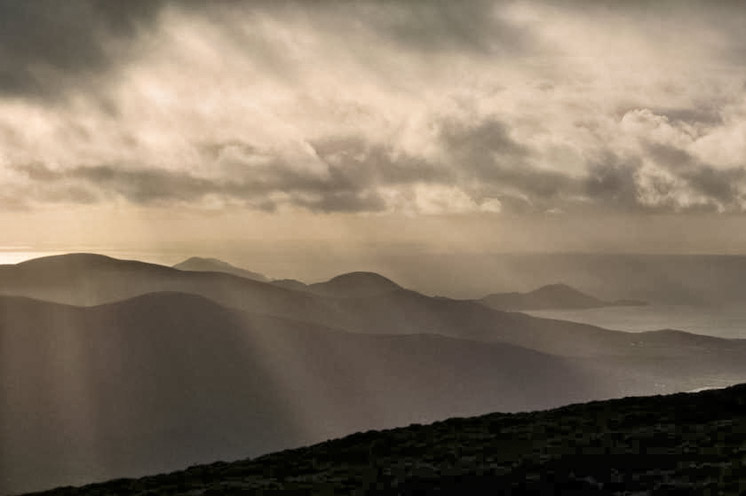 Obscured sun makes this view from An Bheann Mhór in the Dunkerrons a reminder of the Moody vistas available in Autumn, something to add to Mist and Mellow Fruitfulness. From the rays to the colour leaching a short essay could be written about the atmospheric optics creating this view. Colin Murphy who took it assures me that the near monochrome was the way it looked on the day..
Regions: MOUNTAIN COMMENTS - TRIP REPORTS - SUMMARIES
In short: Discovery
NORTH: Five comments in one day!
Despite being such a diminutive hill, Crocknasmug in Inishowen merited no less than five new comments from 3 different MV members in one day….

group on Crocknasmug: A boggy trek or a national looped walk
Park on the roadside at C64255 43318, room for only one car. Head east on a muddy track turning right at an indistinct junction to pick up another track at C64367 43326(approximately). Follow this, and it becomes very, very wet and muddy, to a dirt road at C65133 43496.Cross the road and head uphill, handrailing a wire fence across bog to the summit .Crocknasmug can also be climbed by way of the I ... Click here


NORTH: Easy access to a very distinctive top
MV member sandman discovers that despite the 'Private Property' signs on Tievebulliagh in the Antrim Hills there are no significant restrictions on access.
sandman on Tievebulliagh: Easy Access
Although the sign on the gate says private property there is no problem with access via Cloughs rd provided you abide by the country code. That is leave gates as you find them leave the dog at home as this is intensive sheep farming area . The road is used by numerous farmers and the ones myself and Muschi encountered had no problem with us accessing the summit. Click here


NORTH: Open Goles
gerrym has posted a track and description for a natural round of the Goles River in the Sperrins, tackling two 600m summits more commonly taken in from the north through the forest, as well as two lower tops. His route is far more open and logical, being defined by the lie of the land rather than the workings amongst the trees, and makes a fine leisurely day out.
gerrym on Goles River Circuit
A great circuit around the horseshoe of hills enclosing the walk, Length:16.5km, Climb: 721m, Area: Mullaghsallagh, Sperrin Mountains (Ireland) Mull Click here


NORTH: A taste of Aghla
There are a fair few Aghlas in Donegal, and dino's track (and helpful notes) describes the ascent of the isolated one just north of the main knot of the Bluestacks. This is an extensive mountain and not easily linked to other summits, but has the compensations of comparative quiet and very far-reaching views.
dino on Aghla Mountain from Lough Finn
Following the route described by David Herman in "Hill Walke walk, Length:8.9km, Climb: 513m, Area: Aghla Mountain, Bluestack Mountains (Ireland) Agh Click here


WEST: A short film about Clare Island Member gerrym introduces us to Clare Island in Clew Bay, shot on a beautiful day back at Easter.


CaptainVertigo on Knockmore: A Short Film
Mountainviews own gerrym introduces us to Clare Island in Clew Bay on a beautiful Easter day. This is an earlier work but all of the talent we've gotten used to is there, and the views from Knockmore are fabulous. A real appetite whetter! Click here


WEST: Damned technology gets in the way!
MV member Alca found out the hard way that the most popular route up Keeper Hill is currently blocked.
Alca on Keeper Hill: Check for forestry activity
Summited recently from Toor on the south. There is alot of forestry activity on the west side and the Ballyhourigan route is shut down with forestry machinery up at around 400 metres. I found out the hard way.... Click here


WEST: Young Turk!
There was no hanging about on this trek. It is no easy climb up to Bucán which is at times easier to descend on your derrière than 'shanks mare'. It is a lovely track south east along the ridge to Leenaun Hill which lies just off the main Maumturks route.
csd on Near Leenaun Hill, Maamturks (Ireland)
walk, Length:10.9km, Climb: 656m, Area: Leenaun Hill, Maamturks (Ireland) Leenaun Hill, Búcán Click here


SOUTH: Dog-napping eagles
A farmer tells MV member Colin Murphy of his fear that the numerous eagles living around An Bheann Mhór in The Dunkerron Mountains might snatch his dogs!
Colin Murphy on An Bheann Mhór: Dogs - Beware of the Eagles
For main ascent, see comment for Beann na Stiocairí, from where it is a short hike about 600m to the west to reach the rounded summit of An Bheann Mhór (which means literally 'The Big Peak' and not as someone recently suggested to me, 'The Big Woman'), which is marked by a trig pillar. Eagles soared overhead for the duration of the walk to the top and had a chat along the way with a friendly local ... Click here


SOUTH: Excellent Summitteering Route This fantastic area around Castletownbere was well utilised by simon3 to snare a full bag of summits. A testing track of just under 19Km with a good variety of terrain. The possible views in all directions are excellent. Be prepared for a full day out and come well prepared!
simon3 on Knocknagrees, Maulin and Lackawee.
Parking and driving is difficult along the small public road walk, Length:18.6km, Climb: 1145m, Area: Knocknagree SE Top, Caha Mountains (Ireland) Kn Click here


SOUTH: A slog through mud and fences
Knockboy proves a tough challenge, being relentlessly boggy even on dry days and because of innumerable fences, reports member Hugglebear1981
Huggiebear1981 on Knockboy: A good test of you and footwear
Climbed Knockboy on 11/11/12, group of three climbers. We started our climb before Priests Leap handrailing a boundary fence (one of many on this mountain) Started off boggy and wet and kept getting worse,even though the weather was fine. Have to say its not the hardest gradient climbed but still a great test mainly cos of the boggy ground. The views while climbing are well worth it and from the t ... Click here


EAST: Mystical, mossy and mucky
The diminutive Coppanagh in the South Midlands is decorated above and below by a thick veil of moss, as Simon3 reports.

simon3 on Coppanagh: Mossy summit area photo, number 1.
Mossy summit area photo, number 1. Click here


EAST: Nocturnal Ramble
Excellent night time event in aid of Dublin Wicklow Mountain Rescue. Plenty of variety and it is just as enjoyable daytime or night-time (providing there is a full moon). Good parking, good tracks, good views, good challenge and good food available at the finish.
march-fixer on Moonlight Challenge 2012
A lovely 20Km walk through mixed and interesting terrain. Th walk, Length:19.6km, Climb: 908m, Area: Dublin/Wicklow (Ireland) Click here


EAST: Corrie Challenge
Not the TV series but a great area for walking and orienteering since there is plenty of challenge. This starts at Kilclooney Wood and heads north along an established track up the southern ridge overlooking Coumshingaun Lough to summit Fauscoum. That section is a steady haul up. The views down of the valley are spectacular and well worth the effort. It then heads north and east down the other side of the corrie bowl. Make sure your boot laces are good and secure!
The Comeraghs are a unique range, an apparently unappetising high pudding of plateau and bog from which some ravenous titan has chosen to take a number of enormous bites. Onzy has submitted a track of possibly the most spectacular walk in the group, the ascent of Fauscoum by means of encircling the incredible corrie of Coumshingaun. The ascent of the southern bounding ridge is particularly dramatic, with scrambling considered by many to be of a Kerry-esque standard. As described the walk is a decent half day, but numerous other tops could be reached across the plateau in good conditions.
Onzy on Near Fauscoum, Comeragh Mountains (Ireland)
walk, Length:5.9km, Climb: 669m, Area: Fauscoum, Comeragh Mountains (Ireland) Fauscoum Click here


EAST: Not as black as it's painted
Black Hill is a typical Wicklow summit in many ways, with a broad often boggy top, but its views on a clear day are extremely colourful. New updated summary here.

group on Black Hill: A Gateway Hill
Black Hill is easily approached either from the well defined track starting at the car park at O04387 10862 or from the start of Lodge Lane O01999 10104. Depending on your approach, the road leading up from Ballysmuttan Bridge to the Sorrel Hill car park can be potholed. This is a common route to the Sorrel Hill car park. A better approach is from Blessington to the west along the N81. From the ... Click here


EAST: Over the border
Slieve Foye overlooks the lovely little town of Carlingford and the miniature fjord of its Lough. It offers a variety of walks and nkenealy's track represents one of them, looping south at first to take in the subsidiary eminence of Barnaveve, visiting the main summit before taking a mildly adventurous route down. Such a route can easily be extended to reach the additional tops along the ridge heading north-west towards Black Mountain.
nkenealy on Slieve Foye and Barnaveve, Carlingford, Co. Louth, Ireland
Left from Carlingford and took the road East out of main str walk, Length:9.5km, Climb: 561m, Area: Cooley/Gullion (Ireland) Click here


Hills Afar: Australian Highlight
And for those for whom the terrors of St Patrick's Cabbage, a bit of thick gorse and some slightly tetchy sheep simply aren't exciting enough, you can follow mcrtchly and kernowclimber halfway round the world to climb the highest mountain in Australia, where you'll have to brave dingos, Taipan snakes, funnel web spiders, saltwater crocodiles, box jellyfish, Skippy the Bush Kangaroo and Sir Les Patterson, possibly. 'Highly recommended if you are in the area'. Believe me, it's only the spiders keeping me away... [this minor work of lit crit Peter Walker]
mcrtchly on Mount Kosciuszko - the highest mountain on the Australian mainland
Mount Kosciuszko (2,228m) is the highest mountain on the mai walk, Length:21.1km, Climb: 637m, Area: Australia, New South Wales () Click here

Talk about being pipped at the post! mcrtchly uploaded this track to Mount Kosciuszko which I [march-fixer, a further lit crit] had been researching as part of a trip coming up in March 2013. This is a whole different level of hill walking in a BIG country. Well ... maybe I will report back on this fantastic terrain on my return. Better not mention any other places or I may be upstaged again.
Sorry if we didn't mention what you posted .. there's a list of all contributors for the month later.
FURTHER NEWS
From the Save Our Forests website:
Sale of Coillte forests will restrict public access and place up to 12,000 Irish jobs at risk
Government plans to sell the rights to harvest Coillte forests for up to 80 years will "destroy the character and quality of Irish forests and limit countryside access for walkers, cyclists, school groups and the general public," according a new report launched today (Thursday). Save Our Forests: The social, economic and environmental case against selling Coillte assets also says the plans could jeopardise up to 12,000 jobs in the Irish forest products sector, which is currently worth €2.2 billion a year including €286 million in exports.

Today's launch, by the Coillte Branch of IMPACT trade union, was attended by representative groups including Mountaineering Ireland, the Irish Orienteering Association, the Society of Irish Foresters and the Woodland League, along with representatives of teachers concerned at the potential impact on school projects and events. IMPACT also launched a campaign website – www.saveourforests.ie – and said it would work with interested organisations to alert the public to the issue and convince the Government to change course.

The Government is developing proposals to sell Coillte harvesting rights – the right to fell and sell timber – to private operators. Save Our Forests says prospective buyers, set on the commercial exploitation of timber, would be unlikely to agree to maintain "safe and optimum" access to forests without significant incentives "which are unlikely to be affordable at present." This would severely restrict countryside access in Ireland, which has no public 'rights of way' over private land, and where 18 million visits are made to Coillte forests each year. This could also have a major impact on the tourism sector. ...

View Save Our Forests website.
Consider assisting MountainViews over this issue. If you might like to help, do get in touch at admin@mountainviews.ie For example could anyone attend a meeting in Dublin at 2pm on Tuesday 11th December?


Call for MV representation on Mourne Outdoor Recreation Forum
We mentioned this last month. MountainViews member Peter Walker has put his name forward to report on the MORF and this has been accepted by the MV Committee, with thanks.
His first brief report on what they are doing is below.

The Mourne Outdoor Recreation Forum is a six-monthly meeting organised by the Mourne Heritage Trust for the purpose of discussing various issues concerning the environment of the Mournes. The latest of these meetings took place on Wednesday 28th November. Present were representatives from various interested parties such as governing bodies, walking/fell running clubs, and commercial/charitable organisers of outdoor events; unfortunately the only landowner present was the National Trust. I was present on behalf of MV at the invitation of Matthew Bushby of MHT.

Topics discussed included the management and conduct of organised events, landowner objections to mountain bike damage, stile construction and path re-routings. The issues of footpath maintenance discussed in recent MV newsletters were also raised, with the current and past works on Slieve Binnian provoking the re-iteration of some strongly held opposing views. (Work has been carried out to attempt to lessen the visual impact of the path from the Lamagan/Binnian col to the North Tor; currently work is being undertaken on the path onwards towards the Back Castles).

--Peter Walker.

A really unusual trip - climbing 1959m in Ireland.
From the bottom of Ireland to the top. Thanks to Liz50 for this one.
liz50 on The High and the Low of Ireland in a day Tara
The High and the Low of Ireland in a day Tara-untoohil style On Friday night of the October Bank Holiday weekend 2012 a group of intrepid Tara Mines workers undertook a unique challenge. The aim was to walk from the lowest point to the highest point on the island of Ireland.. The starting point for this adventure was at 920 metres below sea level, know as 0625 Dublin Bay which is the deepest ... Click here



Ingraining a national culture for Walking and Hillwalking.
In the last MV newsletter we described how MI, Mountaineering Ireland has been given the task of developing a national culture for walking (in the Republic anyway). We suggested that maybe they should rethink how they approach the national culture for hillwalking while they are at it.

However it isn't only the job of MI to develop these cultures. Really it's an issue a bit like "Helping the Hills" - many players have already made contributions and many players will be part of the solution. But before going into this, I'd like to mention that there was a more favourable response than expected to last months piece, though I have no indication that any suggestion in it will be translated into the MI strategic plan.

One member of the MI Board, who likes diving into things, took issue with the last sentence which said "It would be great if it [MI] reformed its magazine and online policy to reflect multiple sports and reach different constituencies properly without the inappropriate smörgåsbord that is the current approach. " This person said:
"I've a bit of a different tack on the Mountain Log. It remains the only effective medium by which MI communicates to its membership ... I always thought that priority number one was that the organisation make account of itself to the membership, what it is actively doing and how it is spending the treasure trove. I have emphasised time and time again to the board that the magazine should reflect what the *organisation* is up to rather than the membership."

Accountability, traceability, these are worthy goals and I for one would always agree these are important. I would suggest that these are only part of the story. Consider what is being asked now by some of the funding agencies. "Develop a culture for walking" and its obvious extension to "hillwalking". How do you "develop a culture". In fact does any one agency develop a culture? Or do we try on this island to recognise the many strands that exist as well as the modern media and interactive opportunities that we could progress to?

Let me take one example. For anyone reading MV the proposition that "hillwalkers don't send stuff in" is surely laughable since we usually have around 60 to 120 contributions come in per month, and have had a good level for 10 years. Why then does the Mountain Log, MI's quarterly magazine, not have more hillwalking material, proportionate approximately to the 85% or so of its membership who are hillwalkers? When asked a response often heard from MI people usually goes along the lines of "Ah but the problem for the MI is that the hillwalkers don't send stuff in"
This is precisely the same argument that has been offered for years. I remember it in the early 1990s and I remember it when I attended the Communications Committee of MCI in 1997, I have heard it from Log editors, and I have heard it repeatedly since.

The medium is the message.
Instead of blaming the hillwalkers for lack of material, really there needs to be a look at the match between someone with a walkers level of committment and interest and the available ways of communicating this. Looking at the way material is solicited from walkers and how they are involved in the magazine and whether the culture is empathic.
If you have just had your four week trip climbing in Patagonia it might come naturally to spend a day writing up an extended essay on the experience and the Log is ideal for this. But not necessarily for communicating the joys of a four hours walk along the Mayo coast. Ultimately walkers and hillwalkers can develop a culture, from below, but it needs matching between commitment and media. And how this is done needs to be ventilated.

In any case it is very hard for a prestigious magazine to stretch over quite different levels of interest and different sports in the way the Log tries. There needs to be a rethink on publications policy including books, online, magazine and cooperation with clubs and other agencies like MV or WAI.

Developing the culture.
For the upcoming strategic plan, how about one or more public seminars to consider what is needed in Ireland for a viable and vigorous culture for each of the sports MI professes to represent from climbing to walking. Having considered what is needed at large and what might be possible with social technology and media funding, then it would be possible to see where MI might effectively contribute (or not), with what methods and with what collaboration with other parties.
-- Simon Stewart (this article does not necessarily represent the views of the MountainViews community or committee.)



Video: dancing over trig pillars.
If you like off-beat, humorous etc http://vimeo.com/13806189
Morris dancing on trig pillars - who'd have thought? The dancer is successful, graceful even, with trig pillars on golf courses and the ominously named Bullocks Hill, all of which he polishes off with a practiced leap. But at the godly named Mount Zion (Around 5:49) he encounters a trig-pillar on a plinth the scaling of which is umm, aahh, indecorous and probably painful.



simon3 on Email addresses being used for Paypal scam.
There have been reports of email addresses used for MountainViews enrolment appearing in spam. It is not clear what the extent or cause of this is, however there may be an issue that affects a few, many or all members. Should it be a widespread problem affecting the email address you have used for logging into MountainViews then it is likely you will get further spam. How to recognis ... Click here


UPLAND ISSUES IN THE MOURNES
In the September 2012 issue of The Summit we raised some questions about some of the works organised by the Mournes Heritage Trust. Answers were proferred in various ways such as by consultation on site and by an article by Matt Bushby which appeared in the last newsletter.

However this still left another question unsanswered. Why couldn't further works be done in the style of the attached photo?
So I asked Matt what was the story. Here's the question and his reply, dated 6 Nov 2012.


The question, from MV
Previously I mentioned the stretch of reinforced path that comes down Slieve Binnian East Top. You mentioned at the meeting that this had been done in the 1990s. It seems to me to be in a style that is very appropriate and unobtrusive. It is quite short. Both uphill and downhill of this section of path there is extensive braiding, however near this section far less because the path is much easier to walk on. Why can't something like this be done in more places? It has the appearance of crazy paving, though obviously the stones that make up the surface go much further down than garden crazy paving slabs.

The reply
Simon, ... here's some quick comments against your points below.
I don't have an exact date but it's about then. It was done at a time when there was much less erosion along that wall in general and was seen as a fix of the worst sections. Unfortunately, now as the longer corridor is getting worse, the pitching is now isolated and only partly used because of the overall condition of the route where people make choices way before the plugged sections. They are well made and 20 years on have weathered in and vegetation has grown, but their placement is undermined because of the choices users are taking. The issue of the pitching lessening the erosion alongside it - there are some pretty badly eroded areas adjacent to the pitching and minor braiding going way out in some places. Also, the erosion at each end of the pitching and the impact on the wall is bad in places which means that the full route should be considered rather than plugging problems. However, stitch in time work carried out at an early stage would avoid major works, but the stitch in time work has to consider also wider issues in order to work, such as user flow/preferences and long term use.

Current best practice is trying to mimic what would normally be seen as natural rock formations and the crazy paving style is seen as less acceptable than it used to be. In the Mournes as in many areas, the slab type pitching mimicking 'exposed' rock that you would see in the landscape is seen as more in-keeping and typical of work in the Cairngorms, Lake district, Snowdonia etc. I appreciate the point about the first section of pitching on Binnian is not seen by many as acceptable and I have made the commitment to tie that in better, but hopefully the wider work we've done such as at Ben Crom Dam to Binnian col and other sections on Binnian and at Percy Bysshe and Glen River demonstrate good alternatives. The other issue is the point I made in the article where it's important to try and accommodate different stride patters and often the crazy paving style limits this. For example the similar crazy paving close-pitching style on the route along the wall from Donard/Commedagh col to Donard summit is very well made but there is extensive erosion widening out as people find walking/running on the pitching, particularly coming down, very difficult. The proposed work will tie in as best it can with existing pitching but the key issue is to consider the long term impact along the entire corridor which is ultimately determined by the flow of users from key control points along the way, rather than ad hoc fixes that may not address the key issues. This means managing the main user flow along the most sustainable route (taking long term maintenance issues into account) whilst maintaining the challenge and experience. So, it may mean coming away from the wall in sections to achieve a better profile so we can use aggregate surfacing as much as possible, with slab pitching gaining height where necessary. This approach has considered how people go up and down and their preference for coming off the stone (hence increasing braiding). This is gained from site observations and discussions with users, and from experience at other sites (Peak District etc.).

matthew.bushby@mourne.co.uk
Mourne Heritage Trust
Newcastle Centre, 10-14 Central Promenade
Newcastle, Co Down
BT33 0AA, 028 4372 4059 (that's 048 4372 4059 from the Republic)

Comment
I think it is commendable that MHT have taken the trouble to respond in such detail to the comments made on MV. Nevertheless, it is for users to judge how reasonable some of their replies are. For example, the above says ".. the crazy paving style is seen as less acceptable than it used to be ..". Well, in my book it is a lot more acceptable than the staircase style at the north end of Binnian. And I think it is a very much a matter of debatable opinion that "slab type pitching mimicking 'exposed' rock .. " is always better. Particularly when the area in question is right beside one of the very unnatural walls in the Mournes.


MountainViews is interested in information and photographs about any other proposed upland work in any part of the Republic or Northern Ireland. For example, there are renewed calls for the reintroduction of a bridge near the Glenmacnass Waterfall in Wicklow, which could have serious conservation and aesthetic consequences.


GEAR REVIEWS
Gear reviews.

Base layers may come under the category of underwear and not be very exciting but they are key to staying dry and comfortable year round. The issue of odours and smells is outweighed by their ability to keep you warm and move moisture away from the skin.

Base layers have evolved quite a bit in the last few years. From the traditional striped polypropylene Helly Hansen (Smelly Hansen), to Lowe Alpine's polyester DryFlo, Merino wool and now the Merino polyester/nylon blends.


The main role of base layers is, funnily enough, as the base part of your layering system. A well-fitted good-performing base layer will wick the sweat from your skin and send it through your other synthetic layers to hopefully breath through your shell jacket. Of course, base layers still perform well as you adapt your layering system and work very well on their own in warmer weather. I prefer the long sleeved styles as the sleeves provide extra warmth or protection from the sun and can simply be pushed up when you're a little too hot. Most base layers favour a tight fit to aid wicking of sweat from the skin. An exception is the Berghaus base layers that recommend a loose 't-shirt style' fit - I haven't used these so can't comment on how this affects performance.

Base layers come in different weights, but for Ireland the light or active weight is probably the most suitable. Heavier weights are more suited to the few very cold days or colder climates abroad.

Instead of individual products or brands it is probably better to look at brands or fabrics.

Helly Hansen
The classic thermal used for many years for hiking, climbing running and everything! Perform well and essential if you're seeking the retro look.

Lowe Alpine DryFlo
Once ubiquitous among hillwalkers in Ireland Lowe Alpine have hit hard times and are not making clothing again until autumn next year. Definitely one to look out for.

The North Face
TNF don't brand the fabric in their base layers but they are made with a special weave of polyester. Among the options are well fitting warm styles and seamless (more like very few seams) super light versions. One of the best options available.

Merino Wool
Previously only made by SmartWool and IceBreaker there are many companies now making base layers from merino. Warm and comfortable and doesn't breed odours in the same way as synthetics. Disadvantage is that it doesn't dry as quickly as alternatives.

Merino Nylon/Polyester Blend
These improve the wicking and drying performance of merino and also give a snugger fit. Many manufacturers are using fabrics such as these with those from Mammut and Rab definitely worth checking out.

-- Tom Sweeney (MV Member)


BOOK REVIEWS
Book review: Donegal, Sligo & Leitrim: A Walking Guide by Adrian Hendroff.


Collins Press have shown an admirable dedication to the outdoor publication cause in recent years, and their Hendroff-spearheaded attempts to corner the Irish hillwalking guidebook market continue apace with his second regional opus, this time to the hills of the north-west. It's an area containing several of Ireland's most iconic peaks but also a region currently somewhat underserved by other authors, so his stepping into the breach will be welcomed by the many walkers unfamiliar with its delights.

The potential purchaser should be aware that while routes in all three counties are featured, it's very much a book of walks in Donegal with a few in Sligo and Leitrim thrown in: the former covers 21 chapters while the others can muster a mere 6. Said purchaser should also be aware that this is an entirely fair division, given Donegal's relative advantage in a) size, and b) contours. The selection is a very good mix of the renowned and the esoteric: that I don't think the 'standard' route up Errigal really needed another airing is my only significant quibble. The book is set out in what has become Collins' traditional fashion, clear text and fine photographic reproduction being only faintly tarnished by what I (personally) find to be a slightly shouty style for the headings.

It's a matter of taste exactly how much of an individual a guidebook author should allow themselves to be in the process of 'guiding' the reader: for instance Kieron Gribbon's recent book on the County High Points succeeded admirably in telling you exactly how to get to those high points but was fiercely dry to a 'name, rank and serial number' degree in the process. Hendroff positions himself towards the other extreme, the text fleshed out with history and legend, flora and fauna, and other material that strives to make hillwalking about more than upland perambulation. With that in mind it's also awash with his (obviously) deeply felt personal reactions to the surroundings; this may be a mild irritant to some, but this reader always prefers to get a feel for what sort of companion an author would actually be on the hill. That said, a little bit of humour would have been nice; most contemporary guidebook writers never seem to find hillwalking as funny as I do.

But overall, a fine effort: if you need a guidebook to this neck of the woods, you'll be happy with this one.

-- Peter Walker (MV Member)


SUMMITEERS CORNER
A place for the minority interested in Summiteering, Bagging or Highpointing.
Big News: First person to do a round of the Arderins.
As regular readers will know our largest long list of summits is the Arderins. This is the list of summits in Ireland of at least 500m with a prominence or drop to the col to the nearest more prominent summit of 30m. There are 404 of them.

We now have a first complieter of this list, madfrankie

Congratulations to him from myself, the publisher of MountainViews. I am sure I speak for everyone in the committee and community in congratulating him also. This is not an easy thing to do. First there is the sheer volume of them, some still with poorly described routes. In the closing phases of a round there are odd summits in odd places often needing special trips just to reach them. It is a great achievement to stand on top of every mountain in Ireland. Well done madfrankie. Note. This is the first completion of the Arderins as prescribed by MountainViews. We are aware that others have completed other lists which are substantially similar as early as 2002.

Colin Murphy on This seemed appropriate...
Yes, the moment on Tooth Mountain seemed to merit a bit of photoshopping.... Click here


How's summiteering going in Ireland anyway?
With this first achievement of a round of the Arderins, it is worth reviewing just how this well the activity of summiteering is doing. Obviously people have been bagging hills since hillwalking got going in Ireland, using lists such as Paddy Dillons (1992) or Claude Walls (1939, reprinted with amendments by MCI/Joss Lynam 1976), long before MountainViews started in 2002. However it is hard to know how many. The only body that had any list of completers was the British Long Distance Walks Association (LDWA).
MountainViews has sought to put the lists on a sound geographical footing, to allow the story to be told for every summit, to allow people record their climbs and to produce a public list of progress.
In 2004 there were 135 people who had registered 10 summits, and 9 who had 100. Now there are 1497 with 10 and 155 with 100. So it looks like a lot of people are taking an interest.

While bagging pure and simple is a great activity bringing walkers to new places, MountainViews additionally promotes discovery and description through mountain comments, photos and GPS tracks. Summiteering is what we call the combined activity of bagging with discovery. Walk over the hills but know what you are walking on and pass on what you find. It's also doing well with 5998 mountain comments!

What's the future for a summiteer who 'did the list'?

For most starting summiteers there's a series of lists such as the County Highpoints, and the Local 100. MountainViews is working on a list of 100m prominence hills. There's plenty to get started on.
However if you finish a major list like the Arderins, there are other lists such as the Carns (400m) or the Binnions (150m prominence). Frequently the smaller summits have better views. There's also the option of doing another round of the major list. This has several advantages. It's likely the first time you visited a summit it was in poor weather and you weren't able to savour the attractions. You can also experiment with different routes up. And you will have further opportunities for sharing what you found through mountain comments. Today MountainViews allows you to share the track you took. Or you may consider making a video, a newly flourishing medium.
Repeat rounds seems to be something of a tradition in Britain for a minority. Would you believe that during the month one Steven Fallon notched up 15 rounds of the Munros? Read about it here.

More offbeat stuff, this time from the fertile mind of Brian Ringland, Irish 500m completer.
You have always needed a sense of humour with respect to what other people on the hills or how they think about them.
"On the 20th October 2011, there was an earthquake with epicentre in Glen Shiel, magnitude 2.4 on the Richter scale, this could very well have caused the slight difference in height between Beinn Buidhe and Sgurr Bhac a'Chaolais to change in favour of Beinn Buidhe being the higher summit. So I reckon that before this earthquake Sgurr Bhac a'Chaolais was probably just higher."

Rocks on top?
Continuing the discussion about mountains with a free standing rock on the top. A question. Does anyone have a photograph of Carrigvore in the Dublin/Wicklow Mountains and could it be one of them?


This month.
Kudos to our contributors.
We welcome the following new members who enrolled this month. actin_the_goat, annmarie, brendank, cdoolin, DaraghDoohan, Deano38, debs27, deirdretraynor, englishdaniel, ffvalentine, Gavb, Georgie747, gergrvvzdx, gmankev, grudden, gunners, Gunns, hennoned, hivisibility, Huggiebear1981, jimlife, Joe8mull, johngallagher34, kboylan, kelly, Kevin123456789, krameria, krameria1, lyons64, Maddenb, Maher, maireadmorrissey, mcunn, Micko54, minnie, mlhom, Moiralonergan, msoren01, mussi, nigelg53, nohbkgaon, Nu, Orbmail, owl2641, Parker, pcole, peterm1, ptesmith24, reece26, robdix, rodders, roughanmac, sailordog13, stepcodd, Stevemelly, sugnoa, suzmcdonnell, thgfdsa, xtrema1 (59)

Our contributors to all threads this month: Alca (1), CaptainVertigo (6), Colin Murphy (11), Conor74 (5), Garmin (2), Harry Goodman (1), Hilltop-Harrier (1), Huggiebear1981 (1), Onzy (1), ahendroff (3), aidand (2), camlinramblers (1), ciarraioch (8), csd (1), daveevangibbons (2), dino (4), gerrym (1), Communal summary entries (12), guestuser (2), hivisibility (2), jackill (4), kabe (1), kernowclimber (2), lennyantonelli (1), liz50 (1), maclimber (3), march-fixer (2), master (1), mcrtchly (1), nkenealy (1), sandman (3), scannerman (4), simon3 (22), three5four0 (1)
For a fuller list view Community | Recent Contributors

There were comments on the following summits Aghla Mountain, An Bheann Mhór, An Cnapán Mór, An Liathin Mor, Beann, Beann na Stiocairí, Benbulbin, Boughil, Bunmore, Caherconree, Cloghernagh, Coomcallee, Coomnahorna, Coppanagh, Corrigasleggaun, Croaghan Hill, Crocknasmug, Cummeenbaun, Dromderalough, Farscallop, Keeper Hill, Knockboy, Knockbrack, Knockmore, Knockrower, Little Sugar Loaf, Lugnaquillia, Mount Gabriel, Slievenamon, Stumpa Duloigh, Stumpa Duloigh SE Top, The Priests Leap, Tievebulliagh, Urris Hills
and these tracks Aghla Mountain, Bluestack Mountains Ireland, Australia, New South Wales , Ballinard, W Limerick / N Kerry Ireland, Brandon Hill, South Midlands Ireland, Broaghnabinnia, Dunkerron Mountains Ireland, Cnoc na gCapall, Dunkerron Mountains Ireland, Cooley/Gullion Ireland, Coppanagh, South Midlands Ireland, Dublin/Wicklow Ireland, Fauscoum, Comeragh Mountains Ireland, Galtymore, Galty Mountains Ireland, Knockbrack, Mangerton Ireland, Knockmealdown Mountains Ireland, Knocknagree SE Top, Caha Mountains Ireland, Leenaun Hill, Maamturks Ireland, Mount Alto, South Midlands Ireland, Mullaghsallagh, Sperrin Mountains Ireland, Slievecushnabinnia, Galty Mountains Ireland tracks and these walks were created (none in period)

Thanks to all 1038 who have ever contributed summits or routes info and forums.

For a full list view Community | Contributors Hall of Fame

Summary. MountainViews now has 6004 comments about 1023 different hills & mountains out of the total in our current full list (1057). We need more comments, better comments and more balance for every summit as our rate for "data completion" now that the 150m summits have been added is currently around 49% There's plenty (34) of opportunities for you to be the first to comment on a summit. Listing summits in "Lists & Logs" (tick MV completion information) allows you to see what information we need to get more even coverage.
NOTICES
Notices
If you are contributing, please be careful to respect the interests of landowners. Suggest access routes well away from houses, gardens or that could conceivably impact farming activities. When walking, keep away from gardens or farm buildings. Use stiles or gates wherever possible. Never do anything that could allow animals to roam where the farmer did not intend. Ask permission where appropriate.
If you hear of a problem area or route, write it up in MountainViews which does everyone a service.
Report rubbish tipping in the Dublin/ Wicklow area - ring PURE 1850 365 121
Report quads in national park area (in which they are banned). For Wicklow please phone the Duty Ranger: 087-9803899 or the office during office hours Telephone: +353-404-45800. Put these numbers in your phone, take regs etc. Let MV know of contact numbers for other areas.
If you have climbed some of the less well known places, we would appreciate a summit rating.We could use your help in making ratings for the unrated mountains which you have climbed, such as: Bunmore, Knocknascollop NW Top, Lettertrask, An Bheann Mhór, Cró Bheithe, Cnoc na Deirce Bige, Cashlaundrumlahan, Brickany, Maumakeogh, Cruach Léithín and some 1 others. and also GPS readings for summits.
If we can, let's make MV have more than one route up a summit so as to reduce the tendency for paths to appear. Your grid refs in comments for different starting points show up on MountainViews maps.
MountainViews are on Twitter as MountainViewsIE. Follow us and we will follow you back. Any queries to secretary@mountainviews.ie
This newsletter
This newsletter
Editor: Simon Stewart, Homepage: www.simonstewart.ie
Assistant editor: Colin Murphy
Track reviews: Tom Condon, Peter Walker
General Forum Digest: Mark Brennan
Gear reviews: Tom Sweeney
Book reviews: Conor Murphy, Aidan Dillon, Peter Walker
Graphics design advice: madfrankie
Newsletter archive.
View previous newsletters mountainviews.ie/newsletter
RETURNING TO MOUNTAIN VIEWS
Click on (If you have cookies on in your browser then you will be prompted as to username/ password. If you forget the password, the login page can email you a replacement.)

UNSUBSCRIBING
If you don't want to receive any further monthly newsletters from Mountain Views click on Settings. Then change the option beside "Include on occasional mailing list" to "Do not include". Then click the "Save" button.
Alternatively let us know by email at admin@mountainviews.ie Include the email address you got this at or your screen-name.
dancing