The
Summit

Monthly newsletter of MountainViews.ie for guestuser

June 2012
NEWS - INFORMATION - RECENT CONTRIBUTIONS - FEATURES - FORUMS
Upcoming: MOUNTAINVIEWS - WALKERS ASSOCIATION - and MORE



MountainViews is Ten Years Old


Some highlights of our progress:


June 2002: Initial system operational.
2002: Improved to allow photos to be added.
2003: GPS summit position download service started and service to enter corrections
2004 Started using MountainViews.ie domain
2004 Reached 100 contributors. Added "Motley Views" - forums. Added Mountain Rating
2004 The number of users logging summits climbed was 135 (today it is 1439)
2007 Every listed summit over 500m had at least one comment entered, walks section started
2008 Summiteers and Contributors Halls of Fame radically improved
2009 Bear Grylls got 'mentioned'
2009 List name "Arderins" proposed and accepted along with "Vandeleur-Lynam" (our name for the MV improved version of Joss Lynam's "600m" list.) County Highpoints added.
2009 hosting of website changed to Ireland, messaging system introduced
2010 MountainViews committee formed
2011 MountainViews committee with WAI organises public talk in Feb.
2012 New track sharing system introduced in Feb - 62 tracks uploaded in March, new mapping using "OpenLayers" introduced.
The first comment was entered on 23rd June 2002.
margaret2 on Mullaghcleevaun
very mucky between mullaghclevaun and east top - can be avoided by keeping well to left Click here


The first comment with a photo was originally entered on 2nd Sep 2002 by lewvalton (the author subsequently edited it again in 2008)


lewvalton on Carrauntoohil
Ridge up to Beenkeragh starting behind the great pillar of the Hag's Tooth (guide books we had call it the Hag's Tooth ridge) is a superb scramble. Go up to it via the steep grassy gully up to the right of the Tooth's base. Arete is longer and somewhat more testing than Brandon's Faha ridge, though perhaps slighly less exposed, but still overall within the same band of difficulty (for scramblers f ... Click here






From the 1st July 2004 Newsletter

At the end of June 2002 I got the original version of MV up and running. Nothing much happened, and I went off on holiday wondering if anyone would actually use it. To my surprise when I got back there were several text comments (the original system didn't do pictures). Some 5 or 6 people were visiting the site a day. Now 2 years on over 60% of the 500m mountains of Ireland have contributions, many very useful or entertaining. 135 people have contributed and on many days over 100 visit. Hillwalking tends to be a solo or small group activity so it's not surprising people have told me that they value a place they can share their experiences and show their digital pics to people who appreciate them. To mark the anniversary we've a new feature -- the online relief map. This uses some recently released data from the US showing height information used to construct a coloured relief map. Apart from the small area map, you can get larger pictures by using the Listings section.

Literary, lyrical or poetic.
It became clear after a few that some MountainViews contributors wanted to put in much more than plain descriptions. Perhaps we will explore the development of the collective culture more fully in a future newsletter, however here are some pieces from Bleck Cra.

From the August 2004 Newsletter

... we can mention some extremely heartfelt and amusing contributions that have just come in. Chief of these has to be a new contributor "Bleck Cra" .. his contribution on Slieve Binnian North Top had me laughing: "... Even after 10 years of ascending the girl, Binnian never fails to be amazing. Because she's so in your face, you think ah sure she'll wear off - but she never does. She's as big as a continent, as pretty as Polly Perkins and as surprising as MLA Donaldson at the West Belfast Feile. Go get her now ! " (His comments on Co ck Mtn, Slieve Bearnagh North Tor and Eagle are also essential reading)

More from Bleck Cra mentioned in further newsletters

"Mountains are like women: wild, dramatic; thin and bitter or wide and warm - but all beautiful. (Yes yes . thin and bitter too.). "Pretty" is best - and the prettiest girl in the class is Chimney Rock Mountain: little, curvaceous, undemanding with some delightful nooks and crannies." Bleck Cra on the job again, with pictures this month.

"There are days when nature conspires to make the mountains so beautiful, she breaks your heart. Sunday 28th November 2004 in the Mourne Mountains, was one such day. A wistful, wandering way through a world of up-ended conifers at the hem of Commedagh's petticoats; snap-dry branches amongst glistening holly and feather-down moss; draw clean blood on barbed wire and emerge on golden pastures to the Pots of Pulgarve: God's amphitheatre on the Glen River, Dundrum Bay and beyond, where none but the ravens take their seats; so often black misted, but today every lethal rock pinsharp - all pointing down ...." Bleck Cra on Slieve Commedagh, one of some half dozen he did this month ranging from the lyrical to the saucy.

WALKERS ASSOCIATION OF IRELAND

The Walkers Association are interested in taking on new people for their committee to help run their successful events series.

More here: www.walkersassociation.ie

For a full list of Challenge Walks, visit here.


WAI Photo Gallery - They would like you to upload some of your pictures (Ireland or abroad) to this?



FUTURE MOUNTAIN MEITHEAL WORK DAYS THE FOLLOWING ARE THE WORK DAYS FOR 2012:

02/06/2012 17/06/2012 30/06/2012
15/07/2012 28/07/2012 12/08/2012 25/08/2012
09/09/2012 22/09/2012 07/10/2012 20/10/2012
04/11/2012 17/11/2012
More information at www.pathsavers.org


MOUNTAIN RESCUE

2012 Summer Solstice 'Walk the Line' Challenge in support of the Dublin & Wicklow Mountain Rescue Team June 23rd

After the unprecedented success of last year's inaugural Summer Solstice "Walk the Line" Challenge the Dublin & Wicklow Mountain Rescue Team (DWMRT) is pleased to announce the date of the 2012 Summer Solstice "Walk the Line" Challenge, www.walktheline.ie

The 'Walk the Line' challenge is the DWMRT's most significant fundraising event of the year. Last year it raised over Euro38,000 for the team with the money being used to purchase a new Land Rover, call sign MR4, which proudly displays the 'Walk the Line' logo.

Our team members come from a wide variety of backgrounds but have one objective in common : to save lives in wild and remote places. All proceeds from this year's event will be used to provide vital equipment to support the work of the 40 volunteers on the team. An urgent task ahead of the team is to ensure the new vehicle is kitted out with all the necessary equipment to make it ready for its specialized role. The team is also in the process of modifying its other Land Rover, known as MR3, to make it capable of carrying a stretcher. This will greatly enhance the team?s capability to extract injured people from remote areas quickly and safely. The success of the 2012 'Walk the Line' Challenge will ensure that these objectives can be achieved.

Taking place on the 23rd of June 2012 the event is a walk/run along the county boundary of the Dublin & Wicklow Mountains, starting near the Sally Gap and finishing at Larch Hill Scout Centre overlooking Dublin city. To fit in with the summer solstice the plan is that each participant would find themselves on a peak at sunrise.

The final route has been selected and confirmed (subject to permits from the National Park and Coillte). There are two options, a 20km excursion for the novice walker who would like to support the Dublin & Wicklow Mountain Rescue Team while experiencing the mountains at night and a 30km hike for the more experienced folk who want to challenge themselves.

The registration fee is Euro25 per participant to secure a place on the event. Participants are also being asked to raise a further minimum of Euro75 sponsorship in order to participate bringing the total minimum sponsorship to Euro100. Both the 2011 and 2012 events have been proudly supported by the team?s main sponsor The Great Outdoors.

Brian O'Doherty
Public Relations Officer
Dublin & Wicklow Mountain Rescue Team
087 6222481


NEW WALKS SECTION

Black Hill
Unusual walk in Wicklow, created by a local. It has start from an unusual place near Lacken.
march-fixer on Black Hill ... Not like that ... like this!
Overview You want to get the most of of your chosen walk area – right? Then peruse this snippet of local knowledge which should add a whole new dimension to the standard fare and enhance the pleasure of your walk on Black Hill, with only a little extra effort. This walk will help you reach parts you never reached before! Approaches Most walkers tend to approach Black Hill from the car ... Click here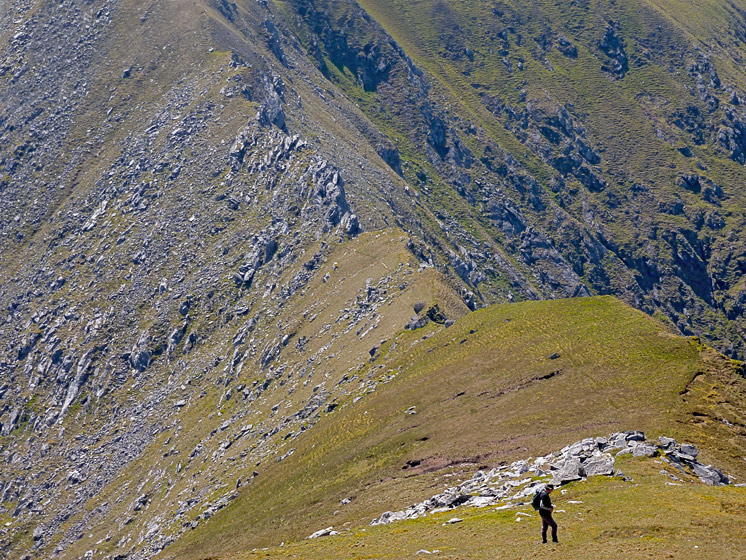 The brilliance of the Nephin Begs
Last month we had a great view from Mayo and this month we are revisiting the county. There are very few aretes at all in Ireland and this is a contender for best.
Regions: MOUNTAIN COMMENTS - TRIP REPORTS - SUMMARIES
In short: Discovery
NORTH: Nice hill pity about the name
Member Harry Goodman gives us the drop (sorry!) on Hangman's Hill in the Dartry Mountains

Harry Goodman on Hangmans Hill: Nice hill pity about the name!
I climbed this hill as part of a greater round of tops on 5 May 2012. (For earlier part of the route see my comments on Keelogyboy NE top.) From the col with Keelogyboy NE Top G782396 we walked a short way E to G7831839556 and crossed over a fence to follow the line of an old ditch up the hillside to cross a subsidiary rounded top of the hill before making for the top proper at G7820039838. This ... Click here


NORTH:True love doesn't always run smoothly…
Despite his self-professed enduring love for the Mournes, member Trailtrekker found his relationship a little strained as he ascended Slievemeel

Trailtrekker on Slievemeel: Making a Meel of it!!
I must preface my comments on this hill by saying that I love the Mournes, from its big beauties like Bearnagh to its little hills like the Hen. However, this is one hill that won't live long in the heart for me or be revisited! Its not that it was gruelling, like Donard on the worst day of winter, I did this yesterday evening on one of the finest days of summer. It's just that it has no real char ... Click here


NORTH:For those who remember the Common Agricultural Policy…
The Mournes decrease in castellated drama as you work your way west from the Silent Valley skyline but there's still a lot of splendid country before you reach the lowlands, presenting a large array of potential days out. Simon3's track is an almost arbitrary excursion based around the Spelga Dam, but it gives a very fair template for the possible routes hereabouts: the route itself crosses four tops and passes within a granite pebble's toss of three others, and could very easily be expanded to include Slieve Muck, Carn Mountain and Ott Mountain.
simon3 on A Spelga Circuit in the Western Mournes
This route is in no way a classic, more a byproduct of summi walk, Length:16.2km, Climb: 948m, Area: Butter Mountain, Mourne Mountains (Ireland) Butt Click here


WEST: Not much to look at, but great to look from
A first comment for a couple of the lesser-trodden hills in the remote Nephin Beg area as member Colin Murphy explores Maumthomas SW and NE Tops

group on Maumthomas SW Top: Wonderful landscape, so-so summit
This top is usually done as part of a larger walk e.g. when doing the Corranabinnias, but can be bagged in isolation in about three hours if you choose to do so. Turn off the N59 at Bunnahowna Bridge (857 965) and continue up narrow road for 500m until you reach a gate, which is part of an official Greenway walking trail. Go through gate and continue for about 500m, where the trail branches to th ... Click here


WEST: Treading carefully in the Twelve Bens
Member mcrtchly charts a safer descent from Benbaun to Maumina col

mcrtchly on Binn Bhán: Descent from Benbaun to Maumina col
A possible safer descent route from Benbaun to Maumina col is to traverse down the steep grassy SW side of the mountain. This involves first walking on a bearing of 145 degrees from the summit of Benbaun down the SSE ridge for 220m to L78695 53714. Then turn right on a bearing of about 210 degrees slowly descend the grassy hillside by zig-zagging downwards. At about the 550m contour level turn l ... Click here


SOUTH: The Devils Punch Bowl...not for the faint hearted
Member YoungJohn guides us around the steeply sided lough carved into the side of Mangerton Mountain in County Kerry.
YoungJohn on Mangerton: The Devils Punch Bowl...not for the faint hearted
On 14th May. Turned left after the hotel at the Mangerton sign. Followed this road for a mile or so. There is a sign for a viewing point at a t-juncion. Turned right. Followed the road to the end of a pine woods surrounded by a stone wall. A sign stands beside a concrete slab for a bridge. Parked here. Followed Paddy Dillons directions in reverse! followed the path beside the stream to the top whe ... Click here


SOUTH: Centre South Walk
A nice walk in an unusual mountainous area that sits all alone in the centre south of the island. While not a taxing walk it is extended by the route chosen and may be easily shortened should one wish. There are three good approaches to this summit and this southern route should be particularly enjoyable on a good sunny day. While going through varied terrain, the recent clear felling should give good views to the south and west for most of the journey. The final section to the summit requires a high step march over heather. The return journey is by much the same route with possible variations.
jackill on Carrolls Hill from the west
Starting at a good coillte carpark, this ascent gets you to walk, Length:9.2km, Climb: 259m, Area: Carroll's Hill, Slieve Bloom (Ireland) Carroll's Click here


SOUTH: Bag a top in 8 minutes!
Yes, it is possible folks! Member sandman provides appropriately pithy directions up and down Knockanimpaha Hill in the Mullaghareirk hills.
sandman on Knockanimpaha: 8 Minute Dash
Park at mast entrance R2175634580 walk down hill to edge of security fence cross over up track to summit trig at R2164834606.......up and down in 8 Click here


SOUTH: Tangled up in the Dunkerrons
An area of the south-west which deserves far more attention from hillwalkers is the tops in the neighbourhood of Coomcallee near Waterville: it's a prickly delicious smorgasbord of ridges, rocks and corries, all laid out against a background of quite astonishing coastal views. Simon3 has done a fair bit of exploring in this region as of late, approaching the hills from both the south and the north. The highlighted track comes in from the latter direction and takes the walker as far as the rarely-visited (but, based on the accompanying comments, fascinating) peak of Coomnahorna. It also provides the key to a magnificent ridge route west as far as Glanbeg, which is very highly recommended.
simon3 on Start of the Maughernane Circuit
This route startes on the public road and reaches the high g walk, Length:17.7km, Climb: 755m, Area: Dunkerron Mountains (Ireland) Coomnahorna Click here


SOUTH: Cork Esoterica
Possibly even more for the connoisseur is the route presented by thomas_g to 'The Matterhorn of West Cork' (allegedly), Shehy More. He describes it as 'draining', although a study of the contours suggests that's the last thing that the ground underfoot is likely to do. It's not a particularly long walk however, and looks to have some interesting perspectives.
thomas_g on Shehy More and SW Top
A short but draining walk across some very boggy ground: bri walk, Length:9.1km, Climb: 383m, Area: Shehy More, Shehy/Knockboy (Ireland) Shehy More, Click here


EAST:Steep ascent in Wicklow
Duff Hill lives in the shadow of Mullaghcleevaun, but is a fine top in its own right, which requires quite a bit of effort, as member march-fixer reports.

march-fixer on Duff Hill: Nearly there, on way to ...
Effectively a spur sticking out from Mullaghcleevaun East Top, this rounded hill is part of a troika with Gravale and Carrigvore. It is more associated with these rather than its bigger neighbours. It will certainly stretch your legs on the climb up from the saddle separating it from Gravale. The track up from the saddle to the NE is well defined and provides reasonably good footing. That is no ... Click here


EAST: Monumental Journey - bring non-walking friends!
Want to spend an fascinating hour with the family on a day out. No matter how often we pass by certain areas, we may never realise what gems they hide. Close by the road on the way to Sally Gap there is an intriguing historic obelisk situated on a sloping hillside at Coronation Plantation. It is not easily spotted unless one is aware of its location. Erected by the Duke of Downshire, it stands sentinel over a wild and blasted landscape. This is a short easy stroll for a day when accompanied by others who you want to introduce to the wilderness of Wicklow, without taxing their stamina.
march-fixer on Coronation Plantation Obelisk
Since hearing about this fascinating monument, I was intrigu walk, Length:2.9km, Climb: 180m, Area: Dublin/Wicklow (Ireland) Click here


EAST: Tinahely here we come ...
Running close to the west and north west of Tinahely, this nice linear route makes good use of the southern Wicklow area and recent local work such as the "Ballycumber loop". Being linear it requires transportation arrangements at the finish. There is a nice mixture of forest, farming countryside and open mountain. Rather than just reaching the summits, this walk takes in all that there is on offer. It contours the hills in order to enjoy the walk along the ridges, thereby maximising the views and extending the enjoyment.
simon3 on Muskeagh Ballycumber combination walk.
This linear route takes in Muskeagh Hill, a smaller summit i walk, Length:18.0km, Climb: 668m, Area: Muskeagh Hill, Dublin/Wicklow (Ireland) Muskeagh Click here


EAST: Views, glorious views
Member paulocon bags Croaghanmoira in Wicklow in a handy 4km walk and takes a Glorious Picture.

paulocon on Croaghanmoira: Views, glorious views
Nothing really much to add to what's here already. A handy walk of about 4km return using forest tracks from the West. Superb views on top (and I was particularly lucky to get the one good evening in the middle of a really bad spell of weather). Anyone know what the triangular looking mountain is in the background of the included picture? Click here


EAST: A long day in the hills
Not to be attempted without forethought, this excellent linear track hits most of the high points east of the Blessington Lakes. It tracks the longest part of the spine running north east to the Sally Gap. There are three distinct sections that provide a multitude of enjoyment. The first third gives magnificent views west over Blessington Lakes and east over Glenbride valley. The second section looks south to Tonelagee and the Wicklow Gap, south east to Glenmalure and north towards Kippure. The final section tracks the north western edge of the valley leading down to Laragh and Glendalough. A most worthwhile route that compliments another north westerly route from the Wicklow Gap to Black Hill.
Tim_Crooks on Silsean to Sally Gap
Cross the 7 summits from Blessington to THe Sally Gap - Star walk, Length:19.5km, Climb: 1043m, Area: Silsean, Dublin/Wicklow (Ireland) Silsean, Moan Click here


EAST: Mass Rock visit
One does not often hear of this area to the south of Blessington Lakes. While there is a surprise atop Slievecorrgh and the remains of a plane crash on Corriebracks, the trip to Lowbawn is seldom done on its own. However, well into the valley to the north of the mountain, just off the road and hidden amongst the large boulders on the eastern flank of the hill is an old Mass Rock. The old trestle table is still fixed in place in front of the spectacular flat vertical rock face. Most unusual in these times, a mass is held there every year in late May. This year about 150 people were joined by the Bishop of Dublin and walked up from Hollywood village and back into the valley. It is a lovely quiet area with other walks possible from the end of this road.
march-fixer on Lowbawn Circuit
While not much to look at, the trip in is. Make it a day's o walk, Length:6.2km, Climb: 362m, Area: Lobawn, Dublin/Wicklow (Ireland) Lobawn Click here


TURKEY: Aversion to sunbathing? It looks as if djacobs did not go to Turkey for a holiday and certainly not to lie on a beach and soak up the sun. This series of tracks tackle a mountains range running nearly north to south on the south coast. From the topology it seems as if one could spend years enjoying this area without ever having to retrace ones steps. Not being in anyway familiar with this area, it would be most interesting to hear in more detail what experiences were gleaned during these walks. There are probably more tales of dehydration that sunburn!

djacobs on Near Turkey, Antalya ()
walk, Length:13.1km, Climb: 1022m, Area: Turkey, Antalya () Click here

djacobs on Near Turkey, Antalya ()
walk, Length:12.8km, Climb: 706m, Area: Turkey, Antalya () Click here



Sorry if we didn't mention what you posted .. there's a list of all contributors for the month later.
FURTHER NEWS
Twelve Bens covered by Video and Track.
Of late two members trips have been made to the Bens around the "Owenglin Circuit" which is to the west of the better known Derryclare Horseshoe, visiting some of the same peaks. Take a look at the video as described here:

CaptainVertigo on Owenglin 12 Bens: The Movie
I had word that mcrtchly and kernowclimber might venture into the Bens last weekend. My fervent hope was that they would not only complete the difficult Owenglin Circuit but would video their efforts so that we would have a further top class mountain video. I assumed the final product would take weeks to edit and organise - but here we are 48 hours later with a highly professional piece that super ... Click here

And you can look at the rack here:
mcrtchly on Owenglin Horseshoe, Twelve Bens
The route is almost the same as that given by Captain Vertig walk, Length:23.3km, Climb: 2063m, Area: Binn Bhreac, Twelve Bens (Ireland) Binn Bhreac, Click here


East-West map difficulties.
One member inquired about the relationship of East-West map coordinates to those in use on MountainViews and most other places.
dewsbury on Help Please: Can't figure OS Co-ordinates
Hi all, I must be missing something! I am new to this. I am using maps supplied by the "EastWest Mapping " company in Wexford. Take Djouce mountain in Wicklow. I would say that the co-ordinates of this peak are roughly : 3179 2103 However, I have read numerous MountainViews.ie reports for several mountains and cannot reconcile my readings with what I find on the website. So , as an ... Click here


Reply to this here:
simon3 on Map coordinates of Djouce.
The majority of maps in Ireland such as the OS/ LPS/ Harveys/ Healy etc use a system such that a place is represented in this style A 123 456. All GPS units and all books I have seen use the same style for representing the Irish Grid. The "A" represents one of 25 squares that cover the island each of 100km by 100km. The "123" represents the easting within that square or the distance from the ... Click here



SITE NEWS
Ordnance Survey of Ireland - improved online mapping


Newly developed parts of MountainViews use the OSi online mapping service, MapGenie, provided to us by OSi. (For which MV is very grateful incidentally.) Unlike paper mapping which chooses one style of representation at one fixed scale such as 1:50,000, modern online mapping is about providing selectable layers. Each layer contains a representation of the land at many different scales. As you zoom in and out these different representations are successively brought into play with an appropriate level of detail. MountainViews also provides its own layers such as summits and tracks which sit "on top" of other layers.

So the richness and quality of a layer and its zoom levels are of huge importance. At present online mapping of upland areas in Ireland is still very much in its infancy however one step has been announced by OSi - they are introducing hill-shading/ layer tinting - apparently with some contour information. This is due to go live at some point on the 6th June 2012 so you should shortly be able to see it in the "View all tracks" section of MV (select layer OSi 1:10k by clicking on the plus sign to the right of the map) There will also be updating of some of their aerial photography.

MountainViews will continue to offer various other base layers such as:


OpenStreetMap - Mapnik (excellent, containing many paths and features not shown elsewhere)
Cyclemap (based on OSM) has layer tinting/ hillshading however is based on lower quality height information - it has the advantage of covering the globe.
Google Physical (global)
Google Satellite (global)


and various supplementary layers provided by OSM such as hill shading (all Europe) and contours (Ireland). (Many thanks to the OSM community for these fine services - I urge people to get involved with OSM - OpenStreetMap)

MountainViews is working on an improved map interface for its main pages and a beta version should be available in the next few weeks. This will rely heavily on online mapping.


GEAR REVIEWS
SOCKS

Socks are not glamorous — they're never going to command the premium spot in the outdoor shop and you're not going to argue over which fabric is better. Socks are under appreciated, often complained about when you have blisters or they're wet, but extremely important for a comfortable day out in the hills. It is often argued that the most important piece of kit is your boots — get that wrong and you'll be in pain. Equally, get your socks wrong and you could be walking in pain for the whole day.

We could go into detail about materials, fit, construction and durability. But, they are only socks so why not get straight down to it and look at what is good. The hiking socks mentioned are based on my experience. I only mention a few because once I find a comfortable well fitting hiking sock I stick with it.

If you're looking for an Irish sock then Bridgedale have many great socks. Their range is now quite confusing but the Trekker, Trail and Light Hiker are recommended.

Smartwool have done merino synthetic mix socks for years. These have been good socks but did not feel as snug fitting as the Bridgedale socks. The newer PHD socks (Outdoor Light and Outdoor Medium recommended) are lighter, have an even better fit than the Bridgedale and hold their shape very well over time. The only downside is that they don't seem to be very durable with the fabric starting to wear thin.

In Ireland you might be tempted by some discount socks in the Patagonia outlet in Dublin. The Lightweight Merino Hiking socks are similar to Smartwool PHD. They seem to lack some of the cushioning but in typical Patagonia style they appear to be very durable.

Final note: None of these socks have been tested for wearing in sandals — you do so at your own risk!=.

-- Tom Sweeney (MV Member)
SUMMITEERS CORNER
A place for those interested in Summiteering, Bagging or Highpointing.
Ireland generally does better than this for sense of isolation.
This truly astonishing picture taken on Everest is well worth a look. Click here.




Tipperary & Waterford, a Walking Guide by John G O'Dwyer

Published by Collins Press, April 2012 €14.99

This is a delightful book. It describes 23 walks ranging from leisurely rambles to testing mountain hikes. Though the main hills in the area are well covered, it is not intended as a comprehensive guide to every mountain in Tipperary and Waterford. Many of the routes have not been previously described in other guidebooks.

There are guidebooks that seem like instruction manuals; park here, walk there etc. John G's book is much more than that. As well as providing the required practical information the book contains plenty of snippets of local history and colour. This is an enjoyable read even if you never manage to follow the routes described. The book is lavishly illustrated with high quality photographs. A map is included for each route. While these will be adequate for the lower walks, more detailed maps will be required for the higher mountains. The author repeats the standard advice that all walkers should carry a map and compass. He then comments that this advice is about as useful as a lighthouse in a desert if you can't navigate. Tipperary is a big county and with the addition of Waterford the book attempts to cover a very wide area. In fairness to John G he deals with all the main ranges of hills. Most of the existing guidebooks deal only with the largest mountains in the area. The author describes a good selection of well thought out routes in the main ranges, but also includes some less obvious areas such as the Slieve Felim and Arra Mountains. The purist might wonder how a walk in Portumna, Co Galway found its way into the book but that a minor quibble.

In summary, this is a well written and beautifully presented guidebook. It is a worthy addition to any hillwalkers bookshelf.

Aidan Dillon, MV Member


Across the water.

Reflections on lists.

Posted by: "bty54181905" markjackson2@btinternet.com bty54181905

A couple of humorous variations on the Wainwrights theme which I thought of a couple of months ago are

Wainlefts - hills that AW left out from his book (but really shouldn't have).

Wainwrongs - hills that AW included "wrongly". I was thinking of these in terms of a fixed-drop criterion (if you revise AW's list to include the most prominent hills within the boundaries, but keep it the same size, you'll end up changing the list to the tune of 50+ hills) - but I'm sure you can use them subjectively too!
This month.
Kudos to our contributors.
We welcome the following new members who enrolled this month. akm, aliquaye, alisonnohilly, barrett, belo, Benbulbin, bjk30, blister, bluestack, Brotherkith, chops91, ciarastafford1, Coles, conorobrien20, craigajones, Cutti, DangerMouse343, danleen, denbysteel, denisconnolly, deshoon, discodes, DNeill, dstokes, egosling, enegyesac, Eoin_Kelly, Eoin_Taylor, eoslatarra, EquuleusCaroline, fi101288, flareproof, flip, fmurphy, gabrielmcgovern, gaby, garyhayes, herry, hotrocks68, hunter1, igzer1, imcc, Inkyhead, Ivan-Buick, ivankennedy, IZone, jameswobrien, jcofarrell, jeebus, jereminoz, jfallon, jhogan, jibaal, jimmy-mci, joegordon2, johnstna, jolenemellon, Jonatan, jonnyzap, judejs, katiedaly16, KenK, kimberleydunne28, kiskeam12345, kween, lightoffoot, louis1, luk_asz01, lynchs, mairek, martincoburn, Matteo, mdonnelly, mfearuil, Microdisney, MountainPeak, nasnari, niamhgaffney, nonails, nubulus56, Olivia-Nolan, orourke, paulbaines, paulmacg, paulmacgui, peter80, Phahie, Philipt, PStack, rayclare, ridlberg, ritterfan, rob2008, rorybuckley, rorydwyer, ruaidhri77, Ruggerchucky, schubi42, scott_ni, seamusgi4szw, seamusmacconmidh, seefin, shadow100, shirleylyons, shnolan, silentboarder, sorourke, SoutoI, stschwar, temporary5, terrynolan, thehomeofDob, thekid, TRedmond, tshipsey, upper, valltech, victoroscar, walkon, wexwalker, will_in_ni, wonthaggi, Zazu, _jekyll_ (124)

Our contributors to all threads this month: Bleck Cra (1), Buny Clare (1), CaptainVertigo (3), Colin Murphy (3), Conor74 (4), Dessie1 (9), Harry Goodman (10), Hilltop-Harrier (1), NICKY (1), Pazapas (1), Peter Walker (1), Tim_Crooks (1), Trailtrekker (2), Welder (1), YoungJohn (2), aidand (3), bogtrotter (3), brenno (1), ciarraioch (5), dewsbury (2), djacobs (4), gerrym (3), Communal summary entries (16), jackill (8), jimgraham (3), kernowclimber (2), lennyantonelli (2), march-fixer (15), marzka (1), mcrtchly (6), paddyhillsbagger (1), paulocon (3), pdtempan (2), petercrowley (1), sandman (4), scannerman (2), simon3 (15), slemish (1), thomas_g (3), volsung (1), wicklore (6)
For a fuller list view Community | Recent Contributors

There were comments on the following summits An Bhinn Láir, An Cnapán Mór, An Starraicín, Ballinard, Ballineddan Mountain, Beann na Stiocairí, Bengorm NW Top, Binn Bhán, Binn Dubh, Brandon, Carrigleitrim, Carrigvore, Cloonacool, Coomcathcun, Coomnahorna, Copes Mountain, Croaghanmoira, Crockauns, Donald's Hill, Duff Hill, Foilduff, Glennamong, Gob an Iolair, Gravale, Great Sugar Loaf, Hangmans Hill, Keadeen Mountain, Keelogyboy Mountain, Keelogyboy Mtn NE Top, Keelogyboy Mtn SW Top, Knockanimpaha, Knocklayd, Knockmore, Lobawn, Lugnagun, Mangerton, Moylussa, Mullaghmeen, Nephin Beg, Nephin Beg S Top, Seefin, Shehy More, Shehy More SW Top, Slemish, Sliabh na nGabhar, Slievecallan, Slievemeel, Temple Hill, Tievecrom
and these tracks Achill/Corraun Ireland, Beann na Stiocairí, Dunkerron Mountains Ireland, Beenkeragh, MacGillycuddy's Reeks Ireland, Binn Bhreac, Twelve Bens Ireland, Binn Ghuaire, Twelve Bens Ireland, Butter Mountain, Mourne Mountains Ireland, Carrauntoohil, MacGillycuddy's Reeks Ireland, Carrigvore, Dublin/Wicklow Ireland, Carroll's Hill, Slieve Bloom Ireland, China, Beijing , Dublin/Wicklow Ireland, Dunkerron Mountains Ireland, Killurly, Iveragh NW Ireland, Knockanaskill, Dunkerron Mountains Ireland, Knockastakeen, Galty Mountains Ireland, Knockaterriff, Galty Mountains Ireland, Lesotho, Mokhotlong , Lobawn, Dublin/Wicklow Ireland, Lough Curra Mtn, Galty Mountains Ireland, Mullaghmesha, Shehy/Knockboy Ireland, Muskeagh Hill, Dublin/Wicklow Ireland, Nowen Hill, Shehy/Knockboy Ireland, Shehy More, Shehy/Knockboy Ireland, Silsean, Dublin/Wicklow Ireland, Slieveanorra, Antrim Hills Ireland, Sorrel Hill, Dublin/Wicklow Ireland, Table Mountain, Dublin/Wicklow Ireland, Turkey, Antalya , Turkey, Antalya , Turkey, Antalya , Turkey, Antalya tracks and these walks were created Glenmalure Circuit, Lugnagun - Sorrel Hill Circuit

Thanks to all 1009 who have ever contributed summits or routes info and forums.

For a full list view Community | Contributors Hall of Fame

Summary. MountainViews now has 5759 comments about 1002 different hills & mountains out of the total in our current full list (1057). We need more comments, better comments and more balance for every summit as our rate for "data completion" now that the 150m summits have been added is currently around 49% There's plenty (55) of opportunities for you to be the first to comment on a summit. Listing summits in "Lists & Logs" (tick MV completion information) allows you to see what information we need to get more even coverage.
NOTICES
Notices
If you are contributing, please be careful to respect the interests of landowners. Suggest access routes well away from houses, gardens or that could conceivably impact farming activities. When walking, keep away from gardens or farm buildings. Use stiles or gates wherever possible. Never do anything that could allow animals to roam where the farmer did not intend. Ask permission where appropriate.
If you hear of a problem area or route, write it up in MountainViews which does everyone a service.
Report rubbish tipping in the Dublin/ Wicklow area - ring PURE 1850 365 121
Report quads in national park area (in which they are banned). For Wicklow please phone the Duty Ranger: 087-9803899 or the office during office hours Telephone: +353-404-45800. Put these numbers in your phone, take regs etc. Let MV know of contact numbers for other areas.
If you have climbed some of the less well known places, we would appreciate a summit rating.We could use your help in making ratings for the unrated mountains which you have climbed, such as: Inis na Bró, Knockaghaleague, Bunmore, Knocknascollop NW Top, Cruach Leac Chonaill, Lettertrask, An Bheann Mhór, Cró Bheithe, Tristia, Meenamaddo and some 8 others. and also GPS readings for summits.
If we can, let's make MV have more than one route up a summit so as to reduce the tendency for paths to appear. Your grid refs in comments for different starting points show up on MountainViews maps.
MountainViews are on Twitter as MountainViewsIE. Follow us and we will follow you back. Any queries to secretary@mountainviews.ie
This newsletter
This newsletter
Editor: Simon Stewart, Homepage: www.simonstewart.ie
Assistant editor: Colin Murphy
Track reviews: Tom Condon, Peter Walker
Gear reviews: Tom Sweeney
Book reviews: Conor Murphy, Aidan Dillon
Graphics design advice: madfrankie
Newsletter archive.
View previous newsletters mountainviews.ie/newsletter
RETURNING TO MOUNTAIN VIEWS
Click on (If you have cookies on in your browser then you will be prompted as to username/ password. If you forget the password, the login page can email you a replacement.)

UNSUBSCRIBING
If you don't want to receive any further monthly newsletters from Mountain Views click on Settings. Then change the option beside "Include on occasional mailing list" to "Do not include". Then click the "Save" button.
Alternatively let us know by email at admin@mountainviews.ie Include the email address you got this at or your screen-name.