The
Summit

Monthly newsletter of MountainViews.ie for guestuser

January 2012
NEWS - INFORMATION - RECENT CONTRIBUTIONS - FEATURES - FORUMS
Upcoming: MOUNTAINVIEWS - WALKERS ASSOCIATION - and MORE



Last chance to participate in the MountainViews survey!

Dear MountainViews members.
MountainViews.ie has been in operation for almost 10 years, providing information and images on Ireland's hills and mountains. Now we wish to hear from you, our members, so that we can develop and improve the site. We have designed a short, simple survey to enable us to better understand the interest our members have in MountainViews.ie. We also hope to learn what new services we should develop, and what existing areas need improvement. Whether you are a long-term member or a newcomer we value all opinions and suggestions. Please take a few minutes to follow the link below and participate in the survey. Your voice will be heard and you will play a part in the future development of MountainViews.ie. We have had a fantastic response so far and we have received loads of useful suggestions and comments. If you haven't already done so, we invite you to follow the link below and make your voice heard. We look forward to your contribution!

https://www.surveymonkey.com/s/ZLH5VV3

-- The secretary, MountainViews




WAI events in 2011/2012 - Winter Talks Series

Full details here: www.walkersassociation.ie
Weds, 25th Jan 2012,Hillwalkers Quiz in association with the Wayfarers Association
The ever popular annual pub quiz as hosted by the WAI and the Wayfarers Association takes place in the Landsdowne Hotel, Dublin on Wednesday 25th January 2012. All welcome. Proceeds to Mountain Rescue. Click for more
Friday, 17th Feb 2012, Presentation from MountainViews. This will include a number of short talks from members. Guest speaker Éanna ní Lamhna well known broadcaster on RTE, who will be talking about flora and fauna in the Irish hills. Recently Éanna completed the Irish county highpoints - while most of these are airy, exciting peaks some are pretty low lying and a spot of nature watching would make trips to them more interesting. There will be a presentation "Social GPS" on new MV walk-sharing with GPS from simon3, presentations by MV's secretary and leading Northern contributor Harry Goodman and the annual awards ceremony for summiteers / contributors.
Weds, 21st Mar 2012, Completing the Munros Recent compleater and former WAI chairperson, Anne Morrissey will speak about the experience. (The date for this event is still subject to change.)
Sat, 21st April 2012. WAI Photography Day This is a hiqh quality but inexpensive introduction to hill photography organised in the Brockagh Centre, Glendalough. Booking is not yet open so this is advance warning only.
Full details here: www.walkersassociation.ie

The WAI tell us that if you are interested in hosting such an event outside of Dublin, do get in touch at http://www.walkersassociation.ie/contact

WAI Photo Gallery - They would like you to upload some of your pictures (Ireland or abroad) to this?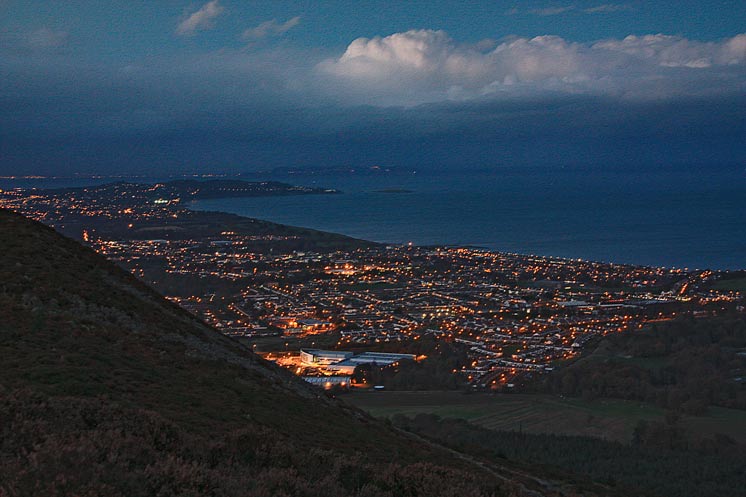 Taken on a chilly night, the streetlights pick out the roads and buildings illustrating just how many people live and work in Bray, and near the Little Sugar Loaf.
Exposure .5s, f/8, iso800. If you fancy taking something like this, bring a tripod. Even with the tripod (weighed down with a rucksack) expose on a timer and keep the exposure time low because wind tends to cause sway. Manual focus set to infinity will also probably serve you better than autofocus which may well struggle.
Regions: MOUNTAIN COMMENTS - TRIP REPORTS - SUMMARIES
In short: Discovery
SOUTH: A stroll in Cork's little-explored Nagles mountains.
Mountainviews welcomes new member thomas_g who provides the lowdown on one of Cork's lesser-trodden areas.

thomas_g on Corran: Nice walk to stretch the legs, dull summit.
There is good access to this summit from a reasonable marked loop walk starting at the graveyard south of Killavullen. Following the marked trail is 13.6km (about 2.5hrs), but you can take a more direct route if you want. The best way to the summit is via the road up to the masts, go around behind the fence at the highest mast and duck through the tree to the mossy summit mound, pretty dull and un ... Click here


SOUTH: Standing stones and a reek of rocks.
Knockshanhullion in the Knockmealdowns is adorned by a giant stone mound, standing stones, small 'dolmen' type structure and lots and lots of rocks, as member jackill explains.
group on Knockshanahullion: Standing stones and a reek of rocks
Start at R 983 089 where there is a decent carpark . Cross the tarred road at the carpark and you will see a track leading east across the bog which leads you onto the main Avondhu way track, You can also turn north on the tarred road and walk 200 meters to where the Avondhu way crosses the road. Once on this rocky way follow it uphill for approx 2 kms until you gain a plateau at 600 mtrs eleva ... Click here


WEST: The true Top of Roscommon !
Our member pinpoints the county highpoint with a little bit of investigative work.

Harry Goodman on Seltannasaggart SE Slope: The true Top of Roscommon !
I have read Gribster's comment with great interest. When I visited the SE Slope in June 2008 I used OSNI Sheet 26 (B Edition 2001) which placed the high point on the County Boundary as G9040019550 and not G903 196, the then listed MV co-ordinates. This said the MV reference conveniently placed the high point at a track junction some 100m NW of my reading. As I was walking part of the Miner's Way ... Click here


WEST: Running up that hill
Never mind the walkers, Gortnageragh Hill in the Shannon area is just as popular with runners, as member jackill discovered.

group on Gortnageragh: Running up that hill
Park your car at the forest entrance R87571 52878, room for 5 cars. Walk west along a forest track which narrows and enters more dense forest as it turns sharply south at approx. R85453 52650. The trig pillar is over a low wire fence in a field next to the telcoms mast on the forset edge. This track seems popular with runners as no less than 3 set off at the same time as me. Click here


NORTH: A majestic viewing platform for the Donegal Highlands
A new short summary for the magnificent Aghla More in the Derryveagh Mountains

group on Aghla More: A majestic viewing platform for the Donegal Highlands.
Direct ascents of this mountain can be made from either the S or N. Route 1 (South). Park off road at B953 205 on the R251. Follow a rough track NNW up the hillside for 1k across the E shoulder of Beaghy before dropping down NE by a winding track for 2k to Altan Tower at the SE end of Altan Lough B954 226. Go NNE around and above the Lough Shore to B955 231 before going steeply N up the hillside, ... Click here


NORTH: A "busy" hilltop.
Member Harry is kept busy trying to locate the summit among the countless humps and hollows of Crocknalaragagh Hill, but is rewarded with a stunning vista over Donegal.

group on Na Leargacha: A "busy" hilltop.
Park at Muckish Gap B998 269. Climb up the steep enbankment NW and then follow up along the forest edge (on left) for some 600m to Pt 384 B995 264 Continue further along for another 500m to Pt. 431 B992 261 where a change of direction to due W (right) is necessary to gain the high point about 2k from the start. The top of this hill is quite expansive and "busy" with many humps and hallows all abo ... Click here


EAST: Moats on high?
Our intrepid map publishing member has been researching Mount Leinster, East Top.
barryd on Mount Leinster East Top: Moats of Craan
This area is called 'The Moats of Craan' - from the various tors on this part of the ridge. There's an interesting area some way NNE of this, down the mountainside. It's the makings of a small coum and in fact there are two or three depressions, the largest of which is about 2-3 metres deep with streams running into it in winter. However the base seems to be rocky under the sedge and bog and the w ... Click here


Sorry if we didn't mention what you posted .. there's a list of all contributors for the month later.
FURTHER NEWS
Political, satirical with a picture of a former dear leader thrown in.
But can you spot the hillwalking angle?

CaptainVertigo on Rescuing The Undeserving Poor
An extract from the Final Report of the Reparations Committee of the German Parliament ("Lost in Eireann" Section), December 2011. "Fruenden. I wish to report on the repayment requirement of Ms. Eire who lately lost her way during a sudden change of weather and whose rescue has cost Germany One Hundred Million Euro. The aggravating factors are many. Ms. Eire allowed herself to be led by unqualif ... Click here


CNOC-LIT: Old Nick on Devilsbit
Another contribution, poetic this time, more or less defying any attempt to categorise.

jackill on Old Nick
Coming off Devilsbit mountain yesterday I met this solitary gent, he gave me the evil eye and did not move as I passed. "The crooked paths go every way Upon the hill - they wind about Through the heather in and out, And there the goats, day after day Stray in sunny quietness, Cropping here and cropping there, As they pause and turn and pass, Now a bit of heather spray, Now a mou ... Click here


Shuffling over Scotland.
So far, this winter in Ireland has not followed the less common wintery path it did last year. But this pic of the Cairngorms shows business as usual in Scotland. Our thanks to our steady contributor from those parts.

weedavie on Snow Shoe Shuffle
Last year I took advice from kernowclimber and bought a pair of MSR Lightning Ascent snowshoes (made in Ireland!). This was really because of the tons of powder that had fallen on my local hills and had at its most extreme resulted in a 10k traverse with 200 metre ascent taking 6 hours. Anyway I thought I'd just leave a note on the results for anyone similarly inclined.

On the positive ... Click here


ILLEGAL BUT FUN?: Achill-henge
Anyone got any pictures of it?
Conor74 on Hmmmmm, Achill-henge?
Not sure I'd have much in the line of support for Mr. MacNamara. He has spent a lot of money on it. Now that would be all fine and dandy, except this man owes Anglo/the Irish taxpayer millions and has a lot of debts that I guess will ultimately be paid by others, so not sure where he gets his money for his fun and games. I guess the ratepayers will pick up the tab for the legal bills racked ... Click here


NANNY WORKS - the "Jeremy Clarkson of MV"? speaks out


Bleck Cra on ANOTHER ERECTION IN THE MOURNES
Nanny has built a bridge over the Glen Fofanny River where it meets the Midpace on the Bloody Bridge track.. She believes that we are not fit to cross it unaided, despite us having done so for millennia. When I write "River", let me explain. In the North, we have only a handful of what are usually called "rivers": the Rivers Bann, the River Lagan, the Blackwater – and I have probably forgotten so ... Click here



SITE NEWS

MountainViews track sharing system.
MountainViews has been working on a means by which members can view where other people have found walks. The initial release will be made in time for the MV/WAI meet (17th Feb 2012) although there is a test version which you are welcome to try (contact admin@mountainviews.ie about that).

Half a dozen members have been putting assorted tracks into the system. Some of these have extensive descriptions, some contain just the basic track. Both are useful to other members whether or not you have a GPS.
A new feature has been added to the system over the last month. When you upload a track, the system automatically states which summits you have been near. It now also allows you to tick off which you actually reached in your summits reached log.
SUMMITEERS CORNER
A place for those interested in Summiteering, Bagging or Highpointing.
Demotion of a Munro?
British newsgroup rhb@yahoogroups.co.uk had the following piece recently:

As many will know we surveyed Beinn a'Chlaidheimh earlier this year. The OS took our Leica 530 GPS data file and processed it through their software and came up with a new height of 913.96m which is below 914.4 (3000.0 feet).This new height, rounded to the nearest metre and hence 914m, has now been published on the 1:25000 version of Get a Map. The OS have told us that this will now be rolled through to their other products. The new height has not yet appeared on Streetmap but this organisation is much slower in making changes as I guess it buys the maps from the OS as required.

John Barnard

Comment Could this happen in Ireland to say summits in the Vandeleur-Lynam or Arderins lists? Well yes it could. Lists these days are based on measurable quantities such as height and prominence so it is always possible that later measurement of a summit will find an error. MountainViews intends over the years to examine some of the borderline cases with modern surveying equipment. Anyone interested in such issues should contact projects@mountainviews.ie


This month.
Kudos to our contributors.
We welcome the following new members who enrolled this month. 1337Jerry, alandela, Alebrabar, Anneodwyer, arrowpoint, bakerdev, BeaverHever, benneca1, bert_head, bjack, blue-eagle, Bolko, bsheils, Buckz, burrenvet, Caspar, CassBag, ciaranfanning, cliffhanger, Davek, Davemcm, davyarrenty, db81146, decjd, dmullarkey, donagh1973, Donna, droginexile, emicfin, Enniscorthy, gardenfly, Garmin, gbar, Geocacher, gjs, hart, Hegeebegee, hiitsme, hughdelap, jackieo, jamesh966, jeanmcg, jhanley, JohnKeogh, joyce66, julinne, kieronnolan, lesslost2, limerickpaolo, lukieb, mariokakien, mgs, muddyboots, nickod, olwillnoreen, oscar, osmium76th, owenmcwc, paul-kidd, peterdaly, pgmurphy50, platofunkycat, plodder2, polomurchu, Rocman, rpn00, RuthC, SFlaherty, Shaneirenz, shirleyredding, Shuttle, Sikeintuill, Silverado, silvermines, skyripple, sleaveen, someguy, stevenfclong, stina, stonesy, thatguy, theekanne, thomas_g, Tisbury, toblerone, tomro, tonyff, Tran, vbz4277, vikingr365, VillarrealBeulah, Voibuhbloor, whitehorsepoint, wil (94)

Our contributors to all threads this month: AdrianneB (2), Bleck Cra (6), CaptainVertigo (3), Conor74 (9), Dessie1 (1), Gribster (1), Harry Goodman (2), Mulciber (1), Pazapas (1), aidand (1), barryd (1), brenno (2), gladcelt (1), grodgers (1), Communal summary entries (28), jackill (9), sandman (1), simon3 (2), thomas_g (1), weedavie (1), wicklore (2)
For a fuller list view Community | Recent Contributors

There were comments on the following summits Caherbarnagh, Cnoc na Toinne, Corran, Cullaun, Gortnageragh, Knockanora, Maulin, Mount Leinster East Top, Seltannasaggart SE Slope, Tooreen and these walks were created (none in period)

Thanks to all 955 who have ever contributed summits or routes info and forums.

For a full list view Community | Contributors Hall of Fame

Summary. MountainViews now has 5535 comments about 980 different hills & mountains out of the total in our current full list (1056). We need more comments, better comments and more balance for every summit as our rate for "data completion" now that the 150m summits have been added is currently around 49% There's plenty (76) of opportunities for you to be the first to comment on a summit. Listing summits in "Lists & Logs" (tick MV completion information) allows you to see what information we need to get more even coverage.
NOTICES
Notices
If you are contributing, please be careful to respect the interests of landowners. Suggest access routes well away from houses, gardens or that could conceivably impact farming activities. When walking, keep away from gardens or farm buildings. Use stiles or gates wherever possible. Never do anything that could allow animals to roam where the farmer did not intend.
If you hear of a problem area or route, write it up in MountainViews which does everyone a service.
Report rubbish tipping in the Dublin/ Wicklow area - ring PURE 1850 365 121
Report quads in national park area (in which they are banned). For Wicklow please phone the Duty Ranger: 087-9803899 or the office during office hours Telephone: +353-404-45800. Put these numbers in your phone, take regs etc. Let MV know of contact numbers for other areas.
If you have climbed some of the less well known places, we would appreciate a summit rating.We could use your help in making ratings for the unrated mountains which you have climbed, such as: Maumfin, Inis na Bró, Knockaghaleague, Bunmore, Knocknascollop NW Top, Cruach Leac Chonaill, Lettertrask, Coolsnaghtig, Cashloura, An Bheann Mhór and some 14 others. and also GPS readings for summits.
If we can, let's make MV have more than one route up a summit so as to reduce the tendency for paths to appear. Your grid refs in comments for different starting points show up on MountainViews maps.
MountainViews are on Twitter as MountainViewsIE. Follow us and we will follow you back. Any queries to secretary@mountainviews.ie
This newsletter
This newsletter
Editor: Simon Stewart Homepage: www.simonstewart.ie
Assistant editor: Colin Murphy
Graphics design advice: madfrankie
Newsletter archive.
View previous newsletters mountainviews.ie/newsletter
RETURNING TO MOUNTAIN VIEWS
Click on (If you have cookies on in your browser then you will be prompted as to username/ password. If you forget the password, the login page can email you a replacement.)

UNSUBSCRIBING
If you don't want to receive any further monthly newsletters from Mountain Views click on Settings. Then change the option beside "Include on occasional mailing list" to "Do not include". Then click the "Save" button.
Alternatively let us know by email at admin@mountainviews.ie Include the email address you got this at or your screen-name.