Having trouble reading this? View it in your browser.
The
Summit

Monthly newsletter of MountainViews.ie for guestuser

August 2011
NEWS - INFORMATION - RECENT CONTRIBUTIONS - FEATURES - FORUMS
Upcoming: MOUNTAINVIEWS - WALKERS ASSOCIATION - and MORE
MountainViews Mournes Meet: SCAVENGERSHEAVEN
MountainViews members organise occasional meets in different parts of Ireland, the next one being in the Mournes on 27th Aug. Having been at a previous two in the Mournes I can heartily recommend! Read all about it here:

Bleck Cra on SCAVENGER WALK 7 MOURNES
Scavenger Walk 7 "ScavviesHeaven" Mourne Mountains Co Down Sat August 27th 2011 EVERYONE WELCOME - FREE NO CHARGE GRATIS Plan and times (ALL TBC) 9am sharp Carricklittle Carpark Park on road if full. Grid Ref: 345220 (Kilkeel Road from Newcastle – Newcastle Road from Kilkeel) To Quarter Road at Petrol Station. 374211 Follow Quarter Road through 90 degree left, over Dunnywater Bri ... Click here


Irish Challenge Walk Information 2011 from The Walkers Association.
http://www.walkersassociation.ie/challenge/walk/calendar Further WAI events in 2011/2012 - Winter Talks Series
The Walkers Association are planning a further talk series in the Dublin area for winter 2011/2012 which now have tentative dates.
Weds 26th Oct. Talk by East-West Mapping in connection with their maps for hillwalkers.
Weds 23rd November: Denis O'Connor: Talk on walking in Slovenia.
If you are interested in contributing or (hosting such an event outside of Dublin), do get in touch at http://www.walkersassociation.ie/contact

WAI Photo Gallery - why not upload some of your pictures (Ireland or abroad) to this?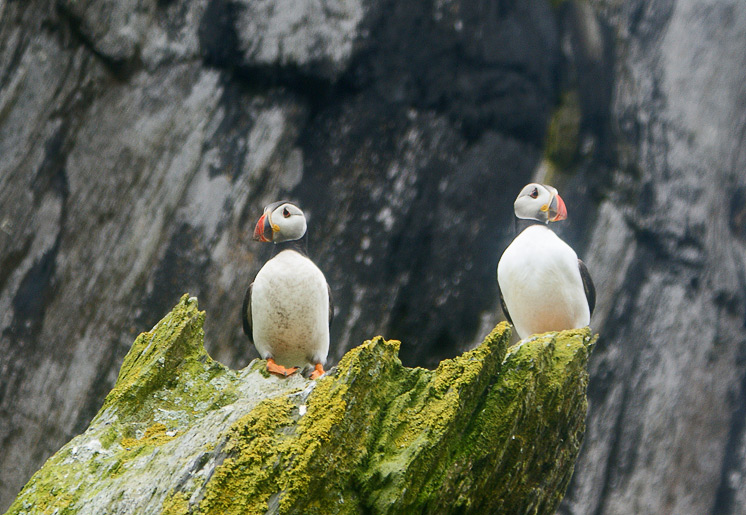 Puffin Island is off the coast of Kerry (Iveragh Peninisula). This picture courtesy member Peter Walker who visited the island with the recent MountainViews trip. Fuller report with links below.More information with tiff news.

Regions: MOUNTAIN COMMENTS - TRIP REPORTS - SUMMARIES
SOUTH: MountainViews - a trip for discovery and sharing.
Puffin' their way up Kerry's unexplored island tops…. A Mountainviews 'expedition' to bag two previous unconquered (at least by MV members!) island tops off the Kerry coast proved a resounding success, as our seven intrepid mariners/mountaineers braved the chilly Atlantic waters and then scaled the towering pinnacles of Puffin and Scarrif Islands. One can judge the immense satisfaction the trip provided by the fact that previously neither island had rated a single comment and each now suddenly has at least four! You can begin your own exploration of what these wonderful, but relatively inaccessible island tops have to offer right here…(clickable links to each page).
This Puffin comment was from wicklore (Secretary of MV), but in truth there were a number also of great quality.

wicklore on Puffin Island: Peering behind the veil of mystery
This island lies only a few hundred metres off the Kerry coast, yet is virtually inaccessible to the casual visitor. There are a few reasons why this island remains so elusive, and as a result, so mysterious.
It is owned by Birdwatch Ireland (B.I), and they have a vested interest in protecting the colonies of precious seabirds that reside there, including the comical puffins and rare choughs ... Click here

There's a similar dilemma for Scarriff Island. Pillaged convents, drowned nuns, shipwrecks - Kerry's Scarriff Island has seen it all, as reported by Conor 74.
Conor74 on Scarriff Island: The violent history
Richard Mersey, in his "Hills of Cork and Kerry" refers to an event in medieval times involving John Arundel, Knight of Cornwall (not sure that title is accurate) who pillaged a convent in England, sailed to Ireland where he threw the nuns overboard to lighten the ship during a storm, and who landed on this island only to be dragged off it and to his death by a wave. There is no indication as to ... Click here


SOUTH: The king's resting place in the Ballyhouras
While these mountains are not among the most visited by MV members, they are definitely worthy of a visit, as local willfogarty explains in his comment on Slievereagh Hill.

willfogarty on Slievereagh: the kings resting place
this is my mountain, i have lived in its shadow most of my life and consider it a friend. i have to agree with jackill, the telephone mast does spoil the view. it is said in local folklore that a king is buried on the pinnicale ( Sliabh Ri ?) there is a visitors book hidden in an tin, you can find it by looking towards the galtees and walking farward, you step down on to a rock ledge and the tin ... Click here


WEST: Tramway to the top…
Naweeloge Top in the Dartry Hills is explored via the ruins of the old Tramway, as explained by paddyhillsbagger and sandman
sandman on Naweeloge Top: The Last Tram
Travelling back home having climbed Leean Mountain it was such a beautiful evening I decided to revisit Naweeloge Top. Started at H02172 33464 follow main farm track passing through 3 gates arriving at turf cuttings continue till you meet fence, follow fence to base of rock face. At the end of fence turn right along old constructed path (long overgrown), through rusted gate to point H00558 33356 ... Click here


EAST: Prolific contributor, returns with a vengeance!
Welcome back.

Harry Goodman on Monabrack: A real sting in the tail.
Climbed Monabrack on 10 10 10 as the fifth and final top of a circuit that also included Temple Hill, Knockaterrif Beg, Lyracappul and Carrignabinnia (For previous part of the route see my comments on Carrignabinnia). On leaving Carrignabinnia R8500023700 we went SE across a broad flat moorland and crossed over a wall. As we started to descend a spur, heading for Monabrack, our direction change ... Click here


SOUTH: Caherbarnagh and surrounding: access difficulty
MountainViews is interested if any walkers have walkarounds (alternative access methods) for Caherbarnagh especially as it's one of the Vandeleur-Lynam list.
redape99 on Caherbarnagh: Access Problems?
Went walking here on 31/7/11 but encountered a very angry local farmer on the way down from Stoukeen. First of all found that the track to Gortavehy Lake has a sign saying "No unauthorised access" so looked at the map and the track starting at 236 879 up to Curracahill and Stoukeen looked promising so chose that way. After an hour and a half came across another sign on a gate right under the cairn ... Click here


NORTH: Small ridge with big views
At just 192 metres, Edenacarnan in Donegal NW may not be the greatest challenge, but what it lacks in height it more than makes up in panoramic views, as slemish explains.

slemish on Edenacarnan: small ridge with big views
This curious little ridge in Donegal seems to suffer from an identity crisis. MountainViews calls it Edenacarnan, Google Maps calls it Cloghroe whilst another map site calls it Legnahoory. Whatever the correct name is, this is a great little hill with fine views in all directions. I turned off the N56 between Kilmacrenan and Letterkenny onto a minor road signposted Cashelgay. Follow this road for ... Click here


NORTH: A worthwhile short walk in Inishowen
Eskaheen Mountain proves a relatively easy climb for Harry Goodman, but where's that pesky summit?

Harry Goodman on Eskaheen Mountain: A worthwhile short walk, go and enjoy!
I walked up Eskaheen Mt. on Monday 4 July 2011 during a day spend visting a number of the smaller tops on Inishowen. I parked opposite an old disused quarry entrance at C4298627692 and walked up the short track, more or less due N, and then up and around the quarry heading for the ridge and the lower top of Garranbane. When I reached a fence C4323128419 I turned right and followed it NE in the ... Click here


Sorry if we didn't mention what you posted .. there's a list of all contributors for the month later.
FURTHER NEWS
Theory of long distance views.
Geographer member provides the technical lowdown on just how far one can see from Ireland's high places…weather permitting of course.
mcrtchly on Distant views
An approximate distance to Earth's horizon can be calculated by the formula: Distance = 3.86 SQRT (Height of observer). For a 800m peak this gives a maximum view to the horizon of about 109Km. However, you also need to take account of the height of the 'target'. The calculation above gives the range of the view to sea level at the horizon. You can also use the formula to take account of the he ... Click here


Good offer at Lidl.
Challenge Walkers, take note.
simon3 on Challenge Walkers: Lidl offer.
I happened to be in my local Lidl and i noticed they were selling heart rate monitors. After years of doing challenge walks up and down Ireland (oh ok, not so many recently) I started listening to those sports professionals that believe that heart rate management is critical. Critical that is to both training and effort management on the day. For the last times that I did the 'Turks I found ... Click here


Try the Dolomites for a contrast to Irish hillwalking.

simon3 on Sella Shape - Dolomites
The Dolomites are part of the Alps in North Eastern Italy, near the border with Austria. It's an opportunity for great walking though some aspects are very different from Ireland. For a start, this area is popular with large numbers of people on many of the routes (though not all). It's highly developed with well defined and numbered tracks and good though not perfect maps. It is possible to s ... Click here


The first appearance of the Liffey, Dublin's main river.
If you like a story, take a look at this beautifully written piece.


wicklore on The Military Road: The infant River Liffey
The Military Road runs through the heart of the Dublin/Wicklow Mountains from Rathfarnham in South Dublin to Aughavannagh in deepest Wicklow. The road is 55kms long, and it was constructed between 1800 and 1809 in the wake of the 1798 Rebellion. It was designed to open up the wild Wicklow Mountains to the British Army to assist them in reaching the insurgents who were hiding there. A number of mil ... Click here


New, MI owned hillwalking website
Take a look. It's at www.hillwalking.ie


Review of "From High Places" by Adrian Hendroff
(review written by Simon Stewart)

Perhaps I should declare my own background in this. Besides being publisher of MountainViews I write as someone who like a number of my friends has extensively explored and photographed the Irish uplands. On a few occasions I have visited them with Adrian most notably when his MV count of summits visited reached 500 on one of the outliers of Moylussa. And of course I knew the late Joss Lynam since the early 70's, introducing him and Adrian not so long ago.

The book fills a useful space in that part of the information spectrum still provided by books. There have been guidebooks for walkers and coffee table books for the general public before. This however is the most comprehensive and ambitious exposition of the Irish uplands intended for a general audience. It is extremely valuable to highlight the highlands in a country for which by far the biggest active pastime is walking. Rather than concentrating on a few honeypots this book explores a wide range of places. As anyone using MV will know, there's over 60 mountain areas on the island of Ireland – the more publicised, the better the connection to potential users.

The book is structured in five sections, three of which are different parts of the West. I would commend this as an accurate and realistic breakdown of the most interesting "High Places." In my view the text of the book is intended not for the author's peers but for a more general audience. Its repeated first person trip reports mixed with a varied selection of miscellaneous and often unconnected information didn't appeal to me. But then it wasn't written for me so I shall say no more.

Mountain photography is hard in Ireland. The common amount of particles of water droplets and plant emanations in the dense low atmosphere often lead to a landscape view drained of colour with a short hazy-blue horizon. Reaching higher, clearer vantage points is not necessarily at all easy and hard to time for good viewing conditions. Nevertheless the book contains a great selection of upland viewpoints. Most would be familiar to MV users (given the 4000 contributed pictures) such as for example the magnificent underrated view west of An Bhinn Láir with its two lakes. Nevertheless there are some novel angles and it's nice to see them in print. Correct me if I am wrong, but I don't remember seeing the view from Slievenagower previously (p209) or the one of Slieve League (p70) instead of the usual done to death angle.

While many of the pictures are excellent, in my view future editions of this book would benefit from less post-processing for some. For example the image of Benwiskin (p56) has a selection halo along the skyline and, in my view, an unrealistic colouring for the hillside. My constructive suggestions would include the use of the standard digital filters (grad ND and polarising) which can often counteract excessive contrast and blue haze without resorting to post-processing. Post-processing should avoid heavy manipulation using selection. I wonder also about the publisher's choice of paper and whether glossier might have been better to improve contrast in some of the darker areas.

The somewhat retrospective foreword from Joss Lynam contains his usual warm appreciation of the mountains of Ireland, particularly Connemara and Mayo (many of which I had the pleasure of visiting with him in the '70s and '80s). Joss also mentions in passing the origins of the 600m list (nowadays and for some years called the Vandeleur-Lynam list): "Then along came the 1:50,000 maps with heights in metres and a 10m contour interval. It seemed sensible to change the list to 600m instead of 609.6m, the exact equivalent of 2,000ft.".

Bibliography and references. While MountainViews and indeed myself are credited in the text, I was disappointed to see no mention of MountainViews (which contains over 750,000 words in over 5000 comments on Irish mountains) in the Bibliography. Bibliographies of printed materials about Irish uplands have tended to omit web resources – perhaps a future edition of this book could rectify this.

Let's end on a positive note. This is an ambitious extensive book. Why not give it to your young nephew or niece or your friend from abroad. For experienced hillwalkers the pictures can be evocative. It could inspire many a walker to try hillwalking and the general public to value Ireland's unique upland landscape.



SUMMITEERS CORNER
A place for those interested in Summiteering, Bagging or Highpointing.
Amending summit positions?
In the last couple of years about 30 members have contributed around 1000 summit position measurements. It's a basic thing we need to do to get our lists in shape: find out exactly where the summits are! Two members have started using the handly little device for getting the position when it isn't so obvious.

simon3 on Finding the top of flattish summit.
Many of us have sent in readings for the position of tops. It's an MV project that is going really well. However sometimes you may find it's really tricky to find the actual top when it's one of those flattish sometimes boggy places. There's rival tops and the rivals can be some tens or even hundreds of metres apart. As mentioned before by our Projects Officer (jackill) you can use an Abney ... Click here



This month.
We welcome the following new members who enrolled this month. africates, agardiner22, aidanbarry, aidanmcg, alice, allida, alpal, an-Gael, angael, AnitaMasterson, ardteist, artajot, Asho-and-Dave, awatlydaumma, Bawnie, benny39, blowfly, bourkepaddy, bourkeppaddy, brendanmv, brianomalley, burnyoca, Cathimac, chainfo, Chris-Melinda, chrisgirvan, claireh, cliffw, conor1, cormacb14, Croob, Cueatima, Daniel1985, davedevine10, david1963, dbwoods, Deige, Derek1, derkelly274, doire98, Donalmcc, duke886, EarthwormJimbo, eclarewalkingclub, eggmadra, endamalone, epjac, EruditeCelt, eugo, evanis, fionaduffy, flipper79, fourme, fungus, gaareferee, galwayray, gerard16, gerelliott, Gerryor, gggt, gloria, Gobansaor747, gwales, harris, harveythompson, hberg, heini, hotrock101, hpdsouth, HunterKincaid, imcmahonlfc, Imelda, janeiona, Jardis, jellytot7, jennaam777, jennifermatthews, jlynch82, joemountain, Johnathan, johncurley1, johnhudson, jossepet, justin4tea, katherine34, kevinmorrisroe, kforbes, kieran_durkin, knockfaddafarm, ldasec, LennyJ1, les4m, loughnavar, marbro2, marketing, marlafferty, maryhayescorby, mcmichael, meabs, MelanieDee, michaelp92, mirable, Mountaineer10, muhozol, nfeeney, Niall007, Noe1, Oisn, Onzy, Ormond, padstowe, pob, prole, Protector, puffins-petrels, pvmanda, RachelHowley, renjosh2, roamerplain, robbo61, Rosco, rwhurst, ryancolm, SamEzra, sbinfo, seancotter001, seaninkelly, senormorales, she8NidY, shinead, sibhlola, sinx11, sjk, Skyebabyisback, slievekirk, Solyad, Spastafarian, suellen, sylviadavis, tara_douglas, tattvadarshin, tigduh11, tjlinnane, tomasharpur, tomfitzrugger, ToR, tukker, wastingmytime, weekendwalkers, willh, williammurphy123, wjd, Zampano (153)
Our contributors to all threads this month: Asho-and-Dave (3), Bleck Cra (9), ChristinaWalking (1), Colin Murphy (2), Conor74 (5), Dessie1 (1), Geansai (3), Geo (1), Gerryor (1), Harry Goodman (22), Moac (1), Peter Walker (3), Skyebabyisback (1), Vivianphilips1 (1), aidand (1), arthur (1), bandre (1), csd (1), dhmiriam (1), dmcdevitt (2), eric (2), Communal summary entries (16), hbowman1 (3), jackill (4), jlk (1), kernowclimber (1), maclimber (1), mcrtchly (6), millsd1 (1), milo (1), paddyhillsbagger (3), sandman (1), simon3 (6), slemish (10), the_wanderer (2), wicklore (8), willfogarty (1) and Contributors to GPS information this month were: Geo (6), jackill (2), mcrtchly (2), sandman (1), simon3 (1)

For a fuller list view Community | Recent Contributors
There were comments on the following summits An Bhinn Dubh, Balix Hill, Baurtregaum, Benbrack NE Top, Benwiskin, Bruse Hill, Butter Mountain, Camlough Mountain, Carrignabinnia, Coumfea, Coumfea North Top, Coumfea West Top, Croaghmoyle, Crockaulin, Croslieve, Donald's Hill, Edenacarnan, Errigal, Eskaheen Mountain, Galtybeg, Galtymore, Glinsk, Grinlieve, Keeper Hill, Knockastakeen, Knockaterriff Beg, Knockfune, Knocklettercuss, Knockmore, Laghtnafrankee, Lyracappul, Monabrack, Mongorry Hill, Mullaghclogher, Musherabeg, Naweeloge Top, Puffin Island, Saggartnadooish E Top, Scarriff Island, Sliabh an tSratha Greadaithe, Slieve Anierin, Slievecallan, Slievereagh, Tawnaghmore, Temple Hill, The Big Gun, The Playbank, Tievereivagh, Trooperstown Hill, Two Rock Mountain and these walks were created (none in period)

Thanks to all 927 who have ever contributed summits or routes info and forums. .

For a full list view Community | Contributors Hall of Fame
Summary. MountainViews now has 5293 comments about 961 different hills & mountains out of the total in our current full list (1056). We need more comments, better comments and more balance for every summit as our rate for "data completion" now that the 150m summits have been added is currently only around 46% There's plenty (95) of opportunities for you to be the first to comment on a summit. Listing summits in "Lists & Logs" (tick MV completion information) allows you to see what information we need to get more even coverage.
Notices
If you are contributing, please be careful to respect the interests of landowners. Suggest access routes well away from houses, gardens or that could conceivably impact farming activities. When walking, keep away from gardens or farm buildings. Use stiles or gates wherever possible. Never do anything that could allow animals to roam where the farmer did not intend.
If you hear of a problem area or route, write it up in MountainViews which does everyone a service.
Report rubbish tipping in the Dublin/ Wicklow area - ring PURE 1850 365 121
Report quads in national park area (in which they are banned). For Wicklow please phone the Duty Ranger: 087-9803899 or the office during office hours Telephone: +353-404-45800. Put these numbers in your phone, take regs etc. Let MV know of contact numbers for other areas.
If you have climbed some of the less well known places, we would appreciate a summit rating.We could use your help in making ratings for the unrated mountains which you have climbed, such as: Maumfin, Inis na Bró, Knockaghaleague, Bunmore, Knocknascollop NW Top, Cruach Leac Chonaill, Lettertrask, Coolsnaghtig, Cashloura, An Bheann Mhór and some 16 others. and also GPS readings for summits.
If we can, let's make MV have more than one route up a summit so as to reduce the tendency for paths to appear. Your grid refs in comments for different starting points show up on MountainViews maps.
This newsletter
Editor: Simon Stewart Homepage: www.simonstewart.ie
Assistant editor: Colin Murphy
Graphics design advice: madfrankie
Newsletter archive.
View previous newsletters mountainviews.ie/newsletter
RETURNING TO MOUNTAIN VIEWS
Click on http://mountainviews.ie (If you have cookies on in your browser then you will be prompted as to username/ password. If you forget the password, the login page can email you a replacement.)

UNSUBSCRIBING
If you don't want to receive any further monthly newsletters from Mountain Views click on Settings. Then change the option beside "Include on occasional mailing list" to "Do not include". Then click the "Save" button.
Alternatively let us know by email at admin@mountainviews.ie Include the email address you got this at or your screen-name.