MountainViews, Walkers Association of Ireland
and other groups.
MountainViews Mournes Meet: SCAVENGERSHEAVEN
MountainViews members organise occasional meets in different parts of Ireland, the next one being in the Mournes probably on 27th Aug. Having been at a previous two in the Mournes I can heartily recommend! Read all about it here:

Bleck Cra on SCAVENGERSHEAVEN
Scavenger Walk 7, Mourne Mountains, Co Down – looks like Saturday August 27th. For all hardened Scavvies, we know the format: Walk, eat, drink, revel – and hate going home. For would-be Scavvies of whom we hope there are many, a brief brief: Scavenger Walks – nothing to do with picking up rubbish or eating dead hillwalkers – simply named after founders, mountainviewers the charming Jackill and ... Click here

Irish Challenge Walk Information 2011 from The Walkers Association.
http://www.walkersassociation.ie/challenge/walk/calendar
Further WAI events in 2011/2012 - Winter Talks Series
The Walkers Association are planning a further talk series in the Dublin area for winter 2011/2012 which now have tentative dates.
Weds 26th Oct. Talk by East-West Mapping in connection with their maps for hillwalkers.
Weds 23rd November: Denis O'Connor: Talk on walking in Slovenia.
If you are interested in contributing or (hosting such an event outside of Dublin), do get in touch at http://www.walkersassociation.ie/contact
Mountain Meitheal
"Our next work day will be Saturday 09th July 2011 in Knockree (Dublin/ Wicklow Mtns). If you are a regular volunteer we are looking forward to seeing you out again. If you have recently joined our mailing list why not come along and give it a try? We will be working on the Wicklow Way at Knockree Co Wicklow repairing a section of trail which is seriously eroded." More info
WAI Photo Gallery - why not upload some of your pictures (Ireland or abroad) to this?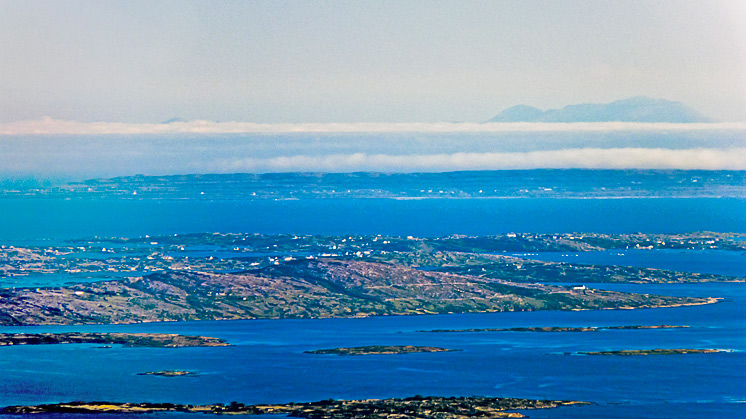 The Brandon Group from the Maamturks. It's 147km between the highest points of these ranges. It's common to see little more than 50m from points in either so this picture from member mcritchly is highly unusual. Coastline is south Connemara, middle ground islands: Aran. More information

Recent Contributions and News
The summit of Dublin hillwalking
Visible from many parts of the city, Kippure provides easy access from all points of the compass, as a new short summary explains.

group on Kippure: All points of the Compass
Kippure is the highest and most southerly summit in Dublin. It is crowned by a 110 metre high transmitter, and is approachable from all points of the compass. It can be walked on its own or as a route combining several other local summits. Most routes involve heavy, open bog, while one approach makes use of a gated access road. The summit is urbanised and ugly, but the views on a good day are expa ... Click here

Cnoc-lit: Galloway-come-Belfast bastard brogue
One of our resident wordsmiths put fingers to keyboard for a musing on Protestantism, Meall Garbh, Moneygall and much else. What is the connection? Well you'll want to read the whole piece to find out.

Bleck Cra on THE WILD FRONTIER
I have a customer in the North. She would be described by enlightened Northern Catholics as a "Protestant Lady", by others as one of "them'uns" and by Protestants of a different hue as a "Wee P". A Presbyterian. Her views on Ireland are educated, erudite, informed and outrageous. One getting a blustery airing at the moment comes from the wardrobe of widows' weeds she wears in mourning for the deat ... Click here

And, should you like his piece, there's another on the supreme value of local walking versus abroad. In a website devoted to Irish mountains we won't be forgetting the value of our mountains, however many Irish walkers do visit Chamonix and more. And why not talk about it sir? MountainViews= Many Views.
An ill wind in Wicklow
Almost permanently windy, Scarr in Wicklow can take your breath away.
brenno on Scarr: A windy windy mountain
What is it about Scarr and gale force winds on the stretch running north-south from Kanturk up the summit of Scarr and down the ridge towards Paddock Hill and Laragh. I must have done this hike half a dozen times in the past few years and there's always been a gale at the top even though there's barely a puff of wind when starting off at Lough Dan or Glenmacnass. Same last Saturday, gentle breez ... Click here

Wicklow Round - Described
In July 2008, Moire O'Sullivan made a solo attempt on the Wicklow Round, a gruelling endurance run spanning a hundred kilometres over twenty six of Ireland's remotest mountain peaks. After nearly twenty two hours she collapsed, two summits from the end. Battered and bruised, yet undeterred, she returned a year later to become the first person ever to complete the challenge. She's produced a book about it: "Mud, Sweat, and Tears" Click here for info.

Soggy in the Mournes
Despite boots immersed in bog water, the trip to the summit of Ben Crom more than rewards

chrizoneill on Ben Crom: Soggy Trip
Travelling up from the car park on the Slievenaman road is a doddle until you turn of the track that encircles Meelbeg and leads up to Bearnagh. After this the land that looked so easy to cross is quite peaty and holds water and 'muck' for a bit longer than most of the surroundings, making it that little bit harder to cross than you might otherwise imagine. Once through this however and out the ot ... Click here

Maamturks like you've never seen them before
One of Ireland's finest ranges captured on film over a two day trip, and now available on Youtube.

CaptainVertigo on Corcóg: Like You've Never Seen Them Before
I am a little biased here because I have a great love for the Maamturks, and I also have a mad notion that video is a medium through which our beautiful places can be especially revealed. The knowledge that Martin and Sharron, gifted filmmakers, had crossed the Turks had me drooling in anticipation and I was not dissappointed. This is a compulsory movie for anyone who hopes to do the traverse or ... Click here

No go area in east Wicklow!
An outbreak of a forestry disease in the woods around Barranisky means it is all but impossible to reach the top at the moment, in fact you'll need your boots disinfected!
marrow-man on Barranisky: Before you travel to find the elusive trig pillar!
Hi, just to begin I wasnt sure whether to put this comment under a summit rating or in the forum so apologies if its in the wrong place! I have nothing to say which hasnt already been said here about the awful route to the summit of Barranisky, but just a quick notice for anyone intending to reach the summit in the next few weeks(which probably isnt many people). I went to climb Barranisky just ... Click here

In Patrick's shadow
Ignored by most people who climb Croagh Patrick, Ben Goram is nonetheless a fine mountain in it's own right, as you can see from this new summit summary.

group on Ben Goram: Following the Stations
Park at L87542 80732 where there is room on the roadside for 3 cars, or further up opposite some farmhouses, we sought and recieved parking permission at the fifth house just before the road becomes a farm track. Cross a sheepwire fence heading roughly north east across an open field by a fence. The ground becomes steep and rough with rocks as you slowly gain height to the summit cairn. You can al ... Click here

Eagle's eye view
Mount Eagle in the Nephin Beg Range (how many mountain in Ireland employ the word 'eagle'?) is a small but attractive hill with great views.

group on Mount Eagle: Small hill with good views.
This is a fairly small summit crowded by the Birreencorraghs to the east and Buckoogh to the south. Nevertheless it has good views to the western Nephin Begs. It can be reached from Buckoogh (keep west of the forestry) or as part of a visit to the Bireencorraghs. To the NE there is a small hill, not currently included in MV lists lacking the required prominence. The summit has a small cairn. Click here

A gheal mo Chroi
Cush in the Galtees clearly melts a Mountainviewer's heart…

group on Cush: A gheal mo Chroi
The usual way to get to the summit is to park at Clydagh bridge forest entrance R87450 27780 ht137m, where there is parking on both sides of the road. Walk up the tarred road to a stile, R87796 27461 ht189m(note: no dogs sign here), cross the stile and walk the rough track near the forest edge before crossing a wire fence via stile, R88590 27213 ht358m and then on to the summit. The summit (no ca ... Click here

Aglow in the evening light
A first comment for Agow Top in the Dartry Mountains
group on Agow Top
Click here

Up the Poisoned Glen...
One of the lesser explored Donegal tops, Crockballaghgeeha Hill in the Derryveagh Mountains is definitely worth the effort

Peter Walker on Cnoc Bhealach Gaoithe: Up the Poisoned Glen...
Crockballaghgeeha represents a sensible opening gambit for an 'extended' Slieve Snaght circuit from the north. Unsurprisingly it's best to start with the classic womble up the impressively primeval Poisoned Glen (a walk that this MViewer found to be less annoyingly tough and boggy the closer he kept to the stream), following its left hand turn at its head. Keep climbing alongside the stream (vague ... Click here

A Reek for every day of the year
Matt Loughrey completes his incredible 365th ascent of Croagh Patrick where he's met by Mountainviewers, one of whom celebrates a considerable feat of his own.
wicklore on Congrats to Simon3 and Matt Loughrey
This is a live post from the summit of Croagh Patrick. We are awaiting the arrival of Matt Loughrey as he completes his 365th climb of Croagh Patrick, having climbed it every day for the last year. This is an amazing achievement and I'm sure the whole MountainViews community join us in congratulating Matt. We will be presenting Matt with a MountainViews certificate of achievement for his efforts t ... Click here

The two Benbauns in one day
As our commenter says, so many mountains can be seen from here it's enough to make a grown man weep!
Geo on Binn Bhán or Maolán: The two Benbauns in one day
Last summit on a circuit of Glencorbet. Start from the R344 road just 1km south of the little road into Glencorbet about L812569, then up Knockpasheemore, along the ridge and up on to the beautiful Benbaun (I can't ever remember seing so many mountains from one summit, enough to make a grown man weep!). Lunch then over to Lugatarrif or Benfree if you like, down into the col and head north before ... Click here

OpenLayers, jQuery, PHP?

To 98% of our readers these mean nothing. But to the development of this site they are the nuts and bolts. If you have a skills in web development or site management, why not get in touch. A range of tech skills are of interest. Combine the sport of hillwalking with some tech. It's fun to be involved with a homegrown social network. Email here: admin@mountainviews.ie or use the members messaging service to send to simon3.
Sorry if we didn't mention what you posted .. there's a list of all contributors for the month later.
Summiteers Corner
A place for those interested in Summiteering, Bagging or Highpointing.
Article: Virgin Peaks: The uncommented summits of MountainViews

Back in July of 2008 I purposely set about climbing a hill with two specific goals in mind: Firstly, I hadn't climbed it before, and therefore it would register as a 'bag'. But secondly, it had no previous comments on MountainViews, and therefore was 'virgin territory'. As far as I knew, nobody had ever written anything about this hill. Ever. And I was to be the first.

The hill in question was Bartonny Top in the Cuilcagh Mountains (Breifne area). To be truthful, it's not at all a spectacular summit, although it does command fine views, and has an appealingly lonely aspect. There were quad tracks that ran near the top, so it certainly wasn't an untrodden place.
But I did experience a sense of 'discovery', of reporting the unknown. And that, in a nutshell, is the importance and appeal of commenting on the less-frequented hills of Ireland.

At time of writing, there are 102 uncommented summits on the MountainViews list, out of a total of 1,056. They are not to be confused with 'unclimbed' summits, of which a mere 16 remain, some of them remote and inacessble islands off the west coast. Curiously, of these unclimbed summits, two do have comments (Inishnabro and Scarriff Island).

By and large, you could guess the areas where there are comment aplenty; Dublin/Wicklow and The Mournes are possibly reaching saturation on the more popular hills. Though even here, there are neglected summits - Slievenisky in the Mournes has garnered only 1 comment thus far (from the indefatigable Wicklore).

But what you might find surprising is that many of the uncommented hills are in areas that are otherwise well-trodden and popular. For instance, there are 15 uncommented hills in the Shehy Knockboy area. 14 in North Mayo. 9 in The Dunkerrons and 6 in Iveragh NW. There's 6 awaiting comment in The Bluestacks. And there are some very curious omissions elsewhere.

How is it, for example, that nobody has yet climbed Beenduff in Iveragh let alone commented on it?
And none of the teeming thousands who descend on MacGillycuddy's Reeks every year have thought to saunter up the outliers of Beendarrig or Beann Bhan and comment on them. Myself included. Even the Twelve Bens has three uncommented tops.

Other areas high on the 'uncommented' scale are perhaps, less-surprising. The somewhat remote Ox Mountains have 4 uncommented out of a total of 12 tops. Underrated and overlooked Partry/Joyce have 7 uncommented hills out of 16. And the similarly neglected terrain of Donegal SW has yet to receive comment on 5 of the 16 tops.

Next time you make plans for walking in a specific area, it might be worth checking beforehand, to see if there are any uncommented hills that could be included in the itinerary. Not only might you be the first person to comment on MountainViews, you might be the first to have ever written about ascending that hill. And thereby creating a little bit of Irish mountaineering history.

Brendan O'Reilly for MountainViews Newsletter.
---
Editor says "there's more .."

There an undeniable thrill in writing up a "new to walking" summit and there's plenty left to do. However even when that's done, there's quite a bit to interest you. For a start MV is looking for great pictures of and from summits and later shots may have better weather. We want different or better routes up a top which will be aided by our coming track saver feature. we want local history and vivid descriptions. And we are determining where the tops actually are and recording this - see the "Amend" button beside the Grid Ref of summits.
MV has an information target for every summit. Currently this stands at 46% for the entire island (see this at /list/150m/ with All Ireland, include completion info).
Why do this? Well why do anything? "Virtuous actions in themselves give pleasure" (said Aristotle) and you get bragging rights in the Contributors Hall of Fame.
This month.
We welcome the following new members who enrolled this month. andrewf20, anne_tee, artekrozel, ascecetle, bernardsullivan, billy73, billymac, blany, brashers, Brewel, Brian2011, Brianosullivan59, Camilla, ceejay, Chris-Evans, ciar_thomas, Damienoc, Daumantas, daveybjerna, daviegray2004, debscan, dezh, diarmcon, didymus, discodave, diverdan, dogwalker2, doireann, donnacha_o, dotsmcc, Drumragh1, dubkav, Elafferty, eoghan85, Flatarazy, flatfoot, forgottenit, franciscusbis, frank_nl, gaeska, gavinmom, gerryBR, gush, guyom, helianthus8511, hopeful, houstonlowe, jackieflanagan20, jamesloman, jamesloman1, janeb, jayo2000, jelena_vk, jHike, jimclimb, jofalvey, johncroke, JonasD, joyce_k, kingpadraig, ldygdva, liamfitzger, LuCa, lucas84, lukmar10, majorshort, Manife, manusmooney, marytadhg, mattloughrey, Mazie, mikel910, millsd1, miri1312, moniga, moosekelly, mot, mrfinbarr, muffins1, murphc56, murroenaccas, Niall_H, nkenealy, noeloc, Normanleece, oracle, orlahickey, Padaer09, PatStephenson, patsymccarthy, paudiehegarty, PaulKelly, peter2, rathfarnham, ricaeiremount, roisin89, rory, roseraphael, rudiriewe, rwederyet, seamusjackie, seanmoyles, seanwalshe, shanesty, shellh, Siabod, Siobhan-Rob, siuilaruin, sparkysda, springer, SvennieWalks, Tapswonochach, thelifeiknow, theredyin, tubelcain, unkulus, upavlo, vector3, vincentcarey, walkingnw, Walsh96, wleah06, xgwishyx, Zuzanka (124)
Our contributors to all threads this month: Alaskan (1), Bleck Cra (4), CaptainVertigo (6), Colin Murphy (2), Conor74 (5), Djouce (1), Geansai (2), Geo (1), Jack Bauer (1), Peter Walker (6), Welder (1), ahendroff (1), brenno (2), chrizoneill (4), dbloke (1), Communal summary entries (15), jackill (6), jkforde (1), kernowclimber (6), maclimber (2), majorshort (1), marrow-man (1), mattloughrey (1), mcrtchly (1), paulocon (2), sandman (1), simon3 (10), slemish (1), wheresmyf-ingtea (1), wicklore (3) and Contributors to GPS information this month were: Geo (8), jackill (16), mcrtchly (2), simon3 (7), wicklore (13)

For a fuller list view Community | Recent Contributors
There were comments on the following summits Agow Top, An Leathchruach, An Starraicín, Barranisky, Ben Beg, Ben Creggan, Ben Crom, Binevenagh, Binn Bhán or Maolán, Caher West Top, Cnoc Bhealach Gaoithe, Corcóg, Croaghugagh, Errigal, Knocknadobar, Loughermore, Lugduff, Mount Eagle, Mullacor, Mullaghmore, Mulmosog Mountain, Scarr, Slieve Carr, Slieve Croob, Slieve Na Calliagh, Tievebulliagh, Two Rock Mountain and these walks were created Black Head Circuit

Thanks to all 917 who have ever contributed summits or routes info and forums. .

For a full list view Community | Contributors Hall of Fame
Summary. MountainViews now has 5229 comments about 956 different hills & mountains out of the total in our current full list (1056). We need more comments, better comments and more balance for every summit as our rate for "data completion" now that the 150m summits have been added is currently only around 46% There's plenty (100) of opportunities for you to be the first to comment on a summit. Listing summits in "Lists & Logs" (tick MV completion information) allows you to see what information we need to get more even coverage.
Notices
If you are contributing, please be careful to respect the interests of landowners. Suggest access routes well away from houses, gardens or that could conceivably impact farming activities. When walking, keep away from gardens or farm buildings. Use stiles or gates wherever possible. Never do anything that could allow animals to roam where the farmer did not intend.
If you hear of a problem area or route, write it up in MountainViews which does everyone a service.
Report rubbish tipping in the Dublin/ Wicklow area - ring PURE 1850 365 121
Report quads in national park area (in which they are banned). For Wicklow please phone the Duty Ranger: 087-9803899 or the office during office hours Telephone: +353-404-45800. Put these numbers in your phone, take regs etc. Let MV know of contact numbers for other areas.
If you have climbed some of the less well known places, we would appreciate a summit rating.We could use your help in making ratings for the unrated mountains which you have climbed, such as: Inis Tuaisceart, Maumfin, Inis na Bró, Knockaghaleague, Bunmore, Knocknascollop NW Top, Cruach Leac Chonaill, Lettertrask, Coolsnaghtig, Cashloura and some 17 others. and also GPS readings for summits.
If we can, let's make MV have more than one route up a summit so as to reduce the tendency for paths to appear. Your grid refs in comments for different starting points show up on MountainViews maps.
This newsletter
Editor: Simon Stewart Homepage: www.simonstewart.ie
Assistant editor: Colin Murphy
Graphics design advice: madfrankie
Newsletter archive.
View previous newsletters mountainviews.ie/newsletter
RETURNING TO MOUNTAIN VIEWS
Click on (If you have cookies on in your browser then you will be prompted as to username/ password. If you forget the password, the login page can email you a replacement.)

UNSUBSCRIBING
If you don't want to receive any further monthly newsletters from Mountain Views click on Settings. Then change the option beside "Include on occasional mailing list" to "Do not include". Then click the "Save" button.
Alternatively let us know by email at admin@mountainviews.ie Include the email address you got this at or your screen-name.