Walkers Association of Ireland
and other groups.
Irish Challenge Walk Information 2011 from The Walkers Association.

http://www.walkersassociation.ie/challenge/walk/calendar
As mentioned in last month's newsletter on Friday, February 25th nearly 80 people attended the second MountainViews Winter Talks and Awards at which Gavin Bate (Everest expedition front man and mountain leader) very kindly anchored the event and spoke. simon3 on The 2011 WAI - MV Event.
This event was held in Bewleys, Leopardstown Road, Dublin. A good crowd attended. There is a report in the MountainViews monthly newsletter see /newsletters/month/2011-03/ Click here
Mountainviews would like to thank the following people who kindly submitted photographs for use in the WAI/MV rolling slideshow at our recent talks and awards event:

Paul Nolan, Larry Egan, Simon Stewart, Brendan O'Reilly, Douglas Reid, Mark Brennan, Colin Murphy

You may be interested in this trip being organised by Gavin Bate:

Mount Kenya
Solio Challenge

October 1st – October 10th 2011
Join MOVING MOUNTAINS this October for an unforgettable adventure challenge
This inspiring and rewarding trip combines a magnificent adventure trek to the summit of Mount Kenya (Point Lenana) with first-hand experience of development work with Moving Mountains, an NGO with more than fifteen years' experience in Kenya. Our ten-day trip will leave you with amazing memories of a wonderful country, its landscapes and people and direct experience of working with disadvantaged communities in Kenya. Find out more at: www.movingmountainstrust.com/challenge
Mountain Meitheal
Next work day will be Saturday 09th April 2011 in Knockree (Dublin/Wicklow mountains). Working on the Wicklow Way at Knockree Co Wicklow repairing a section of trail which is seriously eroded. The work will include the construction of stone steps, log steps, water bars and bench cutting.
For more information on Mountain Meitheal check out our web site www.pathsavers.org
Further WAI events in 2011 - Winter Talks Series
The WAI are planning a further talk series in the Dublin area for winter 2011/2012 which will be announced in due course. If you are interested in contributing or (hosting such an event outside of Dublin), do get in touch at http://www.walkersassociation.ie/contact
Workshop Title: 'Getting to Know Ants'
The National Biodiversity Data Centre and its partners are pleased to announce another exciting programme of training workshops and events for 2011. The general workshop format will include an introduction to the group, a field element and an identification session. Beginners are welcome to attend all events. The aim of the workshops is to improve identification and field skills of biological groups and raise standards of data collection and management.
Workshop Title: 'Getting to Know Ants' Venue: Waterford

http://www.ien.ie/events/workshop-getting-to-know-ants/
WAI Photo Gallery - why not upload some of your pictures (Ireland or abroad) to this?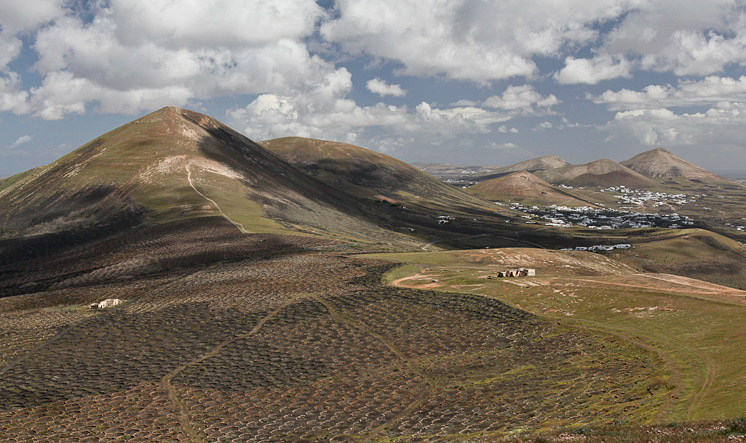 Lanzarote in the Canary Islands has excellent hill-walking - the summit to the left on the skyline is Montana da Guardilama (605m) reached as part of a ridge walk. The oddly patterned land shown in the bottom left of the picture is formed by the unique way of growing grapes for wine. The story is that in the huge volcanic eruptions (1730 - 1736) parts of the landscape was covered in small pumice-like stones destroying the previous agriculture. The farmers found they could build small windshelters of volcanic stones round individual vines and this is what you see in the picture (in winter). Unique in the world.

Recent Contributions and News
Don't be foiled by the dearg track
Red soil underfoot and a burnt-out car at the summit make for a fairly unique walk for one member as he ascends Foildarg in the Shannon Area.

wicklore on Foildarg: Don't be foiled by the dearg track
The narrow rutted track jackill refers to crosses Foildarg from east to west, and passes by the summit trig pillar. While it may be suitable for vehicles from the western approach, it would only be suitable for army tanks or monster rally trucks if driving up from the east. It is possible to pull a car some way up the track to get it off the main road. Then it is a walk of 20 mins along the increa ... Click here

Island off the Iveragh Peninsula
Just 159m high but with spectacular cliffs and birdlife, as the name suggests. But could getting there and scaling the cliffs be just too risky? There's a possible trip later this year. Interested? Contact secretary@mountainviews.ie
Conor74 on Five might not get to Puffin Island...
The youtube clip of kayaking in Kerry is lovely, but the stretch between Rossbeigh and Kells is very different to the area between Ballinskelligs and Puffin Island. The former is in Dingle Bay, along a shore, in a bay, and going from a sandy beach to a sandy beach. The trip out to Puffin Island would be much shorter, you could nearly throw a rock out to it when standing on the cliffs across the ... Click here

I could stay up here for days
A new Short Summary describes Errigal's more diminutive neighbour, Mackoght. Keep those Short Summaries coming folks.

group on Mackoght: I could stay up here for days
Park in the car park at B94291 19734.From the car park corner you can follow a wet track on either side of the stream up to the col between Errigal and Mackoght. Just after a large cairn at B94151 20379 turn right and drop down initially before heading up to the summit. Try to follow the crest of one of the rock ridges that sweep down the mountains flanks , this makes the going much easier. Click here

The wind of change...
Slievekirk in the Sperrins is about to be despoiled by the arrival of a wind farm ..

Peter Walker on Slievekirk: The wind of change...
I followed Mr Goodman's directions for an ascent from the south, having first checked out the possibility of coming in from the NW from the highpoint/road junction at (449 088). This was comprehensively rejected; there are big changes afoot on this top. A huge windfarm is in the process of construction on the ridge to the E of Slievekirk, and the livid access road/track for those works (currently ... Click here

The German Graveyard
Nestled in the shoulder of Knocknagun in Wicklow is the last resting place of German soldiers who died in Ireland in the two world wars ....

wicklore on Knocknagun: The German Graveyard
Knocknagun rises on the north side of the Glencree Valley in Wicklow. and is distinguished by the large rock that sits near its summit. Travelling along the military road, the massive tor is highly visible on the otherwise featureless bog. However the hill also shelters a remarkably different piece of Irish history that is unique in all the land.
The western shoulder of Knocknagun sweeps down ... Click here

The road to ruin or a necessary evil?
The presence of diggers in the Mournes repairing paths prompts a keen debate on the merits or otherwise of such endeavours.

Bleck Cra on ROAD TO RUIN
The discussion on path "repair" in the Mournes and contributions by mountainviewers are most interesting. I am delighted the subject continues to engage us – as it should. For example mcrtchly's dogged research has thrown up unsettling issues and suspicions, to the effect that he entertains us lobbying the Environment Agency. Were anyone interested, time-healthy or beaurocracy-savvy enough to take ... Click here

Alpine foothills in N. Mayo!
Another member provides a first comment for Knockakishaun Hill south of Croagh Patrick, whose glacial features and views almost move him to yodeling…

Jamessheerin on Knockakishaun: Alpine foothills in N. Mayo!
Parked at L851 751 (good space for 2 cars) and first climbed to L851 740 (the unnamed peak 388m, SW of Knockakishaun) to make the day longer! Some rough ground up and down on this one. So, on to Knockakishaun (390m). After crossing the Bunowen river at L863 743 we headed N. atop the steep ridge and on to the spot hight 390 on generally very good ground. Some great glacial errata along the way befo ... Click here

Cuilcagh - from Marble Arch - circumvent the supposed problem.

murraynolan on Cuilcagh: Mountain Walking Route (from Marble Arch) Closed
I am/was planning to walk Cuilcagh this weekend from the North via Marble Arch or Florence Court (9th/10th October 2010) however I just noticed this on the Marble Arch Caves website: Published on:17 Sep 2010 Cuilcagh Mountain Walking Route Closed Unfortunately due to a recent landslip, the walking trail to the summit of Cuilcagh Mountain at the end of the 4km vehicular gravel stone track ... Click here

Grace and this place.
The road from Lough Curra to the summit of Galtymore means more pain but definitely brings more gain.

dhmiriam on Galtymore: Grace and this place.
A scramble to Galtymore via Lough Curra wrings you out, so much so it takes the almost entire rounding onto the greater height to slake the thirst again. Looking back one sees why. It takes its own sweet steep time getting there. In one go, snail like, we went. There is not a soul to be seen, breeze-to-our-back-sun-on-our-faces-sort-of-bliss. The path ambles along the lip of this, almost kidney ... Click here

Lilliputian spotted in Sperrins!
A first Mountainviews comment for Mullaghbane in the Sperrins, as on a rare crystal clear day and an interesting perspective on the top.

Colin Murphy on Mullaghbane: Lilliputian spotted in Sperrins
Mullaghbane was the final top on a circular walk that also took in Carnanelly and Carnanelly W top. Following the track from the car park at Goles Forest (point 684 938), we left the track at 685 930 and headed SE until we reached the minor hill named Slieveaddy on OS map. (Not listed on MV) From there we turned west for 2km until we reached Carnanelly. Another short trot 1 km brought us to Carnan ... Click here

CQ, CQ ..
The radio-enthusiast link with Knockbane in the Shannon region.

madfrankie on Knockbane: Roger, roger.
Whilst visiting Knockbane last weekend, this otherwise mundane summit did have an item of interest: at the base of the trig pillar was a small metal marker with the inscription "EI/G4WSB/P". A quick google revealed this to be part of a project called Summits To The Air Database, a programme that encourages radio amateurs who enjoy hill walking to take their radios with them and operate them from ... Click here

Kerry - as seen from Limerick.
The truly panoramic and long-distance views from the summit of Lyracappul in the Galtys.
YoungJohn on Lyracappul: truly a challenge worth taking
Follow Jackills directions and you can park in peace. I climbed Monabrack first, via the mobile home, then along the shoulder to Carrignabinnia before heading uphill to Lyracappul. Blessed with a dry but hazy day I took shelter from the cold mountain breeze at the Cairn. The climb is well worth the hardship, wide views - panoramic descibes it best. I could hear tractors at work in the quarry be ... Click here

If you go down up to the woods today…
The beauty of the woodland hill of Cairngaver in the Belfast Hills.

gerrym on Cairngaver: Cairn Wood to summit
Ample car parking at entrance to Cairn Wood (448775) high in the Craiganlet Hills, an oasis above the sprawl of Belfast and its outliers.
The wood has a permanent orienteering course and waymarked trails (a notice is pretty tough on those mountainbikers and their homemade trails though!). Following the blue trail loops off left through fir and then the beautifully individual beech trees be ... Click here

Canary Islands
There's so much greater highs to be enjoyed there than can be found in the island's boozy resorts.

simon3 on Walking on Lanzarote
Various members came together for a walk in the south of Lanzarote, one of the Canary Islands fairly near the Atlantic coast of Morocco. Lanzarote, like the rest of the Canaries, has been formed by successive volcanic outpourings. The most recent of these was in 1824 however there was a much bigger eruption which covered around 25% of the island with lava, rock and ash between 1730 and 1736. Wa ... Click here

Sorry if we didn't mention what you posted .. there's a list of all contributors for the month later.
New features
Trials of a new GPS track analysis feature.

MountainViews is working on a new way of taking in information from contributors. Members will be able to upload tracks of where they have been. There's an astonishing amount of value that can be gleaned from such tracks in terms of keeping a record of where you've been (shareable), noting what summits you reached, analysing athletic performance, creating maps of routes etc.
Although we are many many months from even an initial useable public system, if you are technically minded you are invited to look at the very early versions of this new feature and participate in its development. Contact us at admin@mountainviews.ie or use the members messaging service to send to simon3.
This month.
We welcome the following new members who enrolled this month. a147pro, Abomacacy, alanO, albertmaura, ambalajeah, ambalajecartonah, ambalajecartonau, andy33, AndyMurphy, Andypatmc, Andypward, Anfieldalan, annrath, Approche, austinfinn, b11451, Bairtyexeta, bernard-maher, bernieoriordan, bfscallan, billfoster, bluesbus, bluewater, bluewizze, bobbydunning, Brendan4, brendan_oconnor, brianireland2009, briansosullivan, bullfrog, calderwood, Carrickman, caseteluminoaseai, caseteluminoaseaw, caseteluminoaseax, chakotha, clairec, ClaireColeman, clearyjono, Cliff-Walker, Cluainfia, colleen, cono, corinneb, cpod, danicollig, danicollig1, darking, davesheehy001, Delphinus, DenisMc, dercall, diana, diarmuidog, dizz, dkay, dmire, dormere, dshivers751, eddieh, eloquehay, emmawalsh32, fergcathy, FilmPhil, fitefuaite, FreeT, gasman, gegan, gincegp, gkelly763, Gordon53, gp_ruddy, grahamvj, helensheridan, hilde, immortal, irishjoe44, jacobs1, Jaisell, jamesmur1989, janestark, janethompson, jastreender, jcarling, jgrennell, jgroche, jmccaf01, jmx009, joflaherty, jregan, Juicyfruit, katemull, kiba1, kilcummin, koolcaz1971, lauraflynn, litttlelostscout, lmo3a, lovelemon, lug, lyndacorcoran, lynne, maddien, magicstep, Marc-w4mps, mariealbert, martinco77, mcgreal-c, men4ab, mikemcnally, miketheredfan, mikeward1, Minchinmichael, mistermcgoo, moore1, Mossy24, MRing, mumof2, murphy54, Myrddyn, nmcgoohan, noodles, ocallagjohn, paulkidd, Pebbles, pfrancisdoyle, polmac, possen, ppatric, prettygoody, quirkef, rabuckley, radho, radionet, raggedstone, rakidiesel, ravey29, renie1, Rob_C, rollin9999, roro, Rosalie, rubytuesday, saffron, Samot, scorpion25, seamus64, seamusm, seanashmore, seosamh, sfoley, SGriffin, shandie, sharkbite, shay_bourke, sodriscoll, spaiki, sy, tcleach, tessoc, thursoexile, tj3264, togara, tomascollins, Tomtheblog, torc, traversp, trips_123, troyceol, TwisterTwister, vanger, Victor_P, vmckenna1, william2008, wolfie75, Zuzana (176)
Our contributors to all threads this month: AislingKelly (1), Bleck Cra (12), CaptainVertigo (7), Carlito (1), Colin Murphy (7), Conor74 (4), Dessie1 (8), Djouce (1), FilmPhil (1), Himiwack (1), Jamessheerin (1), Moac (2), Mulciber (2), Peter Walker (2), TheSquonk (1), YoungJohn (2), aburden (1), ahendroff (3), aidand (1), brenno (2), dbloke (1), dhmiriam (5), dr_banuska (1), eamonoc (5), emp123 (1), gerrym (1), Communal summary entries (14), hbowman1 (1), hibby (1), jackill (5), jop68 (1), kernowclimber (2), maclimber (9), madfrankie (2), mcrtchly (2), murraynolan (1), pdtempan (1), pn_runner (2), saltbeast (1), senior (1), sharkbite (2), simon3 (9), slemish (2), thedoyler (1), tommyhogan (1), wicklore (2) and Contributors to GPS information this month were: Geo (2), jackill (2), madfrankie (3), simon3 (2), wicklore (9)

For a fuller list view Community | Recent Contributors
There were comments on the following summits Ballyteige, Barranisky, Benbradagh, Black Hill, Boviel Top, Brockagh Mountain, Cairngaver, Carnanelly West Top, Carrignabinnia, Cnoc na Sleá, Commaun Beg, Corraun Hill, Corraun Hill East Top, Derrybawn Mountain, Faill an tSáis, Foildarg, Galtymore, Glendoo Mountain, Kirikee Mountain, Knockakishaun, Knockanora, Knockbane, Knocknagun, Leenaun Hill, Lough Curra Mtn, Loughsalt Mountain, Lyracappul, Mount Eagle, Mullaghbane, Mullaghcleevaun, Slieve Foye, Slieve Loughshannagh, Slieve Na Calliagh, Slievekirk, Tonelagee and these walks were created (none in period)

Thanks to all 888 who have ever contributed summits or routes info and forums. .

For a full list view Community | Contributors Hall of Fame
Summary. MountainViews now has 5079 comments about 946 different hills & mountains out of the total in our current full list (1056). We need more comments, better comments and more balance for every summit as our rate for "data completion" now that the 150m summits have been added is currently only around 44% There's plenty (110) of opportunities for you to be the first to comment on a summit. Listing summits in "Lists & Logs" (tick MV completion information) allows you to see what information we need to get more even coverage.
Notices
If you are contributing, please be careful to respect the interests of landowners. Suggest access routes well away from houses, gardens or that could conceivably impact farming activities. When walking, keep away from gardens or farm buildings. Use stiles or gates wherever possible. Never do anything that could allow animals to roam where the farmer did not intend.
If you hear of a problem area or route, write it up in MountainViews which does everyone a service.
Report rubbish tipping in the Dublin/ Wicklow area - ring PURE 1850 365 121
Report quads in national park area (in which they are banned). For Wicklow please phone the Duty Ranger: 087-9803899 or the office during office hours Telephone: +353-404-45800. Put these numbers in your phone, take regs etc. Let MV know of contact numbers for other areas.
If you have climbed some of the less well known places, we would appreciate a summit rating.We could use your help in making ratings for the unrated mountains which you have climbed, such as: Inis Tuaisceart, Maumfin, Inis na Bró, Knockaghaleague, Bunmore, Knocknascollop NW Top, Cruach Leac Chonaill, Lettertrask, Coolsnaghtig, Cashloura and some 21 others. and also GPS readings for summits.
If we can, let's make MV have more than one route up a summit so as to reduce the tendency for paths to appear. Your grid refs in comments for different starting points show up on MountainViews maps.
This newsletter
Editor: Simon Stewart Homepage: www.simonstewart.ie
Assistant editor: Colin Murphy
Graphics design advice: madfrankie
Newsletter archive.
View previous newsletters mountainviews.ie/newsletter
RETURNING TO MOUNTAIN VIEWS
Click on (If you have cookies on in your browser then you will be prompted as to username/ password. If you forget the password, the login page can email you a replacement.)

UNSUBSCRIBING
If you don't want to receive any further monthly newsletters from Mountain Views click on Settings. Then change the option beside "Include on occasional mailing list" to "Do not include". Then click the "Save" button.
Alternatively let us know by email at admin@mountainviews.ie Include the email address you got this at or your screen-name.