WALKS SECTION
Glennamong Horseshoe
Member Frank12345 has described a walk in the North Mayo (Nephin Begs) area. We MountainViewers have rated many of the individual summits in this area in the top 10% for quality so it is great to see a route that exploits a number of them. The photos also give a good idea of the land. Personally, when I walked on a somewhat similar route I also made the excursion from Corranabinnia to Corranabinnia SW which is over one of the best knife-edge ridges on the island. This route is highly recommended.

Frank12345 on Glennamong Horseshoe
Overview The Glennamong Horseshoe is in the Nephin Begs, and is a bit harder and longer than the Glendahurk horsehoe with which it overlaps a little. I think it is the most satisfying way to climb Glennamong and Bengorm. The best time to do this walk is spring or early summer, since the section up to Bengorm could be miserable when wet, and in Summer the midges are as bad as it gets. Approac ... Click here

Walkers Association of Ireland
and other groups.
The Walkers Association Winter Talks Series

Further WAI events in 2011 (updated items)
Friday, February 25th 2011, Registration 7 pm: MountainViews Winter Talks and Awards: Gavin Bate (Everest expedition front man and mountain leader) will be anchoring and speaking at this, the Feb Winter Talk. Gavin will be describing accessible trekking locations around the world. He will be drawing on experience from "Adventure Alternative" an adventure company he runs and also speaking about his mountain charity.
Other speakers: Simon Stewart - Publisher of MountainViews.ie on the County Highpoints, an interesting slice of the hills of Ireland and Martin Critchly/ Sharon Schwartz on practical hillwalking techniques for Ireland in the snow.
Members jackill & wicklore will also bring us "Curious Tales from the Hills"
Also featured - 2011 Awards Presentations from Mountainviews.ie

Members, please download the poster, for printing and display

Although over 90 came last year some of you told us that you couldn't get to the event because it was midweek, so now we are holding it on a friday near to the M50 (exit 14) and on the Luas tramline from the city centre (Central Park stop). It's the perfect opportunity to catch up on mountain news local and worldwide and to network with hillwalking friends, clubs and other aficionados. The entrance fee will be Euro 5. Note: Attendance has to be limited for safety reasons however you can also pre-book by emailing secretary@mountainviews.ie We have negotiated a lower price for parking in Bewleys - say that it is for the WAI/ MV event when validating your ticket at the front desk.

23rd March 2011: Talk on Walking in the South-West of US, and AGM at St Olaf's GAA club, Sandyford Industrial Estate, Dublin - near M50 and Luas.

Report on Hillwalkers Table Quiz
This was held on Jan 26th in McGrattans off Baggot St, Dublin
Around 95 people attended this meet, almost as many as the venue could take. The quiz, organised by the Wayfarers, raised around Euro 900 for Mountain Rescue with a further 500 from the raffle.
Report and photo.



WAI Photo Gallery - why not upload some of your pictures (Ireland or abroad) to this?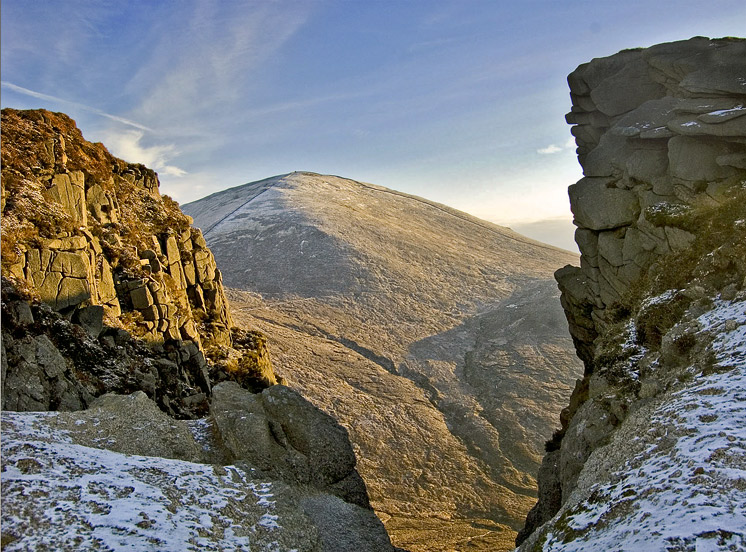 A view of Slieve Donard from Slieve Beg
This month's picture is from a comment made by user paulocon describing Slieve Beg, home of the infamous Devil's Coachroad. Read more here.
Recent Contributions and News
Summit debut on MV
An immense standing stone is encountered by Jamessheerin on Knocknasilloge in Connemara - which sees its first comment on MV.

Jamessheerin on Cnoc na Saileog: Knocknasilloge
Well worth the effort; this hill is off the beaten track but has great views of the usual suspects in Connemara- the Bens & Turks, from an unusual angle. Going offroad at L992 401, heading SE to the summit of Lackadunna (317m). Several false tops over good ground on the way. The trig point (in great condition) at Knocknasilloge (346m) is a further 850m to the NE over boggy ground. Rounded off the ... Click here

Outdoor quizzes for you to try.
Aspiring writer and member kierongribbon has been putting together an occasional quiz for us to try, with hillwalking related questions.
Take a look here

You can get a hint of his writing in this contribution which exploits the good long distance views that have been available during the cold weather:

kierongribbon on Divis: Stunning view of the Mournes
Took a walk up Divis and Black Mountain on Sunday 23 January 2011. The views on the day were the best I've seen from the Belfast Hills (see photo - a labelled version is also available on Flickr). The Lagan valley, south Belfast and Lisburn were hidden under a layer of mist stretching all the way to Slieve Croob and the Mourne Mountains. Still no sign of the reinstated trig pillar at the summit of ... Click here

A first? A car park at the summit?
Member jackill takes the short stroll up Slievecoiltia in South Wexford and discovers a carpark has beaten him to it….
group on Slievecoiltia: Worth a visit , but on a clear day
Starting at S72900 19400 Slievecoiltia has an access road that leads all the way to a carpark on top. From the top carpark the summit is a short stroll away across a grassy area. The summit has excellent 360 degree views with an information board pointing out visible features and a memorial to the pikemen of 1798. Click here

Naming names in the Dublin Mountains
One of our map-making members provides the historical background to some mountain names in Dublin, namely Prince William's Seat and Knocknagun…
barryd on Knocknagun: Cloghnagun is also likely William's Seat
Prince William's Seat and Knocknagun. These are the OS names for two popular hills between Glencullen & Glencree and people often enquire as to the identity of Prince William. It has been suggested that it's named after William, son of George IV, after a royal visit in 1821. Whilst it's possible that there might be a connection with this, in the mind of the official responsible for collecting name ... Click here

Hill, nearly new to MV
with a fine view of the Sligo area from the south. Unusually, new member swoop has chosen to render this pic in black and white which gives an interesting clarity to it.

swoop on Killerry Mountain: Panoramic Hill Top.
Climbed 27th Jan 2011 with my buddy Zocolco. Amazing views from top looking north , you take in Benbulben , Kings , Copes, Truskmore, ( St.Angleas College- aka Eyesore) KBoy, Benbo and eve Dough in Leitrim. Looking west you see 90% of Lough Gill, Sligo Town Cathedral Spire , Knocknarea , even Ballyconnell head and Raghly in the distance. Well worth the effort, but a bit off road when you get ... Click here

Breathtaking Highpoint of Connaught
Pstan enjoys some truly unreal views on his ascent of Connaught's highest top.
Pstan on Mweelrea: General summary of climb
I climbed Mweelrea on Saturday 22/01/11, from the East side at L82820 69529, accessed between Doo Lough and Glencullin Lough. Its a very good workout to the top and the view at the top is very rewarding. I note there is alot of text on this mountain already so I wont go into much detail. In summary, you follow the nearby stream up to a plateau. From here you have to loop around, from left to righ ... Click here

On the pigs' back…
Slieve Muck in the Mournes gets a spotlessly clean and glowing report from member darrenf. Great pic too.

darrenf on Slieve Muck: On the pigs back
Set off on a simple Ott-Carn-Slieve Muck route on January 6th. Parked at the small car park on the Ott Road at J 280 278. A stile across from this carpark gives direct access to Ott mountain along a well established track. The track actually skirts around Ott but the top can easily be tackled using this track. Great views of the Spelga Dam are on offer from Ott and it really is worth the short ... Click here

Is it a mountain? Is it a lough? Is it a top?
Whatever it is, Lough Curra Mountain in the Galtys is definitely worth a visit, boasting amazing views across an amphitheatre of water and cliff and colour, as madfrankie discovered

madfrankie on Lough Curra Mtn: Is it a lough? Is it a mountain? No, its...
Approaching from the north (Aherlow), there is place to park at the end of a lane at R869 273, space for one or two cars. A track (difficult to follow initially) ascends Slievecushnabinnia's eastern slopes, crossing the remains of a barrow, and continuing along a post-marked track that gets more bouldery as the terrain steepens. Lough Curra Mountain (600m) is an anomaly. It doesn't really feel li ... Click here

Icy bog, hidden water serpent in the Shannons.
csd on Slieve Felim: Bring your bog snorkel
I parked in roughly the same spot as oldsoldier - just be aware that the stone peirs look like the entrance to a private driveway, so don't be put off driving on up! I did Cullaun first, and then took the obvious route down to the col between Cullaun and Slieve Felim, then up to Felim using the forest ride. I had the good fortune of frozen ground, but the ride looks like a pretty good place to go ... Click here

Establishing the Geography of the Hills
Simple tool helps us find the real highpoint of flattish summits.
simon3 on jackill checking height.
One of the little problems you have when on a summit without any obvious top, is finding what point is highest. It's such a simple problem, but take a group of people and ask them where they think the top of a flattish top is and you'll get a variety of answers, often dozens or even hundreds of metres apart. One Sir William de Wiveleslie Abney, fine Victorian military gentleman that he was, inve ... Click here

General forum: A hot caldera of volcano discussion, Bleck Cra on the Mournes etc
This discussion about the various Irish volcanic areas is well worth a read.
Conor74 on Volcanoes in Ireland...
...I remember one of the biggest ongoing disappointments of my sheltered childhood was the absence of an volcano in Ireland. It was a constant source of annoyance that I did not live in some 'exciting' environment. And then, when I took up hillwalking, the whole area around Mangerton, Crohane and Beenaunmore was particularly exciting, as you can clearly see the columns formed by lava cooling, ... Click here
A question from hbowman1 led to more of the Cra lyricism on his favourite mountain range of the Mournes.

Bleck Cra on Best
hbowman, just ask and I shall tell. Firstly I think there can be no "best" – there are so many and it all depends on what it is we each want. Best can be airiest or most panoramic or highest drop or most rugged, most gentle, most dramatic, etc. So if you want, speak to me through the mviews messaging service and I shall give my opinions which at the end of the day of course are only mine. You cou ... Click here

Scattering of Joss Lynam's ashes, Sat, 12th Feb 2011
Details of this commemoration are at: Details here. If other members of MountainViews who knew him are travelling and attending you might like to coordinate. Email to admin@mountainviews.ie

Background, picture:
simon3 on Death of great mountaineer, Joss Lynam
MountainViews has learnt of the death of Joss Lynam, mountaineer and friend after a short illness. Through a long career of service to mountaineering and hillwalking he earned many friends and much respect. Established MountainViewers will know that the list of Ireland's 600m summits that we use was originally developed by Joss with a contact of his, Rev CRP Vandeleur, long before such lists b ... Click here

Sorry if we didn't mention what you posted .. there's a list of all contributors for the month later.
This month.
We welcome the following new members who enrolled this month. 3schroeter, Aeryn, Aidenc, ainebaine, Ajh, Altocumulus, alutosutm, anna321, annec, AnnieAnne, Anniemac, arquinta, ausekliss, austinlynch, b00533470, babyi9, BenHeron, Bennevis, benzoe, bezgranicaha, Blooldusefomo, Bobbo, brianm, Busy, Carmelto, carmstrong, casperg, Chocolate1163, ciaranfitzp, CLemieux, climber2011, Cmcliam, CMoran, ColinJennings, colmtoland, conrad_wilson, craist, Cuthbert, danc_ie, dave-daly, dcolbert, del88, dermothree, diane, diclhokowi, diyzhokozg, DoctorNoctor, doylepa, drdaire, dred, dsl, dtlibra, dwall, Eamonn130, eamonoc, eleanor, elladginger, emtdave, eoincleary1, ericflynno, farnanjane, fatboysslim, Fergaloc, fgreenbj, fin, finnmcool, forestowo, fredwburton, funbobby, gavinb, germurphy, gerrysutton, Girlwonder, gjones, gogomogos, gsprograms, gstundra, HelenaS, henryhillwalker, ianj1234, IreneN, Irishsas, janekbury27, janekbury71, Jebus13, jeseniky, Jfcrebbin, jjanolan, jlynch580, jmaster78, joseph-d, jwilson73, KDeath, kierongribbon, killonehill, knelly, lakeview, Lechu07, liampatton, LiamQuinn, linda-gormley, lpsmcd, maddladd, martinco, martincodd, mary123, mbeatty, mcgratheoin, megatrish, mginty12, michaelward, milokane, mktralee, MollyMoo, mountainwolf, mrsslim, mtiernan, newJohnmp, nhvtojako, nichcooper, nickymccallan, nOddyseus, nomad72, nordiclady, Noretta, nruxton, onthecase, ormondsview, otojohnsmith72, otojohnsmith84, Padraig205, Pamela1, patdsquirrel, pearsonw, pedrobing, peist, personalizarebx, personalizatebq, peterdaynes, petergilbert, Phizz, pjtiernan, planahome1, Pstan, rachb68, rayvron, rdarcy, rebelwillow, regdoo, RFitz, ronanmccaughey, s-hurley, sandwood, schapin, seanh, sherpamick, silence, siobhan37, Sleipnir, Soilse, stameTaWslefs, theblowin, thepeaces, therealmjdke, TheTommyak, the_void, thomasf, tommy86, tomsingleton, TonyGriffith, totoole, traheniws, trish, Ulick, Usher, usonic, vamericar, vinnyanderson, wmader, Womwalker, xdashpt, zinadeen (182)
Our contributors to all threads this month: Bleck Cra (10), Carlito (3), Conor74 (3), Dessie1 (9), Dwmrt (1), Frank12345 (1), Irishsas (3), Jamessheerin (1), LuisGarcia#10 (1), Pazapas (2), Pstan (1), Rocrules (1), Singo (1), ahendroff (2), barryd (2), brenno (1), bryanmccabe (1), carmstrong (1), ciaranc (1), colmocnoc (1), colmtoland (1), csd (2), darrenf (4), dbloke (1), denis-gill (1), dhmiriam (1), dr_banuska (2), drdaire (1), gerrym (3), Communal summary entries (33), hbowman1 (1), hibby (1), jackill (5), kierongribbon (2), maclimber (2), madfrankie (3), mcrtchly (2), mickhanney (3), milo (1), milokane (1), paulocon (3), pdtempan (1), pquinn572 (1), sandilandsn (1), sandwood (1), scapania (2), simon3 (8), slemish (2), swoop (5), wicklore (5) and Contributors to GPS information this month were: csd (2), jackill (5), simon3 (6), wicklore (4)

For a fuller list view Community | Recent Contributors
There were comments on the following summits Ballinafunshoge, Ballycumber Hill, Ballycurragh Hill, Baurtregaum, Benbradagh, Benbulbin, Caherbarnagh, Chimney Rock Mountain, Cnoc na Saileog, Corrig Mountain, Cove Mountain, Croagh Patrick, Divis, Djouce, Gáinne Mór, Keelogyboy Mountain, Killerry Mountain, Kings Mountain, Kirikee Mountain, Knocknagun, Knocknarea, Lough Curra Mtn, Muckish, Mullaghasturrakeen, Mullaghcleevaun, Mullaghmore, Muskeagh Hill, Mweelrea, Preban Hill, Prince William's Seat, Rocky Mountain, Sleamaine, Slieve Bearnagh, Slieve Beg, Slieve Carr, Slieve Felim, Slieve Felim S Top, Slieve Muck, Slieve Rushen, The Paps West, Tievecrom, War Hill, White Mountain and these walks were created Glennamong Horseshoe

Thanks to all 877 who have ever contributed summits or routes info and forums. .

For a full list view Community | Contributors Hall of Fame
Summary. MountainViews now has 5003 comments about 940 different hills & mountains out of the total in our current full list (1055). We need more comments, better comments and more balance for every summit as our rate for "data completion" now that the 150m summits have been added is currently only around 44% There's plenty (115) of opportunities for you to be the first to comment on a summit. Listing summits in "Lists & Logs" (tick MV completion information) allows you to see what information we need to get more even coverage.
Notices
If you are contributing, please be careful to respect the interests of landowners. Suggest access routes well away from houses, gardens or that could conceivably impact farming activities. When walking, keep away from gardens or farm buildings. Use stiles or gates wherever possible. Never do anything that could allow animals to roam where the farmer did not intend.
If you hear of a problem area or route, write it up in MountainViews which does everyone a service.
Report rubbish tipping in the Dublin/ Wicklow area - ring PURE 1850 365 121
Report quads in national park area (in which they are banned). For Wicklow please phone the Duty Ranger: 087-9803899 or the office during office hours Telephone: +353-404-45800. Put these numbers in your phone, take regs etc. Let MV know of contact numbers for other areas.
If you have climbed some of the less well known places, we would appreciate a summit rating.We could use your help in making ratings for the unrated mountains which you have climbed, such as: Puffin Island, Inis Tuaisceart, Maumfin, Inis na Bró, Knockaghaleague, Bunmore, Knocknascollop NW Top, Cruach Leac Chonaill, Lettertrask, Coolsnaghtig and some 24 others. and also GPS readings for summits.
If we can, let's make MV have more than one route up a summit so as to reduce the tendency for paths to appear. Your grid refs in comments for different starting points show up on MountainViews maps.
This newsletter
Editor: Simon Stewart Homepage: www.simonstewart.ie
Assistant editor: Colin Murphy
Graphics design advice: madfrankie
Newsletter archive.
View previous newsletters mountainviews.ie/newsletter
RETURNING TO MOUNTAIN VIEWS
Click on (If you have cookies on in your browser then you will be prompted as to username/ password. If you forget the password, the login page can email you a replacement.)

UNSUBSCRIBING
If you don't want to receive any further monthly newsletters from Mountain Views click on Settings. Then change the option beside "Include on occasional mailing list" to "Do not include". Then click the "Save" button.
Alternatively let us know by email at admin@mountainviews.ie Include the email address you got this at or your screen-name.