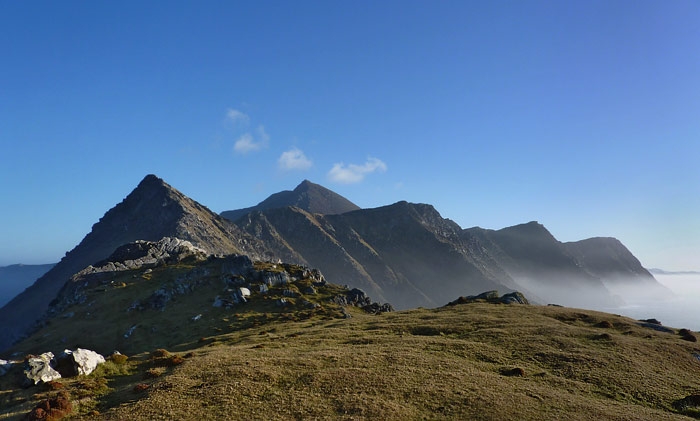 Achill Head
This great pic of Achill Head was brought to MV by pn_runner, member and prominent summiteer. The picture was taken by his friend Larry Egan in Jan this year.


Walkers Association of Ireland
and other groups.
The Walkers Association Winter Talks Series

Do come along to some of these events which are generally well attended and a great place to meet other people interested in walking on or off the hills.

Saturday, 13th November Beginners training course on how to use a GPS- see WalkersAssociation.ie for details.

Wednesday, 17th November, 8pm: Walking in the Alps: from Chamonix to Zermatt via the Haute Route

Donal Finn, Hillwalkers Club - An Oige and Walkers Association
The Haute Route stretches from French speaking Chamonix to German-speaking Zermatt, Switzerland. Normally completed over two weeks, it involves trekking 'across the grain' of the Alps, thereby typically walking from valley to valley by crossing an intervening ridge - practically each day. Moreover, the route traverses below the summits of ten out of the twelve of the highest peaks in the Alps as well as crossing several high passes, the highest of which is 2964 m. Never far from alpine glaciers, the walk can only be completed without snow equipment during the short alpine summer. This talk is based on a two week walking holiday undertaken by Donal Finn in 2003 and will be given using positive slides.

Coming soon!

January 2011: Table Quiz in aid of Mountain Rescue

February 2011: Simon Stewart with others from MountainViews will be offering an illustrated presentation on Irish hillwalking. The MV Annual Awards ceremony for Summiteers and Contributors will be held.

March 2011: Talk and AGM.


Moonlight Challenge for Mountain Rescue! - Saturday 20th November 2010

Challenge yourself and your team on this 26km Night Hike (16.3 miles) in aid of the Glen of Imaal Mountain Rescue Team. Your group will have to travel from Crone Wood in Glencree, following the Wicklow Way to Paddock Hill and finishing at the site of the Team's New Rescue Base.
Funds raised will go directly towards building this Base (construction has begun) and will ensure that the Team can protect, store and maintain their live-saving equipment. At present there are no indoor facilities for the Rescue Team, and Rescue vehicles and equipment are stored at members' homes. This reduces the life of all the rescue gear.
More information
WAI Photo Gallery - why not upload some of your pictures (Ireland or abroad) to this?
New features
MV getting organised
I am glad to say that the inaugural meeting of the "MV Committee" (no name yet!) was held mid-October and went well. Ten people offered to help and seven were able to make it to the first meeting, held in Dublin. We have agreed some initial positions:
wicklore is the Hon Secretary.
madfrankie is the Awards Officer.
jackill is the Projects/Geography Officer.
Bleck Cra is the Events Officer.
Some other roles have been divvied out. Member Colin Murphy will amongst other things be assisting with this newsletter. In fact he has already started and has great plans for the future.

MV now real-world and virtual In my opinion having seen the way other virtual communities have operated, it is an entirely natural expression of community that members want to move the organisation from being mostly virtual to one with a face-to-face side. Built correctly, the whole will be greater than the sum. Nevertheless the website will continue to cater for those many people that are only able for or only interested in the online social network.
Interestingly four of the seven are what could loosely be called "media" people. Also interestingly MV has attracted the support of those interested in the less bureaucratic approach to organisation. As we mentioned last month, if you want to help from organising meets, through technical work, to assisting in our various projects, register your interest at admin@mountainviews.ie
Recent Contributions and News
New East-West Maps in Wicklow
Recently East West Mapping released "Lugnaquilla & Glendalough" and "Wicklow Mountains West", both 1:30,000 maps.
As we mentioned before about this map series, there's much to commend including: Parking info - formal, informal and paid, accurate forest tracks and streams and a wealth of historical and name detail and all printed on tough paper. Other information on the map includes the phone number for PURE and the WMNP.
Not so good are the bland contours which miss important landform detail such as gullies. Competitors such as the Harvey Map and the OS do much better. For example the Harvey map when covering the area around Derrybawn includes form lines to better present the shape of the land.
As a series the overlap between maps seems excessive. The two maps share around 40% of their area.
Difficult also are the summit names, which are sometimes completely different from other sources. Some of these changes have safety or route planning implications such as the reversal of Silsean and Moanbane or the renaming of Mullaghcleevaun East Top as Stony Hill (This means that there are two Stonys within 4k.) Others are inconsistent such as the renaming of Carrig as Coanty which even differs from the first East-West map in the series.
The OS is not necessarily always right on names and indeed their lack of correction so far can also be vexatious. In this situation I think there needs to be a further discussion about how features are named including the relative balance of widespread acceptance, historical sources and what local farmers call places.
Nevertheless these maps are interesting additions to the available maps for Wicklow with some limitations, but then the competitors also have limitations.
Mizenman provides the heads-up on Sheep's Head
Sheep's Head may be one of Cork's lesser-trodden peninsulas, with its rather diminutive tops, yet its relatively easy climbs and ease of access reward the walker with spectacular views of Bantry and Dunmanus Bays, as one member reveals…

mizenman on Seefin: Great views of Bantry & Dunmanus Bays
Seefin is easily accessible from a lay by about 1.5km above Kilcrohane. A white statue and cross are located at the saddle between Seefin and the adjacent Caher peak. There is room here for several cars. The peak of Seefin rises to the east. After a fairly level walk of 0.5km or so from the lay by the bulk of the mountain suddenly rises. A small, short gulley must be climbed to proceed. It was wet ... Click here

Wonderful wiki working
More people have had a go at writing Short Summaries this month, such as the contribution below. Thanks to everyone that's been having a go.

group on Slievemore: Monarch of Achill
Follow the road along the west side of Doogort strand until there is open mountain on your left hand side (around F669 090). There's a few places to park along this road, or further back at the beach. Once off the road, head for the base of the obvious ridge to the south of the corrie and follow an intermittent path along the heathery, rocky ridge until, after 650m or so of climbing, the summit ri ... Click here

Trig pillars - Scottish Tardis Horror
There's a seriously amusing case of pillar vandalism from Scotland later, but first one of our members reported on some local defacement. Just silly and irritating unless you get Very Worried by such things.

madfrankie on More Trig artwork
Recently Wicklore drew our attention to the conduct of 'Neary' who, having made the considerable effort of climbing Slieve Carr, felt compelled to immortalise himself by inscribing his name on the summit trig pillar. Similarly, on a recent trip to Antrim I noticed Knocklayd's trig pillar has had a bit of a makeover. Anyone have any idea who Ben Parker was? Click here


And there's MUCH more from Scotland ..
Really the sense of indignation in the Trigonomy Yahoo group report (horrific, disbelief, perpetrators) from an incident involving Beinn Chorach in Scotland says it all ...

"Imagine the disbelief, on approaching the summit that the large object seen from the forest track below, was indeed a traditional red telephone call box. Horrifically at closer range, it became apparent that the trig pillar was inside the box. Yes, a trig pillar on the top of an Argyllshire hill is inside a telephone box.

The perpetrators secured it shut with three self tapping bolts threaded into specially drilled holes. To add to the woes, the flush bracket S9729 was not facing the door (south face) but behind the casting on the left (west) face. "
And the one link you should click on this month? Click here for the picture.

Climbing Slievelamagan the hard way
Two members (and Spiderwoman aka Kernowclimber!) report on a precipitous ascent in the Mournes…

mcrtchly on Slievelamagan: Rock on!
Having walked up Slieve Lamagan the previous weekend we decided that a more challenging ascent would be fun. With this in mind an attempt on a rock climbing route was called for and FM on the Lamagan slabs fitted the bill. FM (rated V. Diff) is one of the longest multi-pitch routes in the Mournes with about 160m of direct climbing and another 200m or so of grade 1/2 scambling and walking to reac ... Click here

Teddy bear bags a top in Wicklow!
One contributor enjoys a quick hour's jaunt up and down Slievecorragh in Wicklow, and an encounter with the hill's cuddly mascot…but no more snaps of him please!

Dessie1 on Slievecorragh: Ready Teddy Go!
Climbed Slievecorragh on 1-10-10 from Hollywood side.Parked beside church (N951 053) and climbed over gate across the road.Headed directly for the statue of the priest which overlooks Hollywood.On reaching the statue I made my way South East on the wide tracks which lead up to an open field, then I followed the fencing on the right which runs up through a couple of fields and then opens up to reve ... Click here

Lying down on the job
Peter Walker reveals his unique method of determining relative altitude…

Peter Walker on Holywell Hill: At least it's better than Mongorry Hill...
I have no further input with regards to the route, having vaulted the gate and walked up the road like everyone else. But I'm unconvinced that the point identified as the highest is any more adjacent to heaven than the trig point (having indulged in my usual hugely scientific determinants of relative altitude such as laying on the ground and using backgrounds to try to ascertain if a line of sight ... Click here

Strange Maps
Fancy reconnecting Britain to Europe by drying up the North Sea? Or how about damming the entire Med to provide hydro-electric power? The advent of aerial perspectives and mapping (thanks mainly to Zeppelins) inspired some fanciful visions in the early 20th century…
More on this here
Inishowen indigestion.
Peter Walker on Mouldy Hill: A cheating English peakbagger writes...
I know it's probably belittling it a little, but once I got it into my head to try to get all 22 Inishowen tops done in four days I needed a quick way up Mouldy Hill. So I eschewed any coastal starts and studied the map, eyes alighting on the road running high up the south flank (past a settlement named Roosky on Sheet 7). There is a very short track marked as leaving the road at 359 281: on the g ... Click here

Mountain Rescue Hoaxer jailed in UK
Journalist Sarah Louise Crickmer has been jailed for three months for making hoax calls during last year's Cumbria floods, which resulted in 32 members of the Keswick Mountain Rescue team combing the Lake District for a non-existent casualty…
More on this here
I gather Adrian Hendroff's book "From High Places"
will be appearing Nov 15. It's on pre-order on amazon.co.uk now

More info on the book.
Please note, we are happy to promote this as a resource for Irish hillwalking. If you have such a resource, get in touch.
The MV October Walk for members and friends in Wicklow - "Scavenger 5" October 9th

This went well. There were endless reports in MountainViews such as this from the Derry contingent.
Derry259 on Scavvy V
Cheers Wicklore and Brenno for leading us on a great days walking,also to all the other MV'ers for their company during the day ,night and early hours.(Jackill I am putting in some serious singing and guitar practice before Scavvy VI to reach your level of expertise). Thanks also from my brother Martin and aquaintance Brendan,I never mentioned the word friend Mary...... oh ok then My friend Brend ... Click here

Unfortunately there were two car breakins (including mine) in the Baravore car park while we were out walking. See more here:
Bleck Cra on WICK LOWDOWN ON CAR BLAGUES
Given the volume of chat on the probability of a car break-in in Wicklow, it is clear I must be the only man in Ireland who didn't know this. Culchie fool. Which explains why I got screwed a couple of weeks ago. If I describe the MO perhaps some car techie can come up with some prophylactic. I have my own solution and it involves a few boys from up here in the north who are now at a loose end afte ... Click here

One technical change has now gone live. Noticing that not all parts of the website were being indexed consistently by famous search engines we changed the urls to more friendly ones such as /summit/ and created a list of all pages called a sitemap. On notifying Google of our sitemap we were informed that said search engine had now increased its knowledge of our pages from around 1800 to the 8700 odd we actually have. It takes time for indexing and presentation to change but in a few weeks there should be improvement in search results. If any of you know what SEO is, feel free to chat - admin@mountainviews.ie
Got Tech skills? Interested in Social Networks?

There's many a suggestion for developing the website technologically. New social methods - Twitter etc. Incorporating better maps using modern map server methods, supporting tracklogs/ geotagging, videos There are many many others. While the site has had really fantastic support by way of visitor numbers, comments and volunteer help of many sorts, one thing we could really use is technical support. As well as software development, there's website configuration and management etc. If you'd like to discuss it why not email here: admin@mountainviews.ie or use the members messaging service to send to simon3.
Sorry if I didn't mention what you posted .. there's a list of all contributors for the month later.
Notes.
Site notes
If you can set-up your email to get web-format ("html format"), you should be able to get more out of this newsletter. Previous Newsletters
GPS Notes.
August 2010. The latest GPS map from MV member pazapas, with more uptodate info including lakes, rivers, roads, antiquities, 150m list from this site and urban areas.
Pazapas on Emerald Island GPS map v1.96
Emerald Island GPS map v1.96 is available. This release introduces new contour lines from latest SRTM data (v4.1). OpenStreetMap data are also new and rendered with minor styling changes (artiliary range, natural protected areas, kind of forest). A major bug (maybe not present in previous version ?) is now corrected : contour lines are back with DEM colors. Note that DEM are now display at lower s ... Click here

This month.
We welcome the following new members who enrolled this month. aaarone1, abernstorff, adriennelennon, aindreas, AndrewH, AndyDunn, annie087, anthonyosullivan, Artem, barrettnoelle, barrymayo, BbSean, blather, boy_wonder, Brado, bravste, Brdach, breandandalton, brianfluffy, Broc, buck71, buttermilk, calendarecz, Cammill, caoimhinn, Cat, cathalohinse, cathalone, cathereen, cburns, chrisdevenney66, christyconway, ciaranb, ciaranfennessy, clareterrier, cobweb, colsy, ConorH, cran, cumparferma, cusack, custom900, cutehoor, cyberclive, cyrilcrosbie, daisies, damo365, damo_c, david22, decburke, DenisG, deviller, DHardiman, dhogan, dinnycash, doc99, dollydagger, downloadersssxxxl, DreamTrip, drivenmad, edearie, egorski, eoin2001, erinmac, Evalseovege, Faumejemn, fiepeDego, FilHil, FintanO, fionan, flossie, flyerebv, flyingblackhats, fmccrory, forrest5000, gaaaaa, galwayj2, garyjr, Geansai, geriD49, ghaley, gnfurlong764, GrantBromberg, greenandragogue, hammadkhan, happyjack, harrymurray, hatcho, Hazel, hbowman1, hcorkguy, hknox766, Hobbs, Hodkram, huntsman, ianchristie1, irishikingbot, itiswithimmense, JackC, Jason1984, javono, jbriggs, Jemima, Jentiadbabe, jfwickins, jjworld04, joereville, JohnOf, Jonathanhay, Julia, karav, kayackKap, kayak123, keenan51, kenpower, KevinDuffy, kgerm5, kilgore209, kmicheal, Krzysztof, LadyGodiva, LamaOdyssey, Laois, lashed, Lemsottefat, liam190, liamdv, lne, lochgorman77, malcorbett, marcom, MaritaAnn, Markofreefly, MarkWalker, martincal5, mcderto, mcmenamin, MichaelE, michealpo, mickharkin, mikeh123, mizenman, mjkeane, muire, m_lakes, nilmficinna, nkarkkai, oneillco19, Owenmcd, paulkellymando, paulkiely, pavol, peggy, pff, pog, polligull, Portrush-Dunes, Ptarmigan, Rachel40, rafalk73, ramblerontour, Raven7, rcb, redfacedwalker, richardfagan_, RKelly, rmaddock, robjohn, robmwgs, Rocky, rosscurran, rovergirl, rzed, sallystan, SarojLindy, SCollins, scratnagh, seandougal, SJoly, skeeter34, slp, sohiggin, Spudney, stephenmcm, Stevenmahony, studentscience, supermeniscus, t18con, tbaines, teddy, thesperinner, thomasflahive, Thorsell, Tomala, tomcurran1, tonelagee, v_janssens, walkingworldirl, Wash6288, Wecehaicy, willms, yicyac, yunka85, ZennaveptBelp (204)
Our contributors to all threads this month: AislingKelly (1), Bernieor (1), Bleck Cra (9), CaptainVertigo (9), Conor74 (1), Derry259 (2), Dessie1 (9), Djouce (1), Muckyboots (1), Peter Walker (4), Ptarmigan (1), a_whelan99 (1), aidand (1), barryd (1), barryredmond (1), convert (1), csd (4), darrenf (1), dbloke (1), dhmiriam (3), ei7geb (1), exaisle (1), Communal summary entries (74), hazyview (3), hbowman (3), hbowman1 (2), hibby (2), jackill (10), javono (1), katekat (1), kernowclimber (3), maclimber (5), mcrtchly (3), mikeh123 (1), mizenman (4), murraynolan (1), muzag (2), paddyhillsbagger (1), paulocon (4), pf_irl (1), pn_runner (3), richardfagan_ (1), robmwgs (1), shaunkelly (1), simon3 (6), wicklore (12) and Contributors to GPS information this month were: csd (3), grzywaczmarcin (1), jackill (6), mcrtchly (1)

For a fuller list view Community | Recent Contributors
There were comments on the following summits Ben Crom, Binn Ghuaire , Caher Mountain, Cnoc Bólais, Croaghaun, Cuilcagh, Cupidstown Hill, Faha Ridge, Holywell Hill, Inch Top, Knockchree, Knockeirky, Knocklayd, Knockmealdown, Lakeen, Lugnaquillia, Millstone Mountain, Mizen Peak, Moneyteige North, Mouldy Hill, Mullaghmeen, Scalp Mountain, Scarr, Seefin, Seltannasaggart, Slieve Commedagh, Slieveboy, Slievecorragh, Slievelamagan, Slievenamiskan, Stokeennalackareha, Tara Hill, Tievedockaragh, Tomaneena and these walks were created Croghanmoira circuit

Thanks to all 853 who have ever contributed summits or routes info and forums. .

For a full list view Community | Contributors Hall of Fame
Summary. MountainViews now has 4890 comments about 936 different hills & mountains out of the total in our current full list (1055). We need more comments, better comments and more balance for every summit as our rate for "data completion" now that the 150m summits have been added is currently only around 44% There's plenty (119) of opportunities for you to be the first to comment on a summit. Listing summits in "Lists & Logs" (tick MV completion information) allows you to see what information we need to get more even coverage.
Notices
If you are contributing, please be careful to respect the interests of landowners. Suggest access routes well away from houses, gardens or that could conceivably impact farming activities. When walking, keep away from gardens or farm buildings. Use stiles or gates wherever possible. Never do anything that could allow animals to roam where the farmer did not intend.
If you hear of a problem area or route, write it up in MountainViews which does everyone a service.
Report rubbish tipping in the Dublin/ Wicklow area - ring PURE 1850 365 121
Report quads in national park area (in which they are banned). For Wicklow please phone the Duty Ranger: 087-9803899 or the office during office hours Telephone: +353-404-45800. Put these numbers in your phone, take regs etc. Let MV know of contact numbers for other areas.
If you have climbed some of the less well known places, we would appreciate a summit rating.We could use your help in making ratings for the unrated mountains which you have climbed, such as: Puffin Island, Inis Tuaisceart, Maumfin, Inis na Bró, Knockaghaleague, Bunmore, Knocknascollop NW Top, Cruach Leac Chonaill, Lettertrask, Coolsnaghtig and some 26 others. and also GPS readings for summits.
If we can, let's make MV have more than one route up a summit so as to reduce the tendency for paths to appear. Your grid refs in comments for different starting points show up on MountainViews maps.
This newsletter
This newsletter is from Simon Stewart for MountainViews
Homepage: www.simonstewart.ie
Newsletter archive.
View previous newsletters mountainviews.ie/newsletter
RETURNING TO MOUNTAIN VIEWS
Click on (If you have cookies on in your browser then you will be prompted as to username/ password. If you forget the password, the login page can email you a replacement.)

UNSUBSCRIBING
If you don't want to receive any further monthly newsletters from Mountain Views click on Settings. Then change the option beside "Include on occasional mailing list" to "Do not include". Then click the "Save" button.
Alternatively let us know by email at admin@mountainviews.ie Include the email address you got this at or your screen-name.