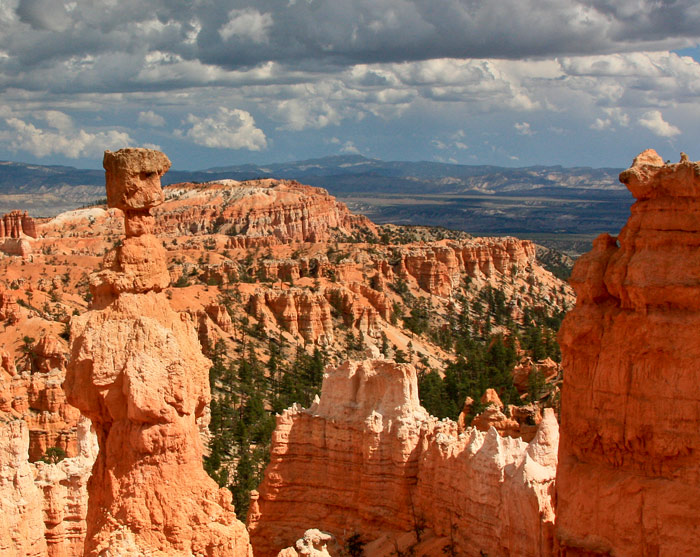 Bryce Canyon - a great place to visit
The south-west of the USA underwent vast uplift and then erosion into various diverse and striking forms such as grand canyons, mesas and buttes, however few as fantastic as Bryce Canyon. More properly an amphitheatre, the successive layers of red, orange and white rocks have been weathered (in part by a freeze-thaw cycle) to form astonishing pinnacles, known as 'hoodoos'. The nearest of these, visible left of centre, is called Thor's Hammer. Everywhere you look the sight titillates the eye. Walking at the base of the pinnacles and ridges you are bathed in bright red light reflected from the maze like walls, tinting people and objects grotesquely.
The name of the place comes from Ebeneezer Bryce a Mormon settler who tried to make a living in this area. Because of the lack of water, after about 5 years, he gave up and moved elsewhere. A quote in reference to the place is credited to him "A hell of a place to lose a cow!". Photo, simon3, Sept 2010.
Link to a further article.
WALKS SECTION
Spectacular walk in Donegal
Member gerrym creates a wonderful walk description with excellent photos of the coastline around Sturrall Head and Slievetooey. He did it in two days though you can do shorter versions in less time.

gerrym on The Coastal Walk!
Overview This was one amazing walk - through dramatic, wild and isolated coast - a roller coaster ride which turned and twisted and rose and fell along with the coastline itself. Two days were needed to fully appreciate the experience which will stay with you for a lifetime. To the Tower! Starting point is in the village of Glencolumbkille at the furthest westerly reaches of Donegal. Th ... Click here

Walkers Association of Ireland
and other groups.
The Walkers Association Winter Talks Series

Do come along to some of these events which are generally well attended and a great place to meet other people interested in walking on or off the hills.

Venue: St Olafs GAA Club, Holly Avenue, Stillorgan Industrial Park, Stillorgan, Co. Dublin at 8pm

Wednesday 20th October - Maurice Holly on Madeira for walking - Maurice has visited Madeira on many occasions and can describe the well-known and less well-known trails and peaks. An interesting aspect of Madeira is the levadas - an island wide irrigation system which also allows a right of way for walkers.

November 13th - training course for beginners on how to use a GPS

November 17th - Donal Finn from An Oige will give a talk on mountain hutting in the Alps

January 2011 - Table Quiz in aid of Mountain Rescue

February 2011 - Simon Stewart will give a talk in conjunction with MountainViews

March 2011 - Talk and AGM.


The Walkers Association Challenge Walks Calendar
This is a calendar of challenge walks such as the Carlow Autumn Festival, 8-10 Oct. Check out the 17 or so club organised events. While they are all challenges, some such as the Maamturks or the Mourne's Seven Sevens are much harder than others such as the Galtees or the Burren Walk.
There's also a list of some 14 commercial and charity events which have a challenge element about them.
The next Mountain Meitheal work day will be Saturday 09th October 2010. The project is repairing a well worn track on Three Rock Mountain (Dublin Mountains). The work is finally coming to an end with only 10m of stone pitching to complete and a small amount of snagging outstanding.
Offers of help and donations wanted!
More information
Advance notice: Wayfarers celebrate by raising MR funds. Need help!
The Wayfarers Association is celebrating 40 years this year and two of the events which the Club is organising to mark this auspicious occasion are a Raffle and Monster Sale in aid of the Dublin and Wicklow Mountain Rescue Team and The Glen of Imaal Mountain Rescue Team.
Offers of help and donations wanted!
More information
Advance notice: Moonlight Challenge for Mountain Rescue! - Saturday 20th November 2010

Challenge yourself and your team on this 26km Night Hike (16.3 miles) in aid of the Glen of Imaal Mountain Rescue Team. Your group will have to travel from Crone Wood in Glencree, following the Wicklow Way to Paddock Hill and finishing at the site of the Team's New Rescue Base.
Funds raised will go directly towards building this Base (construction has begun) and will ensure that the Team can protect, store and maintain their live-saving equipment. At present there are no indoor facilities for the Rescue Team, and Rescue vehicles and equipment are stored at members' homes. This reduces the life of all the rescue gear.
More information
WAI Photo Gallery - why not upload some of your pictures (Ireland or abroad) to this?
New features
The MV October Walk for members and friends in Wicklow - "Scavenger 5" October 9th

There information about this walk, to be based in Laragh, Co Wicklow, here:

wicklore on MountainViews Walk – Scavenger 5 –October 9th
Well Bleck Cra, for yourself and all others who missed the original ad about the next Scavenger Walk, here it is again! This will indeed be both myself and Brenno's first time to lead a walk. However having being on several before I know the craic will be mighty! Come one, come all. MountainViews is delighted to announce the next in the occasional series of walks arranged by MV members for MV me ... Click here

And more, in light of the weather ..
wicklore on Landslides and flooding -Scavvy 5 will go on!
On 12th September following heavy rain and flooding, MV member hobob informed us of landslides and lost footbridges in the Glenmalure Valley. With the upcoming MountainViews Scavvy 5 hike on October 9th (all welcome – be prepared and be responsible) I was anxious to assess the situation and how it might affect our walk. However after visiting Glenmalure and viewing the damage firsthand I am deligh ... Click here

MV Organisation - Reminder
MountainViews started, of course, as a website. Gradually it is accumulating other functions: social, informational, cultural etc. It is founded on the old principle of self-help invigorated by new web technology and has attracted hundreds of contributors and supporters. To follow up and develop a reasonable program we need to get organised, so a group of supporters are meeting to consider how on the 16th Oct in Dublin. If you want to be there, register your interest at admin@mountainviews.ie
Links from last newsletter - apologies and fix
If you clicked on some of the links in last months newsletter you probably discovered that some of them didn't work. Apologies - hopefully all fixed this time.
MountainViews Badges!
Hundreds of people contribute to MV and over eleven hundred log the summits they have climbed so there's every chance you'll meet other members on the hills. If you knew who they were that is. That's where our new badge comes in. Why not wear one or put one on your rucksack. Or both. A great conversation starter.
You can buy badges by post from here or at our events.
Recent Contributions and News
Most amusing contributor debut of the month - fairies strike back.
glenlecky on Benbeg: Is it worth the risk?
Walked up Cuilcagh along the way marked route from the Cuilcagh Mountain Park car park on 31/08/2010. The day was good so I went on south to Benbeg where I found this new looking cairn, not mentioned previously. There were no other rocks around the summit. I didn't examine it too closely in case I knocked it over and cursed my family or something. They have a hard enough time having a father ... Click here

Reading all of Motley Views, baroque repartee etc etc
Captain Vertigo has revealed himself as one of the only two people who I am aware of who has sat down and read Motley Views, MountainViews forum, at one sitting. Deciding whether this is a good thing or not should be left to those wiser than myself or at least with a background in psychiatry. However one person he mentions is member Djouce who is not an alter ego but a web-development friend who I have discussed the creation of the forums and much else with over the years. Recently he made a start on putting some information into Wikipedia about mountain lists in Ireland - something that great site hasn't done well so far.
Incidentally in improving the urls of the site (MV now has prettier addresses such as /walk/100/ ) I will be taking the opportunity to create fixed urls (& pagenumbers) for Motley Views - this is for easier reference by the Captain, by other users but also for proper indexing by search engines.
And please, no more about the Great One.
I've seen what can happen with unlimited back-slapping and synchronised applause in another organisation (the one that claims to represent us) and all you get is public group think and often poisonous private character assassination at the bar afterwards.
CaptainVertigo on Bleck is Bleck
I am currently preparing myself mentally and physically for the FIFTH SCAVENGER WALK which is to be held in Wicklow on Saturday 9th October 2010. To this end I have embarked on a program of research of the history of such walks on this site. My first task has been to re-read the entire content of Motley Views. It was a pleasure. As I write there are 145 pages of such views but the number grows la ... Click here

Eastern overview of the Comeraghs

This summit (classed by MV as a Binnion) has a great view to offer for little work - still it is possible to go wrong as csd reveals in this contribution ...

csd on Croughaun Hill: Bee careful!
I followed jackill's instructions, but impatient to get up to the summit, I ignored the bit about meeting a grassy ramp and headed straight for the summit after his third point. Unless you're trying to get back into shape for a ski holiday, this probably isn't what you want to do, as you'll spend the next 20 minutes lifting the legs high over heather and ferns. The mist was down, so no views fr ... Click here

Quiet, easy walking in Fermanagh
One of our mid-Ulster correspondents, who I had the pleasure of walking with recently, sends in this report on another Binnion.

Harry Goodman on Tullybrack: A pleasing variation to an out and back route
On Sat 25 Sept 2010 I turned off the minor road from Boho to Mullylusty at H097423 signed for Aganaglack Dual Court Grave and parked just before an entrance gate to Ballintempo Forest H0919743040. Anticipating an out and back walk of some 16km I was surprised and pleased, just inside the gate, to note a board for a signed Aghnaglack Walk (12.3k). This coverd a major part of my intended outward r ... Click here


Another from mid-Ulster describes a trip up this well known summit at the west end of the Sperrins. Gorgeous misty pic.


dr_banuska on Bessy Bell: Approach from east following Ulster Way
This is a hill I'd been wanting to climb for a while, for despite its relatively low height, it and the wind farm on its lower slopes are very prominent from nearby summits owing to its relatively detached position at the western end of the Sperrins. The Ulster Way conveniently passes over the summit (not sure it always did though - the route was altered and relaunched about a year ago). I cli ... Click here

Commemorations
I happened to see the commemoration of Ger McDonnell on RTE (Irish state TV) last night and yes I would agree, a man who touched many in a remarkable way. Particularly convincing was the tribute paid to him by the foreign leader of his team. How many of us would put ourselves in harm's way to rescue others and while in a death zone?
I wasn't aware that someone had put a plaque to him on Carrauntoohil or that this had been removed. There has been extensive comment here and elsewhere (such as Mountain Log) on the ethics of plaques on summits and the balance between private grief and public interest. Many including myself believe that such memorialising, while currently only occasionally irritating, could get out of hand (and indeed has in other countries). I wonder how many true supporters of the wild hills would want a prominent plaque for themselves anyway?
This is not to excuse vandalism - two wrongs do not make a right - the proper way to handle such a delicate balance will be through discussion, agreement and, if possible, collective will, not attacking plaques.
New contributor a_whelan takes a different view on the value of the McDonnell plaque.
a_whelan99 on Ger McDonnell
To begin with I have to commend RTE on the great Nationwide special last night (Mon) on the life of Ger McDonnell, the Irish hero who passed on K2 in 08.... I did the coumloughra horseshoe in testing conditions with friend last Saturday morning and as it was my friends first time on the Reeks looked forward to showing him the commerative plaque that was placed on the cross on Caraunntoohil in ... Click here

For another view and a statement of his/her desire in the matter, the following may be of interest from an earlier discussion in MV (2008):
vikinghar on How I want to be remembered
Hi there. I am relatively new to MV and this is the first time I have contributed. I was very interested in the discussion around memorials that are placed on the hills and mountains and agree that permanent, intrusive memorials do blight the landscape. I understand fully the need for remembrance and it is possible to be responsible about achieving a balance between a public memorial and a priva ... Click here

Let me publicly state that I do not want an intrusive memorial for myself on an Irish summit .
Have a go at a short summary
If you have been contributing to MountainViews for a while there will be an option for you to add information about any given summit, Wiki-style. Do have a go - there must be a number of summits you know reasonably well which you can put in a starting contribution for.
Here's an example from the prolific jackill
group on Mangerton: The Devils Punchbowl.
From Killarney take the Kenmare road past Muckross House and then take the first sharp left after Moll Darcy's pub. Drive uphill to a fork in the road with a sign for Mangerton. Take the road to the right and drive along this road until you meet a narrow car park V984 857(room for 10 cars)you may also be able to park further down the road on the right hand side of the road. Walk down the road un ... Click here
and here's an article explaining the logic of the short summary.
wicklore on Mountain start points already started
Response to Dessie1's query Dessie1 your suggestion that MountainViews could provide GPS coordinates for suggested start points for climbing Irish hills and mountains is excellent. I'm glad to inform you that MountainViews has already been providing this for several months now! Above the general comments for any hill or mountain listed, there is a brief 'Short Summary' feature. This Short Summa ... Click here

High Speed Training
This unsolicited testimonial came in for Bleck Cra's generously proferred training: "I was up to the Mournes last Saturday with Doug taking his 'Challenge walk' training course.
I must say I found it enlightening, his techniques are well thought out obviously over may years and I feel certain applying them will help me immensely. I think we are fortunate that he has made the offer to Mv users." (This I believe to be genuine, not the result of advertising contagion).
More information.
Bleck Cra on HIGH SPEED TRAINING
Just a quick thanks to ger and "himself" for their enthusiastic post ref Challenge Training. In that they are delighted, so am I. V good pupils. A quick assessment nailed them as middle Grade 2. We started on ascent technique training on Meelbeag – and by Slieve Bearnagh we had swooped into Grade 1. A 20 min ascent of Bearnagh from the slabs col to the summit is not to be sneezed at. Now we were ... Click here

If you are further interested in Challenge Walks in Ireland you can also get information from http://www.walkersassociation.ie/challenge/walk/calendar
As mentioned last month, Adrian Hendroff's book "From High Places"
will be appearing at the end Oct. It's on pre-order on amazon.co.uk now

More info on the book.
Please note, we are happy to promote this as a resource publicising Irish hillwalking. If you have such a resource, get in touch.
Lost walker found after ignoring rescuers' directions
A story from across the water.
Link to story
EastWest Maps
Recently I received review copies of the two new maps produced by EastWest Mapping. These are "Wicklow Mountains East" and "Lugnaquilla & Glendalough". I hope to include reviews for these in due course. If anyone has an interest in producing a review of either (objective, interesting) please let me know.
Legal union.
And finally could I mention that member simon3 and member osullivanm will be getting married at the end of the year.
Sorry if I didn't mention what you posted .. there's a list of all contributors for the month later.
Notes.
Site notes
If you can set-up your email to get web-format ("html format"), you should be able to get more out of this newsletter. Previous Newsletters
GPS Notes.
August 2010. The latest GPS map from MV member pazapas, with more uptodate info including lakes, rivers, roads, antiquities, 150m list from this site and urban areas.
Pazapas on Emerald Island GPS map v1.96
Emerald Island GPS map v1.96 is available. This release introduces new contour lines from latest SRTM data (v4.1). OpenStreetMap data are also new and rendered with minor styling changes (artiliary range, natural protected areas, kind of forest). A major bug (maybe not present in previous version ?) is now corrected : contour lines are back with DEM colors. Note that DEM are now display at lower s ... Click here

This month.
We welcome the following new members who enrolled this month. aidanwalsh, ajhines, alanmckendry, Alberic, alim, alstro, andrew136c, AnibZifib, anncarroll, arski, asthecrowflys, austy600, Axtech, Backpacker1uk, baltimore, ben2010, biancahoekstra, billiebm, blennerville, bloatty, Bluesix, Bouldie, Brendan21, BrendanGil, BrianGeraghty, Cathal80, Catherine0690, cguilfoyle, chr1st1e, climber07, cliona, colmhawe, constellationcor, cosgrove78, coylo75, CPower, CuChulainn, DaraByrne, David_Pollard, davmac333, dawsdawn, dazshomar, denisfield, DesAherne, dgalad, edward1, Emeraldirl, emerbmccarthy, eoinoc, eomahon, Eterneuride, fafhrd, Fam_Fransen, FooffAffole, fordercx, foxo100, FoxyLoxy, franandmike, Frankly, FredK, frenchbird, georgerugby, gking1979, gladcelt, glassilaun, glees, gre2401, greenmeany, grzegorz, gurhen, harrycoogan, Hewsan, hollowchick1, IrishwalK, janine, jeannolan, jennyanne, jmcprtln, jmorrissey, joemcdub, johnlawrence, johnpaulherron, kaji84, karkamorcennY, KevinBowen, KevinOleary, Kingdom, klangan, kmoore, kwhite, lancejaywoods, LavenderA, lilidollgirlm, linds37, ling, lisa54, ljrw, Lomond, louie, ltnif, MacNicol, manikolbe, martinaorpaul, maureenmcollins, maxlongstreet, mayo, mcellinm, mcusack, meanyl, melohara, michelleconville, mickelly, microrob, migo, mikeabc, mikehere, Mikers, millwha, minkymoo, mjpurcell, mjscanlon, mlawrey, MMaunsell, mmcguire, mmol, mogor, newnumber2, nfopmp, nialltoner, nieczynny, omf, orangepeel, PadraigSmith, PatrickHeyfron, paulgaug, petethepaint, pigsisris, pladijske, prio, przewlok, pushkinbaby, qmek, rebelheff, red42, Reerfeptity, ricen, rickarkley, robmw, Rodospoommips, ronanoscollain, Rossignol, Roughan, rowanp, ruth04212, sally, seanybhoy, sherpatersing, Sloane, speedypat, sumdetective, susanhoward, tarad, thesearcher129, toohigh, tpuica, turnavean, vamos, vesterer, Vikingr, wayfarer, yasminkenny, yrest (172)
Our contributors to all threads this month: Alaskan (1), Alex92 (1), Bleck Cra (15), CaptainVertigo (3), Conor74 (8), Dessie1 (7), Harry Goodman (6), JohnQ (1), Kingdom (1), PaulRevere (1), Pazapas (2), YoungJohn (2), ahendroff (4), alanjking (1), brenno (1), csd (6), darrenf (5), davidkilleen (1), dino (1), dr_banuska (1), exaisle (3), fionn_rocks (1), gernee (1), gerrym (4), glenlecky (1), gouganebarra (1), Communal summary entries (46), hazyview (2), hobob (1), jackill (6), kernowclimber (4), maclimber (2), madfrankie (3), mcrtchly (1), paulocon (2), pdtempan (1), scannerman (1), shaunkelly (1), simon3 (4), slemish (1), stargazer (1), three5four0 (1), tiktiktik3 (1), wicklore (9) and Contributors to GPS information this month were: csd (6), grzywaczmarcin (5), Harry Goodman (1), Pazapas (6), simon3 (8), wicklore (15)

For a fuller list view Community | Recent Contributors
There were comments on the following summits Belmore Mountain, Benbeg, Bessy Bell, Binn Bhriocáin, Binn Bhriocáin NE Top, Brougher Mountain, Caherconree, Camlough Mountain, Carran South Top, Clermont Carn , Cnoc na hUilleann, co ck Mountain, Croagh Patrick, Croaghaun, Croughaun Hill, Cupidstown Hill, Errigal, Galtybeg, Knockaffertagh, Knockboy, Knockeirky, Knockiveagh, Lackenacreena, Little Sugar Loaf, Lugnagun, Mount Gabriel, Moylenanav, Muckish, Mullaghcroy, Mullaghmeen, Mweelrea, Nephin, Pigeon Rock Mountain, Saggart Hill, Scalp Mountain, Silvermine Mountains W Top, Slieve Beagh South East Top, Slieve Binnian East Top, Slieve Carr, Slieve Glah, Slieve League, Slieve Na Calliagh, Slievenaglogh, Sugarloaf Hill, The Paps East, Tievnabinnia, Tonelagee, Tullybrack and these walks were created Binevenagh - The Foyleside Giant

Thanks to all 840 who have ever contributed summits or routes info and forums. .

For a full list view Community | Contributors Hall of Fame
Summary. MountainViews now has 4794 comments about 934 different hills & mountains out of the total in our current full list (1055). We need more comments, better comments and more balance for every summit as our rate for "data completion" now that the 150m summits have been added is currently only around 44% There's plenty (121) of opportunities for you to be the first to comment on a summit. Listing summits in "Lists & Logs" (tick MV completion information) allows you to see what information we need to get more even coverage.
Notices
If you are contributing, please be careful to respect the interests of landowners. Suggest access routes well away from houses, gardens or that could conceivably impact farming activities. When walking, keep away from gardens or farm buildings. Use stiles or gates wherever possible. Never do anything that could allow animals to roam where the farmer did not intend.
If you hear of a problem area or route, write it up in MountainViews which does everyone a service.
Report rubbish tipping in the Dublin/ Wicklow area - ring PURE 1850 365 121
Report quads in national park area (in which they are banned). For Wicklow please phone the Duty Ranger: 087-9803899 or the office during office hours Telephone: +353-404-45800. Put these numbers in your phone, take regs etc. Let MV know of contact numbers for other areas.
If you have climbed some of the less well known places, we would appreciate a summit rating.We could use your help in making ratings for the unrated mountains which you have climbed, such as: Puffin Island, Inis Tuaisceart, Maumfin, Inis na Bró, Inch Top, Knockaghaleague, Bunmore, Knocknascollop NW Top, Cruach Leac Chonaill, Lettertrask and some 28 others. and also GPS readings for summits.
If we can, let's make MV have more than one route up a summit so as to reduce the tendency for paths to appear. Your grid refs in comments for different starting points show up on MountainViews maps.
This newsletter
This newsletter is from Simon Stewart for MountainViews
Homepage: www.simonstewart.ie
Newsletter archive.
View previous newsletters mountainviews.ie/newsletter
RETURNING TO MOUNTAIN VIEWS
Click on (If you have cookies on in your browser then you will be prompted as to username/ password. If you forget the password, the login page can email you a replacement.)

UNSUBSCRIBING
If you don't want to receive any further monthly newsletters from Mountain Views click on Settings. Then change the option beside "Include on occasional mailing list" to "Do not include". Then click the "Save" button.
Alternatively let us know by email at admin@mountainviews.ie Include the email address you got this at or your screen-name.