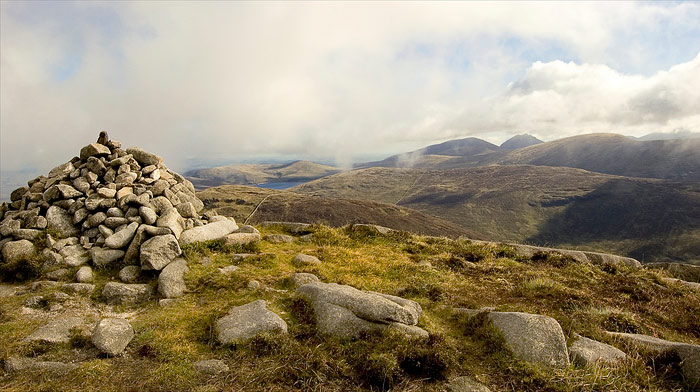 Walkers Association of Ireland
and other groups.
The Walkers Association Winter Talks Series

Do come along to some of these events which are generally well attended and a great place to meet other people interested in walking and hillwalking.

Venue: St Olafs GAA Club, Holly Avenue, Stillorgan Industrial Park, Stillorgan, Co. Dublin at 8pm

Wednesday 20th October - Maurice Holly on Madeira for walking - Maurice has visited Madeira on many occasions and can describe the well-known and less well-known trails and peaks. An interesting aspect of Madeira is the levadas - an island wide irrigation system which also allows a right of way for walkers.

November 13th - training course for beginners on how to use a GPS

November 17th - Donal Finn from An Oige will give a talk on mountain hutting in the Alps

January 2011 - Table Quiz in aid of Mountain Rescue

February 2011 - Simon Stewart will give a talk in conjunction with MountainViews

March 2011 - Talk and AGM.


The Walkers Association Challenge Walks Calendar
This is a calendar of challenge walks such as the resuscitated Glover Walk (Muckish to Errigal in Donegal) Saturday 11th September 2010, the Burren Peaks Walking Festival, 24-26th and the Carlow Autumn Festival, 8-10 Oct. Check out the 17 or so club organised events. While they are all challenges, some such as the Maamturks or the Mourne's Seven Sevens are much harder than others such as the Galtees or the Burren Walk.
There's also a list of some 14 commercial and charity events which have a challenge element about them.
Advance notice: Wayfarers celebrate by raising MR funds. Need help!
The Wayfarers Association is celebrating 40 years this year and two of the events which the Club is organising to mark this auspicious occasion are a Raffle and Monster Sale in aid of the Dublin and Wicklow Mountain Rescue Team and The Glen of Imaal Mountain Rescue Team.
Offers of help and donations wanted!
More information
Advance notice: Moonlight Challenge for Mountain Rescue! - Saturday 20th November 2010

Challenge yourself and your team on this 26km Night Hike (16.3 miles) in aid of the Glen of Imaal Mountain Rescue Team. Your group will have to travel from Crone Wood in Glencree, following the Wicklow Way to Paddock Hill and finishing at the site of the Team's New Rescue Base.
Funds raised will go directly towards building this Base (construction has begun) and will ensure that the Team can protect, store and maintain their live-saving equipment. At present there are no indoor facilities for the Rescue Team, and Rescue vehicles and equipment are stored at members' homes. This reduces the life of all the rescue gear.
More information
WAI Photo Gallery - why not upload some of your pictures (Ireland or abroad) to this?
New features
MountainViews Badges!
Hundreds of people contribute to MV and over a thousand log the summits they have climbed so there's every chance you'll bump into on of them on the hills. If you knew who they were that is. That's where our new badge comes in. Why not wear one or put one on your rucksack. Or both. A great conversation starter.
You can buy badges by post from here.
Improvements - need error reports
We are continuing to simplify addresses on the website so for example there are now pages such as mountainviews.ie/walk/100/ or mountainviews.ie/walk/select/
This process throws up some errors - do please report any you find.
MV Organisation
MountainViews started, of course, as a website. Gradually it is accumulating other functions: social, informational, cultural etc. It is founded on the old principle of self-help invigorated by new web technology and has attracted hundreds of contributors and supporters. To follow up and develop a reasonable program we need to get organised, so a group of supporters are meeting to consider how on the 16th Oct in Dublin. If you want to be there, register your interest at admin@mountainviews.ie
Knockeirky
Following requests, this summit of 577m in the Caha Mountains which appears to meet the requirements, has been added. It brings the total on our Arderins list to 407.
Recent Contributions and News
Bothy report: ramshackle tin box .. had a surprisingly comfortable night
Slieve Carr in the Nephin Begs is notoriously difficult to reach unless you fancy a 27km walk so our intrepid member used the bothy to sleep in. See how he got on (and on surrounding summits)

wicklore on Slieve Carr: The little tin bothy
Just like MV member Geo recently did, I also fulfilled a long held wish to climb Slieve Carr. Carr is widely held to be the most remote hill in Ireland, using a definition of being furthest away from roads, houses and people. The summit is about 14 kms from the nearest road along the Bangor Trail. The Trail is a 30km route that takes you through the area of near-wilderness of North Mayo in which S ... Click here

October Walk for members and friends in Wicklow - "Scavenger" 5 October 9th

There information about this walk, to be based in Laragh, here:

wicklore on MountainViews Walk – Scavenger 5 –October 9th
MountainViews is delighted to announce the next in the occasional series of walks arranged by MV members for MV members. This walk follows an outstandingly successful walk in the Mourne Mountains on August 14th attended by 17 MV members.
Fondly known as 'Scavenger Walks', or 'Scavvies' in short, the next one will take place in Wicklow on Saturday October 9th. The walk is open to all Mountain ... Click here

Here is one of several reports on the last one, in August

jackill on Most Mountainviwers per square inch of summit
Ah yes, the carnival is over sang the New Seekers, and likewise my holiday. One of the high points was the weekend spent shadowing scavvy 4 with the Bleck Cra flying machine. Its been reported on by many attendees here already so all that remains to say is thanks to you all for the company, the laughs, the wine, the stout, the challenge group, the Slieve Donard, the badges, the wine, the stout, ... Click here

unsupervised Rottweiler trotting towards me .. true grit on a County High ascent.
Best new contributor award for this month!


Gribster on Seltannasaggart SE Slope: County Top of Roscommon
On Saturday 7 August 2010, I parked at G 919 191 where the Miner's Way meets the road before setting off along the Miner's Way uphill towards the wind farm. I passed close to the bases of several wind turbines before reaching a 90° bend to the right at G 903 197 (still in Leitrim). I had MV's grid ref for Roscommon's County Top (G 90251 19607 at that time) programmed into my Garmin, which took me ... Click here

Bloody Foreland - a seaside delight in Donegal
Member jackill has excelled himself this month with his report and pics.
He also uploaded a "Short Summary" for this place with straightforward parking and route description. In fact jackill has uploaded 24 Short Summaries for August.
If you haven't tried putting in a short summary, have a go if the option appears. Start with some place you know reasonably well - there's plenty of help.


jackill on Cnoc Fola: Conversations with St Patrick, Oisin and Balor of the evil eye
Atlantic sunsets blazing blood red have nothing to do with its name, rather a reddish mineral staining the interlaid beds of quartzite and granite visible from the road near Meenlagha. The summit is one of the best coastal viewpoints on this island. Off to the south the noble quartzite cone of Errigal, then rushing towards you a visual cachophony of islands and inlets , rocky, brutal, savage. ... Click here

Dublin Mountaineer Bus service pressed into use.
One way of getting an interesting linear walk.
three5four0 on Glendoo Mountain: An ideal route for those using the Dublin Mountaineer Bus serv
Climbed Glendoo Mountain by the paths starting from the car park in Cruagh forest. Continued over Knocknagaun and Prince Williams Seat to the Wicklow Way and back into Glencullen, to catch the Dublin Mountaineer Bus service. Surprisingly there was only one other passenger on the bus, a much under used service then. Click here

Summit scaffolding - another weird top.
Harry Goodman on Mullaghcroy: Climb it because it
On Wed 11 Aug 2010 I approached my fourth Sperrins top of the day and the last on my Sperrins list with a little apprehension having read three5four0's comments of April 2009 but I should not have worried. I started from the track beside the Hall identified by three5four0 (but not taken by him) where there was plenty of parking space H3335380567 and yes three5four0, having read your less than hap ... Click here

Luggala Rhapsody in Two Cars
kernowclimber on Luggala: A long, sublime approach route
Appreciating mountains isn't always about standing on their summits. Sometimes it is just as uplifting to traverse their hidden glens, to follow the course of babbling brooks that meander through woods, lush meadows and bogs into loughs hemmed in by jagged cliffs; to quietly wander in their shadows savouring the chance encounter with wildlife. A truly sublime landscape experience can be had by par ... Click here

jimbloomer and the Abney level
Experience from Britain in particular Scotland shows that, as soon as there were mountain lists, there were baggers. And also there were improvements and differences of opinion about lists. In Britain this is often focussing around exact measurements of prominence with accurate surveying instruments to demonstrate whether summits are or are not in particular lists. Another simpler issue is establishing where the exact top of a summit is. As anyone with experience of the common rounded sort of top knows, this simply isn't obvious.
Recently joined member jimbloomer is a Britain based bagger who has made some forays into Ireland in pursuit of high prominence summits. One instrument he has highlighted is the Abney level, a piece of Victorian surveying equipment which can determine the slope between two points and thus the highest point on a hill. A number of people in Britain (see for example the Google group "Relative Hills of Britain") have used Abney levels for ascertaining where the high point of a hill is. I understand an Abney level is around 240g and 7X7X19cm in size, so perfectly carryable.
jimbloomer has applied this to Tieveummera (in the Sheefrys) and says that the highest point is some 600m from the trig pillar. Coincidentally, I walked the Sheefry's earlier this year and didn't notice this, however it was misty and it wouldn't have been possible to see anyway. 600m is a long way, and it certainly would seem that we should amend our lists to correct such errors. jimbloomer also suggests we should review some of our methodology concerning prominence and once again this is useful input.
However as a group of people suppporting the website we have to establish priorities. Only around 10% of the 12000 people who have registered on this website appear to be interested in logging their climbs although it would also be true to say that most of the more active contributors are interested in logging. There is also a great interest in simply discovering and describing each summit as people find them, from different directions and in the different moods of the weather. Also, around 10 to 15% of the search enquiries that bring people to the site are people looking for walks.
So my opinion at present is that we should continue to make corrections (we made one for Knockeirky this month) and strive for accurate lists over time. We should continue our program of amending summit positions. (It has at least one measurement for 711 summits out of the 1055 on our list). However other efforts in website effectiveness, ways of presenting information such as the Short Summary, new publications, meets, presentations etc are at least as important to our members.
Opinions welcome in the Motley Views | Forum and sincere thanks to jimbloomer
Revised GPS Map.
Pazapas on Emerald Island GPS map v1.96
Emerald Island GPS map v1.96 is available. This release introduces new contour lines from latest SRTM data (v4.1). OpenStreetMap data are also new and rendered with minor styling changes (artiliary range, natural protected areas, kind of forest). A major bug (maybe not present in previous version ?) is now corrected : contour lines are back with DEM colors. Note that DEM are now display at lower s ... Click here

Getting rid of ticks
A device for getting rid of ticks.

More info.
Adrian Hendroff's "From High Places"
will be appearing shortly. Adrian currently heads the summiteer leaderboard on this site and also occasionally contributes.

More info on the book.
Geolives - members report issues.
There's been a number of complaints about Geolives, the online mapping service advertised to replace TrailMaster.
We reported on complaints about this this last month. Other users have mentioned that their experience has been that although the Geolives site is slow, it is workable.
We could use a review of the Mapyx system.
TECHNICAL HELP WANTED

There's many a suggestion for developing the website technologically. Incorporating better maps using modern map server methods, supporting tracklogs/ geotagging, videos There are many many others. While the site has had really fantastic support by way of visitor numbers, comments and volunteer help of many sorts, one thing we could really use is technical support. As well as software development, there's website configuration and management, newsletter work etc. If you'd like to discuss it why not email here: admin@mountainviews.ie or use the members messaging service to send to simon3.
Sorry if I didn't mention what you posted .. there's a list of all contributors for the month later.
Notes.
Site notes
If you can set-up your email to get web-format ("html format"), you should be able to get more out of this newsletter. Previous Newsletters
GPS Notes.
August 2010. The latest GPS map from MV member pazapas, with more uptodate info including lakes, rivers, roads, antiquities, 150m list from this site and urban areas.
Pazapas on Emerald Island GPS map v1.96
Emerald Island GPS map v1.96 is available. This release introduces new contour lines from latest SRTM data (v4.1). OpenStreetMap data are also new and rendered with minor styling changes (artiliary range, natural protected areas, kind of forest). A major bug (maybe not present in previous version ?) is now corrected : contour lines are back with DEM colors. Note that DEM are now display at lower s ... Click here

This month.
We welcome the following new members who enrolled this month. 21yearsgone, 481mmccarthy, aengus, ahineg, airaussie, Ais, aiveenlennon, AlanHill, alanke, AlanP, alanr1967, alansjbarry, alesstenar, Alicja, ameehan, Ana, anderson8867, andrewm, Annablaithin84, annielkennedy, annmcbride, aoifey, Aranng, artur, astronige, audbyrne, aughinish, aurimasas, baldingl, bandre, barmot, barry_o_donoghue, beano256, billstewart, Blackbird, bluemoon, bobbymono, borland, BrendanF, brennan_jordan, Briar, brittany, bueing, buttlekeswick, Caitlucas, caledonianset, carolina2k9, Carrolla, cbray, Celtboy, cess, chloegalley, chris6, chrishey, ciblor, claire1, Claire4588, Clim3r, climber123, cliodhnac, CloudWalker, coachforlife, collr, connorclements, copperwr, corker, cormacod, cquinlan, creeko, crosby, cunneya, curiousnellie, cyrilobrien, daithileonard, DamienH, danielhyland, darrenoconaill, Dave12, Davem, DaveyT05, david217, DavidGardiner, daz9123, dbanker, Debeef, Deccrow, Declan88, denisew, Dennis, Dermo1971, derryclimber, ditch_hurler, divad, dixianity, dmoran, Dogsoldier52, domhnall1983, dougal2, doyte, Dreamstar, ducky, DyncBeeno, eamon_mccabe, easewaync, EasyWalker, ecdemuth, ecoppyLon, ei7geb, emc, emillan, enforcer, eoinf, EricFirth, Esy, eunie, EvaC, eyeofhorus, familyguy, feargal, feargalloy, finbarrconran, firmaevii, Fitzyboy9, flodik, frambler, franmouse, Friz, funki_monki, gannon, GarethB, garykav82, gbInfo, gejmcguinness, Geoff99, george955, GeorgeRey, ggg, ghill, gilmored, Glasgowexile, Gman, GrainneDuffy, grainneduggan, greg-maguire, grimes, gsayers, Gubbinstom, hacheson, Hadleigh, halffull, Havoc, havran, hconnolly, helenlawless, Higherthanabird, hillwalking1, icanseemyhouse, irishgeorge, itaoconnor, Ivka, jamescorrigan, JamesHowley, Jason-Kinvara, jazhoward, jg035, jimgall32312, jimkitchen, jimoconnor78, jmc, jmccourt786, joeahern, joebaker, joecoughlan, joelalor, JoeMurtagh, joeprim, johncrowley, johnmurphy, johnshackleton, jolbaft, jonathankenny, joshkeith, julesily, jurell, jwh, kanwalk, karavaan, keithoshea, Kejtor, kelleher, kennyltd, KieranT, kinderko, kingstonian, Klunk, LarryW, Liamhickey, LieutenantStacey, linarite, LisetteSmyth, LizA, LizzyJane, lorcanlawler, lornagiven, mageeh, magicdin, mahonj, marc_murphy, mareks, margaretryan, Marianne, Mariekiernan, Mark_G, marshe, marudor, marylou, masrjjl, Mayo-Bogtrotter, Mcconnsj, mctodd, meanderer, medercius, mfenlon, mFrank, Michael-Carr, michaelko21, michaelnolan1, michaelob07, micko1, mickostbc, mickytynan12, Migeletto, miklor, mj, mjohnston, mkeeshan, Mo, mogo, moloned, Mootski, morewalk, mountaingoat12, MountNat, Moygannon, mrdurrus, Murraybrian, neasa_canavan, nedofthehill, nico546, Nicolas0000, nolan69, nollaigomaonaigh, nudebeach, nudge, oconnorr, odochartaigh, ofiaich, olgaoh, ollie20, ollie_gilsenan, onions, osdvo, ourkid001, owenc, owenclarkin, paolo_1, patjh, paulcom, pauline111, paulnsm64, pdclub, peadarmc, pendragon, petercox, peterg, peterodonnell, peterunold, pharaoh, PhilipK, PioneerFive, pjoneill, podko, prannoy, psav, QuannaFug, rambocop, Reareeple, robbie68, Robert_G, rosefinch, roushayd, RowlandCarson, roymathews, rwhelan, rxcomber, ryanbreslin, Ryker, r_noone, Sabbsa, Samus, santavicky, scooby, sean-og, Sergsander, shafashi, shanew, sheehanc, shomera, simon31, siobhanw, Sixmilebridgeman, sliabh33, Slievenaman, slow16coach, smee, social_climber, specialk, stephendaly4, stevetim, stevorichardson, stryderb, sweeney83, sylmur, tarpstupe, tbayday, tesscunniffe, thebogman, thephantom, tinac, tkd-kabel, todunctious, tomas-walsh, TomBarry, tomizazo, tommym, tomryder, trebor, trecker, tuerto, Uibhisteach, Valkirija, Vivianphilips1, walkabit, wandersmann, Welder, whitehall, whoRya, wieloryba, woodbtook40, wop52, wsazerpo, wwwalker, xswebdzx, yvonneh, zdevine (355)
Our contributors to all threads this month: Alex92 (1), Bleck Cra (9), Carlito (1), Conor74 (11), Derry259 (1), Dessie1 (3), Geo (3), Gribster (4), Harry Goodman (12), Jaak (1), Klunk (1), Pazapas (2), YoungJohn (1), ahendroff (2), brenno (1), csd (3), darrenf (4), davsheen (1), dbloke (1), dewsbury (1), dhmiriam (2), dino (1), dp_burke (1), dr_banuska (1), fionn_rocks (2), gerrym (4), Communal summary entries (30), grzywaczmarcin (3), hbowman (3), jackill (5), jameselectric (1), kernowclimber (9), khalligan (1), maclimber (1), madfrankie (1), mcrtchly (5), paulocon (5), peadarmc (1), pogorman (1), sbender (3), shaunkelly (2), simon3 (3), slemish (3), stargazer (1), stevemcb (1), theyellowtinker (1), three5four0 (25), wicklore (13) and Contributors to GPS information this month were: csd (5), dbloke (1), Geo (2), Gribster (1), grzywaczmarcin (1), jackill (18), mcrtchly (2), simon3 (3), wicklore (15)

For a fuller list view Community | Recent Contributors
There were comments on the following summits An Cnoc Glas, An Eadarna Mhór, An Grogán Mór, Baltinglass Hill, Barranisky, Benbo, Bolaght Mountain, Broaghnabinnia, Brougher Mountain, Caoinkeen, Carntogher, Carrigalougha, Cloghernagh, Clogrennan Hill, Clondermot Hill, Cnoc Bólais, Cnoc Fola, Coolinasillagh Mountain, Coomhola Mountain, Coumaraglin Mountain, Cratlieve, Crocknafarragh, Crocknafarragh SE Top, Croghan Hill, Cullenagh Mountain, Cushnaficulla, Derroograne, Disert, Eagle Mountain, Faha Ridge, Galtymore, Garraunbaun, Gearhane, Glendoo Mountain, Gortmonly Hill, Great Sugar Loaf, Knockanoughanish, Knockatee, Knockboy, Knockboy South Top, Knockmealdown, Knocknacloghoge, Knocknagree, Knocknagree E Top, Knockoura, Lackawee, Little Sugar Loaf, Luggala, Lugnaquillia, Maulin, Miskish Mountain, Moneyoran Hill, Muckish, Mullaghcarn, Mullaghcleevaun East Top, Mullaghcroy, Mweelin, Nareera, Nephin Beg, Prince William's Seat, Sawel, Scarr, Seltannasaggart SE Slope, Shanlieve, Slieve Binnian, Slieve Binnian North Top, Slieve Carr, Slieve Croob, Slieve Foye, Slieve Gullion, Slieve Meelmore, Slievekirk, Slievelamagan, Slievemoughanmore, Sugarloaf Hill, Sugarloaf Mountain, Sugarloaf Mtn West Top, The Priests Leap, Tievebaun, Truskmore, Wee Binnian, Woodcock Hill and these walks were created 3 hours above the Black Valley, Caha Pass Walk, Lough Inchiquin Circuit, Short Walk using the Dublin Mountaineer Bus S, The Coastal Walk!

Thanks to all 835 who have ever contributed summits or routes info and forums. .

For a full list view Community | Contributors Hall of Fame
Summary. MountainViews now has 4705 comments about 934 different hills & mountains out of the total in our current full list (1055). We need more comments, better comments and more balance for every summit as our rate for "data completion" now that the 150m summits have been added is currently only around 44% There's plenty (121) of opportunities for you to be the first to comment on a summit. Listing summits in "Lists & Logs" (tick MV completion information) allows you to see what information we need to get more even coverage.
Notices
If you are contributing, please be careful to respect the interests of landowners. Suggest access routes well away from houses, gardens or that could conceivably impact farming activities. When walking, keep away from gardens or farm buildings. Use stiles or gates wherever possible. Never do anything that could allow animals to roam where the farmer did not intend.
If you hear of a problem area or route, write it up in MountainViews which does everyone a service.
Report rubbish tipping in the Dublin/ Wicklow area - ring PURE 1850 365 121
Report quads in national park area (in which they are banned). For Wicklow please phone the Duty Ranger: 087-9803899 or the office during office hours Telephone: +353-404-45800. Put these numbers in your phone, take regs etc. Let MV know of contact numbers for other areas.
If you have climbed some of the less well known places, we would appreciate a summit rating.We could use your help in making ratings for the unrated mountains which you have climbed, such as: Puffin Island, Inis Tuaisceart, Maumfin, Inis na Bró, Inch Top, Barr an Dígín, Knockaghaleague, Bunmore, Knocknascollop NW Top, Cruach Leac Chonaill and some 29 others. and also GPS readings for summits.
If we can, let's make MV have more than one route up a summit so as to reduce the tendency for paths to appear. Your grid refs in comments for different starting points show up on MountainViews maps.
This newsletter
This newsletter is from Simon Stewart for MountainViews
Homepage: www.simonstewart.ie
Newsletter archive.
View previous newsletters mountainviews.ie/newsletter
RETURNING TO MOUNTAIN VIEWS
Click on (If you have cookies on in your browser then you will be prompted as to username/ password. If you forget the password, the login page can email you a replacement.)

UNSUBSCRIBING
If you don't want to receive any further monthly newsletters from Mountain Views click on Settings. Then change the option beside "Include on occasional mailing list" to "Do not include". Then click the "Save" button.
Alternatively let us know by email at admin@mountainviews.ie Include the email address you got this at or your screen-name.