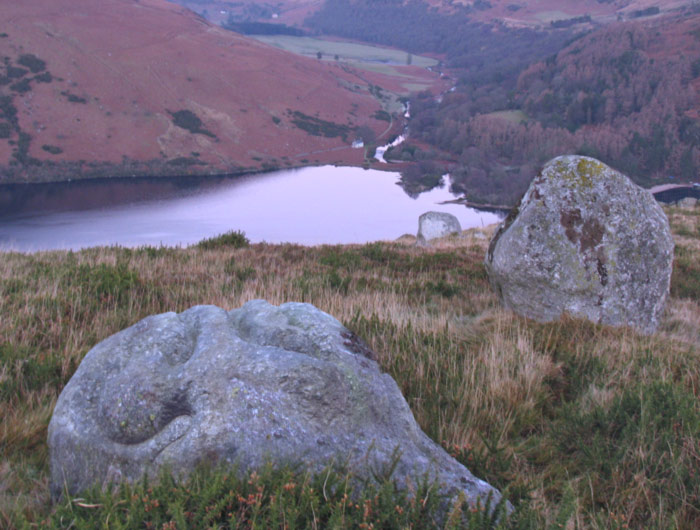 Access to famous stone at risk.
As described by
padodes
there's a number of interesting standing stones in the general area around Scarr. Cognescenti of this site and Wicklow will know of the Grey Man's Boulder (Cloch an Fhir Léith) up on the spur from Kanturk towards Lough Dan. Following clarification of title to the land (by solicitors working for NAMA) it now appears that the developer who thought he owned it and who allowed us access is likely to be replaced by the original owner, a local landowner who has in the past cut off access to parts of Lough Dan (well the northern side of it anyway). A huge shame. You heard it here first on the
1st April 2010
The story of the stone is here.
Walkers Association of Ireland
and other groups.
Improve your photographic skills! Experienced photographers will give hints and tips in the Walkers Association landscape photography workshop. The workshop will cater for both beginners and improvers and include indoor classes and field work.

When: Saturday, April 10th from 9:00 to 5:00.
Where: Laragh Co. Wicklow (details on booking)

Cost: There is a charge of 15 euro to WAI members or 25 euro to non-members (payable on the day)
Numbers will be limited so that everyone has the opportunity to work with the photographers

Booking is now open, and you need to get on with it to secure a place! BOOKING HERE There were a few places left when this newsletter was being created.
The Walkers Association Challenge Walks Calendar
This is a calendar of challenge walks such as the venerable Maamturks Challenge (Sat 3rd April 2010) and the Knockmealdowns (24th April 2010). Check out the 17 or so club organised events. While they are all challenges, some such as the Maamturks or the Mourne's Seven Sevens are much harder than others such as the Galtees or the Burren Walk.
There's also a list of some 14 commercial and charity events which have a challenge element about them.
You may also be interested in this article comparing challenge walks, as presented at the recent WAI New Horizons meet (which was the last in the current winter talks series).
And given the continuing cold weather the following on winter walking may also be of interest.
WAI Photo Gallery - why not upload some of your pictures (Ireland or abroad) to this?
Free Quo Digital Mapping Software & 15% discount offer to all MountainViews.ie members
Simply download Quo time unlimited Digital Mapping software and receive a 15% discount off ALL mapping purchases! Quo make their money by selling data and they have Irish data.
Enter code QDBTD3 at the checkout to receive your discount.
If you try this, MV would be interested in a review. Download link Quo http://www.mapyx.com/quo/download.asp
Mountain Rescue
From a recent press release: The Glen of Imaal Mountain Rescue Team is delighted to announce that we will be holding a 'Sod-turning' event for our long-awaited Rescue Base in Wicklow.

The site for the Base is located beside the headquarters to the Wicklow Mountains National Park at the entrance to Trooperstown Wood. A presentation and reception will take place in the conference room in the National Park HQ, beginning at 11.30am on Friday 9th April, 2010. It is intended that the building be a resource to the community – it's not every town or village that has such a wealth of emergency and outdoor skills available to it. The MR Team's first 'home' is situated close to Glendalough where 30-40% of the mountain rescue emergencies occur. In County Wicklow there are on average 45-50 'call-outs' each year. The Glen of Imaal MR Team is a 999/112 Emergency Service operating 24/7 and is entirely voluntary and funded through donations and grants.

For more details on the Glen of Imaal Mountain Rescue Team please visit us at:
www.wicklowmountainrescue.ie
Couldn't resist this shaggy dog story.
simon3 on The Mountain Rescue of a dog.
Wicklows Mountain Rescue Teams responded this afternoon to a rather unusual request for assistance from the Spink Mountain in Glendalough, Co. Wicklow. Rescuers had been taking part in a technical rescue training exercise in Dalkey Quarry in South Dublin when the call for help came through from a young family after their dog fell a considerable distance on steep ground, leaving them gravely con ... Click here

Recent Contributions and News
TECHNICAL HELP WANTED

There's been some great suggestions for developing the website recently. Incorporating better maps using modern map server methods, supporting tracklogs/ geotagging, videos and the one below. There are many many others. While the site has had really fantastic support by way of visitor numbers, comments and volunteer help of many sorts and many attended the recent talk on summiteering, one thing we could really use is technical support. Software development (PHP), website configuration and management, newsletter work etc. Whether you see yourself as Geek chic or Renaissance Man we could really use some tech help. If you'd like to discuss it why not email here: admin@mountainviews.ie or use the members messaging service to send to simon3.
gerrym on link to Facebook?
I use nikerunning.com to log my runs and have the choice to link this with my faceboook account - when my run is uploaded to the nike website it automatically posts to facebook where all my 'friends' can see my running activity.
What are the thoughts about something similar for this site? If a comment for a hill, a walk or similar is added this can this can then be notified on facebook ... Click here

Mweelrea Videos by Captain Vertigo
New to hillwalking? These are great fun and a totally convincing reason why we go. Well done MV member the Captain. Videos very welcome.

www.youtube.com/watch?v=hE48XG

CaptainVertigo on Mweelrea Video
After years of thinking about it I have finally put together my first "mountain video" and uploaded it onto YouTube. Briefly, I was due a day off, and could see that the forecasted anti-cyclone was likely to generate perfect conditions down the West. So I headed to Cnoc Maol Reidh at first light on Friday and ascended the horseshoe from Delphi. It was heavenly, although the snow on the high ridg ... Click here

There were several very supportive comments from other people (I was away in Lanzarote). Read them yourself. The one from kernowclimber who apparently was on Mweelrea shortly after the video was made is well worth reading and the picture from an aircraft by mcrtchly (showing the snow on Mweelrea, Sheefrys and Maumtrasna) but for sheer delight I give you our resident Scotsman:
weedavie on Where will it all end?
Vertigo, I looked at your video. I didn't know whether to laugh or cry. In the end tears ran down my leg. On the one hand how could you spend a day in heaven looking through a two inch screen? On the other you've produced a mini-epic that had me besieging the Aer Arann website, just take me there.

The only consolation is that our hills are bigger and we'll have a white heaven for another ... Click here

Planning your route to the Mountains:OpenRouteService.org and OSI's new Road Atlas
Recently OSI the state mapping service in the Republic has issued an all-Ireland road atlas. One of the things that I like about it is that the most recently finished bits of the motorway system are now included - given that the body that builds roads is about to suffer a sharp decline in its funding, this may be accurate for quite a while.

Contributor csd has an interesting write up on OpenRouteService.org which allows you to figure out how long it will take to get to various places. (I wish I had seen this before the talk I gave recently on summiteering.)

csd on Motorways
I have an unwritten rule that I never really want to be driving for more than 2.5 hours each way for a day's bagging. Since I've done most of the summits near my home in Dublin, it's meant I've been left with slim < 400m pickings when it comes to new summits. However, the recent completion of the M6 has meant that the Maamturks are now within the magic threshold. I can leave home in Dublin 8, join ... Click here

csd says he can get from Dublin 8 to the Maamturks in 2 hours 20 mins. You would need to hit the Galway roundabouts at just the right time for that (oh say 3 am on Sunday morning) I'd guess.
spewing forth a few irreverent utterances, to which the guide could only counter an "Oh dear....".
Best new writer of the month! You could learn a lot from this well written, funny but reflective piece.
To our established streams of northern consciousness: bwaaahh

gingerbus on Slieve Bearnagh
"Panic on the slopes of Bearnagh, Mourne Wall, South Down, Mountainside, I wonder to myself..." It all started with The Steps. The trek up to Hare's gap along the Trassey was straightfoward - although, my trusty Sherpa and I hadn't figured on there being such a preponderance of snow around. We jumped the wall, and set across to the foot of Bearnagh. Then The Steps. It appears that some primev ... Click here

Most points this month for a political place!
Looking at the Recent Contributors list for this month I note that member jackill leads the pack in terms of "points" the measure the site uses to show who is contributing the most (See Community | Recent Contributors). This has been an extremely busy month on MV for comments incidentally. As of the time of writing this, there were 110 summit comments, a monthly record. While the site is open to contributors of all writing skill levels, I would say that the standard in my subjective opinion seems to be rising.

jackill on Tory Hill
I have a guilty pleasure. If I admit to once wearing a bootlace tie with the southern cross on it you might guess what it is.I like CountryNIrish music. And not the softcore DanielO either, the hardcore Big Tom and the Mainliners, Larry Cunningham and the Mighty Avons, The Merry Ploughboy Dermot O'Brien! Imagine then my joy when I parked my car at S58678 22817 at 8:30am and, as I was walking into ... Click here

Coastal Walk proposed.
The following could be interesting. I'm hoping to meet the promoter and find out more and if I do I will report back.
simon3 on Proposal for a coastal walk.
A proposal that has been made on another website recently by "Kate" that members may be interested in. For reference MV does include a few peaks which would be included in a coastal path and has considered extending the information we provide to more of them. Claim your coastline - and Go Green Road..... Hi Hikers, I've been trging to get the idea of a Green Road off the ground for 3 year ... Click here

Bunnafreva Lough and much more on Achill Relatively new contributor darrenf has put in several mountain comments this month. My favourites were three he has on Croughan on Achill Island. Below he has a clear picture of the extraordinary lough, perched improbably above the cliffs.

darrenf on Croaghaun
The infamous Bunnafreva Lough West...the most dramatic Lough in the land...????? Click here

Sperrins Harry Goodman has posted a big collection of pieces on Sperrins tops with numerous grid refs.

Harry Goodman on Barnes Top
I climbed Barnes Top on 23 March 2010 as part of a round that included Mullaghash and Knockanbane Mountain (see also my comments on Mullaghash and Knockanbane Mt. for the start and finishof the route). After Mullaghash we climbed up from the coll below Barnes Top C642011 along the fence going S with a touch of E. (For someone wishing to only climb Barnes Top I suggest that the route mentioned ... Click here

Tyrone Beauty
Impressive turbines beside a lake. Modern landscape poetry perhaps?

dr_banuska on Bolaght Mountain
I climbed Bolaght lately, parking at the same place as three5four0 at Sloughan Glen, signed from the Dromore-Drumquin road. In hindsight you can park a good bit closer along the minor road that heads towards the wind farm, either at abandoned farm buildings about 263743, or shortly after, past a cattle grid along the grassy verge (there's a barrier further along). Skirt the barrier and cross a ... Click here

Making the rough places plane
padodes has got a handel on how to make places sometimes dismissed as uninteresting into something stimulating - a rare talent.

padodes on Table Mountain
Table may be a mountain you cross on your way to somewhere else (cairn on the flat top at T 0191 9734), but it has its own little secrets if you care to look for them. One happens to be the wreck of a light aircraft on its lower eastern slope at T 0273 9729, almost in the hollow between Table and Conavalla. Together with the spot where a plane came down on Corrigasleggaun in 1992 with the loss of ... Click here

Sorry if I didn't mention what you posted .. there's a list of all contributors for the month later.
Notes.
Site notes
If you can set-up your email to get web-format ("html format"), you should be able to get more out of this newsletter. Previous Newsletters
GPS Notes.
March 2010. The latest GPS map from MV member pazapas, with more uptodate info including lakes, rivers, roads, antiquities, 150m list from this site and urban areas.
Pazapas on GPS map v1.95 released
Emerald Island GPS map v1.95 is available. This version introduces a new rendering and an easier way to manage layers in MapSource. You will see many trails in Wicklow, Carrauntohill and Mourne Mountains. Coniferous forests are now displayed in a different manner. Enjoy your walks ! The link : http://emerald-island.eu/wikka/GpsMap Click here

This month.
We welcome the following new members who enrolled this month. 1Frank, acjsmyth, aflanagan, ahaskmearse, Aidangr, ails, alanthevolcano, alphatrotter, alunrichardson, amlsmyth, andyday7, annettekavanagh, anng, auds, bahearn, Baxter100, bbh_home, bearnaghboy, bedo02, behanp, BergWalker, BigEoin, birtin, bjgie, bkilfeather, bkinsella, Blaithin, blekotta, bmcdporto, bobg, bohstom, bridc, caits, canmur, carny, carolinemcg, ccampbell, chazcherry, climb, clofarre, cloongad, clybaun2010, cmczzzzz, colettelenehan, colleensloan, concron, corm33, Crohane75, cygnusx01, dankelly, davidbatt, davidkilleen, Davros, dcorrie, ddillon15, Dec_Alcock, deeganrob, deftongas, demo, denisjm, denoco, derrylahan, donalmurphy, Donalok, DonnaO, Douglas1983, dreill, dublinwalker, Dubwalker, Dulra28, e2rd, eamon33, ecarty, edpaynter, egglers, emm, eoin95, fcummins, Frankmac, GarySmith, gdonalodriscoll, gerardharty, glenlecky, grainnetmoloney, guciowa, hillwalkerliam, howiem, iceman, ikescorpio, jadopajo, jandee, jess, jessyj, JohnBear, john_m, jomidav, jpfxryan, jslregan, Justina, justvika, kenriley, kgall, king_mongo2k, kipper, km9911, kot, langlen, lapeg, Limerick, londine, lukeh, Lw220, Macudda, maggy, malinbeg, manxd7, marcrdf, martinverg, Martin_H, Mayday, meiteabh53, mendrit, Mexican, microhard, mikecleary, mivi, mobradaigh, mochara, moll-douch, moriartm, mrbadger, mrnatural, msjfrizzle, Musakical, mush11, mylegshurt, neildhegarty, neilskelton, niall6472, niallmcgarrigle, niccrowley, nodrog, nudgka, ogniw, oughtcarn, owhite, pac70, PadraigShannon, paularoberts, petefk, peter11, peterbarry, Piet, pjsiv, plodder, polly66, rachelmad, Raelene, ramone, redspud, regi23, Rimbaud, robertdoyle2, romiadam, ronan1friel, ronandoyler, rosarie, roundwood, roybrindley, sandra, scarfell, scubajoey, seanaa, senior, seodin, serena, shanecon, shorthair, sindy, siobhanstap, sionell, smwalsh, sneachta11, socrates, soniakinsella, Sparkey64, sprog, Stephanos, stephenhand, stephenkane, stephensmith, swoley69, terbirt, the_spleen_ideal, Tiernan, Tiernan22, timlong, tinpusher, Tmount, Tomas2103, tongro, tonywalker003, traleetrampers, TripIreland2010, Ultreia, updamoontain, vicki1, vicky35, viffer, wader225, waynetbrown, westaway, wicklowmrteams, willfdoyle, Wolfgang, zagyi, zombywoof (217)
Our contributors to all threads this month: Baxter100 (1), Brandypad (1), CaptainVertigo (4), Dec_Alcock (2), Derry259 (4), Dessie1 (1), DonieG (1), DonxCahill (2), Geo (3), Harry Goodman (9), Homerclesse (3), Jimmy Barry (3), LiamD2005 (1), Moac (1), Nairb (1), Sparkey (1), TheSquonk (1), Tiernan (1), Ultreia (1), YoungJohn (3), alunrichardson (1), annettekavanagh (1), brenno (2), bryanmccabe (3), cjdonaghey (1), csd (9), darrenf (11), dewsbury (1), dmcdonag (1), dr_banuska (5), dsc555 (1), e2rd (1), gerrym (5), gingerbus (2), gm (2), hillwalkerliam (3), jackill (11), kernowclimber (4), khalligan (1), lmartin (1), madfrankie (7), mart (1), mcrtchly (3), mscl (1), paddyhillsbagger (3), padodes (4), pplsgod (2), riverlaune (3), simon3 (7), ssames (1), three5four0 (1), tommyhogan (1), vicky35 (1), virago (1), weedavie (3), wicklore (5) and Contributors to GPS information this month were: csd (3), jackill (15), simon3 (2), wicklore (7)

For a fuller list view Community | Recent Contributors
There were comments on the following summits An Cnoc Fada, Ballaghbehy Top, Ballincurra Hill, Baltinglass Hill, Barnes Top, Ben Bury, Ben Crom, Ben Lugmore, Benleagh, Binn Mhairg, Binn Mhór, Black Hill, Bolaght Mountain, Camenabologue, Carn Mountain, Carntogher, Carrauntoohil, Carrick Mountain, Carricktriss Gorse, Carrigleitrim, Clogherny Top, Cnoc Ramhar, Cooneen Hill, Coppanagh, Corraun Hill, Craignamaddy, Croaghanmoira, Croaghaun, Crockalough, Crockalougha, Crockaneel, Crohan West, Crohane, Cross Slieve, Cullaun, Djouce, Doan, Donald's Hill, Douce Mountain, Dough Mountain, Drung Hill, Foildarg, Galtymore, Gortnagara, Greenoge, Gruggandoo, Kippure, Knockadigeen Hill, Knockanbane Mountain, Knockanimpaha, Knocklayd, Knockmealdown, Lackagh Mountain, Lackenacreena, Lough Curra Mtn, Lugduff, Lugnagun, Lugnaquillia, Moanbane, Moneyoran Hill, Mount Alto, Mount Leinster, Mount Oriel, Mullaghaneany, Mullaghash, Mullaghasturrakeen, Mullaghbolig, Mullaghclogha, Mweelrea, Oughtmore, Saggart Hill, Sawel, Seahan, Seanadh Bhéara, Seefin, Seefingan, Silsean, Sliabh an Iolair, Slieve Bearnagh, Slieve Commedagh, Slieve Foye, Slieve League, Slieve Muck, Slievenalargy, Sorrel Hill, Table Mountain, The Paps East, The Paps West, Thur Mountain, Tibradden Mountain, Tievebaun, Tory Hill, Tountinna, Wee Slievemoughan and these walks were created Glendalough - Camade - Lgh Firrib - Lugduff

Thanks to all 784 who have ever contributed summits or routes info and forums. .

For a full list view Community | Contributors Hall of Fame
Summary. MountainViews now has 4153 comments about 876 different hills & mountains out of the total in our current full list (1054). We need more comments, better comments and more balance for every summit as our rate for "data completion" now that the 150m summits have been added is currently only around 44% There's plenty (178) of opportunities for you to be the first to comment on a summit. Listing summits in "Lists & Logs" (tick MV completion information) allows you to see what information we need to get more even coverage.
Notices
If you are contributing, please be careful to respect the interests of landowners. Suggest access routes well away from houses, gardens or that could conceivably impact farming activities. When walking, keep away from gardens or farm buildings. Use stiles or gates wherever possible. Never do anything that could allow animals to roam where the farmer did not intend.
If you hear of a problem area or route, write it up in MountainViews which does everyone a service.
Report rubbish tipping in the Dublin/ Wicklow area - ring PURE 1850 365 121
Report quads in national park area (in which they are banned). For Wicklow please phone the Duty Ranger: 087-9803899 or the office during office hours Telephone: +353-404-45800. Put these numbers in your phone, take regs etc. Let MV know of contact numbers for other areas.
If you have climbed some of the less well known places, we would appreciate a summit rating.We could use your help in making ratings for the unrated mountains which you have climbed, such as: Puffin Island, Inis Tuaisceart, Maumfin, Inis na Bró, Edenacarnan, An Tiaracht, Croaghan Hill, Inch Top, Barr an Dígín, Dunaff Hill and some 48 others. and also GPS readings for summits.
If we can, let's make MV have more than one route up a summit so as to reduce the tendency for paths to appear. Your grid refs in comments for different starting points show up on MountainViews maps.
This newsletter
This newsletter is from Simon Stewart for MountainViews 1 April 2010
Homepage: www.simonstewart.ie
Newsletter archive.
View previous newsletters mountainviews.ie/newsletter
RETURNING TO MOUNTAIN VIEWS
Click on http://mountainviews.ie (If you have cookies on in your browser then you will be prompted as to username/ password. If you forget the password, the login page can email you a replacement.)

UNSUBSCRIBING
If you don't want to receive any further monthly newsletters from Mountain Views click on Settings. Then change the option beside "Include on occasional mailing list" to "Do not include". Then click the "Save" button.
Alternatively let us know by email at admin@mountainviews.ie Include the email address you got this at or your screen-name.