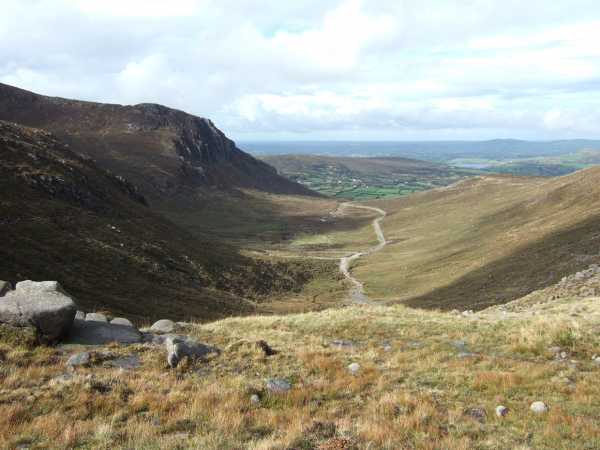 Member and wordsmith supreme Bleck Cra
- a sweet, lyrical piece on the confusion and joy of spending time with your
lover in the hills.
HEARTS IN THE HIGHLANDS
Valentines's Day. He takes her a nice walk up the Trassey and on to the Brandy Pad; then gets completely confuddled and wings out along the Annalong Track at 90 degrees to the planned trajectory; undaunted he continues manfully until the penny drops and he retraces his still-warm footsteps. So with an overrun of an hour and a half at pace and a final gagging pull back up on to the Pad, he has her at about Gas Mark 5. When I encounter them he had given up trusting a single thing in his head. The sky must be green and not blue; he must be in The Atlas Mountains, not the Mournes; the Irish front row are singing and drinking beer and not lying busted in Calais. "Is this the way to Hare's Gap?" he tested, confident I would answer in Flemish or Azerbaijani. "Yes it is" - even my broken Hiberno-Caledonian English was a joy to him. For a second, I was his true Valentine, but it wasn't to be.
Gazing lovingly at him and through sweat and phlegm, she gargled something about skill, confidence and great day and that they would just go home now. Tested – the boots, the stamina and the relationship; and none found wanting. The Day of St Valentine: a fertility festival, doubtless once enjoyed by leaping lads and lassies, hijacked in part by some Christians or other and now proffered to us along with Mafia-like threats of consequences – and on the hill …? Enough snogging pubescents certainly – but also some lone women with plain faces and pretty spirits and lost lads with loaded stomachs and big hearts.
Q: What is it magics the ugliness of black crags, grey rock and dour bog into beauty?
A: We do.
For original, click here.
Walkers Association of Ireland
and other groups.
There is a list of events on the Walkers Association site.


24th March - Agm and "New Horizons for Intermediate Hillwalkers" -

If like many you enjoyed other events in the WAI Winter Meets series this season, then the following should be of interest. The program commencing at 8pm will include:

Talk on Winter Hillwalking -- Anne Morrissey will talk on experience gained in Ireland and doing the Munros in Scotland
Photography -- Simon Stewart will talk about how to get an interesting picture in the common, which is to say poor, weather.
Break for discussion and refreshments at the bar
Participating in Challenge Walks -- Anne Morrissey will draw on her experience of the many different challenge walks in Ireland.
Long Distance Trekking -- TBA

The AGM will be held immediately before the main meeting, starting at 7pm. If you are interested in helping the work of the WAI and of walking/hillwalking in Ireland in any capacity, whether on the committee or some other way please do come.


Sat, Apr 10th, the WAI Photo Workshop Landscape Photography Workshop - Laragh Booking is now open, and you need to get on with it to secure a place! Information here
The Walkers Association Challenge Walks Calendar
This is a calendar of challenge walks such as the Slievenamuck Marathon (28th March), the venerable Maamturks Challenge (Sat 3rd April 2010) and the Knockmealdowns (24th April 2010). Check out the 17 or so club organised events. While they are all challenges, some such as the Maamturks or the Mourne's Seven Sevens are much harder than others such as the Galtees or the Burren Walk.
There's also a list of some 14 commercial and charity events which have a challenge element about them.
WAI Photo Gallery - why not upload some of your pictures (Ireland or abroad) to this?
Adopt a Forest meeting - Thursday 4th March - Dublin Mountains Initiative
simon3 on Dublin Mountain Initiative - Adopt a forest -
The following may be of interest to individuals and the invitation seems broad enough for MV members to go. The meeting is being organised by the DMI, who in my view are a valuable, user-community driven group. Subject: 'Adopt a Forest meeting - Thursday 4th March - 7.30 - Larch Hill Hi all, This meeting is now confirmed for the time and location above. I think this should be a 'V ... Click here

Mountain Meitheal
From a recent press release: After the devastation of the winter in upland areas the work of Mountain Meitheal has become more necessary than ever. For more information on Mountain Meitheal check out our web site www.pathsavers.org
Mountain Rescue
From a recent press release: The Glen of Imaal Mountain Rescue Team is delighted to announce that we will be holding a 'Sod-turning' event for our long-awaited Rescue Base in Wicklow.

The site for the Base is located beside the headquarters to the Wicklow Mountains National Park at the entrance to Trooperstown Wood. A presentation and reception will take place in the conference room in the National Park HQ, beginning at 11.30am on Friday 9th April, 2010. It is intended that the building be a resource to the community – it's not every town or village that has such a wealth of emergency and outdoor skills available to it. The MR Team's first 'home' is situated close to Glendalough where 30-40% of the mountain rescue emergencies occur. In County Wicklow there are on average 45-50 'call-outs' each year. The Glen of Imaal MR Team is a 999/112 Emergency Service operating 24/7 and is entirely voluntary and funded through donations and grants.

For more details on the Glen of Imaal Mountain Rescue Team please visit us at:
www.wicklowmountainrescue.ie
Summits and Summiteering in Ireland
Report of presentation.
This was held on Weds 24th Feb 2010. Surely there's always a nervousness amongst the organisers of such events, the WAI in this case, and the speaker, me. Will there be a decent crowd? Will the technology screw-up? Can a substantial but virtual community translate into an in-the-flesh meeting? Well, in the event somewhere between 85 and 100 showed up and everything worked out. Relief all round.
Following the talk, we gave out certs to a number of people for feats of summiteering or contributing to the site.
Personally I was delighted with the various people that chatted with me afterwards. The talk had mentioned Claude Wall as being an early instigator of research into the various upland areas of Ireland. So I was really pleased when one person mentioned that she was his daughter! She mentioned that the original version of "Mountaineering in Ireland" which is a description of walking areas all over the country (despite its name) was published in 1938.
In retrospect we would try to do things differently starting with arranging the talk for a Fri evening or Saturday since at least 5 people from the North or out of Dublin said they couldn't manage it mid week. We'd also arrange for more interaction through more Q&A or a panel discussion. We live and learn.

Thanks again to the many people that helped such as madfrankie (Certificates), wicklore (PR) and osullivanm (assisting with the talk) and the WAI Walkers Association of Ireland for arranging the venue etc.
Awards handed out at the meeting

ahendroff: Vandeleur-Lynam, Highest 100, Local 100
wicklore: Local 100
Harry Goodman: County Highest Points
csd: Contributions
jackill: Contributions
pdtempan: Contributions (Mountain Lists)

Certain other members who were not in attendance will be receiving awards in due course. Everyone receiving a summiteering award must have completed the walks and submitted a claim form.
Recent Contributions and News
Saggart Hill made interesting
This place has been excoriated in MV on numerous occasions "evidence of car bonfires at the forestry entrance, random debris in the trees and a mini telecommunications city" and "I searched in vain around the hilltop for a redeeming feature". Well, I was there as part of my Local 100 and yes there are a lot of masts - but of course the masts means there is good line of sight, something extremely well explained with much more by this comment. It also points out the unusual geology, the encircling track which makes a useful walk and contextualises the archaeological feature on the top.
This comment gets the MV award for chivalrous summit description - no, no, not the same as the one for turning a pig's ear into a silk purse!
The comment is from padodes whose erudite comments we have come to enjoy - we missed you when you weren't appearing on the site!



padodes on Saggart Hill
Saggart Hill (Slievethoul), with its bristling array of masts like quills on the back of a porcupine, is the westernmost of the Dublin Mountains. It's a somewhat neglected place, no doubt, but it responds well to a bit of interest. Starting from the forest entrance at O 024 235, a track circles the hill and comes close to the summit on its southwestern side, with an access route leading up.
Click here

---
Err, um, despite the above, read the next comment and wait a while before you rush up Saggart Hill.
Warning
This one speaks for itself and may prevent someone bringing their kids up before it's cleared away. It's actually the second such warning in recent months the first being about a carcass near Devilsbit Mtn. These nags are presumably victims of the crash of the Celtic tiger.
Dessie1 on Saggart Hill-Dead Horse
Hi, Just a quick note to let people know that there is a dead horses body lying at the entrance to the pathway to Saggart Hill. Myself and the family were going to go up the hill until we came to the entrance and with 2 small kids it was too distressing to just walk past the poor animal so we cancelled our walk.ISPCA have been contacted but didnt want to know so contacted Council and they will rem ... Click here

New contributor - great comments.
Isn't it great when another contributor appears in MV and starts sending in interesting contributions and good pics from a standing start? There have been a few recently and kernowclimber is one such - I happened to meet this person at the recent WAI meeting I was speaking at. Welcome kernowclimber (and partner who is also contributing strongly in more ways than one) - someday you can explain where your screen name came from.


kernowclimber on Slieve Binnian
We set off on 20th February from Carrick Little Car Park at around 2.00pm for the summit of Slieve Binnian. The weather was calm, cold but sunny. The Mournes were fog free, but a bank of fog out on the Irish Sea was edging towards the Isle of Man and another was encroaching slowly from the direction of Newry. We made our way along a muddy farm road and across a stile to continue up the Annalong ... Click here

Motley Mix
This month there was the usual robust mix of topics and comment in our general forum from Cloud Waves in the SE Turks, a piece on climate denial, the poverty of the philosophy of constructing lists using prominence, the transience of words and a mountain rescue by boat. See the last-mentioned here
simon3 on Mountain Rescue by Boat - a first?
A young man who was injured and in need of assistance successfully attracted the attention of mountain rescue personnel by using his torch to flash a signal for help. The Mountain Rescue members who happened to be out on a night hike in the Glendalough valley, recognised the distress signal and raised the alarm. Both the Glen of Imaal and Dublin Wicklow Mountain Rescue Teams responded to the reque ... Click here

Wicklow newbie
For those of us familiar with (or should that be inured to) Wicklow, it may come as a bit of a shock that a prolific MV contributor and summiteer has never been here before. Behold, the debut comment with rolling cloud inversion type of pic - beginners luck I lamely claim.


jackill on Corrigasleggaun
Snow , fog, fog ,snow, more fog. Simon said " you'll be glad of the gps and pazapas' excellent map" and by the hokey was he right! The pull up , around and over icy Arts lough was clear but after that I was in the clouds.Arriving at the summit of Cloghernagh I very nearly turned around but decided to press on to the Lug(last of my 3000 footers, yahoo!). Then, Miracle!, the clouds began to break an ... Click here

Mullaghanattin Circuit
Geo has worked his way round this fine circuit. As well as the reports on the summits, this comment is valuable because it sheds some light on the current access situation around the Pocket, which can be problematical.


Geo on An Cnoc Riabhach
Last Friday the 19 Feb 10, 8 of us took this hill in as our first port of call on a circuit of "The Pocket". I have to admit I was fearful after hearing secondhand reports from my companions at breakfast of stand-off's with farmers. This, however proved an unfounded fear as our day began and ended with no difficulty. We had too many cars to park together as the Tooreennahone boreen is narrow and s ... Click here

Clear shot of Mullach Glas (Maamturks)
It's not so common to get uncloudy pics of the 'Turks, but Wicklore seems to have managed it.


wicklore on Mullach Glas
Arriving at Corcogemore the view of Mullach Glas to the west opens up. I had downloaded Simon Stewart's Maumturks walk route onto my gps and I followed the route NW from Corcog before heading W to reach Cruiscin (Mullach Glas NE Top). To head directly west to Mullach Glas from Corcog would mean finding oneself facing tricky steep slopes on the descent and an eventual climb back up to the col, so i ... Click here

Superb winter pics: Purple/ Reeks
As usual, paulocon shows us how it's done photographically. paulocon, a fan of the Paddy Dillon book and list seems to prefer the MV name for this summit at least. The Paddy Dillon book and list was mentioned at the Summits and Summiteering meeting. Should it be an MV supported list? Opinions please.

paulocon on Purple Mountain NE Top
I think it's fair to say that Purple Mountain NE Top (or Tomies South) offers probably the best views across to the reeks from the Purple Range. Standing at the summit Cairn, the views on a clear day are breathtaking. (Sorry for two comments on the same top but it's my excuse for posting a second picture!!) Click here

Sad demise of Conall to poisoning
While on Crockauns a 463m hill in the Dartrys before the new year, we briefly saw this bird, surfing on the wind. According to a report in the Irish Times (Weds 3rd Mar) Conall, a young Golden Eagle, has been deliberately poisoned using a farm animal medicine near Truskmore (across a valley from Crockauns). Sad.
More here
Colly and the friendly farmer.
riverlaune is a new member and contributor - welcome riverlaune. I can't say I remember another member called after a river. It could be worse such as riverdodder or riversuck! Anyway, riverlaune has written a number of comments for various Iveragh summits - long may his or her comments flow!


riverlaune on Colly
We climbed Colly on 13th Feb 2010 and parked like others by the farm at Coomaspeara. The farmer was very helpful and pointed out the various peaks, although they were shrouded in cloud at the time! We scooted rather quickly past some heifers and a Limousin bull at the start of the walk and I hoped that this bull didn't have a penchant for bright red North Face jackets!! The zig-zag track up the m ... Click here

Sorry if I didn't mention what you posted .. there's a list of all contributors for the month later.
Notes.
Site notes
If you can set-up your email to get web-format ("html format"), you should be able to get more out of this newsletter. Previous Newsletters
GPS Notes.
March 2010. The latest GPS map from MV member pazapas, with more uptodate info including lakes, rivers, roads, antiquities, 150m list from this site and urban areas.
Pazapas on GPS map v1.95 released
Emerald Island GPS map v1.95 is available. This version introduces a new rendering and an easier way to manage layers in MapSource. You will see many trails in Wicklow, Carrauntohill and Mourne Mountains. Coniferous forests are now displayed in a different manner. Enjoy your walks ! The link : http://emerald-island.eu/wikka/GpsMap Click here

This month.
We welcome the following new members who enrolled this month. acorn, aherron, Akrodifka, alleny, amaro, And41, angelapowell, anna_1104, Anncoco, areidy, arobinson515, asdf, badgerbadger, Barra_Rua, bartynorw, bazzmac, beagle, bjmullan, boo, brendevlin, brick, brphelan, bsdar5211, burntumber, cabrontxo, camerosj, camlinramblers, CelticNiamh, chameleon1812, chanelmcb, clonee, colour, cormacpower, crackers, Cullen15, cye, davedunne74, davidbradish, deckie1, della, devenney1, dimaro1, DoubleBourbon, dox029, duggie, EamonBehan, East-Brent, Emer, eoinleixlip, ericboyle, eromatic, fabrice, fcf14, felixherzog, fenris, Finian, fionac, fionad, fionatraynor, franco, gallagc, gardener, gearls, georgina1410, gerald1234, gillcormack, gogoq, GRuane, gsherlock, hallisseyb, harry66, hproctor, hughiek6, ianisainmdom, ike, jalaypevergyMeslyd, JamesT44, jamieshootdem, Jarlath, jaymecork, jdhawk, Jdillon, jea, jeanette, jennyw, Jermsant, jfk, jgfitz, jihad, jjoyce, joanavoila, joebikerider, JoeNolan, JoeyW, johngod, johnnymc, Johnusa, jorik123, joycerjoe, jrlepage, jvand50, kasperf, kathleen9, kazzman56, kb, keithchap, kellyd34, kellym, kishikirk7, kulek6, lama, lindsmadden, Mac69, magualghairg, marahted, markyg, martinhct, martinquinn, marybut, maumturks, May_Mourne, mdolgos, mgthall, michaelparle1, michaels, mickser, Montyman, moonpop, mountainking, mountain_man, Mullaghmeen1, mullineddie, mumhain, murukas69, nialllarkin, nicky-doyle, NigelMorters, ocallaghanshane, ogma69, Oldman, ontherise, pakramer, PandG, PaulaB, pbuckley, peter3589, phoebe, Photo-man, photobizzle, pmarren, Polybius, punchy87, ricmag, ripdenon, roberthberry, rogerwright-quor, royalcanon, sabre151, seek2c, sen, sheelaghomalley, sheslostcontrol, sinfarrell, siogin, skeys, smccaul, smiley, sstatic, steffdoc, Steveo794, steveshep, Super_Sonic, surferosa, tigerbeat, tolka, tomsonson, tournafullla, triskell, vjerab, volvograd, w-kerry-hills, walking2010, waltervandijk, wardd, wk, ychawkie, ynot2010 (187)
Our contributors to all threads this month: Barty1958 (1), Bleck Cra (3), Buny Clare (1), CaptainVertigo (2), Dan (1), Geo (7), Harry Goodman (1), Homerclesse (2), Lorcan-o-c (1), Pazapas (1), YoungJohn (7), ahendroff (1), aidand (1), ballchess (1), barryd (1), bryanmccabe (2), cemalina (1), csd (5), dr_banuska (5), hazyview (1), irishsmurf (1), jackill (7), kernowclimber (5), leixlip_pa (1), madfrankie (3), markmjcampion (1), marymac (2), mcrtchly (3), moonpop (1), murraynolan (2), oldsoldier (1), padodes (7), paulocon (8), peter1 (1), pplsgod (1), riverlaune (4), sharkey (2), simon3 (6), slemish (1), tempy (1), weedavie (2), wicklore (8), winer (1) and Contributors to GPS information this month were: csd (3), Geo (6), jackill (15), riverlaune (1), simon3 (3), wicklore (4)

For a fuller list view Community | Recent Contributors
There were comments on the following summits An Cnoc Riabhach, Ardnageer , Beann, Beann South Top , Beenmore, Ben of Howth, Benbulbin, Binn Mhór, Boughil, Broaghnabinnia, Clomantagh Hill, Cnoc an Bhráca, Cnoc na dTarbh, Colly, Common Mountain, Copes Mountain, Corcóg, Corrigasleggaun, Croaghanmoira, Croaghbane, Crockauns, Cross Slieve, Cruiscín , Devilsbit Mountain, Djouce, Drung Hill, Fauscoum, Gibbet Hill, Gortagarry, Great Sugar Loaf, Greenane West , Hangmans Hill, Inis na Bró, Keeper Hill, Kilduff Mountain, Knockacummer, Knockmealdown, Knockmore, Knocknadobar, Knockullane, Lackenacreena, Little Sugar Loaf, Lugnaquillia, Maulin, Mullach Glas, Mullaghanattin, Mullaghareirk, Mullaghturk, Purple Mountain, Purple Mountain NE Top, Saggart Hill, Shehy Mountain, Sliabh Tuaidh, Slieve Anierin, Slieve Binnian, Slieve Foye, Slieve Gullion, Slieve League, Slieve Na Calliagh, Slievelamagan, Slievenamon, Spinans Hill, Stookeen, Sugarloaf Hill, Taurbeg, The Foxes Rock, The Paps East, The Paps West, The Ravens Rock, Tomies Mountain, Tonduff, Truskmore and these walks were created (none in period)

Thanks to all 770 who have ever contributed summits or routes info and forums. .

For a full list view Community | Contributors Hall of Fame
Summary. MountainViews now has 4056 comments about 868 different hills & mountains out of the total in our current full list (1054). We need more comments, better comments and more balance for every summit as our rate for "data completion" now that the 150m summits have been added is currently only around 44% There's plenty (186) of opportunities for you to be the first to comment on a summit. Listing summits in "Lists & Logs" (tick MV completion information) allows you to see what information we need to get more even coverage.
Notices
If you are contributing, please be careful to respect the interests of landowners. Suggest access routes well away from houses, gardens or that could conceivably impact farming activities. When walking, keep away from gardens or farm buildings. Use stiles or gates wherever possible. Never do anything that could allow animals to roam where the farmer did not intend.
If you hear of a problem area or route, write it up in MountainViews which does everyone a service.
Report rubbish tipping in the Dublin/ Wicklow area - ring PURE 1850 365 121
Report quads in national park area (in which they are banned). For Wicklow please phone the Duty Ranger: 087-9803899 or the office during office hours Telephone: +353-404-45800. Put these numbers in your phone, take regs etc. Let MV know of contact numbers for other areas.
If you have climbed some of the less well known places, we would appreciate a summit rating.We could use your help in making ratings for the unrated mountains which you have climbed, such as: Puffin Island, Inis Tuaisceart, Maumfin, Inis na Bró, Edenacarnan, An Tiaracht, Croaghan Hill, Inch Top, Barr an Dígín, Dunaff Hill and some 52 others. and also GPS readings for summits.
If we can, let's make MV have more than one route up a summit so as to reduce the tendency for paths to appear. Your grid refs in comments for different starting points show up on MountainViews maps.
This newsletter
This newsletter is from Simon Stewart for MountainViews
Homepage: www.simonstewart.ie
Newsletter archive.
View previous newsletters mountainviews.ie/newsletter
RETURNING TO MOUNTAIN VIEWS
Click on http://mountainviews.ie (If you have cookies on in your browser then you will be prompted as to username/ password. If you forget the password, the login page can email you a replacement.)

UNSUBSCRIBING
If you don't want to receive any further monthly newsletters from Mountain Views click on Settings. Then change the option beside "Include on occasional mailing list" to "Do not include". Then click the "Save" button.
Alternatively let us know by email at admin@mountainviews.ie Include the email address you got this at or your screen-name.