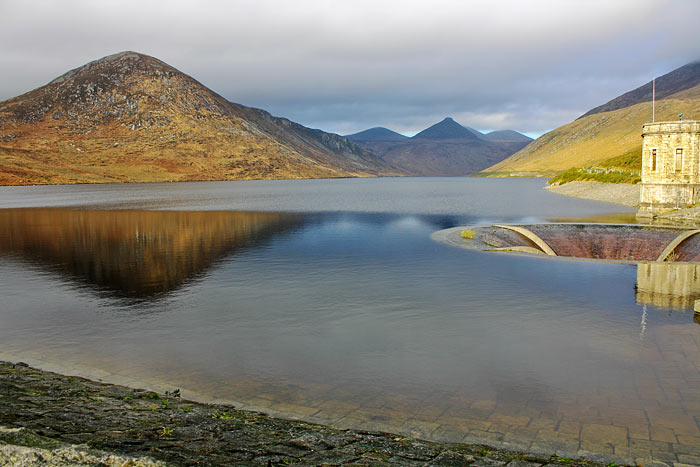 Water going down the plug-hole at the Silent Valley. Photo: wicklore
Member Offer
Buy maps 2 for 1 offer from OSI
Available at the OSi (Ordnance Survey Ireland) Map Shop in the Phoenix Park, Dublin, all MountainViews members can avail of the following offer:

Buy any 2 Discovery Series Maps of your choice and get any other 2 Discovery Series Maps Free.
This would be very useful to members who are stocking up maps for further summiteering/bagging next year. Incidentally, visiting the OSI place is quite interesting in its own right. The last time I was there, the reception were giving out a free all Ireland poster map, modern on one side and 19th century on the other. (Obviously, no guarantees that's still available)
To obtain the reduced price, people just need to mention the Mountain Views offer. It is limited to 8 copies in total (buy 4 get 4 free). The offer continues to the end of Jan 2010.
MountainViews are simply doing a public service by mentioning this offer incidentally.
MountainViews : Lists, new features.
MountainViews Lists

We are continuing to sort out the lists for the future.
During the month two MVers went to see Joss Lynam regarding the "Vandeleur-Lynam" list. This is the original Irish sourced list of summits dating from the early 1950's, which was published in various places such as the back of the reprint of "Mountaineering in Ireland" by Claude Wall (early 1970's). This site owes a huge debt of gratitude to the creation of said list. We were consulting Joss Lynam regarding mainly the future rules for the inclusion of summits onto the list. The list has a nominal prominence requirement of 15m however some of the summits had drops smaller than this, in one case of only 8m. Joss would prefer to keep the prominence requirement at 15m. We will eliminate summits from the list which prove to be less than that. In future where definitive prominence determinations are done then the list will follow what they say. Note: when we say eliminate summits we mean that they won't be described as part of the "Vandeleur-Lynam" list, they will remain on the website.

The Arderins have also been arranged so as to have a prominence requirement of 30m.

We mentioned the move to 100m prominence for the Highest 100 list, a move intended to include more of the high areas in Ireland such as the highest point in the Maamturks, Keeper Hill, Sawel in the Sperrins and exclude some of the minor bumps on such as the Galtys and Reeks ridge. There has been some discussion about this, principally because having a 100m prominence requirement removes a few famous summits such as Beenkeragh and Caher in the Reeks. Further comment is still welcome.

Various errors were fixed during the month such as some affecting the Walks (Routes) section which I hope is now fully functional again. The private message sending service wasn't working properly with some varieties of Microsoft browser - it is now. The Summiteers Hall of Fame has been improved - it now has a listing for County ascents. It allows a choice between a count of Arderins or all 500s climbed (also for Vandeleur-Lynams or all 600s). There is a new search feature on the Summits page which will prompt you for the name of mountains as you start typing. This prompts in English or Irish and with area names also. (For those of a web techie bent, this is our first use of Ajax)
Walkers Association of Ireland
There is a list of events on the Walkers Association site.

Note: some date changes here.

18th November - report on talk by John Shackleton (IRC) on Antarctica Walkers Association of Ireland Winter Talk Series John Shackleton , member of the Irish Ramblers, gave an illustrated talk on his recent visit to the Antarctic. There was a good crowd on the day braving the weathering and choosing the antarctic over the match with France.
20th or 21st January 2010 - (date not yet fixed on this) - Hillwalking Table Quiz with any profits being donated to Mountain Rescue - last year some 90 attended - an event to beat away the post Xmas splurge.
18th February - Talk on summiteering - by MountainViews very own simon3, Simon Stewart - It will touch on summit areas in Ireland, mountain lists, summiteering, MountainViews and photography in the hills. If you are an active member of MountainViews why not come along and meet some of the other members.
18th March - Talk on the Pyrenees
Venue for above: Not yet fixed but will be announced in good time. In addition, WAI will also be organising a seminar on taking photos in the mountains (date to be confirmed) and a day's seminar/workshop in Feb/Mar on topics of interest to hillwalkers who are not quite beginners, but would like to take the hiking experience to the next level (eg navigation, campcraft, modern navigation, gear, photography, first aid etc).
WAI Photo Gallery - why not upload some of your pictures (Ireland or abroad) to this?
Recent Contributions and News
OSI offering a free online map. Have a look at the new free online map that OSI are offering. You can zoom in and get the consistent quality airphoto views of the Republic that OSI has and also see a version of the 1:50,000 maps and other maps. This is a useful set of resources. What I would hope is that there will be some way in future to overlay the sort of data that MountainViews has on top. Try out the feature and let's see what we can do with it as it stands. It certainly could be useful for researching routes through forests. The historic maps also contain 6" to the mile and 25" to the mile large scale mapping which map be useful for finding historic names.
One irritation is that it has an indicator of position using 12 digit ITM coordinates, which aren't in use for the sort of small-scale maps used for recreation. That's further confusing because on the 1:50,000 map the map shows Irish Grid 1km squares.
Still, overall this is progress.
MountainViews in the news. MountainViews has supplied some summit data for Walking World Ireland, (now with its new web-minded editor Conor O'Hagan) which should appear shortly. MV is mostly a community site where people donate contributions which other members can use, however where there is some advantage to the community we will supply content for other purposes. In this case its publicity. We want to publicise the site to those that haven't heard of it - perhaps they have a good story to tell about a summit or perhaps they would be interested in summiteering and WWI could well help.
We are also working with the OSI (Ordnance Survey of Ireland) once again to give information about the summits. And finally you may have seen member ahendroff's piece in the Irish Times ..
ahendroff on Hot Off The Press!
http://www.irishtimes.com/newspaper/travel/2009/1128/1224259584836.html Click here

The Paps/ Derrynasaggart Area
This is an area somewhat out of range of day trips from Dublin, let alone Northern Ireland. However with 19 summits, of average height 595m it begs further exploration, which is what southern member jackill has been up to recently. Here's one of the several he has commented on.

jackill on Knockacommeen
After failing on Broaghnabinnia because of wind(the weather not a bad curry) and running down Knocknagapple pursued by lightning I capped off a perfect day by being the only man drowned in Ireland at 420 odd meters above sea level. What advice for those brave souls who follow me here? park at W15048 79413 and follow the forest track uphill until it stops, walk through the trees as far as you can(i ... Click here

South East, Isolated Peaks. Beauchamp Bagenal Harvey, and the 4th June 1798
Member wicklore has been taking a look at some of these relatively small places but of course they have good prominence and apparently a military history.

wicklore on Carrickbyrne Hill
Just off the N25 there is a car park and information board at S 828 240 (OS map 76). It is possible to drive further up the track to another car park in the forest. I had earlier tried to park on another public track at S 829 245, but there appears to be a car dealer who had the track blocked.
The forest tracks on the map were accurate on the ground, and I used them to reach the col between ... Click here

Somewhere north of Loughsalt Mountain
slemish on Gáinne Mór
Ganiamore is the highest point on the fabulous Rosguill peninsula - a part of Donegal I have been holidaying in for many years. I climbed this hill again today in fine weather for November - surprisingly sunny and warm. It isn't the most accessible hill and at first glance there isn't a straightforward route up it. I parked at the car-park of the Singing Pub in the townland of Clontallagh (116402) ... Click here

Fine picture from Dooish
paulocon, who doesn't know how to produce a poorly composed picture, includes a useful comment on this Van-Lynam in the Derryveaghs. Take a look also at his picture on Muckish. There's more pics of the area on his blog which you can view here.

paulocon on Dooish
Started from the layby on the R251. Although only a short walk distance wise, Dooish makes you work right from the very start as you are immediately onto boggy ground as soon as you leave the roadside. Squeeze through the deer fence and aim to the left of Dooish to avoid the cliff blocking direct access to the summit.

Having climbed Muckish beforehand, I found the going up Dooish very toug ... Click here

Gruggandoo may be small .. But apparently it makes for a pleasant short walk in the western Mournes.

New Garmin GPS units. Recently I got hold of one of the new GPS units, which have a touchscreen and the possibility of using a version of the 1:50,000 OS maps for the Republic anyway. I think they are something of a revolution in GPS design. Much easier to use, improvements to a number of subsystems such as the inbuilt compass, vector maps with turn-by-turn driving instructions etc. Well worth considering if you are in the market for a new GPS. There are of course some downsides, such as the price particularly of the maps (at around Euro 149 for each of the 4 needed to cover the Republic - nothing yet available for Norn Ireland.) Still prices have a habit of coming down. Hope to do a fuller review later.
National Mapping Agencies being positive Unlike the US the European national mapping agencies have often jealously guarded their intellectual property, in my opinion often to the detriment of their countries and even of themselves. The selective release of GIS data sets can do much to invigorate enterprises of all types including even non-commercial outfits like MountainViews.
So it was with some delight that I note the ordnance survey of Great Britain are going to be making some data publicly available and also the Norwegian Mapping Authority has decided to give open access to all of its most recent data, effective December 1. 2009. This means that for example a DEM (Digital Elevation Model) with 25 by 25 meter grid of the entire country will be accessible.
The OS's of this world are under pressure from new resources they know about like Google Maps and ones that they perhaps don't yet appreciate the significance of such as Open Street Map. They need to develop new business models and a new relationship with users.
Sorry if I didn't mention what you posted .. there's a list of all contributors for the month later.
Notes.
Site notes
If you can set-up your email to get web-format ("html format"), you should be able to get more out of this newsletter. Previous Newsletters
GPS Notes.
Would you like a map on your GPS so that you can visualise summits, contours etc? Well, depending on whether you have the right sort of GPS and your willingness to do a bit of uploading, we may have the answer.
simon3 on GPS for Ireland, article, download.
Currently MV provides GPS information in the form of waypoints that indicate the summit positions of all of the mountains in our list. While better than nothing this still does not use the full potential of GPS units . Essentially these can show maps and points of interest. There is no commercial product for GPS units at present, however we are pleased to announce the results of various communi ... Click here

Also the latest from MV member pazapas, with more uptodate info including lakes, rivers, roads, antiquities, 150m list from this site and urban areas.
pazapas on Ireland Map v1.91
Ireland Map v1.91 is available both for Mapsource (Windows) and Road Trip (Mac OS X). OSM layer is now routable without too much errors and it displays more features mostly in towns. Please forget v1.90. Click here

This month.
We welcome the following new members who enrolled this month. aikimoh, Al_Fresco, Andrew_Hodnett, annette_odonovan, beann, BenMc, berrill, bren_cahill, byrned1, CarolH, chris_lupa, codea, colin4, daveross, davidmazzoni, davnet, Derry259, dmcdonnell, DonxCahill, emileee, eoinyk, eunicemcfarlan, eunicemcfarland, fremder138, garkuls, gavinmullen, grzywaczmarcin, Gubnet, gunningp, handley, HelenDonoghue, irishsmurf, jadeyb, Jas62, jimfinnegan, JohnBrophy, johnemus, johnobrien, kate-breslin, kellehm, kellyea, KevinGow, kevinmorgan4183, killyman1, KutaN, laiaalibes, lemonaed, lioscarrig, magsbergin, mahern, Marblehead, marlborough, martinhayes, mcmonagle, mesarthim, mhortaliza, michaelf, moomullan, murphy, muschi, nature_loverNo1, nicop, oconnorcj, olddog, oranryan, padraigmeehan, partmountaingoat, patphelan, Paul_B, pete_s, philip-o-reilly, pmoorehouse, pn_runner, rachc, ralmike, Raptor, roryfg, Sarah_o_donnell, ser-tax, sjmbyrne, sniggingmik, spoodle58, szfed44, thedon, Themightyatom, therumdiaries, tirconal, trevorc, UlrikeDwane, walkwhenican, weber, xStudent, yelruog (93)
Our contributors to all threads this month: Bleck Cra (1), Conor74 (2), Daithi2004 (2), Geo (5), Harry Goodman (3), ahendroff (2), bellanascadden (1), bryanmccabe (2), colin murphy (5), cormacg (1), csd (2), eastwest (1), gerrym (1), jackill (7), josvanderlinden (6), madfrankie (1), partmountaingoat (1), paulocon (4), pdtempan (3), silentbob (1), simon3 (9), slemish (6), three5four0 (2), weedavie (2), wicklore (7) and Contributors to GPS information this month were: csd (1), jackill (19), simon3 (3), wicklore (15)

For a fuller list view Community | Recent Contributors
There were comments on the following summits Ballyteige, Ballyvouskill, Beenkeragh, Big Collin, Binn Mhór, Caher, Carrauntoohil, Carrickbyrne Hill, Claragh Mountain, Cnoc na Boirne, Collon Hill, Copes Mountain, Corcóg, Croaghnamaddy, Crockmore, Cruiscín , Curracahill, Dooish, Dooish Mountain, Edenacarnan, Errigal, Fauscoum, Forth Mountain, Gáinne Mór, Gruggandoo, Holywell Hill, Kings Mountain, Knockacommeen, Knockullane, Knockullane E Top, Leenaun Hill, Lugnaquillia, Maulin, Muckanaght, Muckish, Sawel, Slieve Commedagh, Slievecoiltia, Slievemaan, Slievenaglogh, Slievenamon, Stookeen, Stumpa Bharr na hAbhann, The Bones, Wee Binnian, Wee Slievemoughan and these walks were created (none in period)

Thanks to all 731 who have ever contributed summits or routes info and forums. .

For a full list view Community | Contributors Hall of Fame
Summary. MountainViews now has 3868 comments about 849 different hills & mountains out of the total in our current full list (1054). We need more comments, better comments and more balance for every summit as our rate for "data completion" now that the 150m summits have been added is currently only around 42% There's plenty (205) of opportunities for you to be the first to comment on a summit. Listing summits in "Lists & Logs" (tick MV completion information) allows you to see what information we need to get more even coverage.
Notices
If you are contributing, please be careful to respect the interests of landowners. Suggest access routes well away from houses, gardens or that could conceivably impact farming activities. When walking, keep away from gardens or farm buildings. Use stiles or gates wherever possible. Never do anything that could allow animals to roam where the farmer did not intend.
If you hear of a problem area or route, write it up in MountainViews which does everyone a service.
Report rubbish tipping in the Dublin/ Wicklow area - ring PURE 1850 365 121
Report quads in national park area (in which they are banned). For Wicklow please phone the Duty Ranger: 087-9803899 or the office during office hours Telephone: +353-404-45800. Put these numbers in your phone, take regs etc. Let MV know of contact numbers for other areas.
If you have climbed some of the less well known places, we would appreciate a summit rating.We could use your help in making ratings for the unrated mountains which you have climbed, such as: Carnanelly West Top, Puffin Island, Inis Tuaisceart, Maumfin, Inis na Bró, Carhoo Hill, Edenacarnan, An Tiaracht, Croaghan Hill, Inch Top and some 60 others. and also GPS readings for summits.
If we can, let's make MV have more than one route up a summit so as to reduce the tendency for paths to appear. Your grid refs in comments for different starting points show up on MountainViews maps.
This newsletter
This newsletter is from Simon Stewart for MountainViews
Homepage: www.simonstewart.ie
Newsletter archive.
View previous newsletters mountainviews.ie/newsletter
RETURNING TO MOUNTAIN VIEWS
Click on http://mountainviews.ie (If you have cookies on in your browser then you will be prompted as to username/ password. If you forget the password, the login page can email you a replacement.)

UNSUBSCRIBING
If you don't want to receive any further monthly newsletters from Mountain Views click on Settings. Then change the option beside "Include on occasional mailing list" to "Do not include". Then click the "Save" button.
Alternatively let us know by email at admin@mountainviews.ie