Croaghanmoira, Moon, Venus and Jupiter
Were you out over last weekend? Cold, but a great day for photography. This picture shows Croaghanmoira, centre skyline, taken from Paddock Hill (south of Scarr in Wicklow) with something interesting in the skies as well as the gorgeous post-sunset colours. The crescent moon is accompanied by the unusual sight of a near alignment of two planets, top centre. The lower brighter one is Venus, the upper Jupiter.
More information from Wired.
WALKS SECTION
Tough challenge in the Mournes
gerrym uploaded this walk around Ben Crom. It's roughly the same height gain as the Muckish-Errigal walk (the Glover) though not quite as steep on average.
gerrym on Ben Crom Take 2
Overview A long old walk which could be accompished in a long summers day but i thought it would be better to Take 2 - 2 days that is. This allowed for a more leisurely pace and most importantly for a night under the stars and a full moon. The walk takes in five of the 700m summmits in the Mournes, two lesser tops, the length of Ben crom resevoir and the Brandy Pad. Start The start to ... Click here

SCRABBLER WHICH COMES FIRST: CHICKEN OR FRIED EGG?

"Put your coat on or you won't get the good of it when you're out." Every Inuit knows this to be false and advises that before embarking on the walrus hunt, you slow-roast yourself in front of the fire for days. Is there some reverse correlation vis-a-vis food? I banjo-ed my back a few months ago and now have to slip off with the slow people in my walking club. It transpires that food means different things to different walking Grades. For Grade 1 walkers, a munch of Kendal Cake and glug of glucose does the trick. It seems however that the higher the number of Grade, the greater the mass of food is dispatched.
Grade 1 - 1 lunch per person. Grade 2 - 2 lunches per person. Last weekend, we were huddled in some dank shelter from merciless wind and buckshot hail. Patsy ferreted in his bag and brought out in both arms his repast. If Archimedes' theory about displacement of volume is right, there remained not so much as a toothpick inside the bag, such were the dimensions of the lunch receptacle. Perched on his knees, it disgorged enough food to support the plantation of Ulster.

" Seamsie do you need a tablecloth?"

Twelve sandwiches, 2 cakes, 4 biscuits, a flagon of tea, half a pint of milk, an apple tart, chocolate éclairs and numerous jars presenting arcane serving suggestions. Patsy made his way through the lot like it was a medium milk shake and went to sleep. As the human steam around me settled, I could see more 5 course dinners, cabinets of crockery and canteens of cutlery emerging from vast rucksacs. "Seamsie do you need a tablecloth? I have a spare one here." Is it Grades 2,3, etc choose to move at this pace or is it that carrying that lot, no wonder?

Your comments or suggestions to The Scrabbler.


Walkers Association of Ireland
Changes in Trailmaster
The Ordnance Survey of Ireland are changing the way that its recreational computer based maps are delivered. In future it will be an online service. Find out more and if you are interested to get involved with testing the new system.
Read more here
There's various upcoming events for the WAI such as
table quiz (late Jan, early Feb)
talk on the Munros
Walking Holiday in Spain
There's likely to be a repeat of the Modern Navigation course featuring TrailMaster (with information on the online service) in early Feb.
WAI Photo Gallery - why not send some of your pictures (Ireland or abroad) to this?
Recent Contributions and News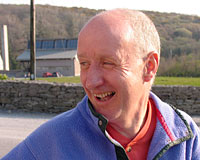 Mountain Magazine
An initiative of contributor weedavie

I've been inflicting my views on MV members for a year or so now, kind of expecting the more opinionated of you to join in. However the volunteer system is clearly not working so I thought I'd try and take what our management would call a more proactive and enabling approach. I think Ireland needs a mountain fanzine and where better to have it than under MV's generous umbrella. I intend to approach some of you directly but if you feel you've got what it takes, why not just contact me.

The last fanzine I was involved with was in 1971 (The Pushing Life, dedicated to Clyde FC and shove-hapenny.) So my ideas are narrow and out of date. However I think an editorial policy which demands material with at least a tenuous connection with mountains, a mention of Ireland and an interesting subject is just about the line to follow. Of course by being funny or controversial you can probably get some or all of this relaxed. Libel's right out and so's foul language unless it's artistically imperative. Go on, give it a thought then contact me. You could give new meaning to your otherwise drab and meaningless existence.

To contribute to weedavie, email him at admin@mountainviews.ie


---
If you are thinking of contributing to weedavie's new initiative, or just thinking, you might like to look at The Angry Corrie (TAC), pre-eminent amongst hillwalking literary institutions in Britain. It's very much a bottom-up way of doing things - a style that gets things done in a way I find refreshing in the extreme not requiring grants, employees or repeated claims to be the biggest official organ.
Sponsored Charity Walks
CaptainVertigo, our very own latterday Dean Swift, discusses the logic and ethics of the deal that Charity Walks propose.
"..rambling in the world's great beauty spots is no burden: it is a joy, an absolute treat, a holiday of holidays."
"...Some form of sexual activity might provide a similarly fruitful analogy: perhaps university students agreeing to a prolonged sponsored orgy. ..."
Take a look at this folks - I really think it is worth discussing. The WAI (Walkers Association of Ireland) who promote challenge walks (mostly club organised or those where the "charity" bit is secondary) would be interested I am sure in this.

CaptainVertigo on Sponsored Charity Walks
I do not set out to change the world nor to bring ill feeling or challenge motives. This is a mere meditation, not a polemic. I have no answers,just questions. But the topic is dangerous. Charities enjoy a certain aura: one might more safely attack newborn infants. So I proceed at my peril...... How has it come about that donors give to charities on the promise that certain individuals will head o ... Click here

Oh the Cruel Rain and the Wind
weedavie writes this piece on the weather ..
Jays, but the weather's been shocking this summer. Hardly a weekend to get out in, and as often as not you've given up the idea by Wednesday because the 72 hour forecast has been for the perfect storm. Well I've no sympathy, you're a half-hearted bollix. There's never been a day so bad on the hill that it didn't beat a trip to B&Q and that's what you deserve. The late, lamented Chairman Mao said the guerrilla should move among the people as the fish in the sea. In the same way we are children of any weather. More
My apologies for not putting this reference in earlier.
Heaven's Gate - Carrauntoohil
New contributor keithkingston has been trying this route. News is always welcome on summits even if they have lots of prior comments. I certainly didn't know there was a mountain shelter with bunk beds there.
keithkingston on Carrauntoohil
Tried climbing Carrauntoohil via Heaven's Gate for the first time recently, and loved it. From a distance it looks like it should be very difficult, but its not at all as bad as it looks. It is quite a direct route, has stunning views over Eagles Nest and Hags tooth, and for my money, is the best of the easier assents of Carrauntoohil. I couldn't find a description of it here, so here goes: Fro ... Click here

The Struggle to Win Barranisky. And MV Information Completion.
There's many summits in Ireland that are wonderful, hidden gems and some that are, well, just hidden. MountainViews through its intrepid members has been writing them up so that everyone can learn the difference. To gauge how well we, collectively, have done we have the "Overall Completion" figure ( Lists and Logs | Seven Lists | Include MV Completion ..) which looks at the number of comments and their quality plus other information for each summit and allots a figure for how near we are to the goal for info. For the 500m summits the average figure is now over 60%. For the full list which now includes many smaller peaks the figure is just 34%.
You can now decide for yourself whether Barranisky (SE Wicklow) is worth a visit from the very comprehensive comment. Whatever you decide you can admire wicklore's perseverance in the face of "Unwelcome Signs", farmers (friendly), hours of forest tracks and finally gorse (whin or furze).

wicklore on Barranisky
My plan was to park at the area called Glenteige to the west of the summit, and find a way up. Turning off the main road at T243 790 to follow the minor road to this area, I was met with a sign which said "No Entry". Strange, as this was a public road. I followed it past a number of houses until it came to a dead end at a gate at T249 791 with another sign saying "Private, Keep Out". I called to a ... Click here

Highest point in Monaghan
Poetic description of a heathery lump.

paulocon on Slieve Beagh
Took a trek up Slieve Beagh this morning as part of my County Tops task. What can I say? It's desolate, barren, bleak and moody, a veritable oasis of emptiness! Pretty much took the same path as murphysw above. From Knockatallon, head out by the Slieve Beagh hotel and take the road to the left signposted 'Three Counties Hollow'. Park up at the electric gate and follow the path up by Lough Antracie ... Click here

The Cairns of Musherabeg
This summit is one of those that a bit of determined work with spades or a JCB could be turned into a mountain. Seems it is covered in antiquities.

jackill on Musherabeg
Starting from the road at W31269 84532 walk up beside the forestry fence before hopping it at W31000 84000 and making a short struggle through sparse, low conifers to the summit and a fallen iron man. To the north is Knocknakilla an area noted for its large complex of megalithic monuments.There is a recumbent stone circle, a radial cairn and two portal stones (one of which has fallen), aligned NNE ... Click here

Ever wondered about the curious name of War Hill? (Wicklow)
It's not one of those places that people generally linger on however it is a handy intermediate in various looped walks. Padodes offers an explanation for the odd name.

padodes on War Hill
Every time I climb War Hill, I am reminded of the old Romans' notorious lack of imagination. Just as they could sometimes find no better way of naming their sons than by using bare numerals (Primus, Secundus … Quintus, Sextus…), those who gave this hill its Irish name, Cnoc an Bhairr, the Hill of the Top, could hardly have chosen a less imaginative name either. Perhaps, though, that very bareness ... Click here


pdtempan and denise-vosges show how to climb the Cooleys by train and bike from Belfast.

denise-vosges on Carnavaddy
We climbed Carnavaddy and Clermont Carn on an October Sunday outing that combined 3 methods of transport: train, bike and shank's pony. Taking advantage of the Sunday tracker ticket which allows you to travel anywhere on NI Railways for a fiver, we got the 12 o'clock train from Belfast to Newry. Then a 15km cycle ride along Carlingford Lough to a point just opposite Narrow Water Castle and up the ... Click here

Lower parts of the Antrim Hills
three5four0 is an expert on those NE hills of Ulster - this description of Collin Top with suggested follow on to the coast should be interesting to many.
three5four0 on Collin Top
See Mid Hill & Carncormick for the start of this walk.
From Mid, descend to the fence running north east and follow it through some soft & wet ground, over a wide ring contour & a final short slope to the summit of Collin Top. Which is rather pap like and is a dry oasis in a sea of bog. The views of Crockalough, Lurigethan , the Glenariff escarpment and out to Scotland are all equally fine. I ... Click here

A local high spot defamed.
CaptainVertigo on "Ugly Lugna" says Eirish Times
Today's Eirish Times includes a fully frontal and unprovoked savaging of Leinster's mighty Lugna stating that it "offers little in the way of beauty". In a poison piece penned by some scurrilous hack writing under the pseudonym MacConnell, wave upon wave of derision is heaped upon the minor massif. I quote: ............"The only reason most people climb it is that it is Leinster's largest mountain ... Click here

Falling over and camping in the Mournes
Newish contributor sbender tells us about his experiences in the Mournes.

sbender on Slieve Bearnagh
I did a horseshoe walk in the Mournes last week, but wasn't sure at first under which mountain I would write about my experience. finally decided on Slieve Bearnagh for the simple reason that it was a tough nut to crack. I started at 9.00 after parking at the Crocknafeola Wood, and 'entered' into Mournes area at point J276226 up Slieve Muck. It was a hard start, especially with 15kg on your back ( ... Click here

Sorry if I didn't mention what you posted .. there's a list of all contributors for the month later.
MountainViews Changes
Revising the display of Mountain Lists
MountainViews now allows a degree of customisation of the "Summits" page, limiting it to showing only the higher peaks if that's what you are interested in. simon3 on Filtering tops.
Suggestions by Colin Murphy, CaptainVertigo (diffidently), pazapas for a means of limiting what is displayed in the left (geographical navigation) panel on the summit page. Possibly doing this with colour coding on the map.
Comment: Recently(2008) we included a revised list of summits with 208 small prominent summits added to the previous extension of 400m summits. This has led to further i ... Click here

Also during the month we changed the formatting for forum display as a result of some constructive suggestions.
MountainViews and Open Source
MountainViews has been exploring the options made possible by OpenLayers, a very neat map display frontend. If you are interested in this and would like to help, give us a shout.
Notes.
Site notes
If you can set-up your email to get web-format ("html format"), you should be able to get more out of this newsletter. Previous Newsletters
GPS Notes.
Would you like a map on your GPS so that you can visualise summits, contours etc? Well, depending on whether you have the right sort of GPS and your willingness to do a bit of uploading, we may have the answer.
simon3 on GPS for Ireland, article, download.
Currently MV provides GPS information in the form of waypoints that indicate the summit positions of all of the mountains in our list. While better than nothing this still does not use the full potential of GPS units . Essentially these can show maps and points of interest. There is no commercial product for GPS units at present, however we are pleased to announce the results of various communi ... Click here

Also the latest from MV member pazapas, with more uptodate info including lakes, rivers, roads, antiquities, 150m list from this site and urban areas.
pazapas on GPS: Ireland map v1.8.7
Ireland map is now available with the new extended summit list to 150m. Some old data have been removed and there is a new layer : megaliths and irish antiquities from Megalithomania.com. Download PC and Mac version at http://emeraldisland.free.fr Click here

This month.
We welcome the following new members who enrolled this month. 27palms, abritton, agaughan, aghy, Anan, andodenis, andrewkillen, andyharte, angelica, aurekas, awlawd, Balaloke, beamo, bigjohn, Brendan_Rowley, brianj, briano, britton, brucekennedy, Bryan-Poynton, caoimhin, carrigeen, cbrxx, cellickson, classico, Coisceim, connolly, Copperlad, cush, damhanfhalla, davidkenna, deawhite, decco111, derekmc, djgarvey123, domsdev, d_smyth, e474492, Edd, eddy, Edward-Cork, Emmetmurphy, errigal, EthanM63131, Filippo, finbarroriordan, firecrest, fizolas, flann, gazzer, gcumminga, GerSomers, gianantonio, goboy, igorescento, imeldabs, jane05, jimbloomer, jlarkin, john_brophy, jude_mcl, kabe, kanejoe, kellyg, Kevinokeeffe, l-doggy-dog, letter, lynseyl, l_doggy_dog, Mariola111, markcollins, marymcelwee, marytherese1, mbiliniewicz, micksteel, milkymoo, mmurpy, Muckyboots, Mumo, namoose, Nelly69, nielsen, nolan, nowiamthemaster, oriordanj, paddyhillsbagger, patomara, paul-curtin, pauldonegan, phyllisk, pikespeakorbust, plawless2, poxixoo, ronan68, rootuid, sakae55, seamagu, sean5813, sellul, setanta, shanerocks, simone, siobhee, siralop22, skoddet, Surtr, tedmclean, teeag, Tiburonsmoke, tremirs, VivianPhilips, vsarunas, walker20814, WatchingCartoons (114)
Our contributors to all threads this month: Alan Lee (2), Alaskan (1), CaptainVertigo (6), Colin Murphy (1), Dedalus (1), Korff O'Barbunk (2), andodenis (1), brenno (1), csd (2), denise-vosges (2), dino (2), gerrym (1), hibby (1), jackill (4), josvanderlinden (1), keithkingston (2), kevin dockery (1), larrylampwick (1), letter (1), madfrankie (1), marty1133 (1), maurice12 (1), padodes (6), paulocon (8), pdtempan (7), pkenneally (1), reidyden (1), rossbeighed (2), sbender (1), simon3 (4), spoon (2), thisbliss (1), three5four0 (4), weedavie (1), wicklore (11) and Contributors to GPS information this month were: csd (4), jackill (3), maurice12 (1), simon3 (2), wicklore (37)

For a fuller list view Community | Recent Contributors
There were comments on the following summits An Starraicín, Ballinafunshoge, Barranisky, Boolatin Top, Brandon Hill, Brockagh Mountain, Bruse Hill, Carnavaddy, Carncormick, Carrauntoohil, Carronadavderg, Clermont Carn, Collin Top, Corn Hill, Corriebracks, Croughaun Hill, Cushbawn, Djouce Mtn, Lakeen, Mid Hill, Mongorry Hill, Mount Leinster, Mullaghanattin, Musherabeg, Muskeagh Hill, Oughtmore, Prince William's Seat, Seefin, Seefin E Top, Seefingan, Seskin, Shehy Mountain, Silvermine Mountains Far E Top, Slieve Bawn, Slieve Beagh, Slieve Foye, Slieve Gullion, Slievecoiltia, Slievecorragh, Slievenamuck, Stookeen, Stumpa Duloigh, Tonduff, Tory Hill, Tully Mountain, War Hill and these walks were created (none in period)

Thanks to all 602 who have ever contributed summits or routes info and forums. .

For a full list view Community | Contributors Hall of Fame
Summary. MountainViews now has 3067 comments about 664 different hills & mountains out of the total in our current full list (1048). We need more comments, better comments and more balance for every summit as our rate for "data completion" now that the 150m summits have been added is currently around 33% There's plenty (384) of opportunities for you to be the first to comment on a summit. Listing summits in "Lists & Logs" (tick MV completion information) allows you to see what information we need to get more even coverage.
Notices
If you are contributing, please be careful to respect the interests of landowners. Suggest access routes well away from houses, gardens or that could conceivably impact farming activities. When walking, keep away from gardens or farm buildings. Use stiles or gates wherever possible. Never do anything that could allow animals to roam where the farmer did not intend.
If you hear of a problem area or route, write it up in MountainViews which does everyone a service.
Report rubbish tipping in the Dublin/ Wicklow area - ring PURE 1850 365 121
Report quads in national park area (in which they are banned). For Wicklow please phone the Duty Ranger: 087-9803899 or the office during office hours Telephone: +353-404-45800. Put these numbers in your phone, take regs etc. Let MV know of contact numbers for other areas.
If you have climbed some of the less well known places, we would appreciate a summit rating.We could use your help in making ratings for the unrated mountains which you have climbed, such as: Cnoc na Sleá, Inis Tuaisceart, Maumfin, Inis na Bró, Carhoo Hill, Edenacarnan, Carranarah, An Tiaracht, Disert, Ceann Sibéal and some 146 others. and also GPS readings for summits.
If we can, let's make MV have more than one route up a summit so as to reduce the tendency for paths to appear. Your grid refs in comments for different starting points show up on MountainViews maps.
This newsletter
This newsletter is from Simon Stewart for MountainViews
Homepage: www.simonstewart.ie
Last month's newsletter.
View last month's newsletter mountainviews.ie/newsletter
RETURNING TO MOUNTAIN VIEWS
Click on http://mountainviews.ie (If you have cookies on in your browser then you will be prompted as to username/ password. If you forget the password, the login page can email you a replacement.)

UNSUBSCRIBING
If you don't want to receive any further monthly newsletters from Mountain Views click on Settings. Then change the option beside "Include on occasional mailing list" to "Do not include". Then click the "Save" button.
Alternatively let us know by email at admin@mountainviews.ie