SCRABBLER FOOD TO GO - IN THE BIN

Has anyone any idea where your averagely paid hillwalker can pick up some decent grub en route to the hills? I'm talking about stuff that would go down and stay down (or worse) before the boots are on. It seems we, as everyone else going from somewhere to somewhere, is barbarously served in this field. Yesterday Scrabbler binned another offering from some roadside liar presenting himself as "Dissembler's Fresh Foods" or "In-your-Dreams Tasty Grill". Stuff constructed from the compressed extremities of some long dead beast, soaked in red dye, made to look like blood once coursed though its thin, flaccid veins.

Stuff constructed from the compressed extremities of some long dead beast


Now, I exclude the wonderful hill-hugging eating venues from Johnny Fox's Stepaside to Butler's seafood eatery near Waterville or Kealey's in Donegal to Seasalt in Newcastle Co Down. I enquire instead about your average Greasy Spoon that could come up with a pie with meat in it, a Cornish Pasty that wouldn't inflame relations with Cornwall or an egg that came from a generally land-bound animal. And this problem is international - a Scottish friend marvelled at my courage when we were jaunting through the Highlands, at buying and consuming a pie from a well-known poisoner near Crianlarich. "He's been closed more times than the Forth Bridge in winter" he advised. But I ate it, whinged and survived. Scrabbler and I suspect many readers, would be pleased to hear of good - or bad - experiences in the grub-to-go department. Notable ones will be regurgitated in this column.
Your comments or suggestions to The Scrabbler.


Recent Contributions and News
Camlough, a summit restored to walking

This place is very visible as part of the giant and very old caldera wall of the volcano of which Slieve Gullion was the central plug.

tsunami on Camlough Mountain
This magnificent little mountain was off limits to walkers for nearly a quarter of a century until late 2006 when the British army vacated it's summit. The fact that the army spent so long encamped on the mountain is testament to the wonderful views it provides across the Newry valley into Co Down and across South Armagh. The lesser known name for the peak is actually Slieve Gherkin! It provides a ... Click here

Lists.

Last month we announced that we had finally established the new list format ( 100 Nearest, 100 Best Rated, 500m etc) and of course the 400m list. Some twelve of the 400m summits have now got at least one comment from Co Derry/Londonderry thro Mayo to Wicklow: You've possibly heard of Divis, Derrybawn, Knockmore (Clare Island) and Carriglineen but what about: Camlough, Minaun, Scalp Mountain, Glenthomas Top, Sruffaungarve Top, Claragh Mountain, Ballynatona or the Ridge of Capard. Looks like the newly listed summits are places that people visit and want to share information on. And you can include them in walks also.
One item for discussion. There's a suggestion that we replace the "750m" list with a "100 Highest" list in the interest of easier comprehension. Any thoughts? There are 76 summits of 750m. A list of the highest 100 would come down to 714m
john_desmond on 400m summits
A quick comment on the 400m summits Simon. In my experience, some of the smaller peaks can be as interesting or even better than their higher neighbours. For me, it is views and scenery which are important. This addition gives a good excuse to explore some of the smaller hills closer to home without having to undertake a long drive to get to some of the higher peaks. In addition, by splitting up ... Click here


See the lists here. Over 1400 people have started using the MV logging system and one person has logged nearly 300 summits.
Stomping on Stoompa Fabulous photo.


beckett on Stoompa
You may need to re-asses the height of Stoompa. I was so exhausted after climbing up from Lough Garagarry that I leaned against the cairn to recover. At least a metre of rock fell off the top. I tried to restore it but recon that at best I recovered a half a metre before losing interest. I believe that a more suitable height now is 704.5. The picture shows a glimpse into Lough Erhogh from the summ ... Click here

The final 500m summit commented! MountainViews went public almost exactly five years ago, using a list of summits of at least 500m. All the well known and popular summits had comments within a couple of years and then most of the others as time went. But a few of the less known places avoided mention. The last was Claggan Mountain NE Top which was finally written up last month.
You might have expected this to be in one of the furthest extremities of Kerry and to be some relatively boring shapeless lump. No, not at all as a few of us found when we got there. Claggan Mountain NE Top is in the North Mayo area and has coast views and a useful location that make it a great untrampled walk.
With the 400m summits now added there's now lots more summits to be commented. Take a look at the "100 Nearest" list (Lists & Logs section) and see what there's for you nearby.


simon3 on Claggan Mountain NE Top
Claggan Mountain NE Top is the highest point of the ridge from the Mulrany area before you reach the Corranabinnias. Like the next small bump to its north east it's a scarp with a steep north facing side and a more gradual slope to the south and south east. Unlike many 500m summits in Ireland with low rates of visiting this place is deserving of more attention. The walk up from the Mulrany area ... Click here

Dublin based? Think you know Wicklow?

walker_hollick on Ballynatona
I climbed this from a forest entrance reference O 148 044. Walked up the forest track to its end, then had to bash my way through some fairly densely planted trees to reach the summit. This appears to be marked by a pole just outside the forest, although looking from a distance the true top may be just inside the plantation. Followed this up by climbing Sorrell Hill, then back along forest tracks ... Click here

GPS - making maps MV is delighted to announce a major contribution in this area. Member Beckett has produced an article "Creating maps for Garmin GPS units" in the Resources section.

Details:
simon3 on GPS: How to make your own GPS map.
Some time ago we published Brian Kelly's article "All about GPS maps for Ireland" in the Resources section. This showed how to put various non-commercial maps onto your GPS (well, Garmin GPS) for use in the hills. The maps show contour information and summits.
I can personally recommend the use of such maps on your GPS. Since I've put one of these maps on my GPS I have found that yes, it i ... Click here

Of course Motley Views would be nothing without a touch of scepticism in this case lovingly administered by the tender words of weedavie "I do laugh at the correspondence in MV on advanced usage. It's all real hobbyist stuff, overlays, underlays and a deep pile carpet. I'm reminded of a bunch of Morris Minor drivers in the 1960s deliberating the optimum greasing cycle for the nip ple thingies they'd to lubricate or their wheels fell off."
Oh, a low blow that even if hilarious.
Nevertheless MV believes in the the modern publishing approach made possible by the internet. One person's hobbyist activity (and eh, what was wrong with that) can rise above "optimum greasing cycles" of purely tech interest. Map-making and such maps as may hopefully come of out it can become useful to others who just want to use GPSs which may soon be as common in phones as cameras. :-)
One Man's Path or was it Pass New contributor dmcdonagh includes a bit of the 6" map showing the SE ridge of Slieve League which seems to have somewhat inconsistent naming.
dmcdonag on Slieve League
To add to the One Man's Pass debate... On the 6" maps there is the ridge leading up to the summit called "one Man's Pass". This is also marked on the Discovery series sheet 10. But to the south of the Keeringear ridge there is the One Man's Path. This is not marked on the Discovery series maps. Is this the confusion between the ridge and the rocky step? Unfortuately I haven't climbed the mountain ... Click here

The strange tale of some amateur? mountain reconstruction on Binnian's North Tor Bleck Cra, returned from his sadly missed absence from MV, describes this curious case of vandalism, quite possibly unique in the world.
Bleck Cra on Bang goes the View
There's one thing in the North we love more than setting things on fire – and haven't we done well over recent months, igniting anything torchable within a fag's stroll from a Subara Impreza - goading girning hillwalkers, poking fun at pompous firefighters, indulging indignant swamp lovers and convulsing incorrigible firelighters? The craic's been mighty. And the one thing we love more than burnin ... Click here

National Hillwalking Group
If you are interested in this group, get yourself on the mailing list. Email majordomo@mountainviews.ie with this in the message body:
subscribe hillinterest-list
A response will be sent in a few seconds and you then confirm your membership.
(This list may be temporary until the new group gets its website up and running.)


simon3 on New national hillwalking group.
An exploratory meeting to see if there is interest in a new national hillwalking interest group was held in Dublin on the 28th April 2007 attracting around 50 people. The meeting, held by the Irish Ramblers Club, heard about the background and the outlines of what the suggested grouping might do as presented by Simon Stewart. A number of subgroups are proposed in areas such as cooperative holida ... Click here
More background information can be found about this at Irish Ramblers Club.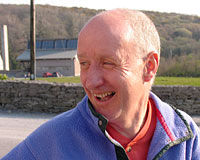 weedavie
(This item is repeated from last month, because I managed to screw up the link) weedavie has this introduction to those who have not had the pleasure of visiting the numerous and often truely remote Scottish mountains.


Sorry if I didn't mention what you posted .. there's a list of all contributors for the month later.
WALKS SECTION
A walk in the Silvermines. Whizzing down to Kerry on the N7 or venturing out of Limerick towards Nenagh also on the N7, you will see the summits of the Silvermines to the south. (We've included them for area classification purposes into "Shannon" and it also includes the better known Keeper Hill.) Anyway, this walk in the Silvermines is an interesting relatively short trip.

beckett on Silvermines
Overview The Silvermines walk features a trek across the undulating ridge that runs from Silvermines East Top to West Top. The walk is not demanding and navigation is simple. The climbing effort is distributed throughout the walk with short climbs and descents as you make your way across the heather clad slopes following a discernible sheep track. The peaks have a distinct purple colour when ... Click here

A longish walk in the Dublin Mountains. walker_hollick includes this useful route linking the Glendoo - Prince William's Seat ridge to the Two Rock - Tibradden Ridge, which overlooks Dublin city.
walker_hollick on Circuit of Glencullen
Overview Probably the best way to get some distance out of the mountains around Glencullen, but something of a mixed bag with rather more road walking than ideal, and on busy narrow roads as well. Make sure you are wearing reflective gear if you attempt this route on a dull winters day, and beware of the traffic. Approaches I describe this walk starting from Cruagh Wood car park, but o ... Click here

Site notes
If you can set-up your email to get web-format ("html format"), you should be able to get more out of this newsletter.
Getting a map on your GPS.
Would you like a map on your GPS so that you can visualise summits, contours etc? Well, depending on whether you have the right sort of GPS and your willingness to do a bit of uploading, we may have the answer.
simon3 on GPS for Ireland, article, download.
Currently MV provides GPS information in the form of waypoints that indicate the summit positions of all of the mountains in our list. While better than nothing this still does not use the full potential of GPS units . Essentially these can show maps and points of interest. There is no commercial product for GPS units at present, however we are pleased to announce the results of various communi ... Click here

This month.
We welcome the following new members who enrolled this month. abermejo, Adrienne, AJB1971, alanah, alec, alisonbeard, ambross, ammcg, Andrew Bell, anglea_murfi, anneupton, anthonyquinn, aqualady, aran, arjanvantongeren, astrolepsis, aurban, ballymurphy, barbara.mannion, barryb, bdunning, berocra, bloxy, bluesnapper, bmcn2000, bradasmac, bradyak, Brandy1949, brianhgreene, bwells, carnevore, celdel, Christine, coismara, CoolMick, Cor, Corky, creekelly, Crusaders, Dangerman, Danton, darkholler, davem1, davidahern, davidgrant, davidhorkan, davidl, dboyle, deckeogh, deeptopeak, Denis Scanlon, diegocearram, dmadden, dmcdonag, doc6262, dpyke, dragonman, dulra, dympnag, eam0n, ecbyrne, eoinbm, falldown, fentonc, Fergald, fhionnlaidh, Fourwinds, gabrielx, garfio, gav, Greenfish, grzywacz.marcin, gunnerian, hbuttker, hiker50, hp01, HughC, hugon2, Ian K, iwonakaniuga, J.J.McAllister, jagoda, jake112, JamesT, JamieWhitty, jdoug999, Jerry Casey, jgwhelehan, jim shiel, jimbob, JimmieP, jimmy6, JoeK, john.caird, johnny, JR, keeleymick, kevcon, kili or bust, kornelis, kramrrac, Lalo P'Ley, liamlynch499, lilliput, lizzyk, lornamacgregor, magoo, Marglin, marinaboat, mariola, markcorrigan, MarkyP, martingurdet, marty1138, MarTyr, mccluskj, michael.nolan, MISS COLETTE, mitch, Mitch5, montanaro, mpatter3, Mustosnuggs, mwalimu, Mylo, naranta, nessmah, nickp2001, nigel boullier, niunia679, noddyonetwo, Noel A., noham, Nuli, odeamjm, olearyg, olivej, orlamcgarry, os56, pbyrliffne9l, pfmcmahon, philip lowry, pkradebaugh, PMcK, podgec10, Ponder, psynnott, pwoods, quepasa, raym, rialto, rmolyneaux, rnathome, roberthealy1, roland07, rorycronin, rossa, rozee, rsmith838, ruairi.quinn, rw_daws, scoll, sgalli, ShaneONeill, Sheamus, shed104, sianmcc, simon20, smacl, somahony, Souriau, Spinner, squirtle, Steveone, stevet, ted.mcgrath, Terence Liston, thejkman, thejman, thomasg, tmcglew, tomfox, tomlyon, tonyod, toolers25, treacyruth, verafox, vertigo, wicklore, wombler, ZOOMO (191)
Our contributors to all threads this month: AJB1971 (1), Alan Lee (1), Alex92 (4), Andreas (1), AnnaK (1), Bleck Cra (2), GregFM (1), HughC (1), Kulpix (1), LEgan (1), Lalo P'Ley (1), NICKY (2), Steveone (1), andreas (3), beckett (5), david bourke (1), dhmiriam (1), djouce (1), dmcdonag (1), dulra (1), hiker50 (1), john_desmond (1), lewvalton (1), loz (2), mart (1), mcna (4), milkorwater (1), murphysw (1), padodes (4), seamusO (1), simon3 (15), stevet (1), toolers25 (1), tsunami (3), walker_hollick (4), weedavie (1) and Contributors to GPS information this month were: absalon (2), jackill (4), simon3 (11)

There were comments on the following mountains Arderin, Ballynatona, Baunreaghcong, Benbeg, Bessy Bell, Camlough Mountain, Carrauntoohil, Carriglineen Mountain, Claggan Mountain NE Top, Claragh Mountain, Corranabinnia SW Top, Croaghanmoira, Cuilcagh, Derrybawn Mountain, Divis, Glenthomas Top, Hungry Hill, Knockalongy, Knockmore, Knockmulanane, Lugnaquillia, Maulin, Minaun, Mweelrea, Ridge of Capard, Scalp Mountain, Slieve Binnian North Top, Slieve League, Sruffaungarve Top, Stoompa, Tibradden Mountain, Tonelagee and these walks were created Circuit of Glencullen, Claggan - Corranabinnia Circuit, Luggala, Mangerton, Lough Garagarry, Stoompa, Ridge of Capard, Silvermines

Thanks to all 445 who have ever contributed
The five who have contributed most to the site are simon3 (392), csd (182), jackill (127), gerrym (108), Bleck Cra (102).
Summary. MountainViews now has 2346 comments about 475 different mountains out of the total in our current full list (840). We need more comments, better comments and more balance for every summit as our rate for "data completion" is currently under 55% There's plenty 365 of opportunities for you to be the first to comment on a summit. Listing summits in "My View" allows you to see what information we need to get more even coverage.
Notices
If you are contributing, please be careful to respect the interests of landowners. When walking, keep away from gardens or farm buildings. Use stiles or gates wherever possible. Never do anything that could allow animals to roam where the farmer did not intend.
If you hear of a problem area or route, write it up in MountainViews which does everyone a service. Report rubbish tipping in the Dublin/ Wicklow area - ring PURE 1850 365 121
If you have climbed some of the less well known places, we would appreciate a mountain rating.We could use your help in making ratings for the unrated mountains which you have climbed, such as: Cushbawn, Owenreagh Hill, An Machaire, Foilduff, Croaghcarragh, Cnoc Onna, Hangmans Hill, Barraduff Mountain, Killaha Mountain, Ballyvouskill and some 26 others. and also GPS readings for summits.
If we can, let's make MV have more than one route up a mountain so as to reduce the tendency for paths to appear. Your grid refs in comments for different starting points show up on MountainViews maps.
This newsletter
This newsletter is from Simon Stewart for MountainViews
Homepage: www.simonstewart.ie
View previous newsletters
List here.
RETURNING TO MOUNTAIN VIEWS
Click on (If you have cookies on in your browser then you will be prompted as to username/ password. If you forget the password, the login page can email you a replacement.)

UNSUBSCRIBING
If you don't want to receive any further monthly newsletters from Mountain Views click on My View / Preferences. Then change the option beside "Include on occasional mailing list" to "Do not include". Then click the "Save" button.
Alternatively let us know by email at admin@mountainviews.ie (Delete REMOVETHIS from the address)