SCRABBLER Apparently in oul Ireland, we now have swallows the size of fruit bats - weighing in around February. The hawthorn blossom hangs so early and so heavy, the very earth's crust is threatened. And water is going out of fashion - apart from the billions of gallons lumbering our way from the icecap. It is written. The most previous swallow-oid on Scrabbler records, would be about the 12th April. 2007 - around the 25th. Hawthorn blossom kicks in end of April - 2007 kicked in end of April. Polar deluge - well look around you: see any Pakamacs? ……. We hilloholicks have a grasp on what actually is - and are denied the indulgence of armchair discussion. Regular outings into the wild, committed over a lifetime, tell us more about the ebb and flow of our natural world than could ever do, varicose ground-bound experts. Now Scrabbler may be overcooking this, so if anyone has seen a Cassowary in Cavan or a Wildebeest in Wicklow, don't hesitate to let him know - so as he can have you sectioned.
Last but one Scrabbler, solicited experiences of strange elements in the hills. Thanks to "jonathon" for this: the year-on-year discovery of a bicycle atop Carantohill. If the rider also expired there, then so be it. "nagirock" who describes a dive in an earlier submarine persona, where the end of a rope revealed a table and chairs set out for visitors; and from "conival" a wedding in full kit, in the Reeks - not a drop was he offered and still bitter. Who thinks the end of the world is nigh? Clues etc please to Scrabbler.
Perhaps you have seen or heard the first swallow/ cuckoo/ mink or mongoose of the season. Send it up the track to The Scrabbler.


Hillwalkers, access and canvassers - Part 3
Last month we made some suggestions about talking to canvassers about the issue of access for hillwalkers. The advice is repeated in this newsletter below. The big development since our last newsletter is that a mainline political party in the South has proposed legislation to regularise access. The Irish Labour Party has issued a major policy initiative on Access to the Countryside. The bill is excellent in that it proposes to allow local authorities to create "Access Land" where people can walk at will. Land to be considered to be declared access land, would not be farmland, would generally be over 150m etc. There would be full democratic means for landowners to lodge any conditions or objections they might have to such declarations through the planning process. Local authorities would also have the power to purchase or rent access routes to the access land from public roads.

There's every chance that the Labour Party will make it into the next government so at the very least the issue of countryside access has been and will be pushed hugely up the political priority list. It has become a significant issue for national discussion and reflection. It is my belief that should there be a sustained period of national discussion the balance of advantage to Ireland including rural businesses will be seen to favour a reasonable re-balancing of rights backed by legislation.

Those hillwalking representatives who have so far and for so long opposed legislation to resolve the access standoff may well find it appropriate to reconsider their positions in the light of the Labour Party position. If they do this could I sincerely suggest they also review why exactly they are not backing or at least acting in solidarity with KIO (Keep Ireland Open)


Recent Contributions and News
National Hillwalking Group
If you are interested in this group, get yourself on the mailing list. Email majordomo@mountainviews.ie with this in the message body:
subscribe hillinterest-list
A response will be sent in a few seconds and you then confirm your membership.
(This list may be temporary until the new group gets its website up and running.)


simon3 on New national hillwalking group.
An exploratory meeting to see if there is interest in a new national hillwalking interest group was held in Dublin on the 28th April 2007 attracting around 50 people. The meeting, held by the Irish Ramblers Club, heard about the background and the outlines of what the suggested grouping might do as presented by Simon Stewart. A number of subgroups are proposed in areas such as cooperative holida ... Click here
More background information can be found about this at Irish Ramblers Club.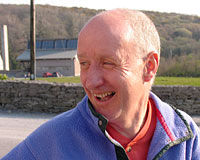 weedavie
weedavie has this fully idiosyncratic introduction to those who have not had the pleasure of visiting the endless Scottish mountains.

The picture was taken just after he had walked over most of the 12 Bens. Ah, there must be strength in those Scottish legs.

Jaak on 100m summits! and News on Lists.
Jaak on 400m Mountain List
I have just heard that Mountainviews is about to launch a new list of mountains that covers the 400m to 500m summits, adding another 380 tops to the existing total.

I'm not really sure whether to laugh or cry, be happy or completely depressed !!!!!

I started climbing well into my thirties and thought I had Ireland conquered when I completed the "Munros of Ireland" which I ... Click here


What are we going to do about this? During the month we presented the MountainViews new list system. Shortly we are going to include a 400m summit list and as Jaak says, maybe that's a bit much for one lifetime. So we've got some new lists such as the

100 Nearest (based on your location)
100 Best (based on the accumulated ratings)
The 750m list (which makes a do-able 76 summit list)
as well as the 600m, 500m and shortly the 400m lists.
See the lists here.
MountainViews Gathering
We are planning a visit to the Achill area and based in Mulranny for the weekend of 11th to 13th May 2007. This is intended for hillwalkers with independent navigation ability and reasonable fitness. Contact below, soon, if you are interested.
GPS First some news. OSI have confirmed to me that Garmin will be bringing out a map for GPS units for Ireland. As I understand it this is actually implemented by Garmin, though presumably the data comes from OSI. While we don't have any particular date for availability it does imply that there is an even stronger case to make sure that any GPS you buy from now on, has the capacity to support mapping.
Currently there is little mapping available for upland use. (This website does have contour maps for GPS -- see Resources section) Various people have been coming up with methods of supplementing what is available and we hope to publish an article on map making shortly courtesy member beckett.
Another thing worth mentioning is that at the recent hill walking interest group initial meeting there was a presentation by people interested in each of seven areas. GPS and hill technology ( new maps, Trailmaster, Google Earth, routes, shared data etc ) was the best attended group. So expect further cooperative work in the area.
Newcomer: portamb Climbs an icy gully to Greenane West.


portamb on Greenane West
An Icy Gully at Muskry Reached 786m from the north side of the Galtees. Walk began below waterworks at Rossadrehid R920 283. Heading via forest tracks to gate and style onto Open Mountain at R928 267. At this point you have two options either straight up the valley via the white posts (marking the route of the water main) or stick to the service track for Lough Muskry. In bad weather the track ... Click here

Erudition on the Paps or is it eroticism? .. anyway some information about the City of the Paps. ciarraioch on The Paps West
Just to answer the question on The City: The City or Cathair Crobh Dearg is an ancient stone fort at the northern foot of the Paps or Dá Chích. There is a holy well with a cult of the Virgin Mary, with rosaries traditionally said in a clockwise direction around the fort on Mayday, of late the nearest Sunday to 1st May. This is obviously a christianisation of the Earth Mother cult. The cairns on t ... Click here

Gaia - spoken here or not?
Following a discussion started by Wounded Huzzar on Mountain Biking, padodes and others weighed in.
"It means asking if there are not some extreme or abusive forms of human activity, commercial or recreational, that are, in fact, incompatible with the long-term wellbeing of the mountain as a natural environment .."
A later comment from weedavie said "And while I'm ranting what's with the outbreak of tree-hugging? Mountain's don't care whether they're tracked or not. I want them empty but that's because I'm a miserable sod."
Here's another contribution in this debate:
padodes on Managing a resource?
I wonder if looking on mountains as a "resource" and calling for their "managment" is the best approach to the problem of sharing the use of our uplands. Linguistically, at least, both of those terms seem to suggest one form or other of exploitation by users, because they look at the mountains squarely from the users' point of view. They suggest perhaps a trade-off between various interests: the f ... Click here

Maamturks, Jim Holmes

A number of people commented on the Maamturks walk which was done in good weather - very much the exception!

jim holmes on What A Difference A Day Makes!
What A Difference A Day Makes! …….."are you mad… or deranged even???" ….My reply…."The latter said ailment I can probably deal with, but anything more and I just might need to review my analyst". Such are the questions, conundrums even, that I'm sure I for one haven't been alone in receiving from people as diverse as my friends and family to people who still haven't returned those music cd's I le ... Click here

Our youngest contributor (I think) is also one of our most prolific this month. Alex92 on Butter Mountain
I did Butter yesterday while waiting to be picked up in the Ott/Blue Quarry car park, after I camped on the shores of Loughshannagh. It's a nice enough wee dander, and as said in previous contributions, it does provide some great views of Spelga dam, Fofanny dam, Bearnagh, Ott, Carn and the other surrounding mountains, without requiring much effort. Best approach is from Ott/Blue Quarry carpark. A ... Click here

Sorry if I didn't mention what you posted .. there's a list of all contributors for the month later.

Following discussions between the Ramblers, the MCI and MountainViews here are some agreed things you might like to put to your local candidates in the forthcoming (southern) election.

SUGGESTED QUESTIONS FOR CANVASSERS IN RELATION TO HILLWALKING AND ACCESS TO THE MOUNTAINS

It is suggested that canvassers are first of asked whether they are aware or not that there is an access problem to Irish mountains.

Then the issue should be illustrated by giving an access problem from your own personal experience and how this affected their enjoyment of the hills. Most people at this stage have either had a direct experience of being refused access to a particular mountain or know friends who have had this experience. The situation is getting worse.
Walkers want accessible routes to open uplands

Another point to highlight is the uncertainty faced by both walkers and landowners alike when walkers are unsure about problem areas and farmers are worried about potential damage to their land or being sued. (See note below about this point). It is up to the government to do something about this.
Walkers want to know where they can walk without having an unpleasant experience

The final point to bring up with canvassers is the need for more facilities on the access routes including proper signage and stiles where needed. Furthermore, there is a need for more way marked ways with proper footpaths and on off road routes. 55% of way marked ways are currently on roads or in forests; walking on roads is not safe.
Walkers want improved facilities


Additional Notes
* To date, there has never been a successful claim by a walker against a landowner.

* The Dail subcommittee on the Constitution decided in 2003 that access legislation could be brought forward under the present constitution.

* If canvassers say we have National Parks to walk in, it should be pointed out that only 1% of Irish land is classed as a National Park and this is far too small a percentage

* Most European countries have legislation ensuring widespread access and this includes our nearest neighbours, England, Wales and Scotland.

* In a Bord Failte survey in 2005 over 300,000 tourists stated that they intended to walk our countryside. Ready access is a basic need for walking tourism. Resolution of this issue will benefit both walkers and rural communities

Feedback any responses to MountainViews.


MountainViews.ie does not necessarily endorse the general position from any particular party or group.
WALKS SECTION
samclaret put up a fine description of the classic Reeks, done West to East
samclaret on Reeks Walk - West to East
Overview Long walk definitely not for the faint of heart especially around The Big Gun. Starting from the Hydro Road on the West side of the Reeks at V772 871. Approaches As the start and end points are so far apart we left one car at Kate Kearney's (V881 887) where there is ample parking and drove the other out to the small quarry just by the Hydro Electric Road (The Concrete V772 871) ... Click here

Site notes
If you can set-up your email to get web-format ("html format"), you should be able to get more out of this newsletter.
Getting a map on your GPS.
Would you like a map on your GPS so that you can visualise summits, contours etc? Well, depending on whether you have the right sort of GPS and your willingness to do a bit of uploading, we may have the answer.
simon3 on GPS for Ireland, article, download.
Currently MV provides GPS information in the form of waypoints that indicate the summit positions of all of the mountains in our list. While better than nothing this still does not use the full potential of GPS units . Essentially these can show maps and points of interest. There is no commercial product for GPS units at present, however we are pleased to announce the results of various communi ... Click here

This month.
We welcome the following new members who enrolled this month. abirchall, aghaleeman, AINE, ajoosten, alaskanbuffalo, alesjur, alma.hobson, andar, annaob23, annearnold, arsenal, aubertlm, Balor, beattie41, bigreddog, billyspoof, biologikal, bjk, blimey, bocallaghan, Brian Chatterton, Cappahyden, carolinef, carrot1234, cathalmullane, cathal_mckenna, cgleeson, chicken, ciaranbroughal, ciaranlan, ciarraioch, cillianofiach, cleggp, cliffordp, Clums, Colin Murphy, colinbird, cormac1966, Cris, DaithiG, Damien Ryan, dan bailey, darrell, david ryan, davidj.gardiner, dcronin, Denisemcd, denisglin, Derek Wharton, devilabit, djmenzies, dmulligan, doggettb, donardon, DonieG, doogo, dusted, ecocostruire, edwardsr, ehurley, eLpOULpO, EmmaNic, eoghanb, ewa, faloono, FergusMcGee, fionajd3, fitzcarraldo, FRANCYBRADY, fsqared, gears_ie, gerloughnanne, gibsoncastignari, glinaur, gn, gngibson, graham_ablett, grainneryan, groganp, hiller43, honners1, hoppppe, IanDub, itachisan, ivorbig, iwitton, jamesmcallister, jamie_murphy, jana.pavlova, jasjnr, jbx, Jean Barden, jgm, jh, jillhogan, jimmydar, joeryan, John B., jossarm, Jo_tupper, judykane, juliebrett, kayakingpeter, keanek3, keitht, Kev Mac, Kimball, kristine, larbyrne, LarsonFan, lenny, liam.aspell, lillleo, louisek, macpetey, magdalenka, MalIrl, marcsell, marie.daly, markhogg, Mati, mbeckett, mclougc2, Michael Hanratty, mikemcgaugh@voda, mms, MoeJay, mulroog, muriel, murielhaire, murucu, mvbemmel, navionics, ncbyrne, nemethon, net, ngibbons, niallroche, Nigelr, nmalone, noelg, noodlened, normanmccloskey, oblackwell, oconneam, paddyh117, Padraigl, Pat Donlon, patbyrne, paul.kieran, paul10, Pete24, peter1, Peter24, peterd, petit, PF Blake, picturetaboss, Piersdy, Pooka, portercraig, proart, pyreneenguy, radioham, rastar, rayzor, Rich Nicholls, robjones, Roe, rosbeg39, rubenlimerick, rustneversleeps, salamander, Sambo, samclaret, SchweineEvil, seamusO, seanomiochain, sfl, shaneocallaghan, sheila29, SkibbMan, smccarthy, Sonya, sotcrepaz, spencer, sperrinian, statira, stephenjames68, sterkens, striker, stuart.garland, superrookey, suzannemegan, sylvain.casarott, tcorkery, thewayfarers, tracker, triwalsh, typhon, ultan, vickster, von, walkabout, waveneyavenue, weav31, william_watterso, wintersun, xenalara, zamomari, zermatt (211)
Our contributors to all threads this month: Alex92 (12), GregFM (1), HTWB (1), Jaak (3), Michael McA (1), Norman (1), Tom Milligan (1), Wounded Huzzar (1), aido (1), beckett (5), ciarraioch (1), damobreh (1), deswalk (2), devilabit (1), eflanaga (1), jackill (1), jh (1), jim holmes (1), julieng (1), katekat (7), lakedistricthw (1), mati (5), padodes (6), pdtempan (2), pmaguire (2), portamb (1), samclaret (2), seamusO (1), simon3 (9), tgormley (5), weedavie (2) and Contributors to GPS information this month were: eflanaga (7), jackill (6), simon3 (3)

There were comments on the following mountains Aghla Mountain, Benbrack, Benbulbin, Binn Bhán, Binn Fraoigh, Butter Mountain, Caora Bhán, Carn Mountain, Croagh Patrick, Djouce Mtn, Doan, Greenane West, Knockanaffrin, Knocklayd, Lugnaquillia, Maumonght, Nephin, Ott Mountain, Slieve Anierin, Slieve Loughshannagh, Slievenamon, The Paps West, Torc Mountain and these walks were created A circuit of Glenrastel, Reeks Walk - West to East

Thanks to all 431 who have ever contributed
The five who have contributed most to the site are simon3 (379), csd (182), jackill (127), gerrym (107), Bleck Cra (100).
Summary. MountainViews now has 2302 comments about 459 different mountains out of the total in our current list (460). We need more comments, better comments and more balance for every summit as our rate for "data completion" is currently under 55% Just one mountain remains without any comment, so that leaves just 1 opportunities for you to be the first. Listing summits in "My View" allows you to see what information we need to get more even coverage.
Notices
If you are contributing, please be careful to respect the interests of landowners. When walking, keep away from gardens or farm buildings. Use stiles or gates wherever possible. Never do anything that could allow animals to roam where the farmer did not intend.
If you hear of a problem area or route, write it up in MountainViews which does everyone a service. Report rubbish tipping in the Dublin/ Wicklow area - ring PURE 1850 365 121
If you have climbed some of the less well known places, we would appreciate a mountain rating. and also GPS readings for summits.
If we can, let's make MV have more than one route up a mountain so as to reduce the tendency for paths to appear. Your grid refs in comments for different starting points show up on MountainViews maps.
This newsletter
This newsletter is from Simon Stewart for MountainViews
Homepage: www.simonstewart.ie
RETURNING TO MOUNTAIN VIEWS
Click on (If you have cookies on in your browser then you will be prompted as to username/ password. If you forget the password, the login page can email you a replacement.)

UNSUBSCRIBING
If you don't want to receive any further monthly newsletters from Mountain Views click on My View / Preferences. Then change the option beside "Include on occasional mailing list" to "Do not include". Then click the "Save" button.
Alternatively let us know by email at admin@mountainviews.ie (Delete REMOVETHIS from the address)