Challenge Walk Calendar 2015 Review
Challenge Walk Calendar 2015 A year in Review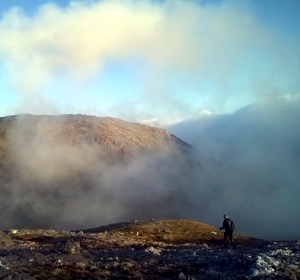 One category that we are proud to support here at MountainViews is the pursuit of Challenge Walks.
I suppose the best way to appreciate Challenge Walking is as a different (and unique) entity within the great fraternity of Hillwalking. In the same way that there is a world of difference between a ten foot mad Jamaican who lives on nothing more than chicken nuggets and breaks the land-speed record over 100 metres . . . and say a 5 foot nothing, forever smiling Kenyan who has actually never stopped running (not even to sleep) since his eighth birthday - who simply glides along every stride of his (new personal best) 26 mile-odd marathon . . . Challenge Walks slot into their very own niche and as such attract a slightly different disposition of Hillwalker!!!
Challenge Walkers need to be early risers with a 3.30 wake up call not being unheard of! Being a chatterbox is always a great help! Especially when coupled with a good Buddy, who over the course of up to twelve hours, can listen to (and appreciate) all your earthly moans and whines!
Challenge Walkers have also to be oblivious to the weather. There is never to be an exit plan! If the day turns "woejuss" we don't drop out like many a fell runner - truth be told we never really grew out of the great youthful pursuit of splashing in mucky puddles! We need to be resourceful too. We pack two of everything and we even include such items as bivvy bags, spare batteries, Kendall cake and grade Dyneema rope!
Maybe all of the above goes some way to explain as to why last years Irish Challenge Walking was certainly one of the most successful. But every bit as important. . . it was certainly one of the most memorable!
There are 15 or so true Challenge Walks within the year's calendar and one of the first tends to be the Knockmealdowns Challenge. Coming when there is still the echoes of "Christmas extra buoyancy" - this will always be a fresh, fine day. 2015 saw Peaks Mountaineering Club host the Knockmealdowns on one of its most splendid days.
" . . . . With all of the different grades of walks now meeting and intertwining a magnificent sun blazed down through the bluest of skies on all below who were resting atop Sugarloaf Hill admiring glorious views all round. . . ." (from Report 2015).
The mighty Maumturks follow, usually in April and this year would see its 40 year anniversary! Testament to the progression of Challenge Walking it was incredible to hear old stories recanted in the mythical days before GPS and Gortex!
" . . . . . The day itself had a biting wind with an almost sub-zero wind chill . . . But the trade-off . . . some of the clearest, driest, sunniest weather that has ever graced the Turks. Definitely a blessing to celebrate such a proud marking. But after years of impressing my own "tuppence-worth" on previous Turks - no one needs any more of my rants and ravings 'bout arduous assents or cold flasks of coffee . . . . . . " (from Report 2015).
May always sees the "Blackstairs", the first of the offerings by the "big" Dublin clubs. The Wayfarers expertly lay on a wonderful day that is always noted for the kindness of strangers! This year saw an incredible 260 souls all ready and eager.
". . . . . The day stayed clear with perfect views but it stayed windy and bitter cold. "The Pain Joe, the Pain. . ." was the utterance of choice on the almighty push up to Blackstair Mountain in a bitter cold wind chill worthy of North Alaskan Deadliest Catch. But atop Blackstair, straddling the County Border, it was all too evident that this day, that has stayed free from rain, was to be a great given blessing. . . . . " (from Report 2015).
Occurring every second year - The Lug Walk certainly earns itself an important role as one of the tougher Challenge Walks in Ireland. The historic Dublin-based walking club, The Irish Ramblers, proudly host a day that can all to easily encompass everything within the Hillwalking spectrum.
". . . . . . This year's Lug Walk started in savage weather for the first stage. Biting wind and the real "wet" rain battered all up to Sally Gap. Thereafter a nice dry day would ensue till Wicklow Gap. And the last stage was a mix of overcast conditions, a little rain and yet some lovely sunshine. It should be mentioned that visibility was at times incredible. . . Wales was clear as crystal across the pond, as was Mount Leinster and indeed the Knockmealdown Mountains from the mighty Log na Coille itself. . . . " (from Report 2015).
2015 saw a most welcome return of The Glover Highlander. Taking place in the beautiful county of Donegal - the walk consists of climbing the two greats of Muckish and Errigal (and everything in between). However, 2015 proved to be one of the toughest  days Hillwalking in the Challenge Walks Calendar. . . ever!
". . . . . . Here there would be coded checkpoints with numbers to write on routecards that were quickly resembling Papier-mâché . . . To best these summits would take the efforts of true heroes! Grown men of fourteen stone with bag and baggage were being thrown around like rag dolls. Whilst the battering rain was more akin to a battering ram - it was the full-on battering of the wind that quickly drained all . . . of their energies and of their reserves. . . . . (from Report 2015).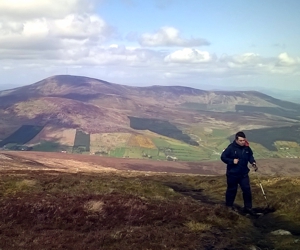 So onwards and upwards. It is with great anticipation that the eager Challenge Walker, who as we said earlier is of a different Hillwalking disposition. . . looks forward to 2016's Calendar. . . .
Will the route be boggy or bouncy. . .
Will the weather give us a "Donegal Downpour" or "Sunshine and Buttercups" . . . .
So yes indeed, 2016 should be every bit as intriguing!
And yeah, yeah, yeah . . . . if you were counting distances earlier (re the marathon runners) and were worried 'bout being short-changed . . . fret not . . . Challenge Walkers never forget the "odd bit" after their own marathon efforts . . .
The 385 yards in (old money) is very often the hardest part of the day. . . the arduous walk back to wherever the car was parked that morning :)
Support a local Challenge Walk near you,
Jim Holmes.