The Maamturks Challenge 2015
The Maumturks 2015
BACK TO CHALLENGE WALK CALENDAR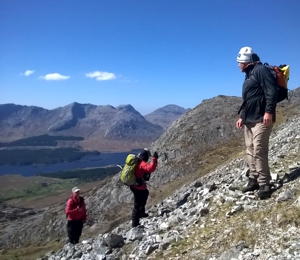 Forty years ago a bunch of jovial "studenty-type" chaps came together with a shared interest in Hillwalking and so was born one of the toughest Challenge Walks that is the Maamturks Challenge . . . this is the abridged version of course!
And so the 18th April 2015 did see a glorious day to mark the 40th anniversary of this classic ridge walk.
The first walks back in the day saw much reduced numbers with finishers only being in single figures - and in these days of old, all the organization of the day was hand-written and mostly in pencil! Indeed it will forever be hard to conceive, in these days of 4G and free maps bundled with free disposable mobile phones. . . but the first Challenge Walkers, at best, only had the old six inch map and all of it's serious inaccuracies (were you to find yourself in a trusting mood - you'd be straight off the edge of a cliff!!).
Forty years on and the Walk continues to evolve. . . Mountain Rescue can be found at many a checkpoint and the day has full coverage with thanks to the amateur radio section in NUIG. As it takes up to forty volunteers to help steer the course of the day - you don't need my help to do the math, over forty years. . . in other words, over a thousand people have had a hand in making the Maamturks Challenge the global entity that it is today.
The day itself had a biting wind with an almost sub-zero wind chill . . .
But the trade-off . . . some of the clearest, driest, sunniest weather that has ever graced the Turks. 
Definitely a blessing to celebrate such a proud marking.
But after years of impressing my own "tuppence-worth" on previous Turks - no one needs any more of my rants and ravings 'bout arduous assents or cold flasks of coffee!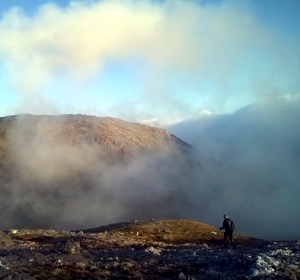 198 eager punters set off (most at the first opportunity - 5am) and near on 188 finished to continuous applause and a cup-a-soup of extra fine vintage!
Later then that evening, after everyone was fed and watered, then scrubbed down, so as to ever so slightly begin to resemble their previous selves - NUIG gave a fascinating presentation about the Great walk that is.
Many an incredible story was recanted including awaiting 'till 3 (in the am!) for a group of walkers to pass through a checkpoint, only to then become aware of how they had made their way back to town, having lost their way down one of the many misty cols . . . no mobile phones remember!
 
The life of Michael Crosbie was respectfully remembered and old friends met up with new.
This will always be a serious walk that demands both a serious attitude and disposition - but this is the nature of Challenge Hillwalkers.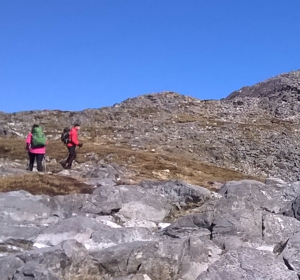 And with the continuing interest and ambition from NUIG Mountaineering Club it will be no surprise for many of us to be back here again (no doubt ranting and raving) in another 40 years!
Many Thanks to All,
Jim Holmes.
BACK TO CHALLENGE WALK CALENDAR
P.S. The little chappie below was a brief visitor to the Col of Despondency! No doubt curious to see if there was any truth to the vicious rumour of the availability of Craft Beer!