The Maamturks Challenge 2011
The Maamturks Challenge 2011
BACK TO CHALLENGE WALK CALENDAR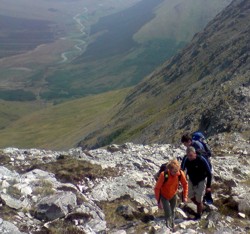 Was never sure whether it was "all things" or "good things" . . .  "come to those who wait. . ."
But it hardly mattered 'cause on this years "Turks" all were graced and rewarded for their patience of previous years toils as the best possible conditions of the West's unpredictable weather were visited upon all who participated in the 36th annual Maamturks Challenge.
For many the day means most probably having to awake at 4am, try to have some breakfast, leave "wherever" at around 4.30am, then travel to the start of the great day's Challenge so as to arrive and then hopefully "be good to go" for the still unearthly hour of 5am!
Now if the normal human body were to simply get up at 4 in the morning and do nothing else for the rest of the day it would find itself absolutely shagged by tea-time!  Yet somehow 206 happy and joyous punters managed to do all this and then a further 10, 12 and even 14 odd hours more of continious and plenty gruelling "a-pottering" over rock and ridge and all with a smile and a smug glow within.
"Reason why" was easy. . . .
once the early mist that hung on Corcogmore lifted the rest of the day was "Sunshine and Buttercups"
Whilst a sharp breeze which was a tad airy 'round the ankles" prevailed throughout the day, this was most welcome as it made sure temperatures didn't rise too much so as to demand more from the thirsty walker . . . and considering that this is very much an unsupported walk . . . this was yet another lucky break to the fantastic day that was shared by just about everyone. 
Unusual to the Maamturks was the great visibility of the day which allowed for the most part . . . difficult navigation to take a backseat. This also allowed walkers to actually get to see each other over the course of the day. Something very rare on these unforgiving peaks and this in turn gave reason to the curiosity of walkers tending to join-up and both group together and chat! This might sound like nothing unusual to many, but seasoned veterans of the Turks are cautious to remind of years when given days on the Challenge were traipsed through mist, rain, mist and in case it wasn't mentioned already . . . more rain!
It was obvious to all that a privileged day was indeed granted to the deserving walker and that despite the odd unfortunate injury and the catastrophic scenario where the sausages were all gone when I got to the sausage checkpoint - that chances are it may be a whilst before "all good things come" again the way that they most certainly did on the Maamturks of 2011.
Many Thanks,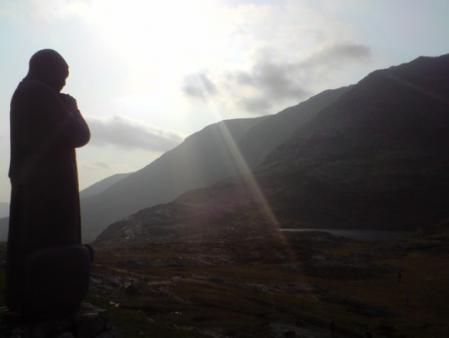 Jim Holmes.