The Maamturks Challenge 2012
The Maamturks Challenge 2012
BACK TO CHALLENGE WALK CALENDAR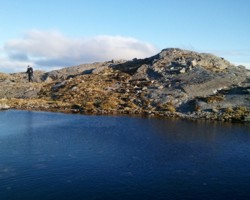 Sprained Ankles, Broken Legs and even Abandoned Children!!!
Thankfully of course - not the Maamturks of 2012 - but would you believe that these are just some of the adventures as faced by the Mountain Rescue boys and girls most notably during the Croagh Patrick pilgrimage!
These were just some of the tales as relayed to me by members of the Galway section of Mountain Rescue (who incidentally were this year's recipient of the net proceeds of the WAI / Wayfarers Annual Pubquiz) whilst a pottering on this year's Maamturks Challenge.
But what has all this got to do with the great day that was in it?
Well I coudn't not, but make a mental note, of how even the Mountain Rescue boys and girls enjoy and look forward to this great Challenge.
One hundred and ninetynine walkers attired themselves correctly, ensured all had proper provisions to last a day's tough walking of twelve hours or more - and acknowledged all directives asked by the organizers so as to help with minimizing erosion. Mountain Rescue were very aware of this.
The reward to the walker was glorious . . .
Whilst there may have been warmer years, the air clarity on this year's Turks was gob-smacking!
The deepest blues were to be prominent all day. Galway Bay, the mighty Atlantic, Mweelrea, Maumtrasna, the Twelve Bens, Loughs Mask and Corrib and many an island including Inisturk (and more) - all seemed to hop out of a cold crisp air.
The day would meander and flow nicely and pretty much all would have a great experience.
Speaking earlier of abandoned children . . . Challenge walkers it can appear, seem at times to be the abandoned children within Hillwalking - but it's thanks to all the other great boys and girls in NUIG who each year continue to show how even one of the toughest Challenge Walks in the year's calendar can be hosted with a true commitment to both safety and the prerequisite that everyone will thoroughly and absolutely enjoy their day.
Many Thanks to all.
Jim Holmes.