Challenge Information Annual 2020
Annual  2020  Challenge Info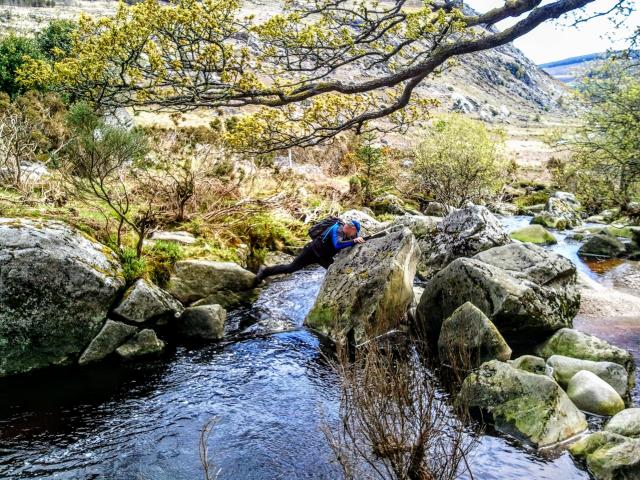 Groucho Marx said once - "I wouldn't join a club that would have me as a member!"
But it takes Clubs and the comradery that they generate, to get the job done! No doubt you've heard this famous quotation more than once from me . . . but definitely, definitely last year, more than ever, it had a commanding resonance! In this vain, congratulations to the Lagan Valley Orienteers who expertly took on the mantle of running the Mourne Seven Sevens for the first time this year and ensured an invigorating event was had by one and all! But such a great Walk simply could not, not happen! We are Challenge Hillwalkers, with an abundance of brute force and ignorance to help move mountains to get any job done!
We tend not to be swayed, for the most part, by bad weather either. At this stage we all have our dry-gear and rain-gear down to a fine art. When it rains there's a certain pagan poetry to the acoustics of the day . . . and when it pours . . . I hear every raindrop collide with an explosion as it crashes to the ground. Think it's what we audiophiles call a Blood Harmony! And yet before we can labour the pains of the Day, we have to arise at a God-forsaken hour!
"Maumturks usually means a little after 3", even though sleep the night before never comes easy. Áine McGirl talks of how there is an incredible dynamic at play at 3am in Leenane (where the famous Maumturks Challenge rolls into at the end of a full day's toil). The hotel that greets many, has a curious annex that the Hillwalkers like to secure. As the metal staircase starts to resonate from the vibration of the Walkers leaving their rooms and heading for breakfast, everyone now is all to aware of the Day that is to come. There are ladies, who have only recently put the last of the tourists on The Wild Atlantic Way to bed, that are now providing a full breakfast, packed lunches . . . and even flasks full of piping hot tea for the Challenge that is to ensue. Early morning bus drivers, or sometimes even willing friends to the Challenge Walker, begin a logistical dance to the iconic Start. Then at 5 in the am (a different time dimension to many a Teenie-Bopper!) is when this great Challenge Walk begins true - but there are many other Challenge Walks that need this devotion as well. Many make a weekend of it, so as to alleviate stiffness from the Big Walk and then make sure to have a nice "picnic" Walk the next day . . . and this is where many a Hillwalking Club does this to perfection.
Personally I walk this Challenge with old friend Eddie (Fat Boy) McBride - because it's always important to have a Walking Buddy on the Walk itself and the training beforehand! Note the photo of us both atop Benbaun on the 12 Bens one year where I have ensured to Photoshop out any evidence of a tummy that I might have so as to make sure he looks fatter than me! In truth, we're actually as fat as each other – let's just say "we winter well!" and of course, of course, this fact (of being as plump as me Buddy) is something I will absolutely and categorically deny in a Court of Law! Yeah, Hillwalking Clubs and Hillwalking Buddies are just the best! The friendships that are formed are carved in stone for an eternity!

As always, the past season saw many a new friendship being made by many, as all of the host Clubs reported back on one memorable and successful Challenge Walk after another . . .
"A cold and heavy mist dominated for the first few hours, as far as Letterbreckaun for many. This meant constant navigation and correction was very much required. Driftings of snow were still very evident within the more sheltered areas of the Turks. As challenge hillwalkers, competent navigational skills should be a prerequisite, yet this would catch out a lot of walkers as time slipped away. Of 250 walkers who set out on the morning of this mighty walk only 150 would successfully receive their well-earned certificate! " Quote from The Maumturks Challenge 2019, Jim Holmes.
Into May and The Blackstairs Challenge was thoroughly enjoyed by all, but goodness, there was a seriously biting breeze atop the higher summits. This year's Blackstairs Challenge sees the host club, The Wayfarers celebrate their 50th anniversary! Continuing on and rolling into June - inclement weather still dominated the Calendar. "Consistent rain easing to lingering mist dominated until at least Mullacleavaun. Then afterwards you would have to say that the weather was clear and certainly not bad. Yet on this day well over 40% of the hardy souls who braved the day would not go on to receive the coveted Lug Walk certificate on completion! And no one doubts the massive effort put in by all. But as I've teased before, this isn't one of the toughest dates in the Challenge Walks Calendar for no unknown reason!" Quote from The Lug Walk 2019, Jim Holmes.
"Spirits were high as walkers greeted each other and the organisers as everyone looked forward to a great day out. The smell of sun cream soon added atmosphere of expectation. With walk cards and compasses at the ready the first walkers headed into the cool morning in the direction of Maamtrasna. Groups from all parts of Ireland and hardy individuals soon spread out across the geological wonderland from Maamtrasna to Knocklár and on to Devils Mother" Quote from The Joyce Country Challenge 2019, Patsy Cahalan.
Taking place in the beautiful vale of Glendalough and reporting great success was the inaugural outing of the Hardy Annuals Challenge Walk!  This Walk seeks to encourage present and older walkers to continue walking and invite the new walker . . .  no matter what their age! On the day, the weather was perfect, which made the whole experience a very enjoyable one for everyone who took part.
Never remaining idle and never being deterred, the world of Challenge Hillwalking has bred many a legend in his own lunchtime that can not only self-navigate blindfold but can be immersed into the mountains in the depths of Winter and easily identify their position while eating their hang-sangwiches upside down in a recessed peat hag! Geary Brylls eat your heart out (or drink your own "random sample" why don't ya!). Tom Milligan, who was instrumental in the organisation of The Hardy Annuals, last year completed his millionth Lug Walk and his thousandth Art O'Neill . . . give or take one or two!
Mid-August saw the Fei Sheehy Challenge dominate the Calendar. "The first Day of this three Day Challenge saw weather that was energy sapping, but never would this, or the far from promising forecast, dampen optimistic spirits. "The weather was oppressive on Friday but these hillwalkers don't give that dominion over the challenge. They're prepared". What a brilliant, brilliant quote from Gerard Sheehy who went on to complete his own personal Challenge of the ascent/descent gain of 100,000 meters a year over open country and mountainside! And all of this for the last three years in a row too which was akin to doing 130 Croagh Patricks a year (from sea level) . . . and then doing it all again next year . . . and the year after! Simply put - an incredible feat!
The strongest of participants in Challenge Walks tend to have a serious regime of fitness-training akin to Olympic athletes! Paddy Denis from Na Sléibhte Hillwalking Club even practiced in wet, soft sand at his closest beach so as to replicate the energy-sapping soggy bog that was to greet all on last year's Lug Walk. Yet another reason why Challenge Walking is absolutely deserving of its place as a standalone discipline within the world of Hillwalking! And what have they all these inspirational Challenge Walkers got in common . . ? They have all been and are, pillars in their own respective Hillwalking Clubs. What were those words from the bauld Groucho again??
But as we roll into the forthcoming season with no evidence whatsoever of a surplus mince pie or a turkey tummy (praise be to Photoshop once again!) - the Quote of the year definitely comes once again from The Maumturks 2019 on which both disposition and decorum I constantly struggle with . . . "Are you taking the wee-wee" I was aggressively asked, yes aggressively! And to me of all people ("a lover, not a fighter!") at the checkpoint at Bin Idir an Dá Log, after I gave my answer of "about 8 hours". The question from the young girl in her innocence was "how many more hours are left from here?" As the time was now 11 in the am - my mathematical wizardry proved perfectly correct in her case! Oh and she didn't say wee-wee either . . . her oration was more akin to the rhyming slang "hit and miss"!!
Never was one for "I told you so!" . . . curiously, last year's season saw a large number of participants on Challenge Walks with alas, an element of being under-prepared. As a leading figure in Mountain Rescue expressed to me - "Hopefully we're not seeing the scenario whereby doing a race up and down a bunch of Peaks is starting to appeal, last thing at night, to a bunch of punters in the pub!"
So "where do we go from here, is it down to the lake I fear" . . . ?
In the year when the two "Big" Walks saw a forty per cent failure rate!! The answer is simple! We join a Club if not part-of already. We don't over think it - and we get straight back up them hills . . . where the answers to all life's questions are answered! There are GPX tracks galore to be found on the MountainViews website, not just on the Challenge Walks page . . . and all are absolutely free - which I suppose when you think about it, is pretty good value for money!
Onwards and Upwards Boys and Áine McGirls, it's been my absolute pleasure,
Keep Safe and Enjoy Your Day!
Jim Holmes.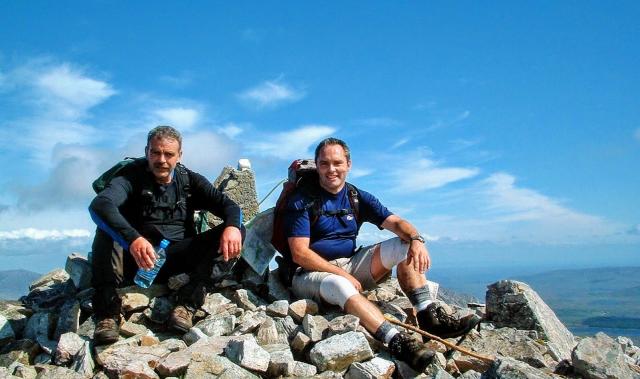 Atop Benbaun, Fat Boy Eddie and Jim Holmes and their respective tum-tums!