Irish Compleatists of the Scottish Munros
Welcome to the MountainViews list of
Irish Compleatists* of the Scottish Munros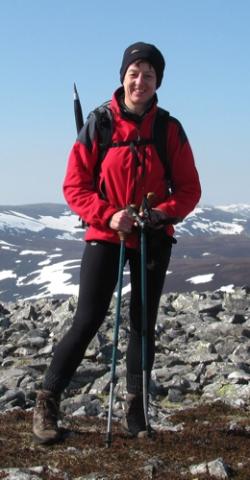 At present there are 282 Munros (2012 revision of tables) as published by the Scottish Mountaineering Club.
A Munro top is a summit that is not necessarily regarded as a separate mountain - but it is over 3,000 feet. 
The list below (whilst in no way totally complete) is of walkers with an Irish domicile.
The list gives the name of the walker (and where known) it then gives the walkers domicile, the walkers affiliation and the first and last Munros (with year) compleated by the Compleatist.
The first Irish walker credited with Compleating the Scottish Munros was Uinseann McEoin in 1987!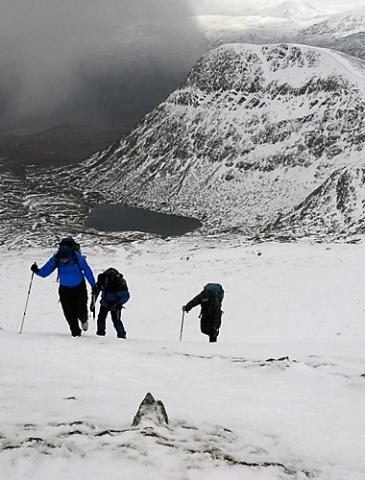 Anne Morrisey
With thanks to Alan and Margaret Tees (Information and List of Compleatists) and Anne Morrissey (Information and Photos). 
Tell MountainViews About Your Own Adventure
* Munro Compleatist is the generally recognised term for people who have visited all of the Munros - the list of major summits in Scotland.  An Irish Munro compleatist is an Irish associated or based person who has completed the Munros.  The term Arderin Complieter is proposed by MountainViews for those visiting Arderins, the list of Irish Mountains or for complieters of other Irish lists.
Services MountainViews offers Irish Munroists.
MountainViews will endeavour to keep the list below up to date.  For those that wish to MountainViews allows aspiring Munroists and those trying other lists such as the British Marilyns or over 15 Irish lists to see their progress at mountainviews.ie/summiteers/ (for which you need to enrol in MountainViews). 
Ticking off what summits you have visited can be done on descriptions of mountains or in bulk at for example mountainviews.ie/lists/munro/
As of 2016 some 1700 people have recorded their visits using MountainViews.
MountainViews List of the Munros
Some other British lists and many Irish lists here.
MountainViews Hall of Fame
Arranged by all of the lists we support including the Munros.
MOUNTAINVIEWS CHALLENGE WALK CALENDAR
For those interested in group organised challenge.
Marion and Michael Wood on their compleation of The Munros, Oct. 2005!
Trevor Collins
Derry / East Lothian
NWMC / MCofs
Liathach 1973
Ben Sgritheall 2016
Jim Brown
Belfast
Spartans
Ben Nevis 1980
Sgor Dhonuill 2015
Helen Brown
Belfast
Spartans
Ben Nevis 1980
Sgor Dhonuill 2015
Billy Magee
Larne/Edinburgh
    
Ben Narnain 1980
Sgurr a Mhadaidh 2015
Terry McQueen
Bangor (Down)
Spartans
    
Ben More (Mull) 2014
Keith Monaghan
Tempo (Fermanagh)
CCC
 
Aonach Beg 2014
John Forsythe
  
IMC
 
Ben More (Mull)  2013
Kathleen Monteverde
Comber, Co. Down
Nelson's Ramblers
Ben Vorlich (Loch Lomond) 2002
Beinn na Lap 2013
Anne Morrissey
Dublin
Irish Ramblers Club
Luinne Bheinn
Ben Narain 2011
Ms Lesley Gregg
Belfast
 
 
Bla Bheinn 2010
Mervyn Picken
Islandmagee / Comber,  Co. Down
Nelson's Ramblers
Bla Bheinn  1990 
Ben More in Mull 2010
Oonagh McEligott
Wicklow
 
 
Meall Lunaigh 2008
Steve Corry
Jordanstown / Skye 
 
 
Luinne Bheinn, Knoydart  2007
Marion Wood
Cork
Ben Vorlich Arrochar 1982
Ben More Mull 2005
Michael Wood
Ballymena
Sgiath Chuil 1982
Ben More Mull 2005
Robert Bankhead
Belfast
 
 
Sgurr a Mhadaidh 2005
Denis Rankin
Belfast
Spartans
 
Buachaille Etive Mor 2005
Gertrude Meehan
Monaghan
NWMC / Blaney
Ben Nevis
An Socach 2005
Brian Ringland
Monaghan
NWMC / Blaney   
Beinn Dearg 1990
Beinn a Sgritheill 2004
Margaret Tees
Derry
NWMC / CCC
Gulvain 1987    
Beinn a Sgritheill 2004
William Cooke
Dublin
 
 
2000
Ray Lee
Derry / Perth
NWMC / Perth
Meall nan Tarmachan 1999
Stob na Broige 1999
Robert Garrett
Dublin
 
 
1998
Jimmy Tees
Inverness
Highland HW
    
Stuc a Chroin 1991
Ms Frances Wilson
Coleraine
Bannside
Ben Nevis 1976
Ben Chonzie 1990
Peter Wilson
Coleraine
Bannside
Am Bodach 1971
Ben Mor (Mull) 1990
Uinseann McEoin
Dublin
IMC
 
Ladhar Beinn 1987
MOUNTAINVIEWS CHALLENGE WALK CALENDAR